Photo by Victor VIRGILE/Gamma-Rapho via Getty Images, phot by Mitchell Sams and photo by Marion Leflour and courtesy of Swarovski.
How cottagecore became this season's most idyllic trend
Before the pastoral aesthetic went viral on TikTok, it was seen on the spring/summer 20 runways of Dior, Jacquemus and Louis Vuitton.
Photo by Victor VIRGILE/Gamma-Rapho via Getty Images, phot by Mitchell Sams and photo by Marion Leflour and courtesy of Swarovski.
Sometime last Spring -- perhaps May, but it's hard to pinpoint, the way the zeitgeist sneaks up slowly, then all at once -- my Instagram Explore page began cropping up with rolling green meadows, blooming with wildflowers and bustling with herds and herds of baby farm animals: loll-tongued kids, shaggy calves and curly-eared ewes. Soon, these images, and the idyllic lifestyle they conjured, were all I could think about. As another glaring metropolitan summer rolled around, I was daydreaming of quitting my corporate job, leaving the city and moving on to the greener pastures behind the iPhone screen. Turns out I was not alone. Just over a month later, during men's fashion week, Parisian designer Jacquemus fled the French capital -- trailed by crowds of editors and influencers -- to a lavender farm in Valensole, where he would hold his spring/summer 20 runway show.
The aesthetic is cottagecore, a movement that revels in the romance of pastoral life, the return to a simpler, more sustainable way of living. Its respective digital community has been blossoming on social media platforms like Tumblr since 2018, and more recently, on TikTok. But what started off as a small, niche movement, mainly among suburban teens, queer youth, has grown, like wildflowers, to permeate the collective consciousness -- and the fashion industry at large. It wasn't long before some of Instagram's most-followed fashion moodboards went full country, moving on from imagery of farmer's markets to, well, the farm. Earlier this year, Vogue asked us: "Is farming the most interesting job in America?" From storied houses like Louis Vuitton and Dior to Collina Strada, the pastoral look is everywhere this spring.

Only Simon Porte Jacquemus could convince the fashion set to, in the middle of the men's shows, abandon the glitz and glam of Paris for Middle-of-Nowhere, Provence. And on July 24, legions of Jacquemus' biggest fans, including Emily Ratajkowski, Chloe Wise and Pernille Teisbaek, all gathered in a sprawling lavender field in Valensole, an hour's drive north of Marseille, to celebrate the designer's 10th anniversary collection. And the clothes were as bucolic as the setting itself: the label's signature straw hats, dresses with pocketed peplums (perfect to place your shears and cultivators), picnic-linen ginghams and baskets to match and an array of garden-vegetable patterns. The whimsical, countryside locale -- and the garments, too -- are not surprising to anyone who's heard tell of the French house. They're not part of a fleeting trend, nor do they present a grand message about eco-conscious fashion. To Jacquemus, they're personal. The designer was, after all, raised on a farm in Provence. "I wanted to present the show in a place that is dear to me, a place that represents me," Jacquemus told Vogue Paris, on location, the day of the show, "I grew up nearby. I wanted to mark a milestone and present my show here."
Days earlier, Virgil Abloh brought Provence to Paris for his third Louis Vuitton menswear outing. Models strolled through the cobblestone streets of Place Dauphine wearing sun hats and handbags, both overgrown with wildflowers. Floral embroideries sprouted and climbed, as though up a trellis, from the hems of trench coats, anoraks. The typical springtime patterns -- pansies, anemones, daisies -- were accompanied by the gear needed to keep them fresh: gardening gloves for thorny bits and rubber boots for watering can run-off. In another homage to the bucolic, the show's invite included a DIY kite-making kit, an invitation to skip the city, to get out to the country, to enjoy the fresh air.

And at Dior, Maria Grazia Chiuri brought the outdoors in. For the French house's spring/summer 20 show, the designer worked with Parisian environmental design collective Coloco to transform the Dior runway into a veritable forest. Beneath the man-made canopy wandered the season's ubiquitous straw hat, styled with milkmaid braids, work boots, country plaids, and naturally, a haystack dress.
Considering the current state of the fashion industry, however, it feels somewhat disingenuous for these large houses to be co-opting the homespun movement. Cottagecore -- and all its dreams to return to the farm, to work with one's hands, to escape -- stems from a deep disenfranchisement with the world as it exists today. More specifically, with the state of modern capitalism, hyper-consumerism and environmental devastation.
These brands' interest in the aesthetic, however, does signal an exciting hope for change. In the show notes for Louis Vuitton's SS20 collection, Abloh noted that he'd chosen wildflowers -- which grow heterogeneously, in nature -- as a symbol of diversity. It's a cause close to Abloh's heart and one that has defined his tenure at the French house, from his diverse casting to his appointment as creative director. Remember the emotional bow (and subsequent Kanye West hug) Abloh took after his debut LV collection? Not only was it a milestone for the designer, himself, but a watershed moment for black creatives throughout the industry. The 164 trees used to set the scene of Dior's SS20 show will be planted in and around Paris to preserve and enrich the region's biodiversity. Days later, LVMH held its annual "Future Life" conference, where the group revealed its upcoming environmental initiatives: how it will allot the 10 million euros it pledged toward safeguarding the Amazon rainforest, how the group will be using 30% renewable energy by the end of this year, and how it plans to reduce its CO2 emissions by 25% compared to 2013.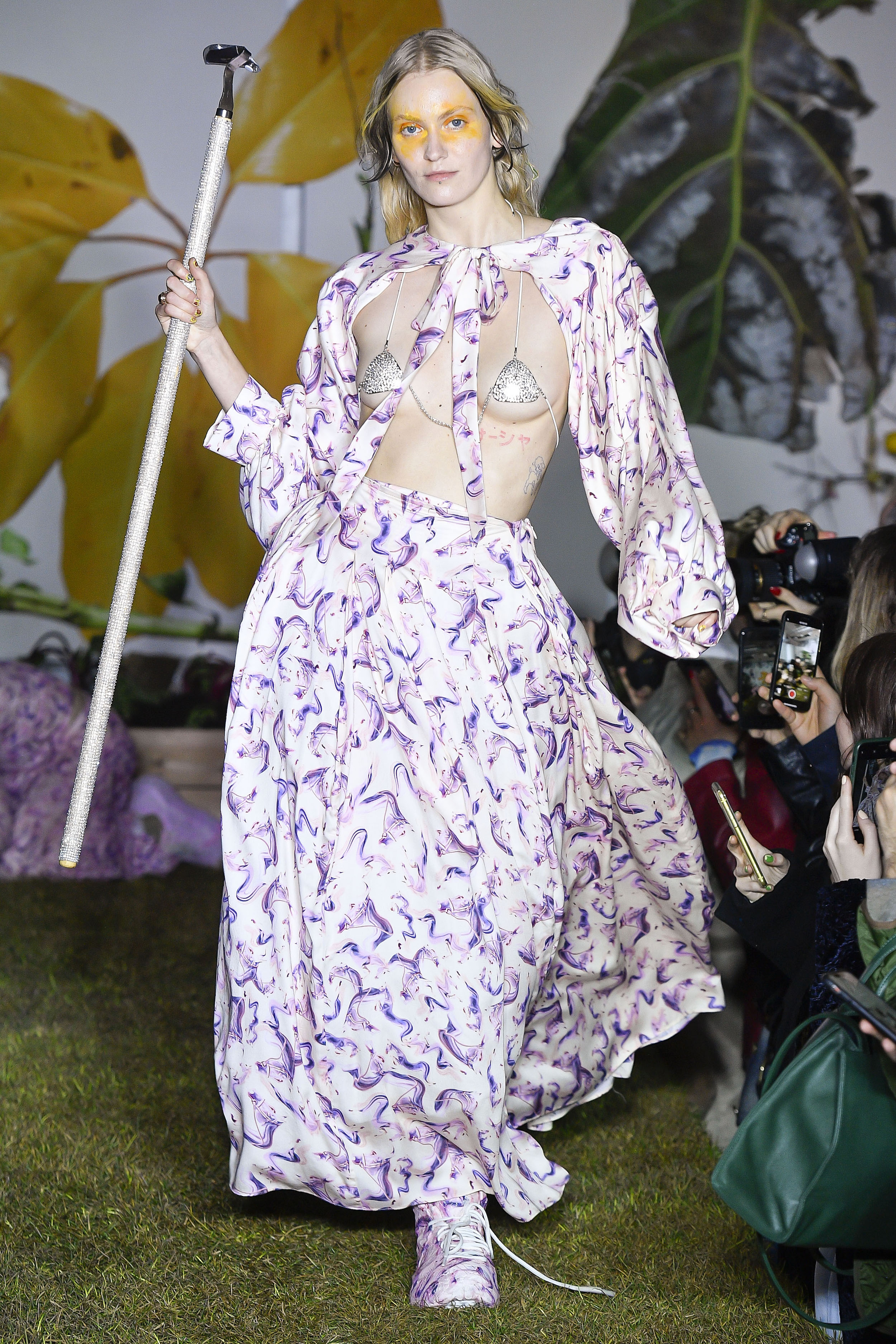 Collina Strada's Hillary Taymour is using fashion -- and her decidedly cottagecore aesthetic -- to motivate others to think and act more sustainably. The eco-conscious designer's most recent outing, titled "Garden Ho", was held in a makeshift garden in New York City's music venue The Dance. A pre-show monologue implored its audience to bring travel mugs and tupperware to cafés and restaurants, espoused the virtues of fruits and vegetables and outlined the effects of carbon emissions. During, show models picked vegetables and danced down the grass-covered runway wearing Taymour's hallmark florals, playful patchwork and tie-dye. Accessories included rhinestone-embellished reusable water bottles and gardening tools. The idea behind the show was to inspire others to start growing their own food, to become more self-sufficient, and in turn, more environmentally-conscious. As the show notes read: "get outside and be a garden ho."
But Taymour doesn't just talk the talk. With each collection, she's made strides in decreasing Collina Strada's ecological footprint. This season, she used rose silk fabric to craft 60% of her offering. "It's made from rose bushes and is the most sustainable version of silk on the market," she explains. "We're also using natural dyes." The rest of the autumn/winter 20 collection was created entirely from deadstock fabrics, salvaged from surplus secondhand clothing sent to countries like Ghana, which would otherwise have been dumped into the ocean.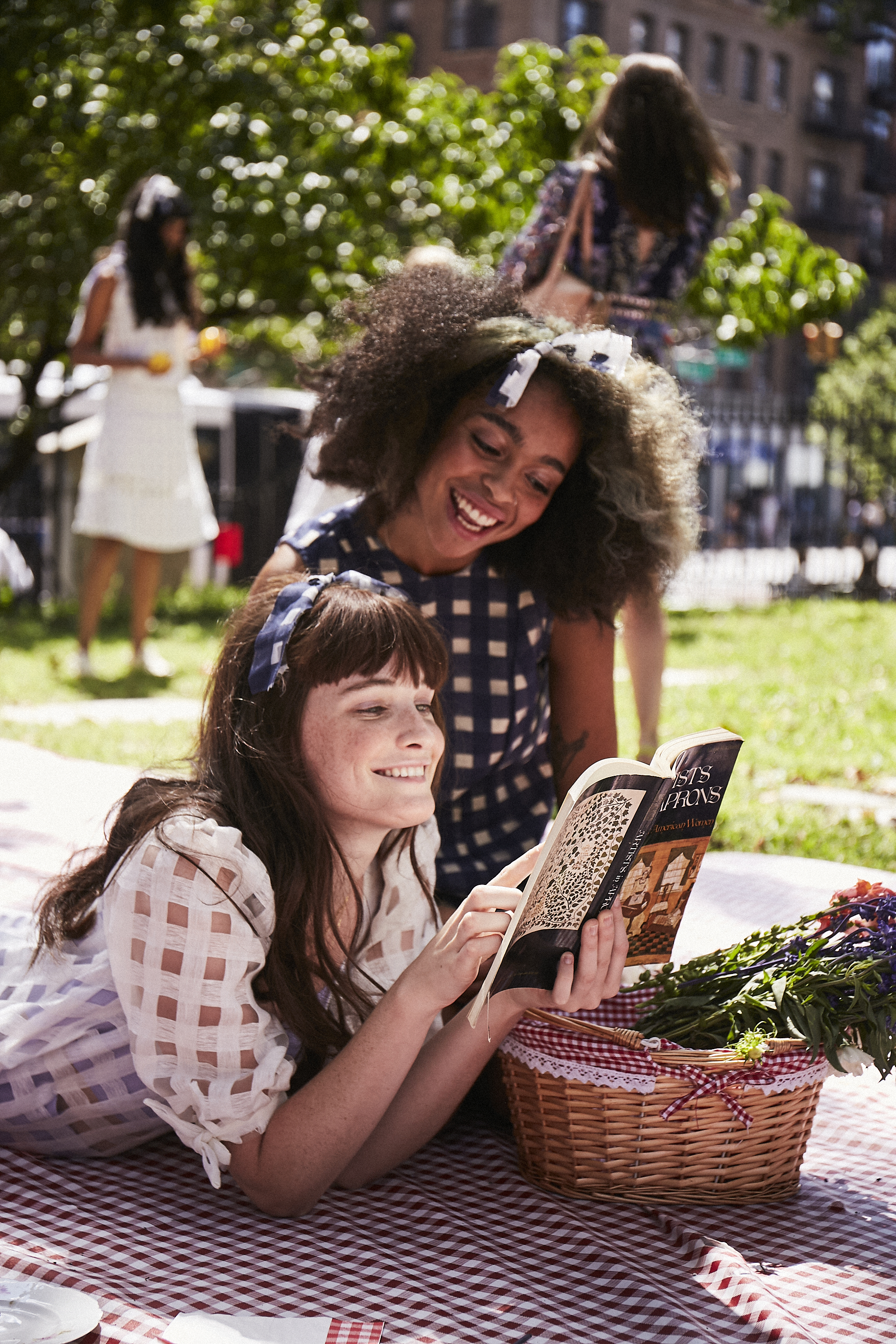 Like Taymour, designer Paris Starn of Paris99 brought the dream of green to NYFW -- to St. Marks Church-in-the-Bowery, to be exact. For her SS20 presentation, Starn drew upon the romantic mood of the picnic, eating en plein air, communing al fresco. The scene was inspired by the New York designer's studies in 19th century art history, specifically Manet's famous "Le Déjeuner sur l'herbe," which spurred Starn's fascination with the era's many picnic-scapes. "I started art storing paintings of picnics and I realized that in all these paintings except for 'Le Déjeuner sur l'herbe,' all the women are wearing these big flowing dresses and they blend right into the picnic blankets they're eating on. It really added to the dreamy feeling of the picnic, the romantic vibe that everyone associates with a picnic and the joy that's there," she told i-D, of how she'd blend her garments into the American picnic blanket -- gingham. Models stomped around the grounds in classic wellies, played badminton and nibbled on picture-perfect pâtisseries, all wearing ethereal dresses, crop tops and shorts inspired by the iconic outdoor linen.
In true cottagecore spirit, Dries Van Noten alum and up-and-coming designer Meryll Rogge took to the countryside to launch her namesake label. The Belgian designer's studio is currently situated in a renovated 19th century barn in rural Belgium, nine miles from Ghent. "The reason we're here is because we save a lot of money on rent that we are able to invest in fabrics or the manufacturing of garments," she explains. "That being said, it definitely is nice to work from a place where you have space, a very quiet peaceful environment with no interruptions. We live and work here. It keeps you focused. We live a simple life."

While the look of Rogge's clothing -- satin tailoring, velvet flares, rhinestone embellishments and bustiers that summon the glam of 80s nightlife à la Nan Goldin or Stilman's The Last Days of Disco -- is high-metropolitan, it's the label's ethos that has been thoroughly shaped by Rogge's newfound, bucolic surroundings. "[Living here], we're definitely more in a state of mind where we realise that we don't need much. Which implies that whatever we create, better have a valid reason for existing. If we're going to add to the mountain of 'things' existing in the world, it has to be thought-through. The last thing we want is to create collections that are mostly composed of rack-filling items." In terms of sustainability, Rogge's main goal is to create garments that will stand the test of time. She's also figuring out how to offer a mending service to her clients, to fix "cigarette burns or red wine stains," or to patch up tears, years after purchase. "It would be amazing for people to pull out their garments 30 years from now and still be able to wear them," she says.
Sometimes, and especially during global stay-at-home orders, pastoral escape is found where you least expect it: behind the screen of your Nintendo Switch. Since its launch in March, Animal Crossing: New Horizons has become a soothing pass-time and a much-needed escape from reality for those who are cooped up at home. The life-simulation video game drops players on a deserted island, where they can make friends with anthropomorphic animals, flex their cute outfits, catch butterflies and plant flowers, among other idyllic outdoor activities. In reality, isn't Animal Crossing the only place we get dressed up for now? Naturally, this element of the game has drummed up its own set of fans, among them, fashion labels including Marc Jacobs and Valentino, who have collaborated with graphic artists to drop exclusive in-game gear. In terms of cottagecore fashion, Animal Crossing may be the pinnacle. Catch a blue marlin in a Marc Jacobs princess gown, go apple picking in a Sandy Liang fleece or take a stroll on the beach in a full GCDS tracksuit. And, turns out, your virtual fit may be the most sustainable option of the bunch: crafted from pure pixels and a little bit of imagination, each Animal Crossing garment is low-emission and completely waste-free. Who knew?