Drag artist Charity Kase has created a terrifying look each day of lockdown
And all I did was bake a disgusting banana bread.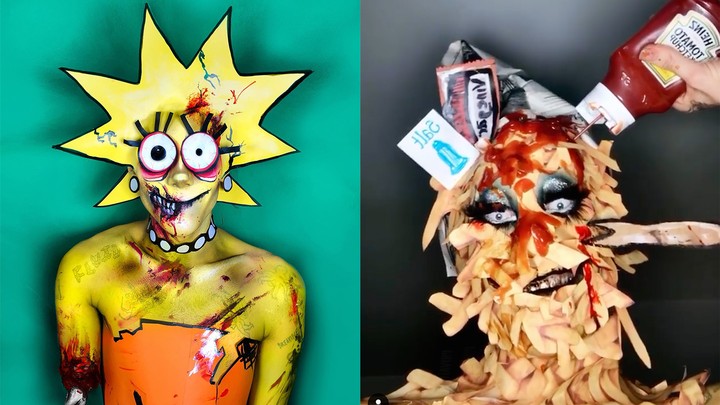 Imagery via Instagram
"You know what, I'm going to use this time to create something wonderful." This is you, back in March, full of naive optimism as the world went into lockdown. "I have all this time, and I'm going to use it to be productive and I'm not going to waste it watching 12 hours of Netflix a day and eating full boxes of cereal with my hands." Oh, what a beautiful little fool you were back then!
As weeks have turned into months and we're still stuck in Pandemic-land, most people have seen that initial rush of motivation ebb away. But some people are still out there creating beautiful things in isolation and putting them out into the world. Case in point: Drag artist Charity Kase, who is 60 looks deep into a self-crafted "daily isolation drag" challenge.
Charity, AKA Harry Whitfield, was inspired to begin the challenge by one of those "On this day three years ago" social media notifications, the cruel little pop-ups that have been taunting us all year with memories of bygone, less socially distant, much happier times. "It was a throwback to my daily looks for my 365 days of drag challenge in 2017," Charity explains. "The make up was… debatable." So, three years on, the London-based performer and artist decided to update the challenge with a decidedly lockdown twist.
"I was feeling pretty lost during lockdown with not being able to take to the stage," they add. "So I decided to make Instagram my stage. It was also a great opportunity to put my skills into practice once again and see how my creativity has developed in the past few years."
The ensuing looks, all 60 days of them so far, are a testament to that developing creativity. Most of them are a horror-fied take on traditional drag, taking beloved children's TV characters like the Scooby Doo gang, The Powerpuff Girls and even recently-queered Spongebob Squarepants and giving them bloodied up, axe-wielding makeovers. Others are even kookier, taking inanimate objects, mainly food, and bringing them to life as terrifying drag creations. "My favourite so far is my pizza slice look, with the pepperoni, or the pile of chips maybe," says Charity. "I have really enjoyed bringing some inanimate objects and food specifically to life. Who doesn't love a popcorn monster?"
Most of the looks are created by household items, a nightmarish take on something Ross Matthews would probably incorrectly brand as "crafty x". Headpieces, hair and costumes are made from coloured card, paper, plastic, broken lightbulbs and even old cigarettes. "They call me Charity Kase for a reason," the creator says.
The process of taking something innocuous, like chips and ketchup, and elevating it, is unsurprisingly a time-consuming one. But let's be honest, we all have the time right now. Make up takes between two and four hours a day, Charity explains. And that's not even the beginning of the process. "The first thing I do every day is start considering what look I feel like I want to do," the 22-year-old says of their daily quar-routine. "I don't like to plan too far ahead and it's kind of impossible to do that when creating a daily look anyway, so I just wake up and go with what I feel like.
"If I'm feeling low I will create a sad character and vice versa. I usually cut out and paint and make my paper accessories or any wig that I need for the look and this usually takes me up to lunchtime. I then spend the afternoon on the makeup and putting on the costume, and finally about 10 minutes shooting the look with my flatmate in my living room with my makeshift green screen -- which is sellotaped to my bookcase!"
The makeshift process has clearly been successful. Helped by the nostalgic twist which punctuates each look (some are even inspired by past RuPaul's Drag Race contestants), Charity has seen their follower count creep up during the two month process of the solo Instagram show. And it's still ongoing. On their most recent creation -- a topless swamp creature who caresses its own breasts and spews milkshake to the camera -- the performer, who also designs custom clothing and accessories, notes that right now there's no end in sight to the challenge.
"My daily drag challenge was my way of staying motivated and creative during lockdown," Charity says, "but making art is also my therapy. It lets me hit that fulfilment button in my mind which is really helpful right now."
But of course, it's no comparison to the real thing. As clubs and bars across the world remain shuttered, even as lockdown is beginning to ease for the summer, the drag community has had to adapt to stay afloat. Many have taken their shows virtual, streaming on platforms like Twitch and replacing the IRL tip system with URL donations via PayPal and Venmo. "The uprising in online drag shows has been really inspiring," says Charity. "I think it's incredible that the drag community has adapted and embraced seeing everyone perform from their own homes. We are now not only our own managers and designers, but also our own producers, directors and videographers.
"I'm excited to see how that will translate after lockdown. There's an incredible opportunity to see an international lineup of performers in your own home right now, which is amazing. But, obviously, nothing compares to the real deal. And I literally cannot wait to be sweating my paper ears off in a smokey east London nightclub again."