Troye Sivan is leaking new songs and wants you to make the music videos
The silver lining of self-isolation? Queer pop royalty getting bored and dropping new material!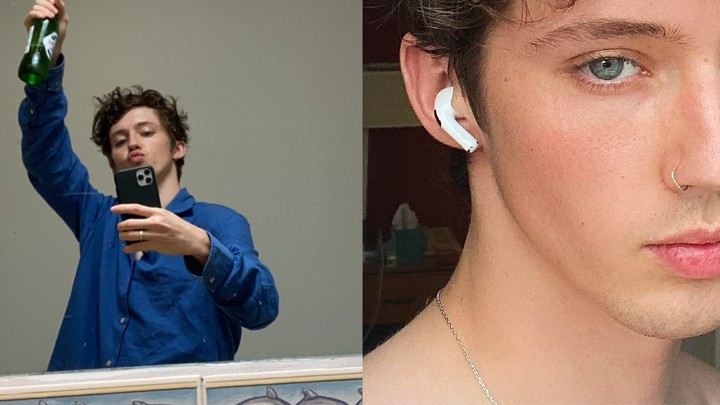 If you follow Troye Sivan on Instagram, you'll know that the South African-slash-Aussie pop icon has spent much of the past few days holed up in a house in Australia. He's living there indefinitely since international flights have been grounded due to Coronavirus until at least the end of May. He's been watching Harry Potter, ordering takeout, drinking beers and going live on Instagram a lot (same).
But last night, Troye's cabin fever took a turn, and he jumped on IG Live to announce that he's about to drop new material. Well, not drop exactly. More like... leak.
So that's that! As his label frantically tries to get in contact with him to be like "Troye baby haha no what is u doin", he's gone full ༼凸◉_◔༽. There's only so much a bored pop star can do to pass the time. He is giving us the gift we all deserve right now.
The plan was, of course, to film music videos and shoot artwork in the run up to the song's release but, alas! The self-employed artists who have been monumentally fucked over by this whole scenario are about to come to the rescue. In a grid post shorty after his livestream, Troye announced: "FREELANCE ARTISTS (GRAPHIC DESIGNERS, ANIMATION ARTISTS) HMU I WANT TO WORK WITH YOU AND TAKE THE MONEY I WOULD BE SPENDING ON MUSIC VIDEOS AND GIVE IT TO YOU. THIS IS A TOUGH AND SCARY TIME AND I FEEL SO LUCKY TO HAVE MUSIC AND ART TO GET ME THROUGH EMOTIONALLY AND FINANCIALLY AND I WANT TO SHARE THAT SO BAD." King shit!!
This is the point that pop music has been building up to for decades now. Charli XCX doing yoga on IG Live with Diplo. Troye Sivan leaking his music cause he's bored. Harry Styles saying literally nothing all the time and us living for him regardless. This? In the age of Coronavirus? Big fat fucking mood.