Atelier E.B: Passer-by, installation view, Garage Museum of Contemporary Art, Moscow, 2020, Photography Ivan Erofeev



The designer-artist duo challenging our perception of the fashion display
In their Moscow exhibition, Passer-By, Atelier E.B unpack how mannequins and shop windows shape the way we understand fashion today.
Atelier E.B: Passer-by, installation view, Garage Museum of Contemporary Art, Moscow, 2020, Photography Ivan Erofeev
Fashion's preoccupation with fantasy is, of course, well documented -- in high-gloss editorials; on billboards; on runways; now, on countless hand-held screens. But beyond these exclusive platforms, fashion's communication of fantasy punctuates our physical experience of everyday life, through mannequins and the artfully dressed windows they inhabit. For Atelier E.B, these overlooked art forms -- mannequin-making and fashion display -- are fundamental to how we interact with fashion today, serving as the basis for their current show Passer-By.
The signature for the collaboration between designer Beca Lipscombe and artist Lucy McKenzie, Atelier E.B (or Atelier Edinburgh Brussels, after the cities between which the pair are based) operates as a fashion label, albeit one that operates beyond the industry's typical parameters. "It's a coming together of skills, and we try to utilise what's on our doorstep," Beca explains. "Lucy comes from an art background, and I come from a design background. I have all the experience of working in the fashion industry, and she has the experience of working with people in the art world." It's in the latter that their work is perhaps best known, in no small part due to the reputation of Lucy's independent practice, and the invitations to present in some of the most esteemed contemporary art institutions it brings. First showing at The Serpentine Gallery in London in 2018, and then travelling to Paris' Lafayette Anticipations, Passer-By had only recently opened at the Garage Museum of Contemporary Art in Moscow before becoming subject to the global spate of temporary gallery closures due to the coronavirus. Nonetheless, the relevance of their practice extends far beyond the limits of the exhibition's run.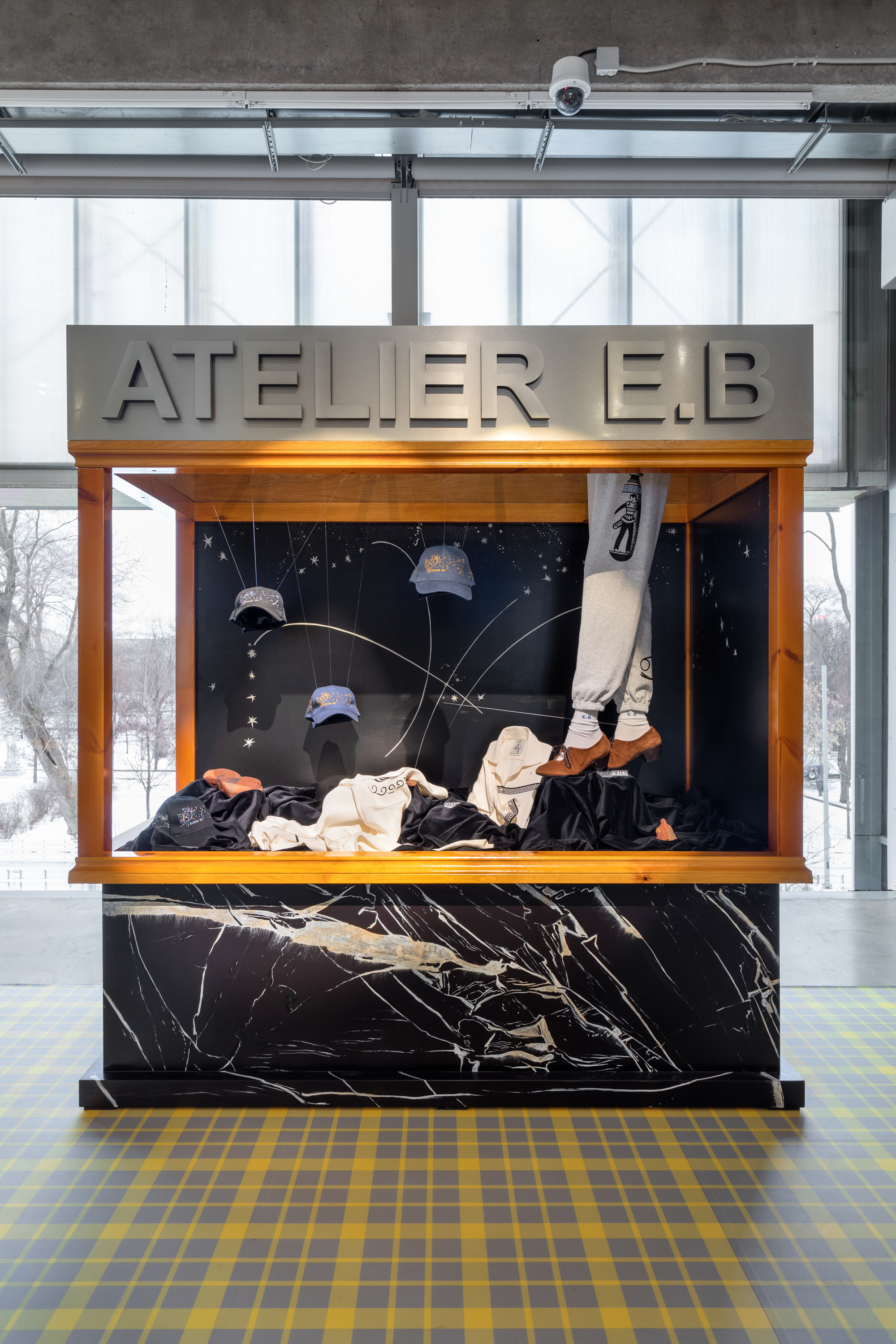 The cross-pollination of art and fashion is nothing new and is increasingly common. Yet, while many such practices interact with fashion on art's terms, treating it as a strategy or tool rather than as an artistic discipline of its own merit, Atelier E.B set out to expose and challenge how we perceive and appreciate fashion. "There's a hierarchy in the world, with painting and fine art always coming first, and everything else coming after that," explains Beca. Those same hierarchies, naturally, tinge fashion, with the overlooked status of mannequin-making a case in point. "The mannequin has often been historically used as an add-in. Like in art, where somebody defiles it, or uses it but not for the purposes of display," she says, "In Passer-By, we've tried to address this by showing the making of mannequins, and the art of it."
"We're so pre-conditioned to read fashion through mannequins or display. I was at the Alaïa museum in Paris a couple weeks ago, and he placed his clothes on mannequins that are about seven feet tall. There's something about the quietness of the clothes that mean they have to be elevated by being put on these impossible women," continues Lucy. "In fashion shows and exhibitions, there's this level of perfection, below which anything is read as trash -- as soon as you go to a fashion museum that doesn't have the budget of the Met, the V&A or the Palais Galliera, it somehow feels cheap. That intrinsic connection between beauty ideals and capitalism is really reflected in mannequins. On the high street, you notice that the mannequins have heads, but if you then go to Celine, they don't -- the clothes are presented as artworks, rather than as objects to be worn on real human bodies. Those relationships are absolutely fascinating."
The arena in which this relationship plays out at its fullest is in the still-life vignettes that decorate the windows of our cities' cherished department stores, past which countless pedestrians stroll each day. Much maligned as a vapid enterprise -- as the idiom 'It's just window-dressing!' would suggest -- Passer-By sets out to narrate the history of commercial fashion display, and the calibre of artistic skill it entails. "Many great artists, for example, worked on window displays in order to earn money to sustain their practice. But it always gets written out of history, it's seen as a lesser trade or skill," Beca explains. This can, in no small part, be attributed to the gender discrimination implicit in fashion's wilfully selective memory. "There are so many great designers that fall into a grey area and get forgotten about -- they were strategic in history's making, but they get written out of it. And they're predominantly women. Through our work, we're championing them."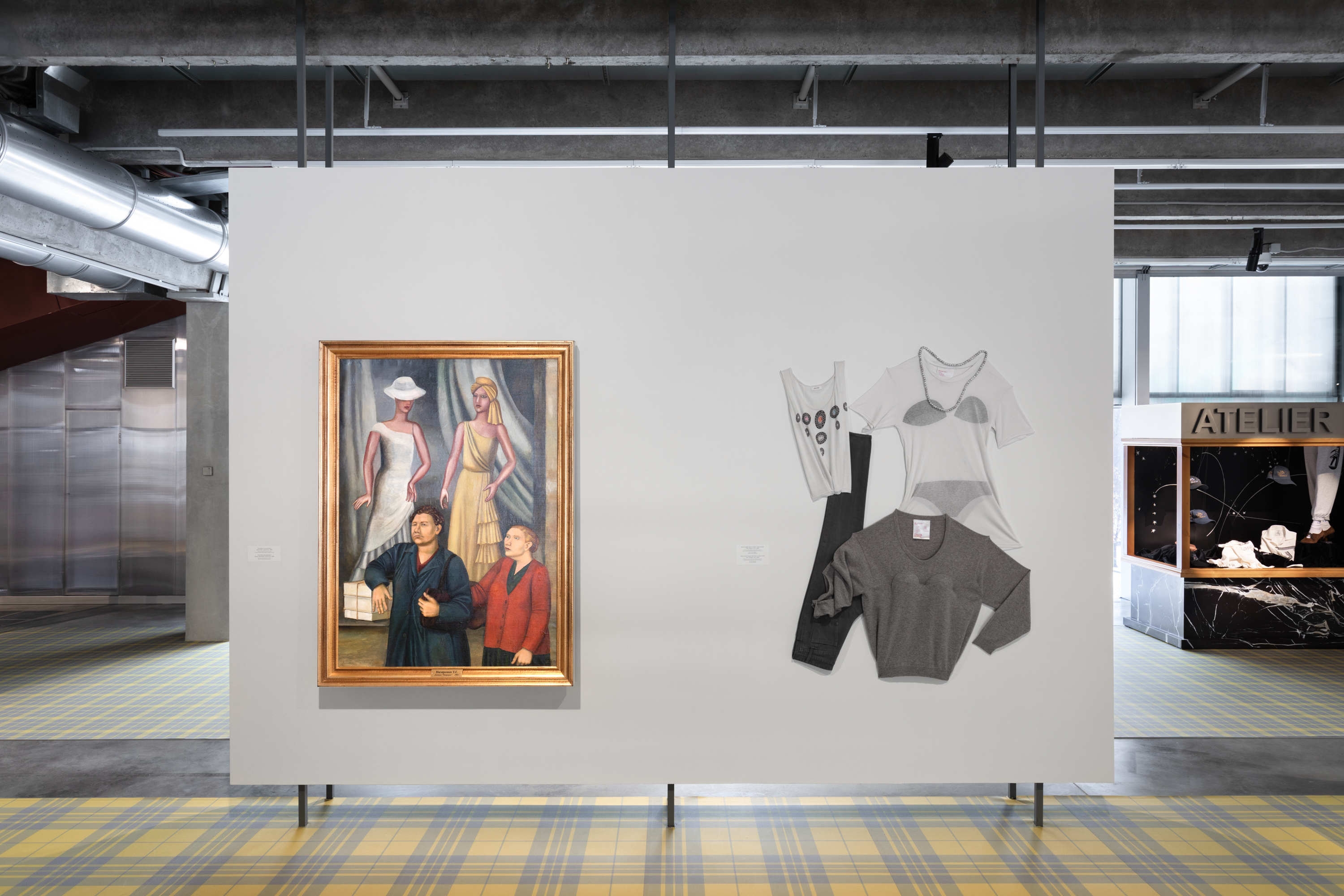 An example of such a designer is Ann-Sofie Back, who Beca first met studying at Central Saint Martins. Launching her eponymous label in 2001, Ann-Sofie gained repute for quietly witty yet wearable avant-garde clothing -- think a grey wool jumper with a wired bust -- clothing that in many respects foretold much of the work we see on runways today. Pieces of hers are exhibited in a section dedicated to agenda-setting London boutique The Pineal Eye, a stockist of both hers and Beca's work during its 10 year stint.
Founded in 1997 by Yuko Yubiku, the Soho store radically reformed the idea of what a shop could be, teetering on the boundary of fashion and art in a way that many concept stores since have attempted to emulate. "It was so brilliant for its time, and they did the most incredible display -- that's why we feature it in Passer-By," Beca explains. "They were really the blueprint for how boutiques are now." Stocking the work of Andre Walker and NOKI alongside one-off show pieces by Hussein Chalayan and Alexander McQueen, with streetwear thrown in for good measure, it elevated fashion retail and display far above its staid commercial station. "It was odd, it was weird. It was also inclusive in one way, and exclusive in another. But they had great vision."
Given their solid footing in both art and fashion, it will come of little surprise that comparisons are frequently drawn between Atelier E.B and the clique of fashion-artists that emerged from New York's downtown scene in the 90s -- Bernadette Corporation and Susan Cianciolo in particular. "We loved their work, looking at it as students in the 90s in magazines like Purple," says Lucy. " But I remember looking at it and thinking 'God I can't buy that!', which you couldn't, unless you knew these cool kids in downtown New York. It felt different from not being able to buy a Givenchy dress -- it felt like they were using the context of a fashion magazine for an art project," she says. "I'm fascinated by the amount of people involved in fashion that always feel the need to distance themselves from fashion proper, saying things like 'Oh, we just use it as a strategy. I'm not really interested in fashion.' That, to me, speaks of art's need to insulate itself from fashion. It's always got to have this conceptual distance to keep a certain purity."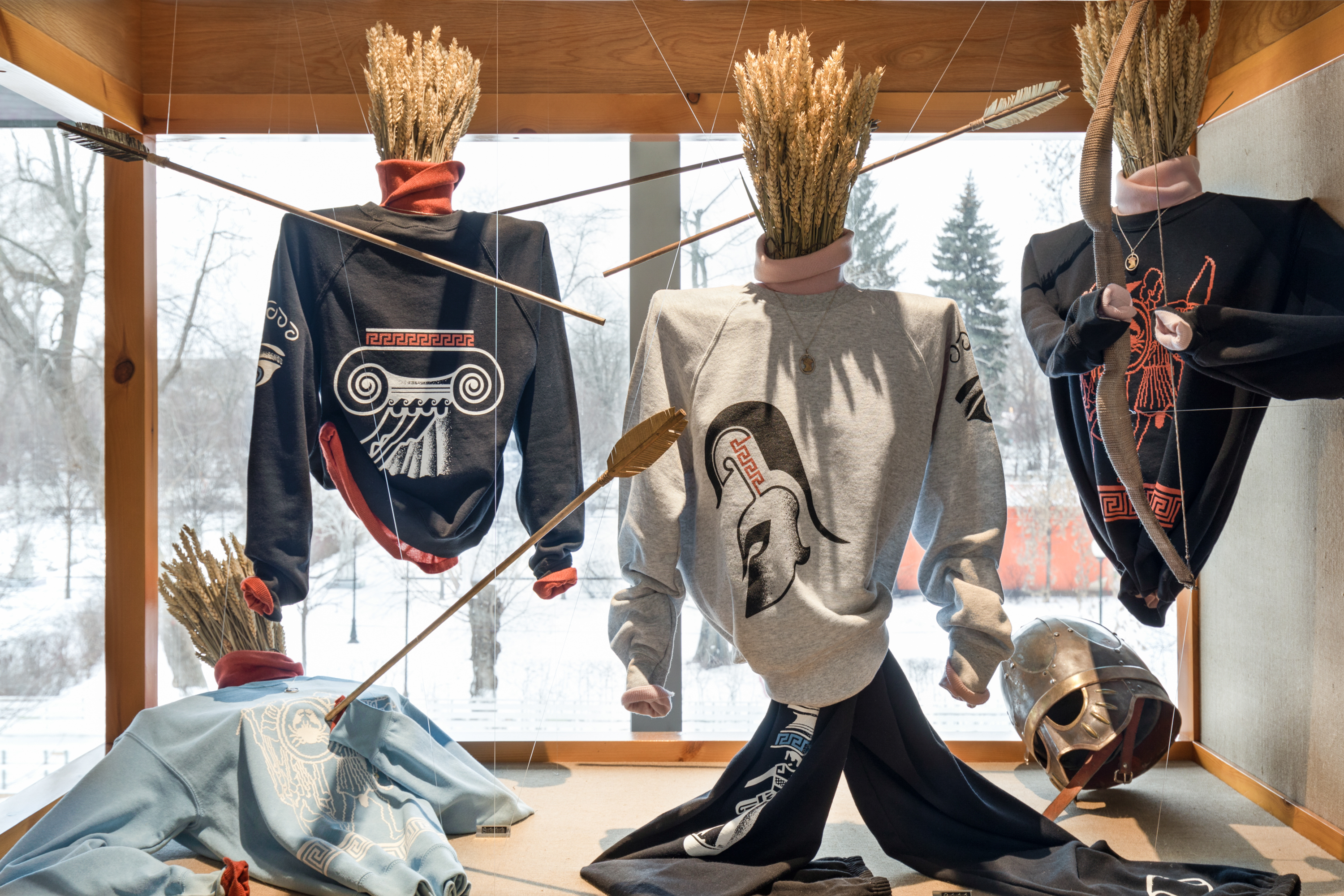 Where similarities between them might be found is in the shared importance placed on styling, on elevating "unspectacular" clothing -- from printed cotton jumpers and deceptively simple pieces in rich cashmeres and silks that need to be touched for their value to be known. In one vitrine, for example, raglan-sleeved sweaters with Ionic column and Corinthian helmet motifs are animated by sheaves of wheat amid a flurry of arrows. It's here in the visual execution of their work that its spectacular value, and the artistic value of window dressing more generally, is truly brought to light. "Even though you might think that fashion as art should look like Björk's costumes, we say no to that. Styling is taking an object and giving it a context, creating a story around it -- a blue jumper for example," says Lucy. "We love the purity of that blue jumper, and want to state emphatically that we consider it an artwork. The whole world that we build around that blue jumper through styling energises and infuses it with a story. But the great thing is that a customer can then take that blue jumper and do whatever they want with it."
The remark above touches on a key factor distancing Atelier E.B from the indulgently esoteric art-fashion hybrid practices that are often subject to cultish adoration -- you can actually buy the clothes you see. "We don't sell through shops or department stores, we have our own showroom that we take around the world," explains Beca. "The institutions we work with don't take money from us, which is important -- it's a way for us to reach the customer in a way that allows us to cut out the retail mark-up." As subversive a proposal as it may seem, Beca keenly highlights that the window displays seen in the halls of the revered art institutions Passer-By has passed through play just the same role as those that line any city's streets. "We address window dressing in the same way," she says. "It seduces the passer-by, who then leaves the exhibition space, and goes to buy our merchandise in the shop."
Though Passer-By, and the work of Atelier E.B more generally, is certainly richly layered, meticulously researched and, at times, complex, its wealth is a faithful reflection of the nuances of its subject matter. Still, finding simple aesthetic pleasure in the objects and displays exhibited is just as valid a response as taking interest in the research that underpins them. "You could walk around and enjoy the ambience of all of these strange objects and the installation," says Lucy. "For those with a little bit more knowledge or curiosity about history or fashion, there's all this more valuable information in the form of a booklet that we always have as part of the exhibition." Ultimately, what you find in Atelier E.B's storefront depends on what you're looking for as you pass by.