All clothes Róisín Pierce. Shoes Bottega Veneta from Saks Fifth Avenue.
Róisín Pierce: "What I do is very odd. I don't think my designs are for everyone"
The 25-year-old Dublin fashion designer makes beautiful soft-serve inspired collections with a dark history running through their intricate details.
All clothes Róisín Pierce. Shoes Bottega Veneta from Saks Fifth Avenue.
Imagine finding yourself atop a giant wedding cake -- hair tied up in white ribbons, surrounded by exquisite decorative icing, scrunched-up tissue paper flowers and whipped cream peaks. Heaven. The work of 25-year-old Irish designer Róisín Pierce isn't far off that. Made of hand-smocked broderie anglaise, finished with organic cotton crochet and layered with sculptural ruffles and floral diamond cages, Róisín's designs are a sensory feast. It wants to be touched. It's beautiful.
But there's something sinister lurking beneath this enchanting surface. After noting disturbing similarities between the experiences of women in present-day Ireland and the injustice endured in the historic Magdalene Laundries (state-funded forced labour institutions for single mothers, run by Catholic nuns, which were only finally and belatedly shut down for good in the 90s), Róisín became fixated on finding a way to celebrate the intricate embroidery and lacework produced by the women.
"In Ireland, up until 2018, we had no reproductive rights: women were still being punished purely for being able to reproduce," Róisín -- a softly spoken Dubliner -- says. "The more I researched what happened to the women in the laundries, the more I realised that there was a link to textiles." Róisín, who graduated from the National College of Art and Design in Dublin, knows women affected by the atrocities that happened in the laundries, and set about raising awareness by adopting their traditional techniques across her debut solo collection, Mná ì bhláth, Gaelic for 'women in bloom'.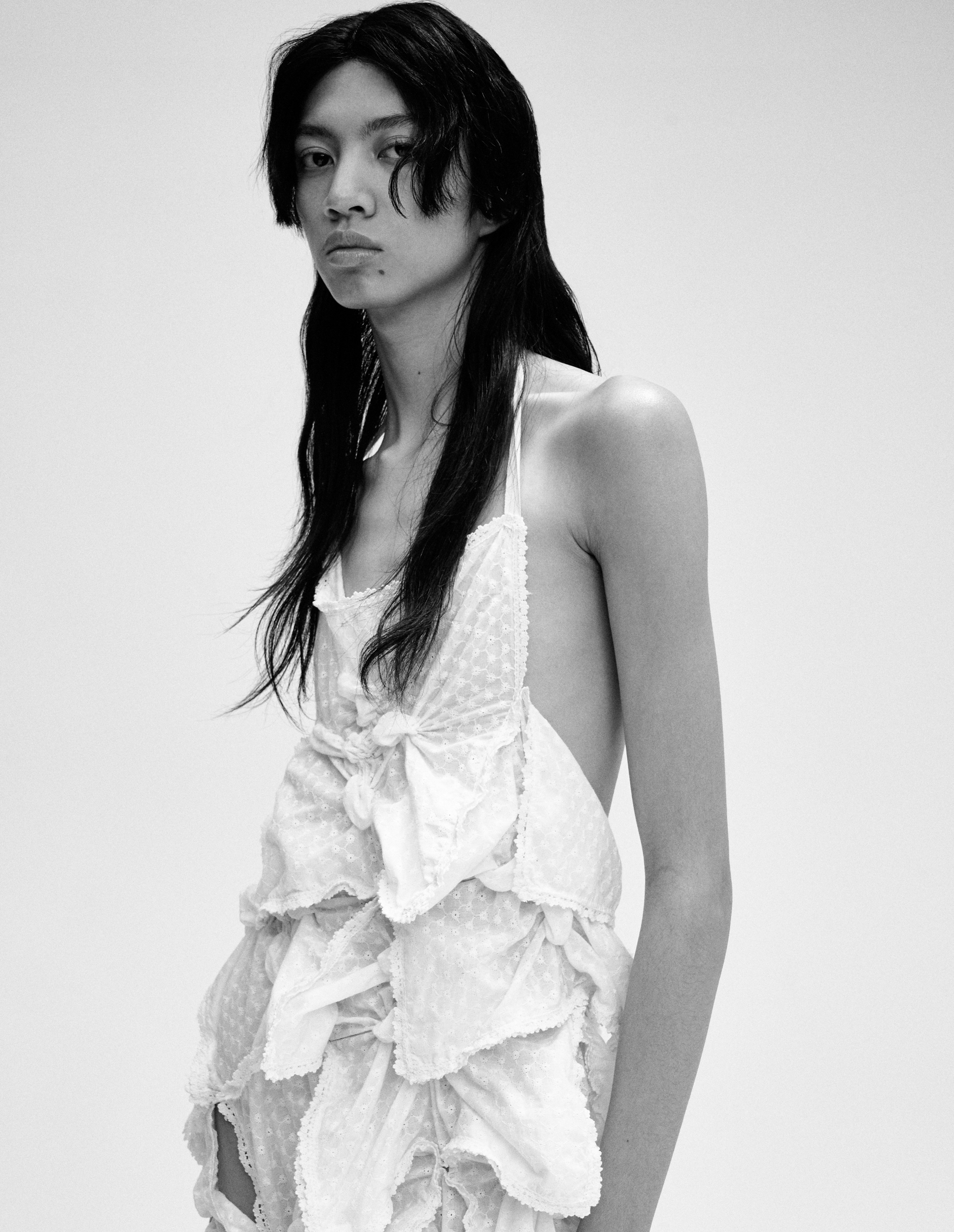 Róisín approaches fashion with the ultimate aim of uniting sculpture and textiles; the resulting range of dresses, skirts and cage-like floral armour is the ultimate showcase of her many methods of fabric manipulation. Like the Catholic lace that inspired the collection, every unique silhouette comes in brilliant white. It takes a special kind of talent to transform the bad into the beautiful. And some things are so inherently dark that it's hard to find any beauty in them at all. But Róisín can.
Winning the Future Makers 'Pushing The Limits' award from the Design Council of Ireland for her 2016 graduate collection Man Repellent -- a more literal interpretation of fashion as sculpture, for which Róisín crafted rolls of fat and hunchbacks via embellished fabrics and appliqué -- set the designer on a course to receive more prestigious praise.
She was selected for the 34th edition of the International Festival of Fashion and Photography at Hyères, where Mná ì bhláth not only took home the Public Prize (voted for by locals) but also the first ever Chanel Métiers d'Art Prize, granting Róisín a much-coveted opportunity for mentorship from the house.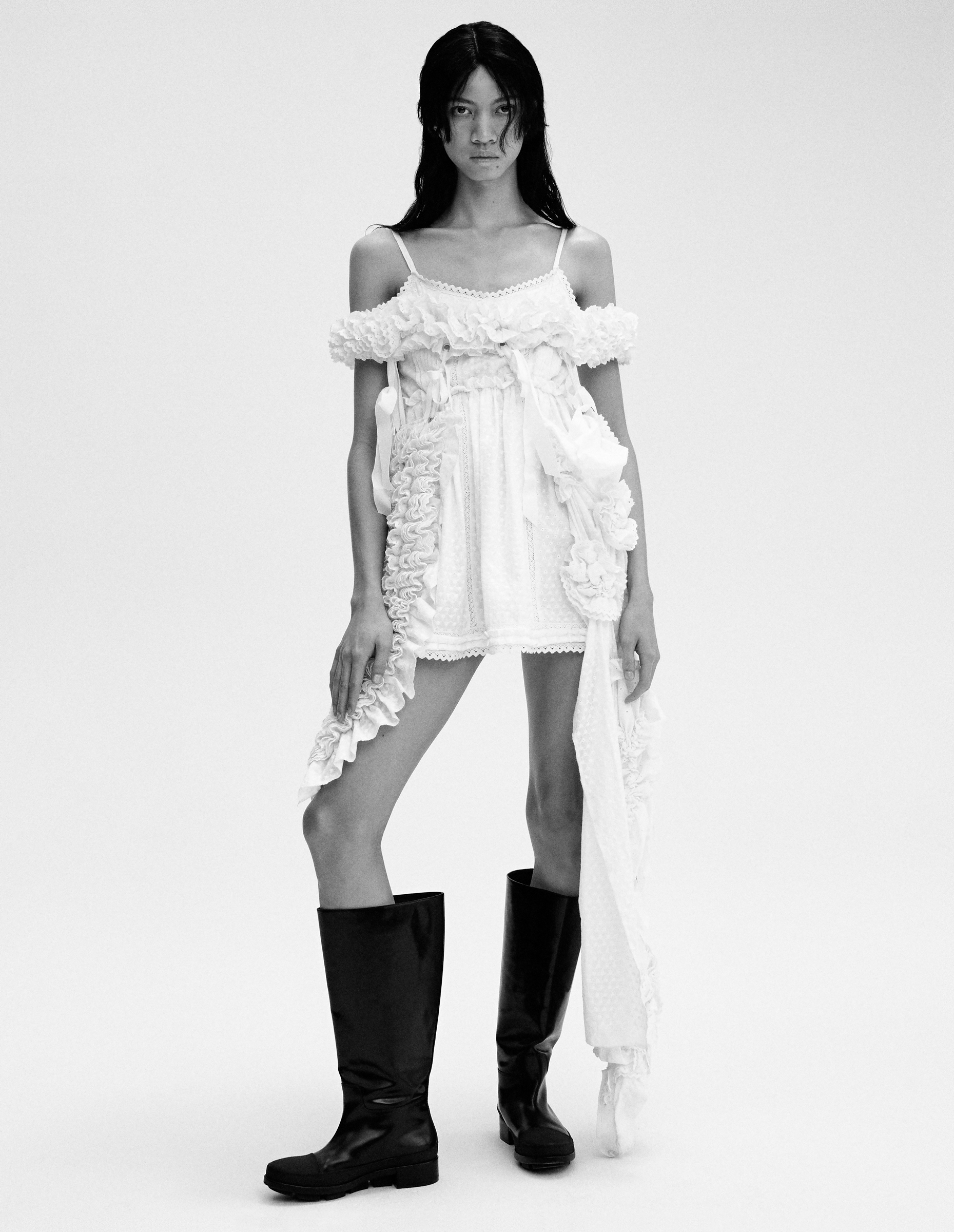 "I felt like showing this collection in France could be a way of raising awareness of the Repeal The 8th campaign in Ireland," she says. "When I started working on it, we didn't even have access to legal abortion. They didn't know much about this in France, and they'd never heard of the Magdalene Laundries... all of this shameful stuff was kept inside Ireland." It's a difficult conversation to have, but an important one. "Fashion can definitely be political," Róisín adds. "I like the idea that clothing is more than just something we put on our backs; that it can be a visual symbol of a deeper message."
Each of the twelve designers at Hyères were given the opportunity to collaborate with one of the Chanel Maisons d'Art. Róisín worked with Parisian milliners Maison Michel and together they crafted wide-brimmed ruffled sunhats and pointed numbers inspired by soft-serve ice-cream swirls. Collaboration was new for Róisín, who is used to a solitary workspace -- namely, her mother's kitchen table (a dangerous space for an all-white project). "Very dangerous," she laughs. "I'm in a constant state of anxiety when there's food around. My mum doesn't mind me using her kitchen as my studio though... I think she actually quite likes it."
And it was Róisín's mother who started her obsession with textiles when she was just nine years old. "She gave my sister and I some fabric and we made a little denim collection for our Barbies," she remembers. "We did a line-up of looks with frayed edges and a lot of asymmetry. She always told me to go for it; she was the one person who supported me."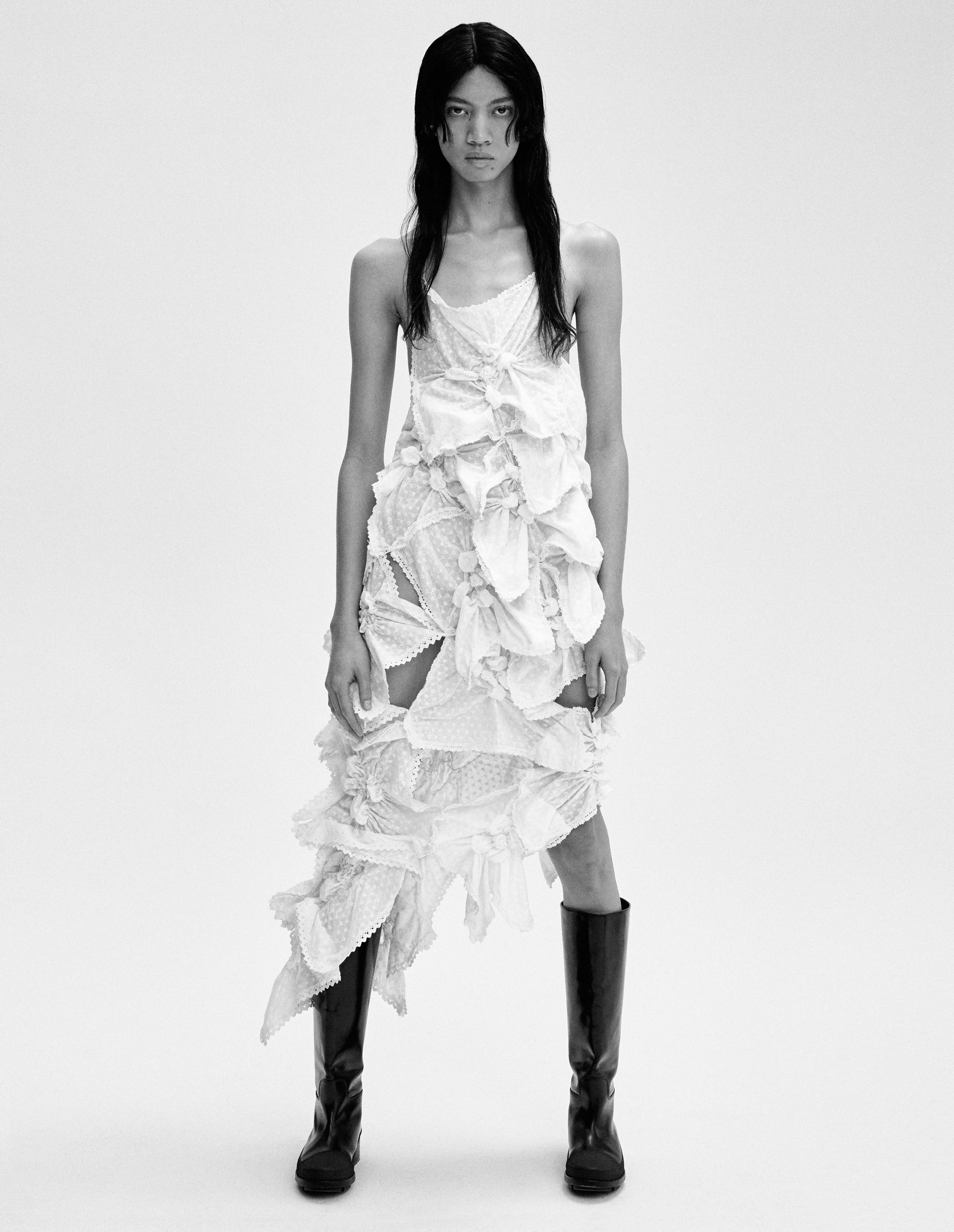 Right now, Dublin's working for Róisín, although she admits that there's an expectation that she should move to London if she wants to further her career. "It's really refreshing being here," she says. "There's the space to truly focus on what I'm doing." Besides, her fascination with Irish textiles, both technically and culturally, has been a constant source of inspiration for her as a designer.
"What I do is very odd," Róisín says. "I don't work in a classical way -- my constructions are quite different to those of traditional designers. I'm producing these pieces without having an exact idea of what they are going to become." Instead, the DIY but very highly skilled designer develops small sections, brings them to the stand and builds them up as she goes. "I'll have absolutely no idea what they're going to be until I start playing with them. It's quite a fun way to work; you just listen to the piece and let it work out how it wants to be draped or how it wants to fall. It's not like you can force it to look a certain way. You just see how it wants to look and it comes together."
Practising zero-waste cutting and placing great importance on keeping things local is key for Róisín, who plans to continue working with Irish makers for the foreseeable future. "My main aim isn't sales or to be showing on schedule. The work is what's most important to me, and my progression as a designer. I want it to remain a tribute to what we've done here, and I'd like to start collaborating with the group of older women that make lace with me every month. That's all I want."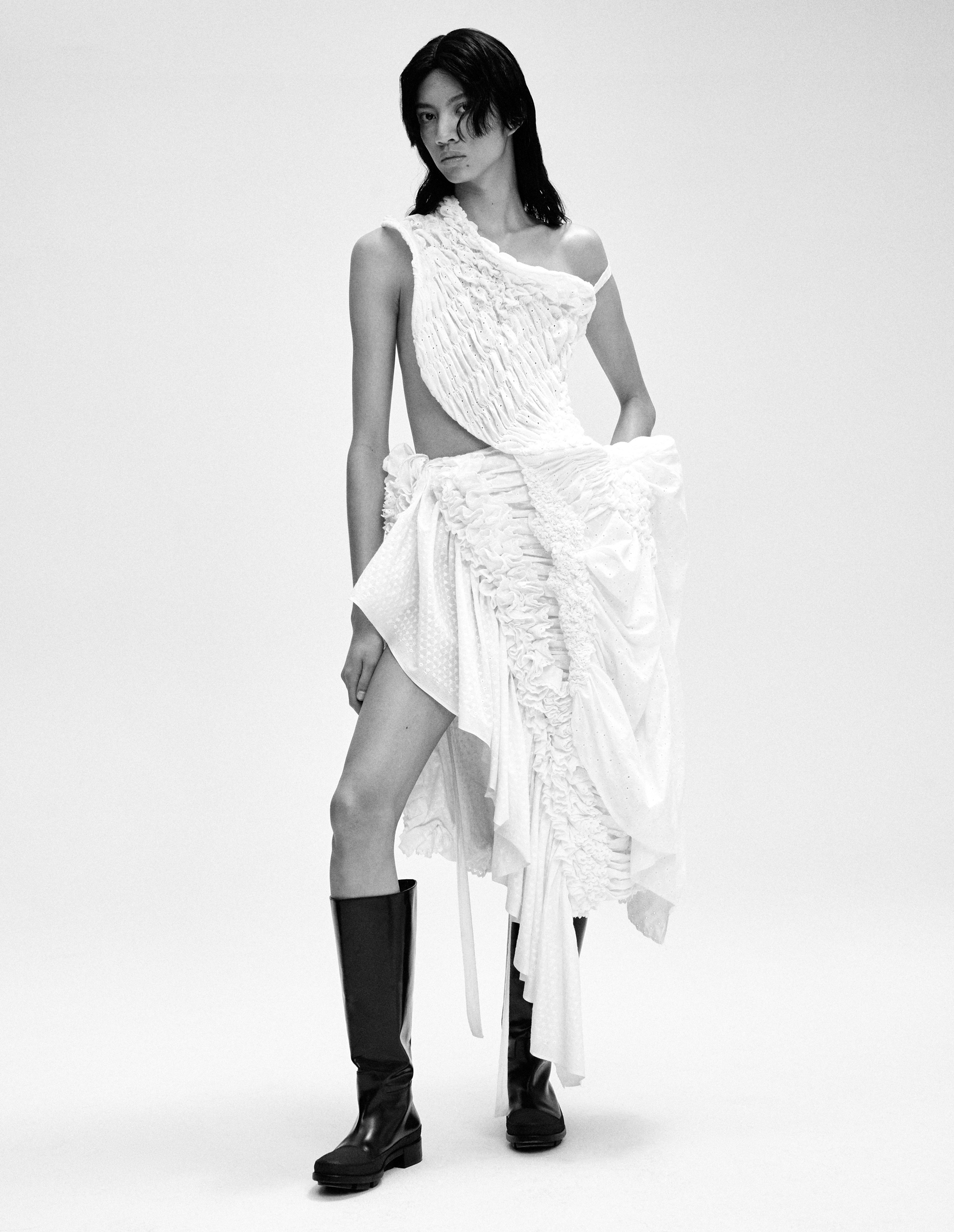 When it comes to what 'the people' want, rather admirably Róisín isn't so concerned. "I don't think my designs are for everyone..." she says. "It'd be cool if they were, but I think it takes a special kind of person; someone who appreciates texture, art and design. Someone who selects clothes mindfully, who feels a strong connection to the pieces -- from the message behind them to how they're made and, of course, the final piece. After all, I'm really just trying to make them as beautiful as possible."
Róisín is currently working on a follow-up capsule collection in collaboration with Chanel's Maisons for Hyères 2020, including a full look with Maison Paloma, a handbag with Les Ateliers de Verneuil and more fantastic hats with Maison Michel. Another beautiful celebration of handcrafted textiles all in white, it's a continuation of Mná ì bhláth, something Róisín (who interestingly never wears white herself) sees as much bigger than a self-contained collection. "I felt like I couldn't just stop, that it shouldn't stop," she explains. "There was still so much for me to say and do. What I'm producing today feels like what I was always striving for. It's so me."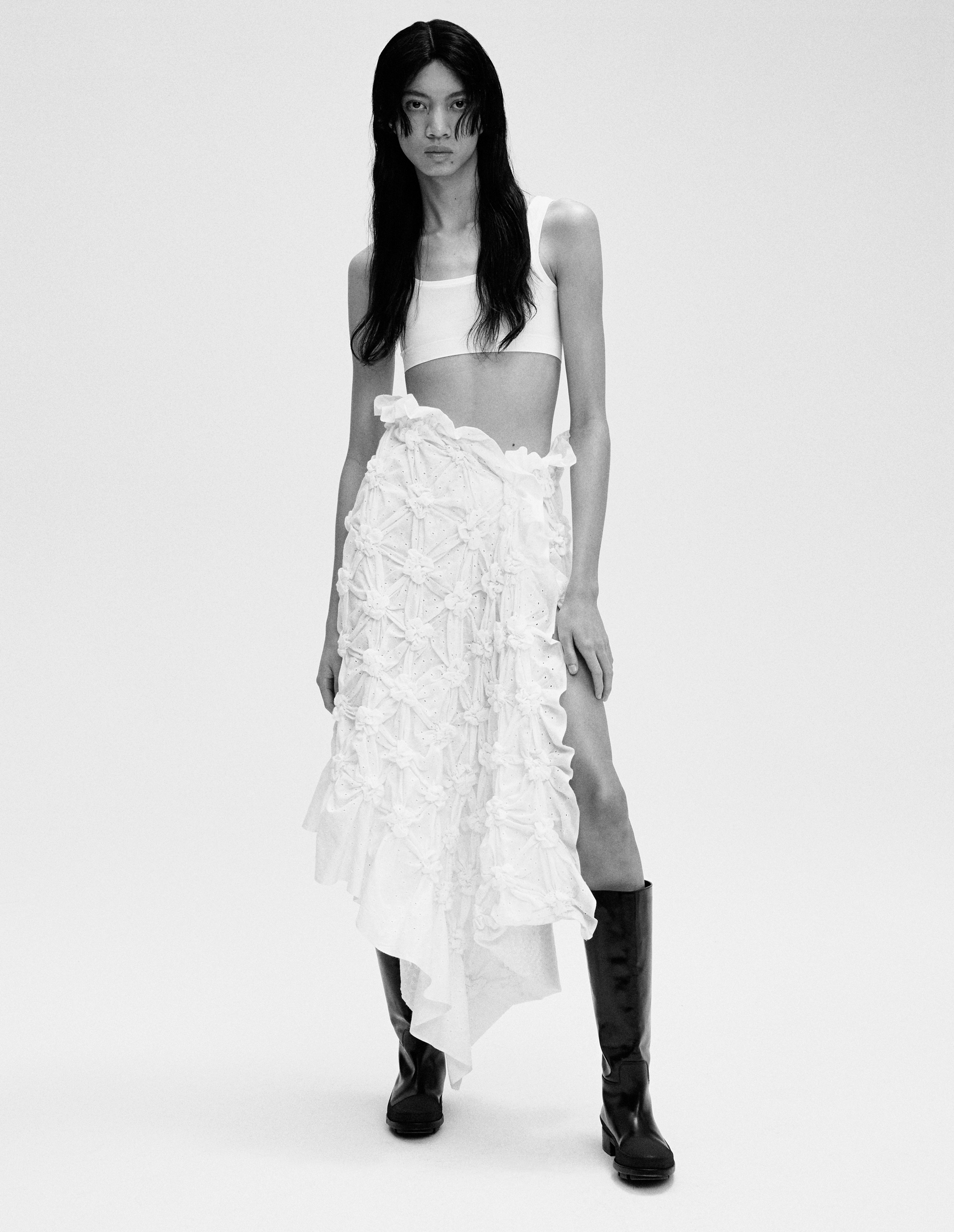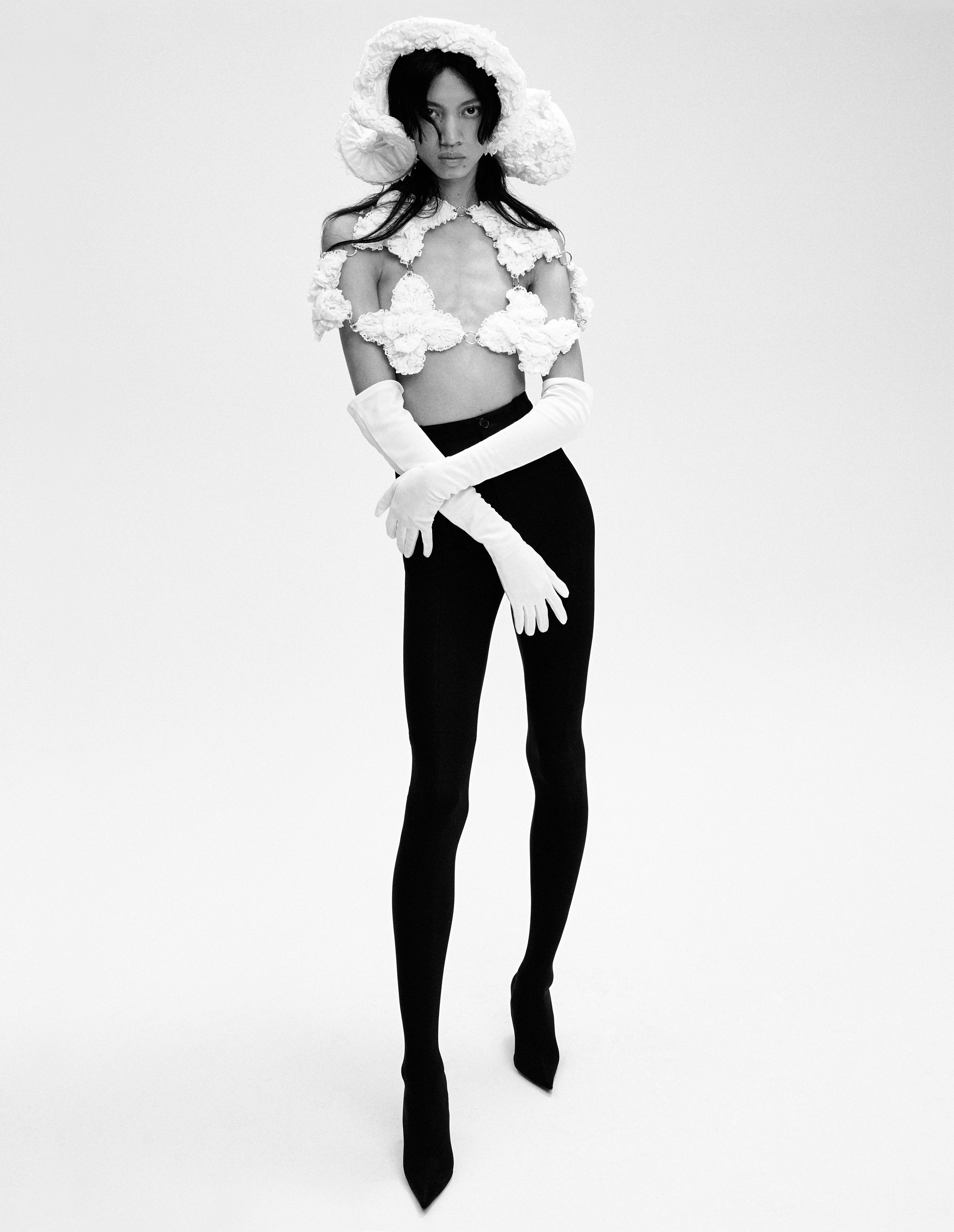 Credits
---
Photography Deirdre Lewis
Styling Sydney Rose Thomas

Hair Junya Nakashima for Tigi.
Make-up Kuma for NARS Cosmetics.
Nail technician Misa Matsumura.
Photography assistance Daniel Fry.
Hair assistance Yui Suzuki.
Casting director Samuel Ellis Scheinman for DMCASTING.
Model Noah Carlos at IMG.