The medical student taking on the fashion industry in his own time
Tisloh Danboyi's relaxed approach to tailoring is a product of his unique career path.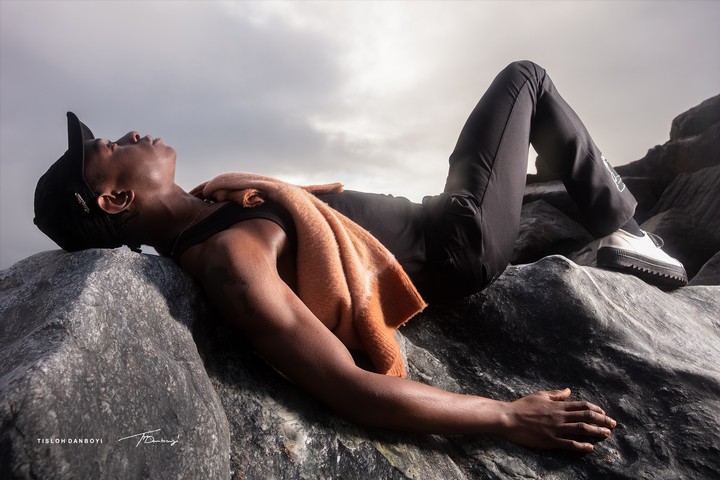 Photography Oliver Webb & Ryan Doyle
Compared to most young designers, Tisloh Danboyi's professional relationship to fashion is unorthodox. When we spoke to the 21-year-old, he'd just received good news about a job. Not for an in-house design role, or a freelance consulting gig, but rather for a position on the current pandemic's frontline as a healthcare assistant at Southampton's University Hospital. That's not down to a critically overstretched NHS turning to young fashion-makers in their hour of need -- it's because Tisloh is a second-year medical student. Given the 'all in or all out' expectations of a career in either fashion and medicine, Tisloh's decision to simultaneously pursue both is striking, to say the least.
Few, however, could say he's not committed, as the length of his relationship with clothing design attests -- he first took scissors to cloth at the age of 13. "I was really influenced by the music and culture of the -- the sneaker industry, A$AP Rocky, things like that," he says. "I was very streetwear-oriented, and I kind of just wanted to make the clothes that I liked but couldn't necessarily afford."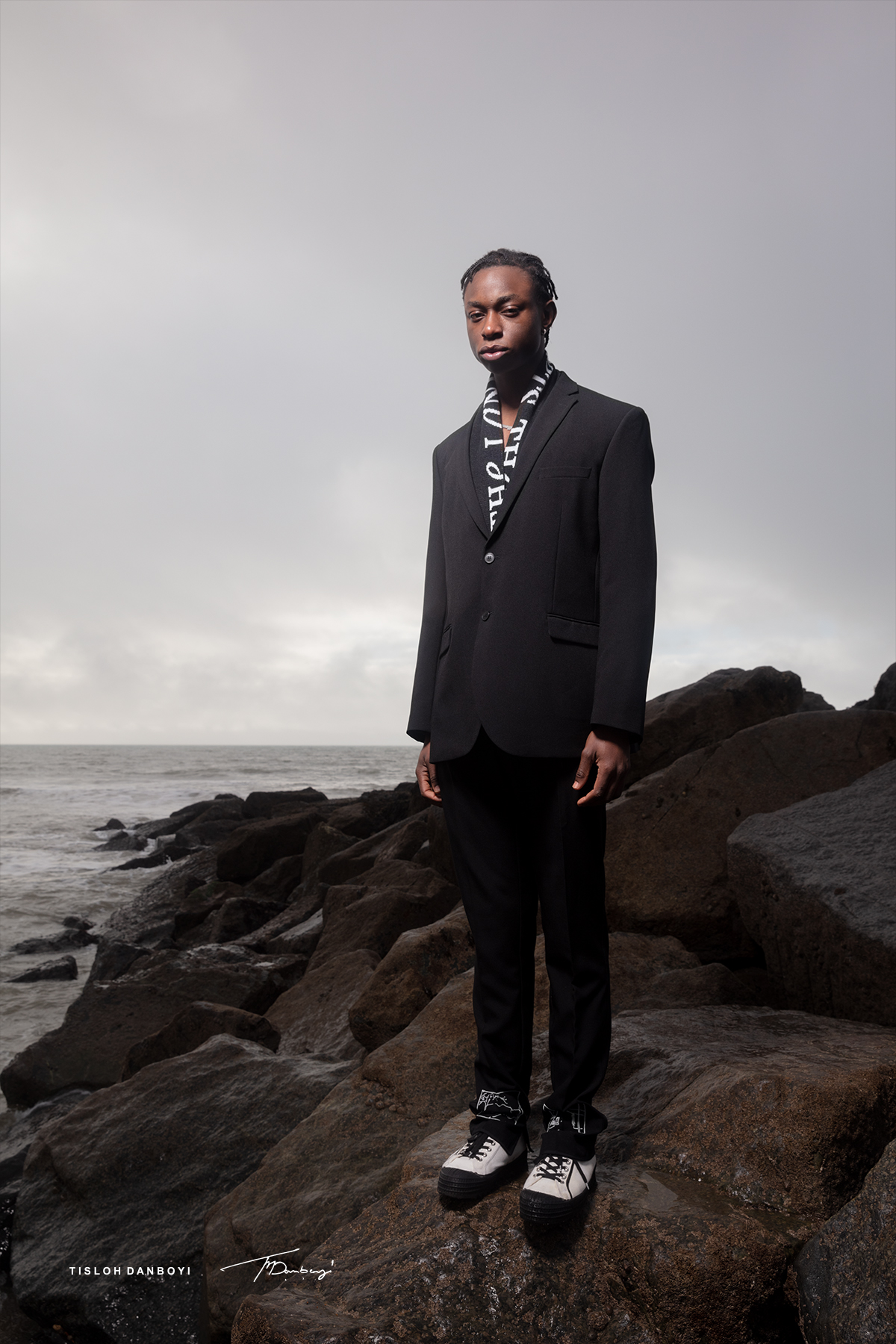 The time that's passed has seen his aesthetic mature into something a little more enduring, a silhouette that errs towards formal, at times, though one still contemporary enough to feel relevant. Much of this shift towards more restrained shapes can be attributed to the increasing seriousness with which he's treated his brand, and the need to create a coherent identity for it. "It wasn't until about two years ago, working on my AW18 collection, that I really settled on a direction," he says. "Previously, I wasn't really working with building a brand in mind, so I went through quite a few name changes. Every time I designed or released something, I'd change the name to accommodate the change in direction I would take. But it got to a point where I wanted to take responsibility for it by giving it my own name. I just thought, 'Okay, I need to take this seriously now -- if I mess up, that impacts on my own name.'"
This decision to knuckle down, so to speak, brought with it a focus on form and garment composition over the instant appeal of eye-catching graphics. The visual appeal of his forthcoming body of work, Where the Land Meets the Water, for example, relies on the subtle relaxation of formal tailored shapes, and the gradient tones of tactile brushed wools. The relative formality of his work also owes much to the contexts Tisloh sees himself occupying in his professional future. "Studying medicine has made me focus a lot more on making my clothes slightly formal, so I can wear my clothes in more professional settings and not feel out of place," he says.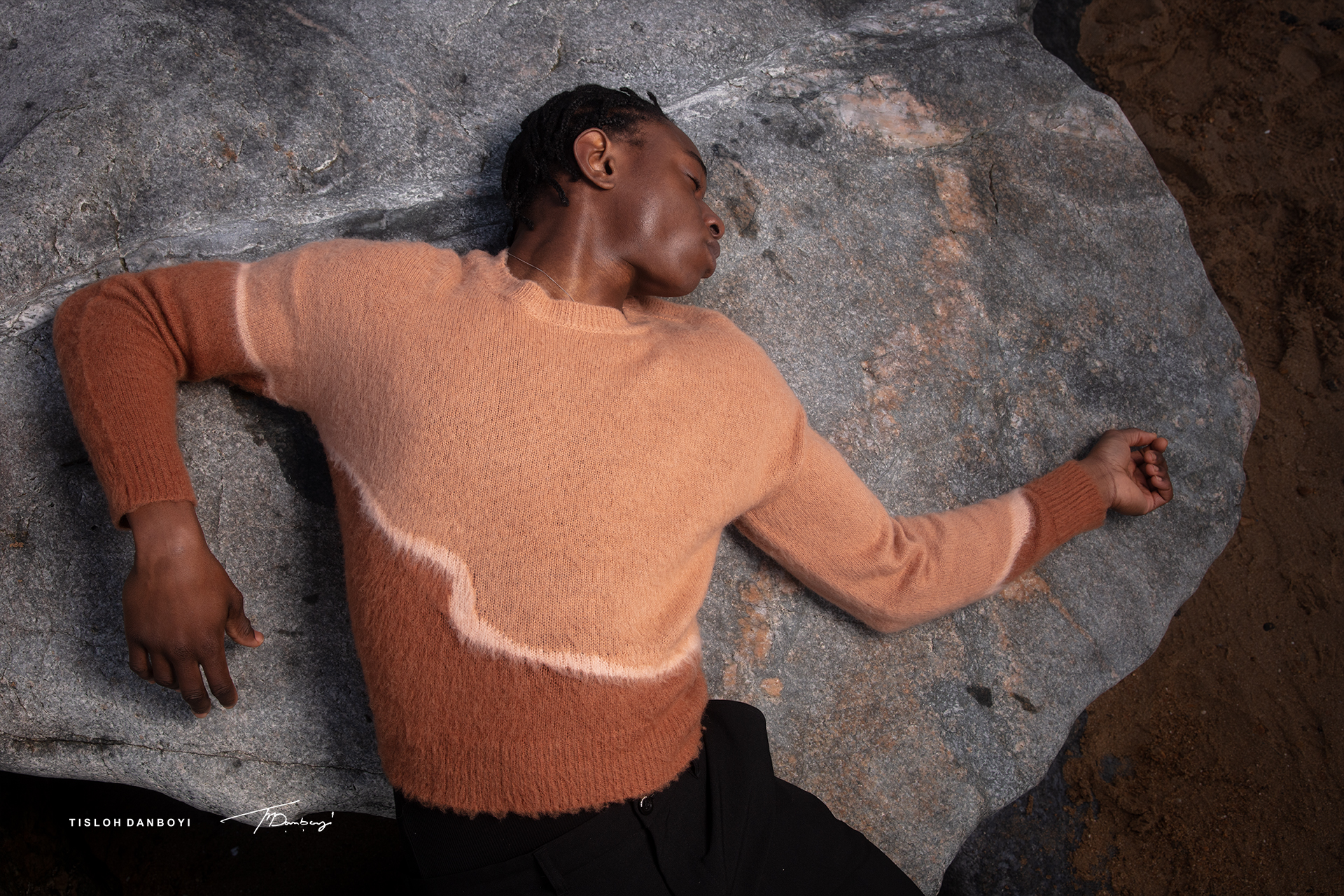 Tisloh's ability to plait two vocational paths both renowned for being extremely competitive is, of course, impressive. Sacrifices have naturally been made along the way. Participating in fashion's seasonal cycle, for example, just isn't an option. "I know that my resources are limited, as is my time. I really have to take my time when I make decisions," he says. "I put a lot of pressure on myself, because coming from a fashion background in London, I've always paid attention to seasons, and how it affects the kind of clothing being made. But I have to keep a mental note that I can't actually keep up with that." It's also affected his student life, with little time left for the extracurricular activities. "I used to play national basketball when I was younger but I gave that up for medicine. Coming to university, I wanted to go back into basketball, but I knew that I couldn't if I wanted to continue to pursue design," he says. "Everybody has some sort of free time in the day, and while my medic friends spend theirs doing extracurricular and other society activities, my way of relieving stress is by designing."
The temporal restrictions placed around the designer's process are not, however, without their benefits. Rather than strain to conceptualise a collection within a matter of months -- a harsh industry reality that designers like Raf Simons and Marc Jacobs have spoken out about -- Tisloh's choice to step back from the industry-standard cycle allows him to adopt a more experiential approach to working. His AW18 collection drew upon the texts he'd been studying in a religious studies class -- paperweight tomes by Thomas Aquinas and David Hume.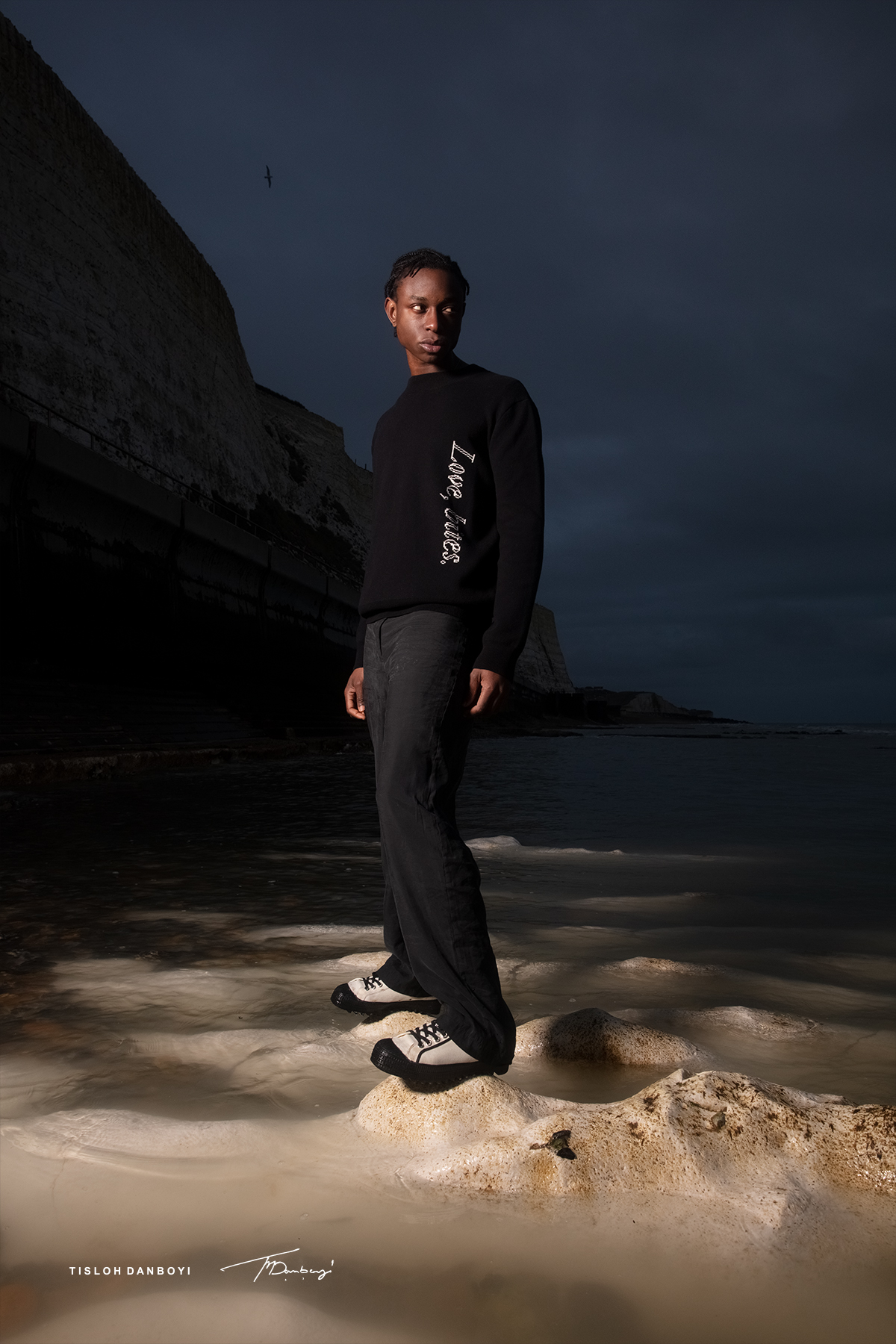 For Where the Land Meets the Water, he drew inspiration from a recent trip to Nigeria, his first in quite some time. "I just took in a lot of what I was seeing and met a lot of family members whose names I'd only ever heard, or maybe spoken to once in the background of a family conversation over the phone," he says. "I'm from the North of Nigeria, the only place in the country where it can snow, so people there wear sweaters and stuff in the evening, it's hilarious. I took everything that I saw in -- the colours, land formations, people and cultures --- and just pumped it out into this collection."
Tisloh's dedication and time management skills are certainly enviable. Still, as conversations increase around the sustainability of current work practices in both fashion and medicine abound, you can't help but wonder how he plans to balance the two throughout his working life. "It's a constant battle I have with myself, but I think I want to take medicine to a point where I don't need to worry about things from a financial standpoint," he says, "Design would then be my escape, but an escape that actually means something to people. I want to slowly build a progressive, attached following -- people who care about the brand, and know that it's there for the long run, and not just a quick bandwagon."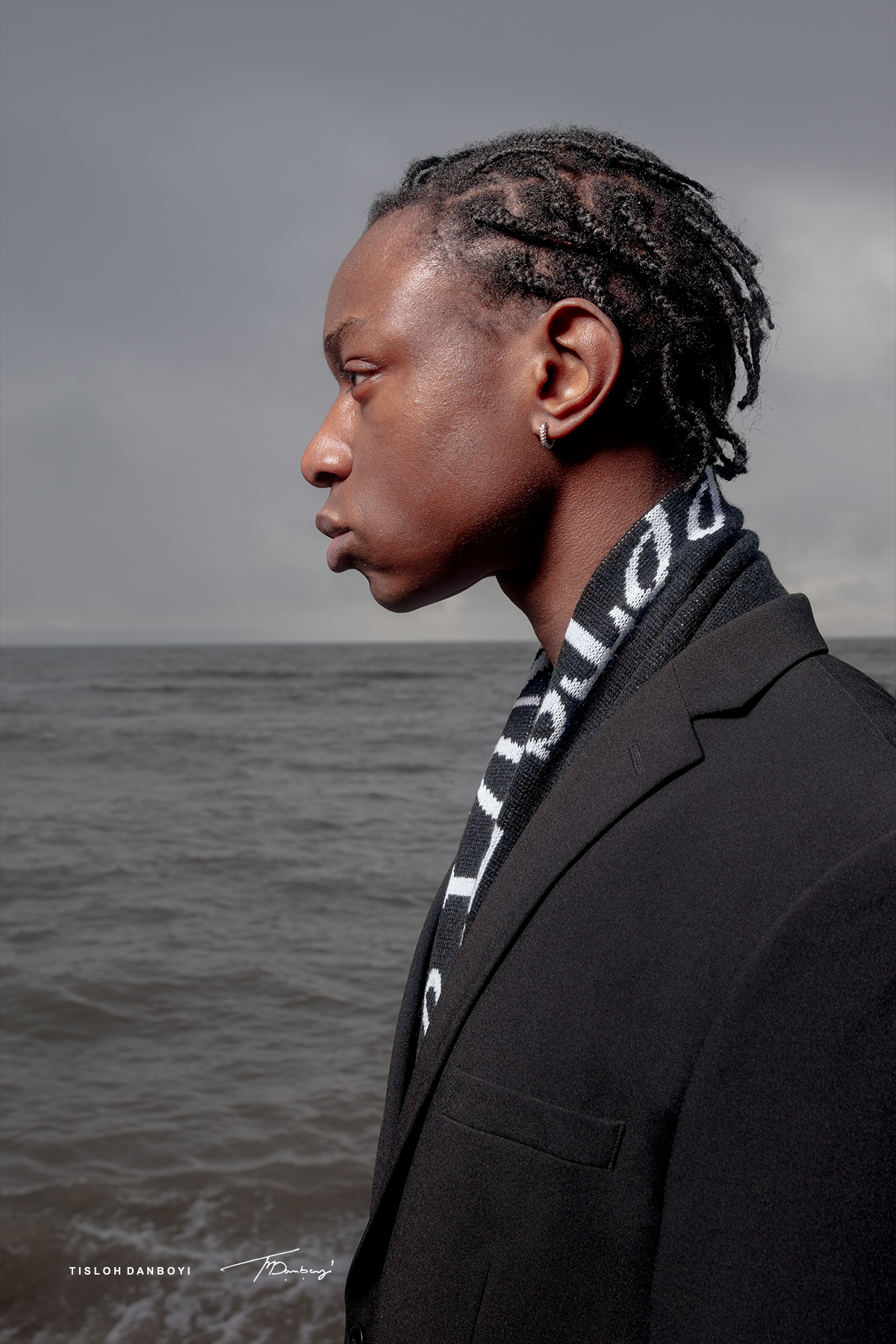 Credits
---
Photography Oliver Webb & Ryan Doyle
Styling - Tom Abibu
Art Direction Oliver Webb & Ryan Doyle
Talent Fara Bashorun
Creative Direction Tisloh Danboyi
Tagged: