Meet New York DJ Slick Vibe
Cornelius Lafayette photographed the artist with Isobel Rae, in a shoot inspired by Slick Vibe's androgynous style and Dana Lixenberg's iconic 90s portraits
Top Sacai, pants Alexander Wang, socks Nike, sandals Alexander McQueen, short necklace Tiffany & Co., long necklace Martine Ali.
Slick Vibe is a New York-based DJ and creative who first caught the eye of stylist Cornelius Lafayette when she walked for designer Pierre-Louis Auvray at the VFILES show last autumn. Inspired by her wide-ranging, androgynous style, Cornelius photographed the artist for i-D with Isobel Rae -- inspired by Dana Lixenberg's work from the 90s. "My energy is very subtle, always on chill," says Slick, who moved to New York after having a particularly good time at Afropunk. She sat down with Cornelius to chat DJing, staying real, and her many tattoos.
Hey Slick, thanks for chatting with me today! Ever since we connected last September during the VFILES casting I knew that we would collaborate in the near future. How was that experience? Was it your first time walking in a show?
Ha. I knew also. something about your energy, sometimes you just know. That experience was life changing for me—everything happened so fast. Especially closing the show for Pierre-Louis, I just kept thinking, "This is really happening yo." It was my very first time. I was nervous as shit, like a sponge though, just being hella observant. I'm good at that.
So let's talk, I want to know more about you and your journey as a young creative in NYC. What are you doing right now?
I'm currently listening to this new Young Nudy album entitled Anyways and reading about colours and numbers, waiting for late dinner to be ready (my soulmate/roommate is cooking). I know; I need to do better. Ima do better.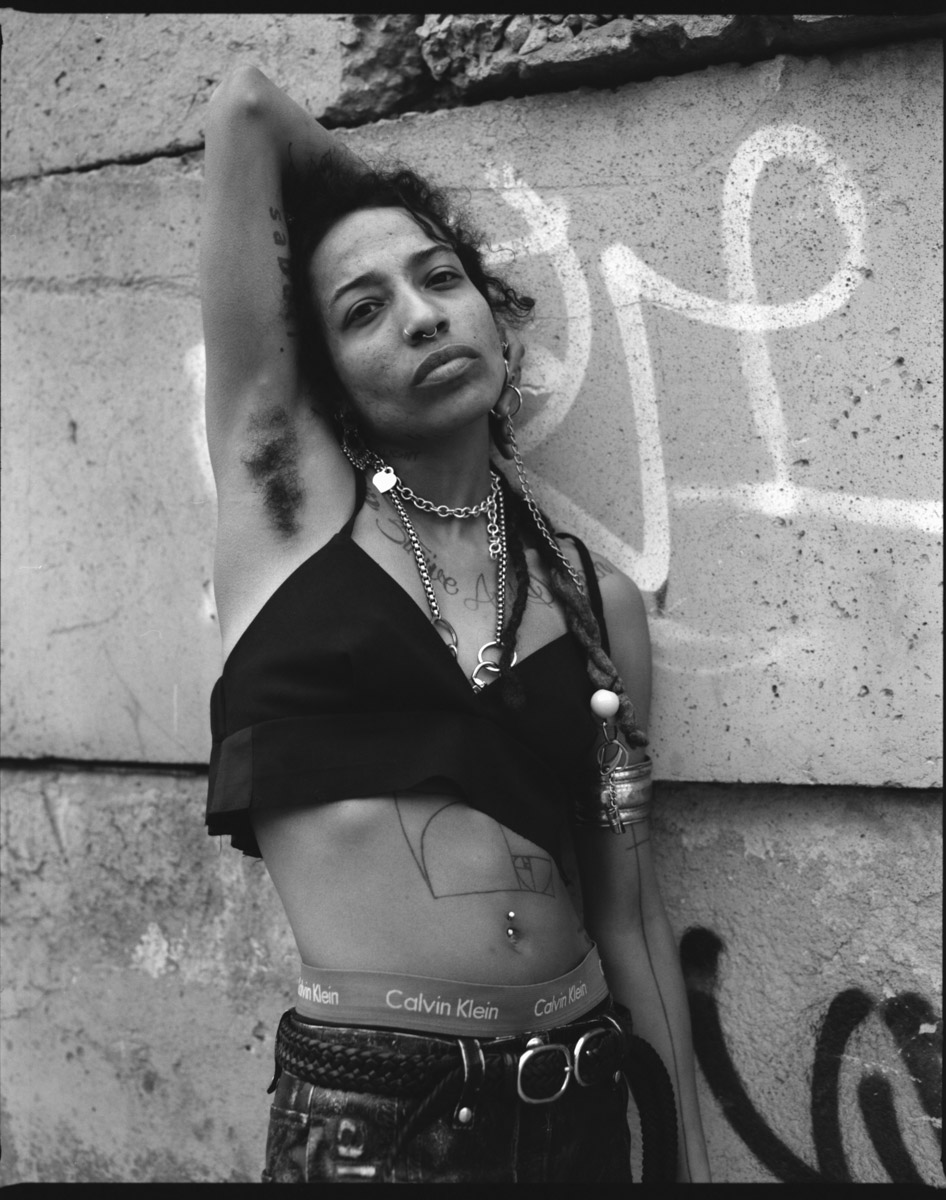 Who is Slick Vibe? Where did the name come from?
Slick Vibe is literally just that, the slickest vibe you will ever encounter. My energy is very subtle, always on chill, not ever doing too much, how I move when I enter the room, it's not loud, but it is felt. One day I just was thinking, I need to stylize myself as who I really see me as, who I embody as a spirit and I need a name to match it. I've always just been like a can of oil, real smooth. The name just came to my mind, with no hesitation. It just fit.
Ok dope, I can dig it. Are you from NY?
I'm originally from San Antonio, Texas. Denver Heights, but I moved to Dallas in 2014.
That makes sense, you have that Southern hospitality! When did you move to NY? Why NY?
Thank you so much! That is a rare ting on the East coast. I arrived on February 1 2019, so a little over a year ago now. Well, when I made the decision, my good friend and soulmate had already made the move here; we initially planned to come together but things just didn't work out that way, and a year later—I arrived. I would say he had a good influence on my move, but we made the decision based on our previous trip in 2017 when we attended Afropunk and that did it for us. We were sold. The entire NY trip for us—was it.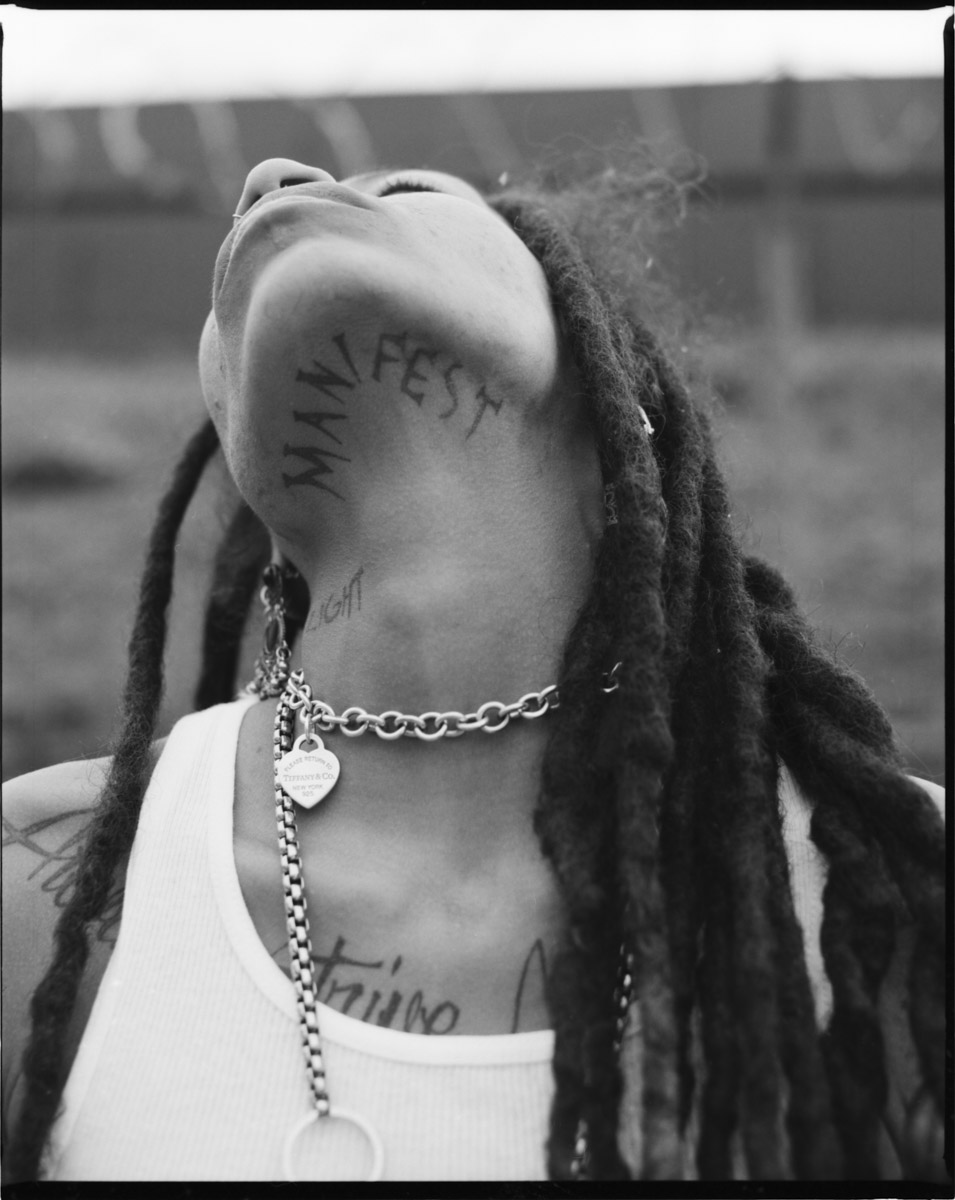 Oh wow, so you're still pretty new to the city!? Well now that you are here, how do you plan on taking over this jungle?
It still feels refreshing and that's the dopest part to me.
Man, that's a good question and one that I ask myself often and daily probably lol. I plan on continuously creating avenues for myself to put my name and face and talents on the surface; to do what I've been doing—and that's just been moving very calculated with reasoning. "DO NOTHING WITHOUT INTENTION," shoutout to Solange. But I just want to surprise people. My DJ goals for this year are to push mixes out and DJ more events, travel with it, just more opportunities to showcase I'm not just a pretty face, but a talented individual who is really passionate about music.
Well it's obvious you have your own style, how would you describe that?
This question is so tough to answer because I feel it changes so often with my mood. Identifying myself with being androgynous, I guess I would say that, which inspires me to be the most balanced me I can be, because I identify so much with tapping into my masculine and feminine sides respectively, I have learned to appreciate both. You can't have one without the other. I also love incorporating both feminine and masculine looks into what I wear on an everyday basis.
I would say my style is free original and androgynous mixed with lots of flavor and feeling; a subtle boldness.
Let's talk about your tattoos. How many do you have?
I have 17 as of now, definitely wanting to get some more ink. I think "MANIFEST" is one of my favorites, followed by the Fibonacci piece on my stomach. Most of them are mantras and reminders, for instance the "MANIFEST" one placed right under my chin. I'm really big on the placement of my tattoos, and I make sure they are daily reminders to me on how to live my life. I'm very careful about what comes out of my mouth, so I wanted the "manifest" to be connected with my throat chakra—which I placed under my chin. The throat chakra is vital for communication and aids with the fear of speaking out. You can manifest anything when you speak and believe it. I have "I am a light" on the side of my neck—again, another mantra I live by. The others are carefully placed in areas that you can see, and some are hidden. I'm really big on line work and geometric lines—especially sacred geometry. I like for people to be surprised by my tats, like "Oh shit you really are kinda tatted up" and then they learn something as well after I explained them. The element of surprise is always fun.
You've mentioned how important it is to do things with intention and tapping into your gifts. What do you feel your purpose is on earth and how do you plan on helping the next creative?
I definitely believe in that as well, we are all so connected in so many ways, but the main source is simply love.
And that's why I feel like my ultimate purpose here is to be a light. I only operate in love, genuine love, that real shit you know. I think I surprise everyone I meet because that's what I move in, and a lot of times, people aren't ready for that type of realness. I hope the next creative that I come in contact with, remembers to just do that, just be real. Be you. And love. That's what we operate in and that's what saves us.