See inside Alastair McKimm's new book, Mica
Released with IDEA books, it captures four years of work with the model Mica Argañaraz.
|
03 February 2020, 4:46pm
Our Editor-in-Chief Alastair McKimm has just published a new book! Titled Mica, it contains four years of behind-the-scenes photos of model Mica Argañaraz – his muse of sorts. Alastair and Mica have been round the world in the pursuit of fashion, from fitting Saint Laurent shows in Paris, to shooting all night in Tokyo, and making a Stüssy book in Al's apartment in New York. How did this divine publication come to be? "The whole premise is that it's my iPhone pictures of Mica," Alastair laughs. "The idea came about from the face recognition in iPhotos." Blame Apple then. "It starts in January 2016, when Angelo Pennetta and I shot Mica in her apartment in Paris. I think it's nice that it starts in a very personal space."
On February 10th at Dover Street Market New York, you'll be able to get your hands on the limited edition book and have it signed by the duo. Ahead of that, we sat down with them to talk about their fashion family.
Alastair, why do you like working with Mica so much?
Alastair: I know it sounds cliche, but it's not just about her looks. I've just always loved her style. I love her personality and she's become a friend. I never had a difficult shoot with Mica. She obviously always just looks really good with that haircut, and no make-up, and in boyish clothes. And I love that aesthetic.
When you work with people time and time again, it's really long hours, you spend a lot of time together. I think not enough is said of how much of a part of the collaboration the subject is. It's always about the photographer, the stylist, the hair, the make-up, but the subject is obviously the most important part of the work.
Mica: It's all collaboration. That's a fact. It depends who you are working with and the relationship you can build throughout, it is definitely a challenge, but a good one.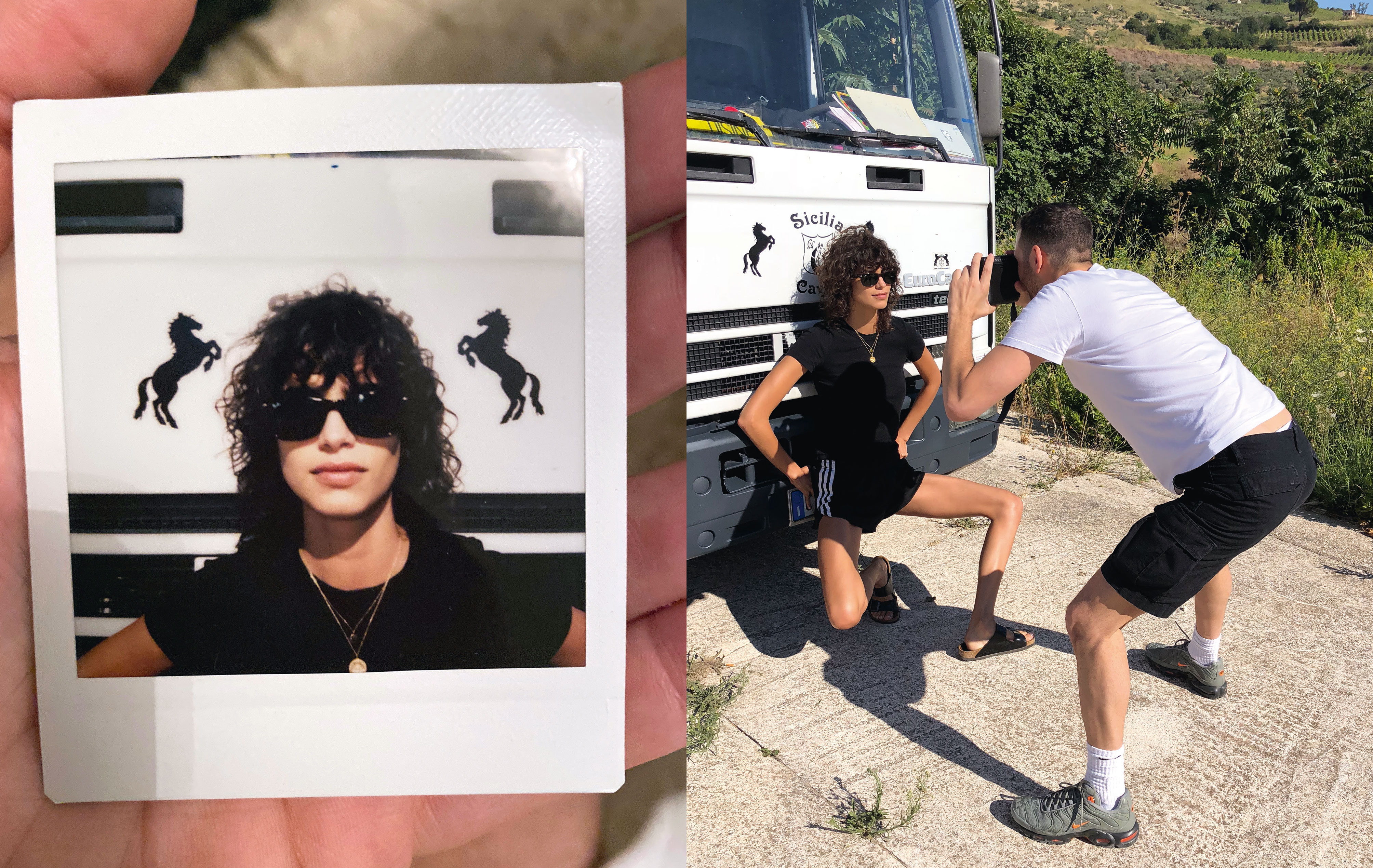 The book spans a four year period of your working life -- how do you feel looking at it?
M: It feels surreal. And I feel humbled and really grateful for it, all the work we did together, so many memories documented.
A: It's all the editorials, and campaigns and fashion shows and everything that you do. And I always love working, and producing work, and being creative. But then to be able to do this is really special because it's kind of like looking back and there's a little bit of nostalgia, but it's not far enough in the distant past to be really nostalgic. It's just nice to put it together.
How did the book come about with IDEA?
A: I really respect what they do, and I did a book with them about Stüssy. We shot it in my apartment and on Howard Street. [Flicks through book] These are pictures that Ari [Marcopoulos] took, and these are just pictures that I took against the wall. Angela and David are the perfect publisher, it's not meant to be a serious photography book, which obviously they do as well -- I just wanted to keep it very lo fi, very unpretentious and really just about personal pictures. What I like about the fact that it's all just iPhone pictures, I'm not pretending to be a photographer.
The fashion industry, once you're at a certain level, involves almost non stop travel. Have you found that the people you work with become a kind of family?
M: Yes, a very weird family though, and weirdly enough, the fashion industry feels like being home sometimes, too.
A: Mica is someone that I really care about on a personal level, and I'm always really, really interested to hear what is going on in her life. Because it's not always easy being a model, even if you're as famous and as successful as Mica. It's a very complicated business. And, of course, we look at these supermodels and we just think that they're perfect beings, but it's really difficult to navigate the psychological issues within the industry. Of whether you get a job or don't get a job, whether you should be doing the full fashion month or doing one exclusive show. Or whether you should just go to Paris, whether you should New York, London, Milan, Paris. I mean you're really truly on call and traveling all the time. You know that's very lonely and hard on your body and your mind.
Where's the furthest you've flown for a job?
M: Probably back to Buenos Aires! Ha!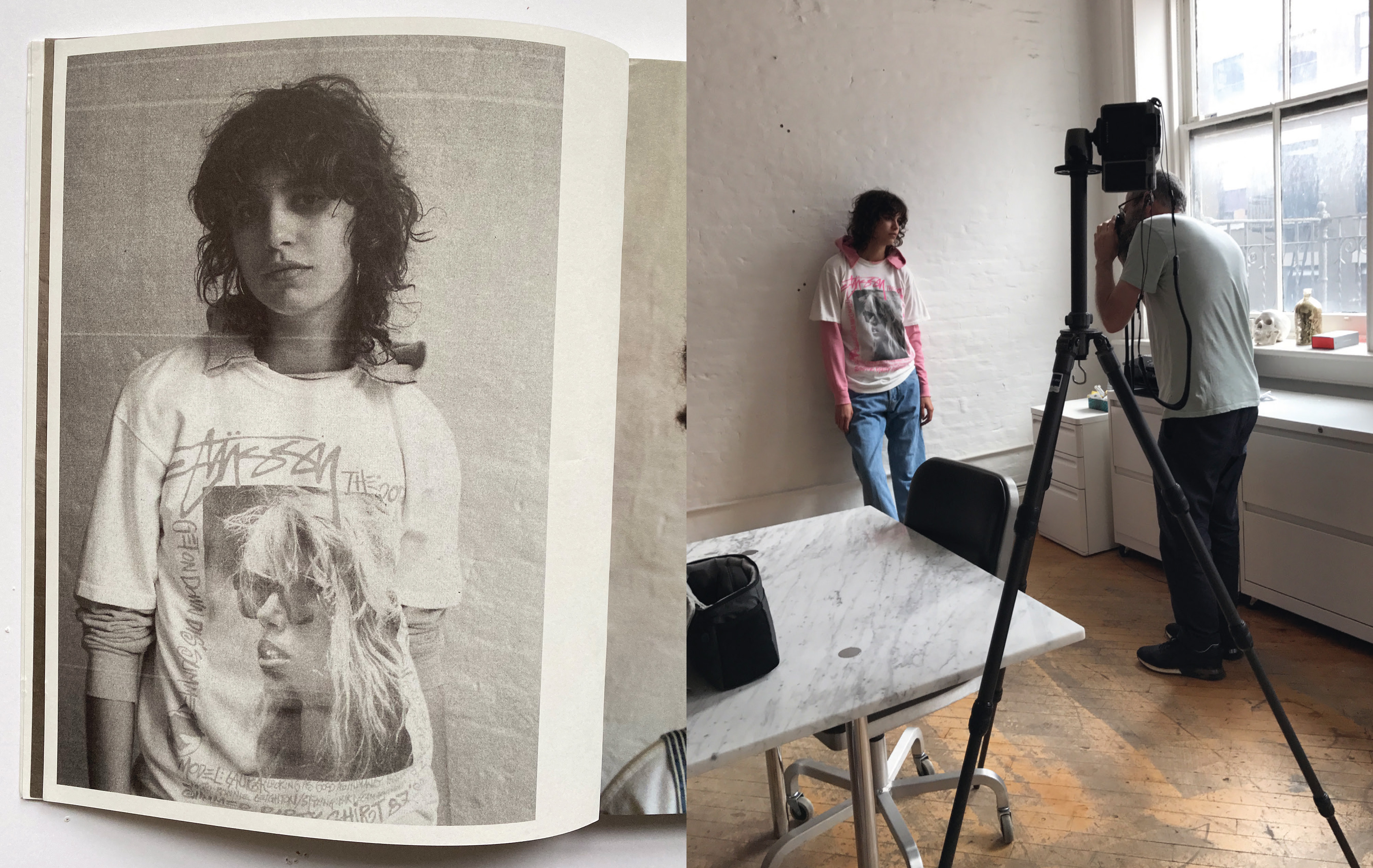 What was it like working together on Saint Laurent?
M: Getting to work with Anthony, and seeing the collaboration between Alastair and Samuel Ellis Scheinman, it was all very inspiring. And a lot of fun.
A: Samuel's also really good friends with a lot of the subjects that we work with. I love this picture of Kiki, Samuel, Paul and Mica, at lunch just before a Saint Laurent shoot in Sicily.
Where have you had the most fun?
M: The trip to Tokyo... being jet lagged, very Lost In Translation, shooting at night – there's some pictures in the book too.
A: This image of Mica in Tokyo with the sake and Louis Vuitton bag, we didn't know it was two in the morning.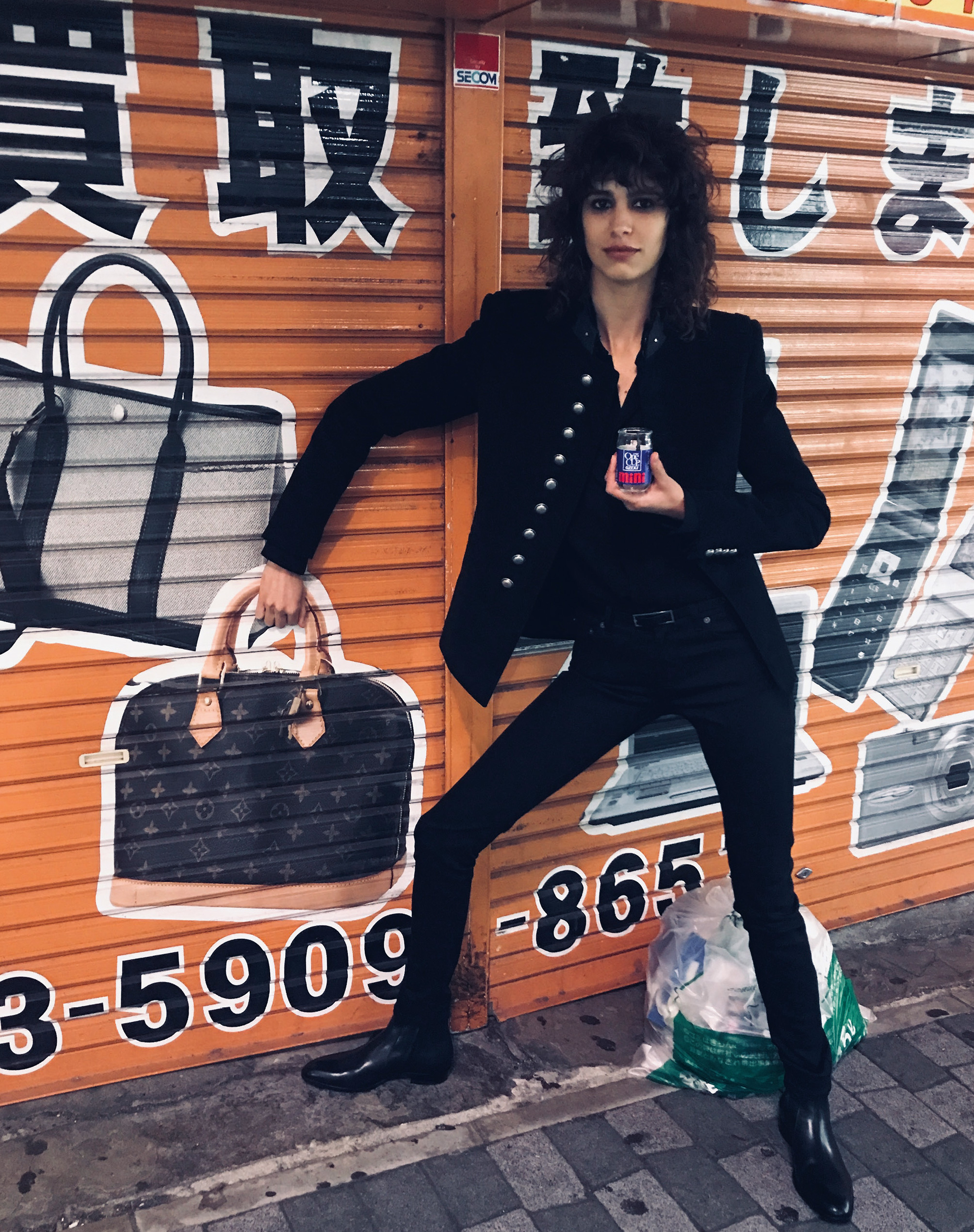 Tagged: