Photo by Yves LE ROUX/Gamma-Rapho via Getty Images, Photo by Barry King/WireImage, Photo by JEAN-BAPTISTE LACROIX/AFP via Getty Images and Photo by Larry Busacca/Getty Images.
How the naked dress took over the world
From the Venus de Milo to Carrie Bradshaw and Cher, we chart the complex history of the statement-making, oxymoronic garment.
Photo by Yves LE ROUX/Gamma-Rapho via Getty Images, Photo by Barry King/WireImage, Photo by JEAN-BAPTISTE LACROIX/AFP via Getty Images and Photo by Larry Busacca/Getty Images.
In the sixth episode of Sex and the City, Carrie Bradshaw steps into the kitchen of her West Village apartment to appeal the night's date dress to her tribunal of friends. The dress in question is a slinky DKNY number. Its fleshy fabric stretches across her hips, her breasts. Its hemline borders on micro-mini, its teensy straps are invisible to the naked eye. It's the kind of dress that shows everything without showing anything. "Oh, honey, it's fabulous. Brav-oh," says Samantha, pouring herself a glass of Veuve Clicquot. "It's tits on toast, baby," replies Miranda. And Charlotte: "Well, let's just say it -- it's the naked dress." And just like that, the phenomenon had a name.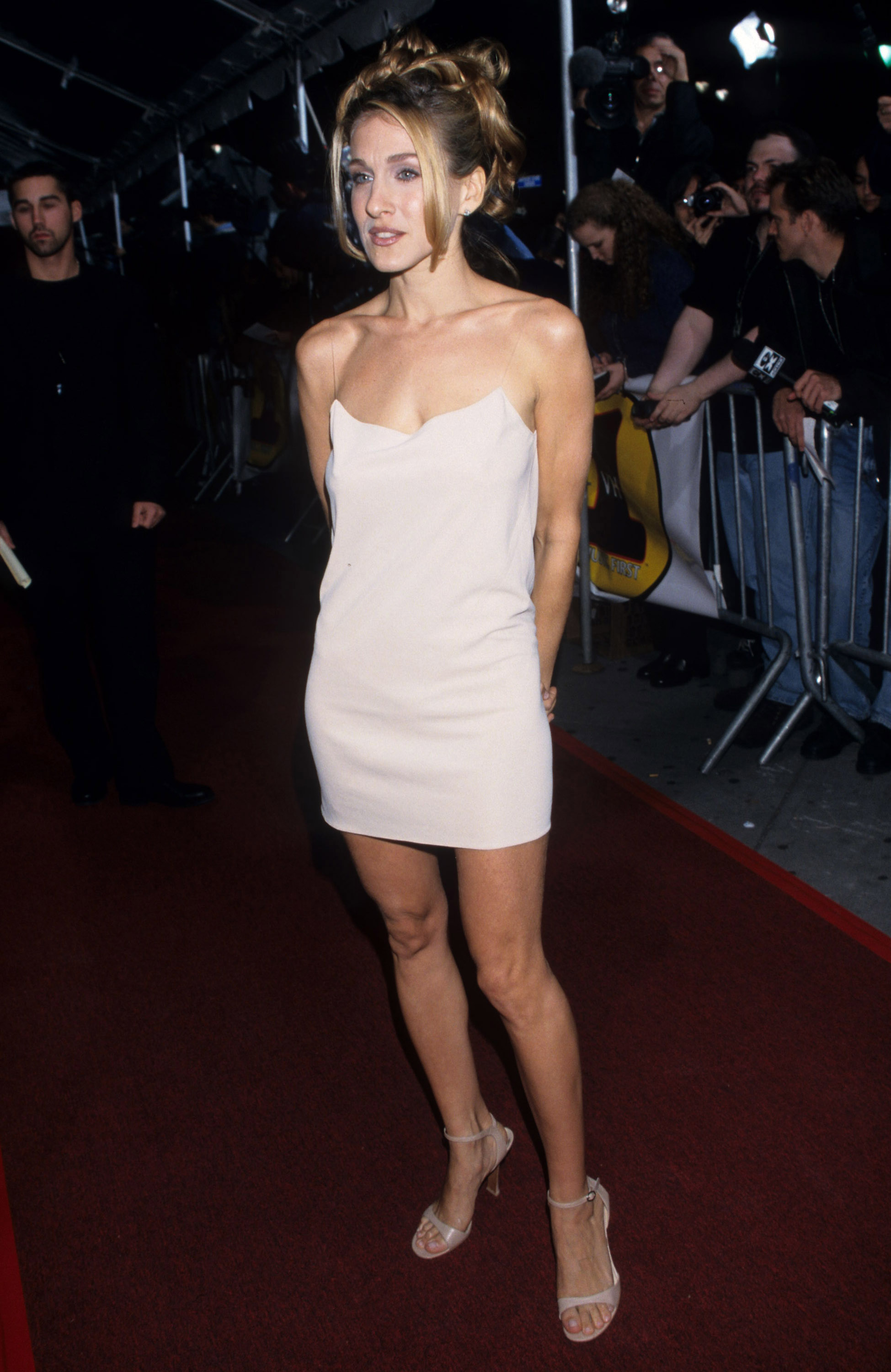 In its simplest form, a naked dress -- whether sheer, flesh-toned, skin-tight or else -- is designed to make the wearer appear naked. Or, at least, nearly so. A naked dress is always a contradiction. The term itself is an oxymoron, a flattening of dichotomies: to be naked and to be dressed, at once. Or, as Miranda put it: "She's not going to have sex; she's just going to look like sex."
Hollywood starlet Marilyn Monroe became a sex symbol, in part, through these kinds of dresses. Less than three months before her death, and on the occasion of John F. Kennedy's birthday, the actress sashayed across the stage at Madison Square Garden, dropping her massive ermine stole to the floor to reveal a sheer, skin-tight dress, covered -- where it mattered most -- in over 2500 rhinestones. The architect behind the dress was French costume designer Jean Louis, who had spent his career perfecting these kinds of career-making gowns (think Rita Hayworth's Gilda, flipping her signature curls in that black satin strapless number), the kinds of dresses that exude glamour as much as they elicit shock, then desire. Monroe's 'Happy Birthday, Mr. President' gown was one of what Jean Louis called his "illusion" dresses, feats of Hollywood magic that conjured nakedness from gossamer fabric and strategically-placed beads.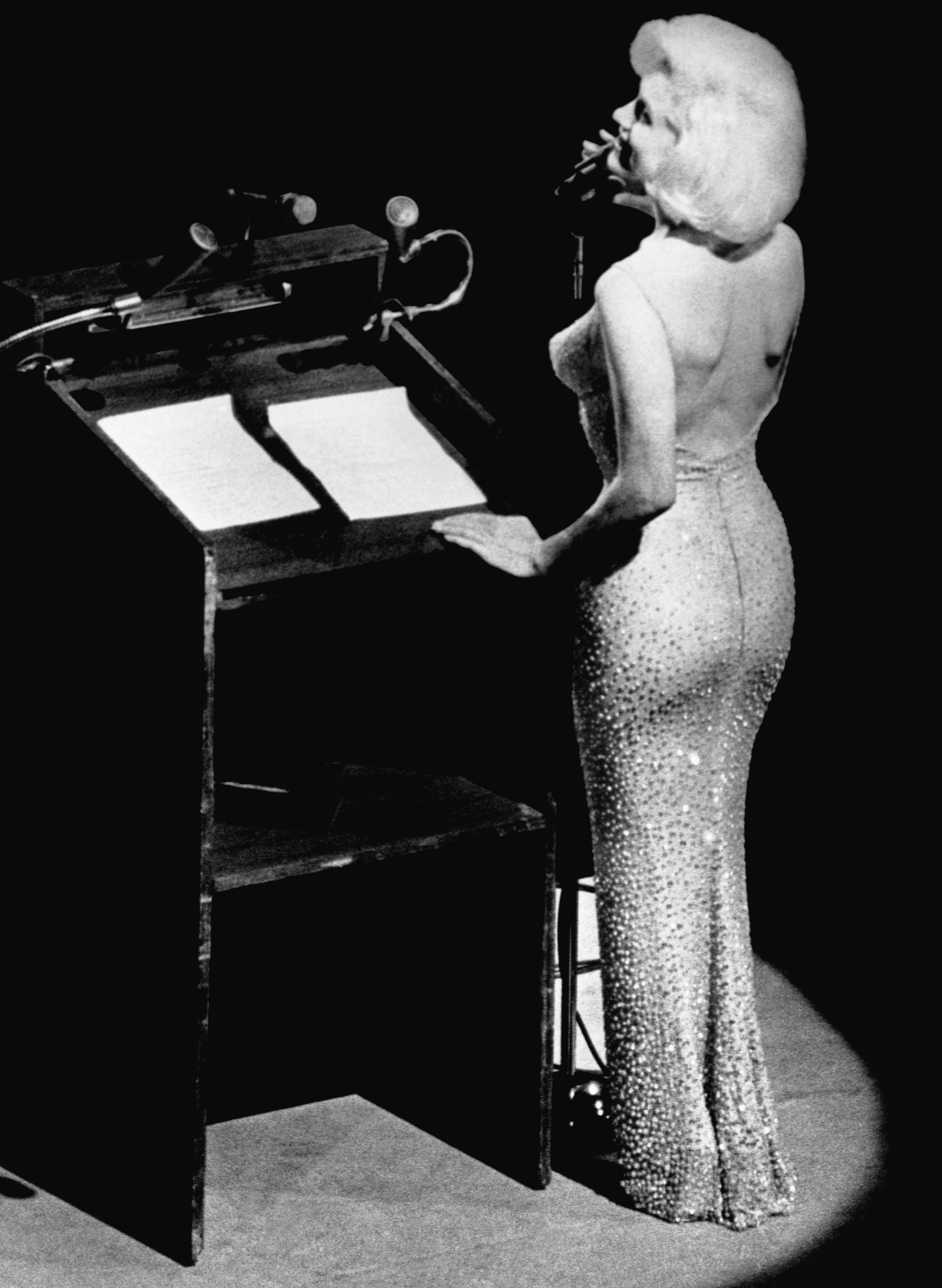 Monroe wore a similar naked dress in Some Like It Hot, during a scene that Roger Ebert referred to as "a striptease in which nudity would have been superfluous." Dressmakers like Louis and stars like Marilyn knew that desire always requires an illusion of some sort, a dress that teases the imagination. What do we want more than what we can't have -- or see? Marilyn's Jean Louis dress went up for auction in 2016. For $4.8 million, the highest bidder walked away with the simulacra of Marilyn's nakedness.
The naked dress is almost always about sex in the way that, in art (and in most situations), a woman's nakedness is inexorable from the desire of the viewer. "To be naked is to be oneself. To be nude is to be seen naked by others," John Berger once wrote about the annals of art history. Like the nude, the naked dress cannot exist without the gaze; it lives to be seen. One of the world's most-viewed works of art wears a naked dress. The "Venus de Milo" stands six feet, eight inches and wears only a low-slung chiton. As an avatar for love and sex, Venus was the only god to be portrayed in the nude. Bare breasts and shapely hips signified fertility -- they were also a pleasure to look at. From her towering perch in the Louvre, Venus returns the stares of onlookers with a gaze of her own, stoic and confident: as if she knows you're looking, she's looking back at you.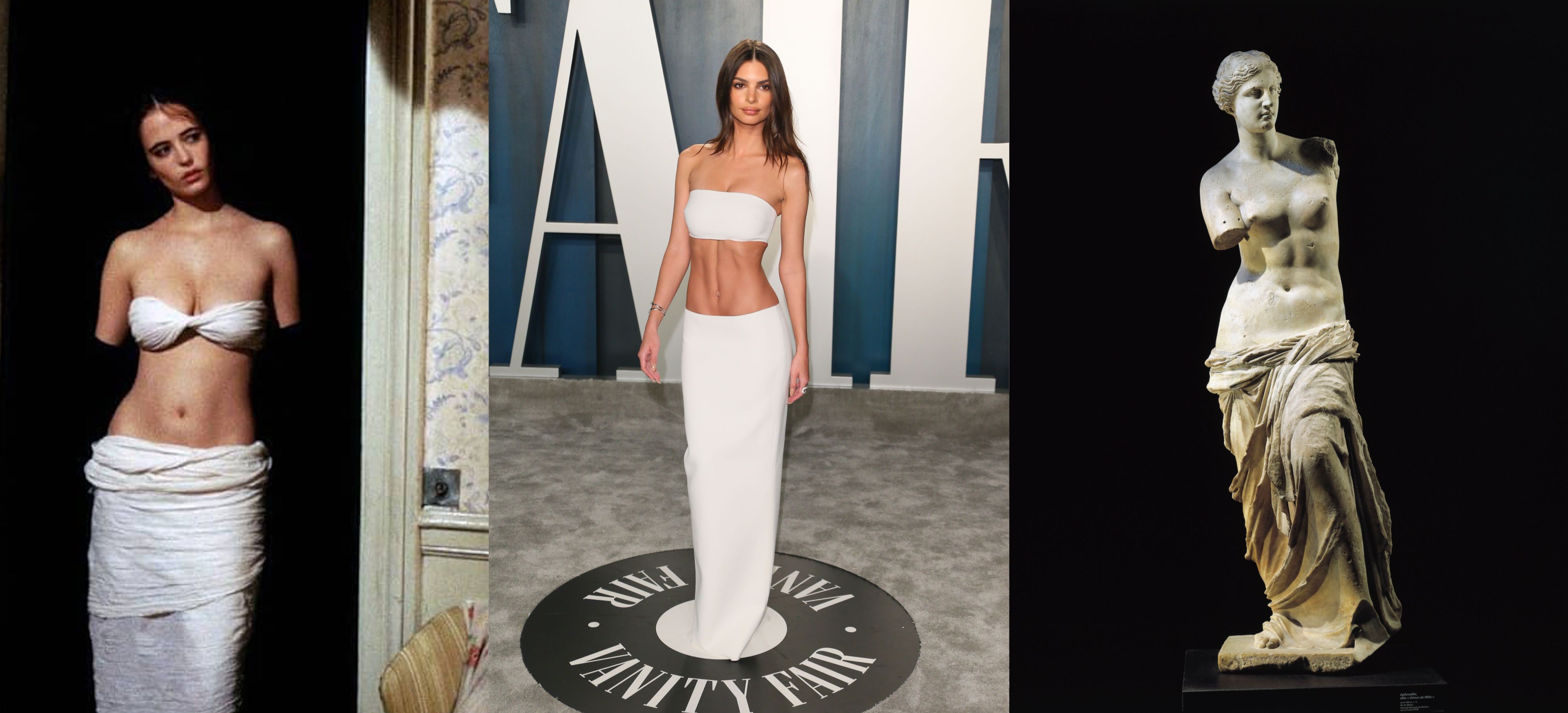 The famous statue was revisited -- both physically and spiritually -- in 2003's The Dreamers. Eva Green's Isabelle appears in the threshold of a door, wearing a crumpled bed sheet around her hips and a pair of black evening gloves that dissolve into the surrounding darkness. From across the bedroom, Michael Pitt's Matthew, the naive American lover, gazes upon her, upside-down, over the edge of Isabelle's bed. "I've always wanted to make love to you, Venus de Milo," he says. She towers over him as he eats her out.
Emily Ratajkowski's appearance at Vanity Fair's Oscar after party earlier this year also called to mind the Greek sculpture and its silent power. In a stone-white bandeau and low-rise column skirt, falling to her feet like Venus' gown, Ratajkowski looked, herself, like a marble effigy. The model-actress, and, arguably, the 21st century's answer to Aphrodite, definitely knows you're looking. Her naked dresses, like her naked selfies, are always more than mere thirst traps. In a conversation with WWD, she flipped Berger's definition of the nude on its head: "It's about owning my sexuality and celebrating it. And it's my choice and there has to be room for that in our culture and in our world."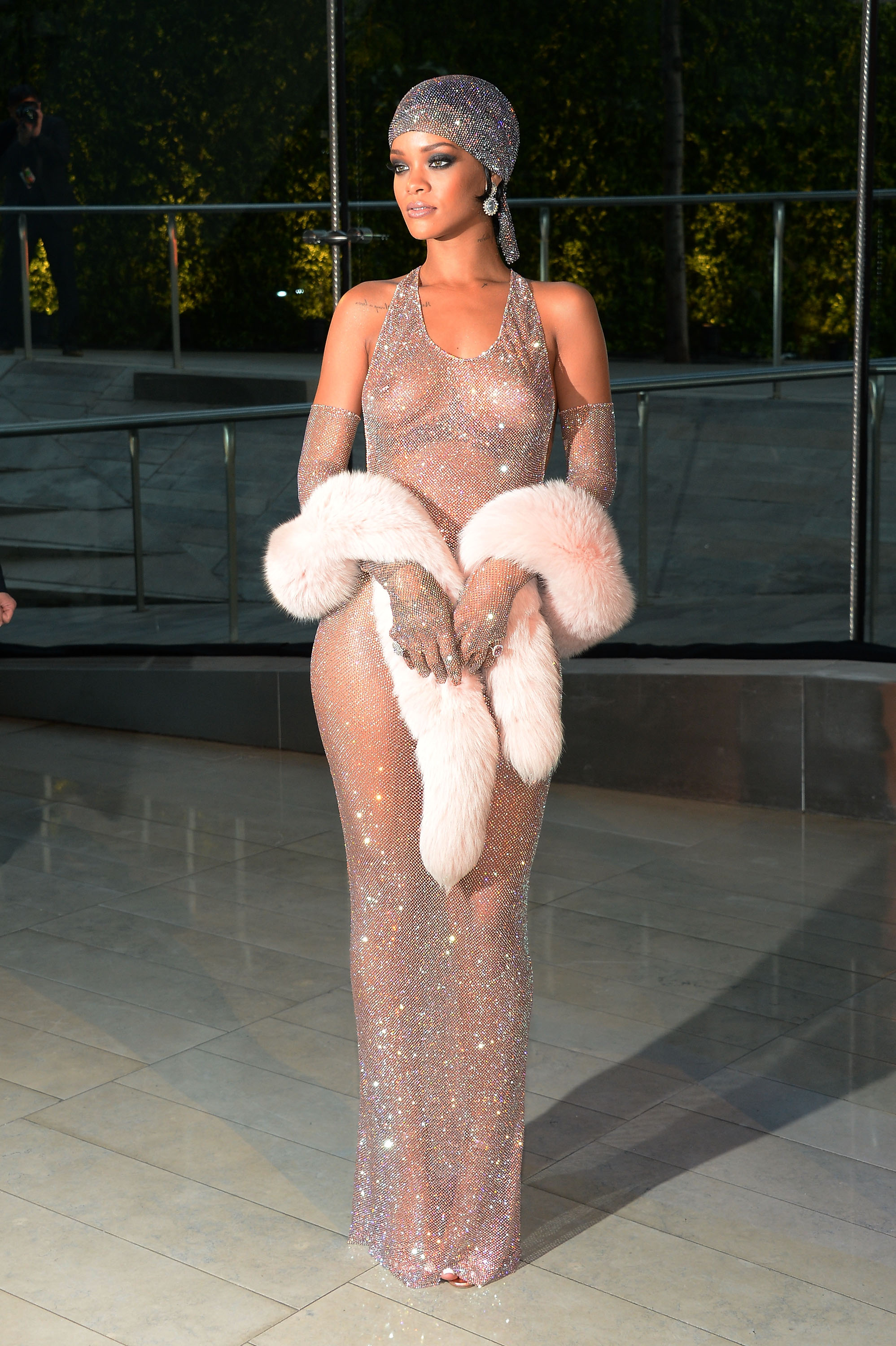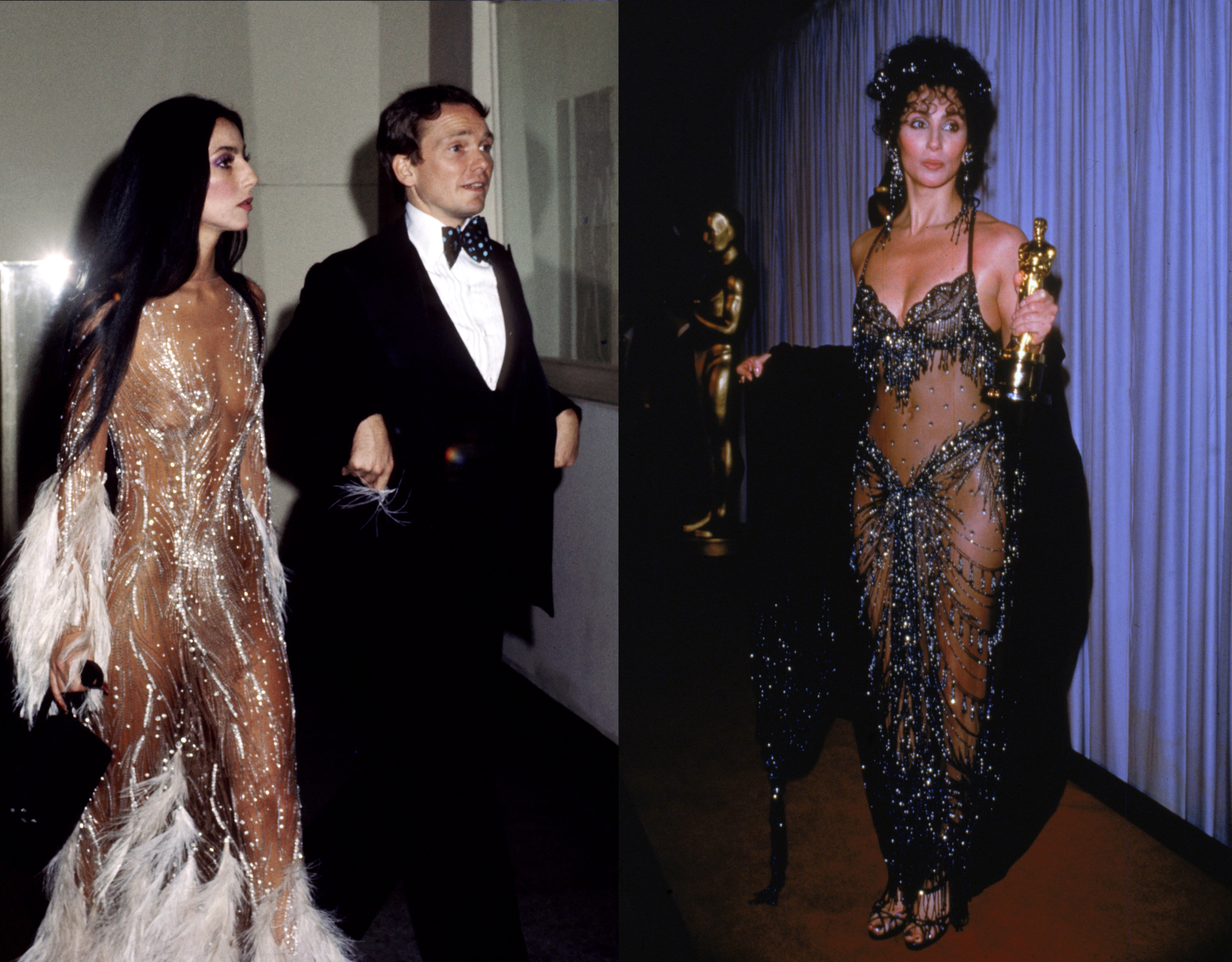 The naked dress is the ultimate power move. All eyes were on Rihanna the night of the 2014 CFDA Fashion Awards, where she was slated to accept the Style Icon Award. And she pulled up in what would become one of the most iconic naked dresses of all time: a mesh Adam Selman number dripping in 200,000 Swarovski crystals. (With embellished du-rag and gloves to match). Nearly everything was visible, including Rihanna's nipples and skin-tone thong (which Rih would later lament wasn't bedazzled as well). The look epitomized the singer's fearlessness. Introducing the Style Icon Award winner, Anna Wintour nodded to the dress: "The point is to be audacious, even jaw-dropping or button-pushing (and yes, we know [Rihanna] enjoys pushing buttons) while remaining true to yourself." It was a sartorial 'this is me, take it or leave it.'
Nearly four decades earlier, Cher donned an equally powerful iteration of the dress to the 1974 Met Gala. Created by costume designer and frequent collaborator Bob Mackie, the sheer dress featured veins of crystalline beads, feather-cuffed sleeves and a white feathered skirt. Five months later, the singer appeared on the cover of Time Magazine, nipples out, wearing the same dress. "In those days, Time reserved its covers for world leaders or someone who invented something important, like a vaccine," Mackie said of the moment. "Then there was Cher on the cover in that incredible piece of clothing, and newsstands sold out of it almost immediately." She followed her Time cover up with another naked Mackie confection, worn, this time, to the 60th Academy Awards. In a black bustier dress with crystal sarong, Cher scooped her award for Best Actress in what can only be described as an 'I came to win' moment.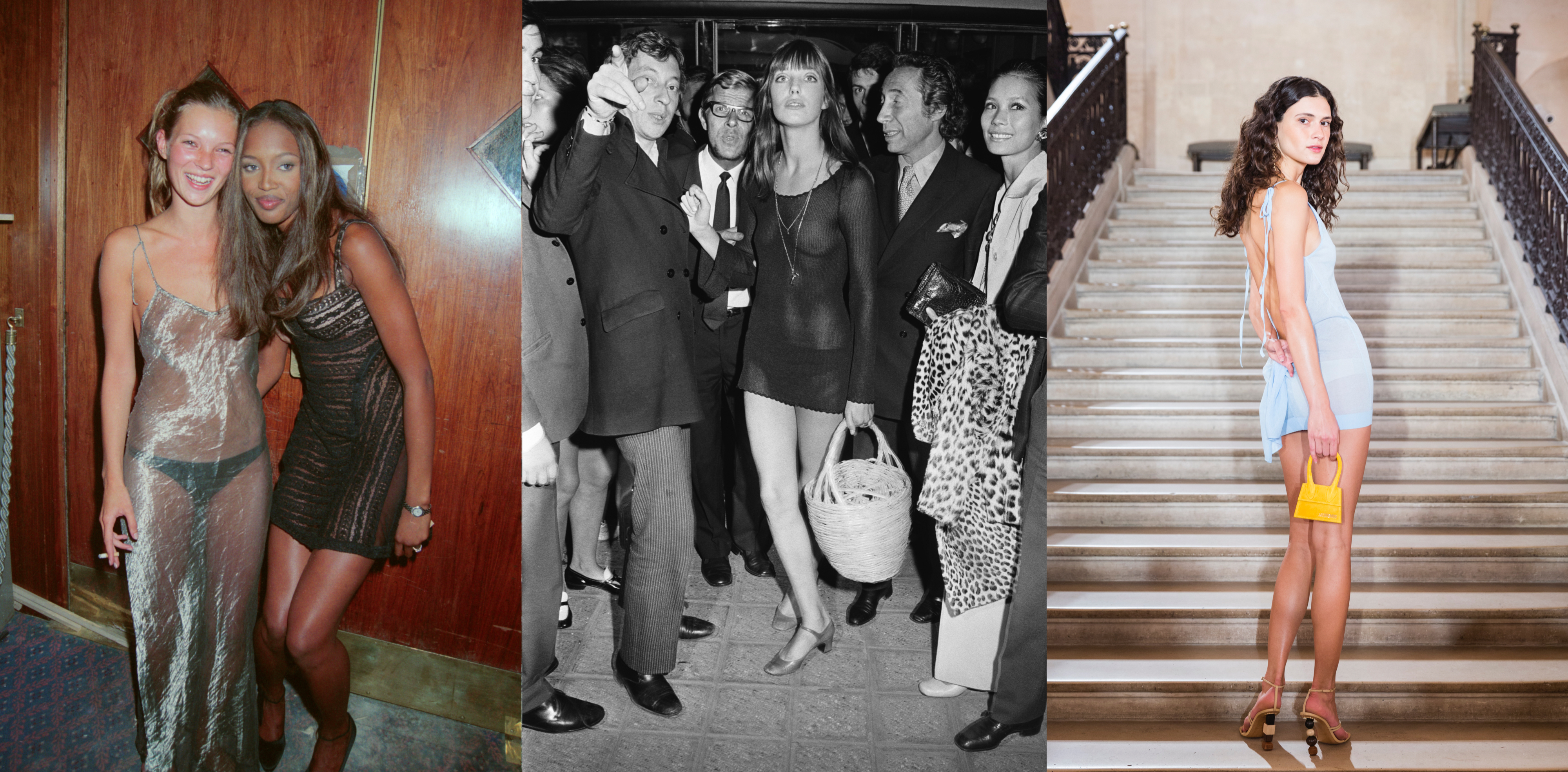 The see-through slip Kate Moss wore to an Elite Model Management party in 1993, connotes another facet of the naked dress. Not glamourous, not statement, nor sublime, but cool. The term 'cool' has had a complex relationship with pop culture and, as a result, is slippery to define. To Alabama Whitman of True Romance, it's the ultimate exaltation, to Gone Girl author Gillian Flynn, the 'cool girl' is a send-off to the unrealistic expectations of mediocre men. To describe Kate in this dress, 'cool' takes shape in a studied effortlessness -- no costume designers or strategically-placed beads, here. The look is so impossibly simple -- a bias slip and contrasting thong -- that it begs one to question how the look became so canonical: an Instagram mood board staple, a fashion editor go-to and a celebrity stylist's dream. The Italians have a word for the phenomenon: sprezzatura, defined in 1528 as "a certain nonchalance, so as to conceal all art and make whatever one does or says appear to be without effort and almost without any thought about it." In contemporary terms: "Oh, this? I just threw this on," the quintessential it girl utterance. In photographs of the night, Kate is not posed; she's grinning ear-to-ear. She just threw the dress on and she's here to have fun.
Jane Birkin at the 1969 Slogan premiere -- in a sheer long-sleeved sweater dress -- is another example of this kind of insouciance (and when is Jane Birkin not insouciant?). The look -- a watershed moment in the history of the naked dress -- was actually accidental. Jane arrived to the event in what she thought was an opaque outfit; it only transformed into a naked dress under the harsh flash of the paparazzi's cameras. And while there is a lot to unpack in that image, vis-à-vis women's relationships with the media, Birkin's response -- over 50 years later -- speaks, even more, to this nonchalance: "I didn't realize [the dress] was so transparent. If I had known, I would not [have] put knickers!"
Simon Porte Jacquemus has defined his namesake label upon this naked dress attitude. The young French brand came into its own with its spring/summer 2018 collection, 'La Bomba.' Specifically, with one frothy blue sarong-esque look. The sheer micro-mini in question embodied the Jacquemus woman's transformation from gamine to bombshell. It's the embodiment of je ne sais quoi. A cocked eyebrow and a clin d'œil. The Parisian designer has created many a naked dress since. But even when the Jacquemus woman is fully-clothed, the attitude remains the same.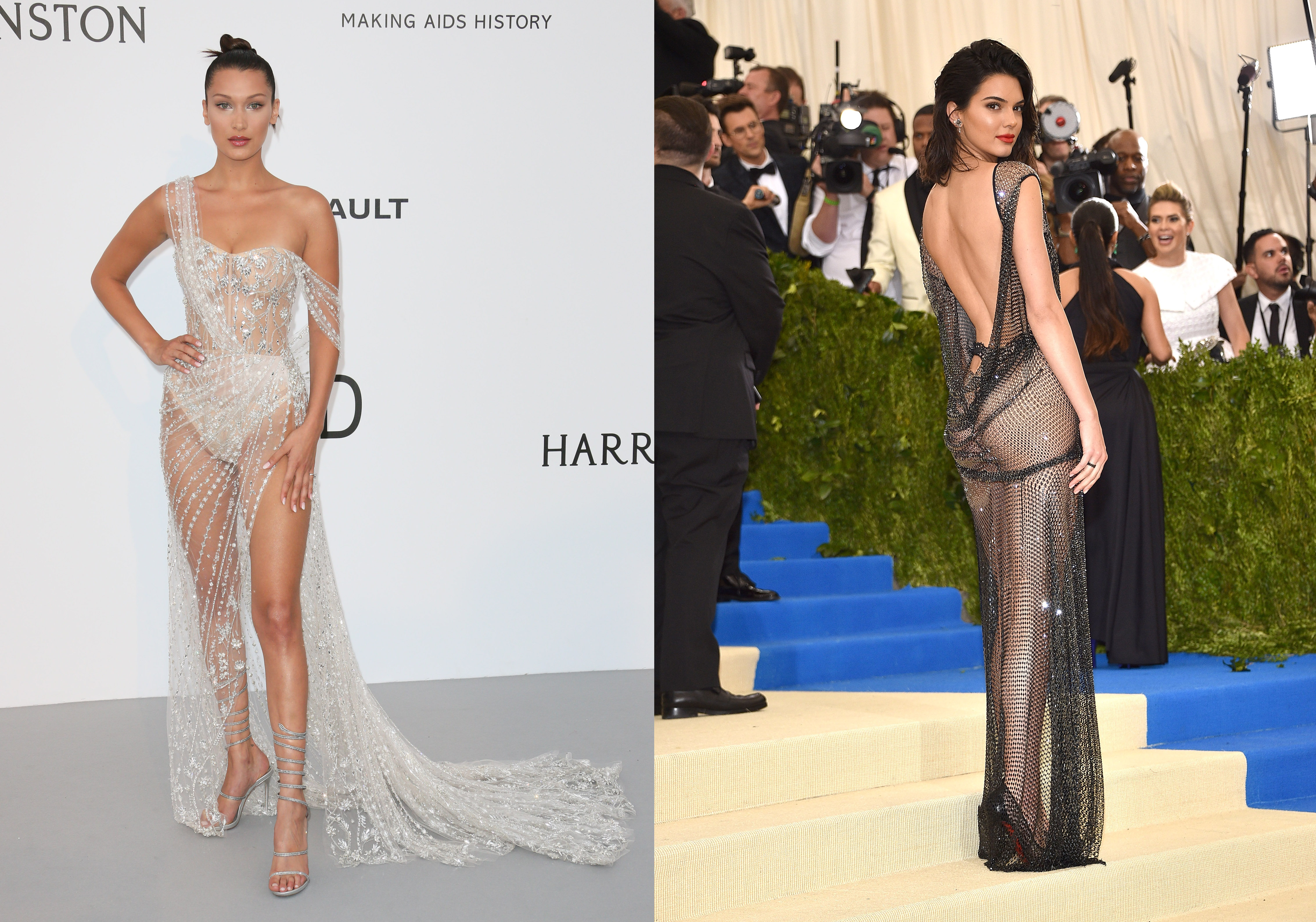 To use the vocabulary of today's Instagram set, the naked dress is the sartorial equivalent of a selfie. A celebration of the self. That 'felt cute' moment immortalized in chiffon and the pixels of a jpeg. Two timely examples include Bella Hadid in her crystal-dripped Ralph & Russo Cannes gown or Kendall Jenner in her bare-to- there 2017 Met Gala dress. Emily Ratajkowski -- de facto arbiter of modern naked attire -- tackles nearly every angle of the dress: "Sex is normal. Desire is normal. Attention is normal, and that's okay." The mood: if you've got it, flaunt it. It goes without saying, this type of naked dress lives for the red carpet, and, as a result, to be consumed (or devoured, depending on the kinds of periodicals you read). When Bella Hadid wore a high-slit red satin number to 2017's Cannes Film Festival, tabloids were quick to pounce on her revealing outfit. According to one clickbait headline, the dress in question "put her at high risk of baring more than she hoped for." The naked dress, however, precludes the wardrobe malfunction. It's the "Yes, I'm wearing that. And what about it?"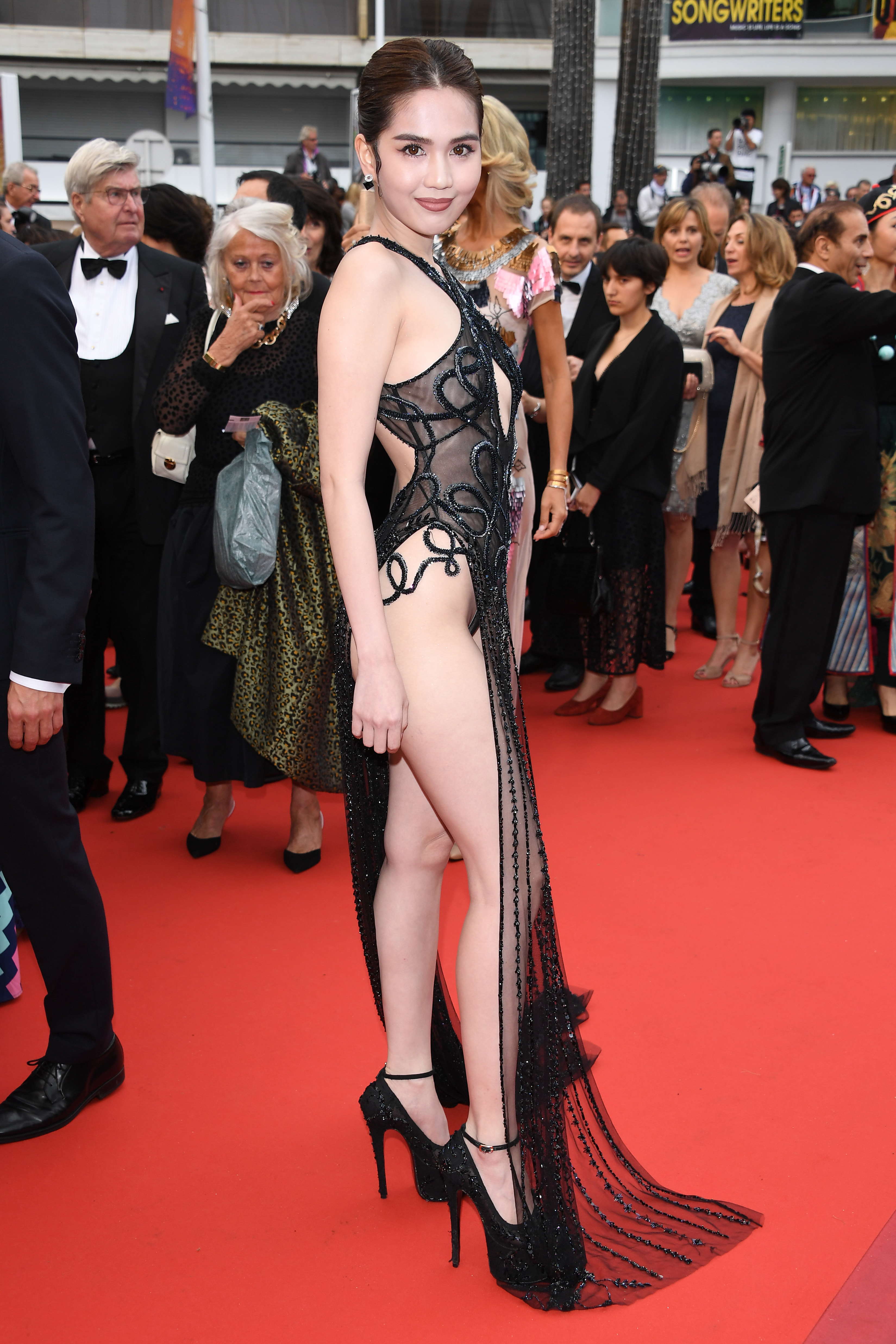 More often than not -- and especially in case of the media -- the naked dress reveals more about the watcher than the wearer. It underscores the fact that a woman's body is always under surveillance. Vietnamese model Ngoc Trinh wore a dress similar to those of Hadid and Jenner at the 72nd Cannes Awards. She was met with outrage back home. Vietnam's Minister of Culture, Sports and Tourism publicly condemned the dress as "improper, offensive." It was reported that Trinh -- and the dress in question -- may have been in breech of the country's public decency laws, for which the model could face federal fines. Her response: "I felt pretty in the dress… I cannot satisfy the whole world."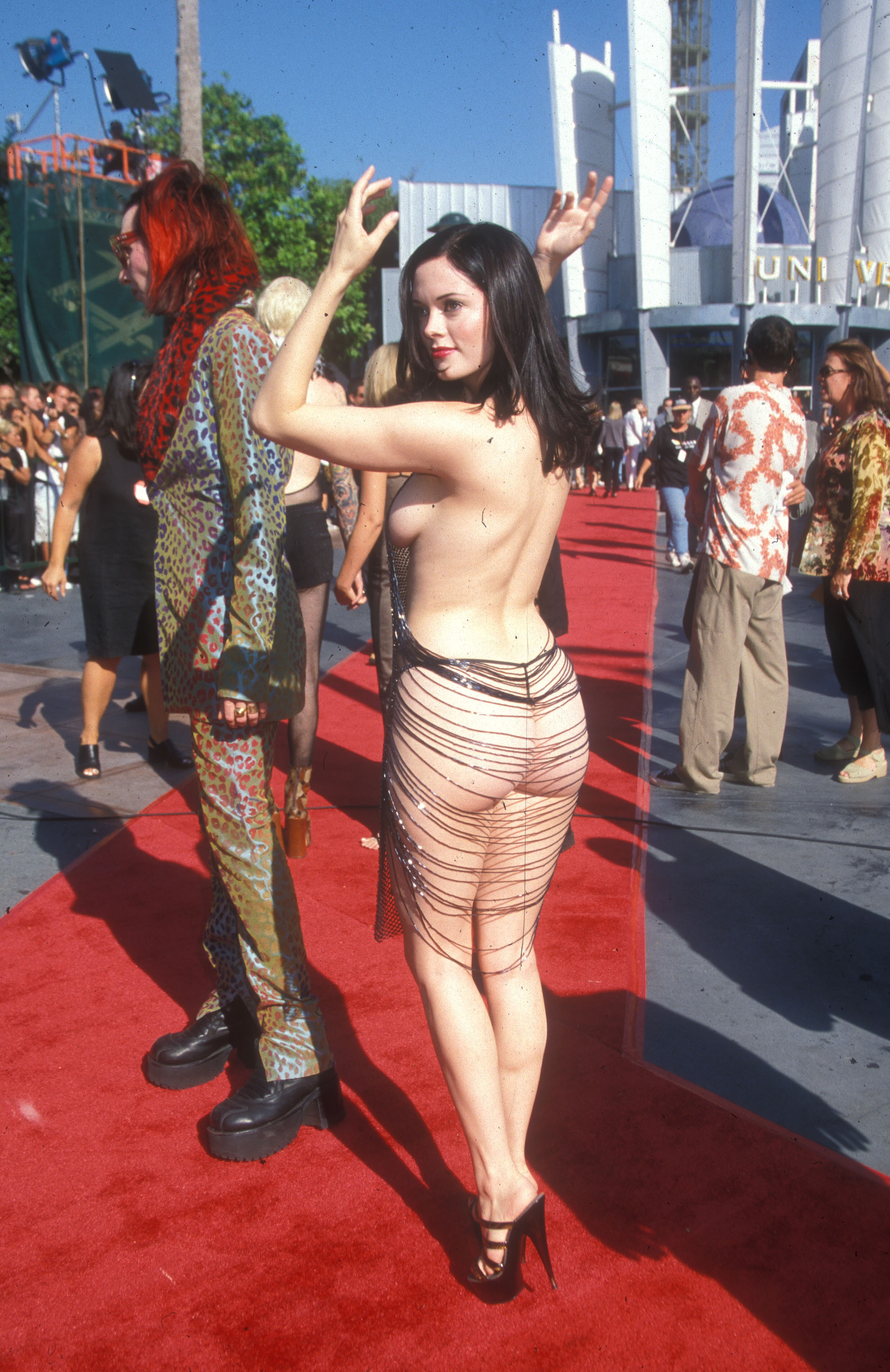 And when the weight of the world is on your shoulders (read: the existential condition of being a woman), why not wear a feather-light dress? Two decades before the #MeToo movement, Rose McGowan wore a beaded dress and black G-string on the VMA red carpet as a personal political statement. "It was my first public appearance after being raped. And I thought, it was kind of like Russell Crowe and Gladiator when it comes out in the ring and he's like, 'Are you not entertained?'" she told Jameela Jamil during an interview for the actress' I Weigh series. In her memoir, Brave, McGowan stated that the dress was "a reclamation of my own body after my assault".
Sometimes a naked dress does not begin as a naked dress, but becomes one through circumstance. I'm thinking of the beach scene in And God Created Woman. Brigitte Bardot's Juliette washes up on shore, her prim shirt dress soaked to transparency, unbuttoned to the navel. She stands over her lover like Eva Green's Venus. But the power of her character -- her proclivity to stalk around barefoot, to unabashedly dance the cha-cha at the local bar -- is undercut by the vulnerability of her dress.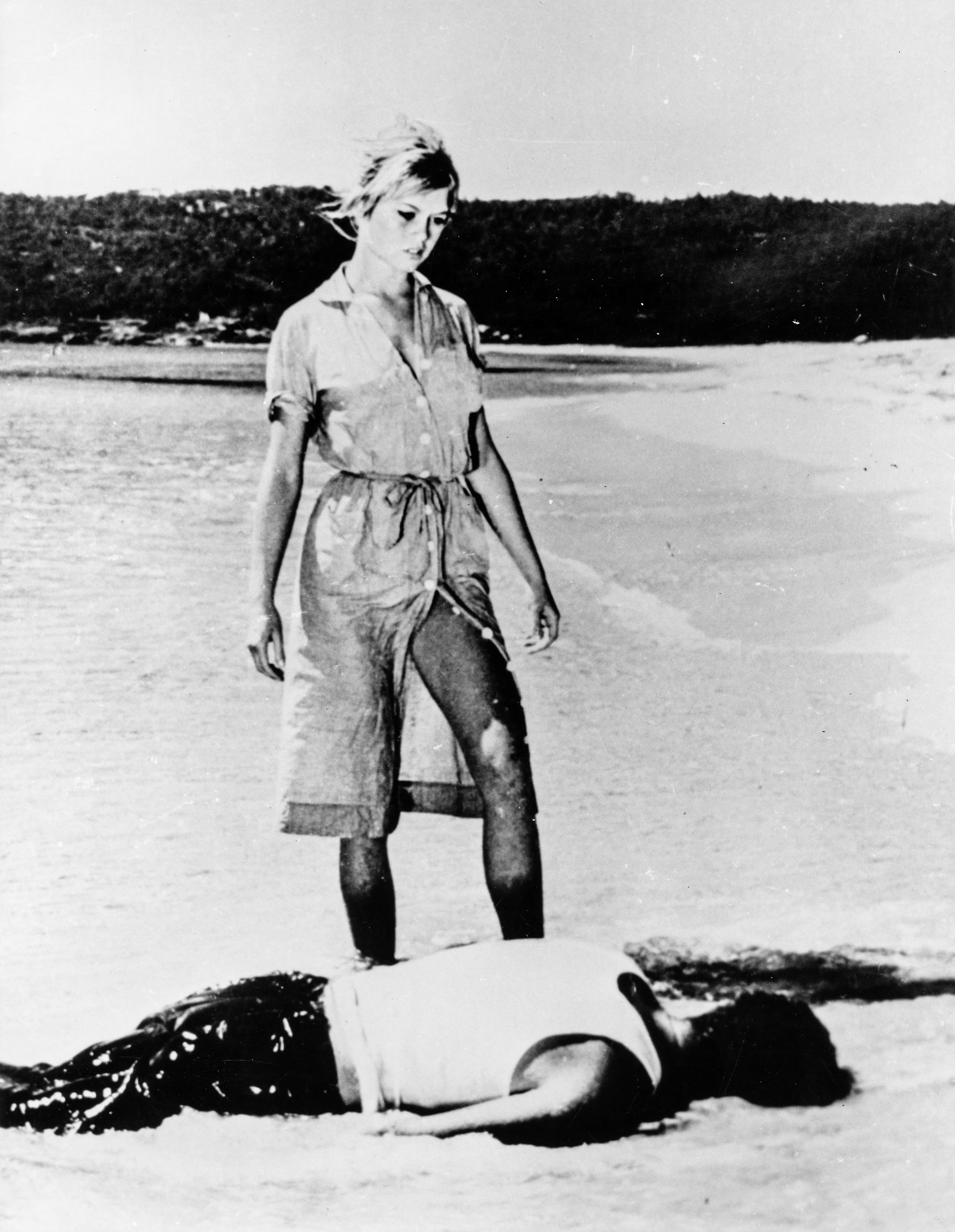 Athenian designer Dimitria Petsa of Di Petsa reframes this transformative aspect of the naked dress. Her wet look numbers are created by soaking white cloth dresses in water, draping them on the body, and then sewing the air pockets that bubble between the clinging wetness. To Vogue, the designer claims that dryness is patriarchal: a woman isn't allowed to sweat to breastfeed in public. To i-D: "I want my work to show that the female body is a political topic." It's also a reversal of the 'wet t-shirt contest' mentality seen in And God Created Woman. Petsa's dresses are near see-through, her women -- Kylie Jenner and FKA Twigs, to name a few -- are sopping wet, but of their own accord.
Although the naked dress might be described as fragile or 'flimsy', it can also function as armour -- the breastplate, which reveals the naked form behind cast metal, came into fashion in the 60s -- or, for the new decade, as a weapon. Sensual-not-sexual defines the aesthetic of Charlotte Knowles, known for its lingerie-ready-to-wear. Of their SS20 collection -- the label's first LFW solo show -- the duo behind the brand told i-D, "We felt a little vulnerable fending for ourselves in the industry. We liked the idea that, in a certain way, our woman felt as threatening and dangerous as a venomous creature." Similarly, Nensi Dojaka's strange and angular confections seem to prick whoever looks at them, like the snake-haired Medusa. "I want my woman to be alluring, bold and untouchable," the designer says.
Of all the designers creating naked dresses today, none is doing it quite like Sinéad O'Dwyer. Embodying the age-old fight between garments and the body they clothe, O'Dwyer's moulded silicone bustiers and cut-out gowns return the power -- the selfhood inherent to nakedness -- to the wearer. "My work is a sort of 'fuck you', and a declaration of pride in your body. I think it conveys the power that comes from women deciding that they don't have to accept the status quo," she explains. "You shouldn't have to feel compelled to live up to an externally set, arbitrary standard. You should have the control."