Loewe's AW21 collection is a tribute to the legendary queer artist Joe Brainard
With his AW21 'Show In A Book', Jonathan Anderson continues to bring queer culture and history to the forefront of Loewe.
Courtesy of Loewe
Jonathan Anderson is one of the surprisingly few designers who has opted out of staging physical shows for the foreseeable future. Why? Because, oh yeah, we're still in the midst of global pandemic! The Northern Irish designer's AW21 menswear collection for Loewe is the latest installment of his geniusly-devised alternative methods of showcasing fashion, designed to be enjoyed from the comfort (and safety) of our own homes. First, there was the #ShowInABox for JW Anderson SS21, then the #ShowOnAWall for Loewe SS21 — this time, it's a #ShowInABook. And the book in question is a specially-curated retrospective of Joe Brainard, the American multi-disciplinary artist and writer who was a pioneer of the Pop Art movement long before Andy Warhol. He died from AIDS-related illness in 1994, and his legacy has been somewhat understated — which is exactly the reason that Jonathan decided to pay tribute to it in his collection for the Spanish house.
"When I was looking at his work, I thought there was a child-like quality," explains Jonathan. "Children can look at pansies and see them for pansies and then there is the idea of pansies in relation to queer culture and gender. What does a pansy mean?" Not only was Jonathan's collection emblazoned with the Brainard's works (including that 1967 Pansies collage) but the design of the clothes drew on his practice too and was, in its own way, a time-hopping collage of sartorial subcultural motifs. There are the exaggeratedly slouchy trousers and suede wallabees of the rave scene; the bondage stovepipes and mohair knits of punk; the shaggy shearling of hippies; the ubiquitous black of beatniks; the duffel coats of mods. "A sense of thoughtful accumulation," as the show notes put it. "Each garment is a collage, therefore the look becomes a collage of collages." Certain pieces were quite literally collages, like the triptychs of sweaters and t-shirts sewn to resemble Neapolitan ice cream stripes.
The focus on Joe Brainard also feels somewhat timely. This morning, the designer and Central Saint Martins tutor Louise Gray took to Instagram to share a post to raise some important questions: "Where are all the bodies of work made by trans people? Where are all the bodies of work made by older people in the queer community? Why don't these people have more retrospectives on them?" she asked in her video. Her answer: "Because all of those people all died in the last pandemic: AIDS." It's a discussion that feels especially prescient right now, and not least because Covid-related death rates show no sign of waning. There is also a renewed spotlight on the colossal loss of a generation of queer artists who died from AIDS-related illnesses, as seen in Russel D Davies' new series, It's A Sin, which aired last night and depicts the lives of young queer people living through the early years of the AIDS crisis in the 1980s.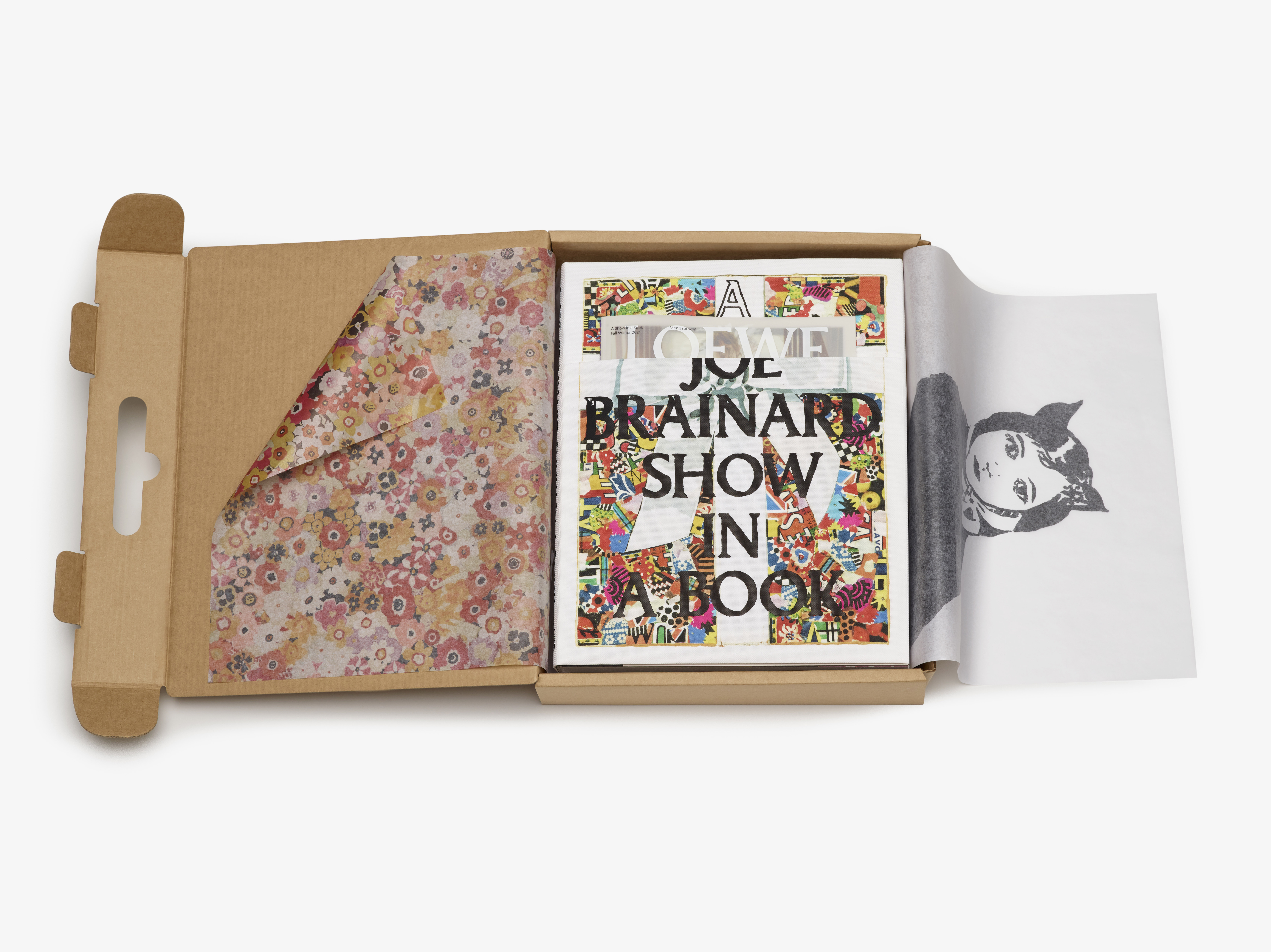 This isn't lost on Jonathan, and has brought that sense of queer history and culture to the fore of his collections previously, most notably in the AW20 JW Anderson menswear collection, which was a tribute to David Wojnarowicz, the gay artist and activist who (controversially at the time) chronicled LGBT life in AIDS epidemic-era America. "AIDS was another outbreak of a disease that ravaged creativity," says Jonathan. "I think, just as how this pandemic affects certain parts of society, so did AIDS." Loewe's 'Show In A Book' will be distributed by Printed Matter from June, with proceeds going benefitting Visual AIDS, a non-profit organisation that Jonathan has previously collaborated with, which uses art to both provoke and inform, and also support HIV+ artists.
However, there is an inherent optimism to Jonathan's collection for Loewe — and indeed his recent work, in general — that is testament to the transformative power of fashion to brighten even the darkest of doldrums. That's why you won't find a pair of sweatpants in sight. "We're not out of the woods, but that doesn't mean that fashion should just try to sell you pyjamas," the designer asserts. "We have to give optimism for the consumer, but I also need to make sure my team is excited about what they're working on. I have to get people to work on something creative, because that's what they came to Loewe to do." In other words, this collection is a celebration of capital-F Fashion, a riposte to the increasing lethargy with which even the most flamboyant of us get dressed in the morning. "I really think we have to put creativity to the forefront and experiment with different things," he continued. "I work in a creative industry and I love fashion, and it's about projecting the future. If I design something, that is for the future and hopefully we will get there. Otherwise, there's no point."