NYK is the Malaysian musician bringing his creative community together
His new album 'Salt' saw the Kuala Lumpur artist collaborate with local producers, stylists, directors.
|
01 February 2021, 1:16pm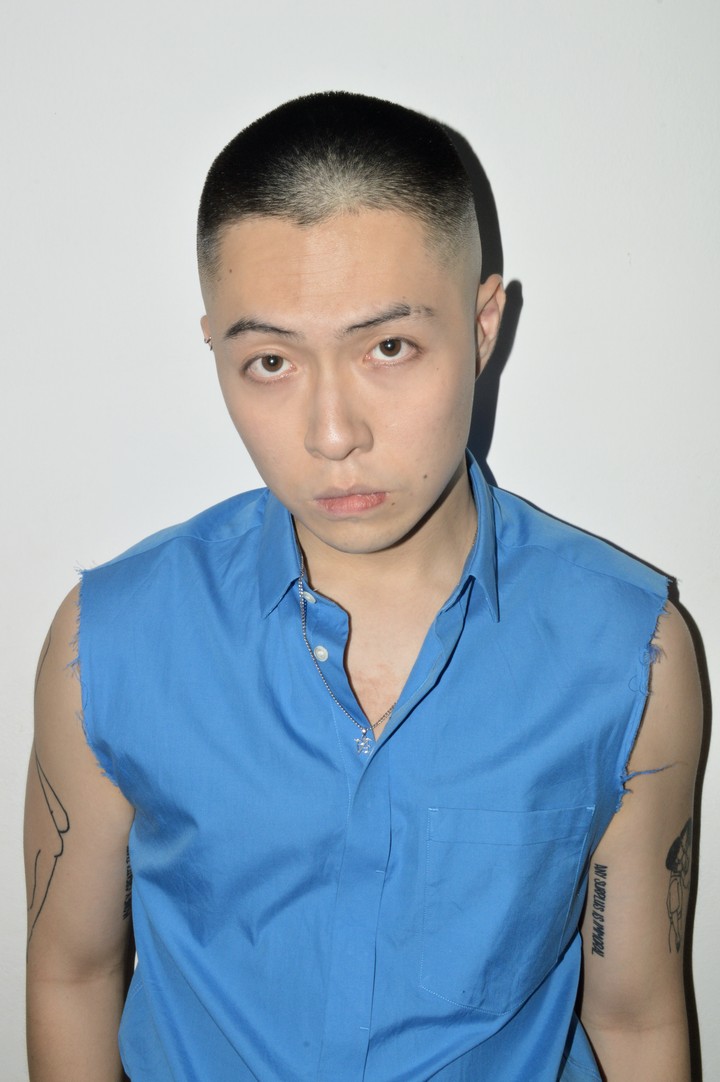 Photography Skye Lai
When Malaysian musician NYK–full name, Nicholas Yung Kit–released his catchy, RnB-tinged EP, Salt, in October last year, it marked a shift from a negative time in his life to a more positive future. Completed during lockdown, the tracks on Salt invited a new measure of self-awareness for NYK and became a useful way to shed pent-up negativity and poke fun at his younger self.
The tracks on Salt say it all. From the social-media-diss track AAA—which blew up on Douyin in China with over 60 million streams and led to his subsequent collaboration with Chinese rapper Lil Ghost on NO 808—to the fun title track Adore, Salt is filled with brighter melodies, cheekier overtones and a stronger pop sensibility than his darker, more soul-leaning 2018 debut Unlovable.
Importantly also, with collaboration at the heart of the new project, NYK is helping shed new light on Malaysia's young creative scene. While fellow wunderkind Shelhiel came on to co-produce certain tracks, the music video for Adore is the pure result of young talent coming together to pull off an entirely homegrown project. The outfits by emerging local label Motogou are a real highlight. As NYK explains, "Our music video would look very different if not for his clothes….We also have styling by Skye, hair and makeup by Brenda, shooting and editing by RocketMob and Safehouse helping out with their space. The casting was great and it was all people we knew. Everyone really helped us out."
As Asian-English music scenes continue to grow and garner more attention globally, we learn a little more about NYK, how he got here and why he's one to watch
1. NYK grew up in quite a musical household…
"Both my parents were in bands but they had pretty diverse tastes. Dad was really into rock and roll like AC/DC and Guns N' Roses, but also Cantopop like Leslie Cheung. I remember listening to the Phantom of the Opera in the car and that particular album being the trigger that made me want to perform."
2. His first ever performance was for a singing competition…
"I sang Music of the Night and butchered it! My hands were shaking, I couldn't reach anything and the notes were so high. I was 13 and my voice was already cracking."
3. Then he performed in tons of musicals throughout high school…
"My school's choir was particularly notorious at the time. We would always compete at a state level and did the classics like Mamma Mia, Grease, and Footloose. For that, I played Ren, the guy who wanted to change the city and make everyone dance again. Being the lead, performing, saying lines and making people laugh, singing stuff and making people cheer–it's a bit narcissistic but at that moment as a sixteen-year-old, it was really cool."
4. FWB (Friends With Benefits) may have been his debut song, but the first song he ever wrote was for his mother…
"I just said like, "Hey it's mother's day and I wrote this for you". But before songs, I wrote poems and before poems I wrote short stories, so it was always a love for writing more than anything else. I guess I was searching for the right medium."
5. He's a bookworm…
"I picked up Sidney Sheldon and John Grisham when I was like six. Then I read Lord of the Rings, and, like every tween kid, I stumbled across literature and started quoting Oscar Wilde. Then I found Murakami. I really like the way he writes, particularly because he's Japanese so the translated sentences aren't usually written in the way English writers would usually write."
6. He held back in pursuing music as a career for a while…
"Despite being quite liberal, my parents were so against me going into music back then. Meeting producer Isaac Miranda, who believed in me and shed light on how it could be sustainable, helped. Now it just feels really right, despite the context of how bad music was doing, especially here. There are a lot of barriers to entry and if I could help remove that by providing an example and a stepping stone to anyone interested in music, that would be great. It would be a win-win for everyone."
7. Fan favourite Faded is also the closest song to his heart…
"I put a lot of thought into writing this song and it was very enjoyable figuring out how to phrase what I felt.
8. He got into a car accident halfway through the shooting of his first music video…
"We were on the way to Melaka to shoot the desert scenes for Pretty Burn on the second day and a car hit us side-on. I blacked out, fractured my face and lost a ton of blood. My adrenaline kicked in though and surprisingly I was pretty calm, just like, "Ok, I might die but let's just get to the hospital now, stop the blood and get this back on schedule." A week later, we returned to the top of a mountain of sand to shoot a scene of me rolling down the hill. I still had bandages on my arms and my face was not fully healed. It was supposed to be a ragdoll thing but I was protecting my fractured face to make sure my arms hit the sand instead."
9. On the other hand, filming Adore gave everyone rashes…
"The director Hiren has a weird fetish for trees. We were in the grass and asked to laugh our balls off, then hug trees with ants on them. At one point, Hiren asked me to lip-sync and before I knew it, everyone's running around, shaking and pushing me to the ground. Passersby were staring at us, like, "Holy shit this is some cult-level nonsense". Five minutes in, we realised that the grass was extremely full of allergens so we started getting rashes. You don't do that and not know each other very well."
10. 2021 will be a better year…
"This is a promise I'm making to myself right now: the best music that I'm able to put out…that will be this year. And if everything goes well with the world, and everyone plays their part, then I'd want to be somewhere outside working on stuff and touring. I've not had a tour yet. I really want to tick that off the bucket list."