These are the bangers on Justin Bieber's Justice
Six years after 'Purpose', the Bieber power pop is back on his new album.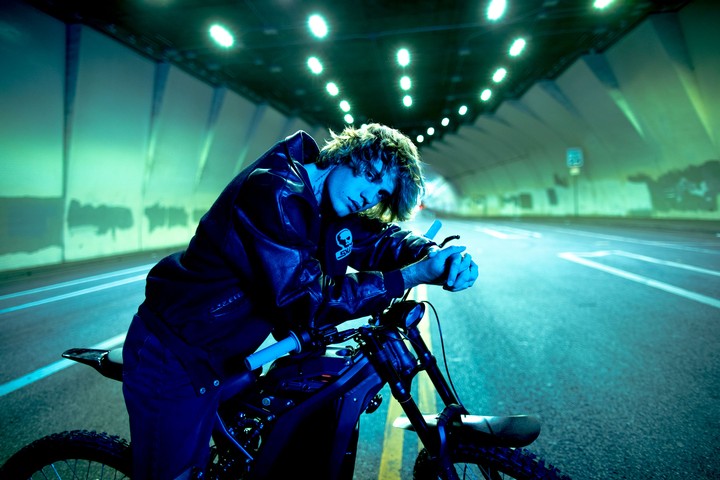 Image courtesy of Def Jam Recordings
It was this time last year that Justin Bieber's fifth album Changes dropped. The record, JB's first since 2015's career-defining Purpose, felt like a step back from chasing chart success. Aside from "Yummy" and "Intentions" — the former a track that riled people up due to its simple catchy chorus, but was Grammy nominated anyway — barely a bombastic single was spawned from it. Could it be that Justin, now happily married and very much in love with his wife Hailey Bieber, had little interest in going as hard as he had as a teenager? The producers and songwriters present on its predecessor — Bloodpop, Skrillex, Diplo, Julia Michaels and Justin Tranter — were conspicuously absent. But on his new record Justice, he retraces his steps to that sweet spot: making wholesome bangers that feel like they're gunning for chart success.

The top half is fairly mellow, but before long Justice segues into a panting, power pop record. "There's been a lot of uncertainty, so my objective in making this album was to provide comfort to the listener and an outlet of connectivity," he has said of Justice. In doing so, he brings together a bunch of collaborators across the tracklist: everybody from Dominic Fike to Burna Boy make an appearance. Its lyrical focus remains much the same as what Changes dealt in — and that's loving the hell out of his wife. But there's magic in the melody, and the big-hitter production comes courtesy of some old friends (yep, Skrillex is back) and some new.

You've heard the strong string of singles that preceded its release (we're still screeching "ON GOD!" on loop 24/7), so without further ado, here are six more bangers from Justin Bieber's Justice that you'd be a fool to sleep on.
Deserve You
A sonic homage to Phil Collins, this big-souled love song has the same energy (if a little more jolted and alive) as "In The Air Tonight", and even comes with its own big gorilla drum breakdown . The whole thing is formed around the kind of groaning synths and mid-tempo pop melody that felt conspicuously absent on Changes. He begs his lover (presumably Mrs Hailey Bieber) "don't let me go", crooning "I need you tonight". All of this on what is just one of many songs that feel like paeans to a woman Bieber considers too great for him. Sorta bangs though.

Die For You (ft Dominic Fike)
Everyone's favourite elusive alt hip-hop kid Dominic Fike rocks up on the record too. Having been in the studio with everybody from Brockhampton to Halsey, he leans into his pop surroundings on this track. Perhaps the most aggressively 80s power pop track on the album, this is a surefire future single. It pays homage to artists like Michael Jackson; perhaps when Chance the Rapper called Justice "Bieber's Off the Wall", this is the track he was referring to.

Somebody
Die-hard pop fans will have heard of ILYA. He's the frequent Max Martin collaborator responsible for co-producing and writing every Ariana Grande track that goes off, from "Into You" to "No Tears Left to Cry". On this track, JB and ILYA finally join forces. It's a dystopian pop number, akin in some ways to Dua Lipa's "Physical", in which Justin frames himself as a shoulder to cry on. What's more, it's produced by the man who made Purpose go off: Skrillex.

Ghost
The hook in this has been spinning in our heads since we first heard it. "If I can't be close to you / I'll settle for the ghost of you," Bieber sings over dancey, drum and bass beats. Co-written and produced by The Monsterz & Strangers, responsible for four cuts on Queen Dua's Future Nostalgia and the new Conan Gray single, their presence has become symbolic of a pop hit.

Peaches (ft. Daniel Caesar and GIVĒON)
This feels like the "Yummy" of the record: a frothy, frisky, carefree song about how Justin gets his "peaches out in Georgia" and his "weed from California''. He calls it a "West Coast'' record, and it does have that saccharine, "California Gurls" energy we've sorely missed on the charts as of late. It's also loaded with Grammy talent. This year, rapper GIVĒON gained a Grammy nomination, while the track's producer Watt won Producer of the Year for his work with Dua, Sam Smith and Miley on her mega Plastic Hearts.

Love You Different (ft. BEAM)
Having already waded through power pop, dance-pop, EDM and drum and bass, Bieber adds one more genre into the mix with this track, a collaboration with Kingston-born dancehall star Beam. Skittish and brilliant, it hits with a sledgehammer as the chorus arrives.
It wraps up a record that feels like a return to form for Bieber, who knows his sound and seems hellbent on making a wild commercial impression for his sixth record, all while sticking close to the subject matter he now knows inside out: just how much love has shaped him and saved him.
Tagged: