All images courtesy of Birkenstock
Birkenstocks like you've never seen them before
The ubiquitous lockdown sandal gets a radical makeover, courtesy of Central Saint Martins graduates.
All images courtesy of Birkenstock
Back in 2018, when the word 'pandemic' felt like a distant sci-fi fantasy, fashion was a very different place and the way we dressed even more so. That year, Birkenstock was by all means a popular style of shoe, but nowhere near as ubiquitous as it has become during lockdown. Fast forward to 2021, and the moulded footbeds of the German brand's cork-soled sandals have become one of the most popular emblems of our newfound sartorial comfort, both for diehard 'ugly shoe' fashion pundits and for orthopaedically-inclined strollers. The timing couldn't be more prescient for the brand to finally reveal its latest collaboration, which has been two years in the making: a series of new designs by Central Saint Martins students (all of whom are now graduates).
Alex Wolfe, Saskia Lenaerts, Alecsander Rothschild and Dingyun Zhang were all students on CSM's revered MA Fashion course when they were presented with the opportunity to redesign one of Birkenstock's archival designs. With the help of their course leader, Fabio Piras, as well as the college's Fashion History and Theory students who delved into the brand's archive, they were tasked with reimagining the distinctive Birkenstock sandal through their own lens. There was just one condition: however directional their design, it must feature the signature moulded footbed, first designed as an orthopaedic aid more than 250 years ago. The rest was totally up to them.
Of course, Birkenstock is no stranger to a fashion crossover — its previous collaborators include Rick Owens, Valentino and Proenza Schouler. However, this is the Birkenstock sandal as you've never seen it before. Alex Wolfe's shin-grazing take on the brand's 'Rotterdam Moto' sandal looks more like a BMX accessory than a domestic slipper, with a colourful graphic print (he used Birkenstock's eudermic material, Birko-Flor) and exaggerated buckles he found in their factories. "A Birkenstock sandal is different to what I would usually wear or work with, but I'm interested in technical shoes," he says. "I was drawn to the straps and the orthopaedic side and I liked taking something serious and symbolic of safety, and contrasting it with something a bit more energetic, playful, like that motorcycle daredevil 100mph attitude."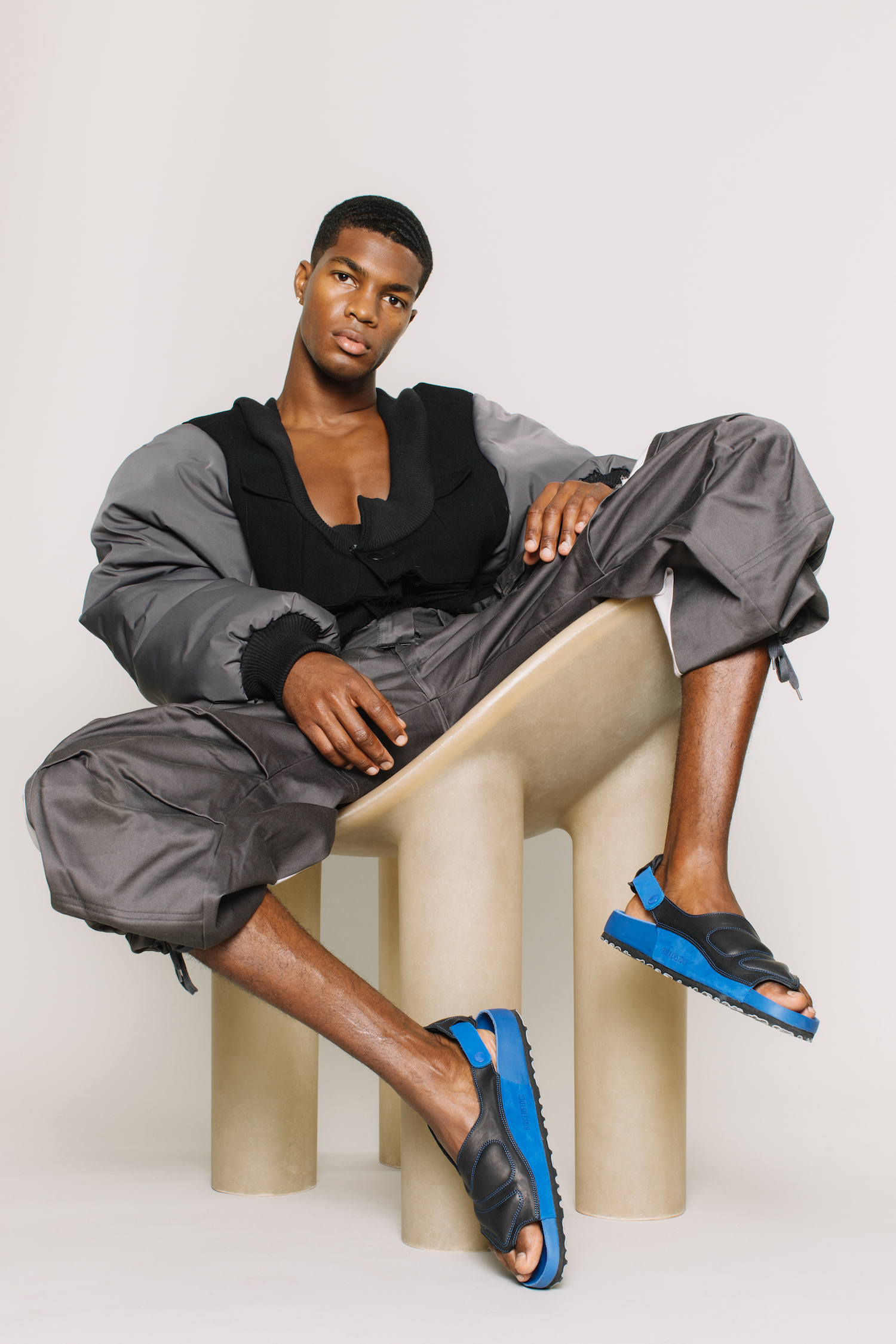 Meanwhile, Shanghai-based Dingyun Zhang's pillowy version of the 'Arizona' sandal takes inspiration from futuristic outerwear and her signature oversized puffers. Alecsander Rothschild looked to the mixed materials and textures of Brancusi sculptures for his design, which had three kinds of leather sculpted to create dramatically winged sandals. "Birkenstocks have become so popular during lockdown, so it's been really good timing to show them in not such a mundane setting," the Danish designer says. "It was fun to challenge how the shoe looks and to see what you can do with it and how far you can take it. What if it's a sculpture on the foot, in the most comfortable sandal?"
Each of the designers have now begun their post-graduate careers as fledgling creatives at perhaps the most difficult time in recent history, so the collaboration has been somewhat of a lifeline. Not only have their designs been put in production, but the sole of each of the shoes is embossed with their names — and they received an additional financial bursary. "Having a project like this, with a company that says they're still going to do it and actually go ahead with it during such a difficult time, it shows they also have those values of taking it to the end," says Saskia Lenaerts, whose take on the 'Milano' sandal drew echoed the softness of the moulded footbed on a delicately rounded upper. "The evidence is there that we're no longer students and we're capable of working with a brand on a major project like this," she adds. "This is proof we can do this, and that other companies should think like this."
Follow i-D on Instagram and TikTok for more fashion.