Kim Jones heralds a new era of eyewatering luxury for Fendi AW21
The British designer just made his ready-to-wear debut for Fendi and it's all about classic, hardcore opulence.
|
24 February 2021, 5:18pm
Images courtesy of Fendi
By now, Kim Jones is well-versed in the language of luxury. Having designed for some of the most illustrious houses, it was only inevitable that the British designer's AW21 ready-to-wear debut for Fendi would be resplendent in the finest, fuzziest textures known to womankind. We're talking sky's-the-limit luxe, fabrics and craftsmanship that earned the 'Made in Italy' label its stripes; clothes and accessories designed to outlive the test of time. And to kick off his tenure as a womenswear designer for the Roman fashion house, Kim wiped the slate clean and went hardcore classic — the bon chic, bon genre kind. We're talking double-faced cashmeres, caramel-hued wools, bonded suedes, wool-fringed scarves, fuzzy shearling panels, supple nappa leathers, and the most delicate silk and organza. "I'm taking the amazing, strong women I both know and work with, and listening to their needs," he explained in a statement. "There's a usefulness to the collection, explored in a chic, timeless way."
It's the kind of classicism that is never boring; the kind of assured chic that always makes you feel good, rather than solely look it. To reiterate the message, the set for the show was classical Roman ruins scattered amid hyper-modern glass vitrines, a reminder of Fendi's Roman heritage, as well as its monumental impact on Italian fashion.
In a whopping 54 looks — all in a delicious nonna-approved palette of caramel, biscuit, chocolate, olive and burrata white — Kim established his vision for the future of Fendi. So, what is it exactly? Seriously luxurious clothes for the modern woman. No novelty; just beauty. "The Fendi family are women of intellect who work hard — and that's what I wanted to celebrate," Kim added. In other words, he's making clothes that work just as hard as the high-powered women who wear them — and as the world heads into a double-dip recession, these are clothes that sing for their supper, entirely justifying the investment-worthy prices.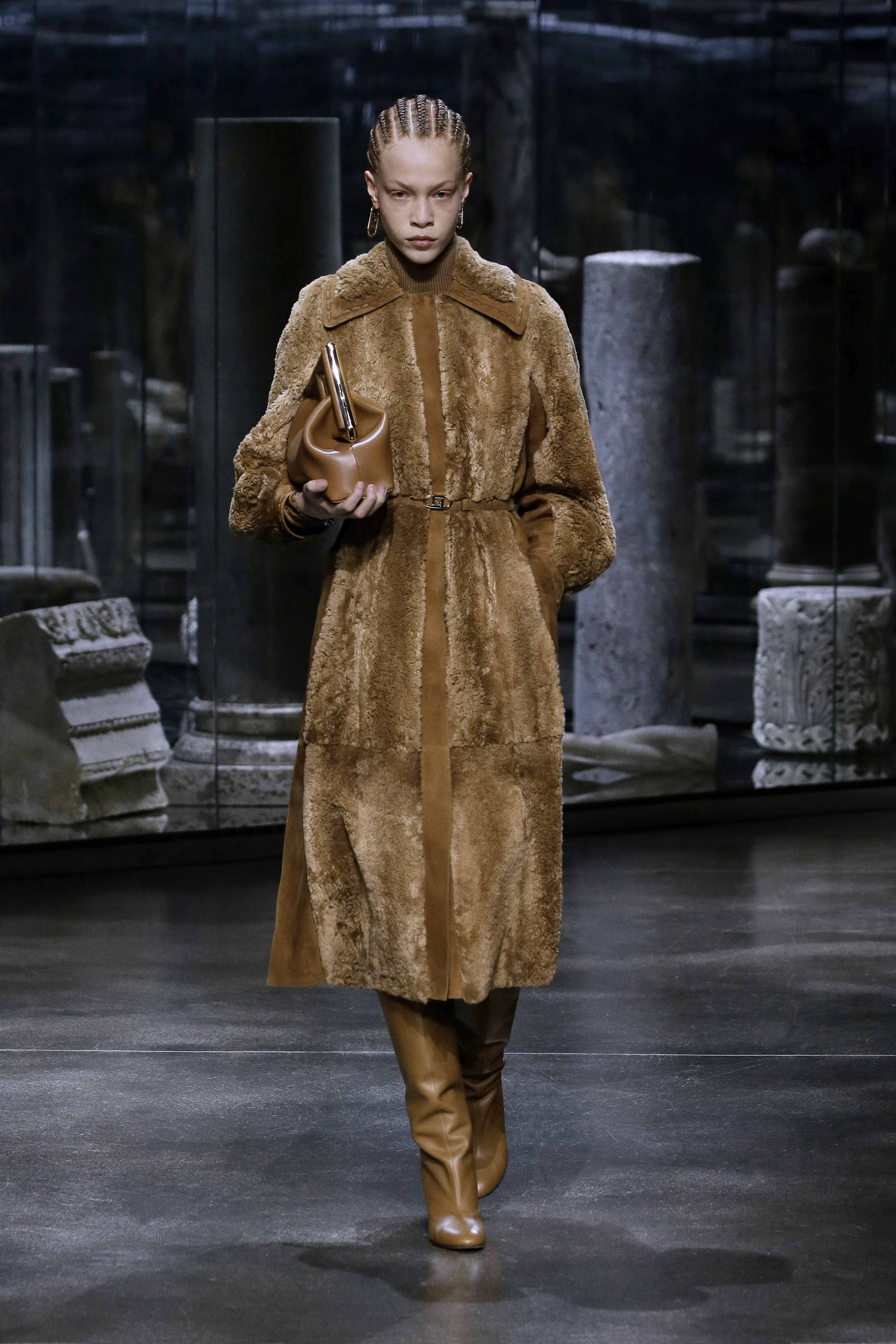 There was seriously sharp tailoring, super-cuddly textures, and 9-to-5 classics with touches of after-dark decadence. Take the sandy dress, for example, simple in its precision and extraordinary thanks to its draped satin bodice. Or, a white silk shirt, fastened by a hand-moulded floral rosette, followed by a suede jacket with the Fendi monogram laser-cut onto the shearling. Chunky furry fringes and super-fine silk tassels hang from the hems of coats and dresses, while feather-light silks are cut into diaphanous handkerchief dresses, sequinned slips and razor-sharp high-waisted trousers. But beyond the codes of unmistakably tasteful stealth-wealth, there was something distinctly Italianate about it — almost as if it were an homage to Roman and Milanese grandes dames who slip into their furs on the first day of September. You know, the kind of women who take pleasure in the finer things in life: gold jewellery, handcrafted leather handbags, cashmere sweaters, spaghetti with caviar. Italians do it better, after all.
Kim follows in the footsteps of the late Karl Lagerfeld, who held court at Fendi for 54 years. However, partly because Karl was so omnipresent in fashion right up to his death, we often think of him in the present — not the 20th century juggernaut of fashion that he was. One of the things that Kim has made clear in both this AW21 collection and in his haute couture debut last month, is his reverence for the late designer and the gargantuan archive he left behind. Here, he nodded to it by reviving Karl-era monograms, as well as architectural shoes alongside the marbled silk dresses and satin rosettes he established as motifs in his last Bloomsbury Group-inspired couture collection.
Kim couldn't be a more perfect heir, and it's even more impressive considering that he is still fairly new to the job (and it can't be easy starting during a global pandemic), but in just two collections, he's made his mark — and it's already a future classic.