7 of PJ Harvey's most iconic outfits
From sequinned dresses to baby blue eyeshadow, the English singer-songwriter and i-D cover star redefined rock star dressing in the 90s and early 00s.
|
11 December 2020, 8:00am
In addition to being one of the foremost rock stars of the 90s and early 00s, PJ Harvey is also one of music's foremost style chameleons. And style has always been front-and-center for PJ and her singular form of artistry. Throughout her three decade-long career, the singer-songwriter has used dress, make-up and hair, alike, as statement (say, posing topless, back to the camera, with armpits unshaved on the cover of NME), as feminist self-affirmation (thick baby blue eyeshadow, sequinned dresses, micro mini skirts) and purely for aesthetic purposes (Ann Demeulemeester was the look for her Let London Shake era.) From her critical breakthrough To Give You My Love to the Mercury Prize-winning Stories from the City, Stories from the Sea and beyond, PJ Harvey has reinvented her look — totally and immaculately — to coincide with each album-era of her career. And in doing so, PJ's paved the way for today's young popstar's who approach fashion and music in the same way. Here, to celebrate the release of both PJ's documentary, A Dog Called Money, and the re-issue of Is This Desire?, we take a look back on the singer-songwriter's career with a look at some of her most iconic outfits.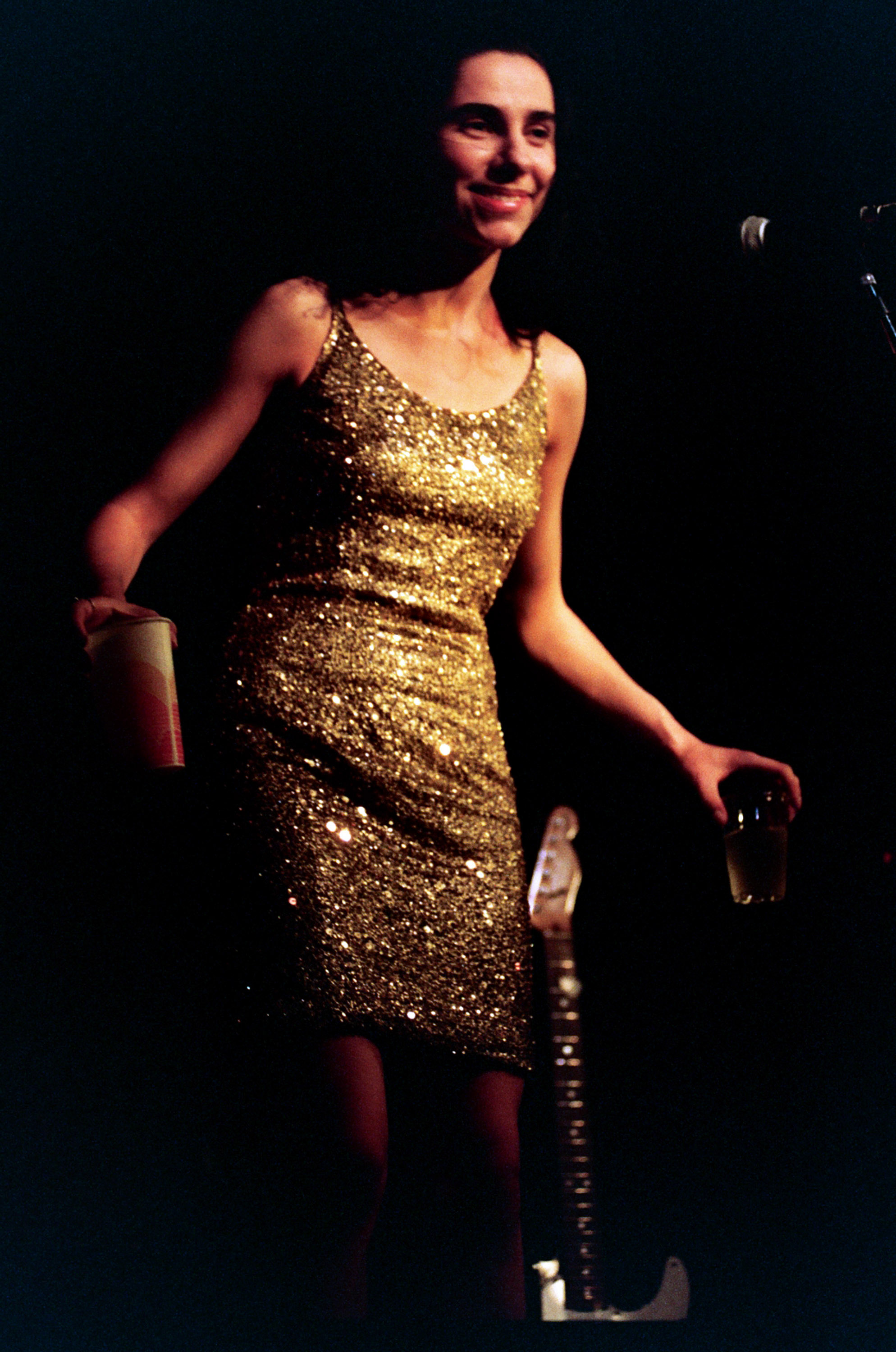 Performing at The Wiltern in Los Angeles, 1993
Did you know that Polly Jean initially moved to London — the city that would launch her musical career — to study sculpture at Central Saint Martins? Not too soon after, in October 1991, PJ Harvey and her bandmates, known then as the PJ Harvey Trio, signed to indie label Too Pure off the back of their demo for their now-iconic single "Dress." A female musician in a male-dominated field (read: rock music), the dress, as a garment, took on significant meaning within Harvey's wardrobe. While in some ways PJ's style during this era reflected the rawness of her music and lyrics — say, posing topless on the cover of NME Magazine — the singer often wore dresses on stage: halter gowns, mini dresses with sweet-heart necklines, leopard-patterned frocks. Here, she wears a sequinned slip for a performance in Los Angeles.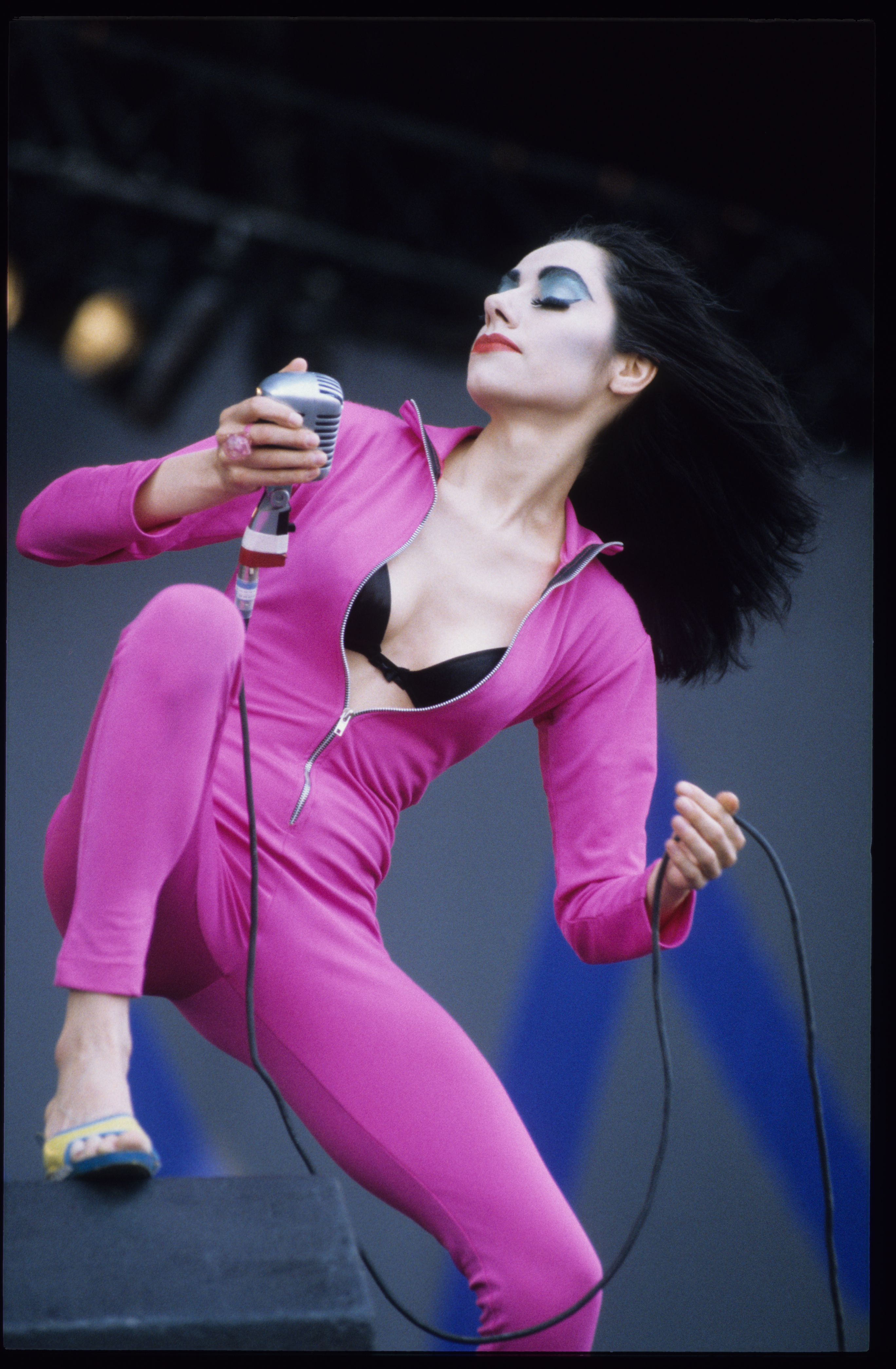 Performing at Torhout/Werchter Festival, 1995
PJ Harvey is a sartorial chameleon, fully transforming her style — from her hair down to her shoes — to coincide with the mood of each of her albums. The singer's most iconic style transformation is, without a doubt, the make-up of her To Bring You My Love era. Widely recognized as PJ's critical and commercial breakthrough, 1995's To Bring Your My Love was PJ's debut album as a solo artist. On the record's cover, on stage, and even at the MTV VMA's, PJ sported a bold red lip, powdered face, massive falsies and, the cherry on top, that instantly-recognizable slick of baby blue eyeshadow. While the make-up look is legendary in its own right, PJ's most memorable outfit from the era remains the unzippered hot-pink catsuit she wore during the year's festival circuit, from Glastonbury to Blegium's Torhout/Werchter.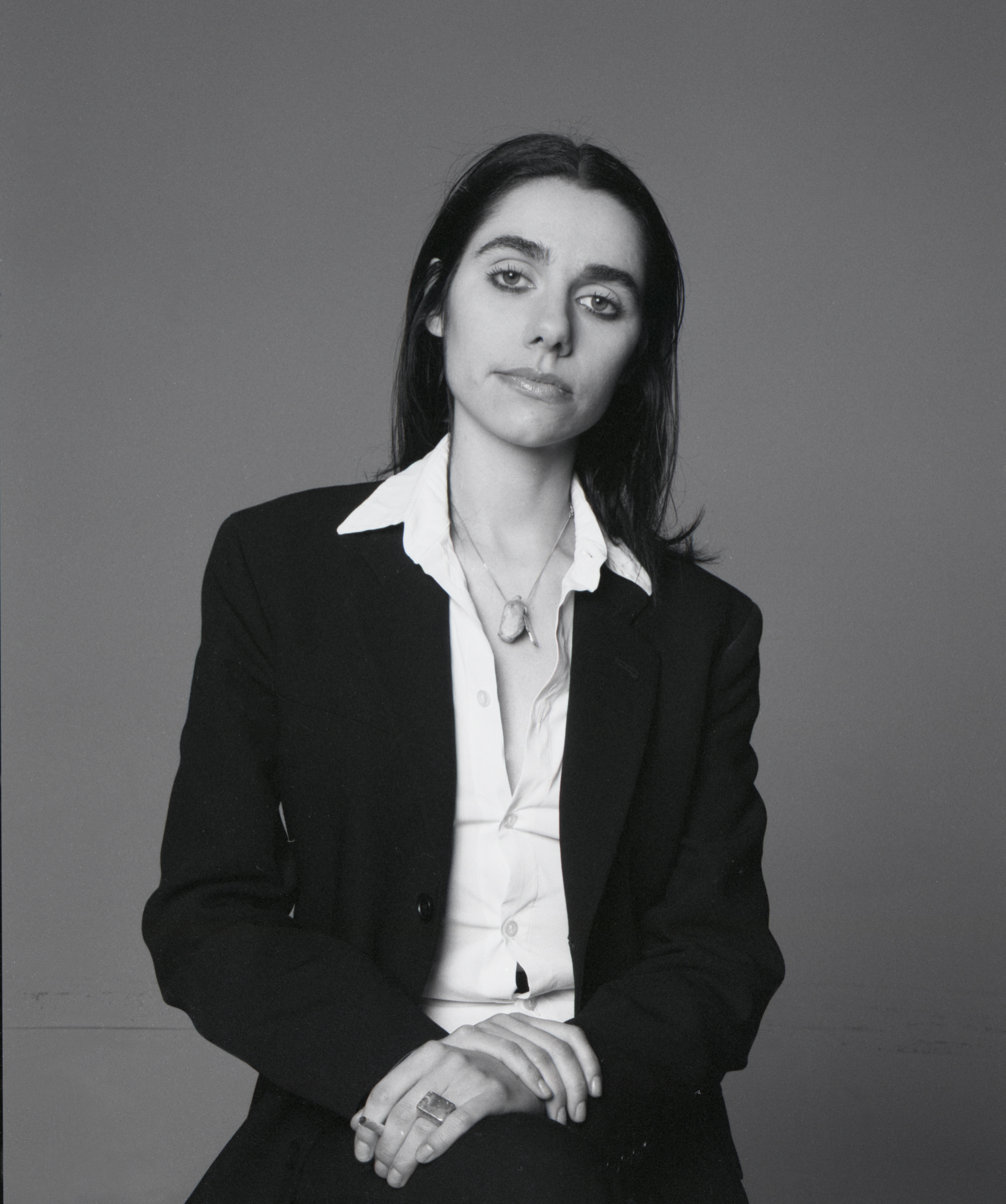 Portrait Session for "Henry Lee" with Nick Cave, 1995
In the mid-90s, PJ was also half of one of rock music's coolest — and, honestly, underrated — couples of all time. While PJ and Australian singer Nick Cave called it quits in 1997, the duo immortalized their love in the form of single "Henry Lee." In 1995, the duo recorded their cover of the traditional Scottish folk song, which was included on Cave's Murder Ballads. In the song's accompanying music video, the couple serenade each other, stare longingly into each other's eyes and even slow dance. All while wearing matching black pantsuits.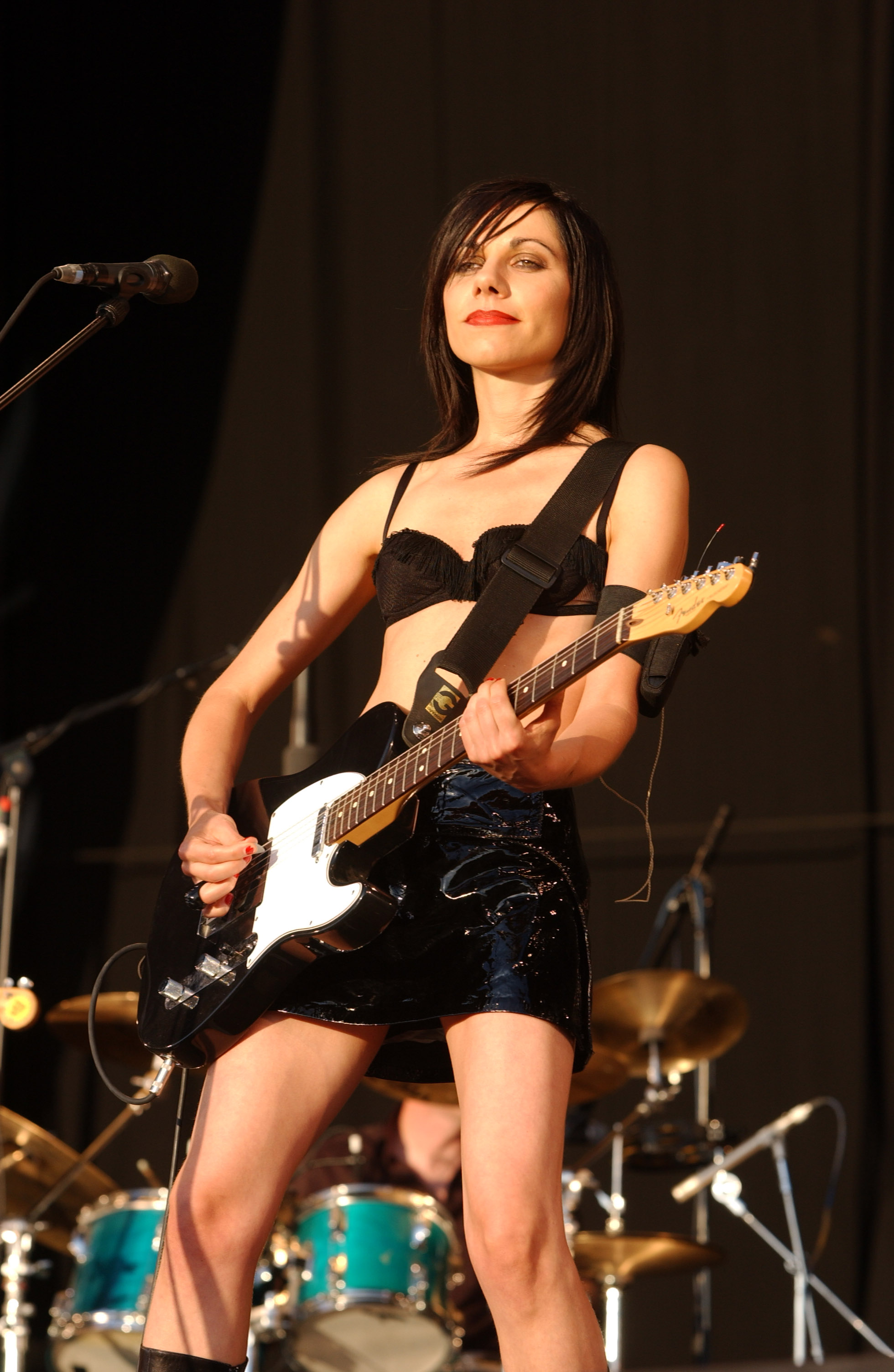 Performing at Reading Festival, 2001
"I think that sexuality is a very big part of music and of performing and making images," PJ told The Guardian in 2000. From her lyrics — which chronicled a woman's sexual desire in an unprecedentedly raw, gritty manner in the early 90s — to her stage costumes — micro dresses, mini skirts, catsuits — PJ's artistry has been intertwined with sexuality and sex appeal since the beginning. Here, to perform at Reading Festival in 2001, PJ wears one of her most iconic — and sexiest — fits: a black balconette bra and leather mini skirt.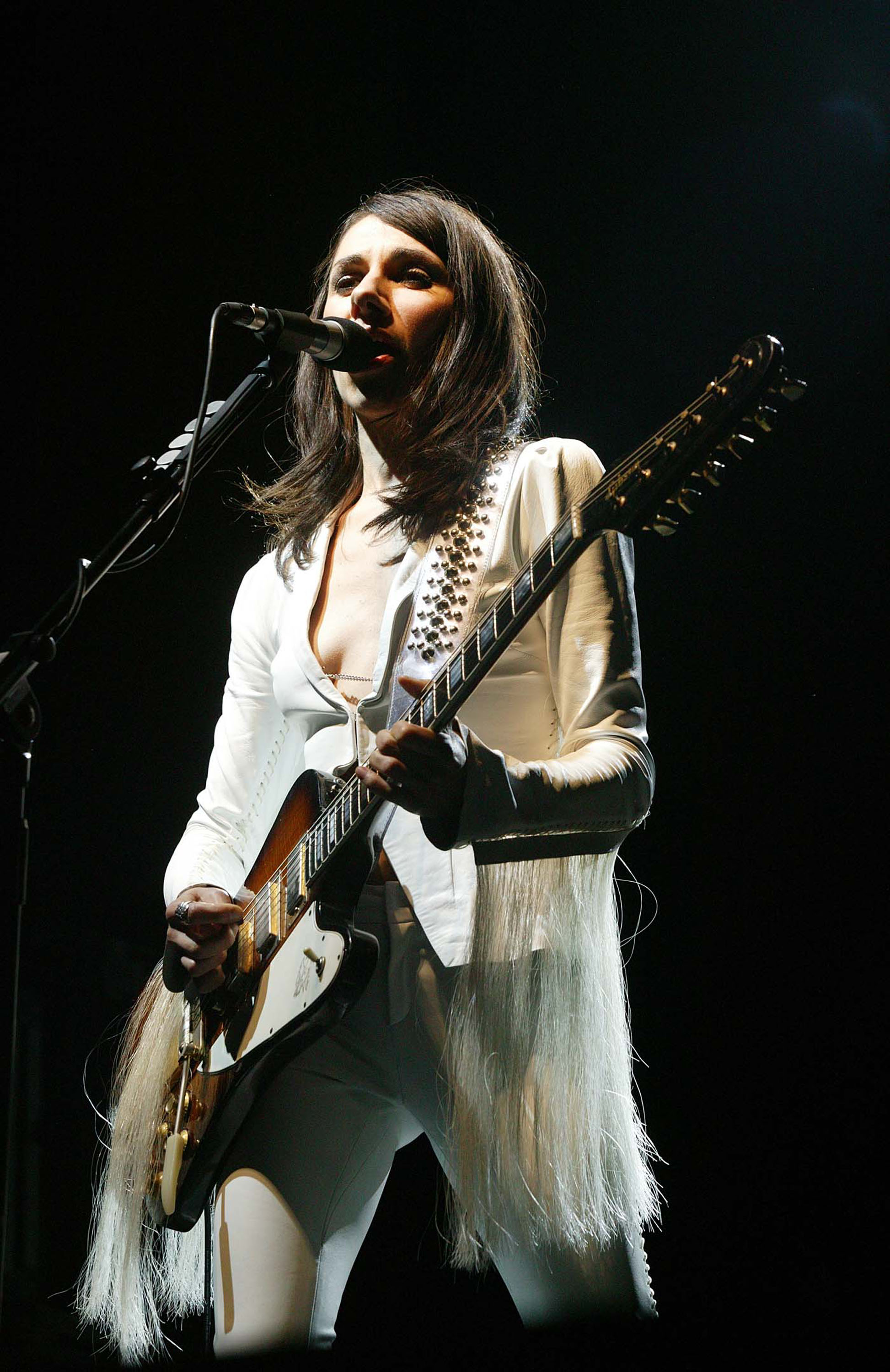 Performing at the Tate Modern Gallery, 2003
The defining look of PJ Harvey's Stories from the City, Stories from the Sea era? This white pant suit, fit for a bona fide rock star with glam fringed sleeves, a plunging collar and flared trousers. PJ wore this look for the music video of the album's second single, "This Is Love," and a concert at the Tate Modern's newly-inaugurated Turbine Hall.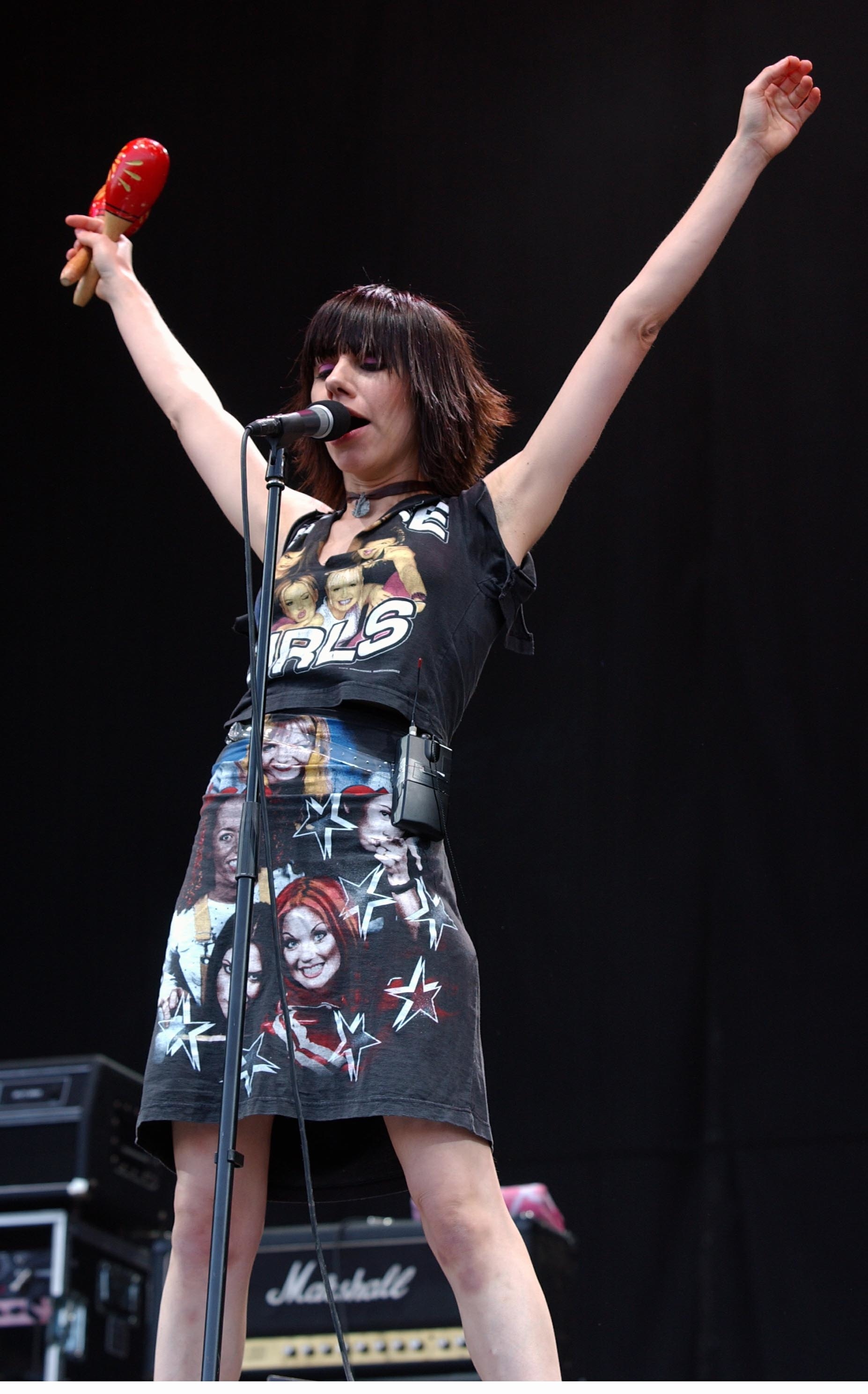 Performing at Glastonbury, 2004
PJ Harvey's Uh Huh Her-era stage fare is a true time capsule of early 00s alternative fashion. Circa 2004, PJ's tour wardrobe consisted of jersey mini dresses, tube tops, leather pumps and, most famously, an ample — and impressive — array of upcycled band T-shirts. And PJ wasn't afraid of getting meta with the latter trend. During sets at Scotland's T in the Park and France's Eurockéennes, the singer wore her own merch, slashed into two tube dress looks. Here, performing at Glastonbury, she wears her most famous of the bunch — a Spice Girls skirt-set.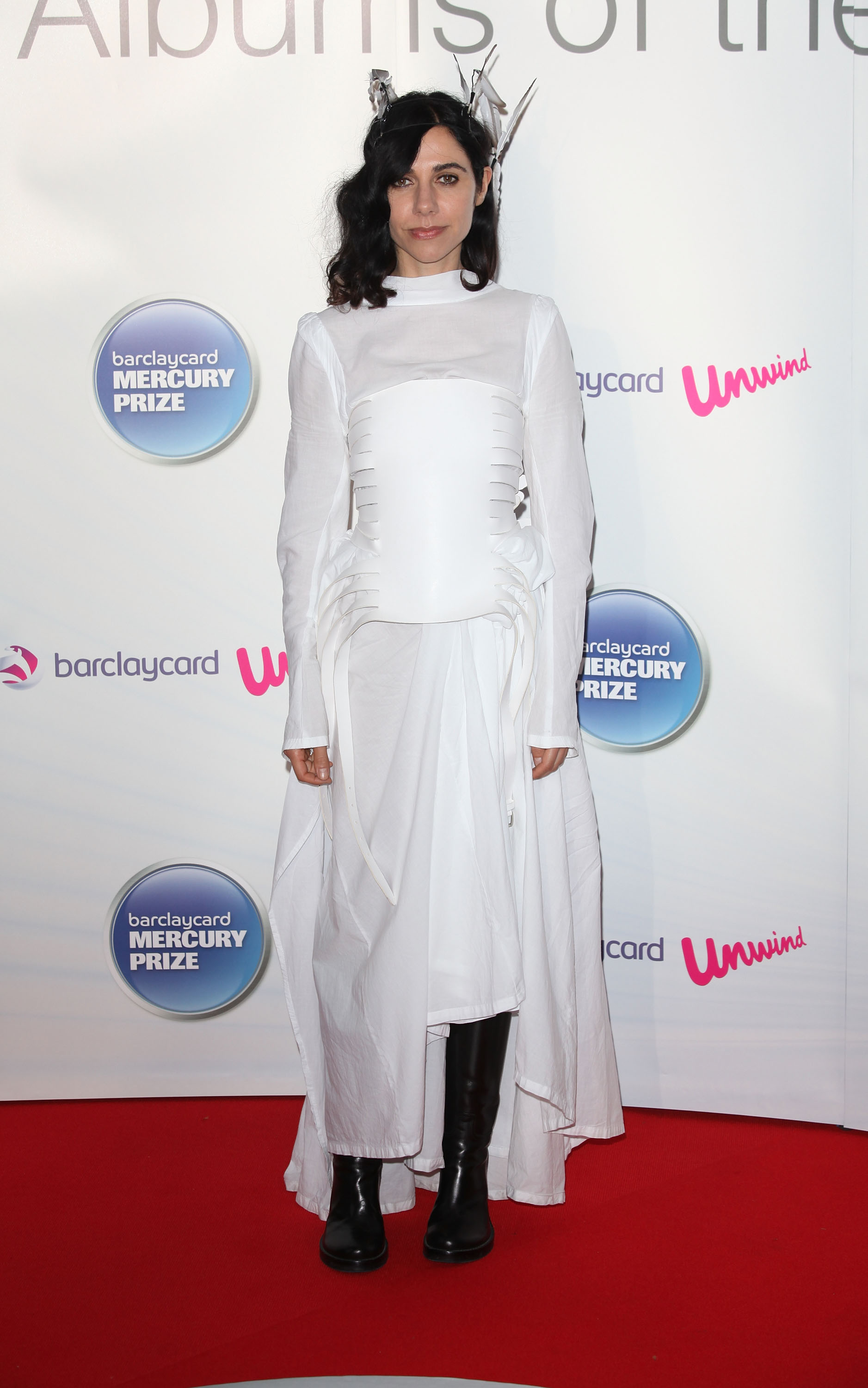 Attending the Mercury Prize, 2011
With a career that's spanned three decades and counting, PJ Harvey's accolades (nearly) precede her. In addition to being one of the 90s' foremost rock stars, she has numerous Brit Award and Grammy nominations, was appointed MBE by the Queen for her services to music and is the only artist to be awarded the prestigious Mercury Prize twice.Here, in 2011, PJ attends the Mercury Prize ceremony to collect her trophy for her album Let England Shake. Naturally — in very PJ Harvey fashion — she's wearing that specific album-era's costume: head-to-toe Ann Demeulemeester, from the whimsical feathered headdress to the intricate corseted gown, down to the sleek black leather boots.
Tagged: