Is Harry Styles launching a beauty brand?
If so please take all our money king!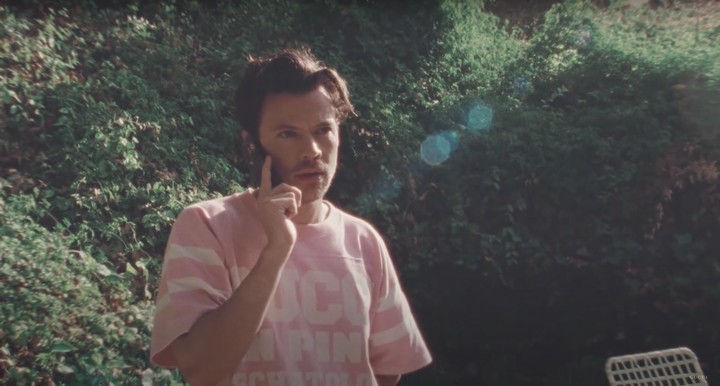 Still from Gucci's short movie 'At The Post Office'
Being one of the most stylish faces in the music world right now, it's not a huge surprise to hear Harry Styles might be considering an entrance into the world of fashion and cosmetics. If recent sleuthing from his fan accounts is anything to go by, a beauty brand from the recent Brit Award winner may already be incoming.
Following in the footsteps of Rihanna, Gaga, Selena Gomez and most recently, A24, a trademark for a cosmetics and fragrance company listed under the singer's name was found by fans at the weekend with speculation circulating online about what we might be able to expect from it.
Here's what we know so far. On 28 May, a Harry Styles update account — @TheHarryNews — somehow found a company listing for a "Styles, Harry Edward" sharing the same birthday as the 'Watermelon Sugar' singer and their occupation listed as "record production". The company, currently known as Pleased As Holdings Limited, was set up three days prior with the nature of the business being noted as the "wholesale of perfume and cosmetics". Harry is listed as director of the company alongside his close confidant, long-time assistant and mother of his godchild, Emma Spring.
"Very confused but okay bestie," one fan surmised on Twitter while others mourned the inevitable loss of a sizeable chunk of their savings. Though Harry is yet to comment on the revelations, fans have been taking guesses at what a Harry Styles beauty brand might look like. With his well-known love for gender-bending fashion statements, we can perhaps assume the brand will be marketed as unisex.
Comments under the initial post hope for a nail polish line, since we all know that Harry loves a good manicure. Others think his perfume might be vanilla-scented -- taking inspiration from a favourite of his, Tom Ford -- or resemble the Target candle that reportedly smells just like him. Perhaps he will even stay true to the time he said he'd name his fragrance "boxers or briefs". There's also speculation that Pleased As Holdings Limited is only a temporary name and that the brand may actually be called S.H.E (taken from his initials).
Currently Harry is in London filming what we've officially dubbed his "bi cop movie featuring Emma Corrin as the third wheel". There's also a potential Marvel Cinematic Universe appearance to look forward to. And now on top of that, although it's early days, we eagerly await the day we can buy some signature watermelon sugar lip scrubs.
Tagged: