Ganni x Ahluwalia is the unexpected collab we needed
For her womenswear debut, Priya interpreted Ganni's eccentric motifs through the lens of 90s UK Garage.
Images courtesy of Ganni
Ganni and Ahluwalia aren't two names you typically hear in the same breath. The former's best known as an ambassador of irreverently cool, Scandi 2.0 womenswear, while the latter is a leading light of London's new guard of independent menswear designers. The fact that the pair make for unexpected bedfellows, though, is exactly what makes the release of the first of two collaborative capsules so exciting -- not to mention the fact that the 19-piece collection marks the first time that Ahluwalia's namesake founder, Priya Ahluwalia, is bringing her vision to womenswear.
The other thing that sets it apart, though, is the depth of its scope. More than a year in the making, the collection they're releasing on Friday is more than a range of cynically co-branded pieces; it's truly a hybrid product of their respective worlds and approaches to design. It's also a celebration of the common ground they share as leading advocates of social and ecological responsibility in the fashion industry.
Working with deadstock fabrics and leftover pieces from previous Ganni collections, Priya has applied her unique lens to the eccentric prints and party-ready silhouettes that the Copenhagen label is best known for. In doing so, she draws on photos of Black beauty pageants in America, Ewen Spencer's seminal document of London's late-90s Garage scene, UKG, and even pictures of her own mum back in her party days. Ahead of the collection's launch this Friday, Priya and Ganni's Ditte Reffstrup filled us in on the process behind the clothes, what they most admire in each other, and what we can expect from part two of the collaboration, launching later this year.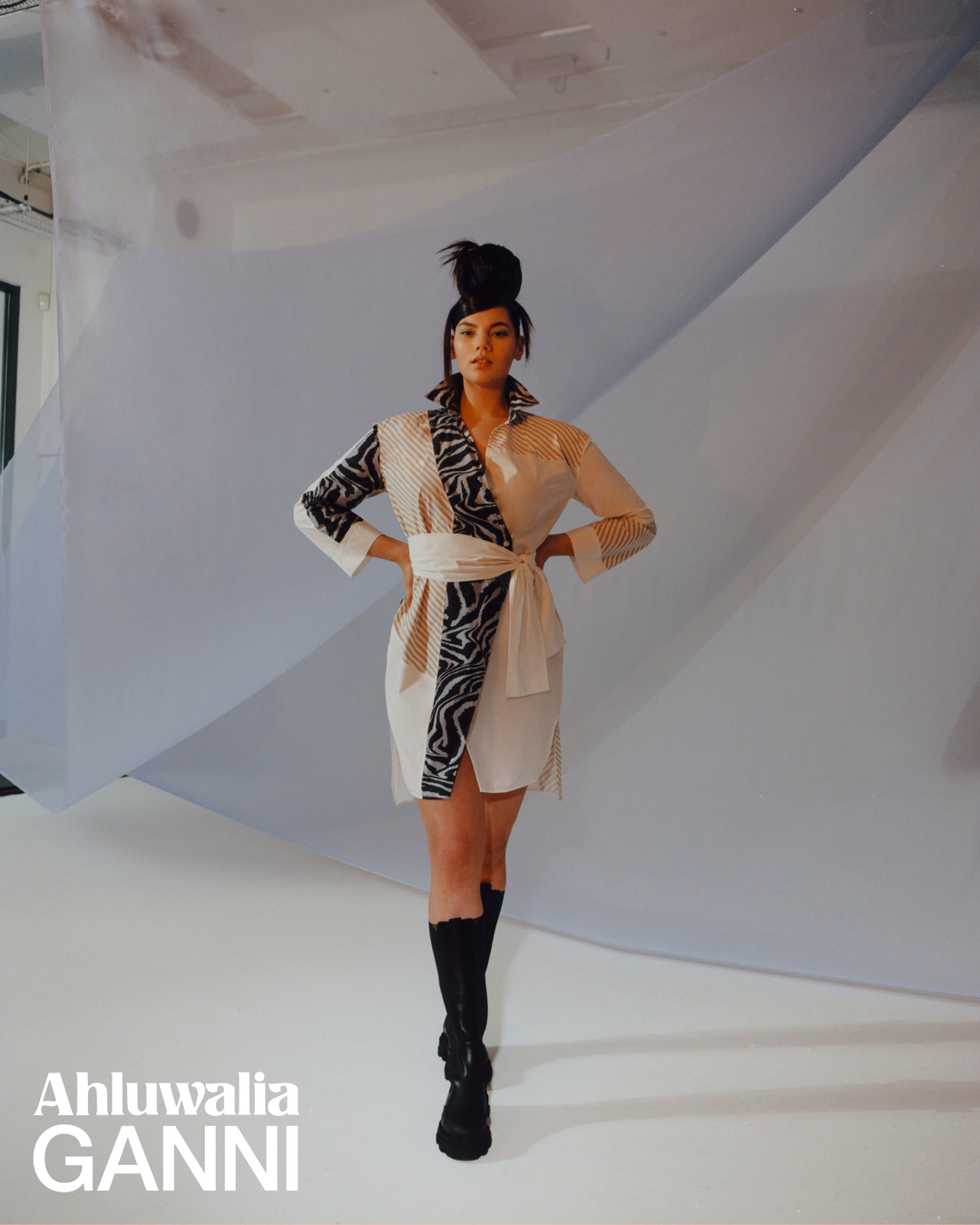 How did this collaboration first come about?
Ditte: We met through friends. We've been cooking up the collaboration for over a year now. We had been admiring Priya's work from afar and she came to Copenhagen last February to meet the team. There was an instant spark!
What do you most admire about each other's work?
Priya: Before I was approached about the collaboration, I was a huge fan of Ganni and owned pieces of theirs. I felt that they were offering really interesting designs that are beautifully made while being transparent about their sustainability efforts. I really liked the community element around the brand as well.
Ditte: Priya and her team are so dedicated and have achieved so much in such a short space of time. It's so amazing, but what I admire the most is her authenticity and genuine approach. I am really excited about Ahluwalia's first official venture into womenswear and I am so honoured it is with Ganni. She is going to achieve great things.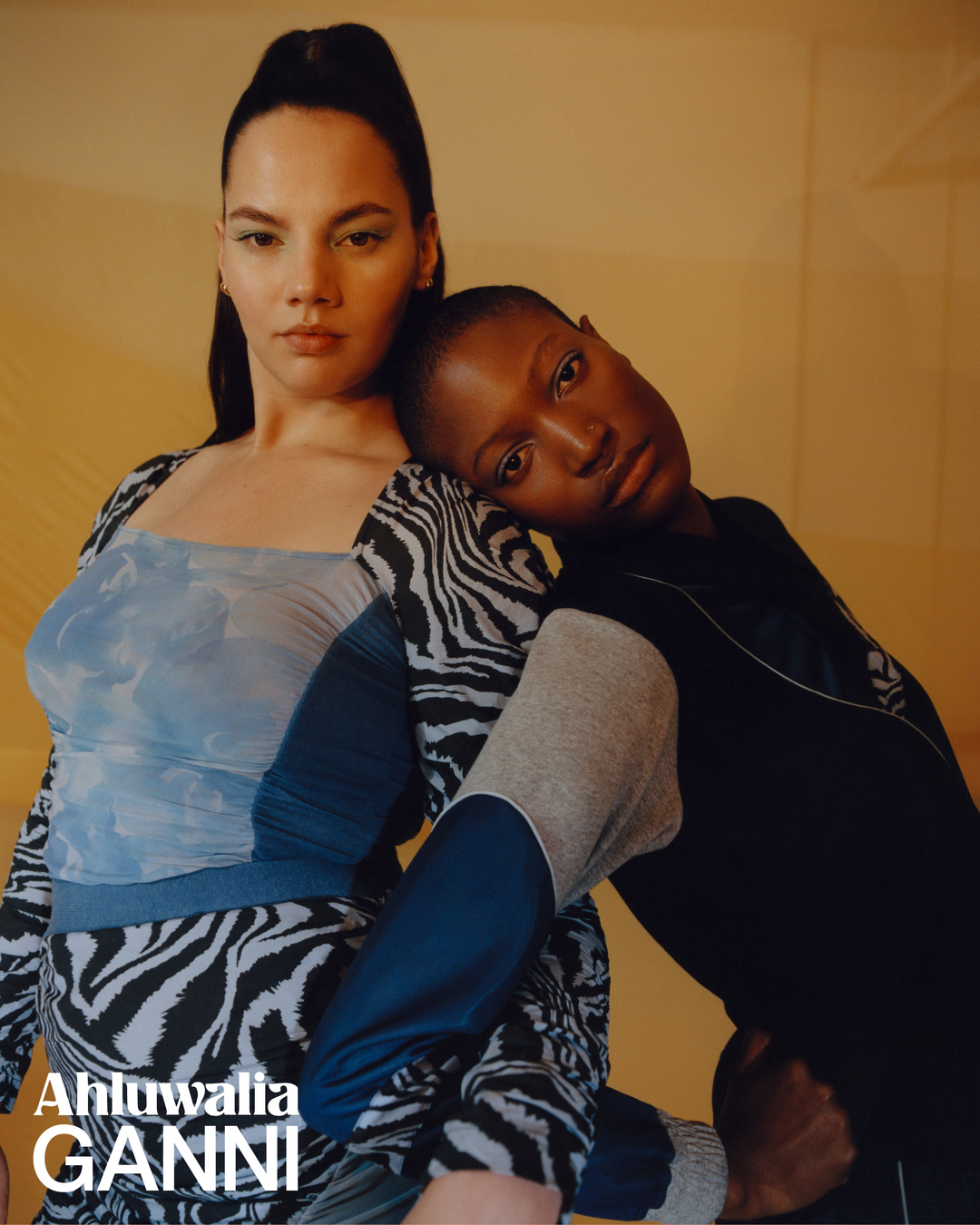 What would you say are the most interesting points of similarity and contrast between Ahluwalia and Ganni?
Ditte: Something that has opened our eyes is Priya's way of creating a responsible product through upcycling and repurposing — and the fact that it is at the core of her product, rather than an afterthought. Using existing materials was something that was very important to both Priya's and our design processes, and this project has been great in showing how leftover materials can be totally transformed and are worth cherishing. We also really connected on our mission of designing clothes to empower women, that make people feel even more confident in themselves — which is one of the reasons we started Ganni. Priya worked with silhouettes that are Ganni to the core like the strap dress and the ruched slim-fitted dresses, but has given them her statement spin by combining different panels of fabric and adding a much more feminine and sexy vibe to it all. And finally, we both have fun with fashion and love a good party!
Priya: It's true, Ditte and Nicolaj are fantastic hosts! But we also both love the culture around it, and I think we are both brands trying to create new ways to work the supply chain in fashion. I think there are differences — Ahluwalia normally does menswear, and there are cultural differences between brands: Ganni is more Scandi and Ahluwalia is focused on the Black and South Asian diasporas. But I think the differences have made for a really interesting partnership.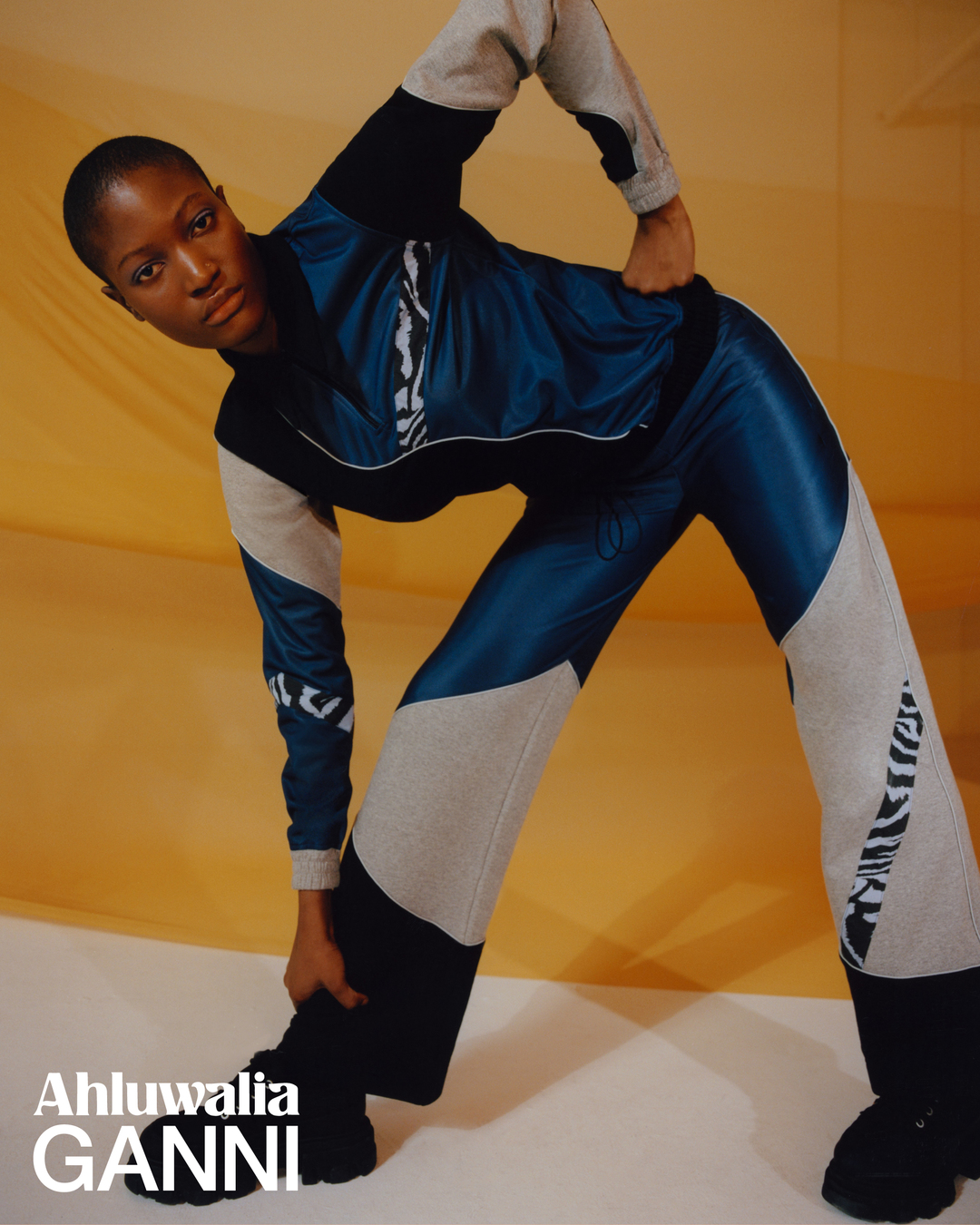 Priya, how did you find working on womenswear for the first time? Did you have to adapt your process at all?
Priya: Something that changed for me is that I inserted myself and my own preferences into the design process in a more direct way. I was also thinking about my best friends. It really made me think about the fit of the garments in a new way because I wanted to be able to create a collection that made women feel confident and sexy without being difficult to wear with a bra. I was also thinking about movement and dancing a lot. I realised that traditional menswear garments are designed with comfort and practicality in mind, something that's not so true of womenswear. I guess we have the patriarchy to thank for that!

What did the collaborative process between the two of you look like
Priya: The process was so nice because I really felt trusted by Ditte. I went to Copenhagen to kick off the project and we just chatted for ages about what we wanted to achieve. After that, the wider team supported by providing all the information about the surplus materials they had and I went away and designed a lot — way too much, actually, but I was just so excited. From there, Ditte would see the designs and give feedback. It was actually a pretty easy-going process.
Ditte: When we do collaborations we try not to set too many rules, so when Priya and I met it was pretty much a clean slate. There was real synergy. I think we both take the same approach — first and foremost, we design things we would want to wear ourselves, and also our responsibility focus perfectly lined up with Priya's wish to work with existing fabrics. I love Priya's design process and how she takes inspiration from the tradition of passing clothes through families and between friends, paying tribute to her family's heritage and London roots.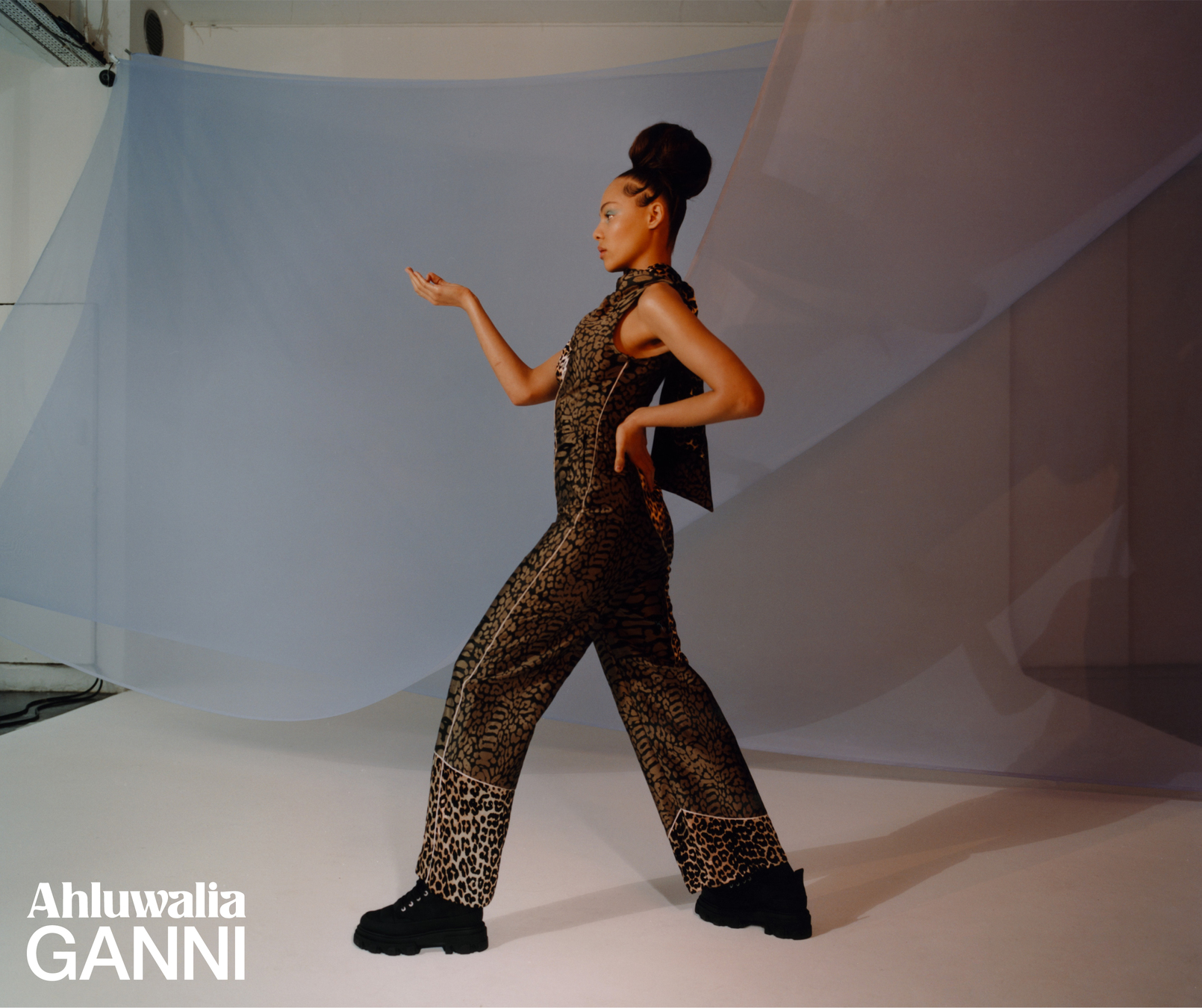 What are some of your favourite looks?
Ditte: In the collection, there are a lot of recognisable prints from our PS20 and SS20 collections. Priya has done such an amazing job at giving them new life. It feels fresh and unexpected. I love the patchwork print remix of the leather trench coat and the tracksuit pieces. Also, how the warped tiger print in the strappy dress has been reimagined to match the signature wave that comes through in Priya's work. It's hard to pick a favourite!

Priya: Same! I'd say the whole collection! But I really can't wait to wear the coat or the long dress with the ruching that wraps around the body.
This collaboration is the first of two launching this year. What direction will you take with the next?
Ditte: We're already working on round two and we decided to rethink a specific fabric so we have chosen to focus on denim. I can't wait for our community to see part two of this collab!