Inside the infamous McQueen show where a car exploded on the catwalk
Following an unpopular debut show for Givenchy, McQueen returned to London and presented 'It's a Jungle Out There' to acclaim.
|
14 September 2021, 6:00am
The late Lee Alexander McQueen became one of the most admired and controversial designers in the world prior to his death in 2010. His life story and mid-90s rise to fashion stardom is well-documented across countless magazines, newspapers, books and documentaries, and these days his eponymous label continues to flourish under the creative direction of Sarah Burton.
From his working-class East End origins -- he was the son of a taxi driver -- and frequently being bullied at school for being gay; to his Savile Row apprenticeship and the infamous Central Saint Martins' 1992 MA graduate collection inspired by Jack the Ripper. The latter brought him to the attention of fashion editor and mentor Isabella Blow. With his subsequent collections and boundary-pulverising multi-media shows, McQueen continued to both thrill and disturb. His fashion output channelling themes of death, destruction and decay alongside sex, violence and religion, and all shot-through with references to art history, nature, films and folklore.
In the early stages of his post-graduation career, Lee had little money. In fact, when Stefan Ruiz photographed him in 1993 for i-D 121. The New Look issue, Lee was unable to show his full face in case it risked his benefits being stopped. However, despite his lack of funds, Lee's determination to create ensured collections such as the contentious Highland Rape in 1995 were revered and reviled in equal measure. By 1996, the galvanising designer had leapt from cult-London-upstart status to head designer at Givenchy, a position he held until 2001.
However, his debut collection for the house for their SS97 offering appalled the Parisian fashion establishment and was widely panned by critics. Bruised by this media mauling, McQueen reflected those feelings of being torn to shreds by the fashion pack in his next eponymous AW97 collection, It's a Jungle Out, triumphantly presented back in his hometown of London in early 1997.
Much of the show's raw and raucous vibes has been captured within archive footage from the night. Here, we take a look at the rest of the story. From McQueen's inspirations to the behind-the-scenes drama and, not to mention, the audience being nearly incinerated!
The location
McQueen's show was scheduled to be the last in the line up for London Fashion Week AW97. Far away from the official British Fashion Council tents in South Kensington where most of the runway action took place at the time, It's a Jungle Out There was instead staged in Borough Market on a cold February evening. While the south London market is nowadays a beacon of shiny urban gentrification, four decades ago it was a rough and run-down enclave, typically packed full of gruff market traders flogging fruit 'n' veg by day and empty and spooky as hell come nightfall, totally devoid of avant-garde fashion whatever the hour.
The set
The show's art director, Simon Costin, took on board some of McQueen's grizzly inspirations for the collection -- a combination of brutal mood board photographs of gazelles being torn apart by lions and hyenas, alongside some less-defined preoccupations with car crashes -- and then added a few of his own ideas, in agreement with the designer. The market walls were duly lined with thick corrugated metal blasted with faux gunshot holes (inspired by a shootout scene in the 1967 movie Bonnie and Clyde). Old, rusty, clapped-out cars were then artfully arranged around the space, a knowing reference to the decidedly-camp car crash-themed fashion shoot in the 1978 serial killer film, The Eyes of Laura Mars. The lighting was a subdued red hue which faded as the show progressed — conjuring up the moody ambience of one of McQueen's at-the-time favourite films, 1989 German-British drama Last Exit to Brooklyn. The overall effect was dark, menacing and gritty.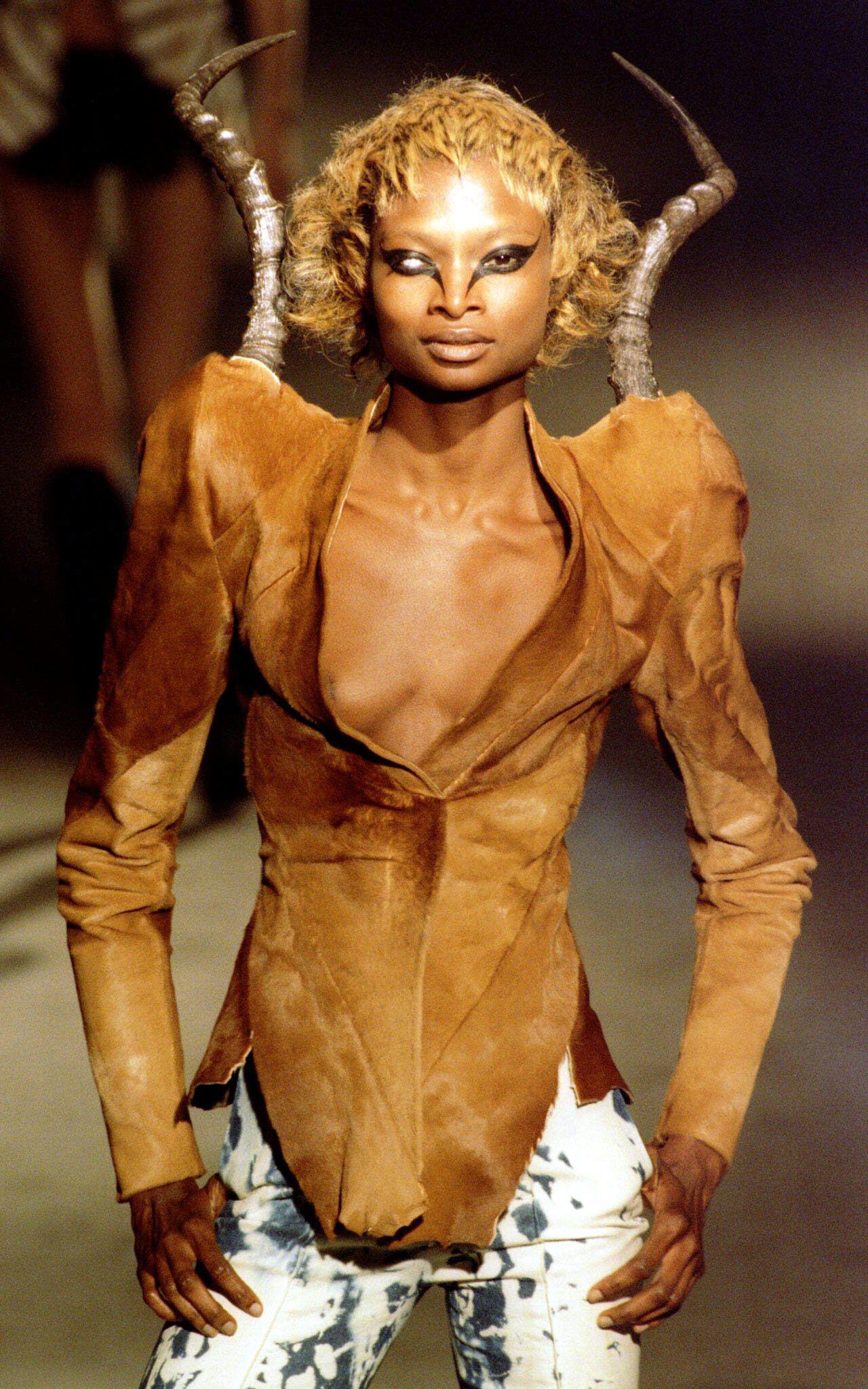 The audience
Despite the total absence of social media back then, old fashioned word of mouth had ensured the show was a must-see event. Massive crowds outside desperately clamoured to get in, angrily confronting the security staff. Apparently, it was all a bit too much for the fashion buyers from Harrods, who promptly scarpered. Bored of waiting, dozens of young ticketless hopefuls stormed through the barricades, pinching seats intended for fashion industry bigwigs or flopping on the floor. Amidst the whiff of rotting veg, startled fashion editors rubbed shoulders with unruly club kids, pierced fetish scenesters, i-D staff and contributors, and fashion students, not to mention 90s celebrities like Liam and Noel Gallagher from Oasis, and even the former Dynasty star, Joan Collins, who looked like she was having a scream.
Without iPhones in 1977 to amuse ourselves, passing the time until the show started an hour-or-so late consisted for many of swigging the free tequila shots and brazenly smoking (the latter of course would see you swiftly ejected from any Fashion Week show nowadays).
The disasters
A few things went majorly wrong. The womenswear samples sent to London from a factory in Italy got held up in customs at Heathrow airport just 48 hours before the show started, with McQueen's trusty stylist Katy England doing a panicked late-night dash to collect them. Supermodel Naomi Campbell -- who was scheduled to walk the runway -- reportedly arrived late in the evening and was told by an enraged McQueen that her sashaying services were no longer required. Ouch!
As the proceedings kicked off, there was a sudden power cut which caused the frazzled designer even more stress. But, it gets worse. A strategically-placed fire heater was accidentally kicked over by a member of the audience, causing one of the cars — which had not been drained of its petrol dregs — to dramatically set ablaze. Initially, everyone assumed it was all part of the show theatrics (not least as McQueen determinedly continued to send the models out, even while the flames flickered), with few realising the serious danger they were in. Fortunately, a quick-thinking member of the production team grabbed an extinguisher and put out the fire to appreciative whoops from an almost barbecued crowd.
The models and the music
A diverse mix of models included the late Stella Tennant, Drag Race Canada judge Stacey McKenzie, a walking stick-wielding Maxim from rave-rockers The Prodigy, as well as Alek Wek and many others. Prowling the runway, looking alternately moody and fierce as fuck, they scowled obligingly at the assembled photographers as and when required. The soundtrack mixed mid-90s tribal house throbbers, such as Armand Van Helden's Witch Doktor and — rather aptly -- Firestarter by The Prodigy, with the sound of roaring lions and chirping African birds, all of which was then punctuated by the rattle of trains passing above the market en-route to nearby London Bridge station. The show's concluding song, the 1973 funk classic Jungle Boogie by Kool & the Gang, was almost drowned out by the loud applause and cheers from the assembled throngs.
The looks
Everything from the frock coats and skin-tight dresses to the tunics, jeans and high-shoulder tailored jackets, were born from a wild mix of black, green and brown leathers and suedes, pinstripes, wools, vinyls, fox furs and boar skins, bleach-splattered denim, silk, printed cotton, and various sheer pieces adorned with human hair. Some of the designs incorporated disturbing elements of taxidermy, such as antlers, horns or crocodile heads (a prolific use of fur and animal parts which wouldn't fly in 2021's more conscious fashion mindset). Jewellery consisted of iron claws, hands and horns.
The models' untamed headpieces were integral to the overall feral vibe, cultivated by Nicolas Jurnjack. "I put everything I could find on the hair. And the more animalistic and wild I went, the happier Lee got", he later recalled in Dana Thomas' 2015 book, Gods and Kings: The Rise and Fall of Alexander McQueen and John Galliano. Makeup devised by Topolino was no less extreme. The women had stark, gazelle-like eyes teamed with white contact lenses to blur the lines further between animal and human. The men sported nail polish, tousled hair, and smudged bruise-like eyeliner, courtesy of the groomer Mira Chai Hyde.
There were 100 looks in the show in total, and -- in stark contrast to so many marketing-savvy designer shows today -- there's not a logo handbag or any other tangible sign of branding anywhere to be seen in the archive footage. These were less-hyped, more 'naïve' fashion times, after all. One in which confrontational designers such as McQueen championed self-expression and risked financial ruin rather than diluting their vision for easy-commerciality.
The verdict
Although McQueen's stint at the helm of Givenchy had so far been slated by fashion critics, this latest offering of his eponymous label in London grabbed plenty of positive media coverage both at home and overseas. The late Amy Spindler of The New York Times confirmed the collection and show as a "declaration that he will not be fashion's victim. No matter what happens at Givenchy, he will survive the jungle in his own house, where he is unmatched for talent, bravado, ideas and cutting skill." In the UK, The Times accurately hailed It's a Jungle Out There as a "vision of urban chaos… both on and off the catwalk." Many years later, writing for The Independent in 2015, Alex Fury hailed this and McQueen's successive shows as "fighting against a bland showcase of product or a pompous display of wealth, and transforming the catwalk into an art installation, a loaded political message, or indeed an autobiographical billboard."
For McQueen, it was all about stirring emotions, as he can be heard explaining in this 1997 clip. In the aftermath of It's a Jungle Out There, his brilliance as a designer and flair for controversy was undisputed and arguably unrivalled. Fashion's so-called 'bad boy' certainly knew how to put on a show and would repeatedly rock the runway throughout the rest of the decade and beyond. "I don't want to do a cocktail party. I'd rather people left my shows and vomited," he told Time Out magazine, with characteristic bluntness, later in 1997: "I prefer extreme reactions. I want heart attacks. I want ambulances."
Tagged: