Shrooms and tramp stamps: what i-D loved this week
Wear your fungi jumper and get an angel tattooed above your butt-crack – it's the weekend!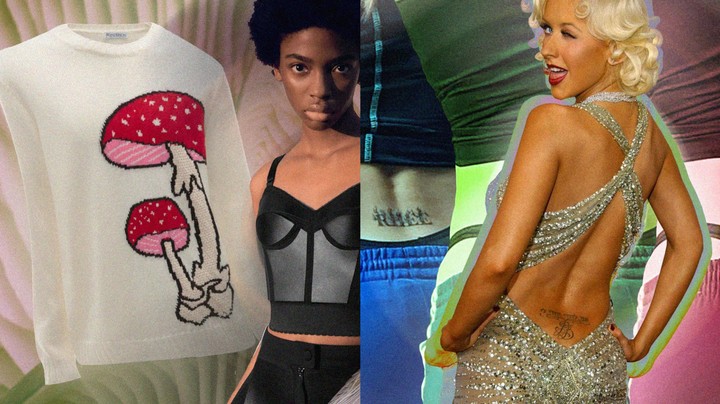 In i-D Loves, we look back upon the last seven days in our calendar and pinpoint the pieces that best represent the current moment. No matter what you're in the mood for this weekend -- from Cape Town's creative scene to pics of John and Yoko -- we've got you covered. Here's what i-D loved this week.
In fashion, mushrooms are the moment
Whether it's vegan leather or throwback fungal motifs, the mushroom seems to be the vegetable du jour in the fashion world right now. Using Stella McCartney's ecologically conscious approach and Iris Van Herpen's fascination with them as starting points, writer Jack Moss unpacks the reasons why the divisive mushroom is having its moment. Read it here.
The politics of the 'going out' dress
This season, the runway predicted that the skimpy, sensual 'going out' minidress would have a post-Rona renaissance. But in this piece by Hannah Tindle, its new connotations — beyond the basics of looking and feeling good in public — are explored, dissecting how feeling safe and being respected play a part in it too. Read it here.
How Cape Town creatives are surviving lockdown
Over the past year, we have shone a spotlight on the cities and countries going through lockdown, capturing the perseverance of the artists and young people in its midst. This week, writer Juule Kay spoke to Tsele Nthane, an image-maker who reacted to Cape Town's most recent lockdown by taking photographs of friends and artists, some he'd known for some time, others he'd met through Instagram. See his pictures and read the story here.
The Fairy Creek forest, shot by Cole Sprouse
In British Columbia, a group of activists have set up blockades in Fairy Creek, a forest on First Nation land that's at risk of being destroyed by loggers. The actor and photographer Cole Sprouse shoots Riverdale nearby. He spent time documenting the activists trying to save it. Check it out here.
Rare photos of John and Yoko at home
Having just returned from Denmark, with freshly cut short hair, John Lennon and Yoko Ono were ready to start a new chapter of their lives away from Beatlemania. Photographer Richard Dilello captured it. Here, read about his time spent with them and see the rarely seen images he took.
Is the tramp stamp back?
We've grown accustomed to the repurposing of 90s and early 00s trends, but it's safe to say we were scalped by the re-arrival of the lower back tattoo. Embraced by Britney, Xtina and, for a short while, Khloe Kardashian, word on the street is it's officially cool again. Why, you ask? Laura Pitcher explains here.
Follow i-D on Instagram and TikTok for more of what we love.
Tagged: