Watch Anya Taylor-Joy in the haunting final trailer for Last Night In Soho
Edgar Wright's mysterious psychological-horror finally gets its release later this month.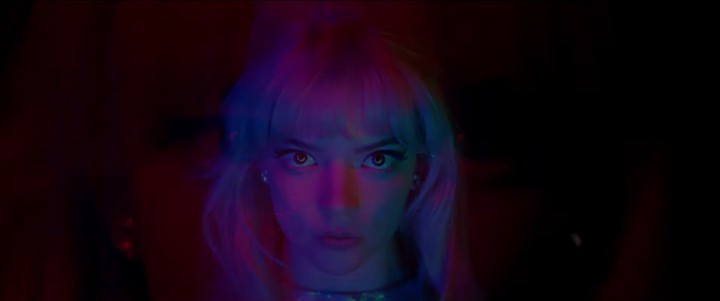 Image courtesy of Focus/Universal
Anya Taylor-Joy takes centre stage in Edgar Wright's long-awaited new movie, Last Night In Soho.
The highly-anticipated film is a psychological horror that follows a young girl passionate about fashion design (Thomasin Harcourt Mackenzie). When she mysteriously finds herself able to transport herself to the 1960s and encounter her idol, an enigmatic fashionista and wannabe singer played by Taylor-Joy, things take a turn for the murderous.
Anya will also be joined on screen by Matt Smith, Shadow and Bone star Jessie Mei Li and the late Dame Diana Rigg and Margaret Nolan, who both passed away last year and give their final performances in the film.
In the first heady teaser clip of Last Night In Soho posted to social media, we only get to see glimpses of what's going on, with most of the time spent focusing on a dazzling close-up of Anya dressed up like a demonic version of Twiggy and immersed in a series of flashing, coloured lights.
The film will finally see the light of day upon its release on October 22, after suffering a series of setbacks last year due to the coronavirus pandemic. As Wright's eighth feature film, it follows on from 2017's Baby Driver starring Ansel Elgort. For Anya, the film comes on hot on the heels of her long-awaited breakout moment last year after starring in Netflix's popular The Queen's Gambit. It also functions as somewhat of a return to the actress' scream queen roots, following her star-making performance in Robert Eggers' The Witch in 2015.
Anya will be reunited with that horror auteur for his next film The Northman, which also stars Nicole Kidman, Alexander Skarsgård and Björk (!). It's already been described as a Hamlet-esque tragedy following a prince setting out to avenge the murder of his father, so count us in.
Watch the brand new trailer for the spooky murder mystery at the link below, and don't say we didn't warn you.
Follow i-D on Instagram and TikTok for more on TV and movies.