All images courtesy of Chanel
Chanel's cruise show was a punk-inspired ode to Jean Cocteau
The French house's latest collection was almost entirely black and white, full of nods to punk icons and the early 20th century artist.
All images courtesy of Chanel
In the chalky, cavernous ruins in the idyllic French town of Les Baux-de-Provence, Chanel presented its latest Cruise 2022 show via a digital livestream. By now, we know the drill. No audience, no spectacle. Just great clothes and a stellar line-up of the world's top models in creative director Virginie Viard's pared-back designs for the monolithic fashion house. Except, this collection, though it was full of the most distinctive Cocoisms (tweeds, black and white, two-tone shoes, lashings of costume jewellery), had an unlikely source of inspiration: punk!
The countercultural world of the Sex Pistols, Jordan and Joan Jett may seem like the antithesis of Chanel's ladylike elegance, but perhaps that's what makes the juxtaposition so fruitful for new interpretations of the familiar motifs. Here were Chanel fishnets, monogrammed lip piercings, graphic band-style T-shirts, studded dog collars, and enough eyeliner for an entire crowd of anarchists. Of course, this being Chanel, it can all be taken with a pinch of salt and a handful of caviar-beaded embroidery and plumes of lilac-tipped feathers. Actually, it felt more like an ode to the late Stella Tennant, always one to imbue the most classic Chanel pieces with cool-girl attitude and punk spirit.
Virginie's collection was almost entirely black and white, a nod to Jean Cocteau's 1960 film Testament of Orpheus, which was shot in the very same location (the Carrières de Lumières or 'Quarries of Light') and starred the likes of Pablo Picasso to Brigitte Bardot. "In particular this magnificent scene: a man with a black horse's head descends into the Carrières de Lumières, his silhouette cut out against the very white walls," Virginie explained. "The simplicity, the precision and the poetry of Cocteau's film made me want to create a very clean collection, with a very distinct two-tone, made up of bright white and deep black."
The connection between the fashion house and the French artist goes way back. He and Coco Chanel were great friends — she was the pioneering couturier and entrepreneur; he was the multi-disciplinary artist, poet, playwright and filmmaker. Both had an influence on early 20th century culture, and they often worked together, too. Chanel costumed a handful of Cocteau's plays, and would sketch her designs, and they would hang out at her apartment at 31 rue Cambon in Paris and exchanged letters throughout their lives.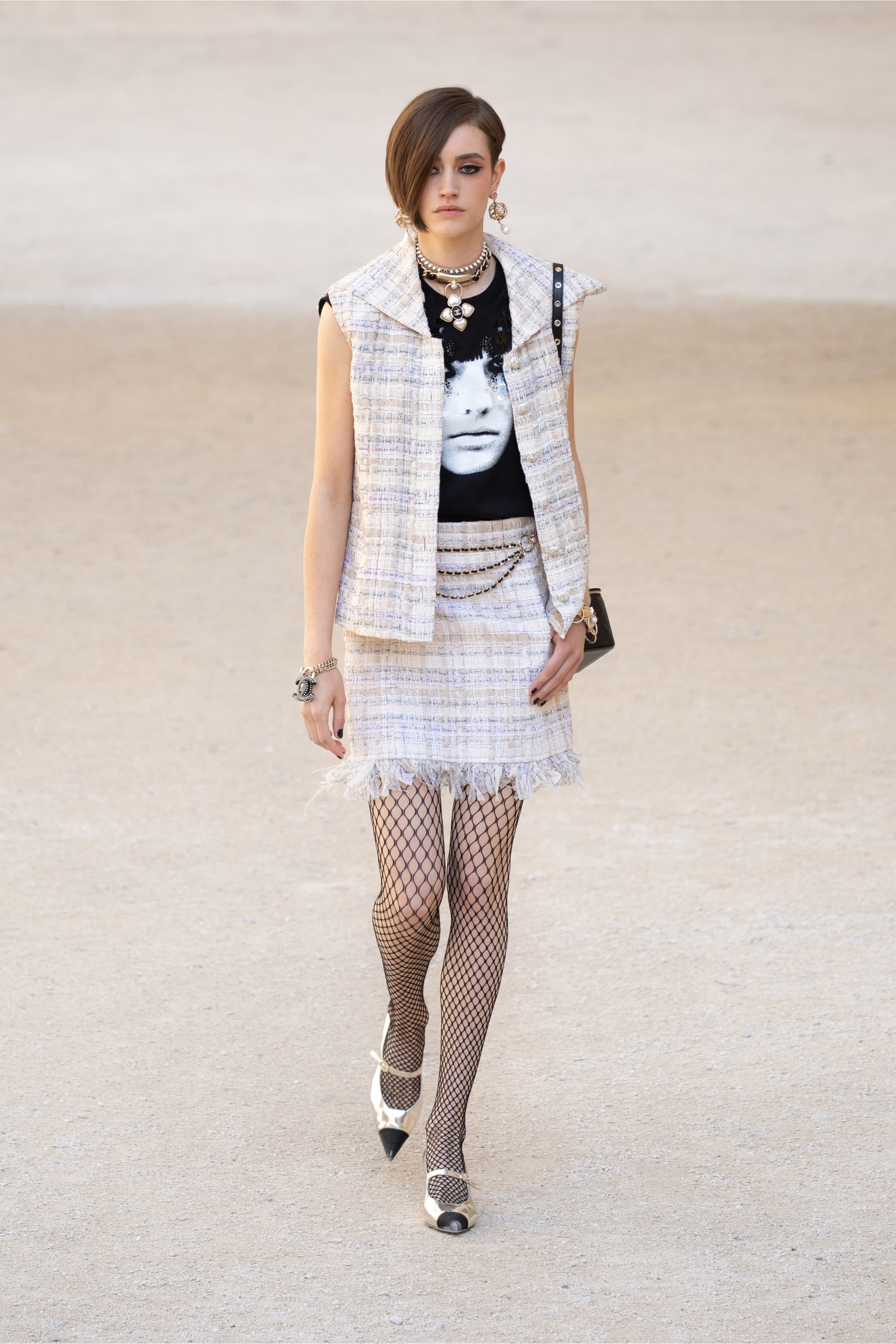 In the collection, a handful of diaphanous silk dresses were printed with the kind of graphic illustrative patterns that Cocteau was known for, and here and there were leather trousers hand-painted with Cocteau's actual illustrations of stars (he signed each of his paintings with one), waffle-knit sweaters with the French artist's doves of peace, and glittering embroideries of lions, fauns, camels and sphinxes — all animals Virginie borrowed from Coco's famously preserved apartment.
Since stepping into the role of the late Karl Lagerfeld in 2019, Virginie has been quietly honing her modern vision of Chanel, and it is resolutely pared back in the style of Coco Chanel herself. Under Virginie's watchful eye, layers have been lightened, excess dialled back, and a subversive, subtle bourgeois sensibility has been infused with the perennial youthfulness of the generation of 60s modish women who favoured miniskirts, go-go boots and a more natural kind of beauty. This collection affirmed Virginie's ever-growing confidence and authority. She's continuing to make her mark on the house, one collection at a time.