Photo By Raymond Boyd/Getty Images and Ron Galella/Ron Galella Collection via Getty Images
7 of Tupac's most iconic outfits
The transcendental rapper's singular style took in hip-hop's workwear and 90s sweater vests.
Photo By Raymond Boyd/Getty Images and Ron Galella/Ron Galella Collection via Getty Images
Tupac Shakur — known mononymously as 2Pac — is the 90s West Coast hip-hop GOAT. Throughout the decade, the transcendental rapper revolutionized the era's gangster rap genre with pointed — and often poetic — lyrics, which spoke to inner city social issues like racism, poverty, police brutality, teen pregnancy and the war on drugs. Think "Dear Mama", "Keep Ya Head Up", "Brenda's Got A Baby" and the revelatory "Changes." As noughties rapper 50 Cent told Rolling Stone, "Every rapper who grew up in the nineties owes something to Tupac… He didn't sound like anyone who came before him." Despite his short time with us, Tupac's musical — and cultural — legacy is massively influential, inspiring the work of contemporary artists like Kendrick Lamar, J. Cole and YG. Like his music, 2Pac's sartorial style is wholly singular yet totally eternal: leather vests, knit suiting, massive jeans, workwear, twisted bandanas and army fatigues. Here, in honour of what would have been the legendary rapper's 50th birthday, we look back at his career and style through a selection of his most iconic outfits.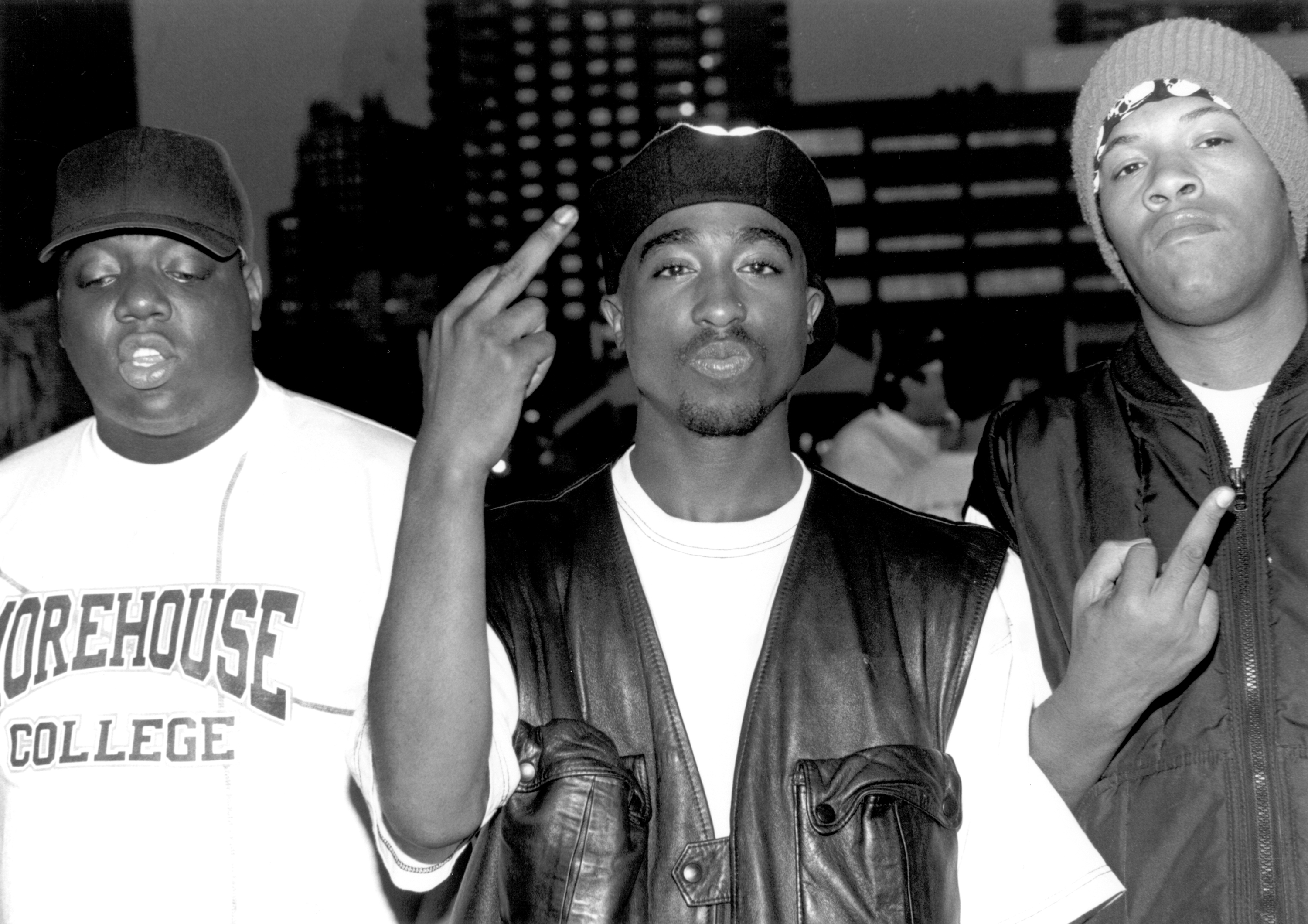 At Club Amazon with Notorious B.I.G. and Redman, 1993
Born in Manhattan to former Black Panther members and raised in Baltimore, Tupac spent his teenage years immersed in the arts. At school, he studied acting, poetry, jazz, and ballet; after class, he won schoolyard freestyle competitions and listened to music from artists like Kate Bush and Sinéad O'Connor. In 1989, Pac began recording music under the stage name MC New York. It would be another two years until the rapper debuted under his now-iconic moniker 2Pac, featuring on Digital Underground's single "Same Song" and dropping his debut album, 2Pacalypse Now, in 1991. By 1993, with the release of his sophomore album and breakthrough single "I Get Around", Tupac had established himself as a major player in the West Coast rap scene. Here he is, that same year, with East Coast rappers — and then-friends — Biggie and Redman, wearing what would become two of his signature pieces: a leathervest and a structured cap, perennially worn backwards.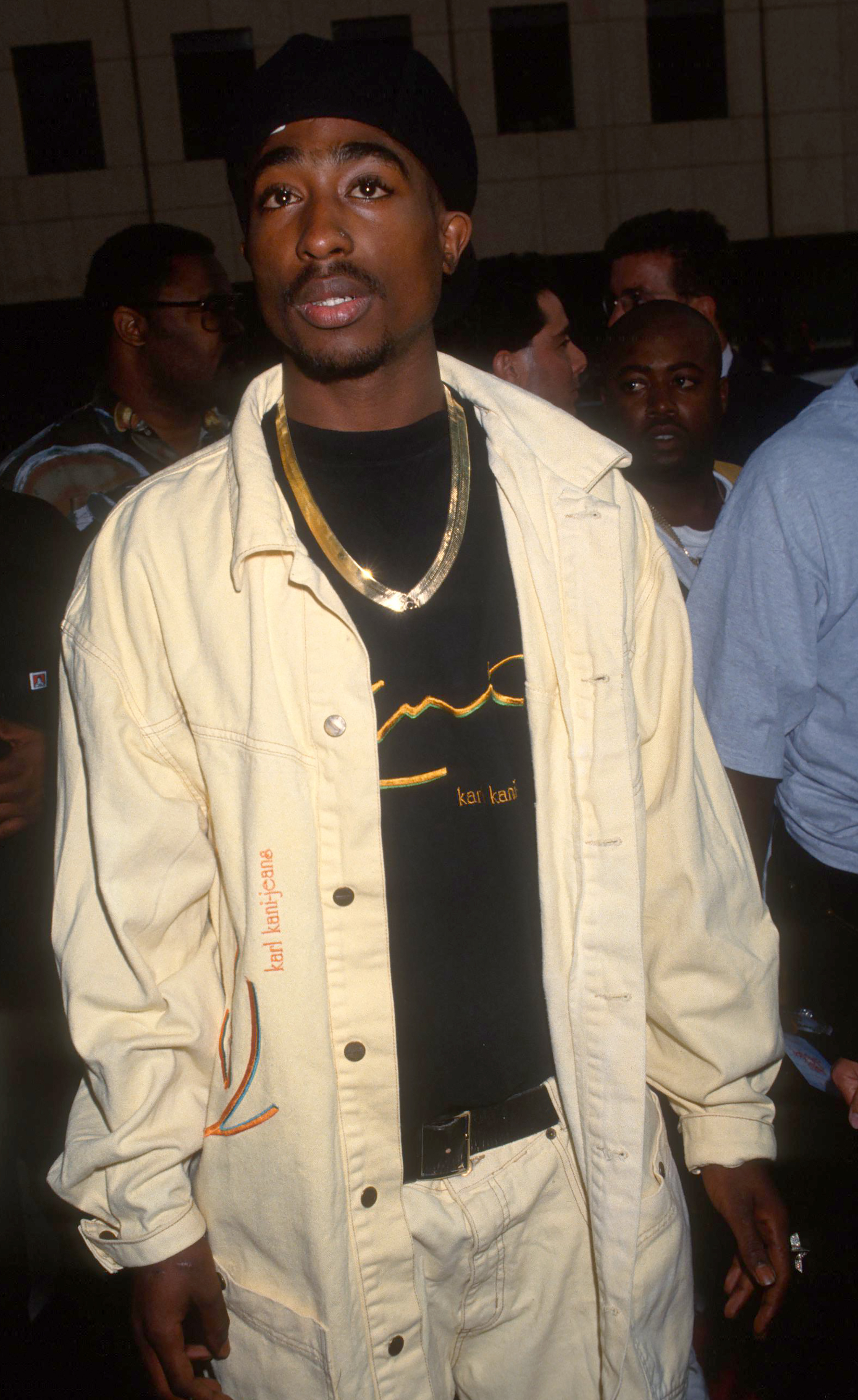 At the Poetic Justice premiere, 1993
In 1992, Tupac dusted off his acting chops — the ones he honed performing Shakespeare in high school — and crossed over from rap into the realm of cinema with a starring role in crime-thriller movie Juice, alongside Omar Epps and Samuel L. Jackson. The rapper-turned-actor earned glowing reviews for his haunting portrayal of Harlem youth, Roland Bishop. A year later, Pac starred opposite Janet Jackson in romantic drama Poetic Justice. Here, he attends the film's premiere wearing a denim tuxedo (and T-shirt!) by favourite designer and close friend Karl Kani. Dubbed the godfather of streetwear, Karl was the first to merge hip-hop with fashion, popularizing trends like baggy jeans within the musical genre's sartorial signifiers. A year after attending his film's premiere in head-to-toe Karl Kani, the rapper fronted the label's 1994 campaign.
At the Minority Motion Picture Awards, 1993
In the early 90s, Pac's close friend Karl popularized workwear within hip-hop and rap music. Think dark wash denim, chore jackets, Carhartt and more. Here, Pac wears the decade's ubiquitous workwear trend — the one that he helped popularize, too — in a pair of Dickies overalls paired with preppy rugby polo and denim cap, worn backwards, as always.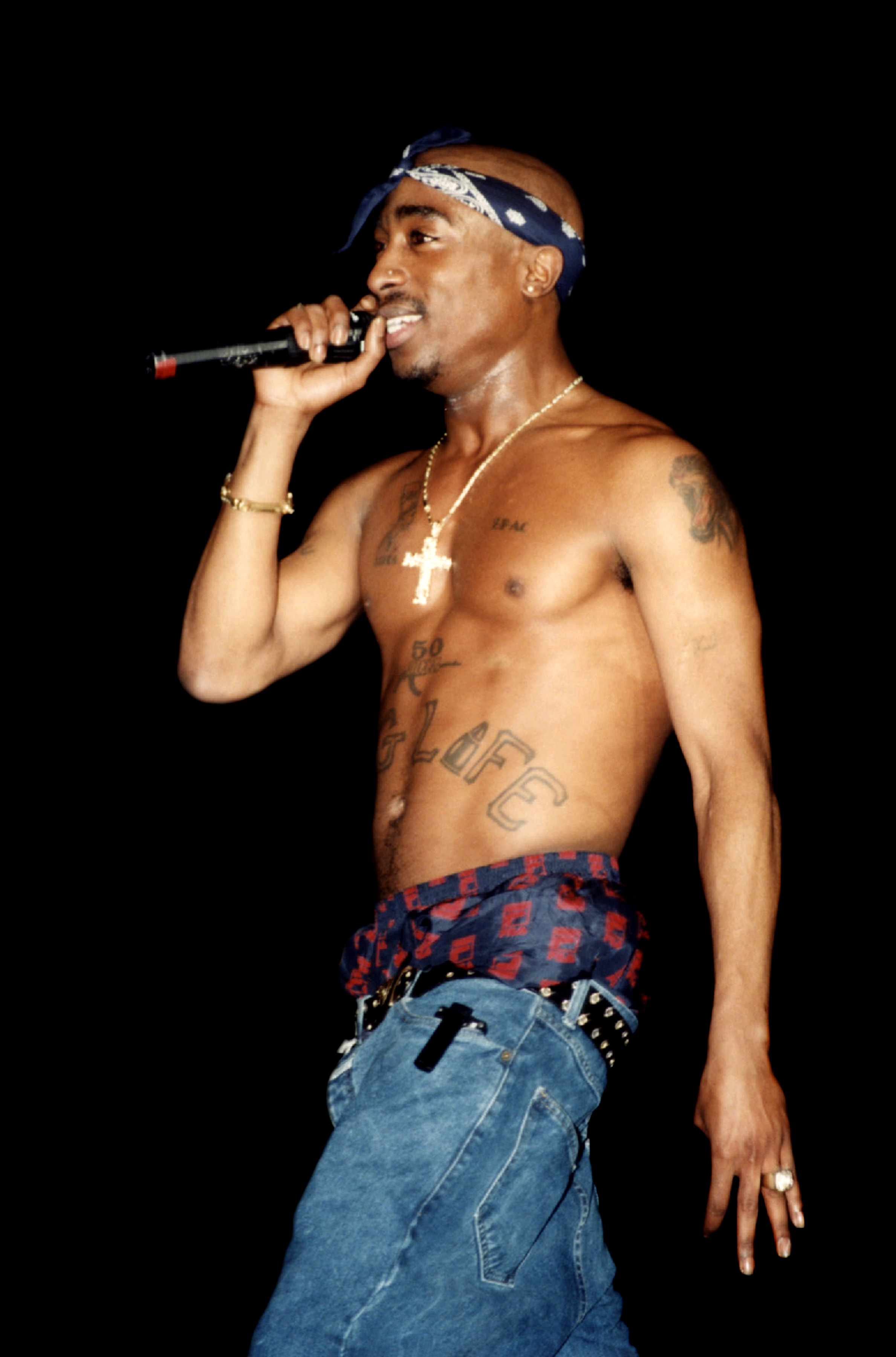 On stage in Chicago, 1994
This is it: Tupac's quintessential on-stage fit. Baggy jeans slung low, cross pendant hanging, signature bandana secured, and shirt off, his iconic "Thug Life" tatt on full display. The look is so iconic — and so Tupac — that it was recreated in the rendering of the rapper's infamous, posthumous Coachella hologram performance in 2012.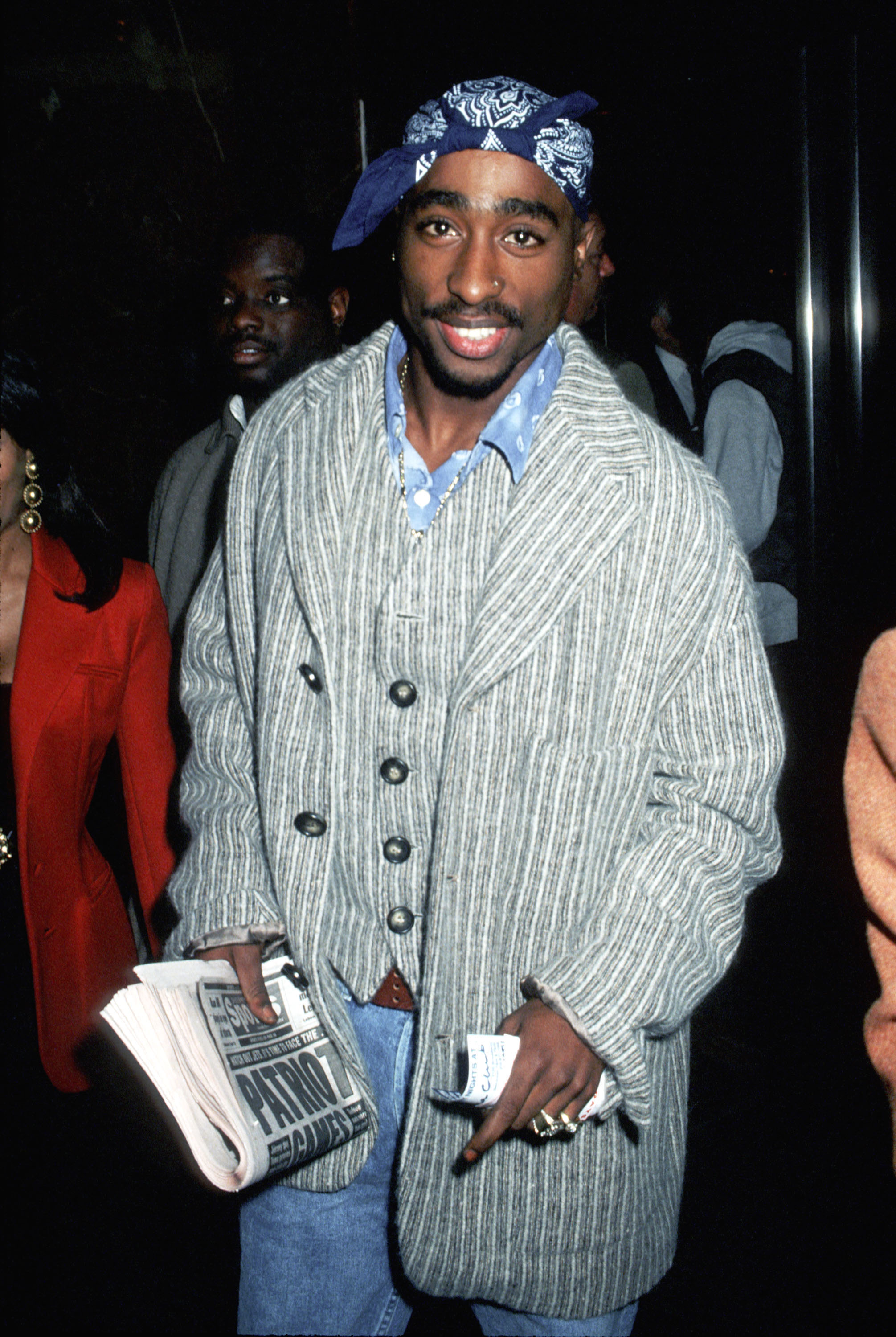 At the I Like it Like That premiere, 1994
In addition to the leather vests of all silhouettes and sizes, Pac was also a proponent of the sweater vest. In a very quintessentially Tupac fit, the rapper wore one — beige, oversized and unbuttoned — backstage to a 1994 concert in Chicago. Here, to the premiere of I Like It Like That, Pac wears his favoured knitted vest with a matching blazer, over top of a paisley T-shirt and with his signature bandana.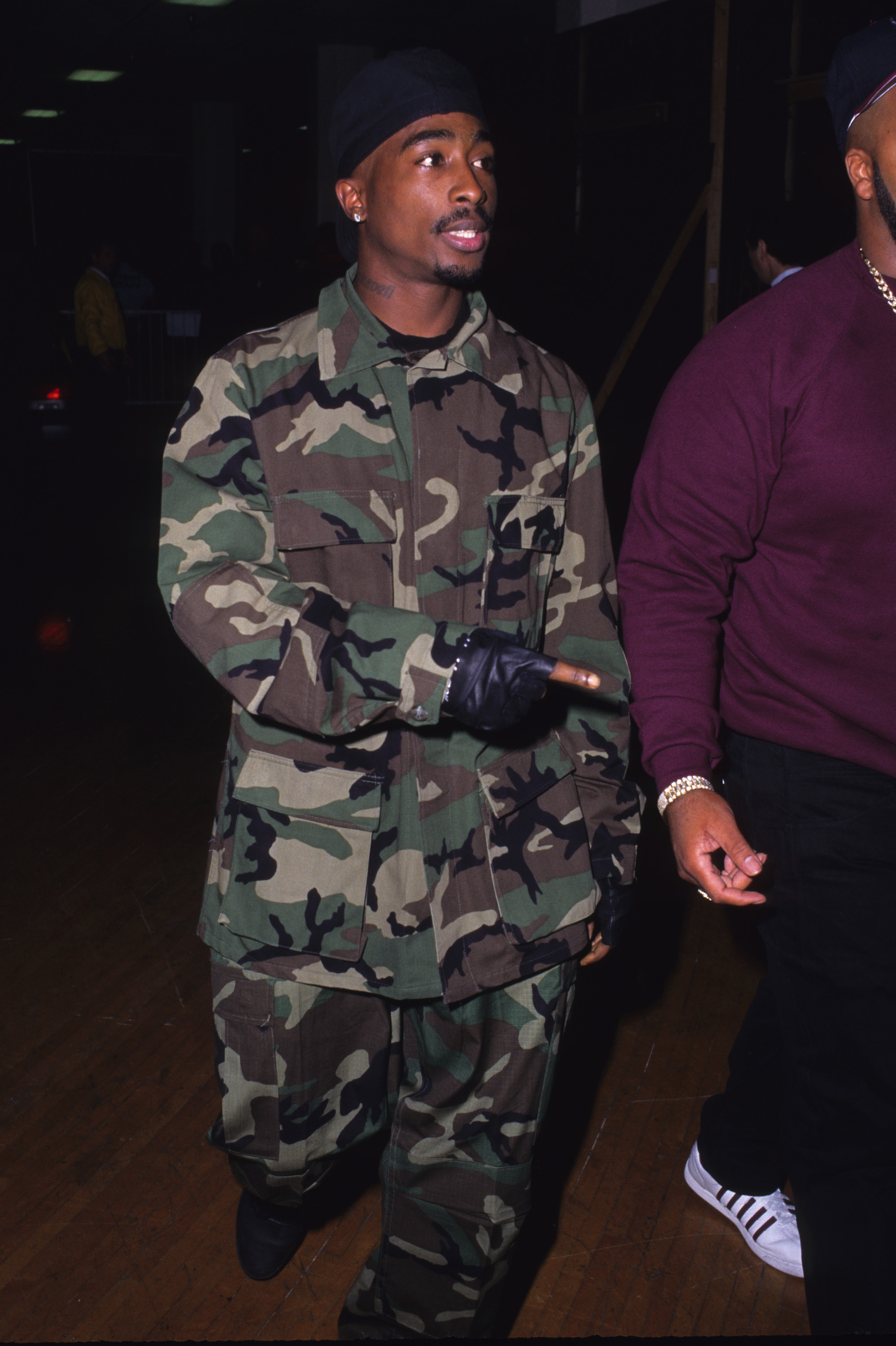 At the Soul Train Music Awards, 1996
In 1995, Tupac released his third studio album, Me Against the World, to critical acclaim and massive chart success, debuting at #1 on the Billboard 200. The album marked a more introspective and personal release from the rapper. It's one that not only garnered him praise from critics, but earned him both a Grammy and a Soul Train Award for Best Rap Album. To the year's Soul Train Awards, Pac wore a full set of army fatigues accessorized with leather fingerless gloves and his favourite structural cap. The outfit was perhaps prescient of the confrontation the Death Row Records-signed rapper was anticipating with his East Coast-based Bad Boy Records rivals that very night.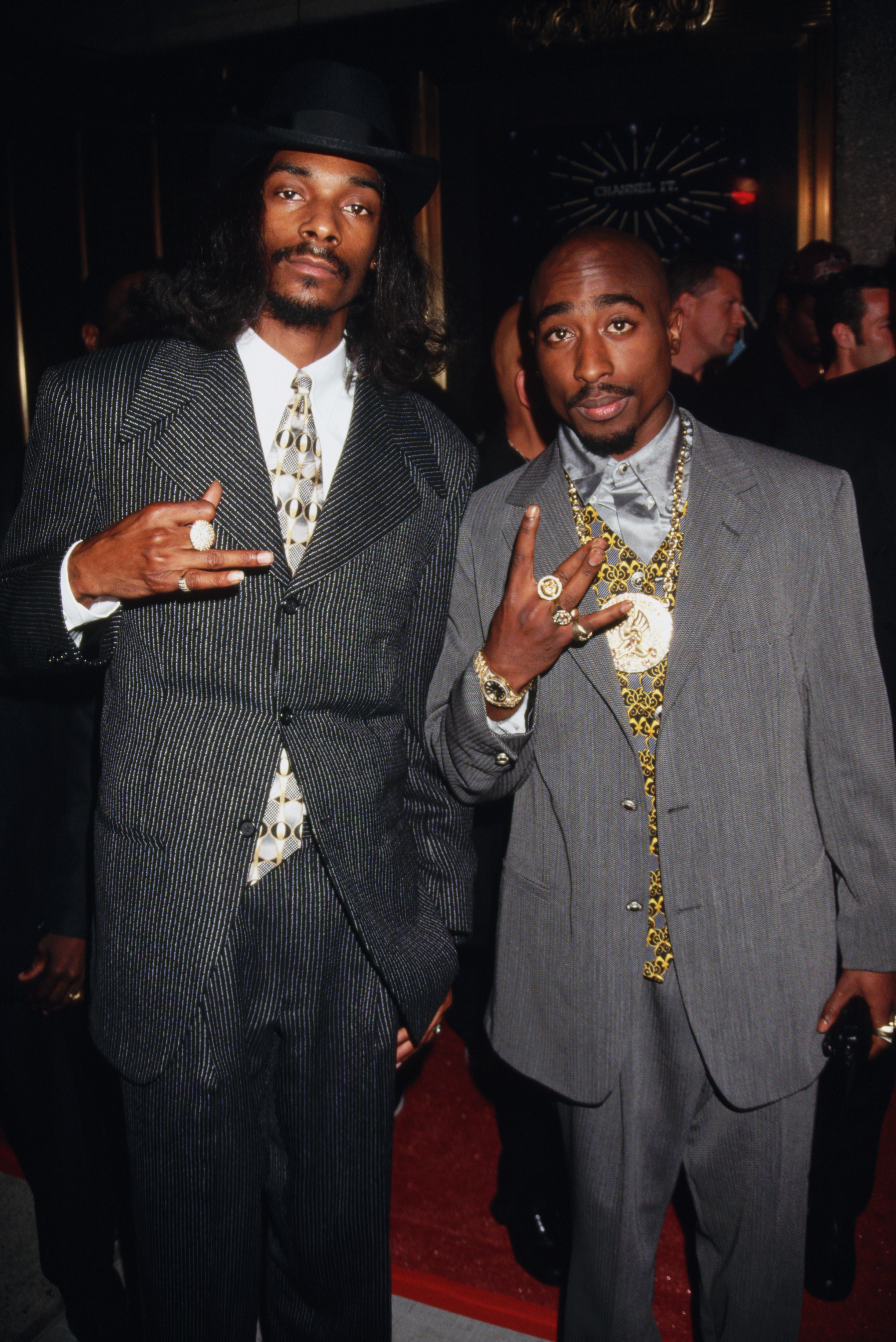 At the VMAs with Snoop Dog, 1996
2Pac's red carpet style was quintessentially 90s, to say the least. To the carpets of the Grammys and AMAs, the rapper preferred wearing the decade's standard double-breastedsuit, often worn with a wingtip collared shirt and accessorized with a gold chain. Here, for the infamous MTV VMAs red carpet, Tupac experimented style-wise, wearing a graphic Versace vest — and massive "Euphanasia" chain — under a grey suit. A singular — and utterly 90s — look for a singular, decade-defining artist.