A new prize wants to shatter fashion's glass ceilings for people of colour
Are you a POC designer without formal training? A new Berlin-based support scheme is here to help you break into the fashion world.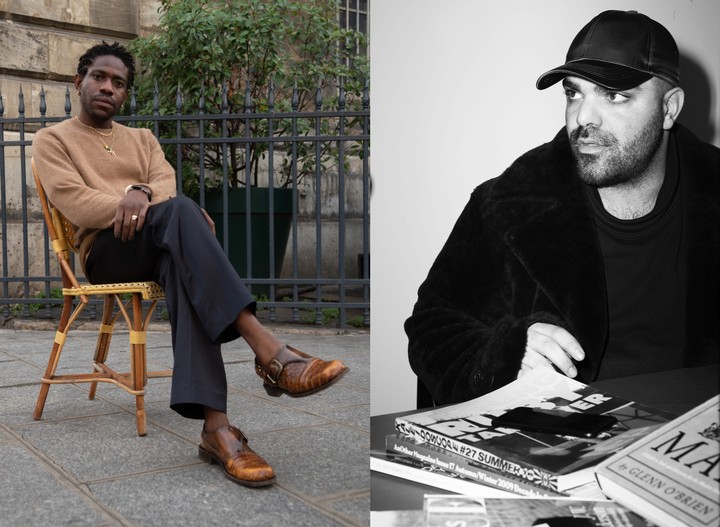 Main image courtesy of Kenneth Ize (left) and Reference Studios / Jonas Lindstroem (right)
The cat's outta the bag! Fashion is an industry with as many hurdles, barriers to entry and disproportionate representation problems than the Queen's Enclosure at Royal Ascot. And that was before a global pandemic! For many designers, or indeed creatives, who are eager to make their mark on the fashion world, it can be an impossible feat to get noticed — especially when most support schemes and fashion prizes are only open to applicants who have already been in business for a while. Thankfully, Reference Studios, the Berlin-based creative agency, and the legendary underground retailer Slam Jam have teamed up to create a new, all-inclusive fashion prize open to those without formal training and underrepresented in the fashion industry.
"Being a child of a migrant family myself, I experience underrepresentation and its effects every day, with the fashion industry making no exception," says Mumi Haiati, Reference's founder. "The struggle of last year has proven the importance of building support systems. The pandemic was a bit of a reminder, or question, of what we actually need and how much of it. It's time to reconsider our standards and explore a new level of quality and values."
Presiding over a committee including Hans Ulrich Obrist, Kenneth Ize, Soo Joo Park, Ferdinando Verderi, the GmbH boys, Simon Whitehouse, Edward Buchanan, Honey Dijon, Supreme's Zainab Jama and Reference's Mumi Haiati — it's perhaps the most diverse judging panel of any fashion prize around. In fact, more than just a prize, it's an incubator programme. The winner will receive mentorship and support from Slam Jam, as well as a pro-bono PR retainer and brand consulting services from Reference Studios.
Applications can be made through the dedicated website, and only a minimum of a year of experience in creating clothes is required (but no formal training), as well as the applicant's background story and unique approach to design. Most importantly, the committee is looking for designers who are pushing the envelope of representation and their communities. "We wanted to reflect on what the new generation looks like – diverse, fluid, and for that to reflect in the concept," adds Mumi. As Honey Dijon puts it: "If you are going to be a designer, put the clothing out that has a cultural connection to your community, even if it is things you may even want to wear or dressing people that are being ignored or find that space that you feel is not being represented and create within that space."
Applications to the Reference Incubator, in partnership with Slam Jam, are open until 31 July. The winner will be announced at the Reference Festival in Berlin on 9 September 2021. All details can be found here.
Tagged: