Molly Goddard on staying creative in lockdown and her UGG collab
"I would be very happy to not do a zoom call ever again."
|
21 September 2020, 9:37am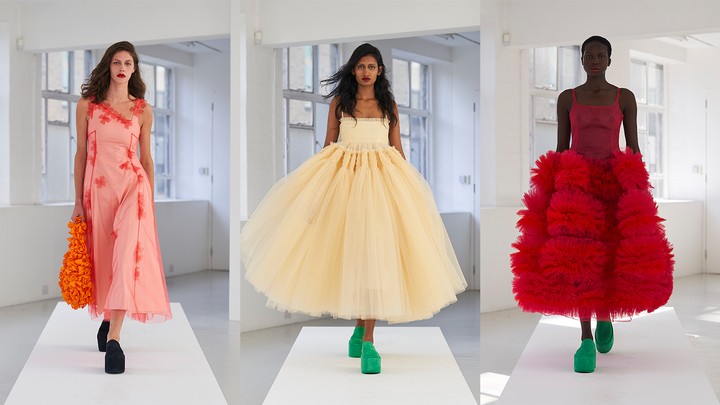 Photography Ben Broomfield via UGG
Let's be honest, it wouldn't really be fashion week without a Molly Goddard moment dominating social media. Every season the designer turns out a celebratory collection of her trademark colourful tulle and voluminous creations, and every season we fawn over them on Instagram and Twitter. And thankfully — although in almost every other aspect 2020 has been a year of exceptions and unprecedented circumstances — Molly has pulled through for us.
It wasn't the runway presentation we might have seen in other, rona-free years. Instead of a packed catwalk Molly, who had initially invited guests to her studio for an intimate, salon style show before government rules became stricter, opted to show the SS21 collection behind closed doors, making it available for everyone on YouTube afterwards.
Each look was punctuated by a new addition of some colourful, fantastical elevated fluffy footwear, the result of a recent collaboration between the designer and UGG. Here, Molly breaks down what it looks like to collaborate in the midst of a pandemic, her thoughts on Zoom calls (like everyone else, she hates them), and what she hopes for the rona-free future.
What inspired this collaboration with UGG?
We had been talking for a while and at the start of lockdown it felt like the perfect time to move ahead, it felt like everything was shutting down so it was exciting to have a new project.
Was it more difficult working in collaboration with another team in the age of social distancing?
It was definitely a challenge, everything takes a lot longer. I find it hard to feel so connected when everything is over video calls… I like to be very hands on, literally hands on with everything I make, so I would be very happy to not do a zoom call ever again
How different is it creating for yourself compared to creating in collaboration?
Well, the shoes were designed with my SS21 collection in mind, so they turned out to be a combination of exactly what I wanted for the show combined with UGG's expertise and signature materials. Doing a collaboration does feel different though, because when you're working in the studio the collections feel so personal and there is so much control over how they are viewed. Inevitably with a collaboration you have to think of the pieces existing outside of my studio bubble.
Do you have a favourite style in the collection?
I love the platforms. They are so tall but also incredibly comfortable. They make me into a giant!
How has 2020 changed your practice?
My whole team continued working throughout lockdown at home. It really shone a light on how dedicated and hardworking my team are and also how much we rely on the local community of craftspeople and makers in London. Having production based in London and in the uk UK really saved us, and that's made me realise it's something we should be incredibly proud of. I've definitely learnt to slow down — we've always been selective with what we do but the past year has taught me how important that is and that being ambitious but also aware of our capabilities and enjoying what you do is the most important thing. I struggled with three months on zoom and have cherished being back in the studio in an environment surrounded by interesting people and beautiful things. That's is my favourite part of the job.
How do you stay inspired and productive in the face of a pandemic?
Survival and having to adapt quickly was a pretty big stimulant — paying my staff and suppliers on time was enough of a creative kick up the arse.
How well do you think the fashion industry has adapted to the challenges posed by lockdown and social distancing?
We'll see with the upcoming collections I guess. The main realisation was that the most important thing is trust and good relationships, good behaviour goes a long way. Lots of people should have been a lot kinder!
Do you think this year will have a lasting impact, or will we return to the normal hectic scheduling we're so used to?
There are a lot of things that need to change within the industry - I don't think a return to 'normal' is desirable at all. The one thing I do miss is doing a show and getting to celebrate properly!
Have you learned anything unexpected about yourself this year?
I fancy Tony Soprano
What do you hope for in 2021?
To dance in a sweaty club with all my friends and no worries.
Tagged: