Photo by Time Life Pictures/DMI/The LIFE Picture Collection via Getty Images.
7 of Iman's most iconic outfits
The true OG supermodel gives a masterclass in elevated 80s style.
Photo by Time Life Pictures/DMI/The LIFE Picture Collection via Getty Images.
Before fashion's Big Five, The Trinity, the waifs or even today's Insta-set, there was Iman. The true OG supermodel, Iman was scouted in Kenya in 1975, after which she moved to New York City to embark on one of the most illustrious modelling careers of all time. Case in point: her very first booking was a Vogue editorial shot by Arthur Elgort, himself. Known for her lithe looks and inimitable grace, the Somali-born model has been a muse to some of the 20th century's most prominent designers and fashion photographers. Iman paved the way for diversity within the fashion industry, and continues to do so: in the last decade the supermodel, alongside Naomi Campbell, has joined Bethann Hardison's Diversity Coalition in advocating for racial diversity on the runways. And while her day job saw her being dressed by some of the industry's top stylists, Iman carries a sartorial flare all her own -- think 80s suiting, matching sets, sequin glam -- and received the CFDA's Fashion Icon Award in 2010. Here, we revisit some of the looks that make Iman the icon she is today.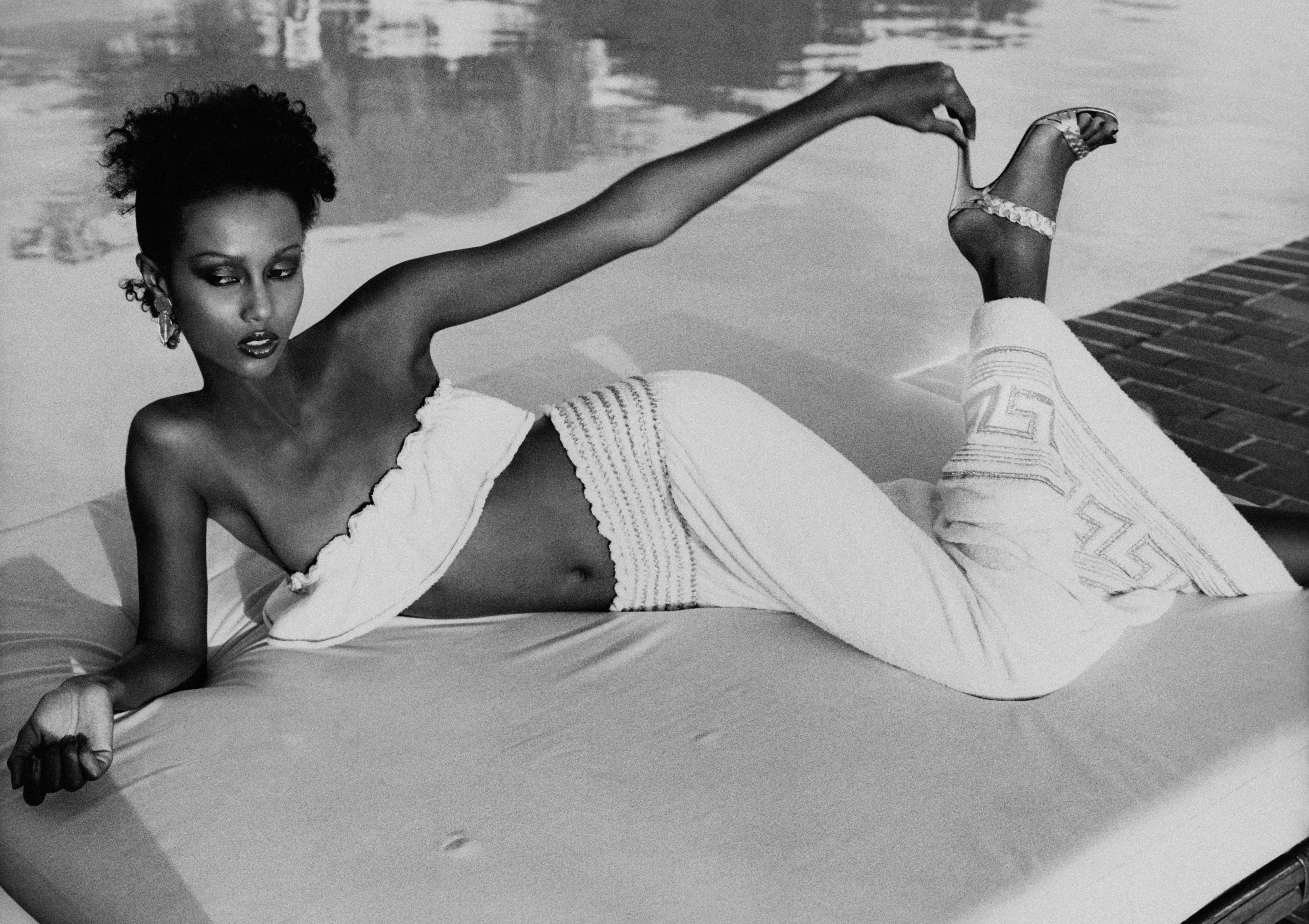 In Vogue_**, 1977**
A year after being discovered by photographer Peter Beard in Kenya at age 19, Iman moved to New York City to pursue modelling full-time. Her first ever gig was for _Vogue -- undoubtedly, a sign of the prolific career that lay ahead of her. Throughout the next 15 years, up until her retirement (naturally, announced via Vogue editorial), Iman would become a favourite face of the prestigious American periodical. In its pages, she posed for acclaimed photographers including Helmut Newton and Irving Penn, while donning the era's chic-est designers, Issey Miyake, Ungaro, et al. Here, snapped poolside in the Dominican Republic, Iman wears a Grecian-inspired set by Yves Saint Laurent. Chic, indeed.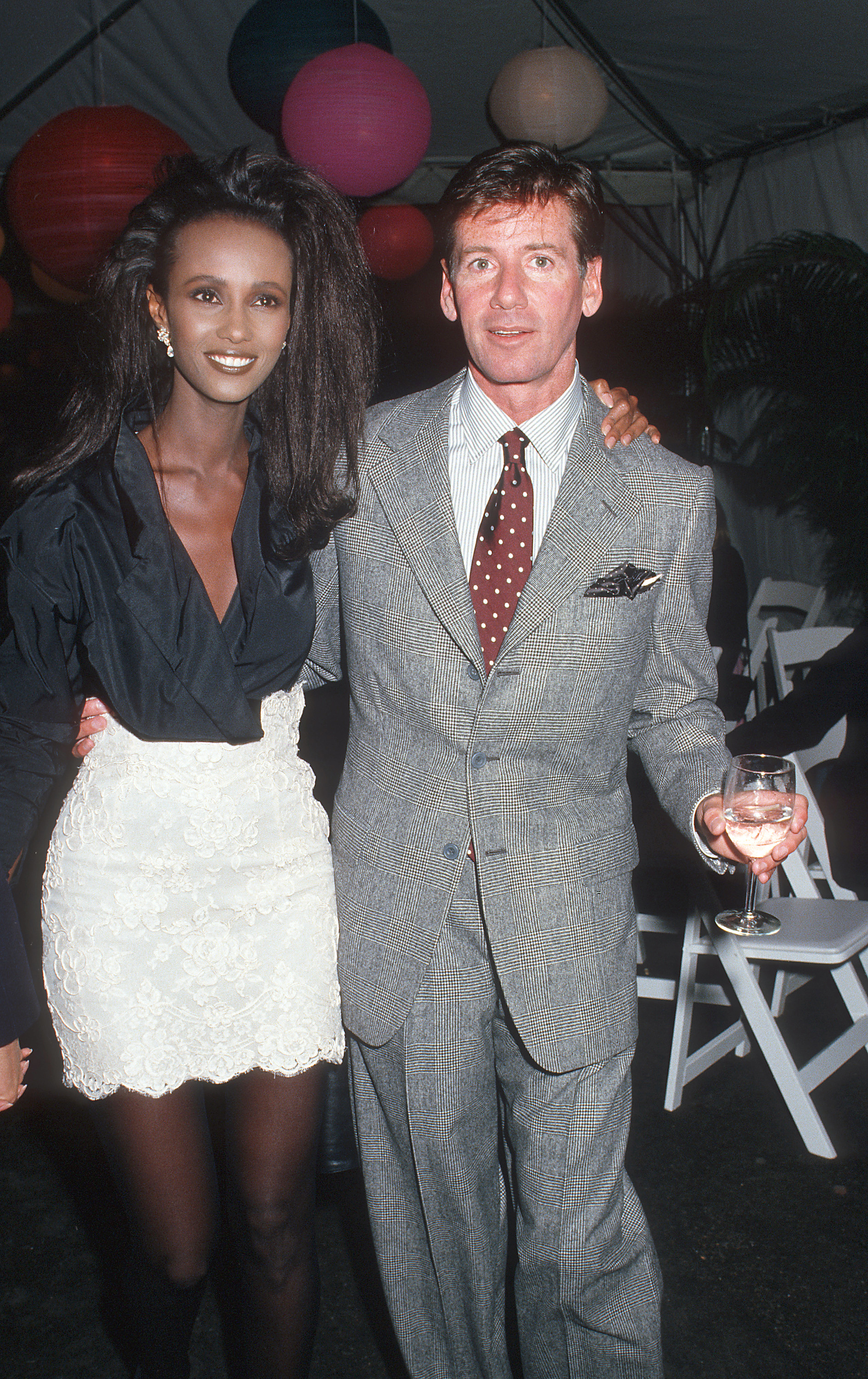 With Calvin Klein, 1987
With her elegant looks and singular charm, Iman became a muse to many of the 70s and 80s foremost designers: Halston, Gianni Versace and Donna Karan, to name only a few. The Yves Saint Laurent even told Vogue that Iman was his "dream woman." The supermodel was also a favourite of Calvin Klein, during the designer's 80s heyday. The duo attended the 1981 Met Gala together, Iman swathed in one of his golden gowns. Nearly a decade later, the pair attended a charity event together, and Iman wore a quintessential 80s fit: white lace, silk ruffles, and an extreme side part.
At the Hooray For Hollywood AIDS Benefit, 1988
In addition to being one of the greatest "supers" of all time, Iman has been a prolific, lifelong philanthropist and activist. Throughout her career she has worked with CARE, Save The Children and The Enough Project, among others. Here, she attends an AIDS benefit event wearing gala-friendly attire: an evening gown with avant-garde neckline and over the elbow cocktail gloves.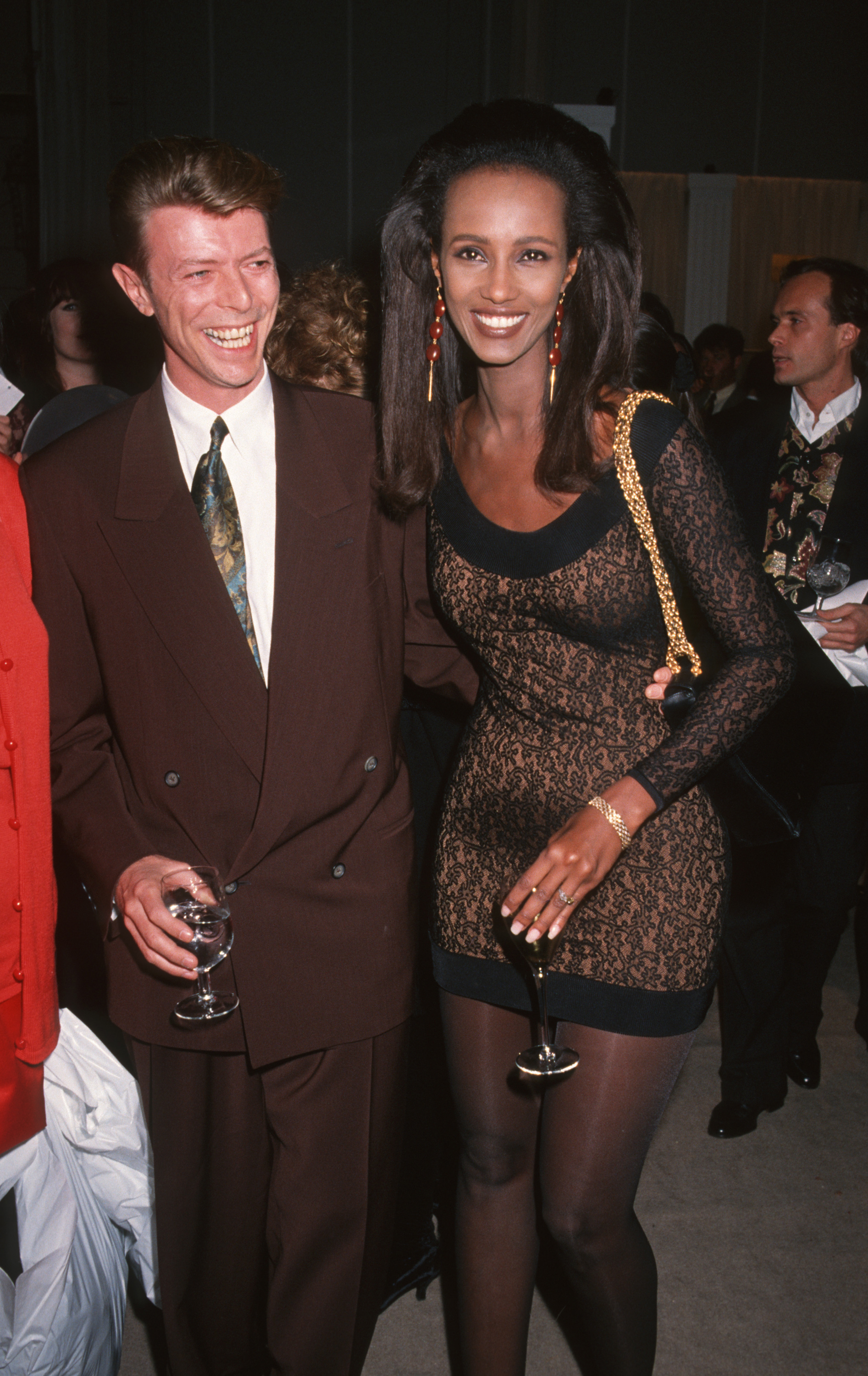 At the Seventh on Sale AIDS Benefit on November 29, 1990
Iman met British musician David Bowie at a dinner party in 1990. For Bowie, it was love at first sight. "My attraction to her was immediate and all-encompassing," Bowie divulged to Hello! in 2000. As unlikely as it may have seemed to the media -- a union between a supermodel and a rockstar -- Iman and Bowie's romance endured a lifetime, and beyond. The couple wed two years after their first meeting and remained married until Bowie's passing in 2016. Here, the ultra-stylish couple make their first public appearance together, Iman wearing a trompe-l'oeil mini and Bowie, a signature oversized suit.
With Bowie in Paris, 1991
Iman (and Bowie, too) pulled all the style stops during a visit to Paris in 1991. In a rare 90s street style moment, the model was papped wearing a matching (or mismatching?) Alaïa pantsuit. All shrunken proportions and blown-out houndstooth patterns, the look is as much of its time (Clueless, anyone?) as it is completely of the moment. Paired with dainty ballet flats and shield shades, it's the ultimate done-up, off-duty look.
At a film premiere in Los Angeles, 1992
We know that Iman loves a suiting moment (see the aforementioned Alaïa set). This number, which she wore to a film premiere in 1992, truly embodies the supermodel's signature style. Drapey squared shoulders and pleated carrot trousers in stark white (think Miami Vice), paired with the model's preferred leopard pattern, epitomize Iman's 80s vibe -- even into the early 90s.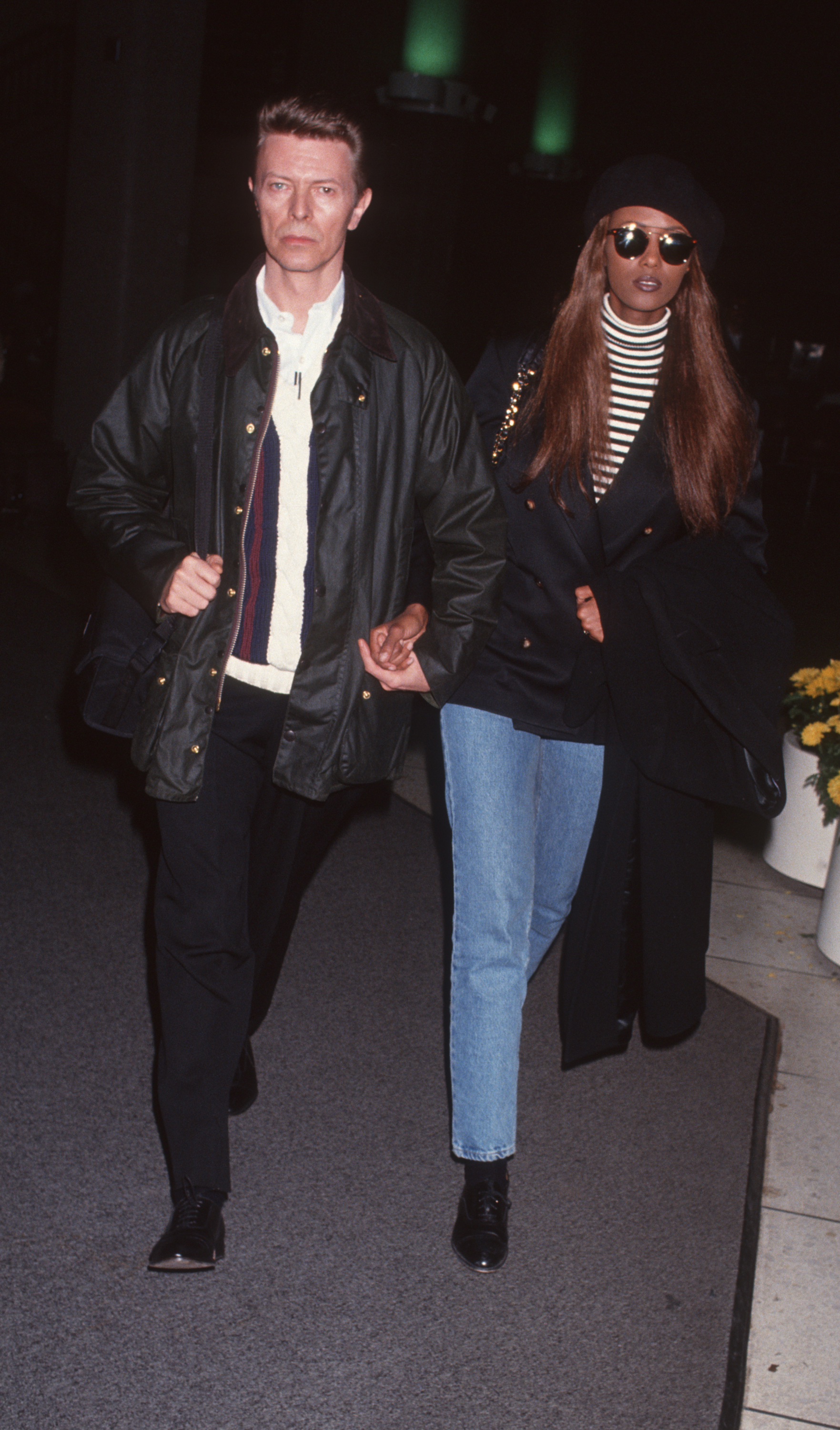 At LAX with Bowie, 1993
Like her red carpet looks, Iman's off-duty style typically leans towards the ultra-polished (again, the aforementioned Alaïa suit). However, here, leaving LAX with her husband, we catch a glimpse of a less done, but no less stylish outfit: striped turtleneck, beret and good old blue jeans.