Raheaven's 7AM is definitely not a break-up record
The London artist's new single is sexy and powerful. Watch the video here.
|
03 September 2020, 10:08am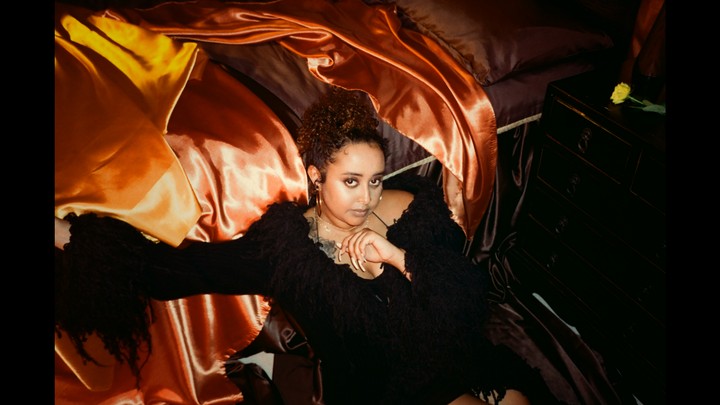 Raheaven was raised in north London as the eldest of five children. Her Eritrean immigrant parents were in a band — her mother a singer, father a guitarist — created for political purposes, to raise money for civilians during their country's thirty-year fight for independence. "It was also to keep the community connected here and raise the morale of the people," Raheaven says. "My parents always felt closer to home when listening to music. There is always music in my house. So, from a young age I knew how important music was and what it could do for people. I wanted to do that."
Looking to her parents for inspiration – "My dad speaks through instruments and my mum is the confidence queen — my icon" – singer, songwriter and producer Raheaven has been making music for years now, featuring on many a track by friends in the local scene. These days she's making music for herself, and while her sound is rooted in R&B and soul, she always aims to bring a little something else to it. "I want to be able to take it to a new place, my own place," she says. "I want to stretch R&B into different spaces." With her new single "7AM" she does just that — her impressive vocals dancing across the nostalgic production in a manner reminiscent of the Eritrean singers she was raised on.
On "7AM", Raheaven confidently airs her frustrations with a lover who fails to get the message and leave after a one-night stand. "My mum thought it was about a break-up," she says of the song, "but it's really about somebody overstaying their welcome after you've done what you've done. It's like, 'go home now… why are you still here? We're not in a relationship, this isn't anything special, this isn't going anywhere'."
In the accompanying music video — premiering here today — we join Raheaven in her low-lit and smoky apartment; silk sheets, red wine, a killer look. "It's just me being a bad b at my place after all is said and done," she says. "It's the aftermath and I'm alone with my thoughts. I feel like men are not used to this energy and I really do go about it like this: let's cut to the chase, don't fool me, don't kid yourself. It's about being able to have that control... I don't owe you anything."
Interestingly, Raheaven is actually up at 7AM most days, but not always for the same reason. "I'm either up to start my day — to do yoga, talk to my cat, do tarot, write, have a coffee — or because I'm still up from the night before, living it up. There's no in between."