Watch FKA twigs sword fight through the streets of London
The new Hiro Murai-directed fantasy film for "Sad Day" is epic.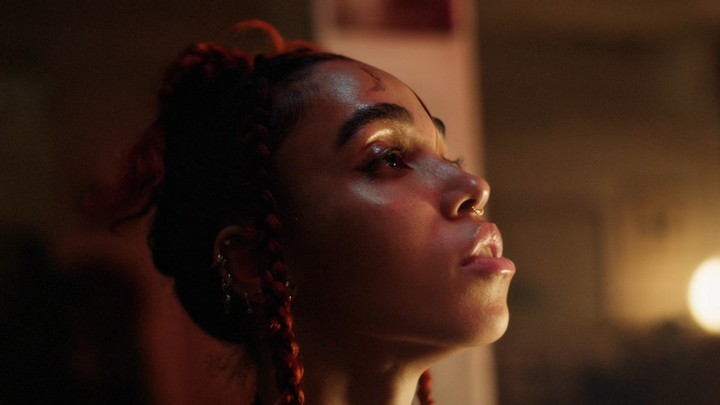 FKA twigs' stunning second album Magdalene has been in our lives for a whole 295 days now. In the lead up to release we were blessed with the magical pole-centric visual for "cellophane", the witchy Future-starring "holy terrain" and the emotional "home with you". Ten months on and you probably thought you weren't getting another video out of the project. You were wrong! Late last night FKA twigs shared the completely epic music video for "Sad Day", whose vocal hook she finds neurotic, according to her i-D cover interview at the time. "It's all on the same note, it's creepy. It's asking, in the monotony of your life, would you take a chance on someone for something bigger? Would you take a risk on love and possibly being hurt again?"
Made in collaboration with director Hiro Murai (his first music video since he won a Grammy for Childish Gambino's "This Is America" in 2018) the seven-minute visual sees twigs showcase three years worth of training in the Chinese martial art Wushu. In fact, those who were lucky enough to have seen the artist perform Magdalene live on tour last year (RIP live music) might recognise some of her sword fighting skills from the stage.
In the video, twigs is seen entering a late night cafe and walking slowly, with a distorted stance, towards a man (Teake, a "tantric monk and air nomad" who she discovered on IG) who sits in a corner seat. Surprise! twigs draws her sword and the two begin to fight, before crashing through the glass-fronted building and out into the streets of Edgware. Things escalate quickly and we soon find ourselves watching a full on kung-fu movie -- gravity-defying leaps and rooftop encounters abound -- set to the sounds of what we previously described as "like if Opus III's 1992 dance hit 'It's A Fine Day' ran into Kate Bush on a hillside".
FKA twigs has said that the project was about "finding magic in the city I've lived in for over ten years" and was in part inspired by the thought-provoking lyric from another Magdalene track, "Home With You", in which she reflects on the fact that she's "never seen a hero like me in a sci-fi". Well, now she does. FKA twigs just did that.