Stormzy just collaborated with Ghanaian rappers Yaw Tog and Kwesi Arthur
The epic 'Sore' remix and all of this week's best new music in one playlist.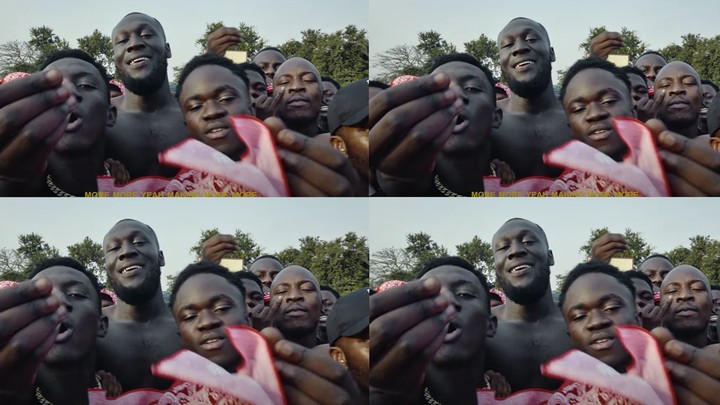 Still from Yaw Tog's "Sore"
It's been a busy week for music. Dominic Fike and Remi Wolf have teamed up for a new take on her 2020 smash, "Photo ID", Justin Bieber has robbed a bank (in the video for new single "Hold On") and Drake called with a life update on the well-titled Scary Hours 2. The three track collection features Lil Baby and Rick Ross, but it's lead single "What's Next" that spells out the fact that he's been incredibly busy recently… relaxing and having sex. The release that's got us most excited, though, is the collaboration between Stormzy and Ghanaian rappers Kwesi Arthur and Yaw Tog on a remix of the latter's drill hit "Sore". The 17-year-old blew up late last year with the original, which caught the attention of Stormzy while he was over in Ghana for UPP Fest in January. This is the result.
All of the above lives happily on i-D's BEST NEW MUSIC playlist, along with "Whisper (Want My Luv)" by The Internet's Patrick Paige II (who called on band pal Steve Lacy for a feature, and Syd to make a special appearance on a secret track built into the music video). Well worth a watch. PLang fans have been blessed with Vegas rapper Baby Keem's new song "no sense", which tracks relationship difficulties and is taken from the i-D cover star's forthcoming, yet-to-be-named album.
You'll be pleased to hear that Japanese Breakfast is back with news of her long-awaited third album and a v fabulous X Files-themed video for "Be Sweet"; girl in red has revealed there's an album in the works too; and AJ Tracey is feeling "Anxious" just like the rest of us. Then there's St Vincent, who has returned with a blonde wig, a sexy single called "Pay Your Way In Pain" and the announcement that her 70s New York-inspired album Daddy's Home is due 14 May. Less sexy than it sounds, the record sees Annie process her own father's experience of serving 10 years in prison for white collar crime.
Elsewhere, there's killer new stuff from Erika de Casier, Tsunaina, Kojaque, duendita, CIFIKA, mark william lewis, AJ Tracey, Real Lies, Object Blue and so much more. Enjoy.
Tagged: