Mugler shakes up the fashion system for SS21
While most labels showcase clothes you can buy in six months' time, the French house has switched to see-now-buy-now. Just as well: you'll want it all ASAP.
We know we've been saying that September is when we'll finally shed our cosy WFH looks and slip into our sinuous party dresses, but it looks like we're going to have to get sexy a little sooner than we once thought. Like, right now. Why, you ask? Well, because Mugler's Casey Cadwallader — aided by a knockout cast that includes Euphoria's Hunter Schafer, Pose star Dominique Jackson, and Bella Hadid — just said so! Despite the world turning upside down, the overwhelming majority of labels this season have decided to stick to the old way of doing things, showing collections six months ahead of when they actually hit the (virtual) shop floor. But Mugler has decided to flip the script by releasing Part 02 of its SS21 collection today, and making it available to purchase from the moment it's seen.
Mugler's shift to see-now-buy-now naturally invites wary comparisons with
the quickly-abandoned experiments undertaken by Burberry and Tom Ford about four years ago. But, while things may not have panned out as planned back then, in case you hadn't noticed, life looks a little different now; so does the way we consume fashion by default. In the age of digital presentations, near-universal access to fashion shows is a given; once the preserve of a select few, a front-row seat is available to anyone who tunes in on time. Even before the pandemic, we would all "see [shows] live through a million different lenses," Casey notes, hinting at the role of Instagram livestreams in turning fashion shows into a spectator sport.
In the context of the pandemic, though, an even simpler reason for the decision is that the only way for so many of us to fall in love with, and purchase, clothes is through our screens, facilitating — for better or worse — an expectation of instant gratification. "There's an immediacy to fashion now. And fashion is about a seduction, it's about you seeing something and going, 'Oh man, that is something I really want to have'," Casey says. "To me, it just makes more sense that you should be able to have it right then if you want."
Well, these are clothes that you'll want -- right here, right now. Timed perfectly for the re-emergence of the sun in the Northern Hemisphere. There were the barely-there bodysuits in invisible nylon, the contours of the wearer's body framed by architectural lines; lycra looks spangled with individually placed crystals; and cobwebby, asymmetrically draped dresses in sky blue and cherry red.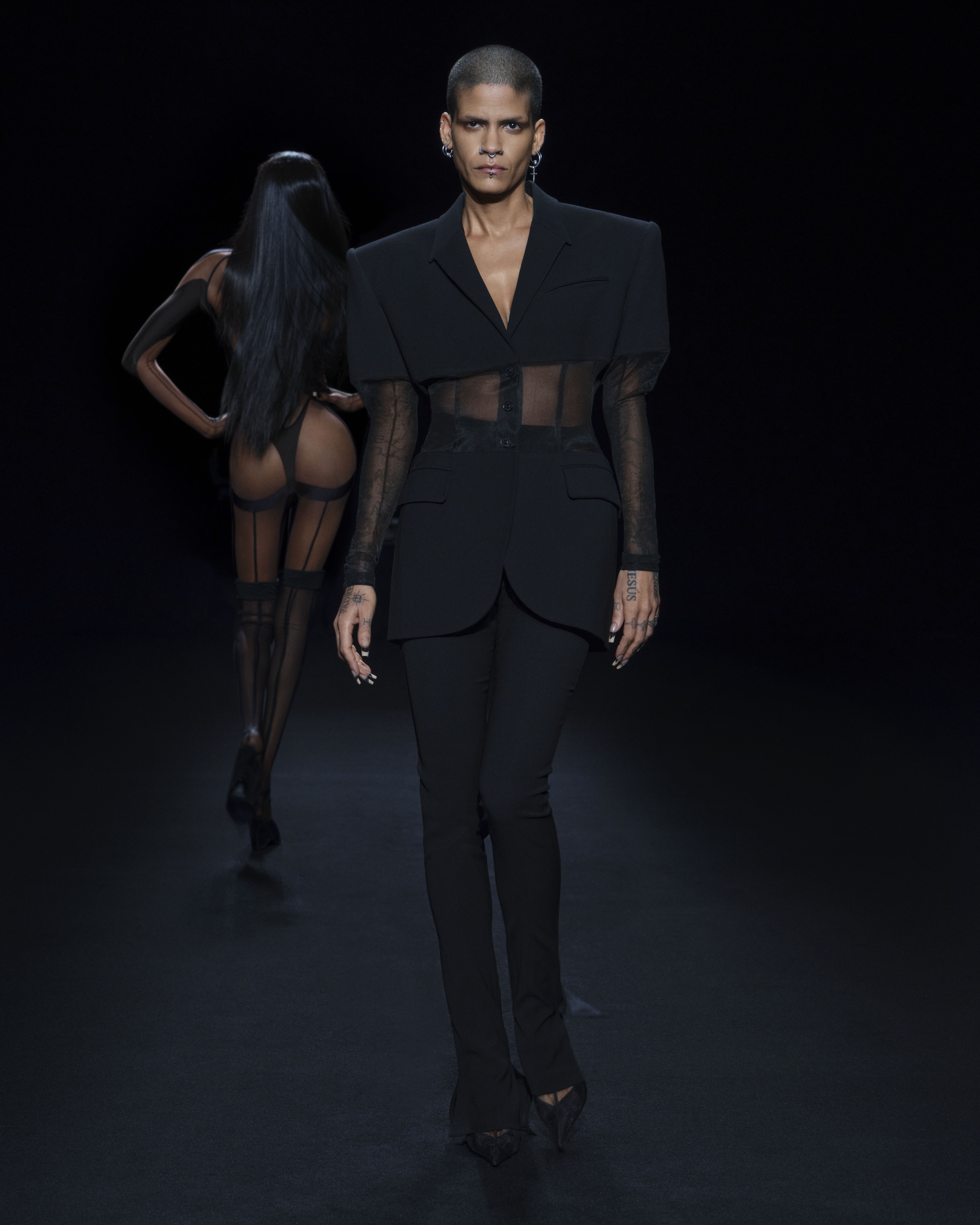 Complementing these slinkier pieces were looks that riffed on the house's reputation for stark, sharp tailoring: bisected shirt-jackets with bold shoulders and fitted waists, and blazers with tulle-paned cut-outs at the midriff. "It's all about these counterbalances. Sexy isn't just about feminine bodycon," Casey says. "Oversized masculine is also sexy. It's about bringing a sort of ease to it." It's a notion proved with this season's spiral-cut denim pieces, which cling to the body, bonded with lycra.
While the clothes certainly do a damn good job of speaking to the designer's multidimensional vision of sexiness, the point is driven home by the people seen wearing the clothes. The stars of this season's back-to-front film include a coterie of modern-day supers -- Bella Hadid, Alek Wek, Irina Shayk and Soo Joo Park -- but they're also joined by a list of some of the most exciting voices in art, activism and culture at large. We're talking people like Hunter Schafer, Dominique Jackson, Patia Borja, Kembra Pfahler -- and that's just to name a few.
"The thread that connects these people is something to do with their brains; with the fact that they're all fully formed, independent, amazing thinkers who convey themselves so clearly to the world," Casey says. "They're fully realised, they're empathetic, they're mindful, and that's really where I see beauty. I don't really care who the establishment thinks is beautiful anymore. It's all about body shapes, different ethnicities, different ages, different gender expressions. If a cast doesn't have that for me now, I feel like I've failed." Well then, with these clothes, this cast, and their combined effect, this was a runaway success.