Photography Angus Williams. Images courtesy of Stefan Cooke
Stefan Cooke becomes its own teenage dream for AW21
Filled with looks that ooze confidence and severity, the London-based label's latest collection, Silver Bells, rings strong, loud and clear. 
Photography Angus Williams. Images courtesy of Stefan Cooke
For any fashion fan, there's a good chance that thinking back to the looks you used to pull in your mid-to-late teens will make the blood rush to your face with embarrassment. Still, it's an exercise well worth doing. You'll likely notice that, "at one point, you just want to become the most severe, extreme version of yourself through clothing," says Jake Burt, the co-creative director of Stefan Cooke, over Zoom from the new London studio that he and the label's namesake founder have recently moved into. "I feel like when we were 14 or 15, we were very committed to a look. And it was pretty severe -- super tight jeans, pointy shoes, big hair…" Stefan bashfully reminisces, "looking really awful, but I think there was something really amazing about that commitment to how we wanted to look. I think that's kind of what we wanted to do with this collection."
Silver Bells, the pair's AW21 collection, is perhaps best seen as a coming of age story -- a poignant, refined homage to the men those teenagers have become. Here, the sense of conviction that, as adolescents, is often fuelled by a certain naïveté is supplanted by a cultivated self-awareness. The hallmarks of the Stefan Cooke vocabulary -- glen plaid and houndstooth wool coats, slashed lozenge motifs and chunky Fair Isle knits, and drainpipe denim jeans -- are stuck to, though there's no stubbornness here. Rather, it demonstrates the pair's sturdy awareness of the potential of the staples they've developed in just six or so seasons, reconfigured here into a directional, distinct and, above all, fresh proposal for a contemporary menswear wardrobe.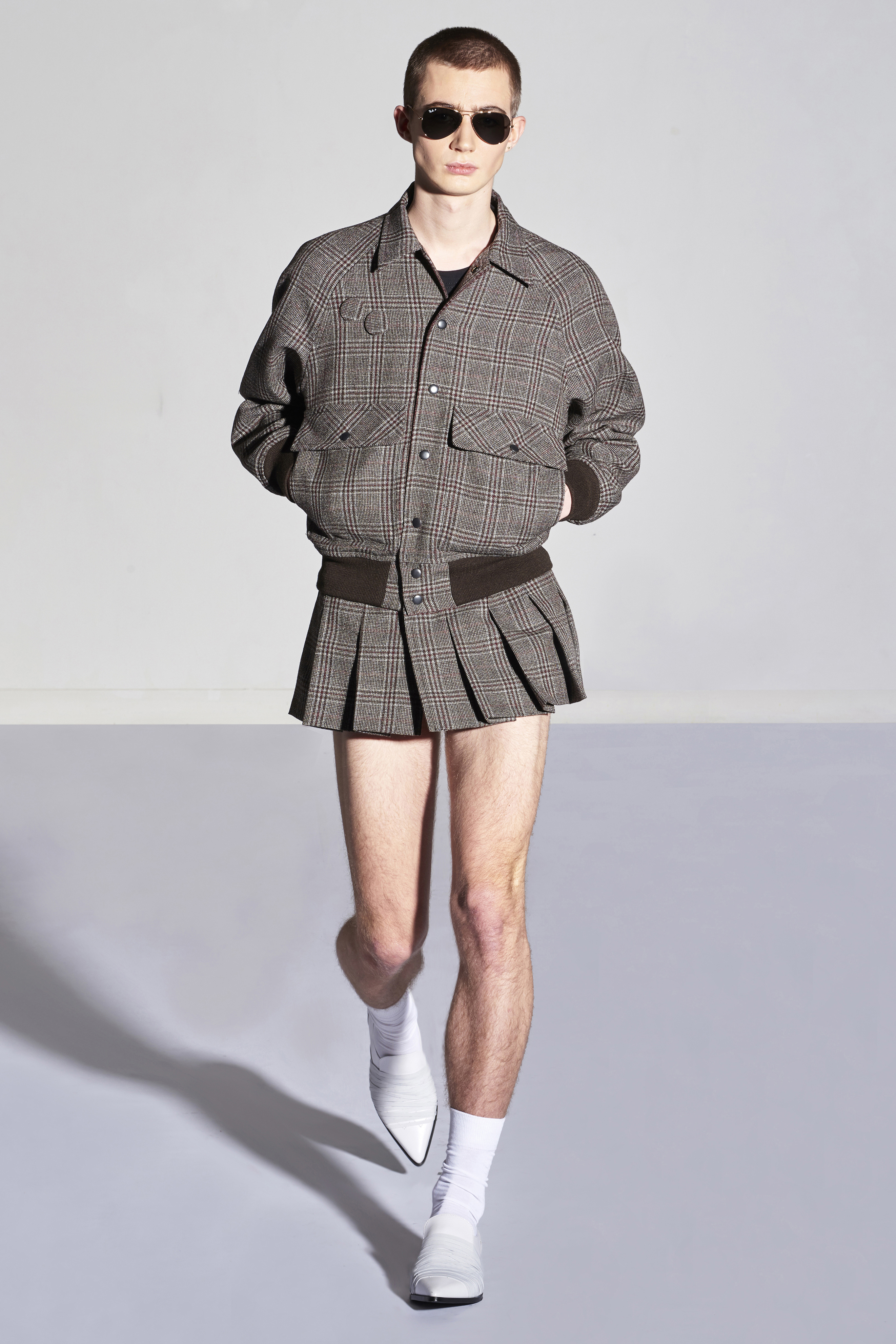 AW20's mini-kilts over jeans have evolved into houndstooth and navy wool varsity dresses -- faintly jockish coats with sharp box and knife pleats jutting from the hip. Styled with bare legs beneath, Stefan notes that while it may require a real "commitment to wear those pieces, it's also about this idea of not having any irony. It isn't about 'a boy in a dress'. It's just a boy looking really great, who happens to be wearing a dress," a point made just as convincingly with the knit jumper-dresses, and the almost demurely chic cropped capes.
Complementing the air of discreet glamour they convey are a series of bold, yet unimposingly masculine silhouettes inspired by the work of J.C. Leyendecker, an American illustrator prominent in the 1920s and 30s. "I guess we were referencing vintage American outerwear, but through his eyes, where it's really about the physique of the man wearing it," Jake says, their observations becoming sweeping, domed-shouldered car coats with matching fabric-covered badges overlapping down the seams. Carrying the theme further are exaggerated shearling aviator collars and sunglasses, pointed toe derbies, and buffed, shearling-lined boots. And then there are this season's denims, blue and black jackets and jeans, subtly decorated with criss-crossed flat-felled seams, which interlock to create a heritage tartan effect.
It all comes together to create what is, without doubt, the sharpest proposal we've seen from a label that won attention for its sense of rigour and poise from the get-go. "We used to talk a lot about aspiration," Jake says, "referencing ourselves as teenagers, and thinking about the aspirations that we had then around who we would become." This season, then, is when Stefan Cooke well and truly steps up to the plain it has long hoped to stand on, becoming, by default, a standard for which others will strive. "I remember being like 15 or 16, looking through magazines and being on the internet and on Tumblr and stuff, and thinking, 'Wow, isn't fashion amazing!'" Stefan says. "Wouldn't it be amazing if somebody was sitting there at 15 or 16 thinking, 'Wow, look at Stefan Cooke! Isn't that amazing!'?" We, for one, certainly are.