7 of Aaliyah's most iconic outfits
Sporty, gothy and glam, the Princess of R&B's signature style defined turn-of-the-millennium fashion.
|
27 November 2020, 8:00am
Babygirl, Princess of R&B, Queen of the Damned. She's gone by many monikers, but there's only one Aaliyah. Since her debut in 1994, Aaliyah's unique musical output has shaped the landscape of contemporary R&B and pop music. Her first album — dropped when Aaliyah was only 15 years old — was certified double platinum; for her follow-up record, Aaliyah teamed up with Missy Elliott and Timabland to produce chart-topping singles "One in a Million" and "If Your Girl Only Knew".
And Aaliyah's sartorial style is just as distinctive — and instantly recognizable — as her unique musical stylings and stage presence. Taking in 90s streetwear, sportswear and elements of futurism, the i-D cover star's look was both tomboyish and sultry. Strappy crop tops, baggy jeans with boxers peeking out the top, Matrix wrap shades, motocross jumpsuits, Timbs and sweeping fur coats are all Aaliyah signatures.
While her time with us was short, Aaliyah made a lasting impression on music and pop culture at large. From Tommy Hilfiger and Hood by Air to the GHE20G0TH1K look, her inimitable style has and continues to influence some of fashion's biggest trends, defining turn-of-the-millennium aesthetics and inspiring the current decade's Y2K revival. Here, i-D charts Aaliyah's legacy through a selection of some of her most memorable looks.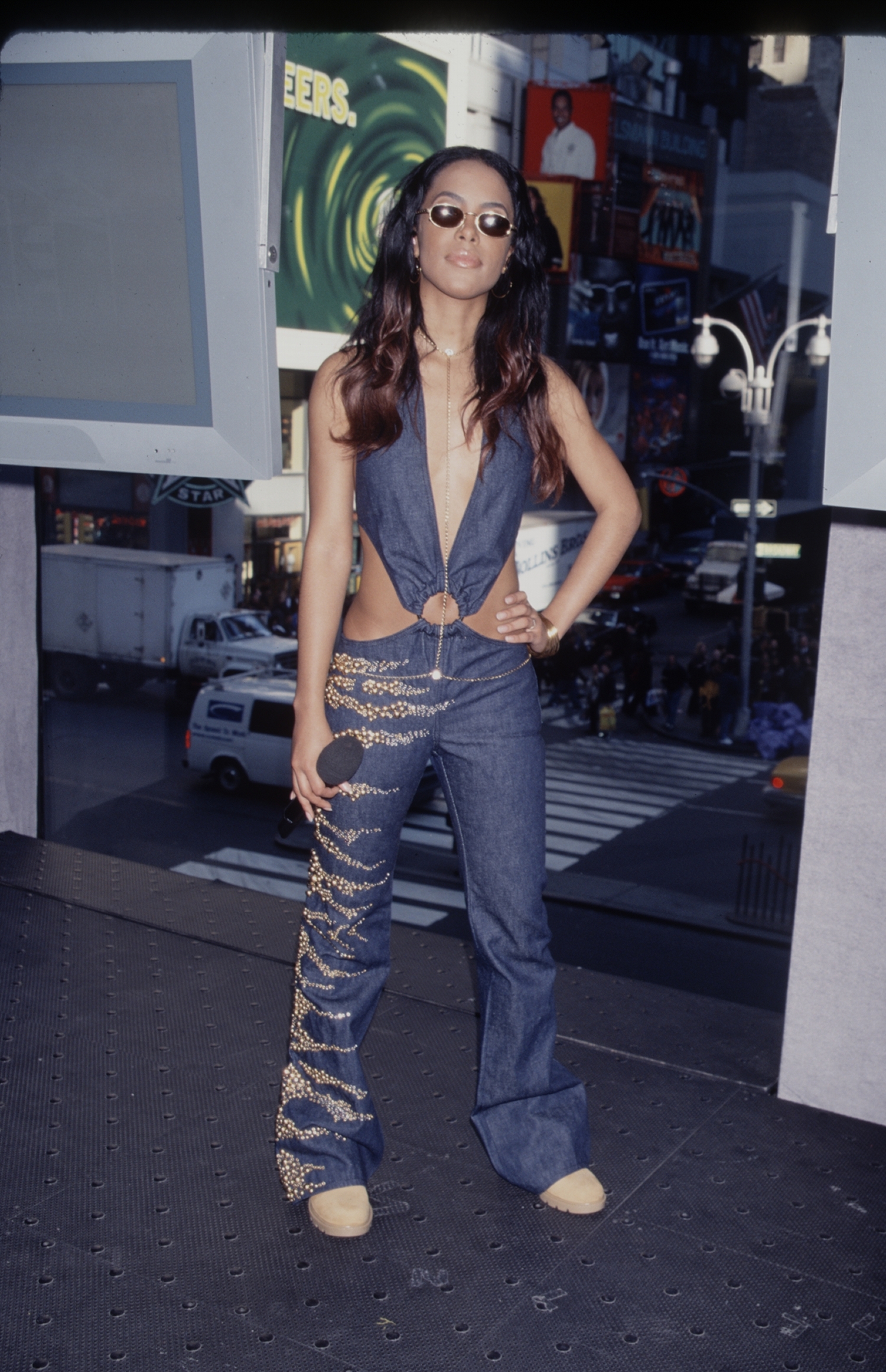 Hosting MTV's TRL, 1995
Born in Brooklyn and raised in Detroit, the singer-slash-actress signed with Jive Records at just 12 years old. In 1994, she dropped her debut album, Age Ain't Nothing But A Number, at 15. It was an instant success, selling over three million copies in the US and certified double platinum. Here, a year after the record's release, Aaliyah hosts MTV's TRL wearing a very 90s — and very Aaliyah — get-up: workwear denim made sexy with cut-outs, bedazzled details, a body chain and grounded by a pair of Timbs, of course.
In a Tommy Hilfiger Jeans campaign, 1996
"When I see Tommy Hilfiger, I think of Aaliyah," R&B superstar H.E.R. told i-D earlier this year. A fan of logo-ed out streetwear, the singer frequently wore the American designer's red-white-and-navy sportswear both on and off-stage: baggy tracksuits, denim overalls, varsity jackets and puffers. In 1996, Aaliyah was tapped to star in the label's 1996 campaign wearing her favourite — and most iconic — Tommy look, low-rise jeans with a pair of the designer's boxers peeking out of the top. Aaliyah's partnership with Tommy Hilfiger has proved to be one of the singer's greatest sartorial legacies, shaping street style and celebrity style of the 90s and influencing the brand's revival today.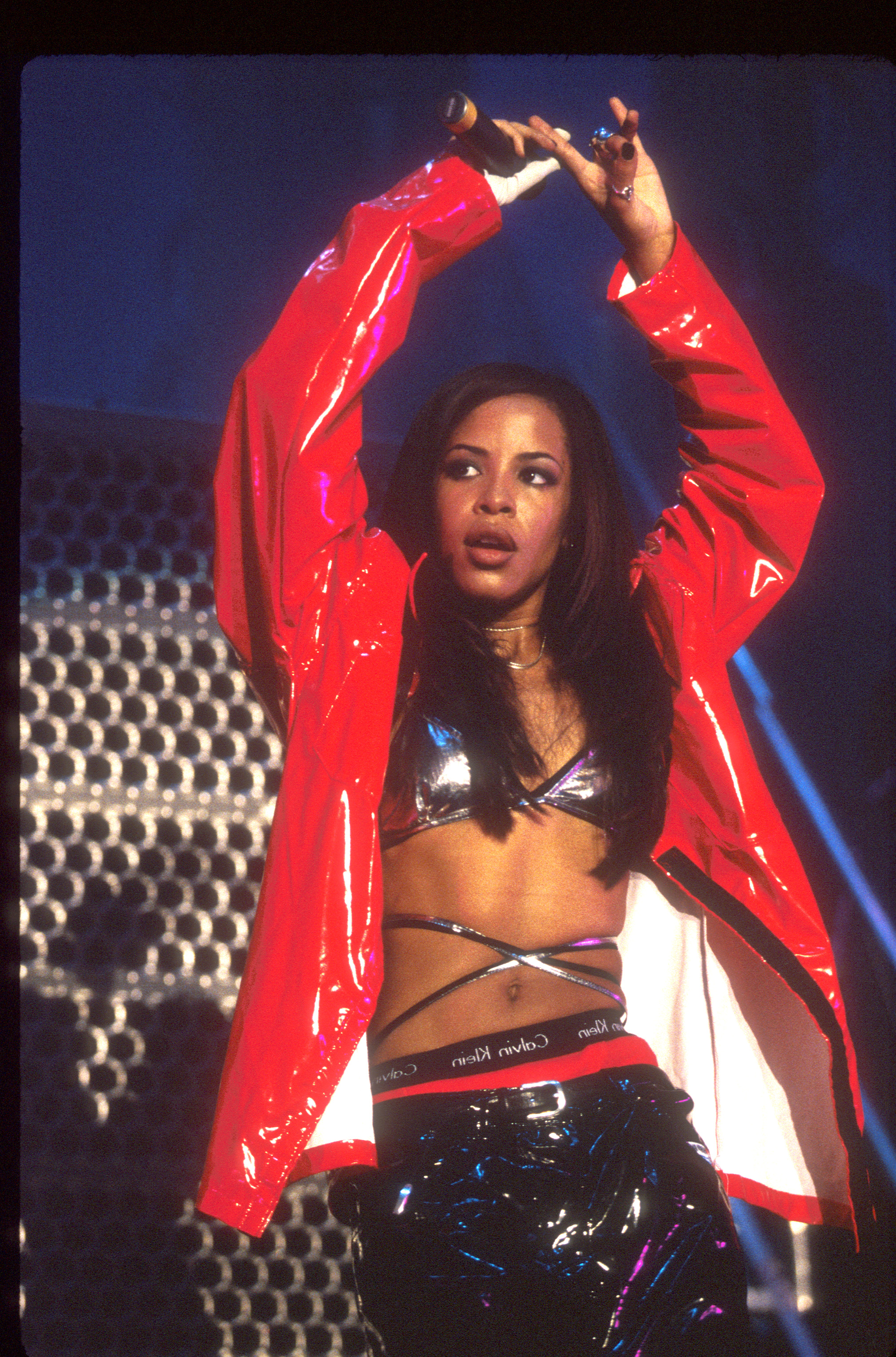 Performing at The Forum in California, 1997
At once tomboyish, sultry and utterly futuristic, this look is quintessential Aaliyah. The singer's instantly-recognizable outfit features a mix of baggy streetwear, strappy garb and gothic leather, pulled off with a confidence unique to Aaliyah herself. Here, performing on stage, she amps up the look by throwing in metallics and fiery red vinyl.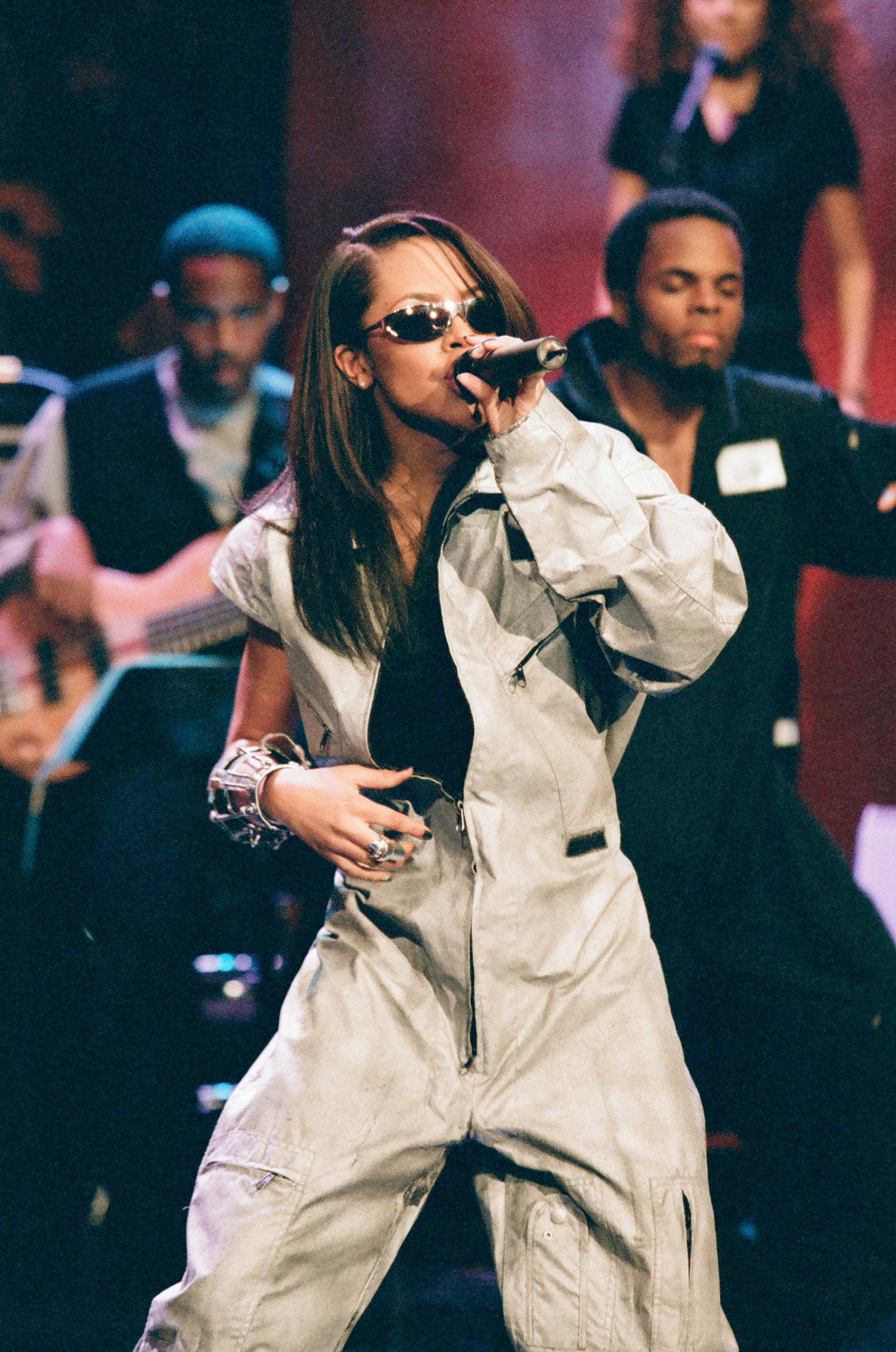 Performing on The Tonight Show with Jay Leno, 1997
From the 90s to now, Aaliyah's sartorial legacy has made a lasting impact on fashion designers and subcultures, alike. The influences of her most innovative looks — think streetwear with industrial details, sportswear silhouettes in leather and vinyl — can be seen in the works of Hood by Air and the aesthetics of GHE20G0TH1K, to name a few. This look, which she wore to perform on late night television, embodies Aaliyah's futuristic vision: tech-y boilersuit with Matrix shades and cyberpunk accessories.
On set of the "Try Again" music video, 2000
In 2000, Aaliyah forayed into cinema, making her film debut in the action flick Romeo Must Die opposite Jet Li. In addition to playing the lead role of Trish O'Day, the singer was also responsible for producing the film's soundtrack and recording its lead single, "Try Again." Like the film, the song was a massive success, topping the Hot 100 on airplay, alone — a Billboard record. For the single's music video — which also co-starred Li — Aaliyah wore a Dolce & Gabbana diamante bra, choker, leather pants and heavy black eyeshadow. The look is widely considered to be the most iconic of Aaliyah's career — even her stylist Derek Lee agrees.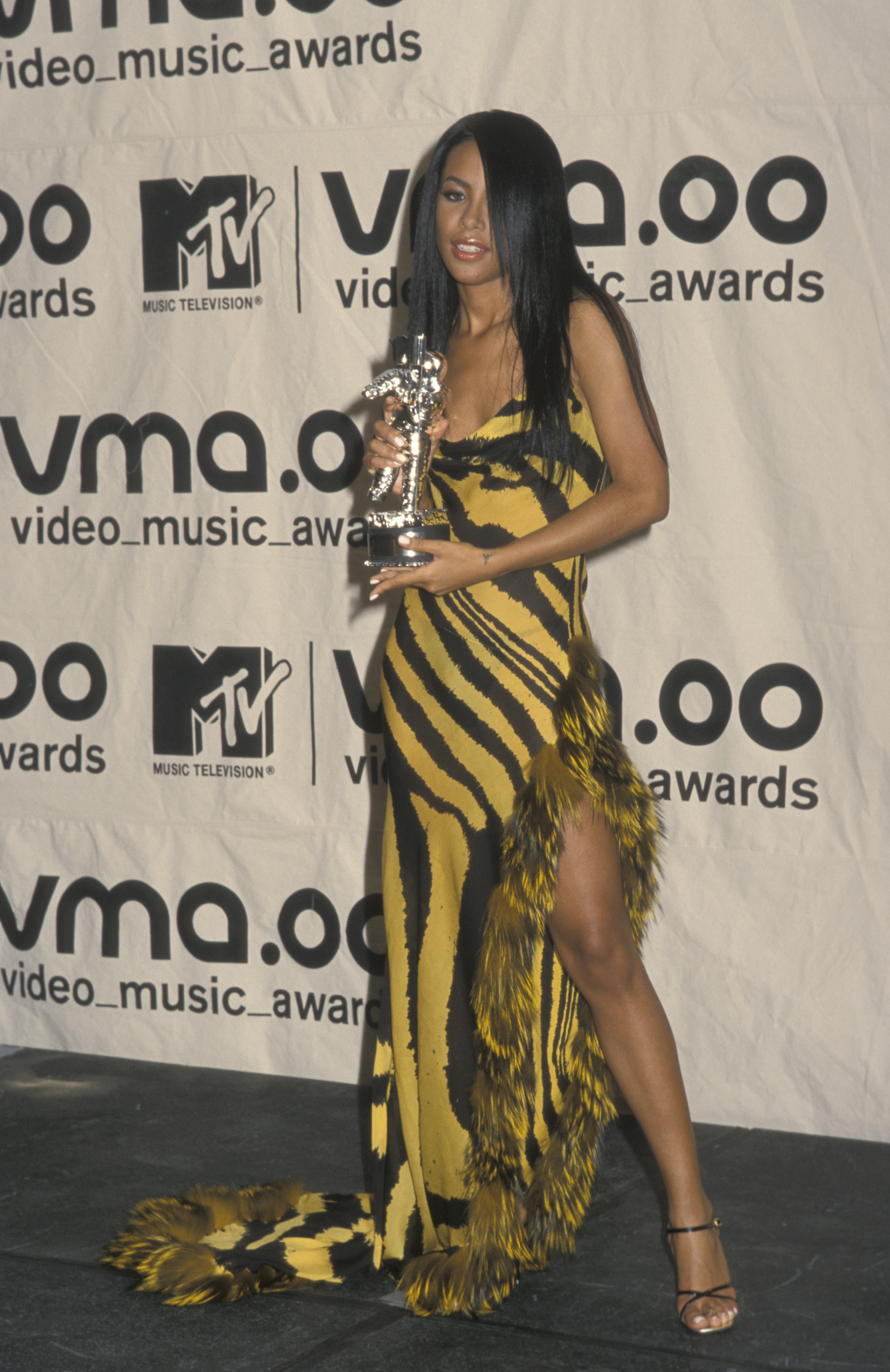 At the MTV Video Music Awards, 2000
Over the years, the MTV Video Music Awards' red carpet has given rise to some of music's most influential and audacious looks. It's also spawned one of Aaliyah's most glam outfits. Collecting the awards for Best Female Video and Best Video from a Film for "Try Again," the chanteuse wears a zebra-printed Roberto Cavalli slip gown with feather-trimmed slit. In i-D's September 2001 issue, Aaliyah spoke to Glenn Waldron about the designer, "Roberto Cavalli is my absolute favourite. His clothes seem to be made for me. They just scream Aaliyah."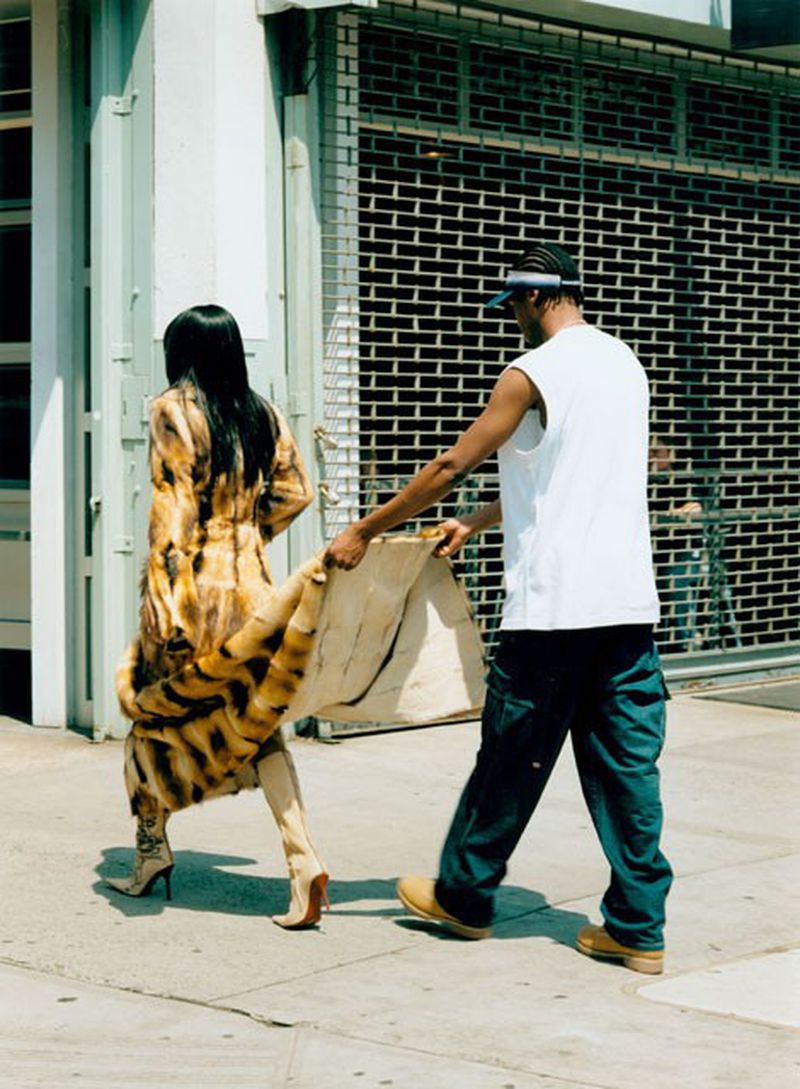 Photographed by Matt Jones for i-D, 2001
Iconic image, iconic outfit. You've likely seen this photograph — Aaliyah with fur coat trailing behind her — around the internet. Its origins can be traced back to i-D's September 2001 issue, covered by Aaliyah, herself. For the issue, Aaliyah was snapped by Matt Jones and dressed by Derek Lee, in a sweeping fur coat and sleek suede boots. In the cover story, she speaks to Glenn Waldron about her starring role in horror flick Queen of the Damned: "Being female, you're raised to be a good, sweet girl and not flip out. So I had to give myself permission to be mean and evil. It's tough. But I've always been drawn to the darker side of things."