Maison Margiela has reinterpreted an iconic Reebok sneaker
Think the Parisian fashion house and the American sportswear brand are an unlikely match? Here's why you need to think again.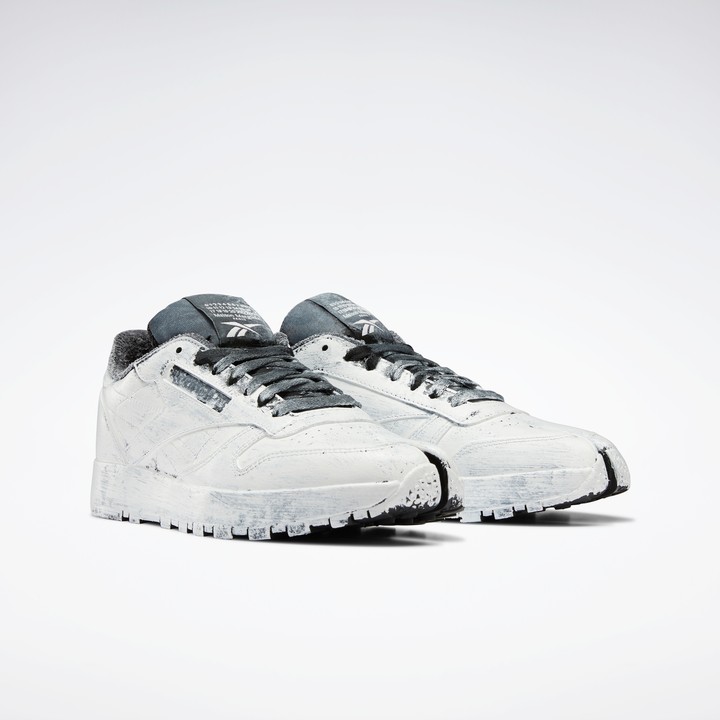 Courtesy of Reebok
"What do you get when you cross a trainer with a Tabi boot?" sounds a bit like an esoteric joke you'd only hear in fashion school studios, but last year a very literal answer to that question was offered. First seen on the Maison Margiela Artisanal SS20 runway, the Tabi Instapump Fury boot became an industry-wide hit overnight. Bringing the signature silhouette and cleft-toe of Maison Margiela's perennially iconic shoe together with one of Reebok's best-loved sneakers, the Instapump Fury, it was a sterling example of how the worlds of high fashion and sportswear can accentuate one other, creating a product greater than the sum of its parts.
In the year that's passed since then, the collaborative relationship between the Bostonian sports apparel purveyor and the Parisian fashion house has only strengthened, resulting in a fresh new shoe: the Classic Leather Tabi Bianchetto. While the Tabi Instapump Fury may have been more of a shoe for the fashion fantasists, the most recent product of their collaboration speaks more directly to the codes of utility and universal wearability at both brands hearts.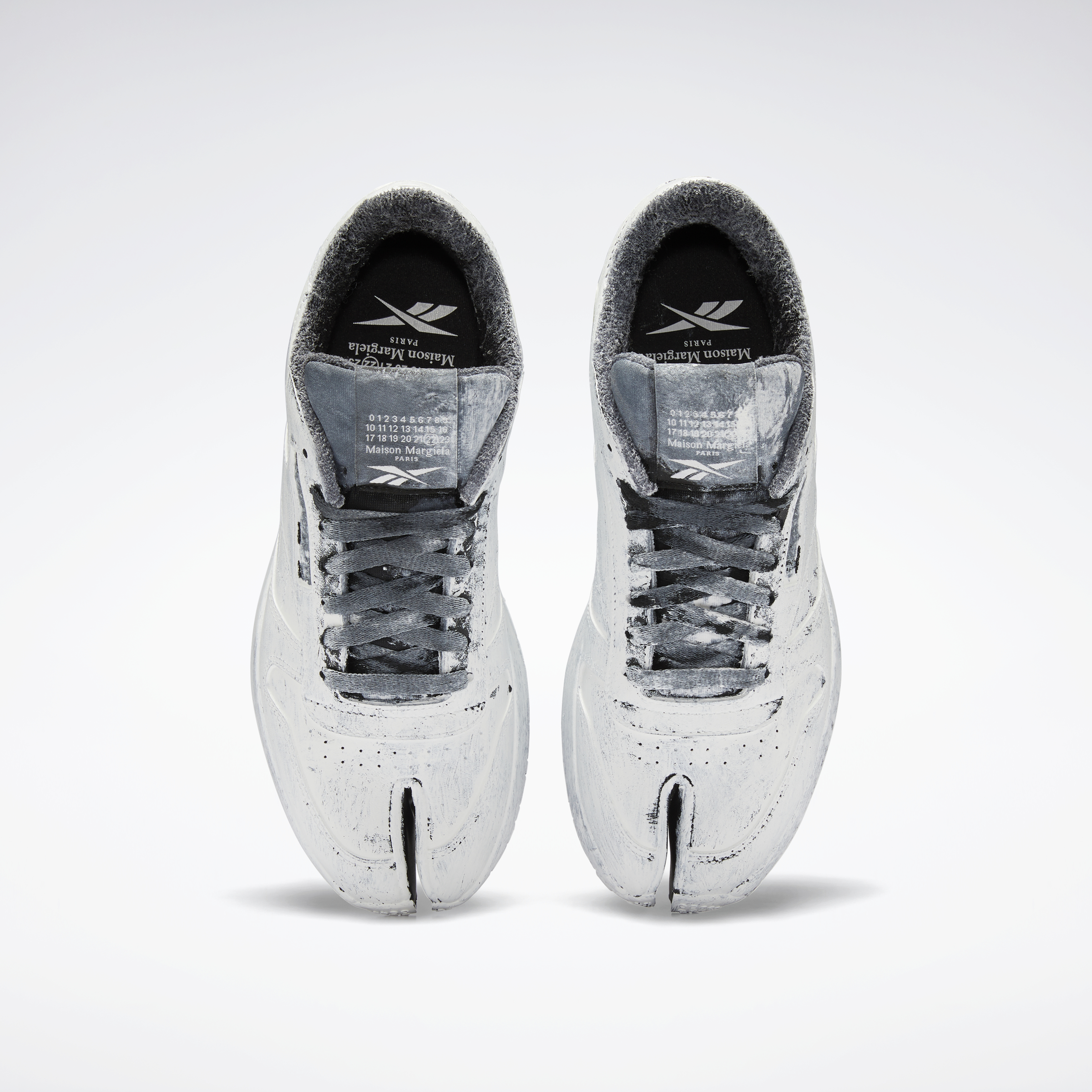 Introduced in 1983, Reebok's Classic Leather sneaker has gone on to acquire a truly iconic status, beloved far and wide both for its durability and performance-enhancing properties as a running shoe, as well as for an aesthetic that's fundamentally versatile in its simplicity. That's in large part of what made it the perfect match for the Maison Margiela, which, since its introduction in 1988, has cemented its reputation as perhaps the most universally loved high fashion shoe in all the land, its league of admirers only growing with the passing of time.
When the heads behind the two brands came together to create the Classic Leather Tabi Bianchetto, it was in their mutual passion for respecting stories while innovating with the future front of mind that they found common ground. Their goal? To create a refined, fashionable sneaker anchored in the here-and-now and endowed with timeless appeal.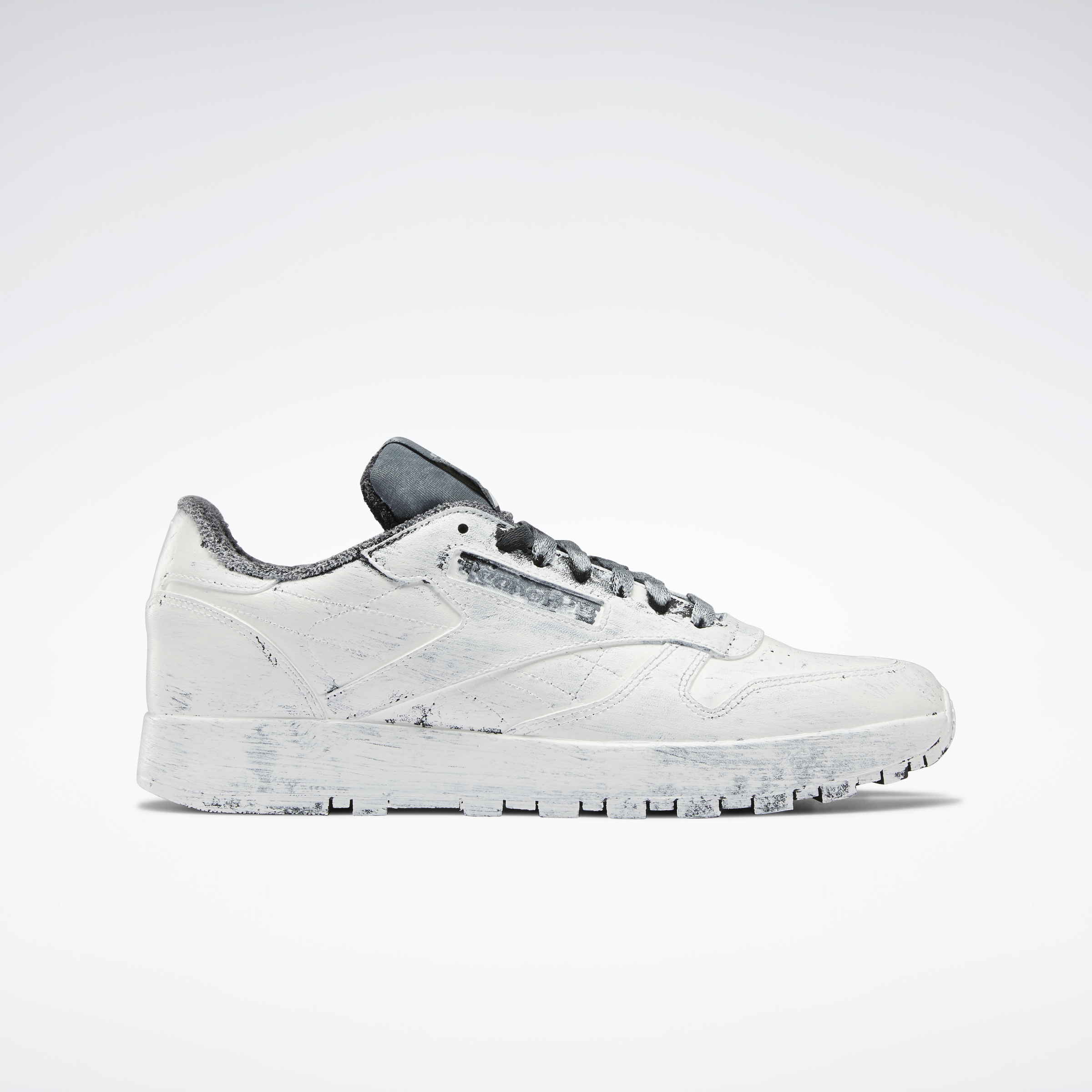 Effortless as the end result of the translation of the Tabi's split toe to Classic Leather silhouette may seem, the process in fact entailed an entire re-design of the sneaker in order to accommodate it -- sole, upper and all! And, out of a desire to pay even deeper tribute to the heritage of Maison Margiela, the sneaker was created using the house's signature Bianchetto technique, by which black nappa leather is hand-painted with a white coating. A hallmark of the house's ethos of subtle deconstruction, it intentionally chips off over time, the shoe's visual texture evolving with each wear.
Luckily, there's not much you'll need to do to slip into a pair (although, as you'll know if you're already a Tabi wearer, we'd recommend snapping up a pair of the complementing tabi-toe socks for ultimate comfort). Whether you want to put a full look, or you're just nipping out to the shops, the Maison Margiela and Reebok's latest shoe is what fashion footwear for the everyday looks like at its best.
Discover the Reebok x Maison Margiela Classic Leather Tabi Bianchetto here.
Tagged: