A guide to Kim Kardashian's style evolution
As she stuns in Marilyn Monroe's gown at the 2022 Met Gala, we chart Kim's rise from socialite stylist to the world's best dressed lawyer.
Kim Kardashian is far from predictable. Leader of the slashers, the stylist turned boutique owner turned reality star turned one hit wonder turned selfie queen turned best-selling author turned app developer turned beauty mogul (deep breath) turned lawyer, has had a lot of past lives. Her fashion history is just as eventful. Though Kim famously loves monochromatic nudes, athleisure, nipped in waists and heeled flip-flops; the lookbook of her life contains multitudes. High fashion risks and shock-factor moments have seen her embrace Balmain, Givenchy and Juicy Couture; pivot through a neon era; don dresses covered in her own face and, of course, serve up a trifecta of stunning MET Gala looks.
America's most famous woman also graced her first ever cover of i-D in 2021, appearing on the Out Of The Blue issue with a massive Tiffany diamond on her finger. Here, we look back at three decades of the reality star's iconic outfits. From her early days as Paris Hilton's personal shopper to life as a fashion-forward student lawyer, this is Kim Kardashian's style evolution.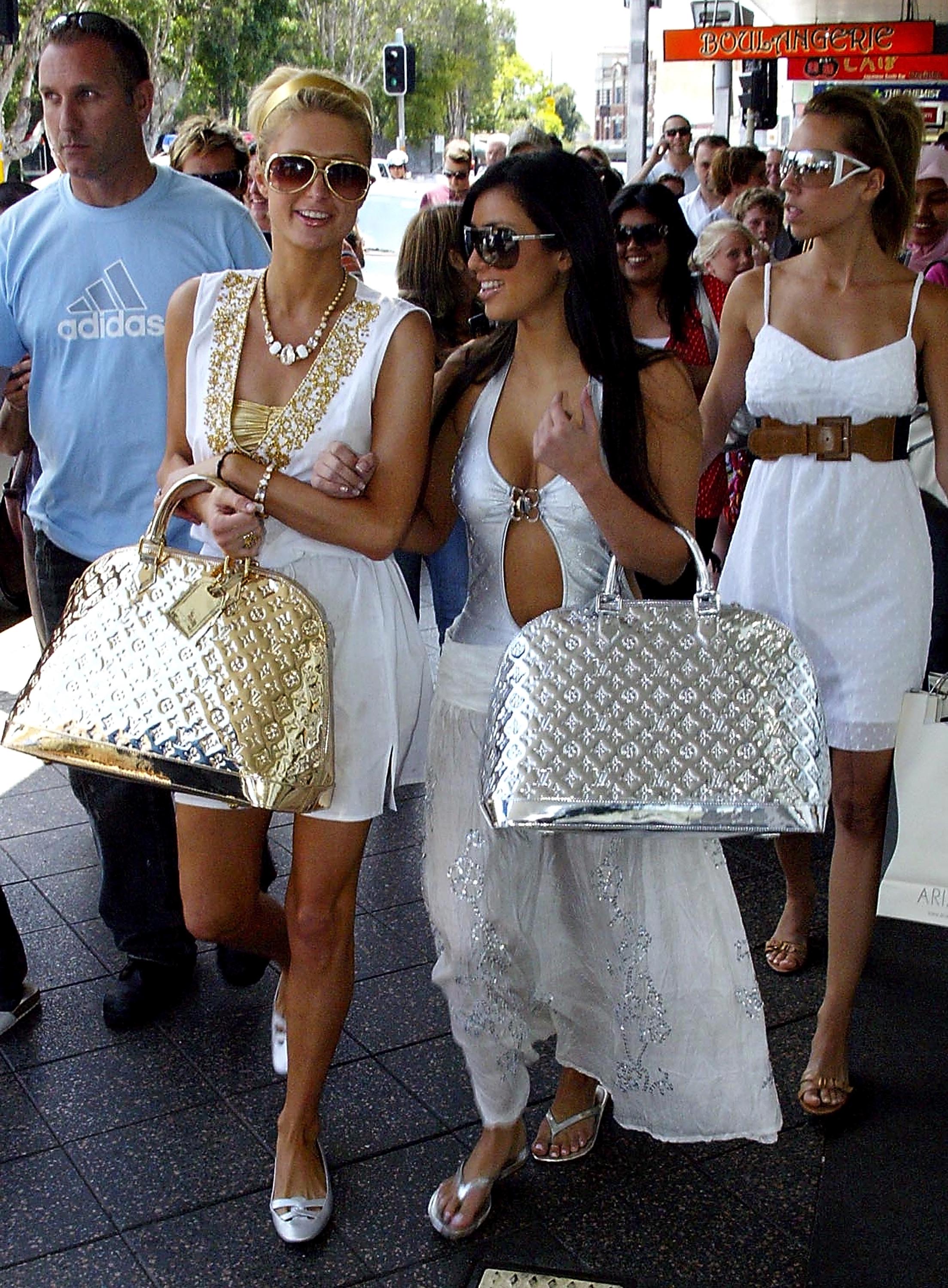 In Sydney on New Years Eve, 2006
Kim's career began as stylist to close friend Paris Hilton. The two were inseparable, often wearing coordinated looks. Kim made regular appearances on Paris and Nicole Richie's iconic reality show, The Simple Life, and travelled with the former to events worldwide. After nights of partying in Sydney, the two spent their hangover days shopping in matching outfits: metallic bathing suits under white tunics and sarongs, comfy flats, dark sunglasses, and, of course, colossal LV bags swinging on their arms.
In Juicy Couture, 2007
The Juicy Couture invasion of mid 00s reality stars, pop icons and Hollywood starlets was a vision of glamour, comfort and ironic trashiness — something which has had a renaissance courtesy of the recent wave of Y2K nostalgia. Joining the likes of BFF Paris, Nicole, Lindsay, Britney, J Lo and even Beyoncé, Kim was often papped wearing the brand's low-rise diamanté-encrusted velour tracksuits in a variety of pastel tones. In 2016, she revealed she still had them all, admitting that she couldn't bring herself to throw them out.
Taking Khloe to Prison, 2009
The early seasons of KUWTK and the relatable hijinks, arguments and pranks of the siblings, mixed with their celebrity lifestyles, created an unmatched chaotic energy that resulted in the ultimate escapist viewing. In one of the most iconic scenes in the show's history, Kim — in her then typical Valley girl attire of a frilly blouse, crucifix necklace and beachy waves — took selfies in the back of the family car as they drove Khloe to prison for a DUI. It was a subtle foreshadowing of the business savvy queen in front of our eyes, one who would take the simple selfie and turn it into a brand, even a coffee table book.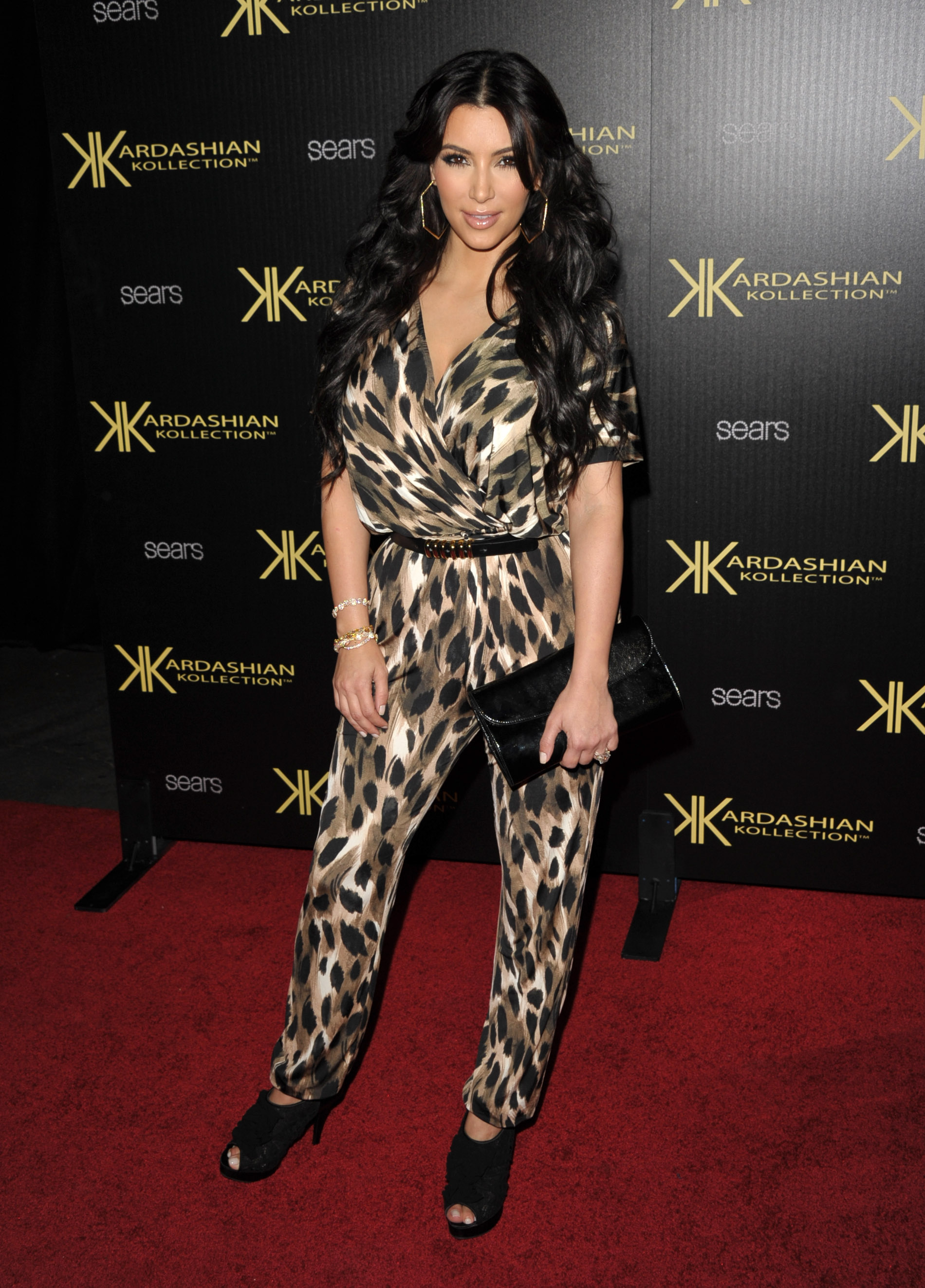 At the Kardashian Kollection Launch Party, 2011
KUWTK was originally a means for the family to make it in the fashion industry, creating a buzz around their boutique brand DASH. "When the opportunity for our TV show came about, I wanted to do it to bring attention to our stores. I was thinking this might not last very long, but we'll grow a great business and expand online," Kim told Variety in 2015. "I didn't think it would turn into what it turned into". Four years in and at the launch of another Kardashian sibling retail enterprise, Cheetah print-loving Kim showcased her executive spirit in a fun jumpsuit. Meanwhile, the TV series continued to grow into an unstoppable cultural behemoth.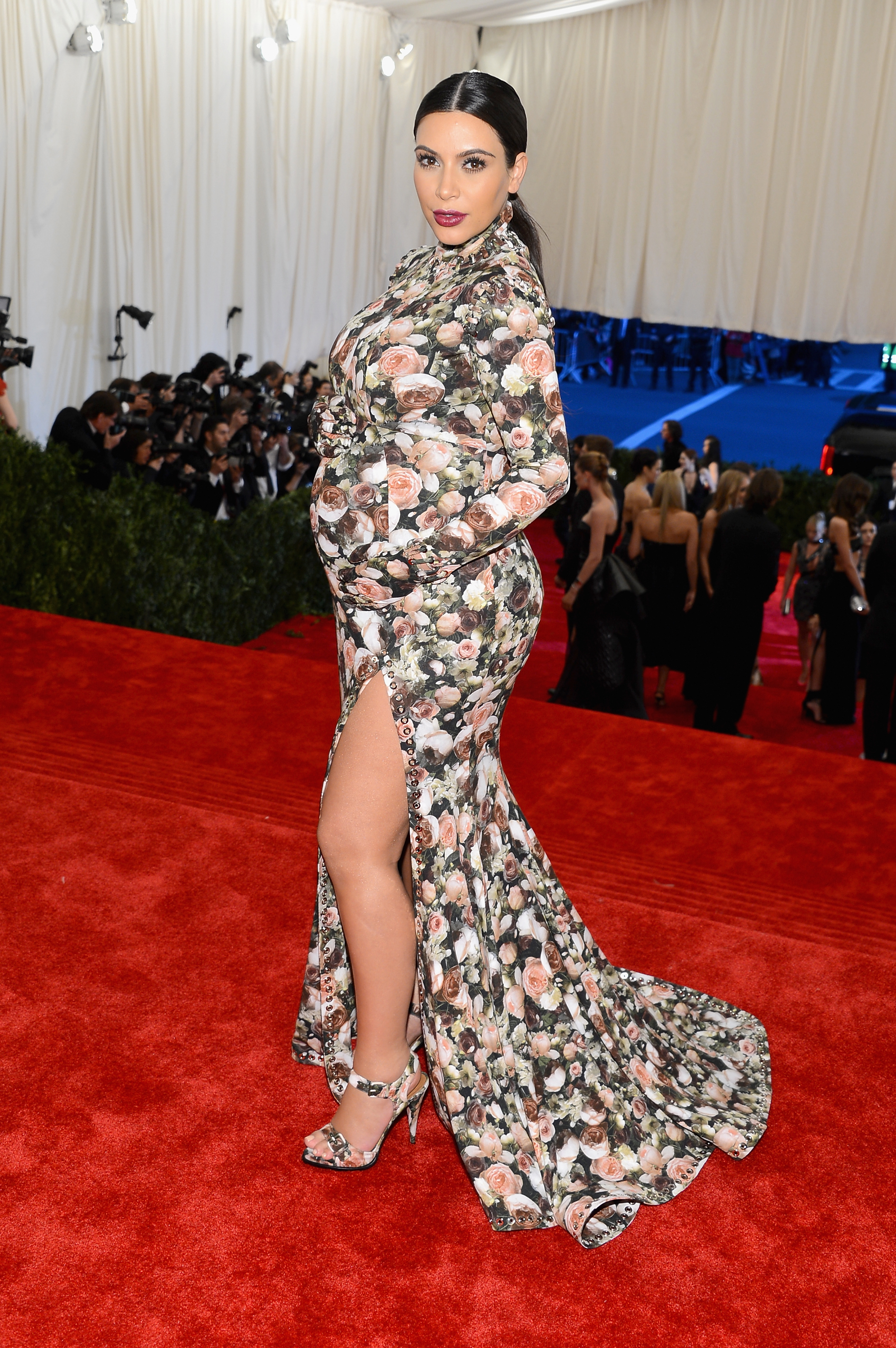 At the Met Gala, 2013
Attending the 40th Met Gala — it's theme that year being Punk: Chaos to Couture, guest hosted by Riccardo Tisci — Kim showed off her baby bump in a stunning Givenchy gown. Pairing together her love of bodycons and maxi dresses, the floral design extended all the way to the tips of her fingers, while a high slit over one leg exposed a pair of heels in the exact same print.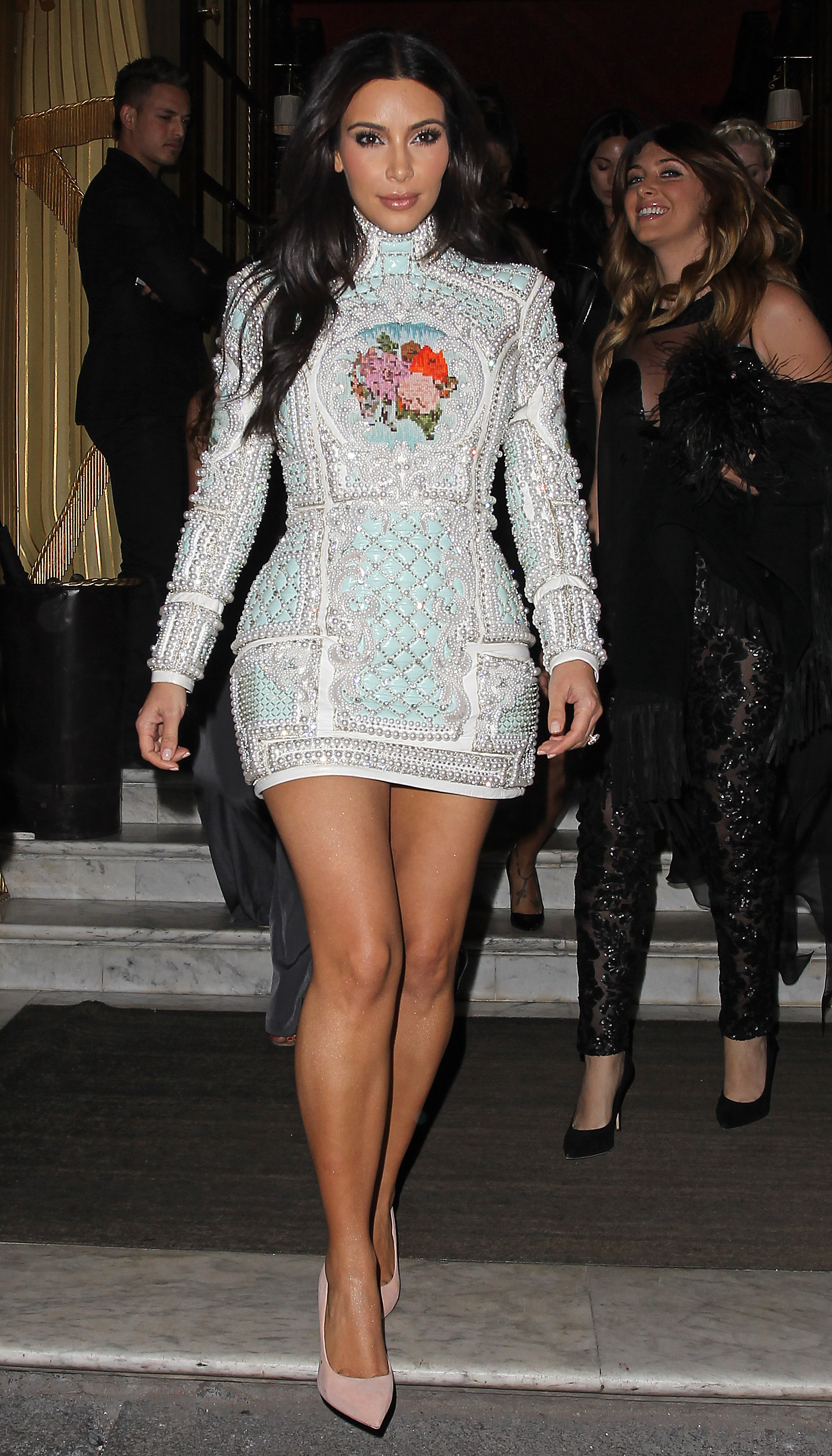 At her Bachelorette party in Paris, 2014
In the mid 2010s — as the Kim Kardashian: Hollywood game took over our smartphones — the fashion house Balmain became synonymous with the Kardashian-Jenners, namely Kim, Kendall and Kylie. The girls were often seen sporting the house's signature beaded gowns, with their military styles and Renaissance inspirations, partly due to their close personal friendship with creative director Olivier Rousteing. Here, Kim wears a heavily-beaded pale blue Balmain dress in Paris, just days before she was set to marry Kanye West.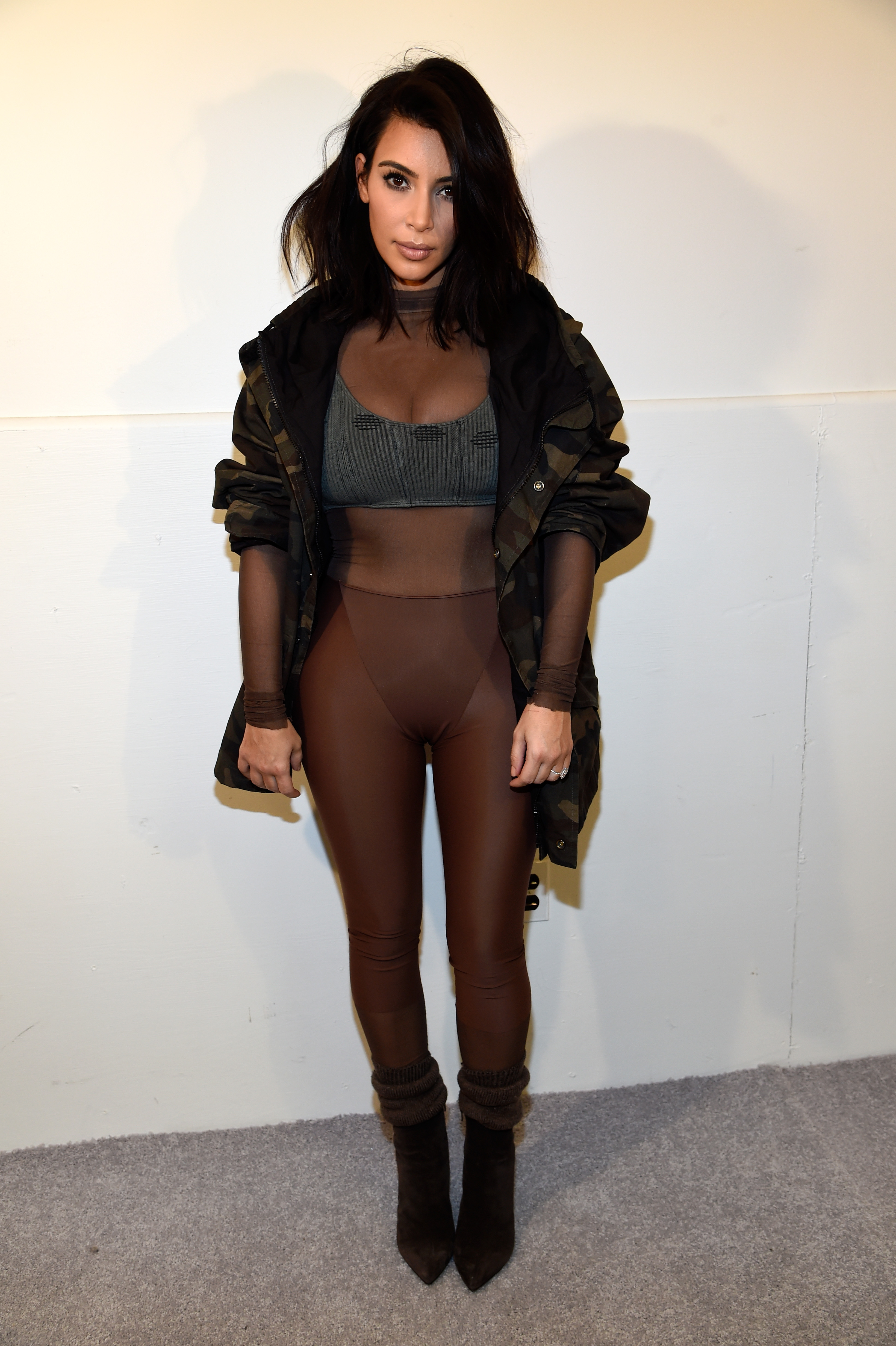 At Yeezy Season 1, 2015
Kim has been a big proponent of Kanye's brand Yeezy, and the monochromatic tones and layered looks have clearly rubbed off on her own personal style. Sitting front row with Anna Wintour, Beyoncé and Rihanna to take in her then husband's first presentation, Kim looked stunning wearing a look from the collection. This wouldn't be the last time Kim modelled Yeezy either. Instead of a traditional runway show in 2018, the brand had Kim secretly wear the entire Yeezy Season 7 collection across a number of public appearances in Japan, thus creating a paparazzi-shot lookbook.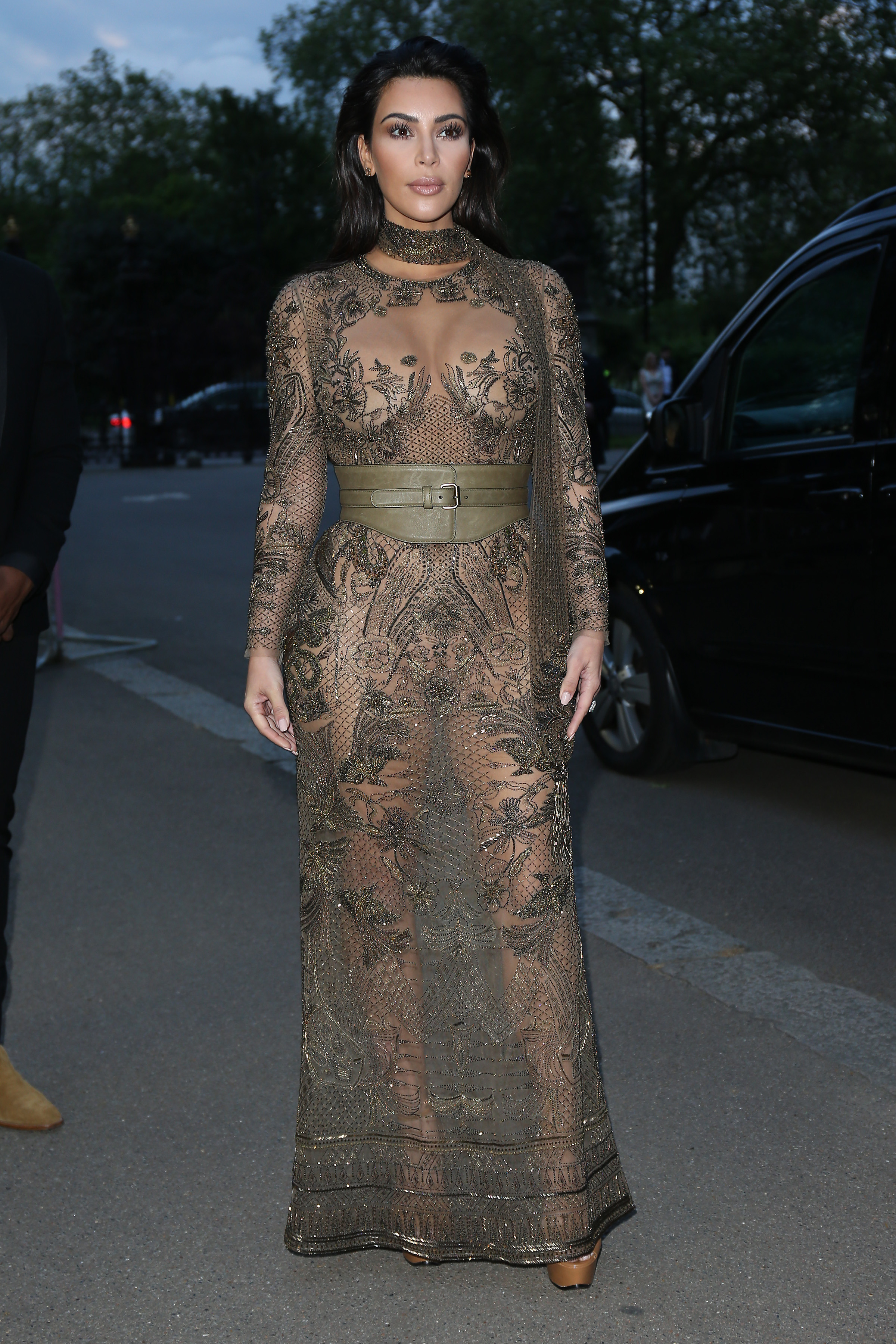 At British Vogue's Centenary Gala Dinner in London, 2016
Throughout her pregnancy with second child Saint, and soon afterwards (as pictured here) Kim took to wearing luxurious sheer floor-length gowns. One example is this gorgeous Roberto Cavalli number, with intricate beading in a delicate henna design and a matching skinny neck scarf, all offset with an olive leather corset belt.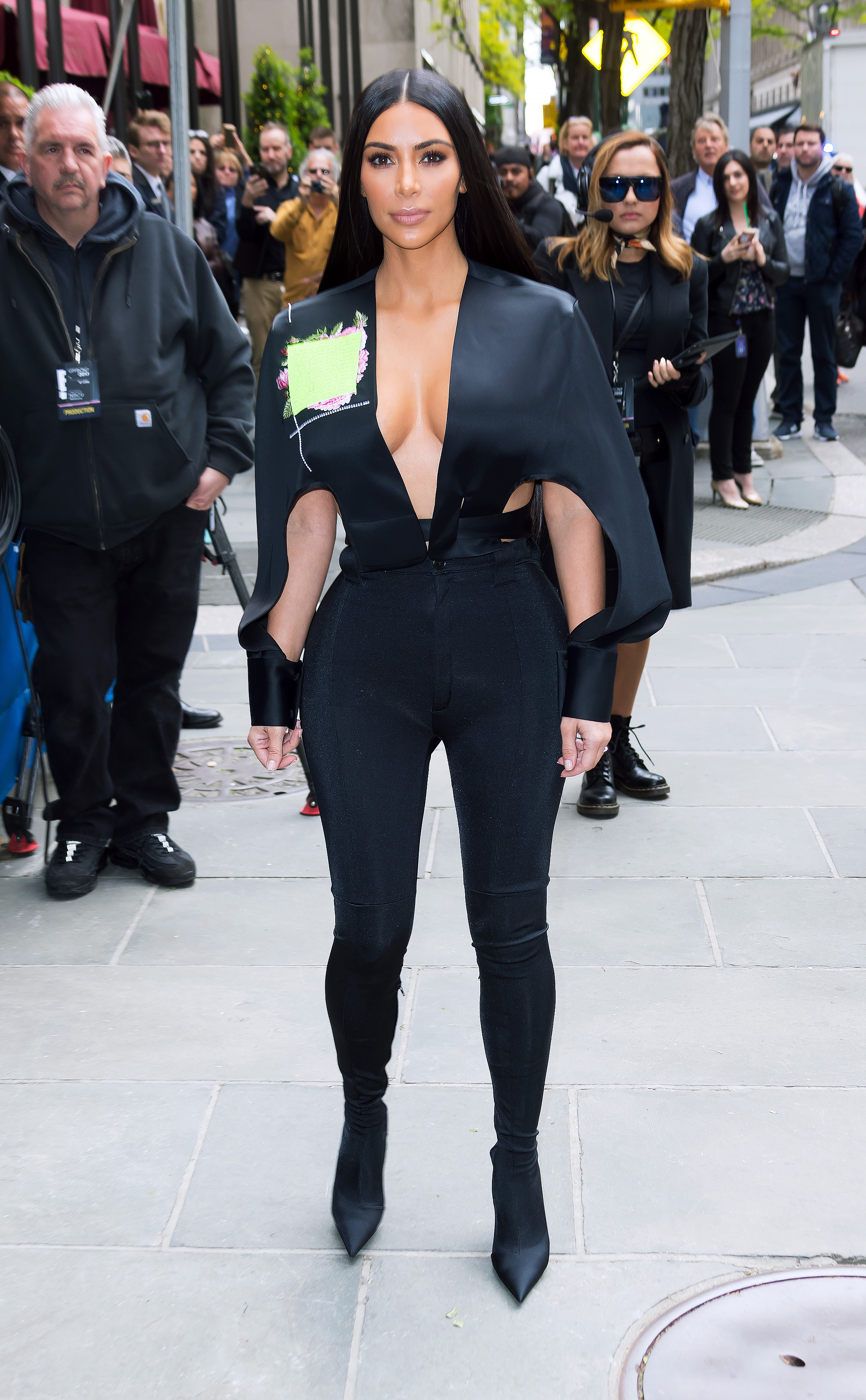 At NBC New York, 2017
Towards the end of 2016, Kim removed herself from the spotlight for a while, after it was revealed she had been robbed at gunpoint during Paris Fashion Week. When she started making appearances again in mid-2017, there was a definite shift. "I feel like that was so meant to happen to me. I'm such a different person," she told Ellen. "It's no secret, you see it on the show. I was being flashy and I was definitely materialistic before." That's not to say that Kim was no longer into fashion — far from it — but in the aftermath, her style was comparatively minimal, as this tailored Hussein Chalayan jacket and simple black trousers with built-in stilettos show.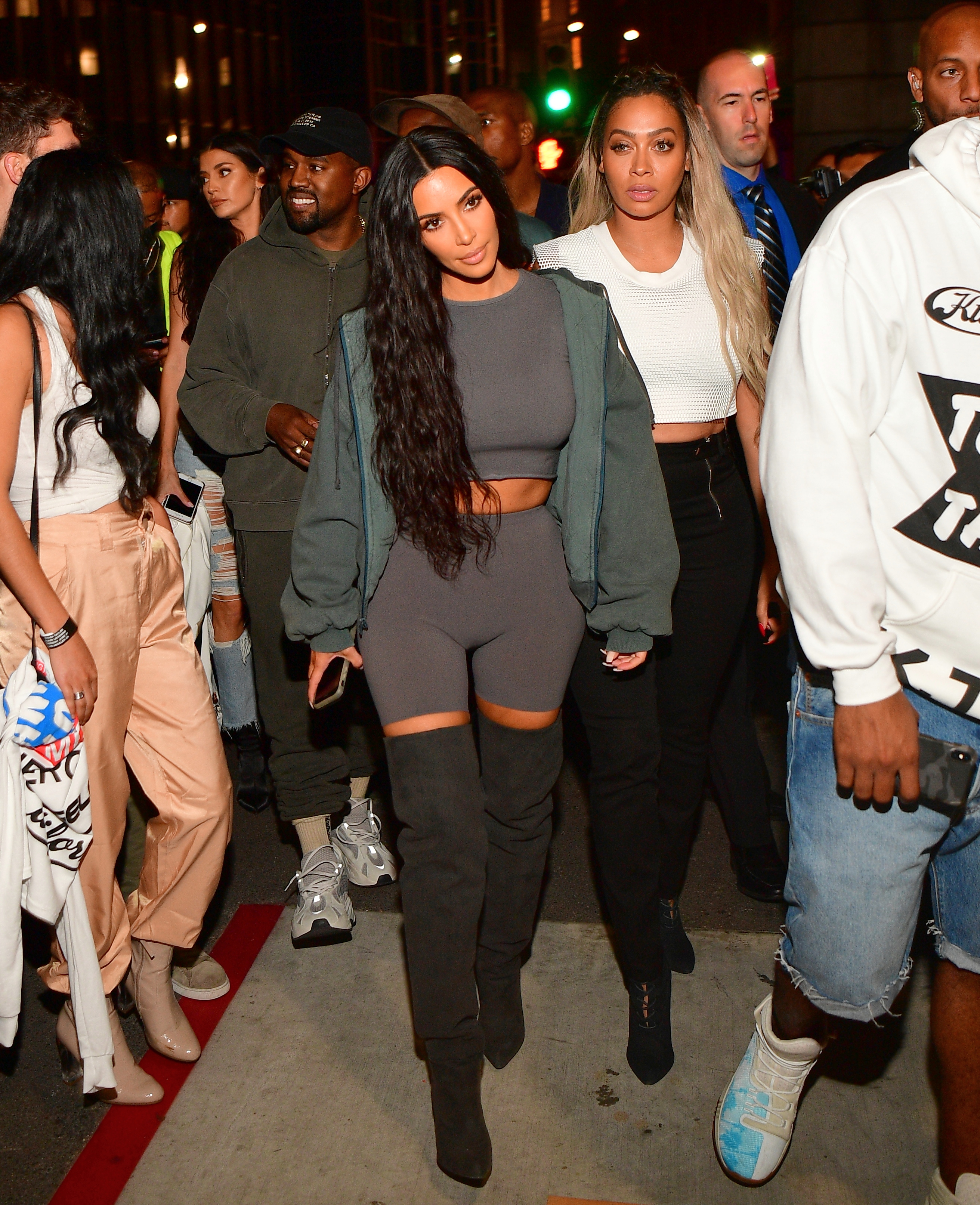 At Teyana Taylor's album release party, 2018
Is there any style more notoriously Kim than athleisure? Following on from the Juicy Couture days of the past, Kim turned up to the release of i-D favourite Teyana Taylor's sophomore album, K.T.S.E, wearing elements of her archetypal wardrobe of the late 2010s: cycling shorts, crop tops, oversized jackets, swamping hoodies, those divisive clear PVC Yeezy heels and thigh-high boots.
At Kylie Jenner's 21st Birthday, 2018
We've all had our fashion phases but the summer of 2018 will forever be known as Kim's neon era. A seismic shift from the tans, creams, olives and greys we were so used to seeing on the KKW Beauty CEO, Kim began to sport styles like this cute cut-out neon Malibu Barbie dress. Other looks included lime coloured wigs to match a lime coloured car, a cyan utility coat dress to watch the LV menswear show and a magenta catsuit to lounge on a yacht. Kim was taking risks and having fun with her fashion because, well, why the fuck not.
At the Met Gala, 2019
Serving the theme at the 2019 Met Gala, Camp: Notes on Fashion, Kim popped off in a skin-clinging, wet-look Mugler latex dress, dripping in Swarovski diamonds in an ode to beach loving Cali girls. But the look was also quintessential Kim: nude tones showed off her body and slicked back hair insinuated that the reality queen had just stepped out of the ocean, Daniel Craig style, after searching for that earring she lost in Bora Bora all those years ago.
At the White House, 2019
In 2019, Kim took a major career shift, following in the footsteps of her late father by reading law to pass the bar exam. Attending to the cases of non-violent and first-time drug offenders, Kim has worked extensively on US prison form, and freed 17 unfairly convicted prisoners (sentenced to life without parole) through the 90 Days of Freedom campaign. The queen of reality TV was using her platform to change lives. While BTS pictures on her Instagram show Kim in a typical student state — comfy hoodie, mugs of black coffee and sprawled out textbooks — to speak at the White House, Kim lawyered up in a teal 80s throwback suit with oversized lapels and dramatic shoulders.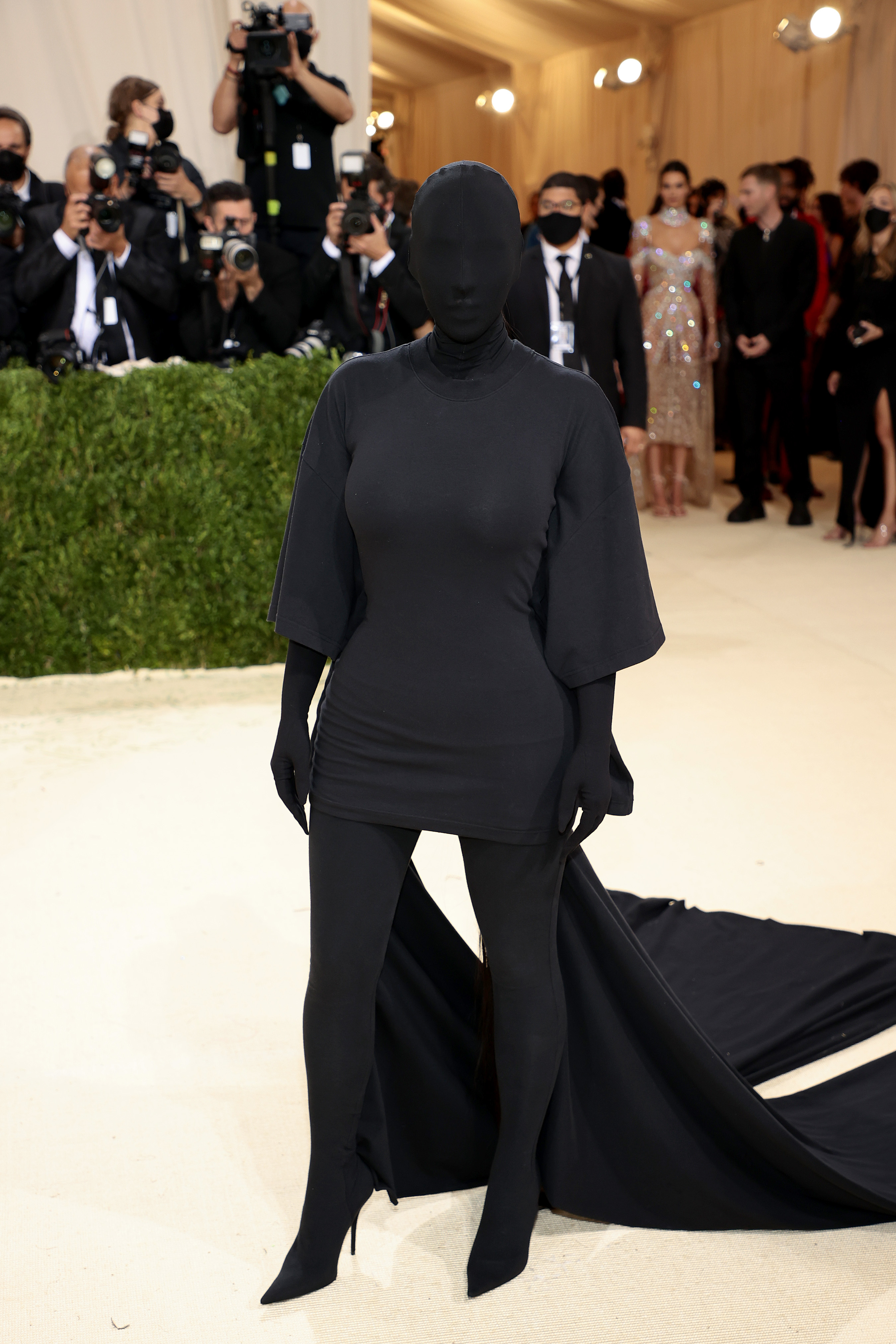 At the Met Gala, 2021
It says everything when you can walk into a room wearing a full-length, face-covering bodysuit and every single person recognises you by your silhouette alone. The past year has been a big one for Kim, what with both Keeping Up With The Kardashians and her marriage to Kanye West coming to an end. But 2021 also saw Kim put out an iconic SKIMS x FENDI collection, do an an incredible job of hosting SNL and go on the most talked about Disney date of all time. She also had a lot of fun, experimental fashion moments during lockdown — from dirrty Xtina-style chaps and selfie-printed dresses to leather Balmain jumpsuits and Schiaparelli muscle gowns.
It was at the 2021 Met Gala though, that Kim truly broke the internet. Taking the Gala's theme — In America: A Lexicon of Fashion — she ran with it, wearing a monochromatic Balenciaga ode to America's most impactful offering to the style world: the simple tee. Kim had the defining look of the night and proved that 15 years since first gaining the world's attention, she still had the power to shock us all into stunned, reverent admiration. Tbh, we expect absolutely no less from America's most famous icon.
At the Met Gala, 2022
Though it might be a more loose interpretation of the opulent late 19th century theme of this year's Gala, Kim stunned when she walked out in the Bob Mackie nude dress with crystal embellishments that once adorned the body of Marilyn Monroe as she famously sung "Happy Birthday Mr President" to JFK back in 1962. Kim posed in the invaluable archive piece before changing into a replica (because imagine if she spilt some of her Met Gala dinner down the front). It was a jaw-dropping moment though. America's most famous face of the 20th century being homaged by America's most famous face of today.