8 reasons to stan Kate Bush
So you've recently discovered "Running Up That Hill", here are more reasons to obsess over the groundbreaking kooky pop star of the 80s.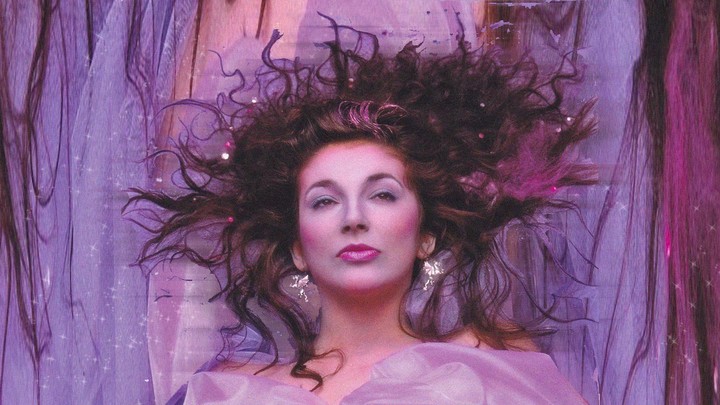 Ever since Stranger Things featured her 80s hit "Running Up That Hill" in its latest series, legendary British pop star Kate Bush has been enjoying a sudden, and massive, surge of popularity with a new generation. Many in Gen Z are discovering the seminal artist for the first time and, of course, sharing their new Kate-enthusiasm on TikTok.
The single, originally released in 1985, swiftly re-entered music charts around the world a few weeks ago, and is currently riding-high at number one in the UK and Australia, as well as reaching the top five in the US. 'It's all happening really fast, as if it's being driven along by a kind of elemental force," a giddy Kate recently told the BBC. "I have to admit I feel really moved by it all."
It makes total sense that Kate's music would be attracting a new legion of fans. Known and admired for being talented, enigmatic, kooky, gorgeous, modest and stylish, the woman also behind songs like "Wuthering Heights" and "Babooshka" has always been one of the most fascinating pop stars around. Here, we unpack some of the commendable qualities and trailblazing antics that have characterised Kate's over-40-year-long career — not only to explain why her appeal spans decades, but also, why we love her so much!
1. Kate's always done her own thing
Kate Bush was obsessively into music and songwriting during her childhood and teenage years. She'd composed over 100 tracks by the time she released her fantastically-eccentric debut single "Wuthering Heights", in 1978, when she was just 19 years old. Based on the plot of Emily Bronte's novel of the same name published in 1847, "Wuthering Heights" swiftly reached number one in the UK charts, making Kate the first ever female performer to achieve this with a self-written song and turning her into an overnight star. The single went global too, topping charts in Portugal, Italy, Australia, Ireland and New Zealand. Bizarrely, clueless bosses at her record company hadn't even wanted Kate to release the track as her debut single but, nevertheless, kickass Kate insisted on doing so and proved them all wrong!
It wasn't just the song itself that has had a massive legacy either. At the time, two music videos were made to promote the song, the most famous of which saw Kate clad in a flowing red dress, energetically prancing around in a field. Years later, the visual would inspire an annual flashmob event around the world called The Most Wuthering Heights Day Ever, in which red dress-wearing fans gather at specific locations to recreate the video. Kate is apparently delighted by these antics, and, just think, if she hadn't held her ground all those years ago we wouldn't have scenes like this happening in Berlin.
2. Her songs are never predictable
Where else but in the music of Kate Bush would you hear lyrics about a foetus fretting about the possibility of nuclear war? But the artist's cliché-free songs – such as the 1980 single "Breathing" that underpinned the song's imagery with a Kate casually warbling from inside a womb in the music video – often drew upon themes and inspirations rarely addressed within pop music. See also "Cloudbusting": a song from 1985 based around the true story of Wilhelm Reich, an eccentric Austrian-American psychoanalyst who tried to create rain with a homemade machine. Loving a good horror film, the 1982 sad bop "Get out of my House" was inspired by Stanley Kubrick spook-fest The Shining (1980), while for the 1989 anthem "Deeper Understanding", Kate took cues from the works of Professor Stephen Hawking. That is what we call range.
3. She's a queer ally and icon
Like many iconic quirky art pop stars since, Kate's inherent 'otherness' – along with her unique music, over-the-top dancing and flamboyant outfits – is what has made her a favourite of LGBTQ+ audiences throughout her career. As a result, historic queer spaces such as London's Royal Vauxhall Tavern have hosted nights dedicated to celebrating her songs whilst a loving "Wuthering Heights" homage graced the Drag Race UK stage last year from Kate Bush stan Ginny Lemon.
But Kate's queer-appeal also comes from her own vocal support of marginalised communities within her songs itself from the outset of her pop career. In the 1978 Lionheart album track, "Kashka from Baghdad", for example, Kate croons affectionately about a gay couple who felt they had to keep their romance a secret. The following year, in her hit single "Wow", the friend of the gays sang about show business and included a quip about a theatre queen who became distracted from his acting ambitions due to being so fond of "hitting the Vaseline" (which, at the time, was commonly used as anal lube). The accompanying music video is just as brazenly cheeky, and the moment in which Kate pats her bum knowingly whilst singing the particular line was enough for the BBC to refuse to air it altogether!
4. Punk icons love her too
Other high-profile artists, and awe-struck music critics have often been quick to gush Kate with praise. But even she was probably gob-smacked when one of the most iconic figures of the snarling 1970s punk movement – Johnny Rotten, the notoriously hard-to-impress lead singer of the Sex Pistols, no less – revealed he was a huge fan of hers. During his speech at the 2001 Q music awards ceremony, after slagging off various early 00s pop stars, Rotten suddenly gushed, "One person I would like to say hello to is Kate Bush - I love you, your music is fucking brilliant. Kate Bush is a true original… a genuine talent." The twosome then posed happily for photos together and, many years later, Rotten even wrote a song especially for Kate titled "Bird in Hand" about the illegal exportation of South American parrots. Sadly, Kate never recorded it!
5. She loves animals… and vegetables!
Kate's fondness for furry or feathered friends can be seen within and beyond her musical output: she had a pet black cat named Zoodle in her late-teens; her 1978 album was titled Lionheart; she posed with a friend's two gorgeous grey Weimaraner dogs, named Bonnie and Clyde, for the cover image of her 1985 album Hounds of Love. Kooky Kate even said during a 1996 radio interview that her favourite singers of all are… blackbirds?
Unsurprisingly, then, the singer has also been vegetarian since the 70s, even though choosing to not eat meat back then was seen as totally weird by the vast majority of people. Despite this, Kate calmly introduced the dubious masses to the positives of a plant-based diet in 1980, when she appeared on TV chef Delia Smith's primetime BBC cooking show, chatting about her ideal veggie meals which, ngl, do look a bit basic.
6. She's a fashion muse
Kate's quirky style is the stuff of legend and fashion designers everywhere are obsessed. Hence why so many have chosen to soundtrack their runways to her music over the years. Marc Jacobs used a raucous cover of "Wuthering Heights" by White Flag, an L.A. punk band, for his SS95 show. Miu Miu AW11 was showcased with a medley of original Bush hits, including "Breathing" and "Hammer Horror". Thom Browne and Isabel Marant utilised the original version of "Wuthering Heights" for their SS shows in 2013 and 2014, respectively while Louis Vuitton's SS15 men's show featured "Hounds of Love", a track long-adored by then artistic director Kim Jones. "She's an icon because she never followed anyone," Jones enthused to Vogue. "She did things because she believed in them. And that's inspirational." More recently, for Balmain's SS18 show, creative director Olivier Rousteing channelled his childhood pop heroines and so, of course, "Running Up That Hill" nostalgically boomed across the runway.
7. Her appeal is timeless
The recent Stranger Things x "Running Up That Hill" moment is actually not the first time Kate has enjoyed a late sudden boost of newfound popularity. When the singer announced a 22-date concert residency at the Hammersmith Apollo in 2014, tickets sold out within seconds, not least as it was the first time she had performed live since 1979! The success of these gigs prompted her back catalogue to become vastly popular once more, leading to her becoming the first female artist to have eight albums in the UK charts all at the same time.
And while Kate is understandably chuffed about "Running Up That Hill" being appreciated by a new generation of fans now, the song has long been appreciated by an eclectic mix of solo artists and bands across the last two decades. The 90s alt-rockers Placebo unleashed their own haunting version in 2003 while cult US drag duo Kiki and Herb often gave it a reboot in their shows in the early noughties. There's also a 2007 electro interpretation of the song from Oregon synth-pop band Chromatics and even Will Young has wrapped his silken tonsils around the track in stage performances throughout the past 10 years or so.
8. She never tries to go viral
Kate is among the rare breed of incredibly famous people who shun the limelight. Never seen hanging out at A-list parties, uploading endless selfies to Instagram or filming TikToks for each new release, tabloid newspapers have long tried to negatively portray the artist as a 'recluse', even spreading rumours that she suffers from agoraphobia – a fear of open or crowded spaces – or had a nervous breakdown. Not true. In fact, she simply prefers to hang out with her family and friends IRL, only popping up in the media every ten years or so when she has a new album to unleash, which seems pretty cool to us. Back in 2005, Kate discussed her need for privacy, in an interview with the Los Angeles Times: "I do like to try and live as normal a life as possible. I just find that much more interesting than spending my life living in publicity…. Sometimes it's very frustrating that I'm portrayed in such a strange way, when people who go on television and eat live insects and spend three weeks up a tree with a camera stuck up their nose are considered normal. I'm sorry, but from where I sit, I'm the normal person."
Tagged: