Image from i-D no. 360 The Faith in Chaos Issue
An essential guide to the world of cult designer Mowalola
Showing at Paris Fashion Week after a 3-year runway hiatus, we track the Fashion East alumni's career from CSM to dressing Naomi Campbell.
Image from i-D no. 360 The Faith in Chaos Issue
Five years ago, Mowalola Ogunlesi set 1 Granary Square alight with her Central Saint Martins BA graduate collection. Delivered to a panel of judges including fashion writers Suzy Menkes and Sarah Mower, the Nigerian-born designer presented a refreshing vision of Black masculinity that was strong, flamboyant and irreverent to gendered binaries at once. It eschewed the tired, colonial gaze that so often informs depictions of Black men, instead offering a textured study of Lagos via London that instantly captivated the fash pack.
Now, Mowalola's fan base includes names in both underground music scenes, such as her close friend Deto Black, and global icons like Kanye West, who would appoint her as creative director of his Yeezy Gap line in 2020. Alongside fashion, she makes music and understands herself broadly as a creative. "I am a designer, but I don't really see myself as just a designer," she explained in an interview. "I am an artist. I just want to create."
Citing music as her keystone reference, Mowalola emerged from the unique ecosystem of designers, artists and imagemakers that coalesced around the multi-hyphenate DJs Mischa Notcutt, Ms Carrie Stacks and Akinola Davies' night, PDA, as well as other queer- and Black-run parties. Refusing to succumb to the market-driven demands of fashion, she's taken things at her own pace, creating only when it suits her.
After nearly three years out of the traditional fashion circuit, she's set to return with an off-schedule show during Paris Fashion Week. As she shows her latest collection, we highlight some of her finest moments marching to the beat of her drum.
The Graduate Collection
Titled 'Psychedelic', Mowalola's SS18 offering was ambitious for a BA student, although it certainly succeeded. Presented as a catwalk show, a film and a lookbook styled by Ib Kamara, her magnum opus took inspiration from 1970s Nigerian rock music and a niche motorbike subculture in Lagos. This translated to heavy leathers speckled with lurid paint, with the show featuring an all-black cast brought together by artist and then-casting agent Rhea Dillon. Carrying headlights, the models walked proudly while hood ornaments and v-lines glinted.
The reception was universally positive. "Mowa blew me away at her CSM show. The collection was insane, as was the casting and styling – the whole world and energy she had created around the clothes was unlike any other student I'd seen," remembers Fashion East director, Lulu Kennedy. "I went backstage and took photos of her models and already knew I'd love to work with her." Heartwarmingly, her collection resonated and converted opinions back home, too. As Mowalola recounts in a conversation for Kaleidoscope with one of her former CSM tutors, Reba Maybury, her Nigerian aunties previously scorned the idea of men wearing lace. When they saw the collection, that changed.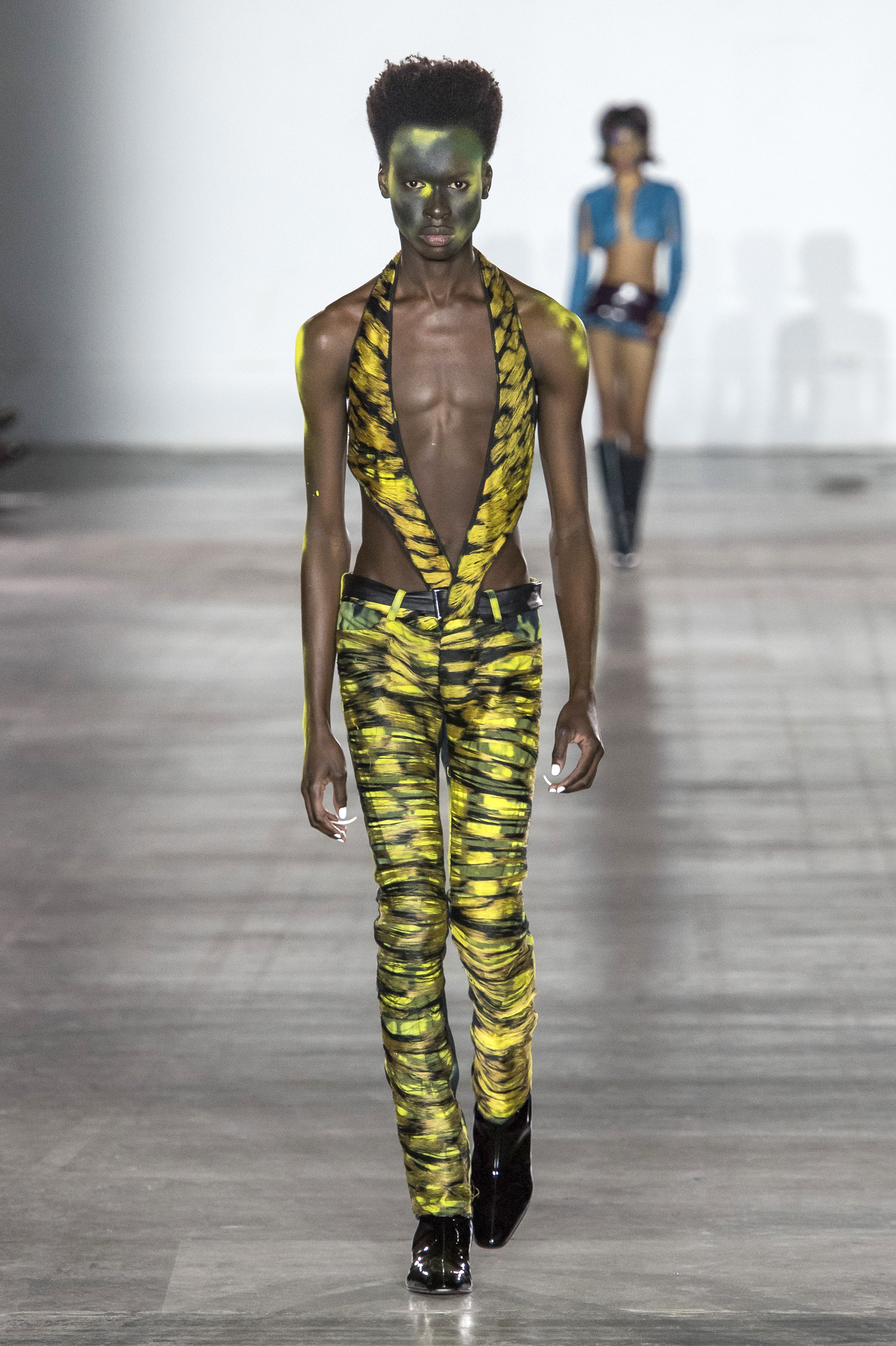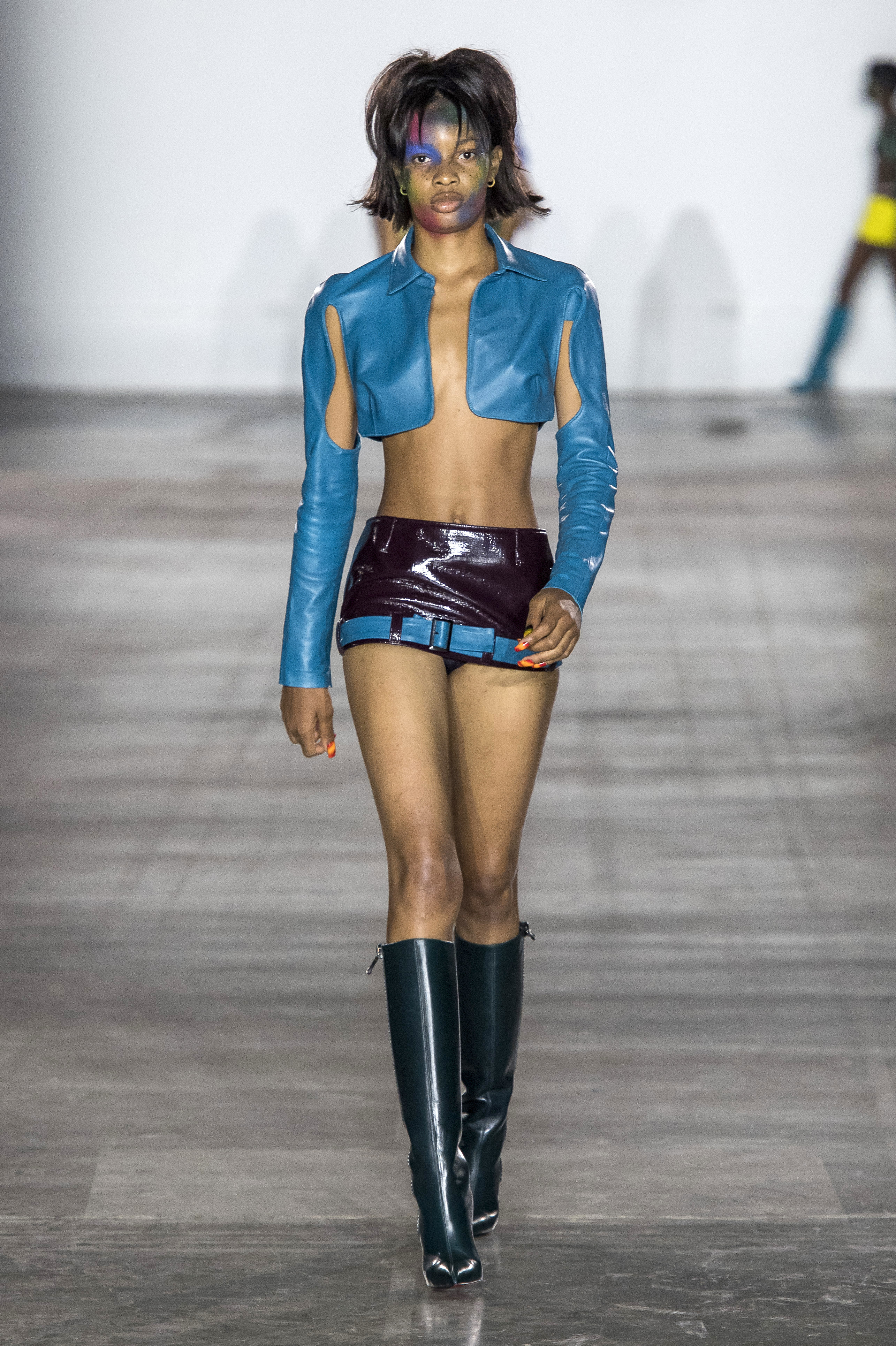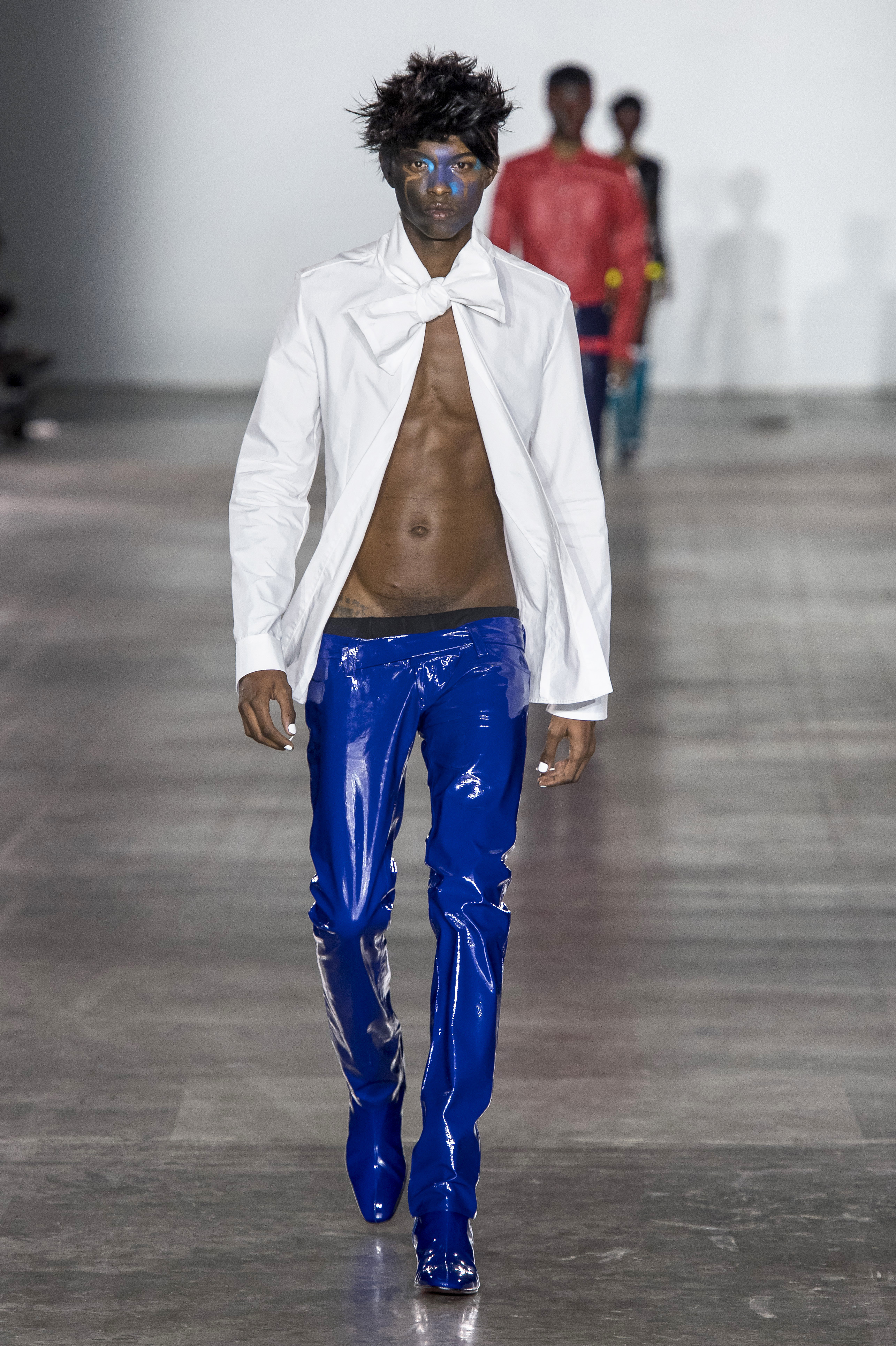 The Fashion East Collections
True to her word, the talent incubator Lulu Kennedy did indeed wind up working with Mowalola. Offered a spot with fashion's favourite non-profit – responsible for igniting the careers of Kim Jones, Martine Rose, Wales Bonner and more – Mowalola dropped out of the CSM MA she'd enrolled on, and set to work alongside Lulu and co. Opening with the aptly named 'Exposed' collection for AW19, she showed alongside Irish designer Robyn Lynch and Stefan Cooke. In good company, Mowalola stepped up the raunch and doubled-down on flashes of bare, oiled-up skin.
While her two co-showers remained within the remit of menswear, Mowalola opted for a mixed-gender cast – albeit one that remained all black. Jackets were cropped, trousers were lowered below v-lines like a reverse bumster and thong silhouettes were upturned into vests. Unlike with her graduate collection, this would be seized up by buyers with commercial intent. That she stuck by her guns, flipping the bird on cultural norms as well as financial incentives to design clothes that file neatly under one of two binaries is testament to her integrity.
The Naomi Bullet-hole Dress
Mowalola's sophomore collection at Fashion East was also the last time she showed. Named 'Coming for Blood', the SS20 show departed from the pains of falling in love and the Black experience in a systemically rigged society. Belt buckles featuring middle-American insignia and Christian iconography poked at tricky histories with sardonic tact, while bleeding bullet wounds punctuated a pristine white column dress and a blazer with a more direct message.
Worn by Naomi Campbell to the Fashion for Relief gala in 2019, the leather halterneck sparked a media furore from foaming tabloids upset by its political potency. Eventually, the dress in question was addressed by the designer herself in an Instagram post. "I make clothes to challenge people's minds," read the statement. "This dress is extremely emotional to me – it screams my lived experience as a Black person. It shows no matter how well dressed you are or well behaved, we are time after time, seen as a walking target." Mowalola finished by pinpointing the issue in its most immediate manifestation: "Inequality is still rife and newspapers clawing at my work is testament to that." Despite articulating complex problematics with such eloquence through fashion, she staunchly rejects the role of activist. "I feel like a lot of people can't understand that Black people are able to express their emotions in ways that white people do," she explains in one interview. "I'm really just telling you how I feel."
Silent Madness
For all her embrace of physicality, sex and hedonism, Mowalola is cogniscant of the ills of excess. Examining this dichotomy, her exhibition at the Greenwich Peninsula's NOW Gallery in 2019 put the hellish aspects of fun in full view. Soundtracked by several of her frequent collaborators including James Massiah, the installation was a cloying fever dream of spiked mannequins. Sparked by a desire to create her own version of a Renaissance painting, the show sought to remedy the disconnect felt when visiting museums herself, Mowalola explained in an interview at the space.
Following its closure, the concept was translated into a sweat-inducing film directed by photographer Jordan Hemingway. With experimental musician Yves Tumor as protagonist, unsettling scenes unfold as the Mowalola-clad producer climbs and crashes between drug-induced euphoria and hallucinations in a hazy clubland. At the end of the film, Yves has left the confines of the club for a housing estate where his convulsions reach a climax before he bleeds out. Too much of a good thing is bad, goes the saying.
Shedding little light on the meaning behind the film, Mowalola kept her clues brief. "What will you be at the end of the world?" went her response. Not long after, she lamented the UK's lockdown in failing to produce any real sense of armageddon. "To be honest, I thought it would be a lot more dramatic. I thought there'd be some chaos, but it's just really sombre, lonely, and boring."
Mowala on Your Walkman
Lockdown's tedium dominated much of the last few years in London, but for someone with an insatiable capacity for chaotic creativity like Mowalola, our collective mandate to sit still must have been hard, right? Yes and no, it seems. As she told us at the time, lockdown pushed her further into a piecemeal creative approach. In part, this meant idle chilling. Looking back on the fruits of her labour over the past two years, though, it's clear she got busy.
Releasing music under the same moniker as her brand, Mowalola has taken a deep dive into Y2K's treasure trove of forgotten sounds. Fusing saccharine jingles with a trap twist, her productions are not only polished, they're also bops. Tracks like "tRuck.mp3.0001" or "Bundles" pull on all our Limewire-ridden memories of R&B hits and the impending doom these struck on the family PC. This nostalgic-futurism also makes itself felt in Mowalola's imagery, graphics and recent fashion designs, which have been released in drop formats. They chime with that same Pokemon-inflected, Soulja Boy kitsch – a highlight being the Sony Walkman logo rip she introduced. Her sound, somewhere between Lil Uzi Vert, Hannah Diamond and Yung Lean is sleek and the lyrics, sexual. While the songs might not appeal to pearl-clutching folk, they inevitably slap.
Ultimately, it's chaos that informs Mowalola the musician, the artist and, of course, the fashion designer. "We don't really plan when we shoot, we just turn up, throw the clothes on the floor and make it work in the moment," says frequent collaborator, photographer Samuel Ibram. "It's not pre-planned. It's not storyboarded, and that's important." Music, fashion or fine art, chaos reigns in Mowalola's world.

Follow i-D on Instagram and TikTok for more on music and fashion.