Photo by Ron Galella, Ltd./Ron Galella Collection via Getty Images and by Evan Agostini / ImageDirect
7 of Gillian Anderson's most iconic outfits
The Sex Education and X star wore one of Y2K's most memorable exposed thong looks.
|
05 November 2021, 7:00am
Photo by Ron Galella, Ltd./Ron Galella Collection via Getty Images and by Evan Agostini / ImageDirect
While living in New York City and performing at the Manhattan Theatre Club, actress Gillian Anderson swore she'd never move to Los Angeles and she'd never take a television role. In 1992, she moved to the California city and a year later was auditioning for The X-Files. And thank god for that! Since starring as the paranormal drama's Special Agent Dana Scully, Gillian has become one of the small screen's most intriguing and multi-faceted actresses. Through her decades-long career, she's played a detective caught in a lethal game of cat-and-mouse (The Fall), psychotherapist to one of the fictional universe's most notorious killers (Hannibal), sex therapist and single mom Jean Milburn (Sex Education) and a chillingly realistic Margaret Thatcher (The Crown). Gillian's small screen accolades are many, including Emmys, Golden Globes and SAG Awards. And her style — both on and off the red carpet — is just as beguiling, devastating and layered as her acclaimed screen presence. Think sexy LBD's (Long Black Dresses), Prada's intellectual chic, 90s shag sweaters, red carpet sunglasses and that 00s exposed thong moment. Here, we take a look back at some of Gillian's most iconic outfits from the 90s through to Y2K.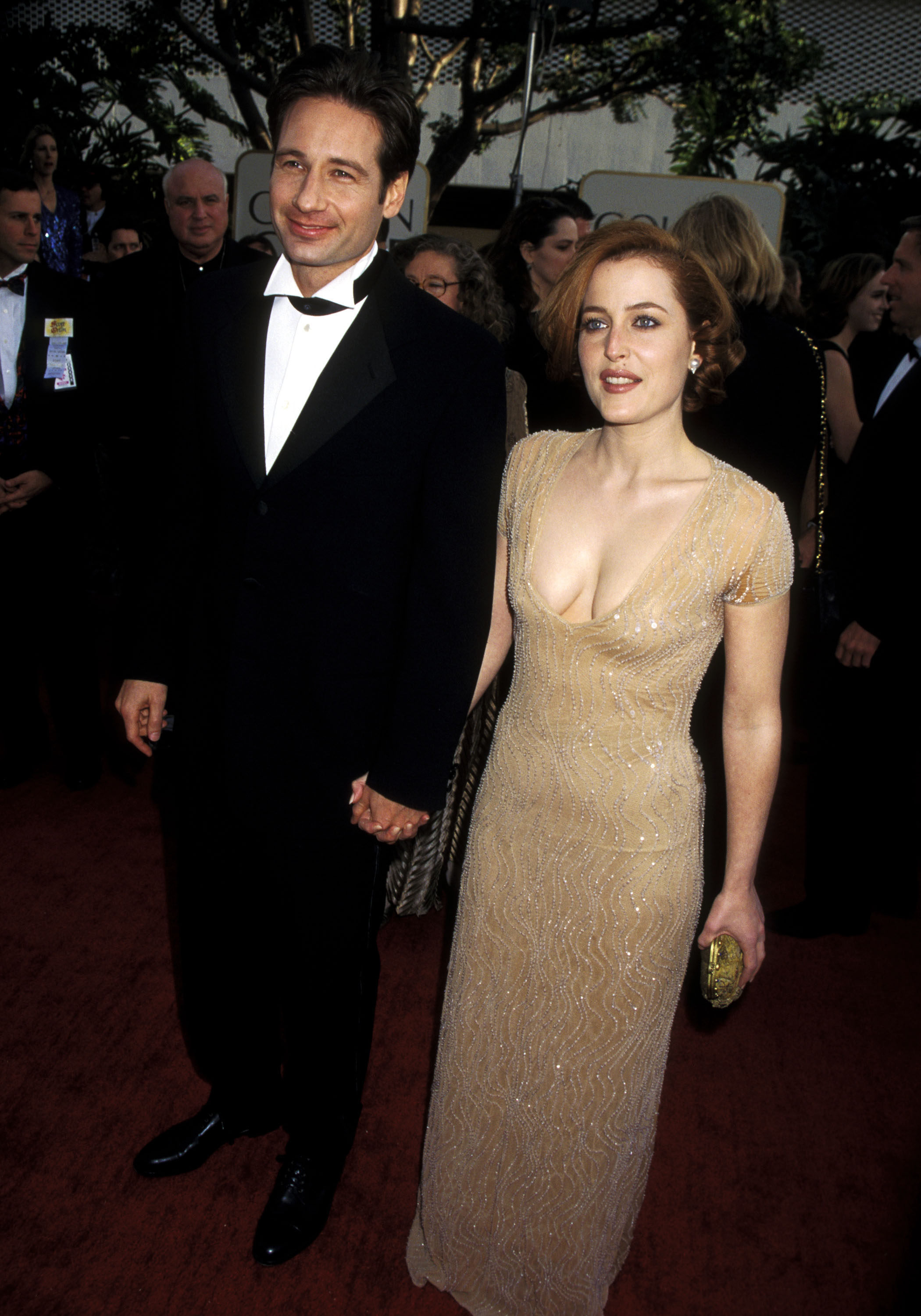 At the Golden Globes, 1997
In 1993 — not even a year after leaving New York's theatre scene to pursue Los Angeles cinema — Gillian Anderson landed the role of FBI Special Agent Dana Scully in Fox's paranormal drama The X-Files. For all its fringe subject matter, the show was massively critically acclaimed. Across its original run, Gillian won a total of four major television acting awards, including an Emmy and two SAG awards, for her turn as Dana. Here, she attends the 1997 Golden Globes, where she and co-star David Duchovny both won awards for their respective X-Files roles. Naturally, Gillian wore a dazzling Armani naked dress to scoop the award, a glimpse into more subversive fashion moments to come.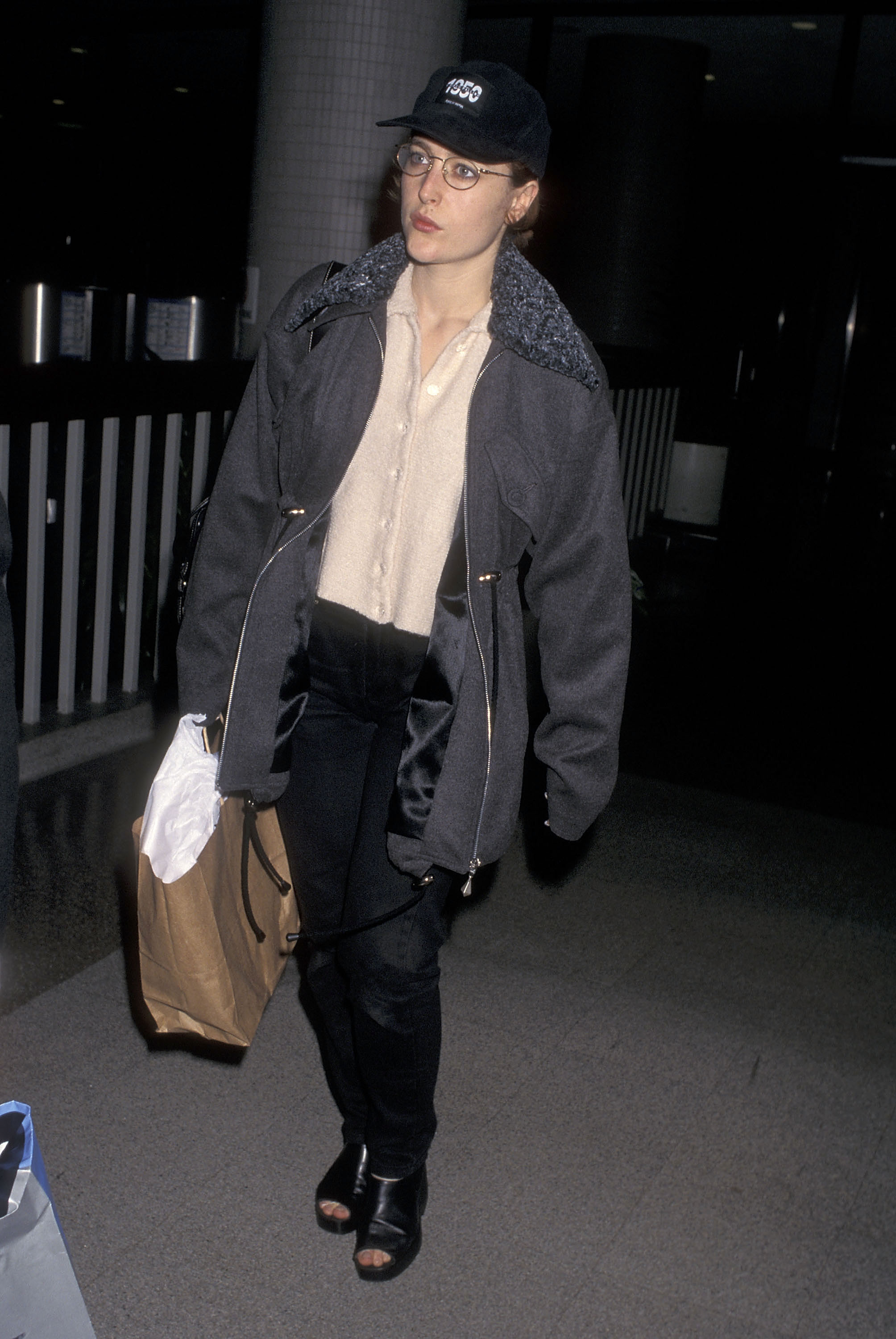 At LAX airport, 1997
The X-Files filmed its first five seasons in Vancouver, Canada. At the time, Gillian lived in Los Angeles and, during these years, was frequently spotted at LAX, hopping flights into the Canadian city. Gillian's airport casual looks were half-practical, half-not-so-much: North Face puffers and cozy anoraks on top, for facing the Great White North, and an assortment of leather platforms and heels afoot, just because!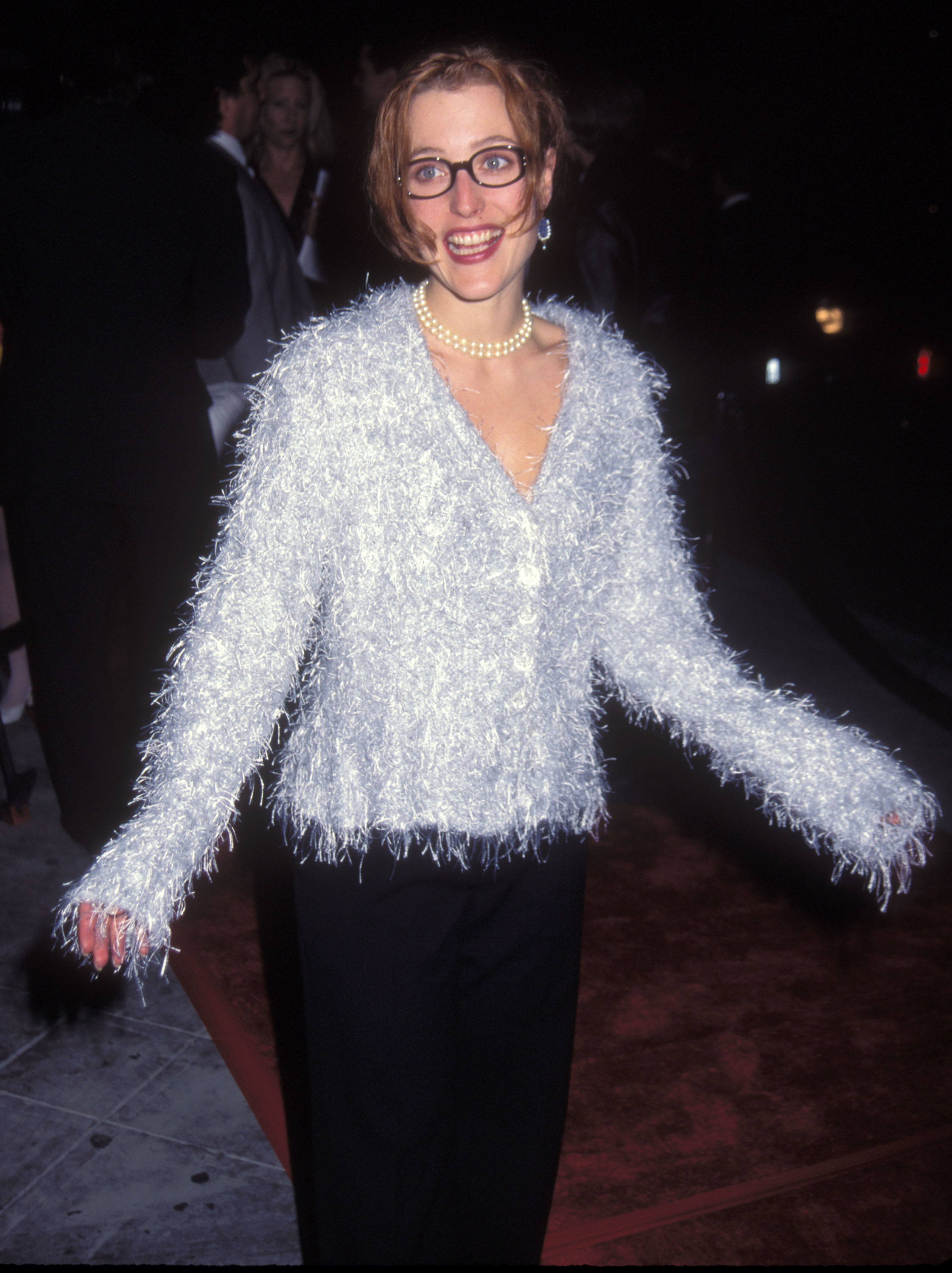 At The X-Files 100th Episode party, 1997
The X-Files originally ran for nine seasons, premiering in 1993. Throughout the rest of the decade, the show — along with Gillian and her iconic character — grew from cult hit to era-defining classic, becoming a touchstone of 90s pop culture. And beyond: the show's eerie theme song has become the de-facto paranormal sound effect, Fox Mulder's 'I Want to Believe', the slogan of believers and conspiracy theorists across the internet. Now, two decades since it left the airwaves, The X-Files still resonates. So much so that in 2018, Gillian and David Duchovny reprised their roles in a ten-episode reboot of the beloved series. Here, Gillian fêtes The X-Files 100th episode — a milestone indicative of the impact it would continue to have. As the star of one of the 90s most iconic television shows, Gillian's wearing one of the decade's most ubiquitous looks: the shag sweater.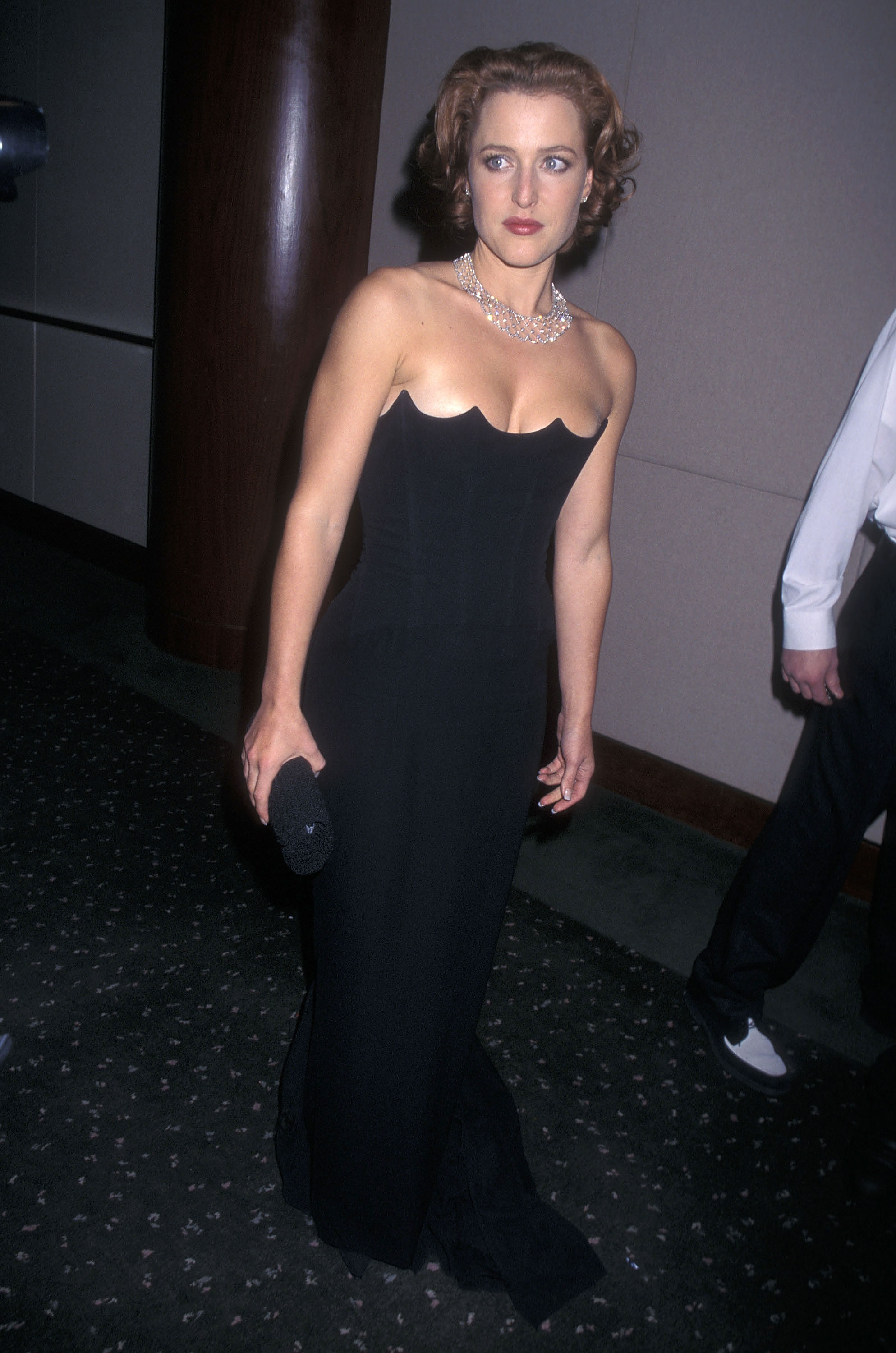 At the Golden Globes, 1998
To the 1998 Golden Globes — where she was nominated for Best Actress — Gillian wore this vampy Hervé Legér gown with a plunging, scalloped bodice. Although this look (finally) cemented the actress's place on Hollywood's metaphorical Best Dressed list, this wasn't her first foray into the realm of devastating LBD's (that's Long Black Dresses!). One year earlier, to the 1997 SAG Awards, Gillian wore a similarly striking gown with an asymmetric, cut-out neckline.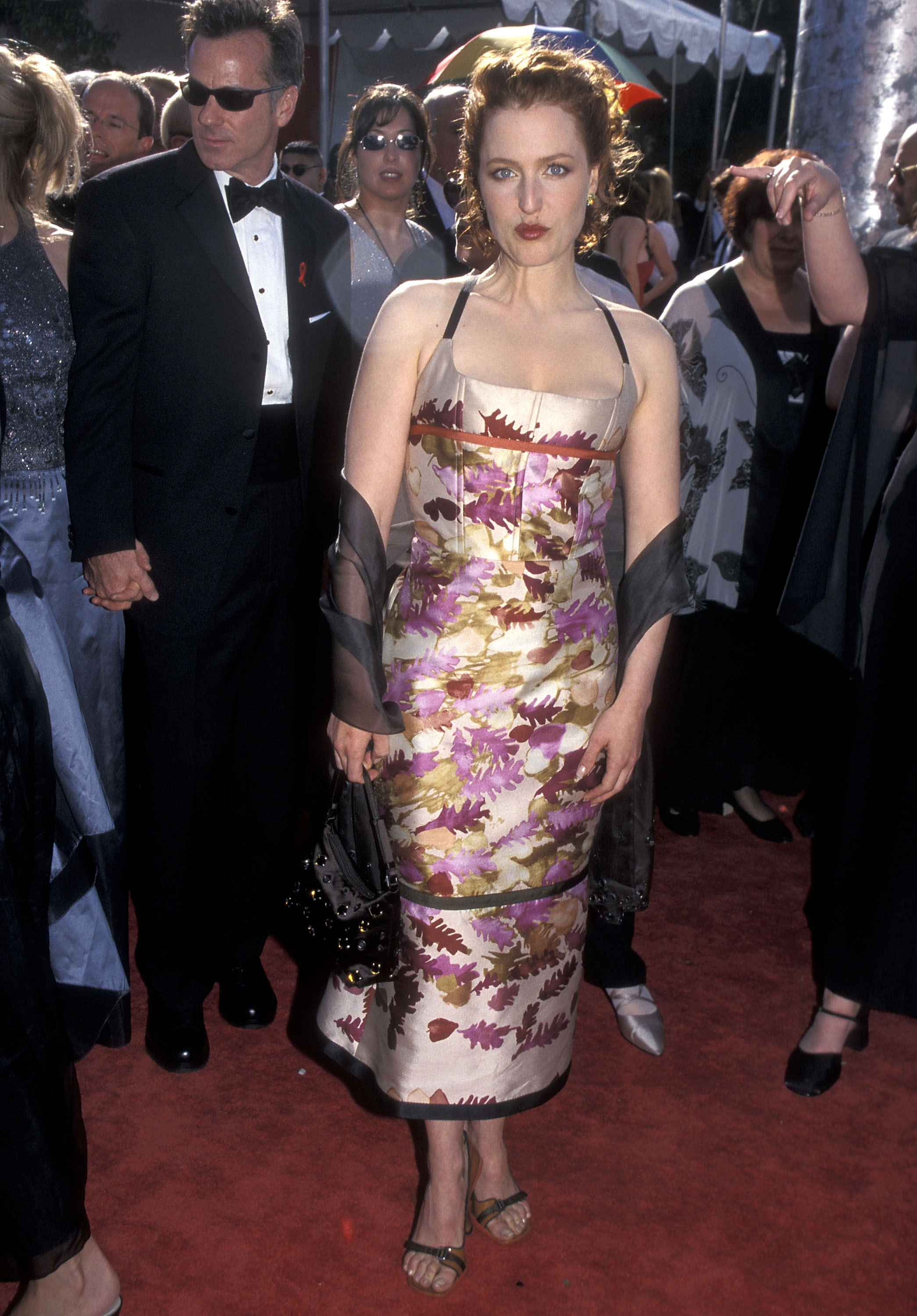 At the Emmys, 1999
In 1999, Gillian earned her third Best Actress Emmy nomination for her role in The X-Files. To the year's ceremony, the actress wore a floral embroidered halter dress from Prada's AW99 collection. Worn just at the turn-of-the-millennium, the look would become emblematic of Gillian's Y2K style, an intellectual, mix-and-match chic synonymous with the Italian label. Think red-carpet-sunglasses, sculptural heels and floral jackets.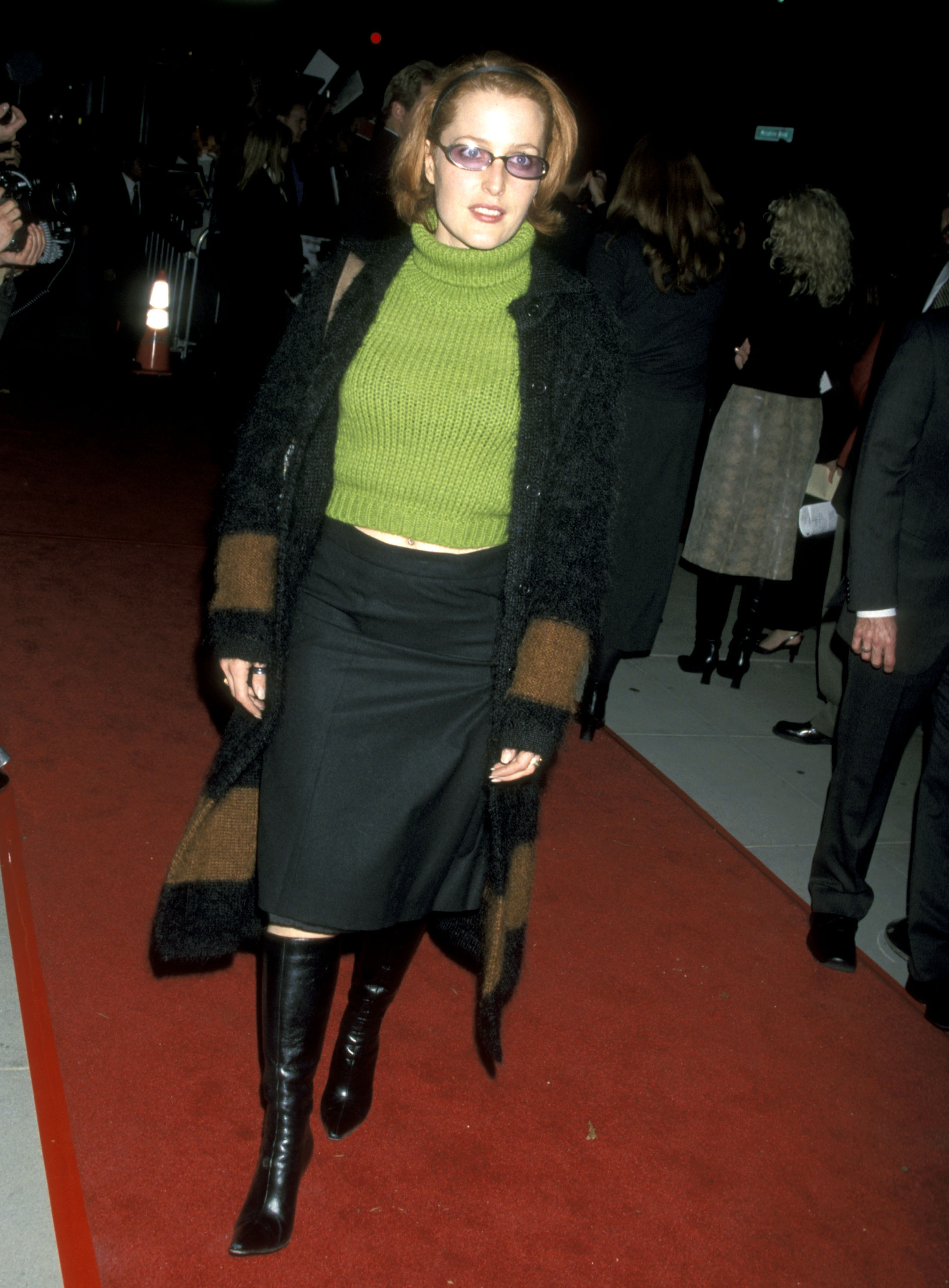 At the Proof of Life premiere, 2000
The red-carpet-sweater moment is oh-so-Y2K. And this one from Gillian is doubly-so. Here, at the premiere of Proof of Life, the actress wears a long shaggy cardigan over top of a cropped turtleneck sweater.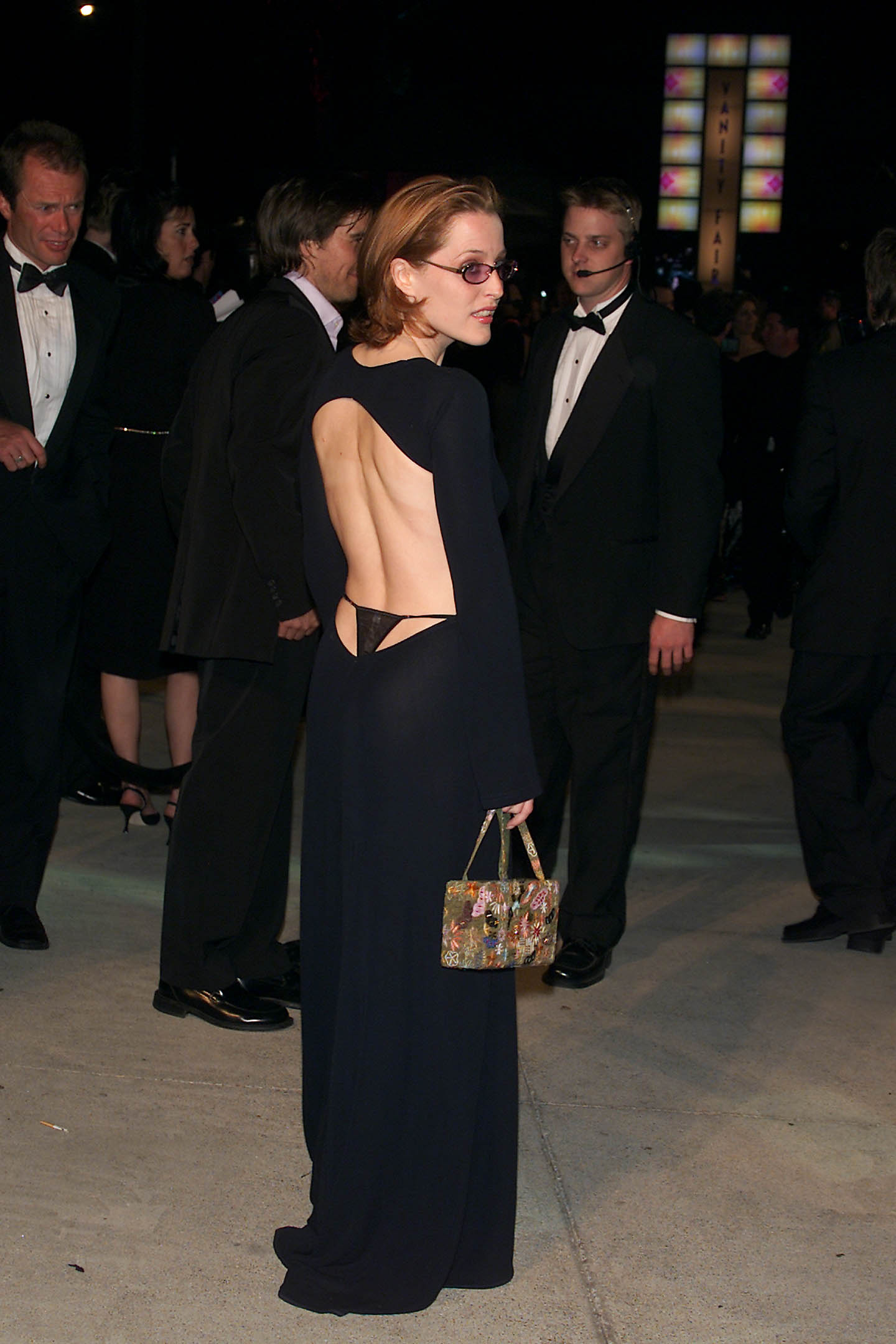 At the Academy Awards, 2001
Did you know that Gillian Anderson's iconic visible thong moment was actually born out of necessity? In 2016 — 15 years after the outfit graced the red carpet — Gillian recounted the story behind the look: "I don't remember how that [Eduardo Lucero] dress came into my life. And I'm not even sure that I tried it on before the night that I was going to wear it. But when I put it on, my pubic hairs poked through the dress. And there were two solutions." Gillian opted for the thong — and an entire look was born. As Gillian said herself, speaking to Hailey Baldwin's Met Gala homage: "Another example of necessity being the mother of invention." A pioneering look from one of the small screen's most eclectic style stars.
Tagged: