Is Harry Styles teasing his return on a TikTok burner account?
Sneaky paparazzi have caught him on a shoot; stans are decoding hidden TikToks. HS3 is coming, right?
|
29 November 2021, 4:29pm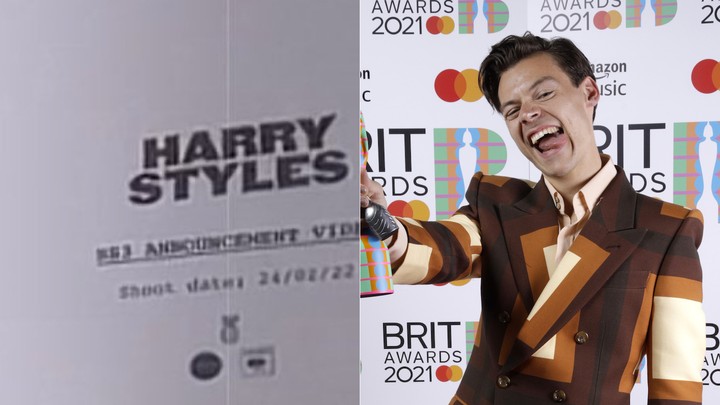 Left: TikTok/ Right: JMEnternational/JMEnternational for BRIT Awards/Getty Images
There is a new way of rolling out an album campaign: making a burner TikTok account and waiting for your stans to clock on. This may or may not be the case with Harry Styles who, with rumoured new music on the way ahead of a Coachella headline slot, some believe is preparing us for the new era with a series of TikTok teases. Enter @secretsue94/@suemonella, the accounts that some purport to be leaking all the juicy details on HS3.
For context, these rumours stretch back quite some time. When the popstar turned actor was in New York City around Harryween (his live show at Madison Square Garden for Halloween, of course), he was spotted heading into the Sony Music offices, which might have been an innocent catch-up with his team (likely!) or indeed a master plan meeting for his third record. Adding to the evidence, back in September, as songwriter Amy Allen -- one of the geniuses behind the god-tier "Adore You" -- picked up the prize for Most Performed Work at the Ivor Novello Awards for that track, she mentioned briefly that she was "psyched to hear his new album", which must mean that something is on the way.
But the stans have gone seriously deep on this. Like, wildly so. They've suggested that Greg Williams, who Harry followed on Instagram around November last year, is the man behind the cover art, though we'd suggest that it's more likely to be a magazine shoot, considering the stylised nature of the photographers he's collaborated with on artwork so far (Harley Weir and Tim Walker).
There was even a theory that this new era had already begun by then, and he's alluding to its colour scheme through a trio of looks at some of his final shows in LA last year: black and green.
So, the TikTok deal. Late last week, fate summoned the account @secretsue94, now known as @suemonella, on to a Harry stan's For You Page. The username was familiar to those in the HS universe, "Sue" is the nickname Harry's stylist, Harry Lambert, has for the singer. It was a simple video — a fruit bowl being filled and emptied — but the caption "first tick tock reminds me of vine", sent die-hard fans back to Harry's Vine era. Fast forward a few indiscriminate videos later, and you get a backstage video from Wolf Alice at their show in London's Eventim Apollo. This summer, they'll support Harry on his European tour, and eagle-eyed stans spotted him at the show too.
Then, three days ago, the concrete evidence: a video of a Spotify plaque rewarding Harry for "Watermelon Sugar" hitting a billion streams, seemingly shot inside a photo studio and, for the eagle-eyed viewers, a call sheet bearing Harry's logo, the phrase '"HS3 ANNOUNCEMENT VIDEO" and a date: 24/02/22.
Of course, 24 February was last Thursday, the same day some intrepid stans and paparazzi spotted Harry shooting a video in a crimson outfit.
The signs are all coming together: a new video being shot; the burner account coming out of the woodwork. This man is a marketing genius. The only question that remains: when? When are we getting new music from Harry Styles? That remains to be seen. God bless HS3, may it be as miraculous as its predecessor.
Tagged: