Gal Gadot officially regrets the cursed Imagine video
It was a cultural reset (the bad kind).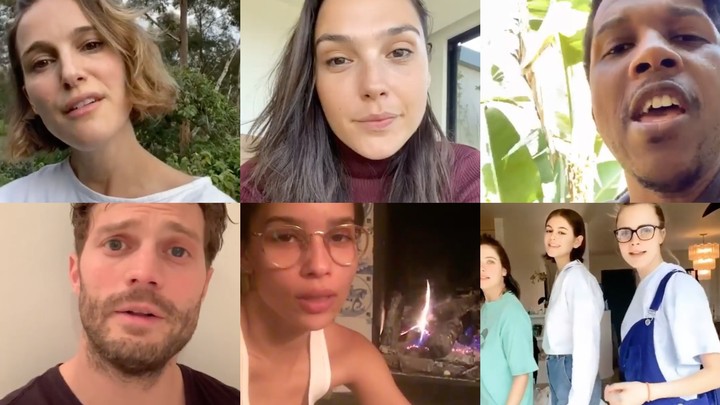 Instagram @gal_gadot
When the coronavirus pandemic and it's subsequent lockdowns first took over the world nearly two years ago it birthed a multitude of oddities, from awkward enforced weekly Zoom quizzes to gifting health workers non-refundable clapping from our front doorsteps. But while the majority of us became sourdough bread specialists, the most deranged reactions came from celebrities, who took to social media to accidentally advocate for eugenics (Vanessa Hudgens) or cry about a delay to their album release (Dua Lipa). But the prize for the most cringe post of the early pandemic era belongs to, of course, the Gal Gadot-led "Imagine" video.
Spearheaded by the Wonder Woman actress and Bridesmaids' Kristen Wiig and featuring a smorgasbord of stars – Jamie Dornan, Natalie Portman, Ashley Benson, Kaia Gerber, Cara Delevingne, Zoë Kravitz – those benevolent millionaires each hoped to cheer the world with an awkwardly-sung line of the John Lennon song from the comfort of their Selling Sunset-style homes. Naturally, the video was slammed across social media; now, almost 2 years later, Gal has finally admitted that the video might have been a mistake.
Speaking to InStyle, after recently parodying the video during her acceptance speech at the Elle Women in Hollywood Awards, Gal said: "I was calling Kristen [Wiig] and I was like, "Listen, I want to do this thing." The pandemic was in Europe and Israel before it came [to the US] in the same way. I was seeing where everything was headed. But [the video] was premature. It wasn't the right timing, and it wasn't the right thing. It was in poor taste. All pure intentions, but sometimes you don't hit the bull's-eye, right?"
In truth, looking back since Gal posted it on Instagram in March 2020, the cursed video has only aged worse to the extent that, in a way, it's almost swung back round to camp. In a little intro Gal sighs as if she hasn't seen another human soul in months, when in fact she's in day six of quarantine. She then says the past less-than-a-week-of-isolation has got her feeling philosophical. The deep mind-blowing philosophical realisation? The virus affects everyone. Between Sia over-singing the hell out of her two lines to Mark Ruffalo's struggle to figure out his selfie camera angles, the video is essentially the equivalent of those "1 like = 1 prayer" posts your aunt still shares on Facebook.
Though the intention behind the video may have been sincere, watching the ridiculously rich act like the pandemic had put us all in the exact same situation — and that the only things they had to contribute were vibes and positive energy — felt in pretty poor taste. Especially when other celebs, like our queen Britney, were offering struggling fans money. As i-D editor Róisín Lanigan wrote at the time: "Rather than rushing to push content into the world which doesn't actually help anyone, it might first be best to take some time and consider how your platform, and your millions of dollars of income, could be put to better use."
Tagged: