Photo by Philippe Le Tellier/Paris Match via Getty Images, Keystone/Hulton Archive/Getty Images and Francois Gragnon/Paris Match via Getty Images
7 of Catherine Deneuve's most iconic outfits
One of the 60s foremost style icons, the French actress was a muse to Yves Saint Laurent and David Bailey.
|
25 February 2022, 9:00am
Photo by Philippe Le Tellier/Paris Match via Getty Images, Keystone/Hulton Archive/Getty Images and Francois Gragnon/Paris Match via Getty Images
Catherine Deneuve is one of cinema's greatest actresses and most stylish icons. Throughout the 60s, she was the face behind some of the decade's most beloved arthouse flicks and, of course, some of its most iconic on-screen outfits. Portraying icy-blonde heroines for directors like Jacques Demy (in the colourful Les parapluies de Cherbourg) and Luis Buñuel (in erotic thriller Belle de jour), Catherine eternalized Yves Saint Laurent and the Burberry trench within the annals of film. Beyond the camera, Catherine was a muse to London fashion photographer and husband, David Bailey, and to Mr. Saint Laurent, himself, who became one of the actress' closest friends and collaborators. Whether strolling the Cannes red carpet or hopping the English Channel, Catherine frequently dressed head-to-toe in the designer's elegant, feminine fare, topping each look with her signature bow-tied bouffant. Here, we take a look back at the actress' most iconic outfits, both on and off-screen.
In Les parapluies de Cherbourg, 1964
Catherine Deneuve caught the eye of director Jacques Demy after starring in a number of films by her then-partner Roger Vadim. In 1964, Jacques cast her in his upcoming romantic musical Les Parapluies de Cherbourg. The movie launched Catherine to stardom and marked the beginning of a collaborative partnership that would define the cinema of the 60s. In one of the film's most dramatic numbers, as Catherine's young Geneviève bids adieu to her lover, Guy, she wears a classic Burberry trench coat, a look that has become synonymous with the film and Catherine over the decades.
At the Lafayette premiere, 1962
While the outfits changed, the hair stayed the same. The bow-tied bouffant was Catherine's go-to 'do throughout the 60s. She wore the look to Cannes, on-screen in Les Parapluies de Cherbourg and here, in this iconic photograph.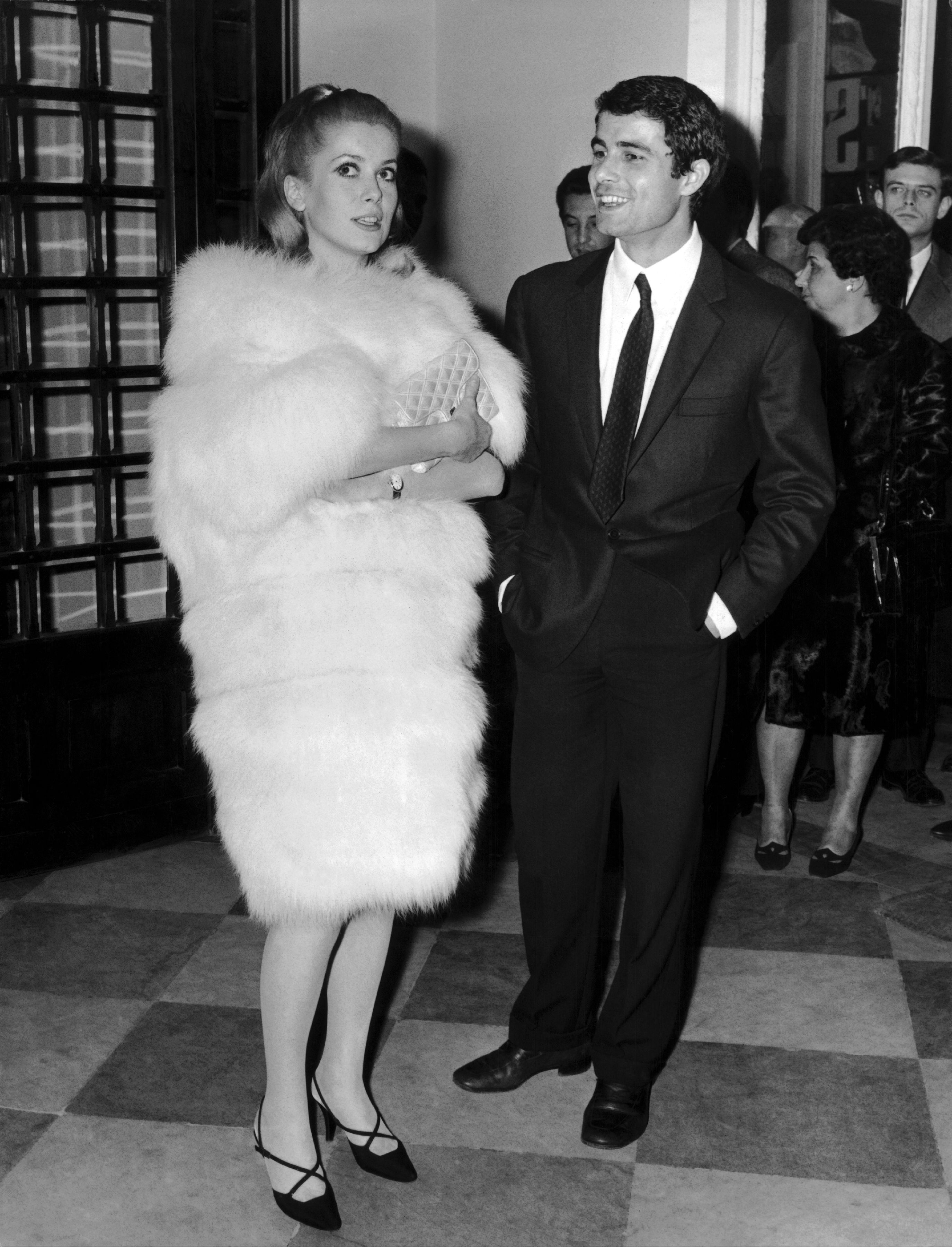 With husband David Bailey, 1965
In 1965, Catherine met English photographer David Bailey on the set of a Playboy photoshoot. Two months later, the couple were married and living in London. To the wedding, Catherine wore a simple black pencil dress. Here, attending a film premiere with her husband, she wears one of her signature fur coats, quilted clutch and her bouffant hairdo.
With Yves Saint Laurent, 1966
Catherine met Yves Saint Laurent through husband David Bailey. At his suggestion, Catherine commissioned a dress from the then-relatively-unknown Parisian designer for her first meeting with the Queen of England. The look would mark the beginning of a decades-long friendship and collaborative relationship that would span the realms of ready-to-wear and film costume. Here, Yves dresses Catherine in one of his signature suits, her bouffant topped with an elegant headband.
In Les Demoiselles de Rochefort, 1966
Together, Catherine and Jacques followed up the Cannes Award-winning Les Parapluies de Cherbourg with the exuberant Les Demoiselles de Rochefort. In the film, Catherine and her real-life sister, actress Françoise Dorléac, play fraternal twins who dream of moving to Paris to dance and compose music. In very Demy fashion, the duo wear a number of colourful costumes throughout the feature: a pair of sequinned dresses in fuschia pink and a couple of marabou-trimmed nightgowns. No two looks are more memorable than those from the film's musical opening number: two of the era's graphic shift dresses topped with a pair of diaphanous wide-brimmed hats.
In Belle de Jour, 1967
In 1967, Catherine was cast in surrealist director Luis Buñuel's erotic drama Belle de jour. Despite the duo's difficult working relationship, the film was a massive critical and commercial hit (the esteemed Roger Ebert called it "the best-known erotic film of modern times.") In the flick, Catherine plays Severine, an unsatisfied housewife who moonlights as a sex worker. At the actress' suggestion, Yves Saint Laurent was called upon to outfit the film, dressing Catherine's Séverine in her darkly demure wardrobe (ivory-collared dresses, immaculate leather pumps, and that vinyl trench coat.) The film's costuming proved influential to the era's fashions and cemented both Saint Laurent and Catherine as arbiters of style.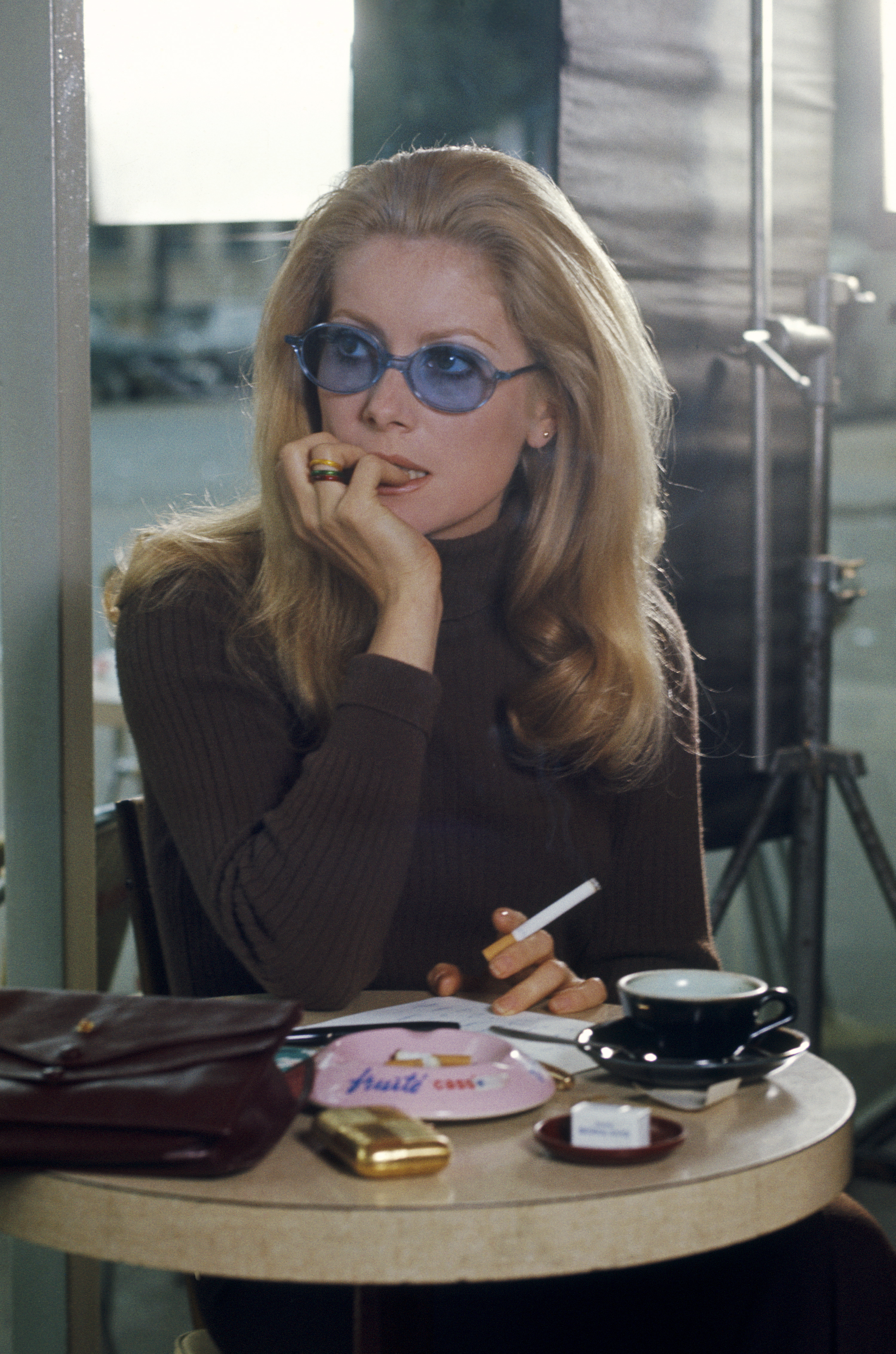 In Manon 70, 1967
You know the photo. From one of Catherine's lesser-known (albeit not lesser!) films — Manon 70 — this look has become a modern moodboard favourite for its groovy-minimalist vibe: a ribbed turtleneck and funky blue frames. An utterly 'swinging' look for one of the 60s foremost style icons.
Tagged: