Photography David Spector
Kristin Mallison's tapestry corsets are a playful, punk take on femininity
The Brooklyn-based designer tells us about turning discarded furniture into viral wearable garments and her latest collection, 'Le Jardin'.
|
19 November 2021, 4:05pm
Photography David Spector
Kristin Mallison's tiny Ridgewood studio is covered in scraps of fabric. There are needlepoint pastoral scenes, vibrant jacquards, vintage 70s carpet suitcases that have been torn apart at the seams and floral motifs that she's made a habit of patchworking together into lace-up tapestry corsets. No doubt you've seen them at cult New York shop Cafe Forgot or on Instagram — maybe on Barbie Ferreira or Nadia Lee Cohen. Like most corsets, Kristin's one-of-a-kind designs create a statuesque effect on the wearer, yet they lack boning, which means they mold to the body and showcase it in its many shapes and forms. This is also perhaps why the pieces sell out so quickly when they're dropped on her site, making the wearable art pieces hard to get your hands on.
Kristin studied fashion design at Pratt Institute in Brooklyn, but she first became interested in working with upholstery fabrics through her day job at an interior design company, and frequenting local thrift shops. She was making patchworked shirts and upcycling found fabrics when she was first introduced to Cafe Forgot and influenced by their hyper feminine but modern punk aesthetic. "It was all happening at the same time. Interior fabrics were on my mind, but [so were] super sexy silhouettes. That combination — sexy interiors — took me in this direction," Kristin explains.
The designer's latest collection, Le Jardin, expands on her signature tapestry corsets and skirts with intricate patchwork and fringe, as well as custom sheer floral fabric and repurposed ballet shoes. Here, alongside photos by David Spector, Kristin tells us all about turning discarded furniture into viral wearable garments.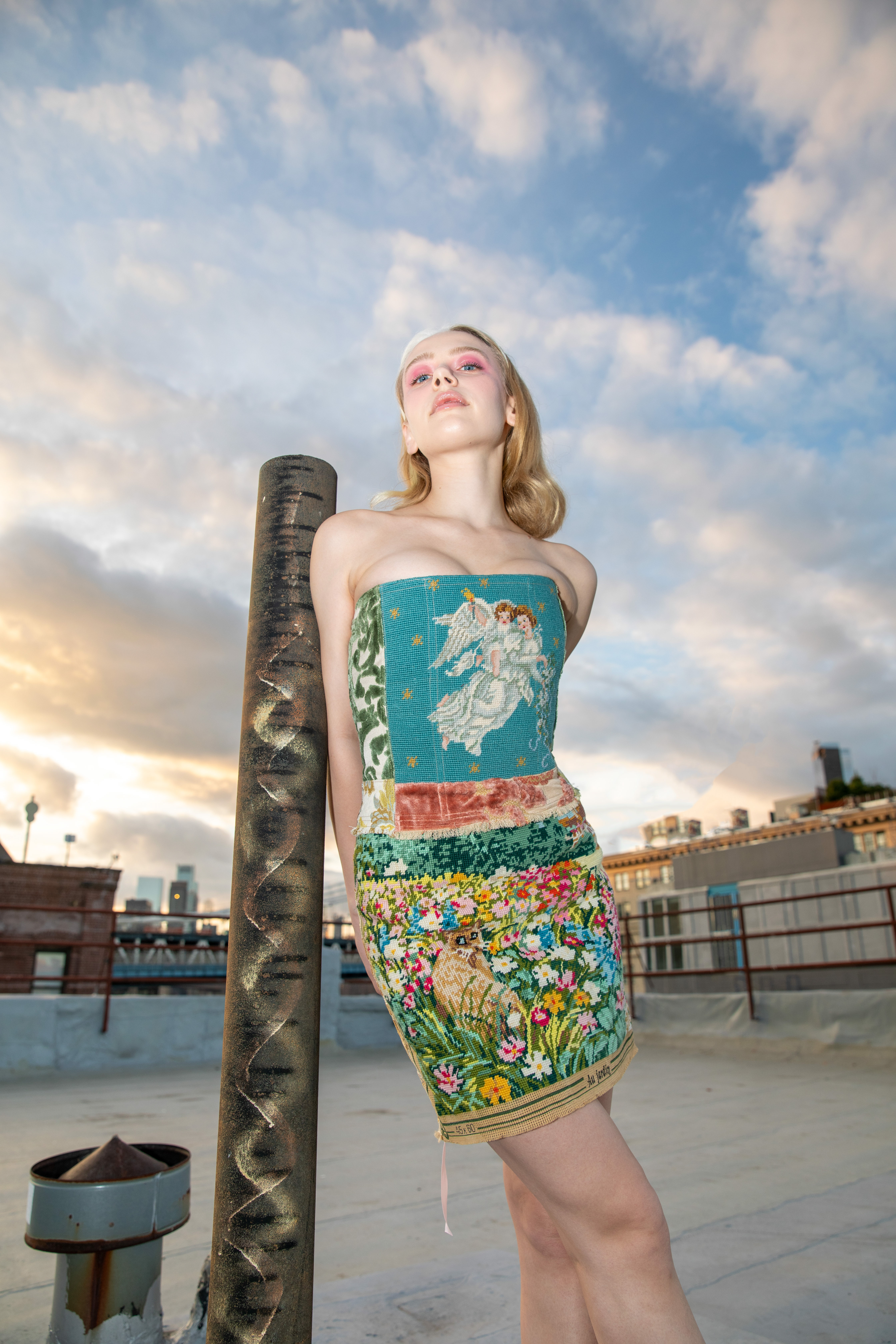 Kristin! Tell us about your designs. How did you come to work with tapestry?
KM: Because I've been working in interior design for the last few years, I'm very influenced by upholstery and sewing techniques. Tapestry isn't necessarily something we do at the company I work for, but it's definitely informing the way that I make clothing. I'm interested in vintage, whereas the company I work for is modern.
True tapestry is when threads are woven in such a way that makes an image. I'm so interested in all these different textile techniques that were handmade, and really old. In researching needlepoint, it started back in the Egyptian era. It's like a history lesson. It guides me through everything that I make. It's not really about me, it's more about the textiles that are preexisting. I try to find the best way to do them justice in a wearable sense because these are usually not intended clothing. It's a constant scavenger hunt.
How do you go about sourcing your fabrics and materials?
I like to get started thrifting around Brooklyn, but it takes forever. I might go to several different stores and find one thing, so online auctions have been a godsend. Live Auctioneers is not as mainstream as eBay or Etsy. It's really rare things that are like, circa 1850, or something. It's a little scary to be honest because it's high value — you're competing with other people and then you get this thing. Do I really want to desecrate it by cutting it up? I've gotten maybe one or two things that way, but sourcing is an everyday thing.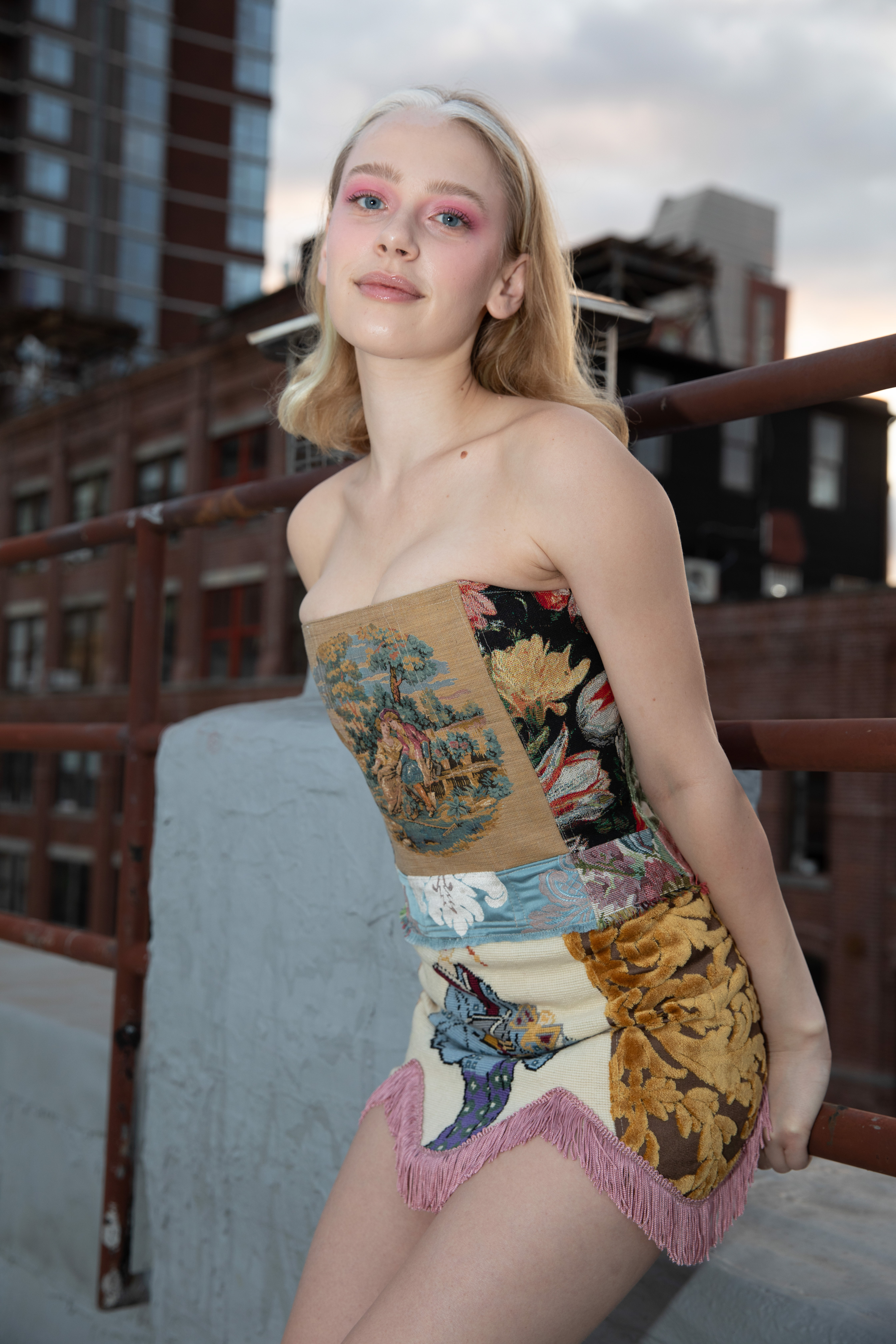 Do most of the tapestries you work with come from interiors, like pillows and pieces of furniture?
A lot of the time I'll take tapestries out of frames. Or dining room chairs, where the seat is upholstered. I'll get one with a broken leg someone's just getting rid of for free. I've found stuff on the street too. Some of my best finds I've picked up on the street. I don't have a lot of these fabrics. Maybe I'll get a piece, then I have to make it work over the course of three garments or something…
These small tapestries seem to be manufactured a lot in the 60s through the 80s. People would make little pillows and cover benches, maybe those little tapestry purses. Every once in a while I'll get some manufacturing information on the back. It's really interesting when there's a picture of something that refers to another time — sometimes it's people in the 60s or 70s portraying a traditional Japanese kimono. The [tapestries] that feature human scenes are always more interesting.
I'm also very interested in ballet. A big thing that drives the materials I choose is trying to [solve] a problem. A lot of tapestries, specifically upholstery fabrics, are being tossed out on Craigslist, and these things are beautiful. This is a waste problem I'm trying to solve by repurposing these pieces. With ballet shoes, they're beautiful, but professional ballet dancers go through a pair week. It's super wasteful. And they're really expensive, too. They're like, I don't know, $100 a pair? They put how many hours of work in? The wear and tear is also really interesting.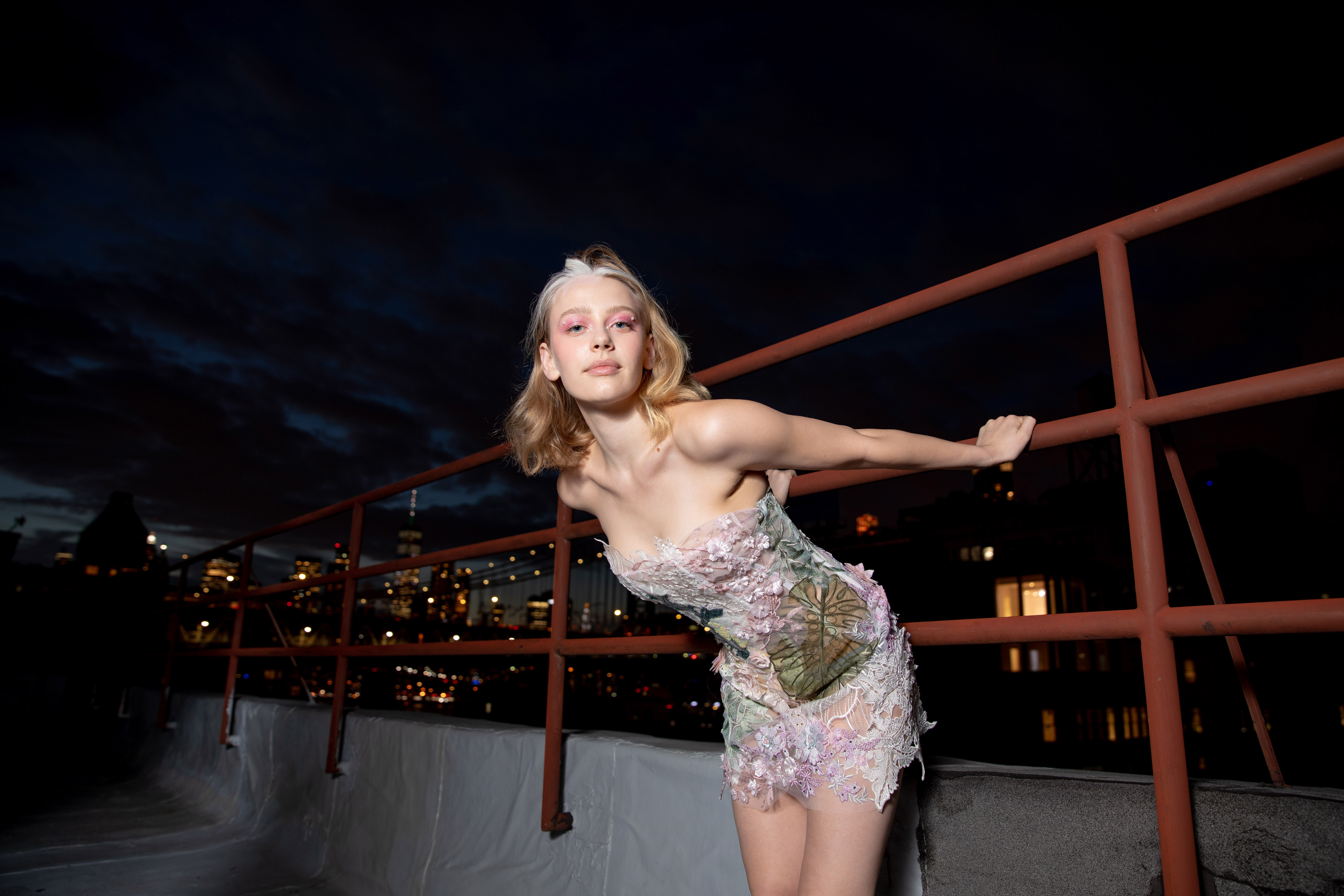 The corsets and skirts all feel very feminine. And ballet, traditionally, is too. Is there something that attracts you to these forms and materials, specifically?
All of these things are hyper -feminine. I think we can officially say that. I'm definitely trying to be playful with that whole notion of what defines femininity. I identify as a feminine person, [but] I don't think I'm super feminine. The topic intrigues me. A lot of these old embroidery techniques are done by women or believed to be a women's craft. Seeing that level of hand embroidered detail — the textiles are just everything. I try to not make extravagant silhouettes. I just like to keep it really simple, and let them speak for themselves.
So once you have something that you've found, what's your process like? How do you go from having a scrap of fabric to the final product?
If the fabric itself is something super special, like heartbreakingly beautiful, it has to go on the center of the front of the body because it needs to be the first thing someone sees when they see you. That will usually determine if I'm not going to make a corset or a skirt. And then usually I'll try to find other fabrics, maybe something that I found a couple yards of like 70s fabric, and patchwork around that really special thing. I'll find ways to build around and support it, but not take away. Yeah, first I figure out which of my finds are the most epic.
This whole body of work came about when I got involved with Cafe Forgot. They focus very much around hyper-femininity, heightened sexuality, almost like a caricature in a way that feels very feminist but punk at the same time. I love that and I think their whole aesthetic really affected where I was going to go [with my designs].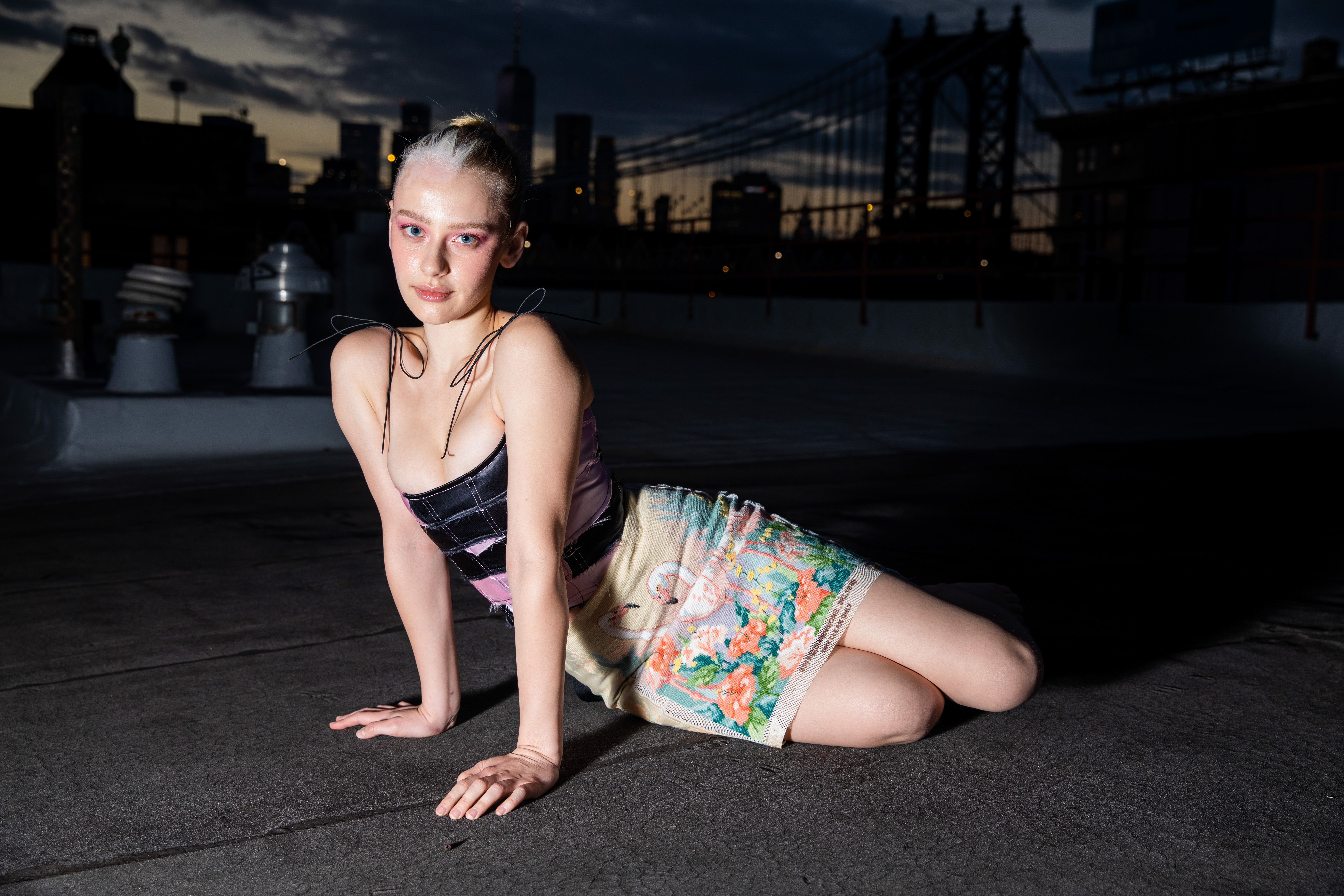 You studied fashion at Pratt. When did you first start making clothes?
Yeah, and the whole curriculum there is [focused on] sustainability. I was always, in high school, very into punk music and DIY and like, hand-sewing pieces of plaid together. I was into thrifting. And handmade. Poorly handmade, even, as an aesthetic. I remember I had this one skirt I made of different little pieces of fabric I had scraps of, and then 200 safety pins that were just holding all those pieces together. There were a few skirts like this that I made for Cafe Forgot with all my leftover upholstered pieces. I sewed it together to make it strong enough to survive, but it's very much my roots, raw edges and things. It can't be too pretty. I want to make things that are pretty but disturbed in a sense.
As far as this new collection of pieces that you've designed, Le Jardin, what were your inspirations or intentions?
I was trying to elaborate on the classic corset. Patchwork definitely, layering a lot of the same objects on top of each other, like with the ballet shoe [corset] and with this dress. I was trying to find a way to build my own textile through individual flowers; they're just sewn together. I also wanted it to be something that was barely there. I think it's just a hyper femininity moment. I think if I were to elaborate, I would probably continue to research vintage dance costumes and find ways to make them modern and wearable.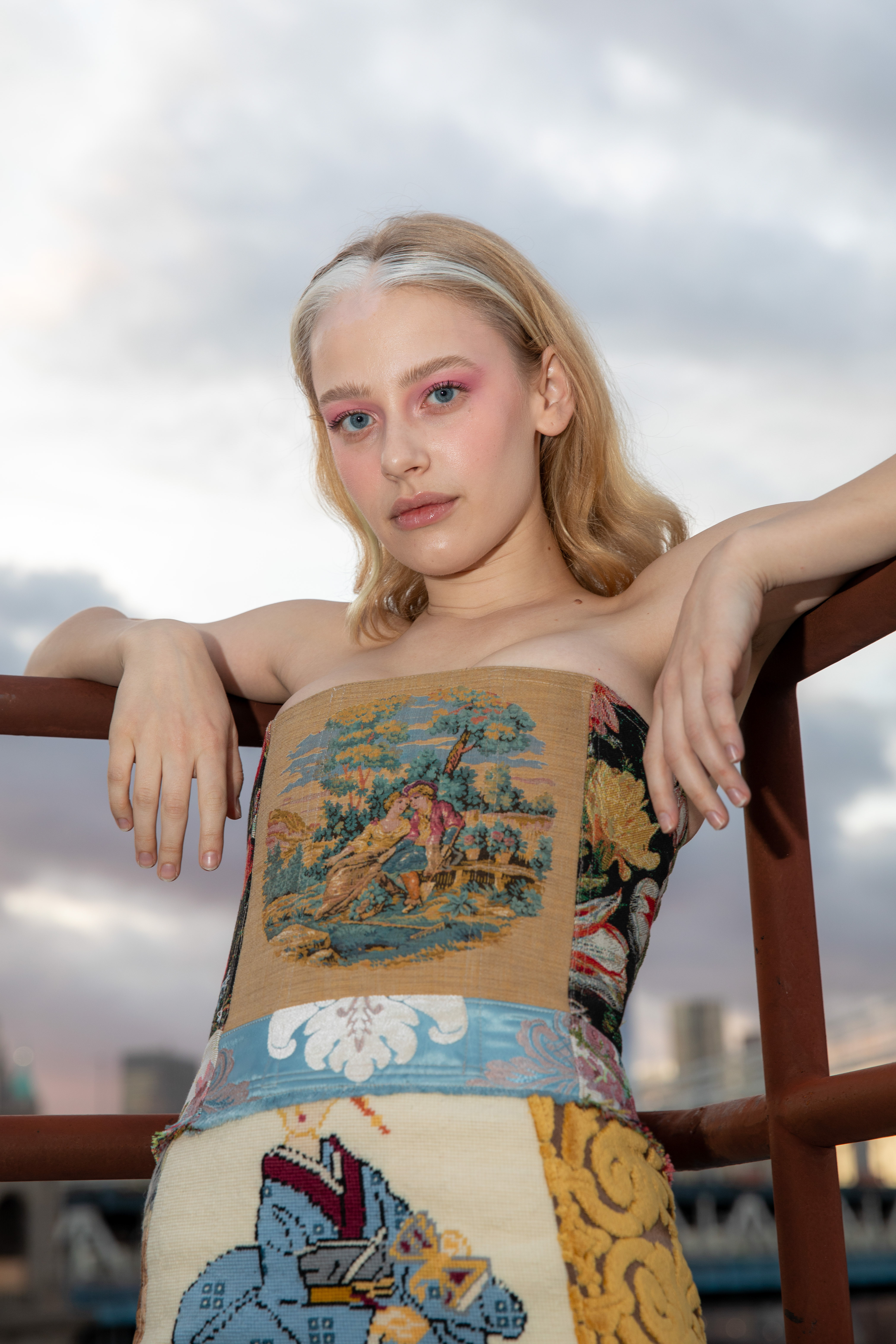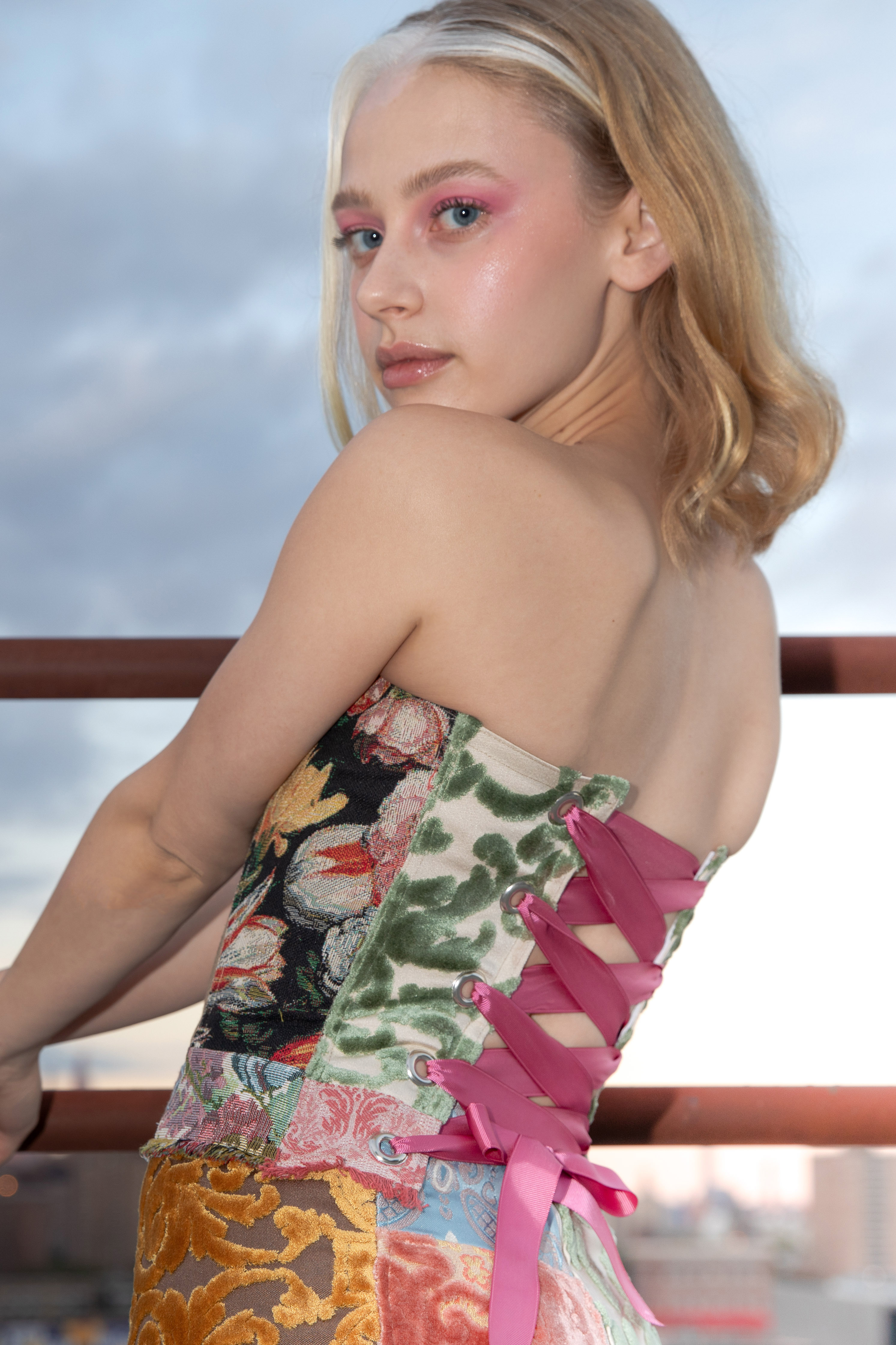 'Le Jardin' is available for purchase on November 20, here.
Credits
---
Photography David Spector
Hair and makeup Haydyn Lazarus
Creative direction Brigitte Crisp
Model Tia Jonsson