Collage by Douglas Greenwood
The ultimate gift guide for picky fashion fans
Whether for your swampcore girlfriend or your sugarbaby bestie, here's a cheat sheet for what to put beneath the tree this Christmas.
|
16 December 2021, 11:52am
Collage by Douglas Greenwood
Christmas is coming, the geese are getting fat… and once again, you've left all your shopping to the very last minute! We get it, though. Shopping can be arduous at the best of times, but when it's for fabulous fashionistas as nitpicky as us (and no doubt you, too), it's another ballgame entirely. Choose the wrong gift and consider yourself cast out into the wilderness. Choose wisely, though, and you'll be showered with thanks – and maybe even a glowing shoutout on their grid! High stakes indeed.
In nothing short of a Christmas miracle, we've come to the rescue by putting together the ultimate gift guide for every kind of fashion-forward clotheshorse you can think of. Yes, that's all the hard work done for you – all you need to do is dust off the plastic, put your orders in, and let Santa come a-riding in his Net-A-Porter van. Whether for your fresh-out-of-fashion-school niece or your gorpcore boyfriend, your sugarbaby bestie or that girl you know who started a podcast, here's our invaluable crib sheet for what to put beneath the tree this year.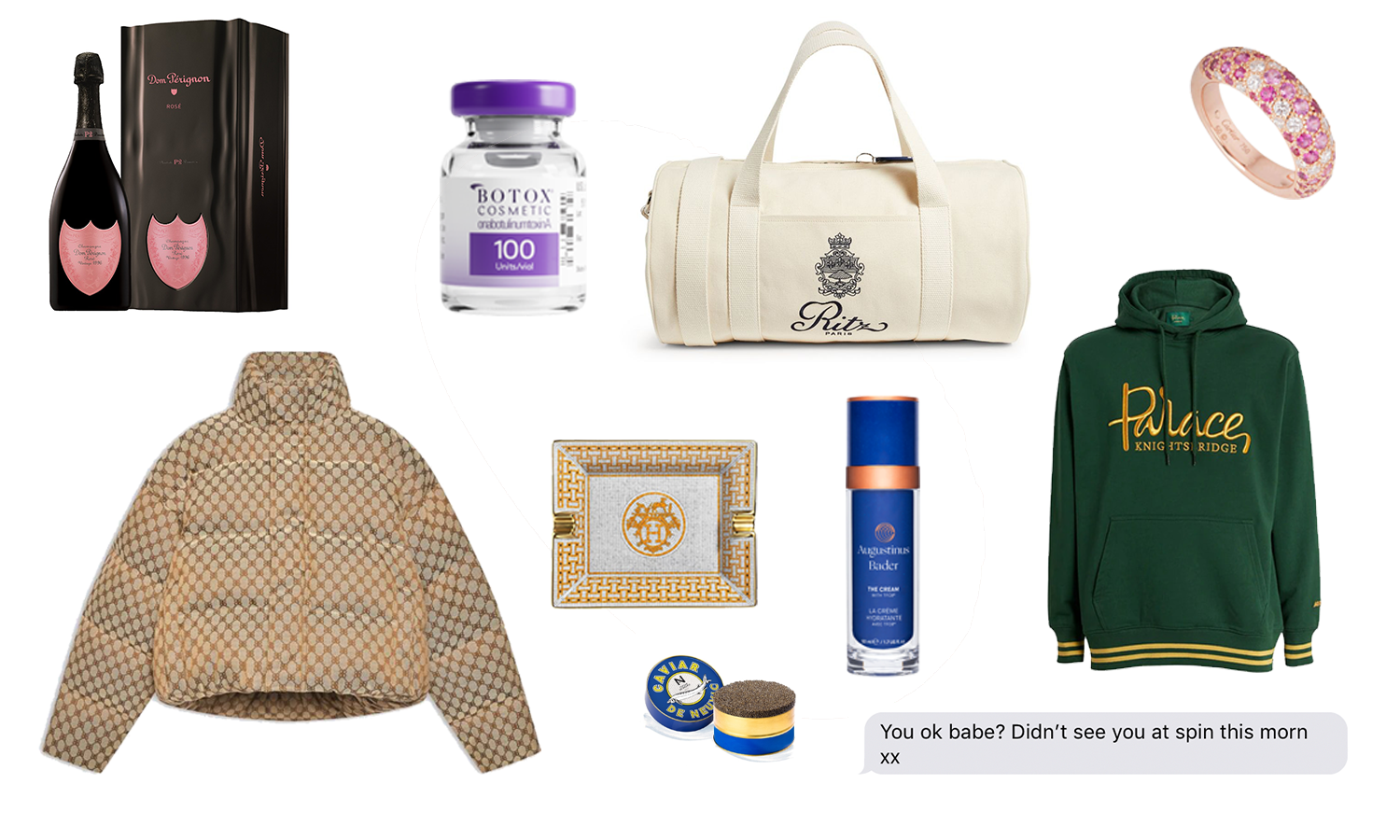 Your bitchy sugarbaby bestie
Poor Svetlana. That's not her real name of course, and she certainly doesn't look poor. But no matter how sugar-coated her lifestyle is, there is nothing that little Sveti loves more than being showered with gifts. It's her love language, after all. Contrary to popular belief, Sveti has the simplest taste – she only likes the best (or the most expensive), so naturally, she's a hard person to shop for. Pricey natural fibres, cafeteria-style baked potatoes (with caviar, no less), self-care treatments (at the Cadogan Clinic), pink champagne and even pinker diamonds, dahling! Her appetite for life and luxury makes the Kardashians look like a sisterhood of nuns. Some ponder the source of all her luxurious accoutrements and lavish lifestyle, but no one can deny the charm of her suspiciously time-defying youthfulness and ambiguously continental accent. So, what do you get the habibi who has everything? Consider getting her a piece from the future-classic 'Hacker Project', AKA 'Balencigucci', because what would she love more than two luxury houses in one object? Or, leave that to her 'patrons' and opt for a more affordable memento from her spiritual homeland with a cap from the Harrods x Palace collab, or a gym bag from Frame's capsule with Ritz Paris. She may be the last remaining person smoking actual cigarettes indoors, so a case of menthol Vogues would go down a treat, even better with an Hermès ashtray (bonus points for the ones with a leopard). Failing that, book her a session of therapy – though she insists retail therapy is the only kind she needs, there may be more than meets the eye for your favourite sugarbubba.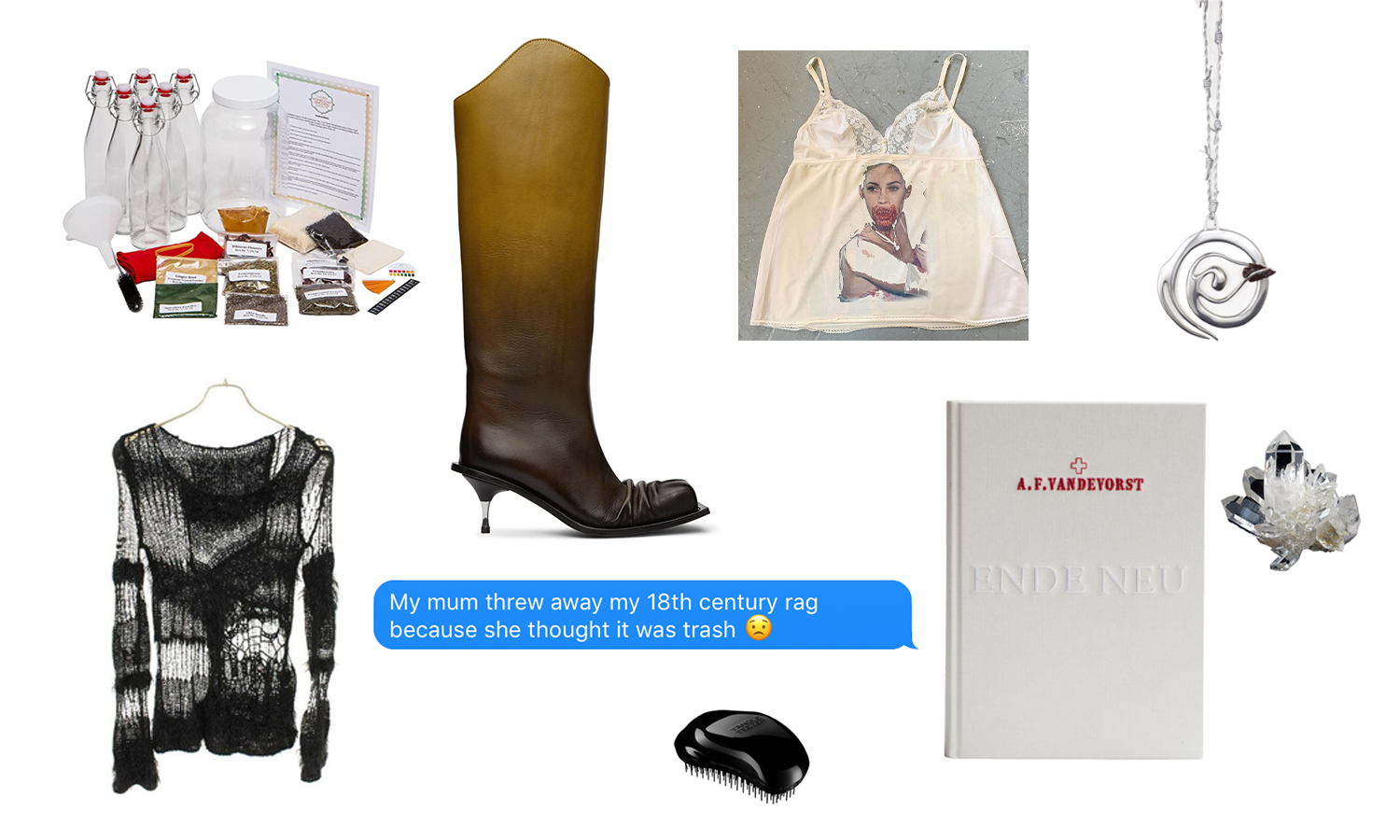 Your swampcore girlfriend
It's been a lucrative year for your Swampcore GF. Since her Instagram archive store took off in the first half of the pandemic, not a single niche, untreated goat felt piece in her Depop likes has gone unpurchased, and she's far too well-researched to appreciate anything other than a ZenMarket haul. So, we recommend starting small, perhaps with a tangle teaser, so she can turn fewer heads at the regional family Christmas table with her tendrilous locks. If you get lucky, there is also the chance of copping a skimpy singlet printed with a scene from Jennifer's Body, in one of @stomachofyourdeadsoulmates' lusted-after drops. Your swampy girl loves to support young designers, and top of her list is a pair of Fidan Novruzova's impeccably-imperfect square toed boots, followed by a Rosie Grace Ward Worm necklace – the perfect addition to her plethora of distressed yarn ensembles. A kombucha starter kit could provide the perfect opportunity for your Swampcore hotty to rebuild her relationship with her father, which has been rocky ever since she maxed out his credit card buying equally rocky crystals at She's Lost Control. Just picture the scene: two generations bonding over fungal fermentation and dad's sourdough starter kit. 'Tis the season to be yeasty.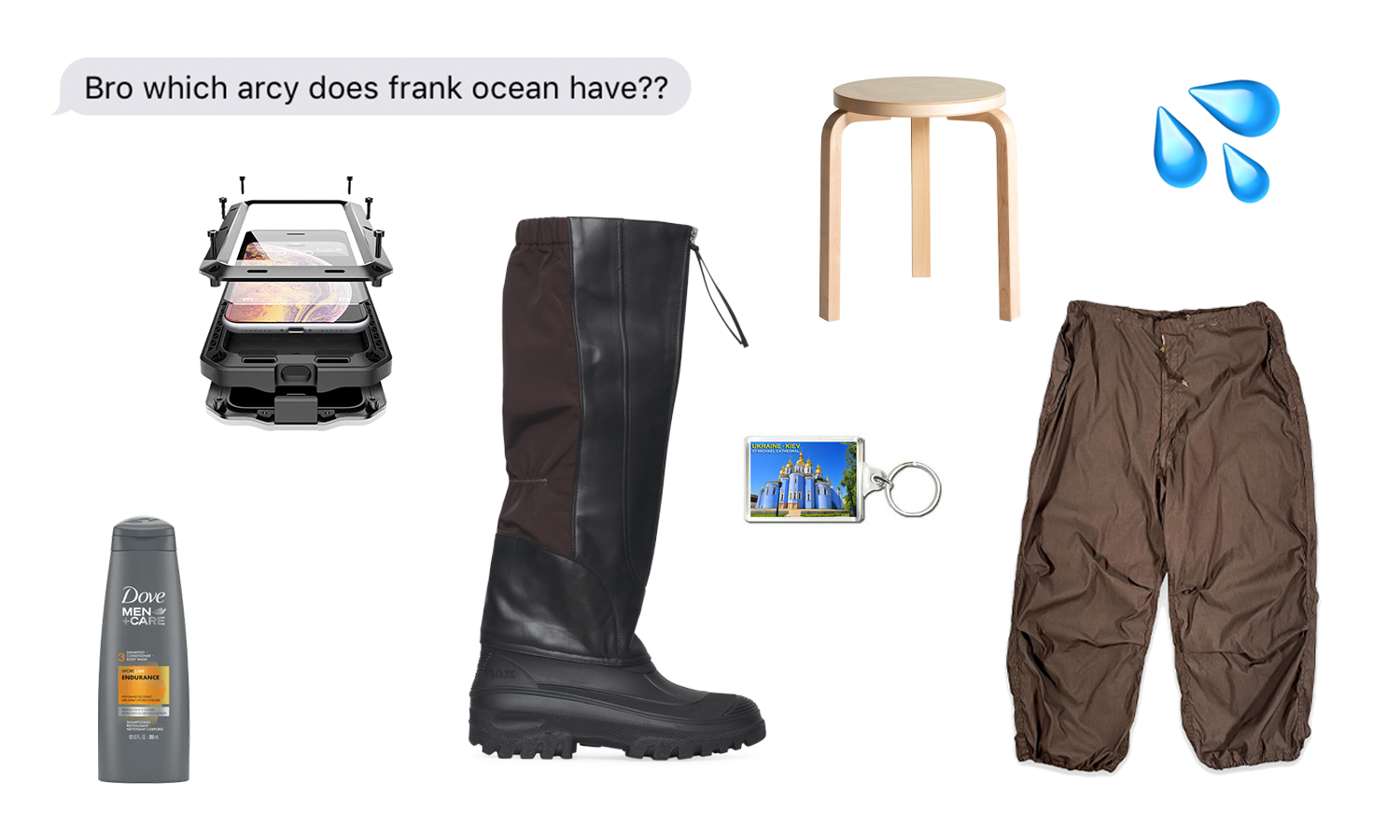 Your gorpcore boyfriend
Shopping for your gorpcore boyfriend can be a bit of a nightmare. If you get him something that's actually, you know, nice, you'll be met with a look of quiet resentment – "I mean, thanks, but how could you not pick up on my cues for the vintage Korean workwear I've been ogling for months on .onion auction sites? Do you even know me at all?!", his eyes hiss. With his prohibitively niche tastes, it can often be tempting to throw in the towel and just get him something basic he'll actually use – like a fugly, industrial-strength iPhone case, or a 3-in-1 shampoo-conditioner-shower gel. Don't give up hope yet, though! That's what we're here for. To assist him in living out his fantasy as a very expensively dressed construction worker, you'd be hard-pressed to go wrong with anything from Arnar Már Jónsson, Post Archive Faction or Kiko Kostadinov. Bonus points if you can get your hands on one of the hotcake caps from the latter's hush-hush side project, OTTO 958. Those 194local ripstop combat pants Bella Hadid was papped in are a pretty safe bet, too, though tread with caution – such a trendy endorsement may well have struck them off the list. But remember what first made you fall for him in the first place – he's a real culture vulture, and beyond gritty, functional fashion, he's just as impassioned by esoteric interiors, architecture and objets. Whether it's an Alvar Aalto stool, a test pressing from Bill Kouligas' record label, PAN, tickets to Anne Imhof's next durational performance, or a weekend getaway in Kyiv, why not give your broody paramour the gift of questionably leftfield culture this Christmas? After all, what could be more romantic than convulsing to nosebleed-inducing schranz in a decommissioned power plant and a smooch in the sleet before the socialist-modernist Salute Hotel?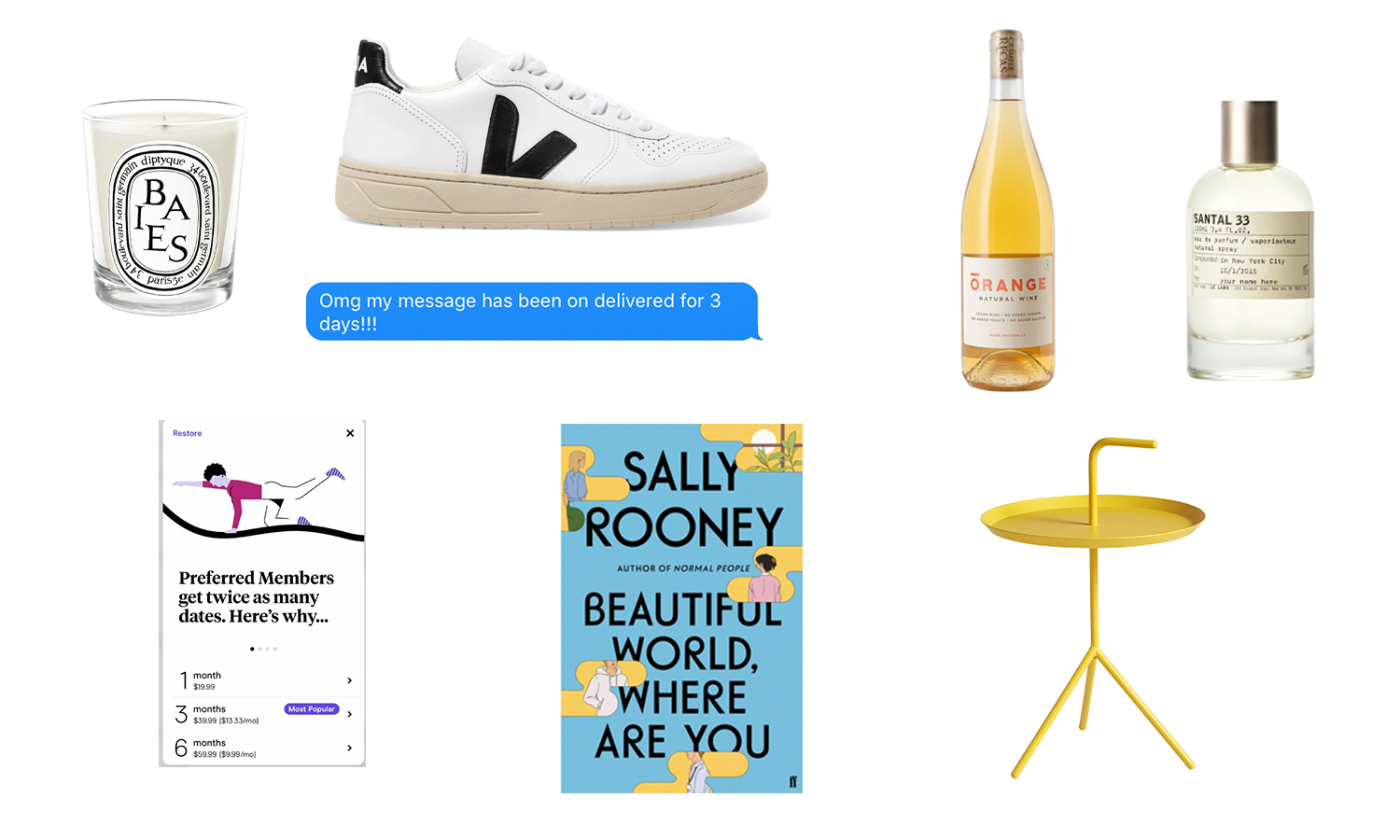 Your cheugy #girlboss cousin
This Christmas, spare a thought for your #girlboss cousin. It's been a tough year for her – she'd spent the last six months climbing the Hay-designed ladder of 'new media', only to be accused of some very questionable comments in an anonymous company-wide DE&I survey. And though she's merely a few years older than you, there couldn't be more of a cultural gulf. Where to start? Young Kazza hasn't swapped out her perfume since Le Labo's Santal 33 was a bestseller, so you could always refresh her stock (she's a creature of comfort, after all) or consider getting her a tab at her favourite millennial-pink restaurant, Sketch. Books are sorta her thing, and though she's got a pile of unread titles from last summer's proliferation of 'anti-racist' reading lists, all she really wants is the new Sally Rooney novel. Lockdown allowed her the space to experiment with natural wines – although she still has a soft spot for a La Gioiosa prosexy – so a tasting at Bright would blow her mind. Then, there's her slightly demented obsession with the toxic scented candles she always has burning. Yes, she's tried homeopathic versions, but Diptyque's Baies never fails to warm her ice-cold soul. You also can't go wrong with cheese plants, 'Old Celine', or saying it with flowers: a handful of 'roses' for her to use on her premium Hinge profile.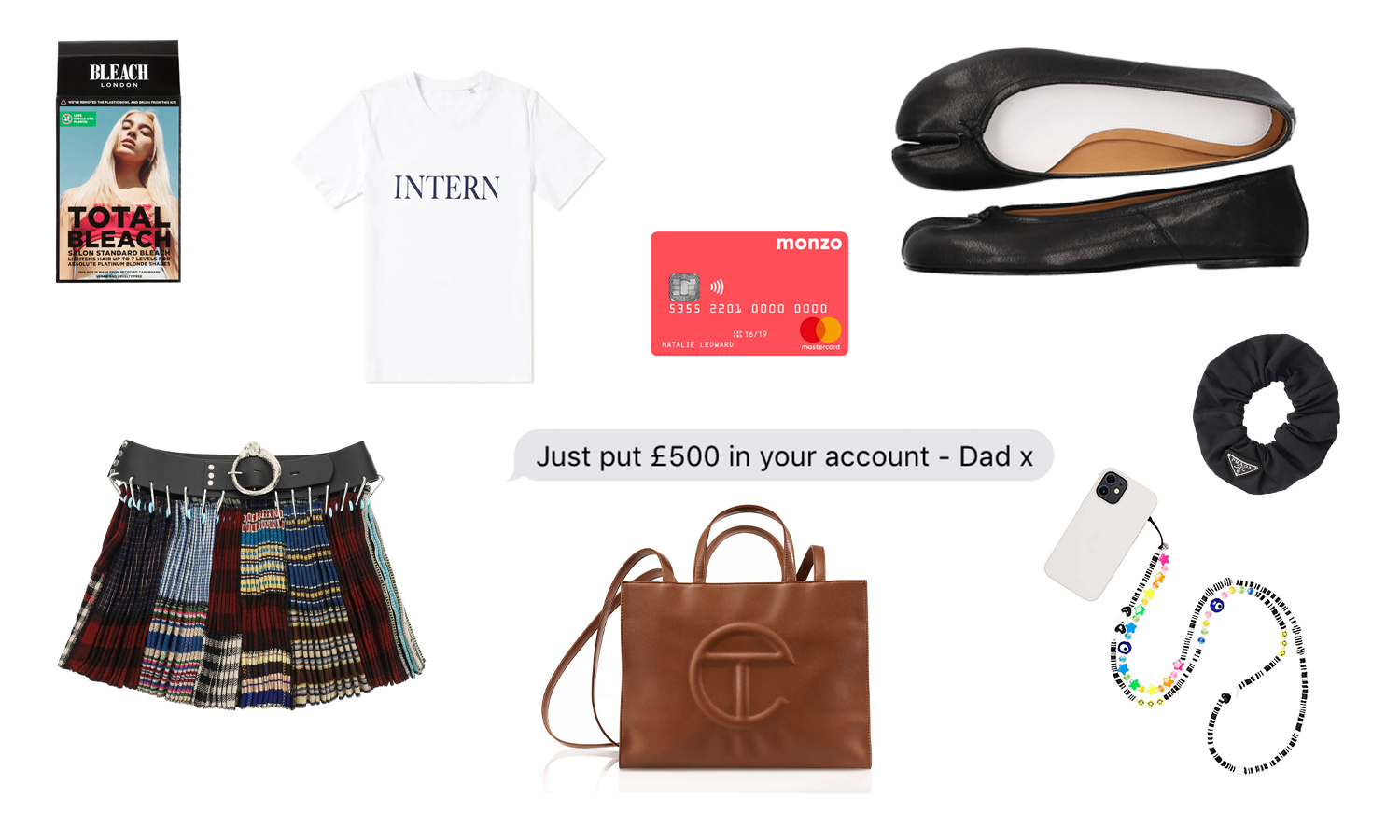 Your freshly-graduated-from-art-school niece
Your niece is on the 'Nice' list this year, and given that she has spent her post-graduation year refining her signature 'look' (i.e. her quasi-curated heavily product-based Insta grid) she ought to be rewarded with an array of sartorial goods that she can wear in TikToks soundtracked by "Material Gworl". Good news for you: her Christmas wish list coincidentally matches up with Lyst's Hottest Products of 2021. More than anything, she's been dying for a Chopova Lowena kilt (and yes, she wanted one before Dua Lipa did!). Her Insta posts of little Prada triangles are looking a little thin on the ground, and while she would love a Cleo, she'll also settle for a scrunchie. Obvi this girl can never have too many Telfar bags, but I get it, the bag security programme has you confused; it's not exactly last-minute shopping friendly. The next best thing? A prepaid Monzo card so she can shop the next drop herself. FinTech is a girl's best friend, and the saving features will come in super handy when her three-year-long internship finally (well, hopefully) turns into a job. It's the least you can do for the girl who has spent the last few years shopping the "reduced" section of the King's Cross Waitrose. As soon as her ship comes in, this girl on the go will 100% need a String Ting for her iPhone 13 Pro Max and if you know what's good for you, you'll make sure it matches her Wildflower case. This will look especially cute on her IG grid, hanging between the cloven toe of her new Tabi ballet flats. Sure, she's a little late to them, but graduate girlie is getting there in her own time. Plus, it's important she freaks out her suburban family this Christmas. Given that she's obsessed with Bleach London, the salon's Total Kit could really help you to help her disappoint her mother and find something to post about between 25 Dec and NYE.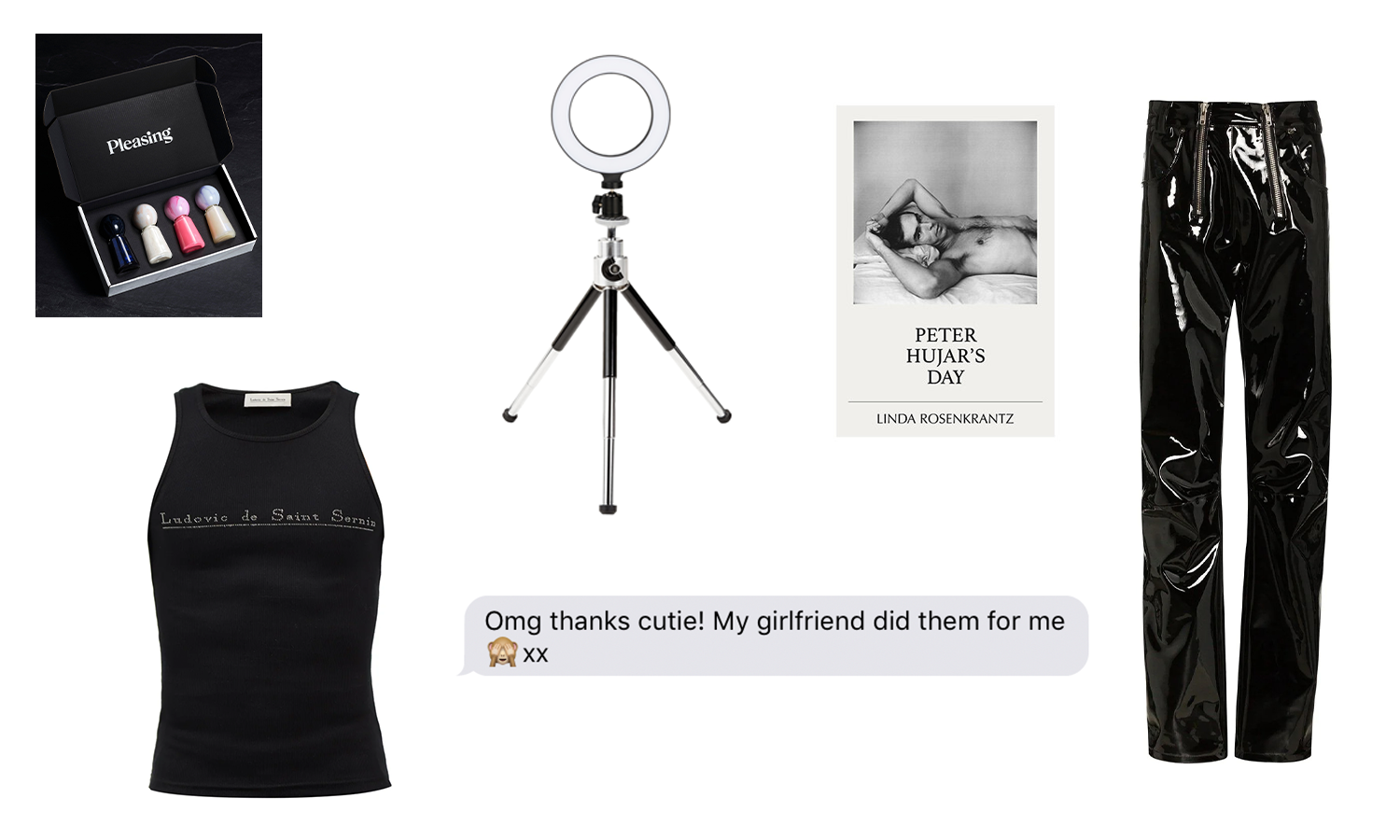 Your queerbaiting TikToker nephew
If a straight guy wears a harness and a tennis skirt and no one's there to see it, does he still pass as gay? With an ego that burns same-sex attention for fuel, that's the riddle that's plagued your queerbaiting nephew's mind since rumours of a fresh lockdown started going around. I mean, he'll be fine, though – over the past two years, he's built quite the following on TikTok, racking up unfathomable numbers for the fawnish dance challenges he'd do while ignoring his girlfriend's FaceTime calls. If bedroom-shot clips are going to be your twink-for-clout relative's only way of validating himself for the foreseeable, then the first thing he needs is a ring light – whoever you're into, darl, ain't nobody into those busted shadows across your face! That boyish bedroom background is gagging for a zhuzh, too, so maybe something like a Robert Mapplethorpe print or a propped-up copy of Peter Hujar's Day would do. Of course, one of the things that's no doubt high up on his wishlist year is a new nail polish from Pleasing – nothing, after all, says intentionally ambiguous sexual preference like a lacquered "This is for Marsha!!" hand. To really up the ante, though, that look game needs a boost. For the love of Shawn Mendes, it's time to cast out that self-knitted J.W. Anderson cardi, and get him a new set of scanty togs from Ludovic de Saint Sernin – the lace-up leather briefs, the rainbow Swarovski crop top, the 'top/bottom/vers' signet rings: get it all! Though if you'd rather something more subdued, you'd hardly be settling with GmbH's double-zip trousers. For the fearless, head to Gucci – in their past two shows, we've seen luxe leather harnesses that'll make those ASOS-clad heterotwunks blush in shame, and even butt-plug jewellery! A tad obvious? Perhaps, and he is your nephew after all… Then again, if you don't shout, who's gonna hear you? Live loud and proud, miss king!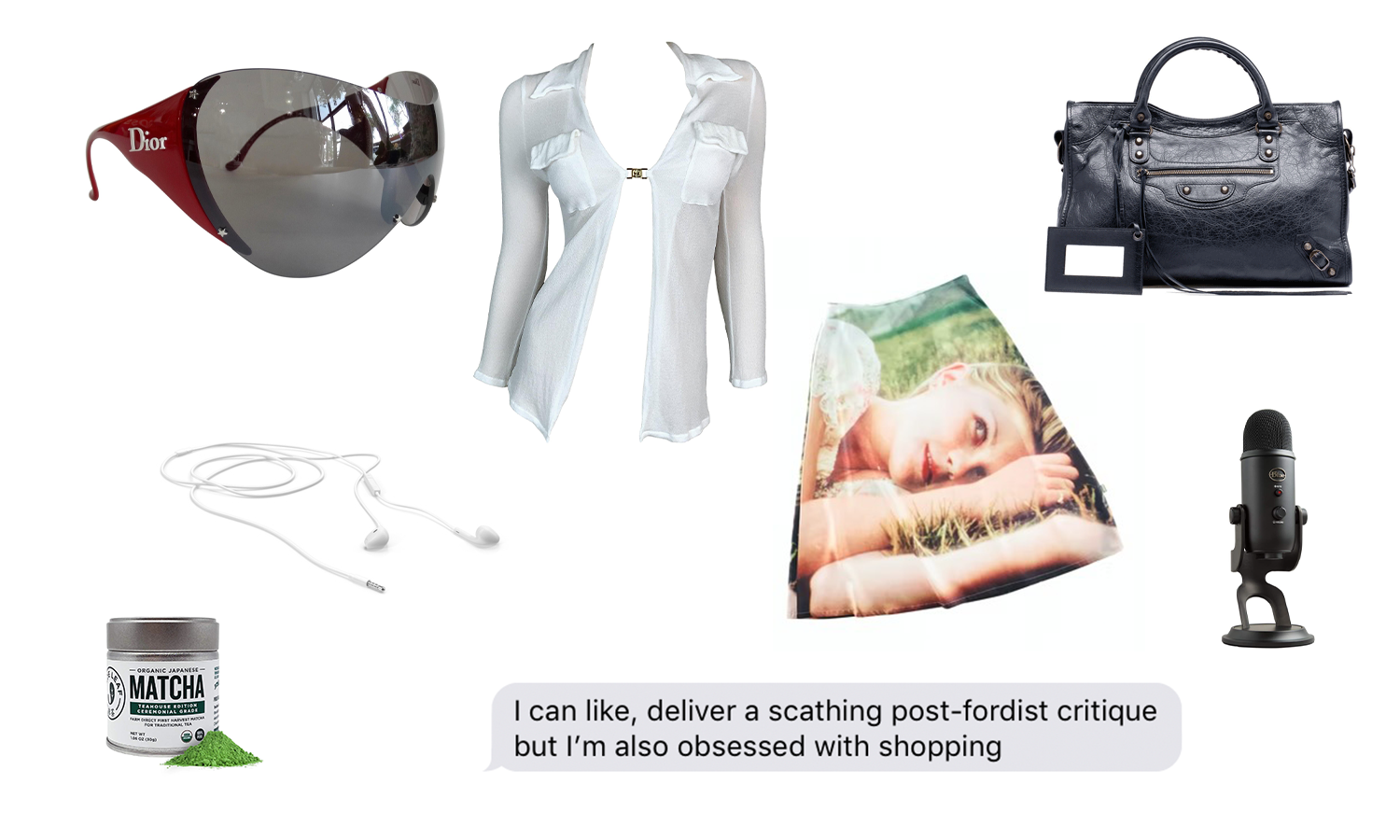 That based It-girl who started a podcast
What do you get a girl who is always one step ahead? You know who we're talking about, the one who had a podcast "way before, like, anyone else", who claims to have inspired Lily Rose-Depp to start using wired headphones, says she doesn't use Instagram yet suspiciously knows Devon Lee Carlson's every move, and is "obsessed" with Dasha Nekrasova. She claims to "love" manga, doesn't drink coffee, and dyed her armpit hair pink over lockdown. Some might say she's 'based', but she just considers herself true to herself. A self-confessed "analogue" girl, there is little of her life that is truly offline (just check her screen time). Consider getting her a selection of vintage books (ideally colour-coded to her #shelfie), the more Marxist-leaning the better. She claims to only wear vintage (with the exception of, ahem, Heaven) so you could scour resale sites to find some old American Apparel, Ford-era Gucci, Ghesquière-era Balenciaga, or Murakami-era Vuitton (the faker the better). Out of your budget? Dime-store tinted sunglasses with rhinestone settings will do, as will any kind of technology that feels obsolete: batteries, anything from Samsung, walkmans, or a 2006-era lime green iPod Nano unironically pre-loaded with Disney anthems. You'll know she loves it when she gives you a shoutout in her newsletter.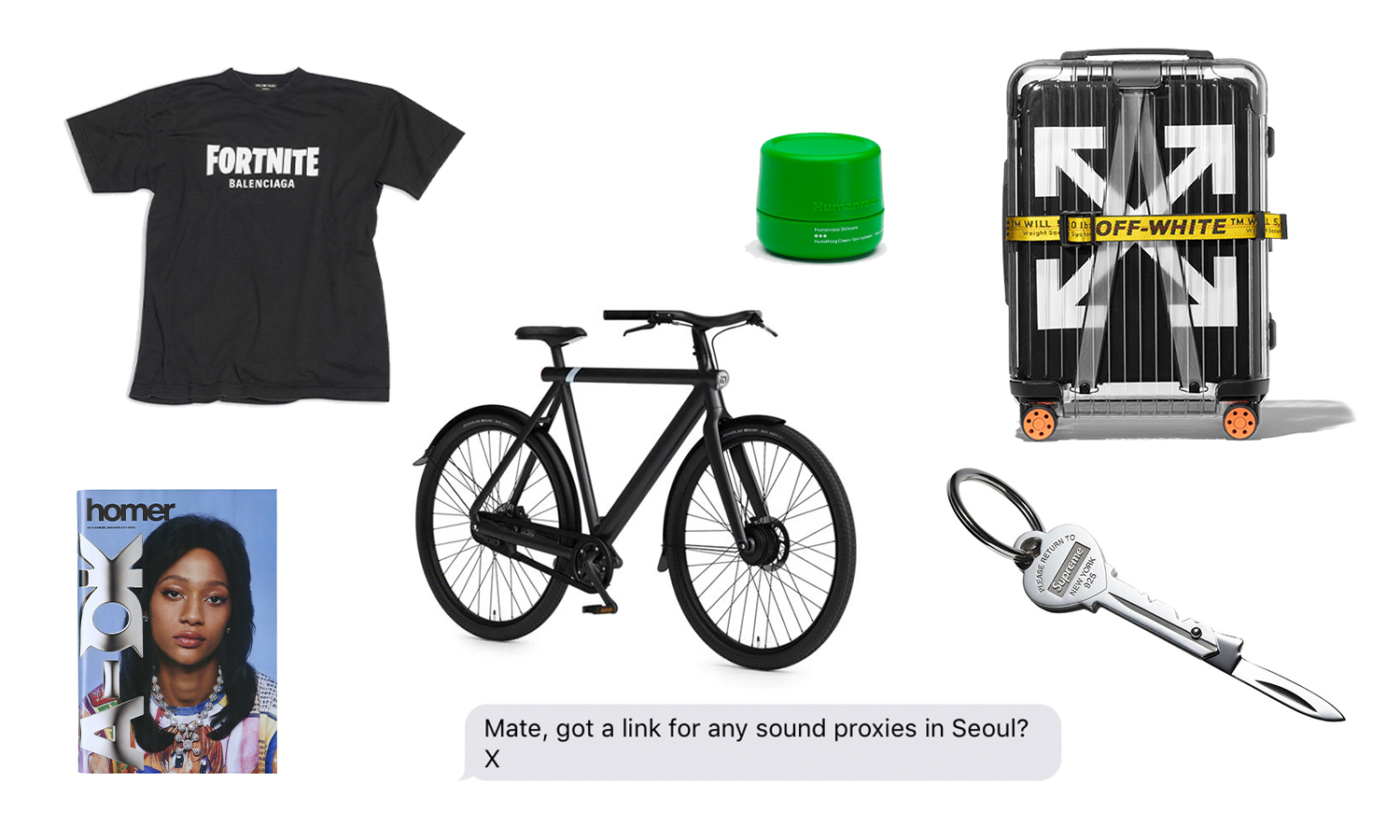 Your spoilt Hypebeast brother
So, compared to the others here, shopping for your hypebeast brother is both easy as mince pie and tough as an uncooked sprout. How so, you ask? Well, it hardly takes much brain power – just as with our graduate girlie, just hop over to Lyst, skim off the first ten things you see, and there's his wishlist. Simple enough, right? Well, no, not unless you have Svetlana and her mysteriously sourced credit card to hand! While you'd love to be able to fulfil his every wish – from an Off-White x RIMOWA case to a first-edition Homer catalogue, a VanMoof bike to a KAWS NFT – if you're here reading this, the likelihood is that your wallet won't stretch quite that far. Don't shop big, though – shop smart. Can't get him a Dior x sacai Saddle Soft Bag? Well, hot-foot it to Browns East and beg the kind souls there for a box and carrier bag so he can at least take some duplicitous pics for his Reddit friends. Is a Balenciaga x Fortnite hoodie beyond your reach? Then open his eyes to the booming world of la mode à la metaverse, and get him a gift voucher for the platform's in-game store instead! Missed out on the Supreme x Tiffany & Co. flick-knife (for the best, perhaps)? Then at least get him a subscription to the Supercop Supreme Bot so he'll never miss another drop again. If we're talking about things the boy actually needs, though, then by God is a three-step-minimum skincare regime top of that list. While you're unlikely to turn him onto SkinCeuticals or Biologique Recherche overnight, a friendly point of introduction would be Pharrell's Humanrace. If seeing his (immaculate and ageless) face doesn't win your brother over, then trust us – nothing will.
Tagged: