Photo by Dave Benett/Getty Images.
7 of Naomi Campbell's most iconic outfits
The OG 90s supermodel and i-D cover star isn't afraid to experiment, but how well do you know her many looks?
Photo by Dave Benett/Getty Images.
Does the Naomi Campbell really need an introduction? One of the OG 90s supermodels, Naomi has had a prolific modelling career that has spanned over four decades. And her relevance has not once waned -- she continues to be one of the most covetable faces working today. The British legend and i-D cover star touts one of the best walks in the business, legs for days, a smouldering catwalk gaze and a winsome smirk. She's covered over 500 magazines, walked for the highest-calibre designers from Versace to Azzedine Alaïa, and has been shot by the industry's biggest photographers including Steven Meisel, Patrick Demarchelier and Peter Lindbergh. In addition to all this, Naomi's career has been an historic one: she was the first black model to cover Vogue Paris and Vogue's essential September issue. Naomi is not just a supermodel but a cultural icon in her own right. Here, i-D charts Naomi's monumental career through some of her best looks, on and off the catwalk.
At Azzedine Alaïa AW 1991/1992
Azzedine Alaïa and Naomi Campbell have a designer-model relationship unlike any in fashion. Less artist-muse and more father-daughter, Naomi considers Azzedine one of her closest friends and confidants, frequently referring to the designer as her 'Papa.' The duo first met on Naomi's first day in Paris, at age 16. Alone in the city with a stolen wallet, Naomi was invited to Azzedine's house for dinner by a fellow model. "After that, whenever I came to Paris, I would stay with him. He gave me my own room and I still have it. My mum didn't want me to go to discos and he never used to let me go. One time, I climbed out of the window to a waiting taxi. When he found out, Azzedine put me in the room above him so that if I wanted to go out, I would have to go through his room," she told The Independent in 1998. Here she is in one of her most iconic Alaïa runway looks: a sheer leopard-print catsuit, accessorized with ruffle cuffs and Naomi's signature smirk.
Wearing Vivienne Westwood, October 1993
Since she first set foot on the catwalk in the late 80s, Naomi has had countless unforgettable runway moments, from singing George Michael's "Freedom" at Versace, to that iconic hair flip in 1999, and, most recently, closing Valentino's spring/summer 19 couture show. Her most famous -- and most endearing -- catwalk moment was her tumble in a pair of towering Vivienne Westwood lace-ups at the designer's autumn/winter 93 show. A true professional, Naomi took the blunder in stride, smiling her way through it. Months after the headline-making fall, Naomi sported the notorious heels (and matching Vivienne Westwood tartan) at a gala honoring the Dame herself.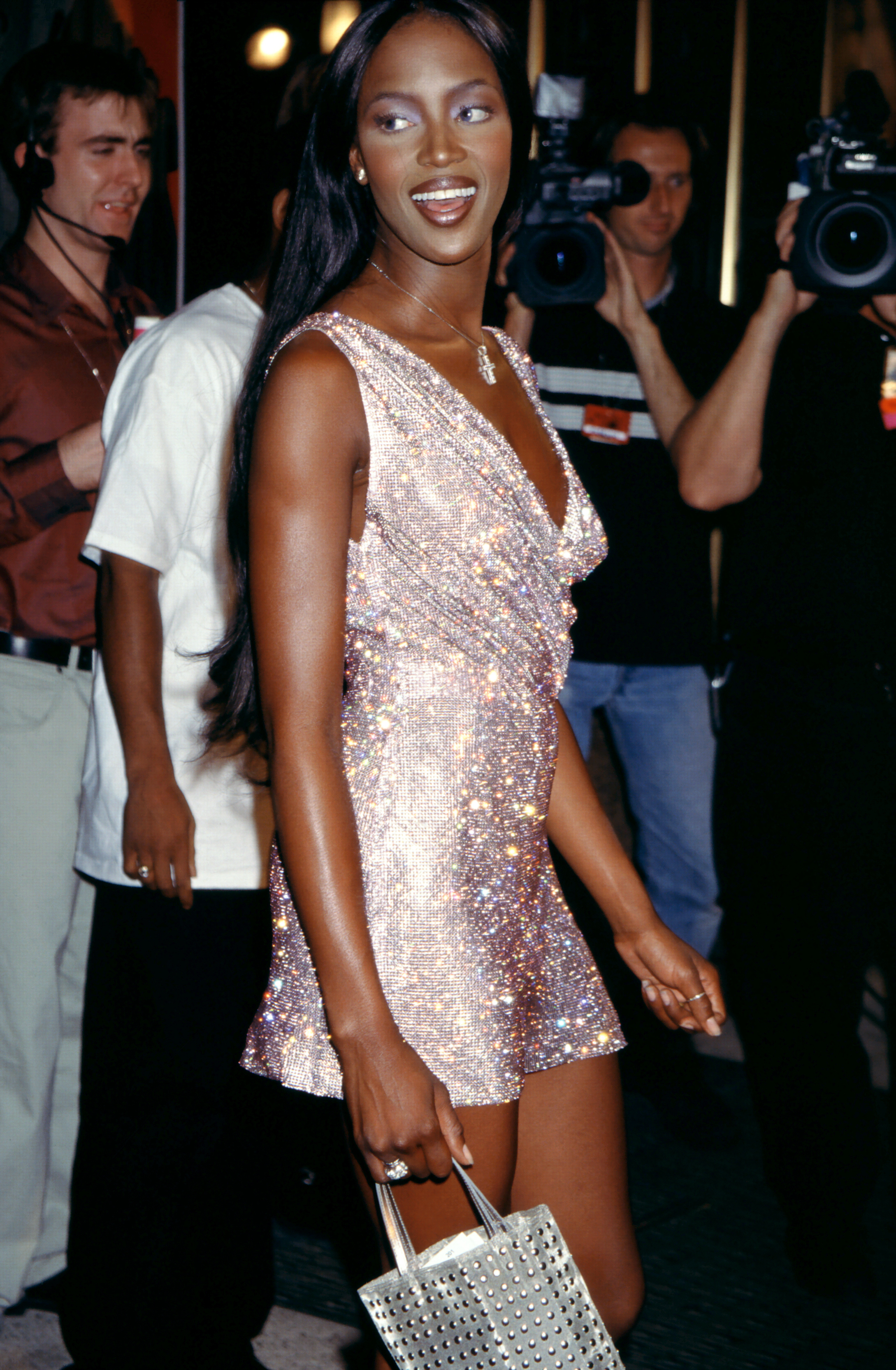 Wearing Versace at the MTV Music Video Awards, 1997
The Versace muse, Naomi Campbell has walked countless shows for the Italian house, both under the creative direction of Donatella and the inimitable Gianni Versace -- the latter a good friend and mentor to Campbell. Her ties with the house run so deep that the model has frequently worn Versace off the runway as well -- to two Met Galas, on reality TV show The Face, and, here, at the MTV Music Video Awards in 1997. This pink sparkly mini is nearly identical to the dress she wore at Versace's theatrical spring/summer 98 show. It's a look that is oft referenced – or straight-up duplicated -- but never equalled.
Off-duty in a white suit, 1997
Naomi loves a white suit moment -- sharply tailored and sans-bra, oversized, just-the-vest iterations and nipped at the waist. She's worn 'em all. Here, in 1997, Naomi wears a slightly more casual iteration. The embroidered, wide-lapel blazer oozes 90s cool, especially when paired with the decade's de rigueur -- micro sunglasses and bag to match.
Naomi Campbell on The Face, 2013
Who could forget Naomi's turn on reality TV show The Face? During the show's three season run, Naomi acted as a mentor -- alongside the likes of Erin O'Connor and Coco Rocha -- to model hopefuls competing for a chance to make it big. The show was as rife with iconic fits -- from Alaïa to McQueen -- as it was quotable soundbites. "Check your lipstick before you come and talk to me" became 2013's go-to clapback for fashion fans everywhere. Naomi telling Nicole Trunfio, "Don't compare yourself to me, ever" is the meme that keeps on giving. During the second episode of the show's sophomore season, Naomi flexed her credentials in her best The Face look ever: the same belted corset she had modelled for Versace's autumn/winter 92 runway show, over two decades earlier.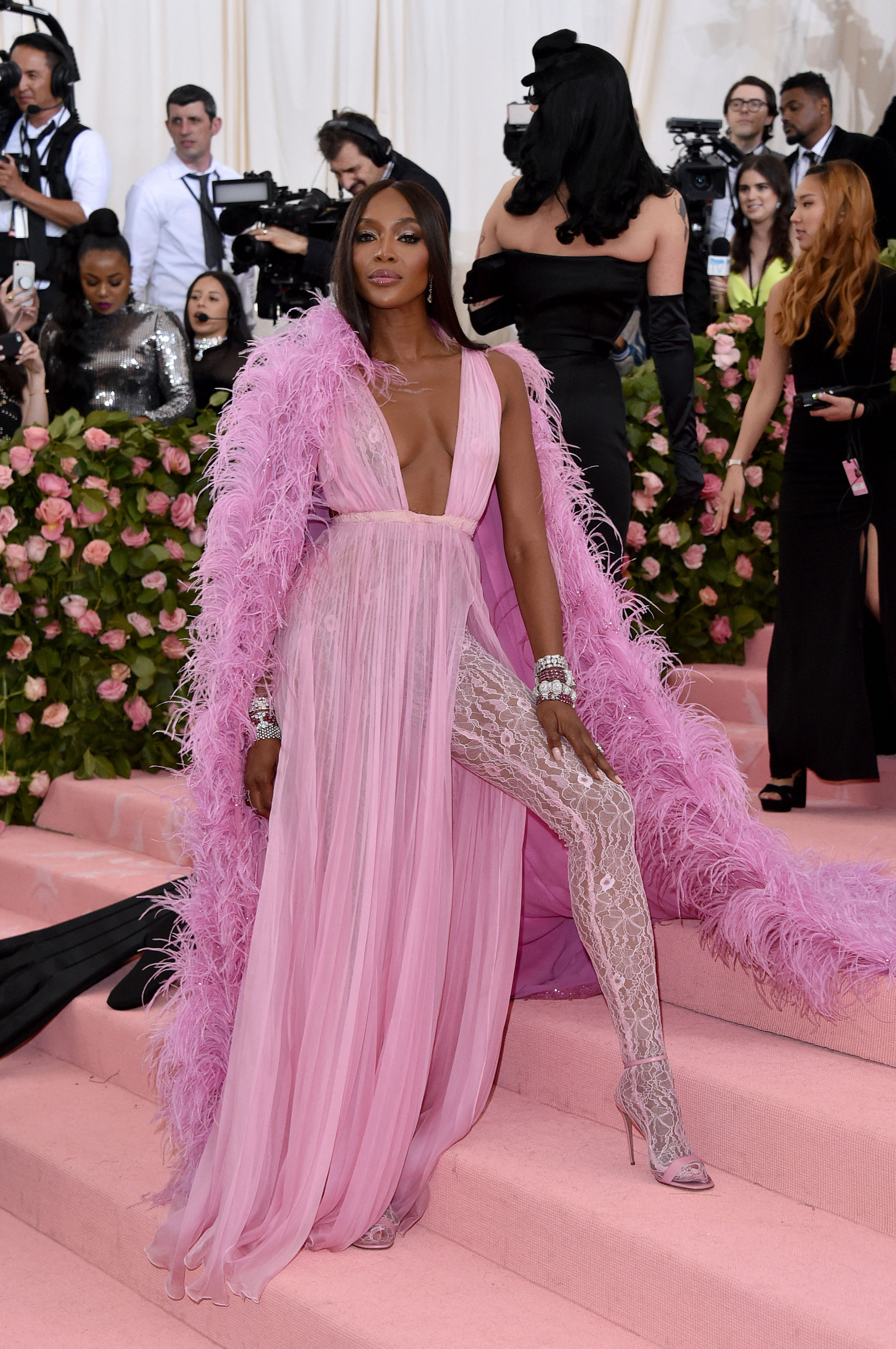 Maison Valentino at The Met Gala, 2019
One of the industry's biggest names for over three decades, Naomi Campbell has been attending the annual Met Gala since the 90s. Over the years, she's worn a Versace minidress, a DSquared2 T-shirt, and an intricate Alexander McQueen gown. For the fête's 2019 edition, she wore, perhaps, her most memorable Met outfit. The look is quintessential Campbell. Grecian-style dress? Cape? Feathers and bodycon lace? They're all there -- and in full force, we might add.
Wearing Mowalola at the Fashion for Relief runway show, 2019
While hosting her Fashion for Relief runway show at London Fashion Week 2019, Naomi wore a pristine white dress, designed by Nigeria-born designer Mowalola Ogunlesi, painted with a deep red bullet wound. After the event, Mowalola issued the following statement on her Instagram: "This dress is extremely emotional to me -- it screams my lived experience as a black person. It shows no matter how well dressed you are or well behaved, we are time after time, seen as a walking target." The dress was praised by many as a powerful statement on gun violence. This isn't the first time Naomi has used fashion as a form of activism. In 2005, she founded Fashion for Relief, which organizes fundraising fashion shows to benefit victims of natural disasters. Throughout her career, Naomi has used her voice to call out racial injustices in the fashion industry -- from industry whitewashing to the pay gap between herself and her white colleagues -- and has been instrumental in shifting the fashion conversation towards inclusivity.