Why cats are horny for FKA Twigs
The abundance of videos of cats fascinated by Twigs is the only thing keeping us sane on this Friday afternoon.
|
21 February 2020, 12:52pm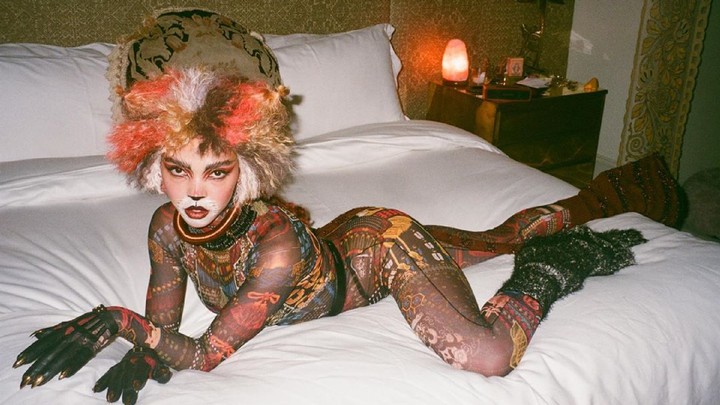 Roxy Lee
When FKA Twigs sang "Didn't I do it for you?", softly and sweetly on 2019's "Cellophane", she wasn't directing her question towards a furry feline. Because, as the internet has taught us, Twigs does do "it" to cats, whatever "it" may be -- and she does it quite spectacularly.
Videos popping up across social media over the past few days have shown that Twigs' music videos, live performances and albums have become literal catnip. No one -- not even Twigs herself -- is sure of how or why this has happened.
Though videos of this ilk have been doing the rounds on the internet for quite some time, this modern moment -- her 'Moggy Magdalene' era, if you will -- kicked off on Valentine's Day, when a fan posted a video of her cat watching a live performance of "Magdalene" at the Valentino show.
The cat, perched on the edge of a sofa, is entranced. Maybe it's her voice, her outfit or the way she moves… it remains unclear. After Twigs retweeted it, other fans started tagging her in their videos. Five days later, she quote tweeted one that asked the question we are still, somehow, trying to get to the bottom of: "lol why are cats so obsessed with me?"
It could be her beguiling falsetto or the way she moves like an agile dormouse avoiding a cunning trap. The way she spins on a pole in her videos and live performances is, we've all realised, truly hypnotic, so let's face it, if she was to be an animal, she'd be an incredibly dextrous one. Cats are on the same wavelength as she is: gracious, kinetic and too iconic to care about begging for human attention.
By yesterday, the contagious trend reached its peak and seeped into the real world, when an actual cat followed actual pop icon FKA Twigs down the street for a whole five minutes. "does anyone have any advice on this?" she asked. "i'm into it, just not sure what's happening."
To try and get to the bottom of this, i-D reached out to a cat psychologist to get her urgent, medically-sound thoughts on the matter. She didn't get back to us, and so Twigs is left to figure out why so many cats are low-key stans of hers for another day. If she replies, we'll @ you, Twigs. Cats and humans deserve an answer.