7 of Madonna's most iconic outfits
From 80s erotica to matador-chic and *that* cone bra, there's never a dull fashion moment when the Queen of Pop is around.
|
27 January 2020, 12:00pm
Images via Getty
Since her pop career kicked off in the early-1980s, Madonna Ciccone has changed her image so frequently that it can be hard to keep up. Her succession of different looks and guises has cannily enabled Madge to constantly remain in the media spotlight. No wonder fashion designers galore have always been so keen to collaborate with her. Madonna's style-savvy approach to pop has further ensured zillions of single and album sales across the past four decades, not to mention record-breaking sell-out concerts globally.
Now in her early 60s, Madonna is proving she's still a tour-de-force. Her Madame X tour lands at the London Palladium from January 29 for 14 nights of fun, promising to be an eyepatch-wearing outfitathon as much as a musical celebration. In anticipation, we're marvelling back at her kookiest and most iconic fashion moments.
1983: Witchy woo!
During the early 80s, young Madonna was a rising 'face' amid New York's downtown art-fashion-music scene. She was mates with Keith Haring and dated Jean-Michel Basquiat -- the two hottest artists of the era -- and sometimes performed at Danceteria, the city's most experimental club night. She intuitively appreciated new ideas and the freshest emerging fashion -- not least the creations at Vivienne Westwood and Malcolm McLaren's innovative World's End boutique in London.
During a mini tour of the UK in the early 80s Madonna bagged a stretchy tube skirt from the duo's influential 1983/4 Witches collection, adorned with specially-commissioned Keith Haring fluoro-graffiti squiggles and symbols. She later wore it, among various other looks, in the video for her 1983 single " Borderline". Soon afterwards, Madonna did a photo sesh with i-D for her first ever UK mag cover -- for our May 1984 issue!
1990: A Marie Antoinette moment
Back in pre-social media 1990, the closest thing to going viral was causing a stir at high-profile televised events such as the MTV Awards. Madonna made the most of the occasion, borrowing a mega-frock previously worn by Michelle Pfeiffer in the film Dangerous Liasons, set in 18th century Paris. Accessorising this with pearls, a feathered head-piece and a flamboyant fan, Madonna and her dancers delivered a fantastically camp performance of her hit single "Vogue", which got a rapturous response.
The "Vogue" lyrics pay tribute to Hollywood icons and the '80s NYC Voguing scene, as captured in the 1990 Paris is Burning documentary (which inspired the recent US TV series Pose). Incidentally, several of the amazing dancers here were original old-school Voguers. Madge likes to keep it real.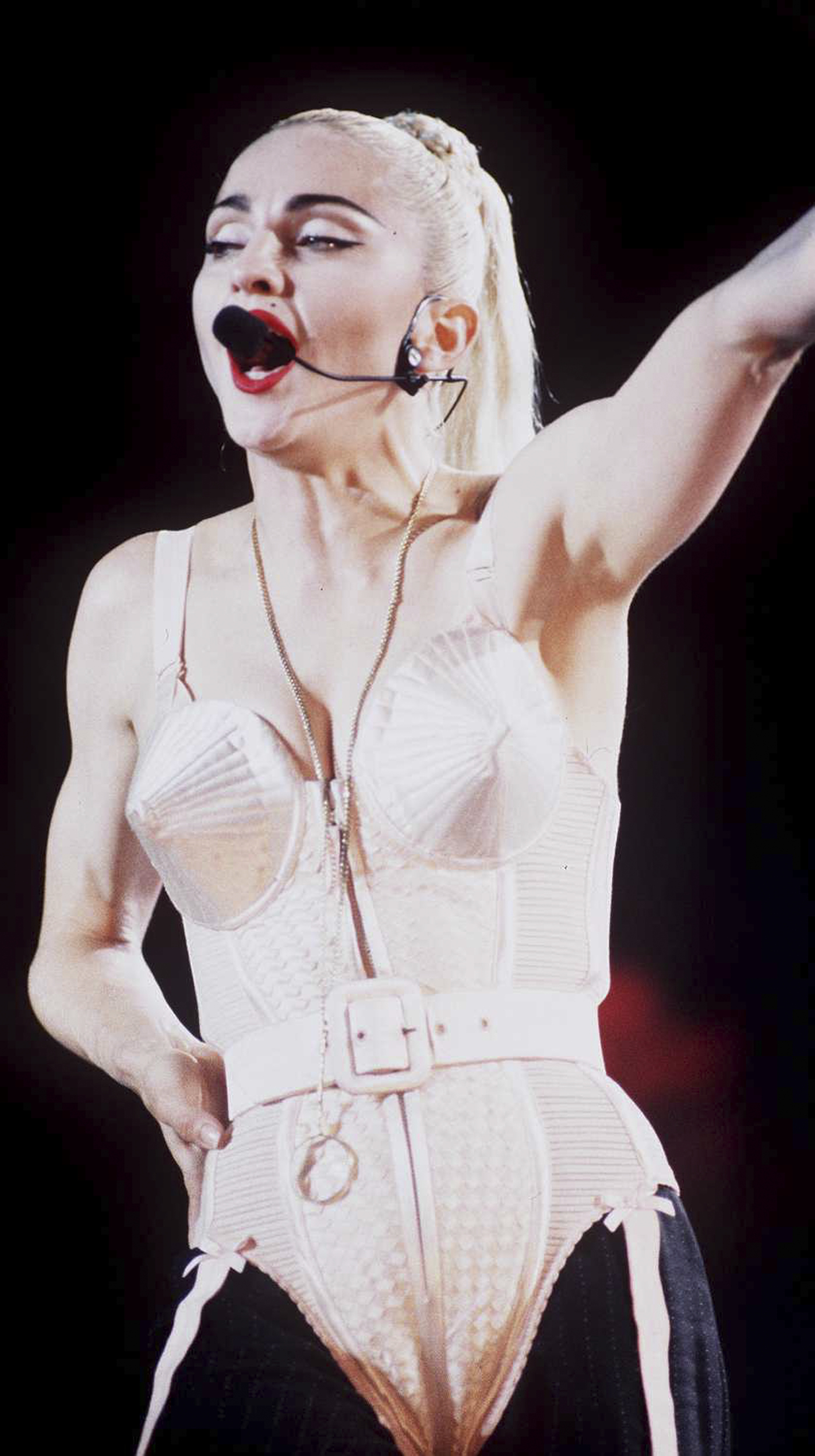 1990: Iconical
Madonna debuted the infamous conical bra corset at the start of her 1990 Blonde Ambition tour. Around that time, she'd been getting flak from religious groups and the press for her sexually charged lyrics, costumes, videos and live performances, and this dramatic undies-as-outerwear look outraged her critics even more. The golden-coloured, highly structured design came from the decade's most adventurous fashion maverick, Jean-Paul Gaultier, who drew inspiration from 'bullet bras' worn by 1940s-era Hollywood film stars. Gaultier had experimented with prototypes as part of his previous fashion collections, and even during his childhood, when he used to make them for his teddy bear! But Madonna took the idea to a whole new level, turning it into a symbol of unabashed female empowerment. In 2012, a London auction house flogged one of Madonna's pre-worn conical creations for the bra-gain price of £52,000.
1992: Naked hitchhiker chic
You know how it is, you need to get somewhere quickly, then realise you've forgotten your bus fare and will have to walk. Not Madonna, though. She resorts to major attention-grabbing tactics to hitch a free ride… In fact, this flesh-flashing moment, snapped in Miami, was one of many pics of Madonna included in her 1992 conceptual photo book, Sex, shot by the superstar photographer Steven Meisel. Packed full of faux-porno frolics and S&M-style imagery, the book also starred some of her famous chums including supermodel Naomi Campbell, gay porn star Joey Stefano and rapper Vanilla Ice. Sex caused much media scoffing when it first hit the shops. Typical of this was The Times: "Unfortunately, not many of the images are very good photographically." Madonna wasn't arsed, though, enjoying the last laugh when Sex sold 1.5 million copies globally.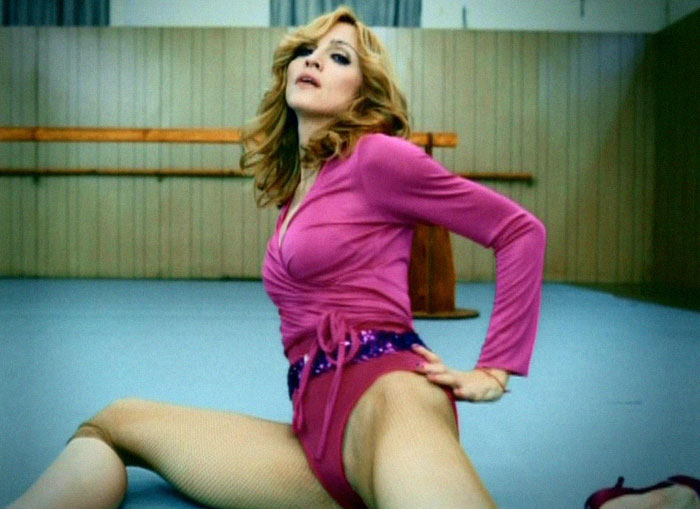 2005: Well hung
Madonna was in her mid-40s when she unleashed this 1970s-inspired look, to coincide with the video for her ABBA-sampling hit single "Hung Up", from 2005. Getting into the groove of New York's classic disco era, she channelled the flicked hairdo first made famous in the '70s by the original Charlie's Angels star Farrah Fawcett. This was teamed with a pink leotard, matching nail varnish and a sparkly purple belt. In the video, the true showbiz trouper looks super-toned, prancing about like an energetic teenager, despite wearing scarily high-heel stilettos and having recently broken her ribs after falling off a horse! The single promptly cantered to the top of the charts, selling over 9 million copies worldwide. Oh, and sales of pink leotards went through the roof.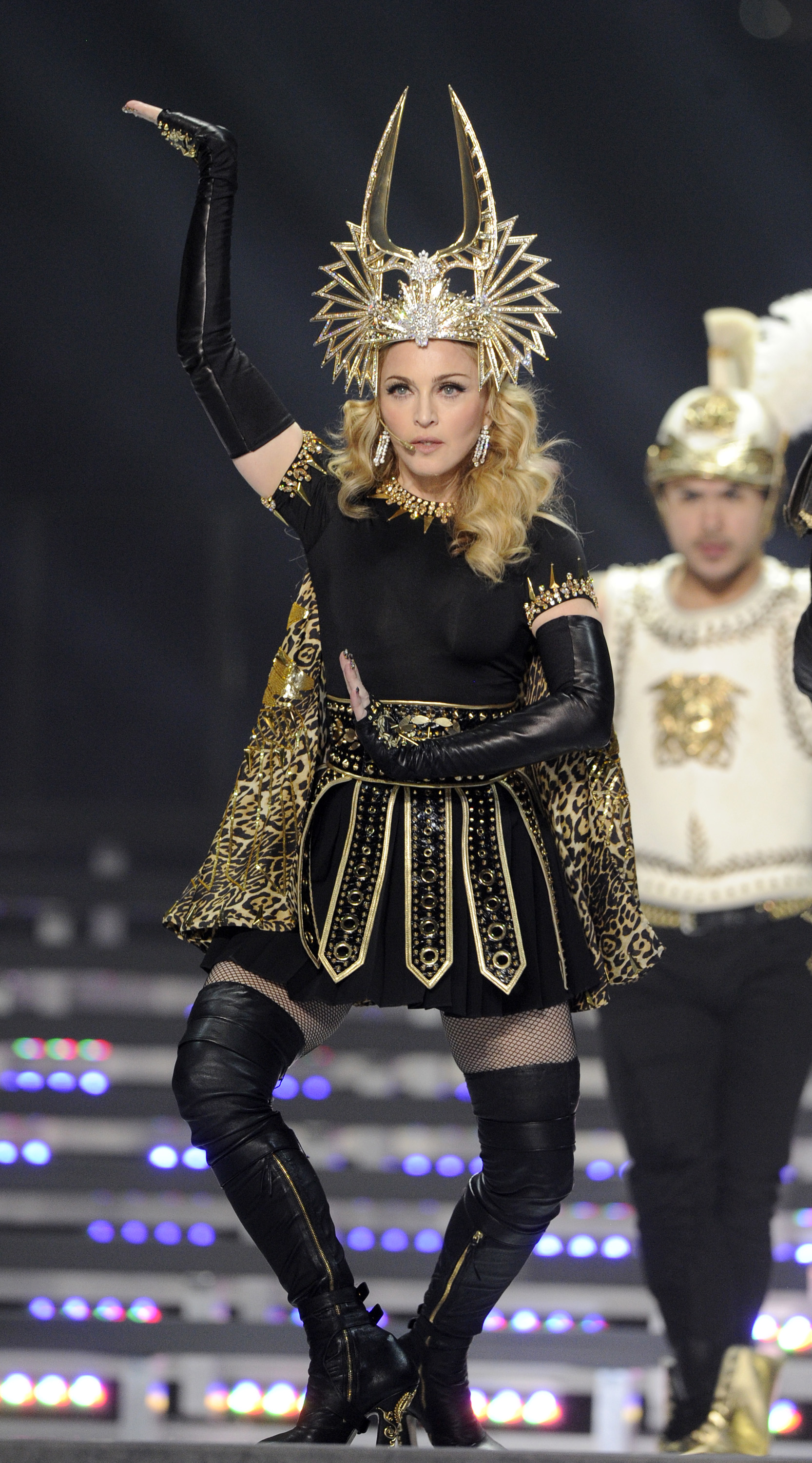 2012: Superstar style
Madonna's appearance at the 2012 Super Bowl made US TV history – the most watched event, ever, basically, since tellies were invented.
She also caused a meltdown among fashion fans, thanks to the lavish stage-wear designed for her by Givenchy's at-the-time Creative Director Riccardo Tisci (now the head honcho at Burberry). Mixing up Roman gladiator and Egyptian queen themes, Tisci ensured there were enough haute couture sequins, embroidery and gold-work to keep Madonna looking sparkly, and contrasted this with lashings of dramatic black to avoid it being tacky. Millinery maestro Philip Treacy devised the headwear, while the luxury Italian brand Bulgari provided the jewellery. Madonna wowed the 111 million American viewers with a medley of her hits, joined by Nicky Minaj, LMFAO, Cee Lo and MIA on a stage that flashed images of Vogue magazine covers! Casual.
2015: Bum-flashing
Madonna wore a frumpy beige gown to the 2015 Grammy Awards and, oh dear, hardly anyone noticed when she arrived. AS IF. Even the red carpet visibly blushed when she stomped across it in this Spanish Matador-meets-dominatrix affair, complete with fishnets and thigh boots. The eye-popping eveningwear was created by her aforementioned designer pal Riccardo Tisci. After making her grand entrance, cheeky Madge decided to double-check the paparazzi had clocked her latest look, with an impromptu moon of her world-famous buttocks! What's she like?!
Tagged: