Balenciaga is returning to haute couture after over 60 years
Demna Gvasalia will present the house's first couture collection since the ateliers were closed by Cristóbal himself in 1968.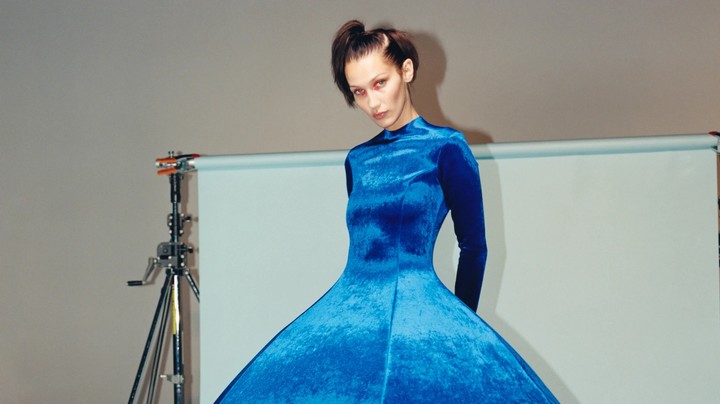 Photography Oliver Hadlee Perch
If fashion is anything, it's forward-facing; while today only marks the start of Spring 2020 couture week in Paris, it appears that sights are already set on what's to come in six months' time. Just as the industry's most prestigious houses prepare to showcase the assiduous handiwork of their ateliers' petites mains, Balenciaga has stolen the show, announcing its return to couture in July for Autumn 2020.
The news marks the revival of the house's original focus, with Cristóbal Balenciaga routinely cited as one of the defining couturiers in fashion's history -- Christian Dior famously referred to him as "the master of us all". What's more, the presentation will also be its first return to haute couture since the closing of the house's Avenue George V ateliers by Cristóbal himself in 1968.
"Haute couture is the very foundation of this house," said Demna Gvasalia in a statement, "so it is my creative and visionary duty to bring couture back." While the continued relevance of fashion's most exclusive strain is certainly worth questioning, the remit that the heavily-codified medium allows designers to exhibit their creativity, and a house's savoir-faire, is unparalleled. "For me, couture is an unexplored mode of creative freedom and a platform for innovation," Demna continued. "It not only offers another spectrum of possibilities in dressmaking, it also brings the modern vision of Balenciaga back to its sources of origin."
Few could argue that the Georgian designer's modern vision of the house has been anything but a runaway success; from the streetwear-inflected pieces of his debut collection to the tech-y 3D-moulded coats of AW18, the designer has innovatively worked with Balenciaga's couture heritage to feverish critical and commercial acclaim. It's this latter factor that's allowed for the re-opening of the house's couture salons in Paris' 8th arrondissement, steps from both the Seine and the Champs Elysées. "This project was possible due to the success of the creative vision of Demna Gvasalia as well as the exceptional results of Balenciaga these past few years," confirmed Cedric Charbit, the house's President and CEO of Balenciaga.
The decision comes at a critical moment in fashion, at which the industry is forced to confront the mammoth task of implementing more responsible production practices. While, haute couture may be well beyond our budgets, the perfect match between supply and demand that it entails technically makes it a more sustainable product category than most. "We already have requests for couture, so we know there is a customer. She's there," continued Cedric, in conversation with Vogue.
While that 'she' may not refer to any of us, we're waiting as eagerly as anyone else to see how Demna will interpret the house's essential fabric. Summer can't come sooner.