The new trailer from the director of Call Me By Your Name is here
Luca Guadagino's The Staggering Girl stars Julianne Moore and Kyle MacLachlan and was produced by Valentino creative director Pierpaolo Piccioli
|
04 February 2020, 2:20pm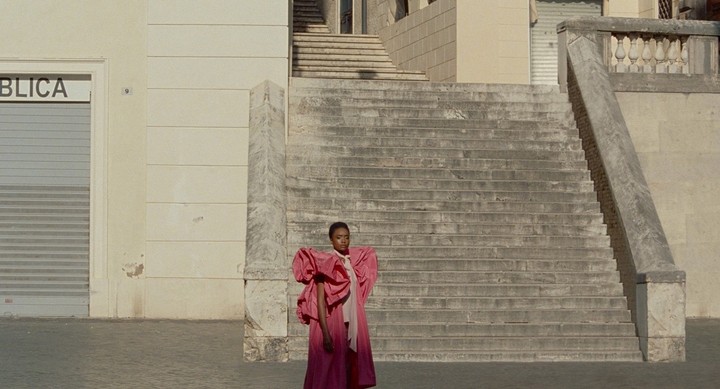 Still from The Staggering Girl, 2019
Judging from our first look at The Staggering Girl, Luca Guadagnino's latest film seems sure to take after the filmmaker's last Italy-based venture, Call Me By Your Name. Though notably less sun-dappled than its predecessor, the trailer has a similarly mysterious, dreamy vibe.
The fashion, however, is a far cry from CMBYN's dad shirts and vintage trainers. The Staggering Girl employs Valentino haute couture to tell its story, and was produced in collaboration with Pierpaolo Piccioli, the creative director for the Roman house. The collaboration is pretty obvious -- in the roughly minute-long trailer alone, we are treated to silhouette after silhouette of lustrous, jewel-toned fabric.
The trailer is a series of brief glimpses into the life of Francesca, a character portrayed by the luminous goddess Julianne Moore; described as "the troubled, expatriate daughter of the acclaimed German-Roman painter Sophia Moretti, who has descended into blindness."
Soundtracked by Oscar-winning composer Ryuichi Sakamoto, the film is sure to be an unforgettable cinematic gem, featuring stars such as Kyle MacLachlan of Twin Peaks fame, Nymphomaniac's Mia Goth, and KiKi Layne, who had her breakout performance in 2018's If Beale Street Could Talk.
The 35-minute film promises a "whirlwind of pain, memory and fulfilment" via its official synopsis. "Triggered by a stranger's secret confession," it reads, "Francesca returns to her childhood home in Italy to convince her ailing mother to follow her to New York." It's all very cryptic.
All will be revealed on February 15, when The Staggering Girl will premiere worldwide on the film subscription service MUBI. Efe Çakarel, the platform's founder and CEO, said in a statement about the film that MUBI was "extremely excited" to be working with the filmmaker following the success of his 2018 adaptation of Dario Argento's Suspiria. " The Staggering Girl is an exciting new vision from one of the most thrilling filmmakers working today," he told Variety, "We can't wait to share this beautiful film with audiences soon."