Photo by Nevena Dzamonja.
STEFA* is writing anti-fascist, postcolonial love songs
The experimental Colombian-American singer releases the video for their new single 'Fascist Love' exclusively on i-D today.
|
14 February 2020, 5:58pm
Photo by Nevena Dzamonja.
STEFA*'s second sold-out show at The Sultan Room in Brooklyn feels deeply ceremonial. The classically-trained experimental singer, a native New Yorker born to Colombian immigrants from Pereira, is parading around the stage in a bright sheer cape. It plays with the venue's colored lights, refracting them in such a way that the artist is imbued with a rainbow aura as they manipulate a loop pedal, veiled behind a neon-lit altar.
Their music is injected with ancestral yearning, drawing from traditional indigenous chants and their own interests in spirituality and politics. There's an urgency here, one rooted in decolonizing and deconstructing the world around us until we can feel comfortable existing in it. "Home isn't a physical place," they tell the rapt audience. "Sometimes it's being okay within your body and community." The crowd holds their breath, and STEFA* launches into "Una Casita" from the well-received EP Sepalina.
"I'm still in shock that sometimes people believe in my work," they tell i-D. "I feel like it's ungovernable and immersed in so many contexts and genres." Their new video single "Fascist Love", out in time for Valentine's Day, defies definition. With an aesthetic equal parts alternative haute couture and ancient symbolism, STEFA* sings about the complications of the most ungovernable emotional state in our often seemingly apocalyptic present: "Falling in love in a fascist regime/ Ain't as easy, ain't as easy as they say."
In a secluded West Village bar, as Beyoncé's "Love on Top" appropriately blared in the background, i-D spoke to the Colombian-American artist about channeling her Embera Chamí ancestors, her anti-fascist and anti-colonial approach to music, and the different faces of love.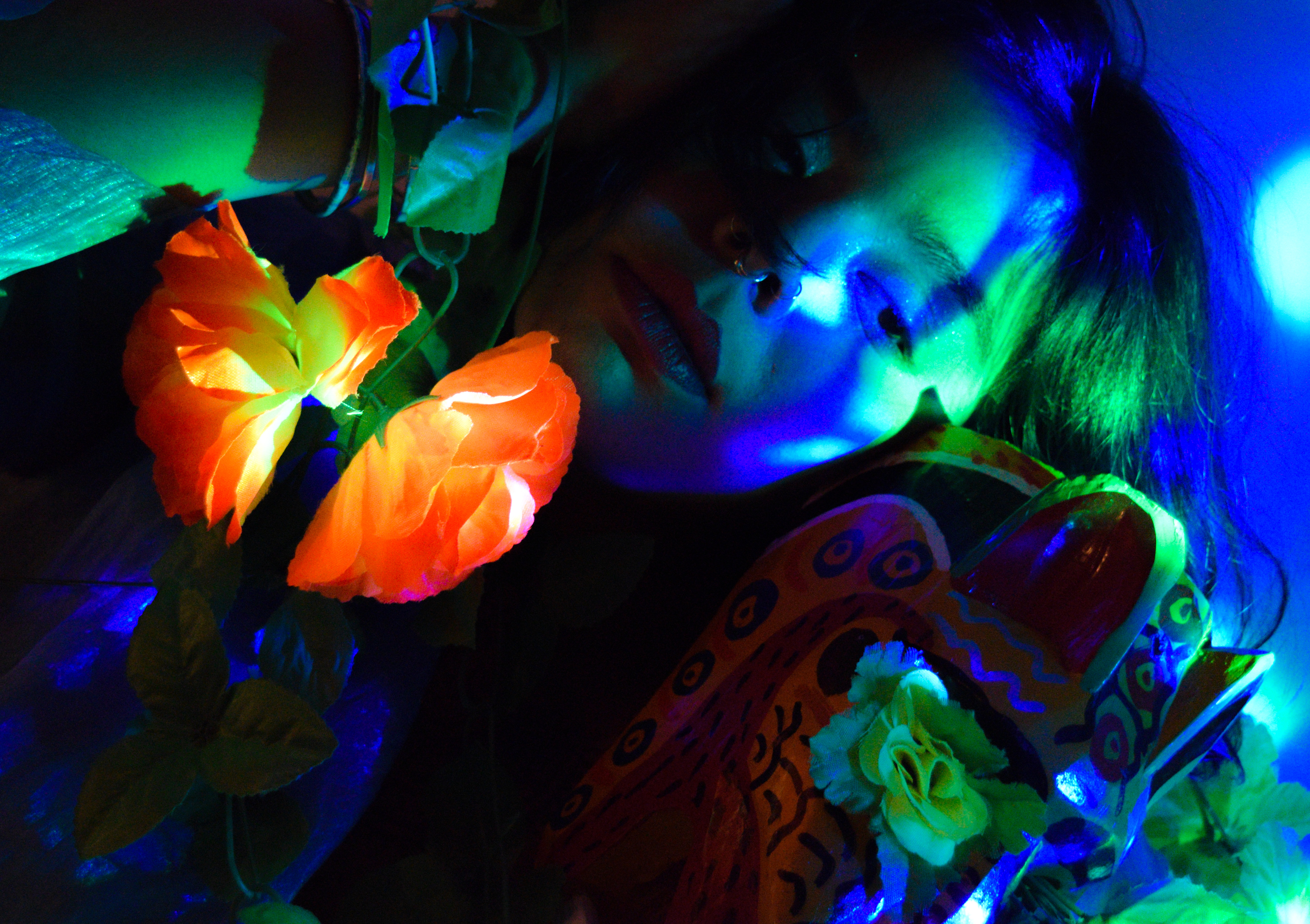 There's a deeply spiritual aspect to your work; one constant I noticed is the idea of communing with ancestors that are ever-present.
When I'm on stage or making a new piece, I feel like my ancestors are very present. I've been blessed with, for lack of a better word, a more "worldly" perspective. There are so many intersections I can't help being a part of—I'm an American, a New Yorker, and a child of immigrants—so I live within that. To bring back ancestral power through my performances is really important to me because I make music and art but my main goal is surviving and thriving off it. Right now, people need that bridge between ancestral wisdom and thinking of the world differently from the way we've been presented it. We need to think about what it means to honor our ancestors in our work.
And who are your ancestors? I remember during your show, when you sang "Sepalina" you let out invocations in—
—Embera Chamí. They're still present in Colombia and Panama. A few years ago my tías told me my grandmother was from that community. I decided to look into this community that I had never gotten to know, and through access to musical archives a friend had found the chant that made up the melody of "Sepalina" and wrote down what I heard.
And what did you hear?
For me, it became about tapping into the source. There was a big shift for me in 2014 when Ferguson happened. I was wondering what I was doing with my time and my art. I had studied music my entire life. Did I wanna be an actress? Did I wanna be on T.V.? Fuck that! I have so much to say and all of that is filtered through my music and visuals. Sepalina became a force for that to come out. It became this embodiment of me questioning everything we've been taught, and my relationship to the identities imposed on us. I was searching for the nuances in the history of myself.
And how have you grown musically since then? Just from "Fascist Love", I'm hearing something that goes beyond the minimalist, off-kilter sounds in Sepalina.
"Fascist Love" was produced by Abraham Cavin Quezada, who also produced my track "Volver". We met on OkCupid, but ended up vibing more musically than anything. I'm constantly writing about my experiences, and at the time I was reading bell hooks' "All About Love". I was looking for answers to what love was. These were new things coming into my think-space as I came into my own queerness, trying to understand my feelings. I looked at the people around me: these are my friends, these are the people I live with, these are the people I align with politically. We're all radical and queer as fuck. Love isn't a feeling; it's an act. My music can be hard to access if you don't have context, which is why I love talking to my audience, but this track was a hot jam and it felt good. I knew it was gonna be my "love song"; so many of the love songs out there play into these heteropatriarchal tropes of love, but "Fascist Love" you can rock out to, and the questions are more challenging.
The aesthetic of the video is also a departure from your past work—I'm thinking about "Una Casita", which was seemingly more rooted in traditional Colombian garb. This was more of a demented, Rei Kawakubo-esque fantasy.
I was wearing local designers Voni Studio and Maria Beniaris and I was styled by Homosinner, an amazing indigenous Costa Riccan artist who's work is really radical and queer and playful. I connected with them at a show after admiring each other's work from afar. I wanted the visual for "Fascist Love" to be fucked up. After Sepalina's more put-it-together rogue effort and Mi Casita's moodiness, I wanted this to push what I was seen as. I have a theatre background, and a big part of my art is feeling and performing those feelings in my music, and manifesting it in how I look. I've always been intentional about what I wear. Clothes can conceal, reveal, strengthen, affirm, hide... how I dress is a huge part of my practice.
It's hard to focus on love, on home, when one has to survive. To you, can love in any and all its forms be the most important community?
I love so much. Love is fucking amazing. I love my friends. I feel such joy with them. Up-keeping those relationships is really difficult. I think there are people constantly looking for romantic love. Some people need to fill that void. I need to fill that void! I'm romantic, I'm tender, I love affection... but love can exist in so many different ways. Love is accountability and harsh truths and holding yourself to the standard you deserve.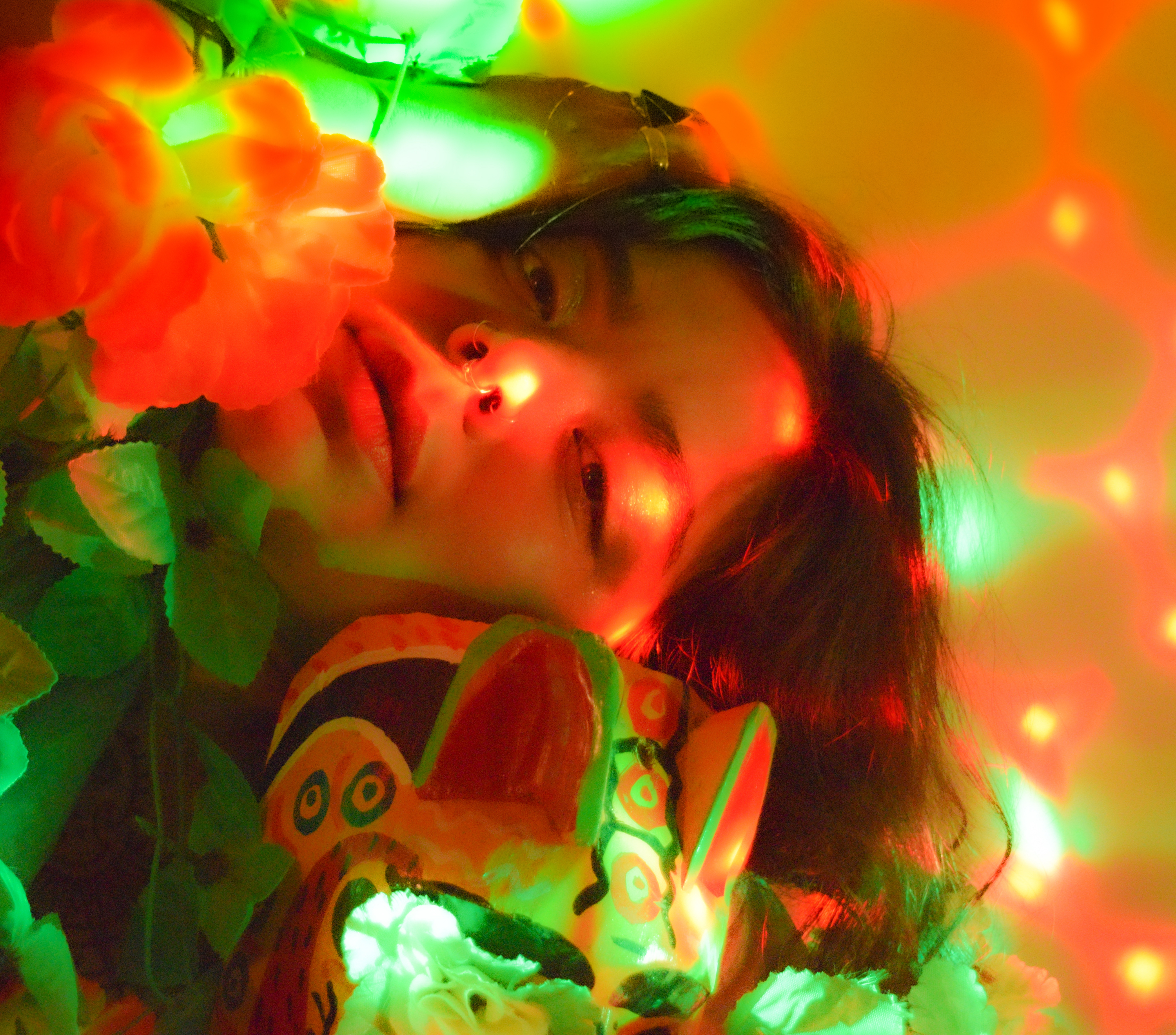 I wanted to ask you about the altar you had onstage at Sultan Room... I saw you bought flowers.
I grew up in Queens around a lot of discount stores and I still go to those stores. There's so many hidden gems. I always loved thinking about ways to decorate my equipment table that was cheap and cute and these flowers always called to me. Fake flowers last forever, and I love that they're neon and kitschy and obscure my equipment. It hides the voices, makes you wonder where they're coming from. At the show you saw, the ancestors were like, "Bitch, you wanna call us? We're gonna come and fuck your shit up." I noticed after that on my looper I put track 33 and preset 3 on my vocal processor...it's my life path number. I realized I was invoking 333, and like... is that why shit got crazy up there?
Is being onstage a kind of ceremony for you?
My purpose is to ground myself enough that everything I'm doing is the most authentic thing I could be doing at that moment. It's really scary. When I talk about home and my body... I'm at home onstage. I'm at home collaborating and singing my songs. It's a responsibility, too, to convey your message and yourself as clearly and as genuinely as you can.