Sita Abellan: "I try to think of everything as positively as I can"
The DJ, stylist, and designer tells Rihanna about her big plans for 2020.
This story originally appeared in i-D's 'Rihannazine' Special Edition, no. 01, 2020. Order your copy here. For this one-off project, Rihanna put a series of questions to the women shaping culture today, and invited them to share their visions for 2020.
Can you introduce yourself?
Hi, my name is Sita Abellan. I'm a DJ, stylist and designer.
What do you think your biggest success is?
Being able to express myself and be myself.
Can you tell me what your biggest failure has been?
My biggest failure? I don't know what it was, because I try to think of everything as positively as I can. I try to learn from every experience I have in this life, so even if it's hard sometimes, something good can come from it.
What are you taking into 2020, and what are you leaving behind?
I'm taking my friends, my family, those I'm close to. I'm putting away toxic people! I'm taking with me my new projects, which will be the launch of my music and my clothing brand. I'm very excited for 2020. Right now, my main goal is to finish everything in time! In 2020, I would also like to be a stronger and better person; to help people more, and love more.
What's Rihanna like as a person?
She's amazing. Before I met her, I didn't expect her to be how she is. She's such a badass – she's so funny. I think she's very inspiring, too, because you look at her and you see a strong woman. She knows exactly what she wants.
What would be your question for Rihanna?
My question would be: Rihanna, what's your dream in life? Because I feel like she kind of achieved everything already! But I'd like to know. Maybe it's something more personal? I think every artist at that level is sacrificing some part of their lives to get that success. It's important to differentiate between what your life is, and what your work is.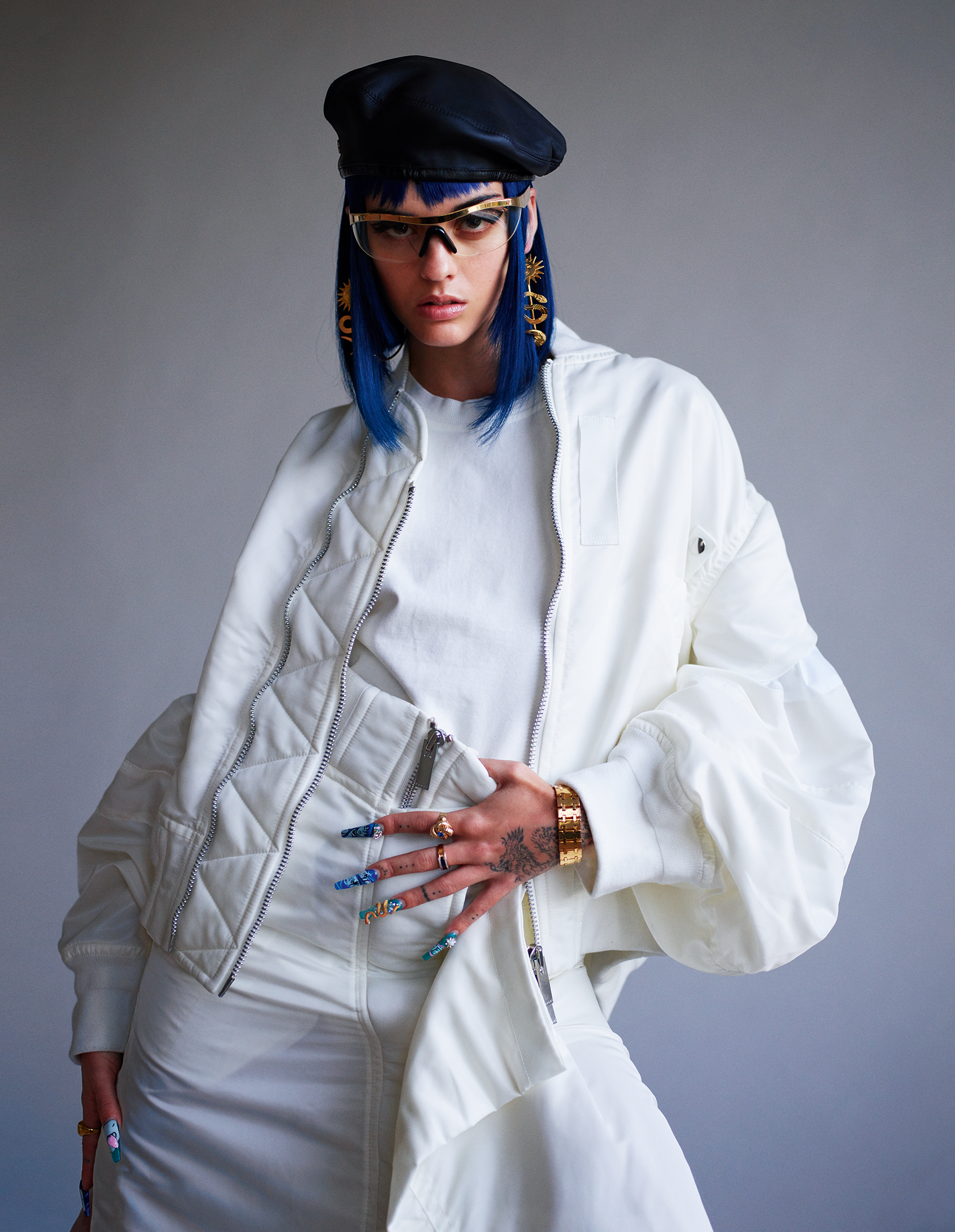 Credits
---
Photography Mario Sorrenti
Styling Alastair McKimm
Hair Duffy at Streeters.
Make-up Kanako Takase at Streeters.
Nail technician Coco Michelle using CHANEL Les Vernis and CHANEL La Crème Main.
Set design Emma Roach at Streeters.
Colourist Lena Ott for Suite Caroline.
Lighting technician Lars Beaulieu.
Photography assistance Kotaro Kawashima and Simon McGuigan.
Digital technician Chad Meyer.
Styling assistance Madison Matusich and Giulia Bandioli.
Tailor Hannah Wood.
Hair assistance Lukas Tralmer, Amidat Giwa and Shaun McIntosh.
Make-up assistance Hiromi Ilsuka and Kimie Yashiro.
Nail technician assistance Nichole Williams.
Set design assistance Nia Samuel-Johnson, Louis Simonon and Eddie Amos.
Production Katie Fash.
Production coordinator Layla Némejanski.
Production Suzy Patten at Holmes Production.
Production supervisor Molly Zinar at Holmes Production.
Production coordinator Alex Whiting at Holmes Production.
Production runner David Herm.
Production intern Marta Pera.
Casting director Samuel Ellis Scheinman for DMCASTING.
Casting assistance Cicek Brown for DMCASTING.
Model Sita Abellan.
Tagged: