Courtesy of Simone Rocha, Maximilian, Supriya Lele (left to right)
The best collections of London Fashion Week SS22
From Supriya Lele to KNWLS, Simone Rocha to Maximilian, here's our round-up of all the best collections shown on (and off!) the schedule.
|
23 September 2021, 8:30am
Courtesy of Simone Rocha, Maximilian, Supriya Lele (left to right)
She's back and she's beautiful! That's right, London Fashion Week is back in its full, fleshy form for SS22 after too many digital iterations for us to count. This season, though, we'll be doing things slightly differently than usual -- a chic new era of fashion shows calls for a chic new approach! Rather than our usual standalone reviews, you'll find everything you need to know about the most stunning shows on (and off!) the schedule right here. What's more, alongside all the images and info on our — and by default your — favourite collections, it's also where you'll find links to our brand spanking new TikTok reviews! Welcome to the future, fashion fans -- join us!
Charles Jeffrey LOVERBOY
Closing out London Fashion Week's biggest day was Charles Jeffrey's LOVERBOY, a label that, over the years, has grown from its queer, party-hardy niche and into one of the city's most ambitious young luxury players. This season, though, it was back to LOVERBOY's roots, with the designer taking over one of London's most grungy, industrial club spaces to stage 'The Portal'. A fully-fledged immersive experience as opposed to a bog-standard show, Charles' collection was prefaced by that of Bradley Sharpe -- The 2020 CSM BA graduate who quickly won attention for his impressively sculptural tent-dresses -- who presented a neat edit of dresses that leant into the fashion pageantry he first made a name for (think: hulking crinoline capes and hoop-stretched hems) and pieces that demonstrated an enviable talent for draping -- the standout had to be a single-seamed black gazar gown, faintly redolent of Cristobal Balenciaga's 1968 wedding dress. It was then upstairs to a runway picked out by lasers for LOVERBOY's 40-look main course, a three-part parade that showcased the impressive versatility of one of London's flagship new guard designers. Early looks -- dark, slim tailoring with ruffled sailors collars and flared sleeves, raggedy knits and pleated skirts and outerwear in insignia-ed jacquards -- gave off an air of somber, at-times-almost Victorian chic, an energy quickly counterposed by wide-leg trousers and smock dresses in glimmering house tartan, patchwork corduroy varsity separates and paint-splashed denims. In fitting form, it all culminated in a classic LOVERBOY knees-up, held in collaboration with trans+ talent agency and party WIMP, which carries on into the small hours of the night. MS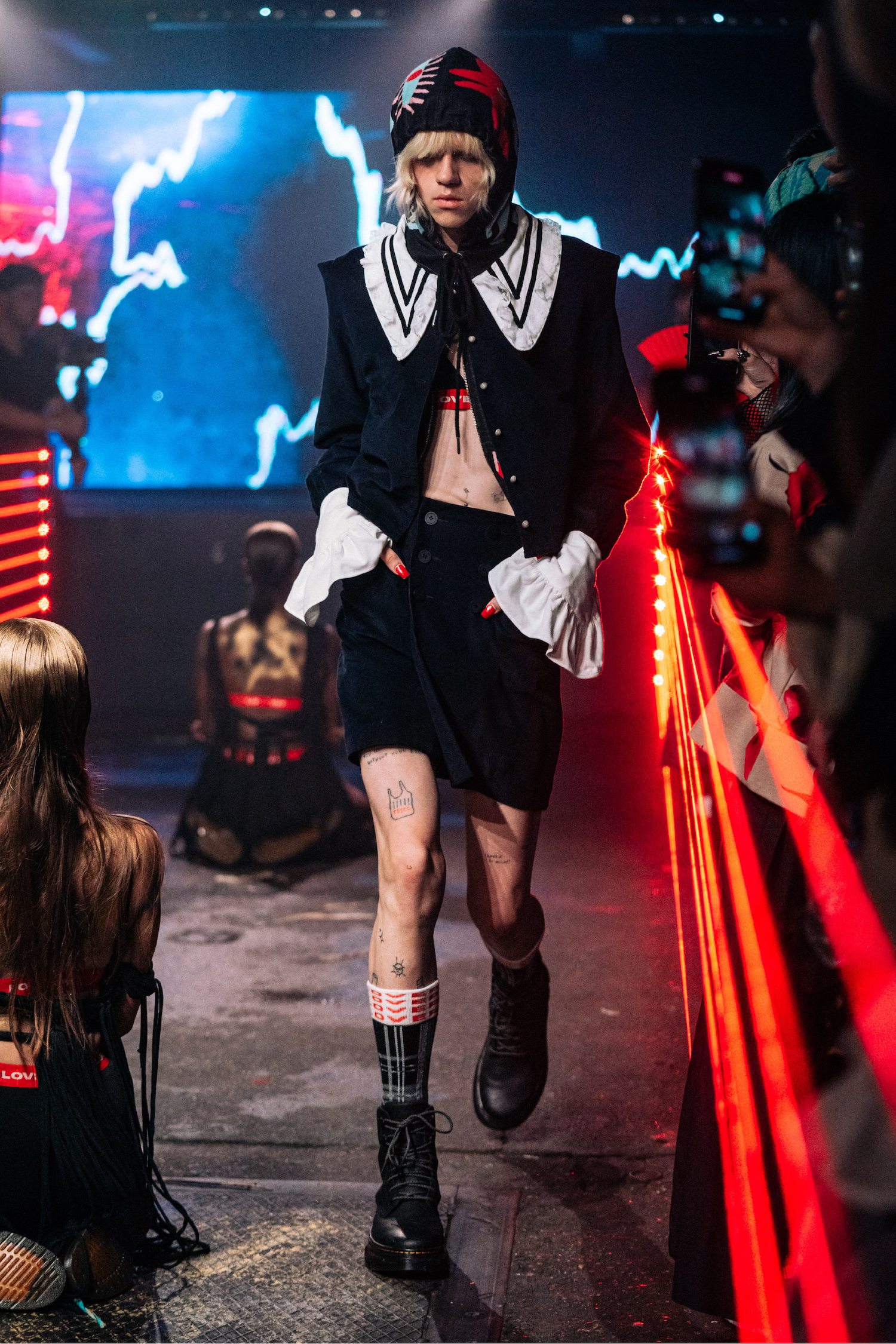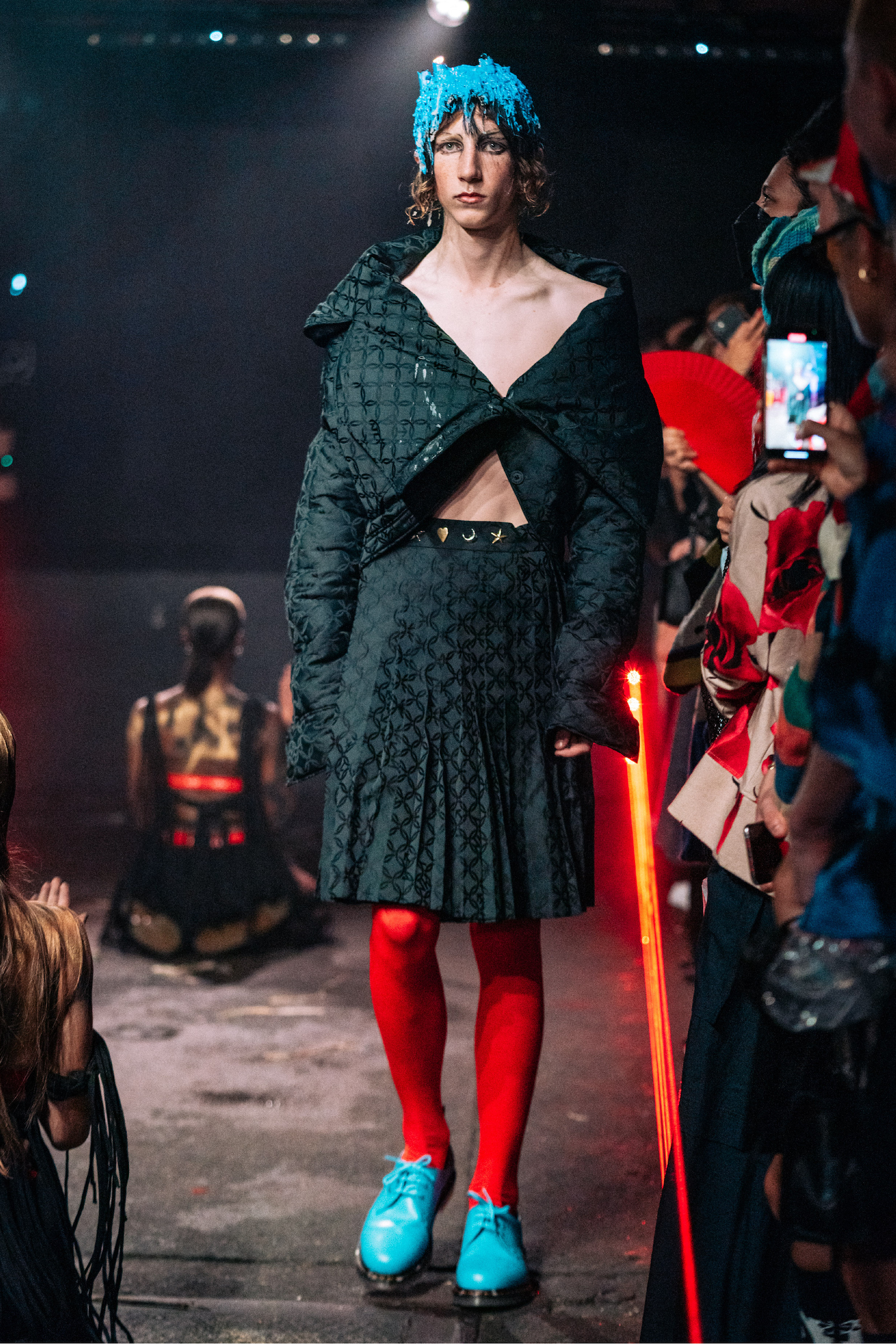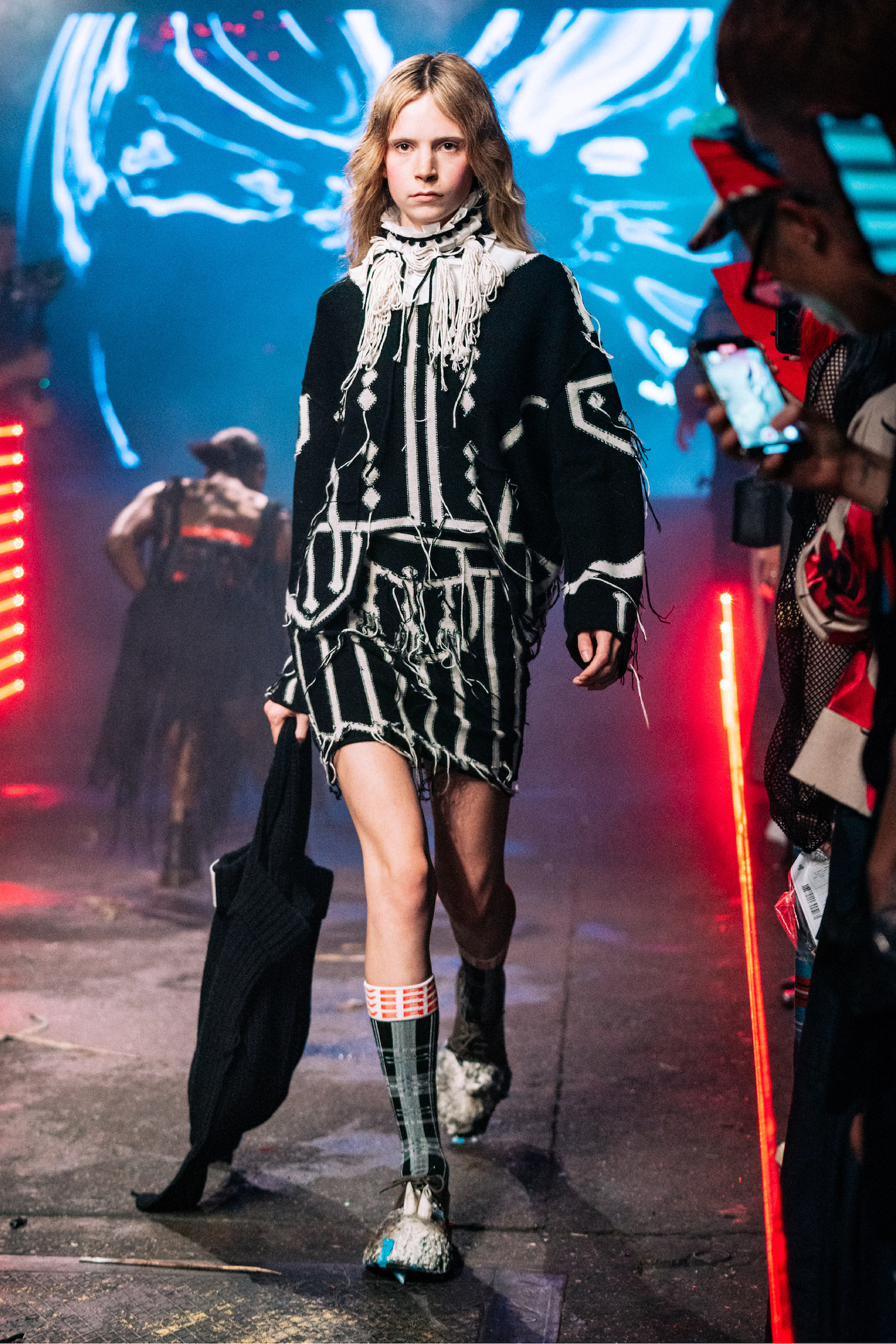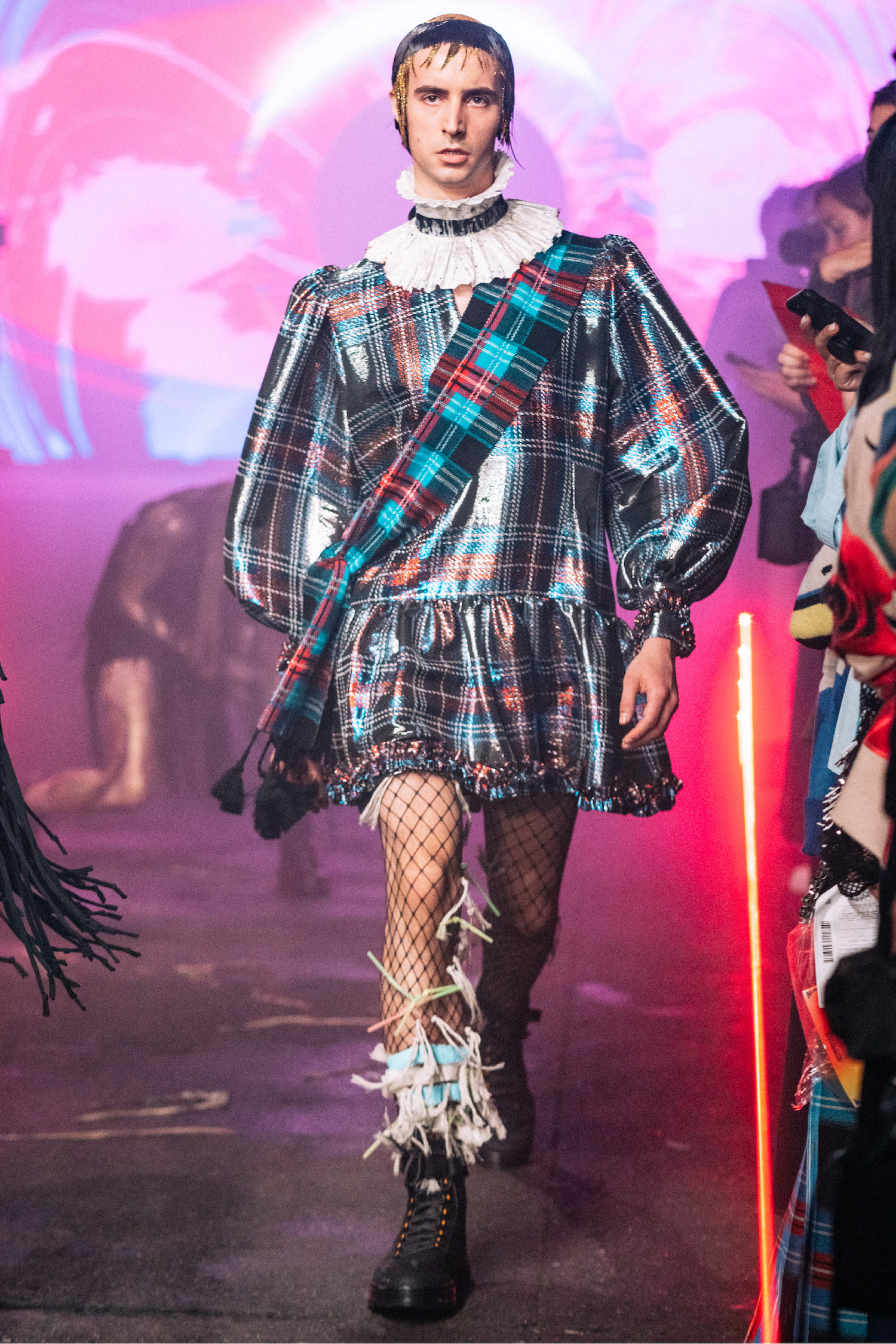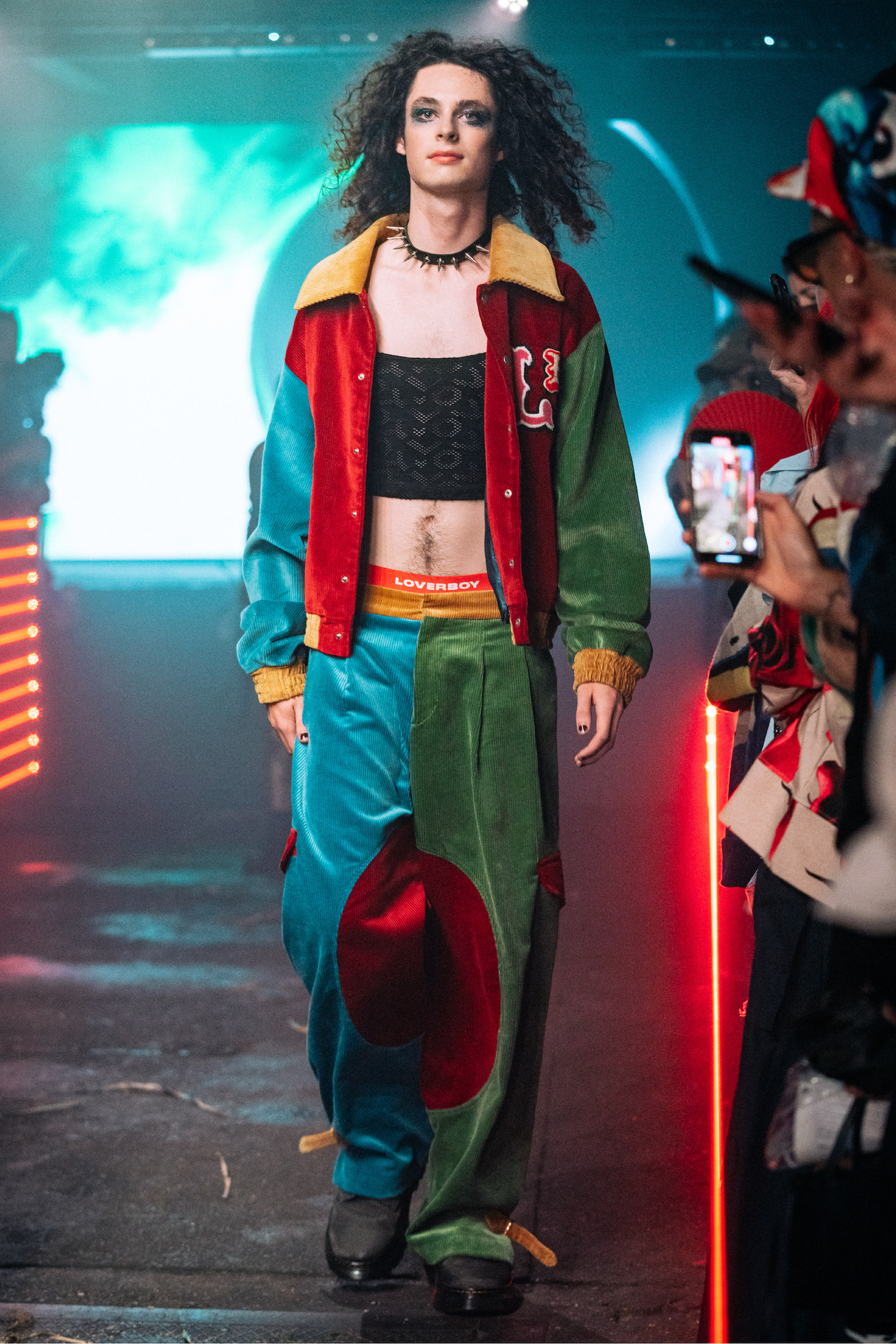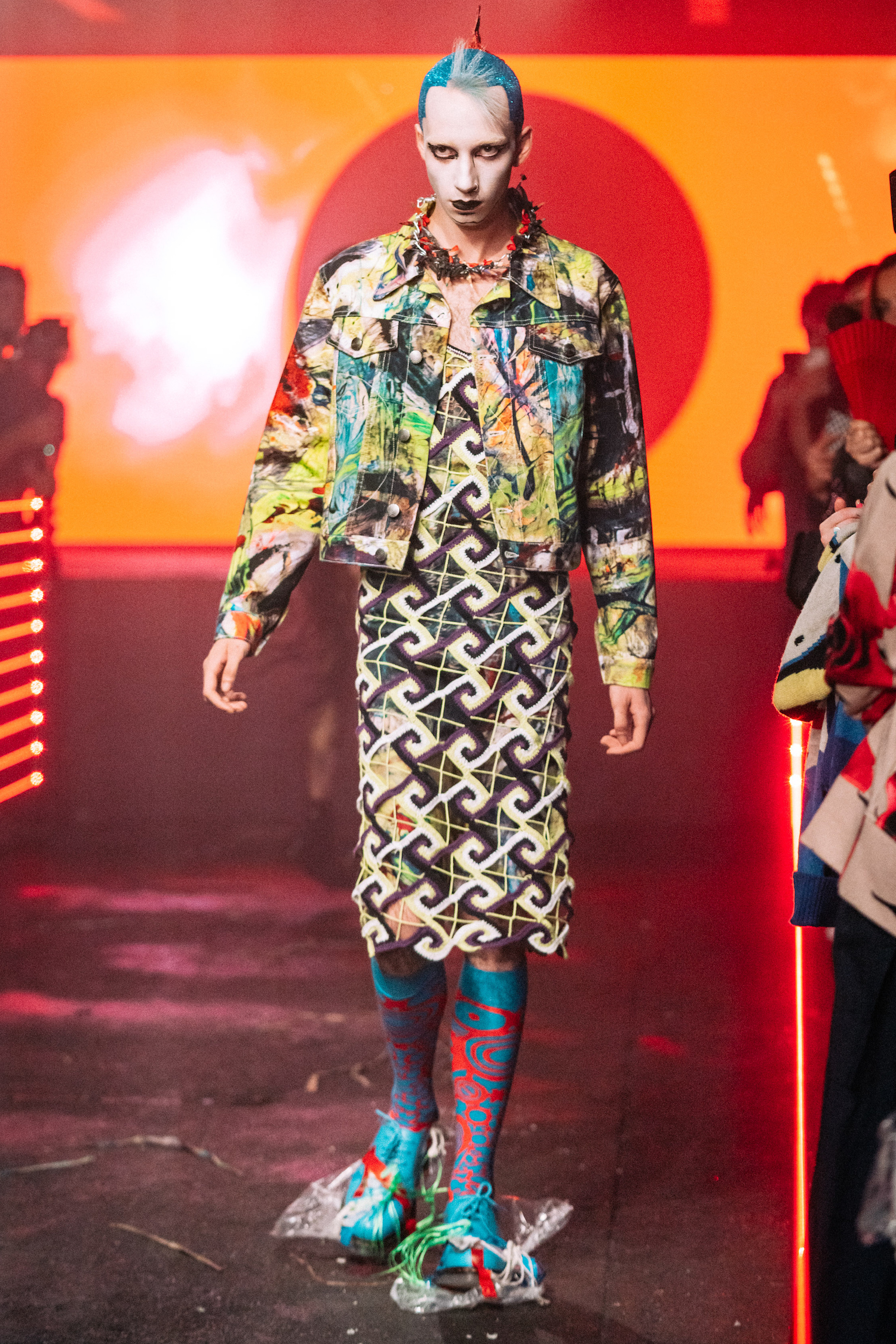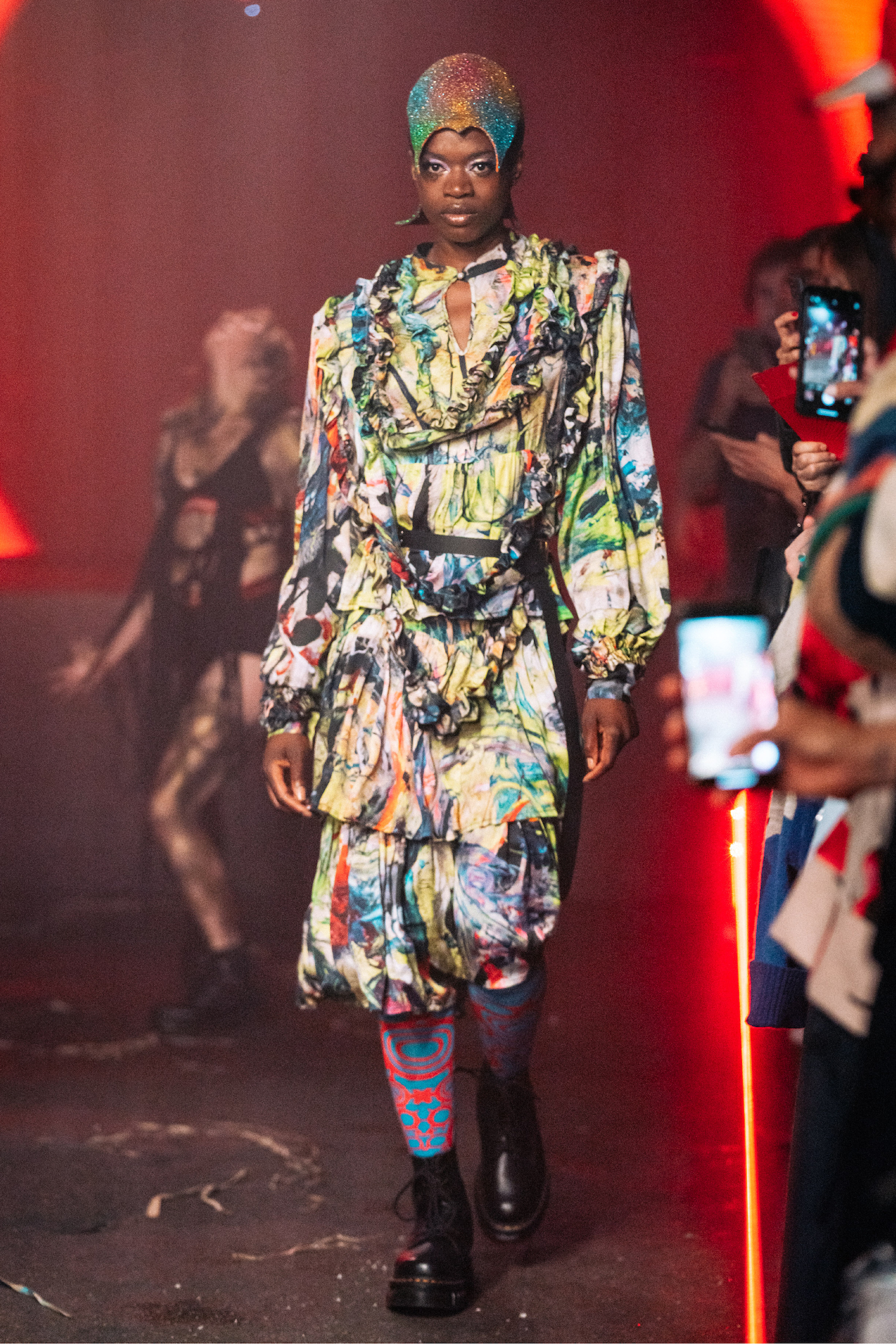 Simone Rocha
With London Fashion Week devoid of monolithic fashion houses and establishment designers, the task has fallen on Simone Rocha to stage the tentpole show of the week. She didn't disappoint. Her latest was set in the pewters of a medieval church in the City of London, the perfect setting for the return of her larger-than-life dresses with their see-it-to-believe-it details. These are clothes, after all, that are almost like everyday wedding dresses; incredibly ornate clothes that deserve to be seen IRL, not just on Zoom. For SS22, Simone was thinking about motherhood and all the pain, joy and sleep-deprived emotion that comes with that. (she gave birth to her second baby earlier this year) . Birthing hips were exaggerated by frothy panniers, breasts outlined by jewel-encrusted brassieres. Many of the looks resembled christening gowns, nighties and quilted-silk bedding (blame the lack of sleep) — in other words, a romantic vision of being mother to a newborn. Blood-red vinyls and droplets of scarlet crystals were perhaps the darker side to it. That's the thing with Simone: for all the froth and purity, there's always a knife-sharp edge. It's what put her in stead to becoming London's foremost catwalk designer. OA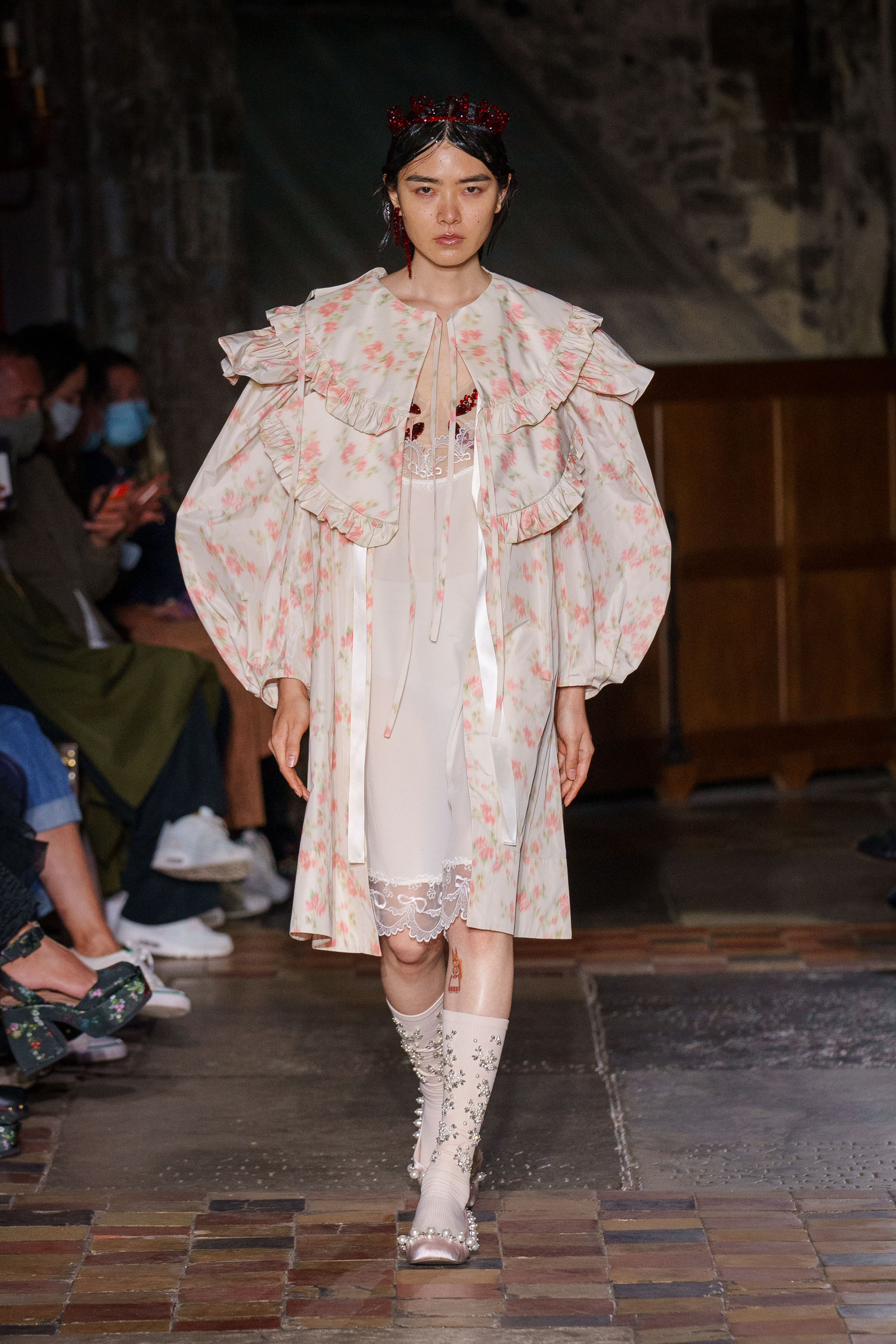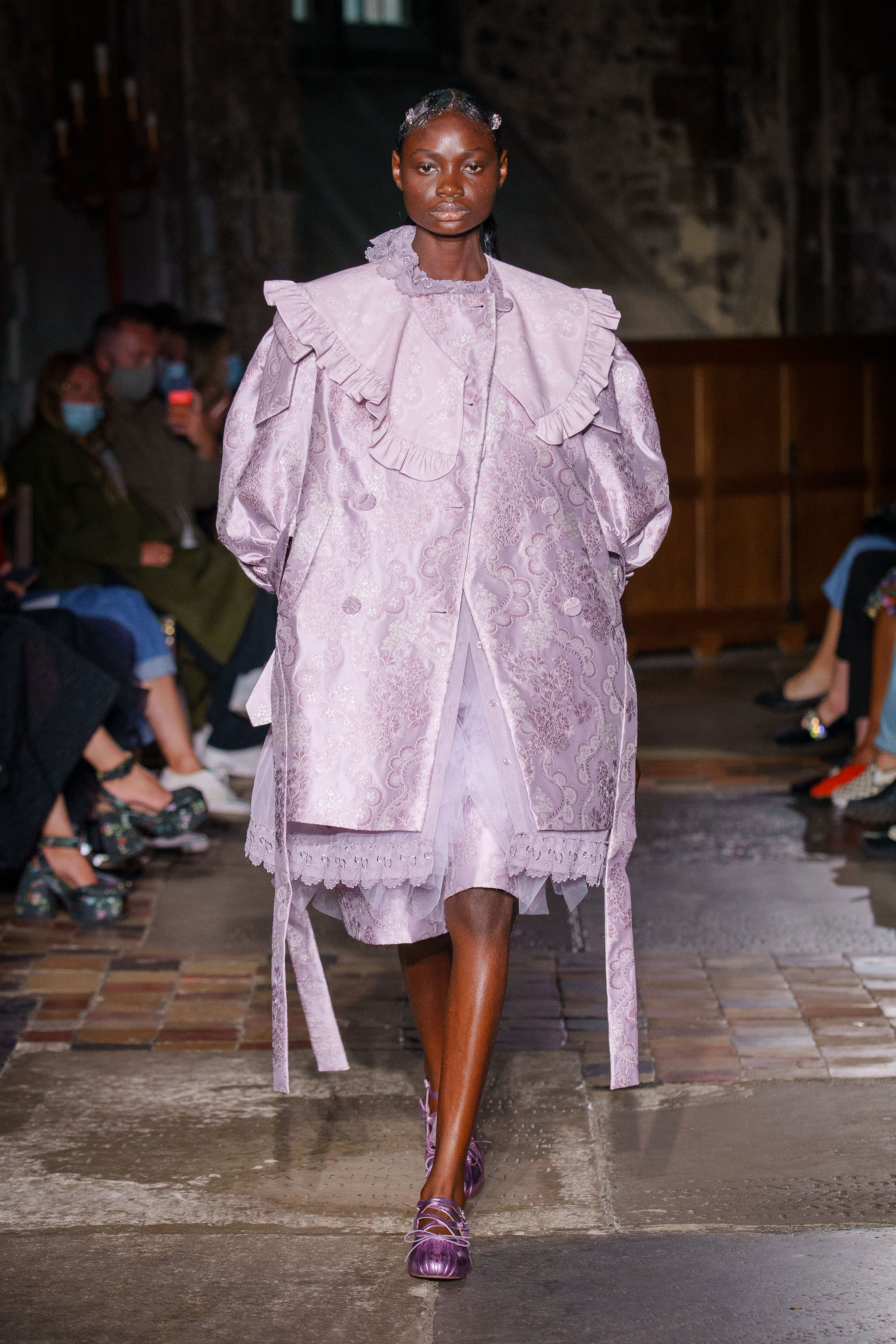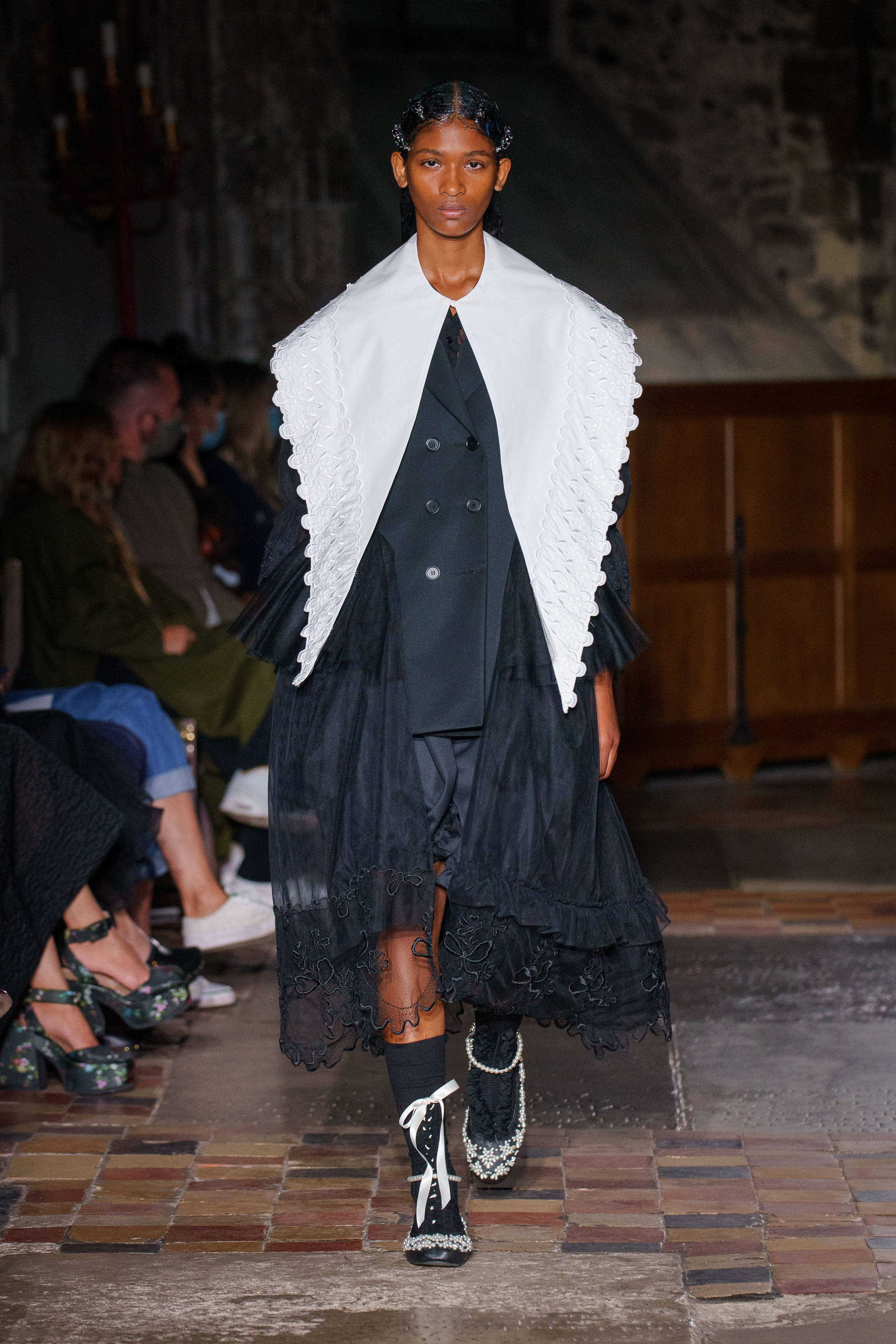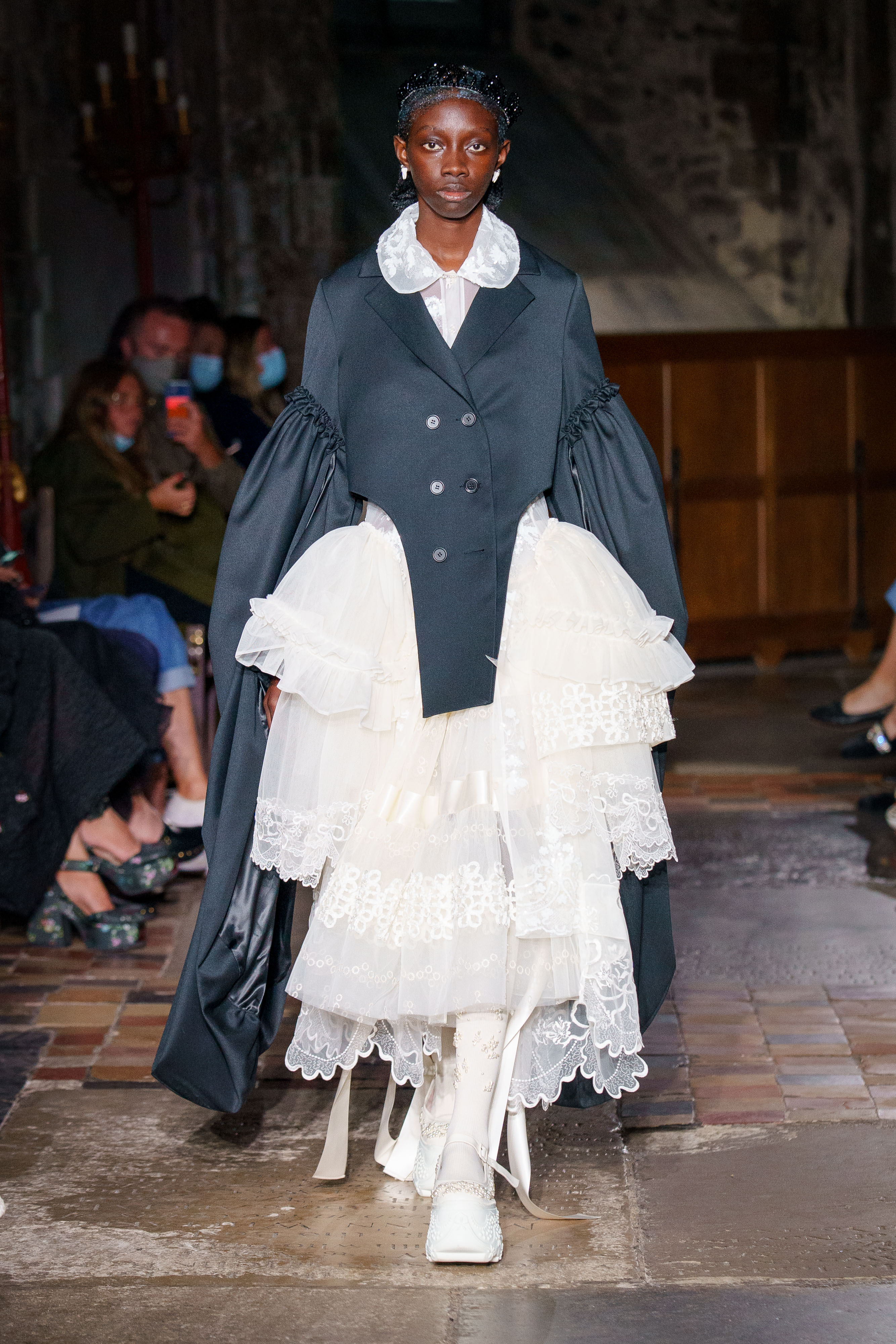 Maximilian
Last year, Maximilian Davis launched his namesake line at perhaps the worst time to go into business. Lockdown was strict, retail was in a state of flux, borders were closed, and the world was ostensibly ending. Yet, in the last year, the Manchester-born designer has struck a chord with his hyper-sexy, razor-sharp vision of Black elegance through carefully considered (and ultra-luxe) fabrics and dramatic silhouettes. So it feels somewhat strange that yesterday was his first ever fashion show, as part of the Fashion East lineup, because it felt so accomplished. For SS22, he paid tribute to the Caribbean Sea, both through memories of his family's relaxed coastal style, James Bond films, as well as Caribbean artists including painter Boscoe Holder and photographer Thierry Le Gouès. The show opened with skintight scuba looks (silk-lined bonded jersey; not neoprene) and evolved into proud displays of barely-there dresses with silk fringes and chiffon scrims, swimsuit-style bodysuits, velvety nylon jeans, hand-painted denim, and crisp white tailoring inspired by the naval uniforms worn in Port of Spain. It felt like a real fashion moment, probably what it was like seeing Tom Ford's shows for Gucci back in the 90s — albeit this time with an emphasis on Blackness and a younger, sharper sensibility. To finish, a model painted entirely in black emerged in Nasir Mazhar's rubber palm frond sculpture, like the most beautiful sea urchin you've ever seen. Reader, I gasped, and thought to myself, how on earth could this be his first show? OA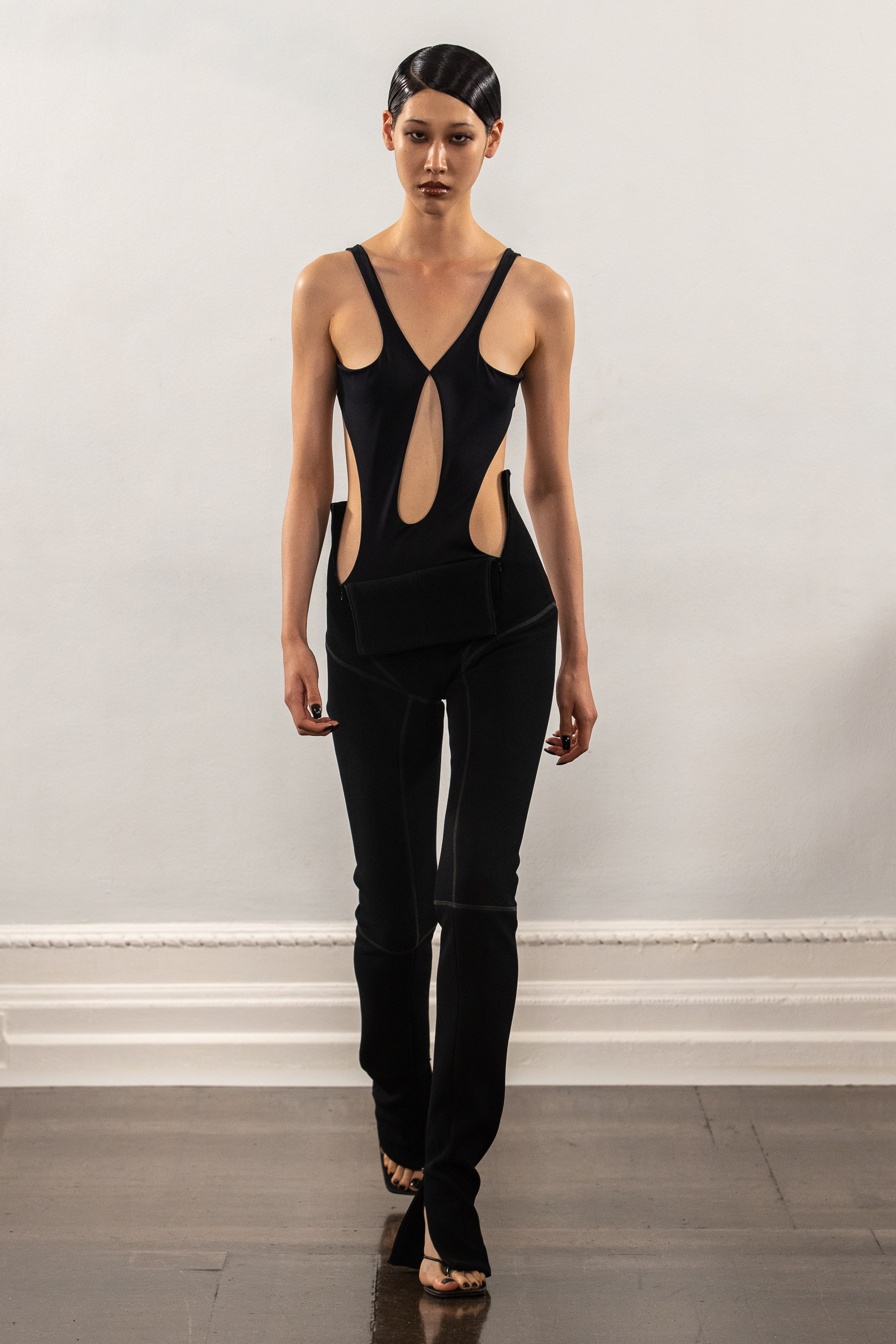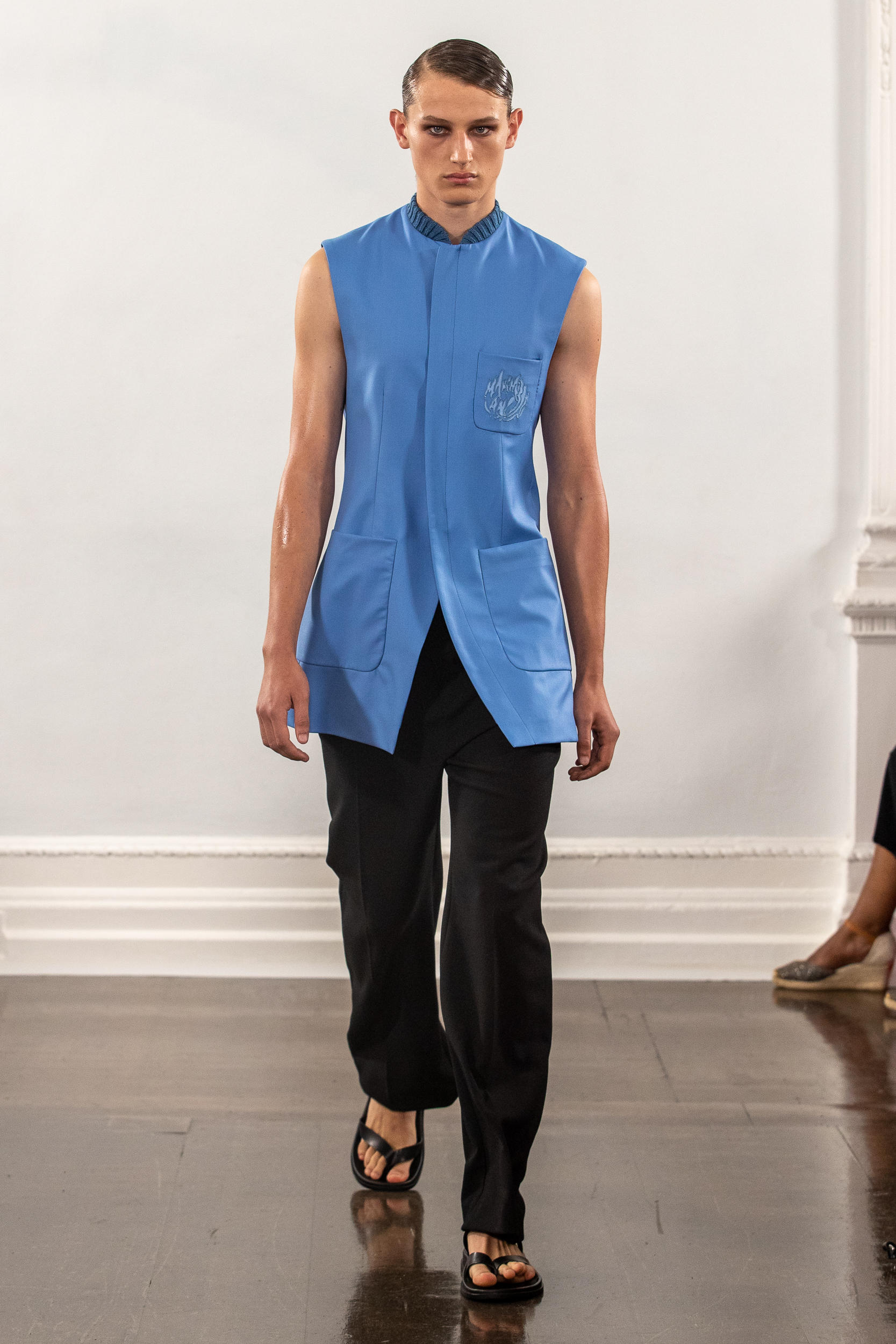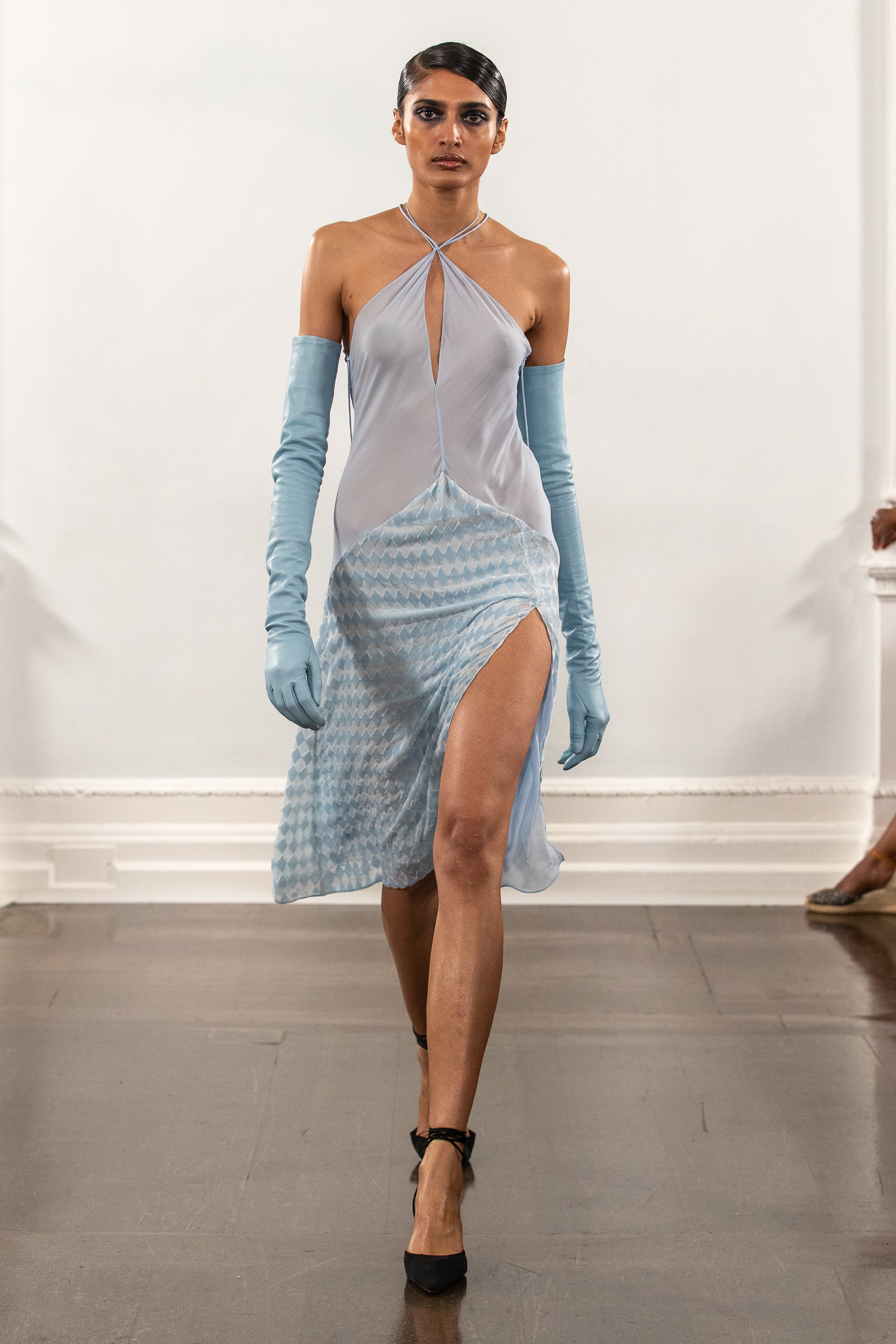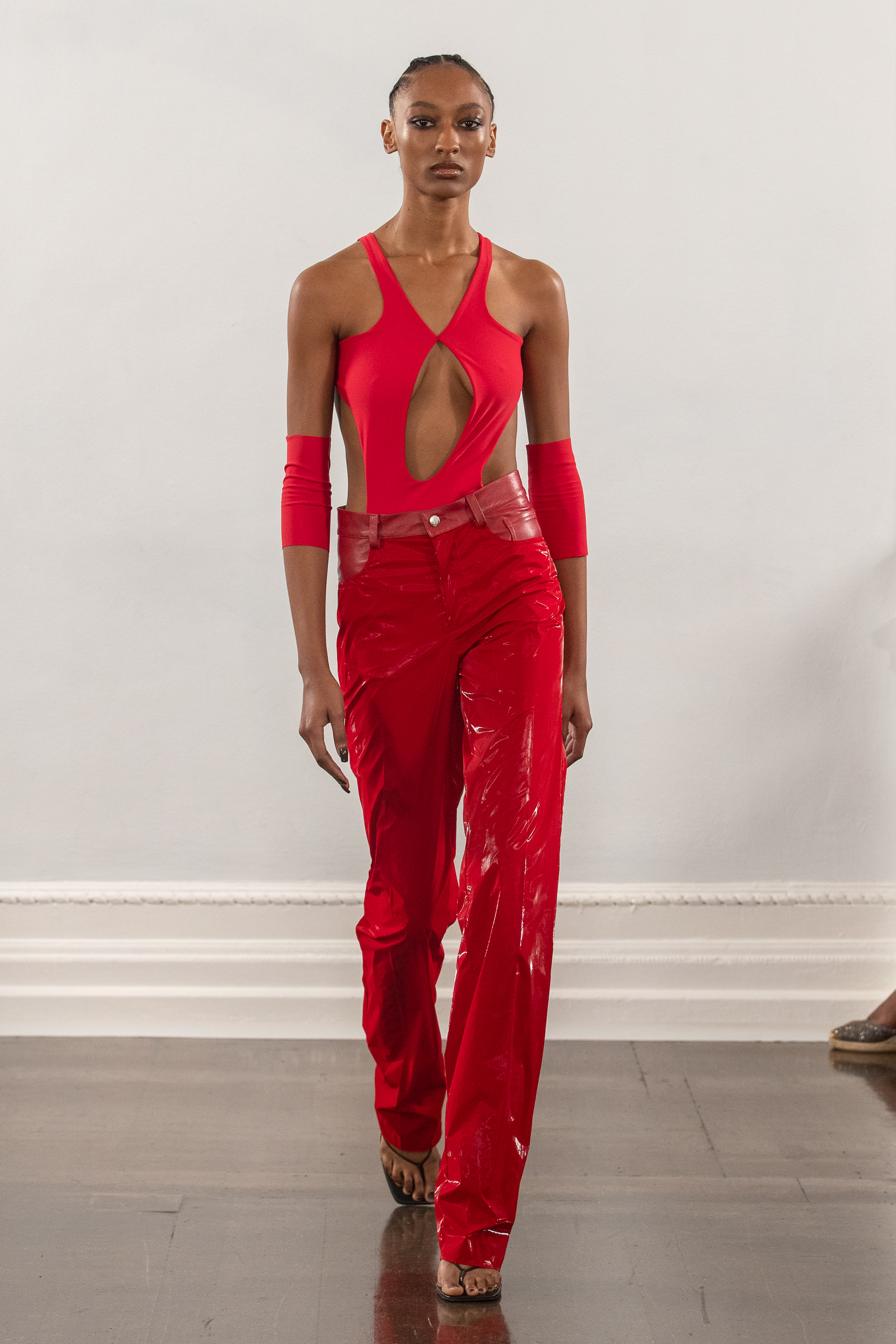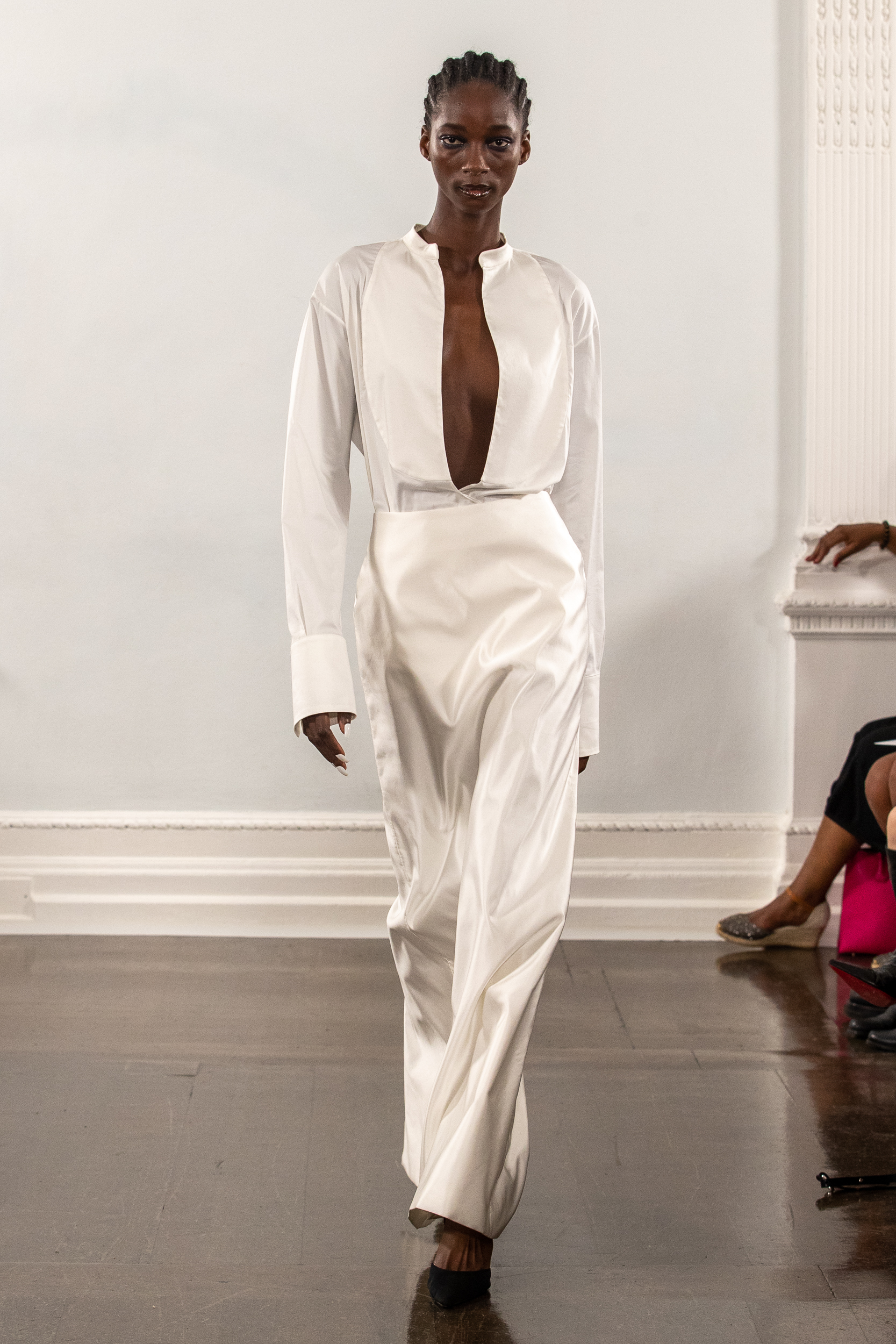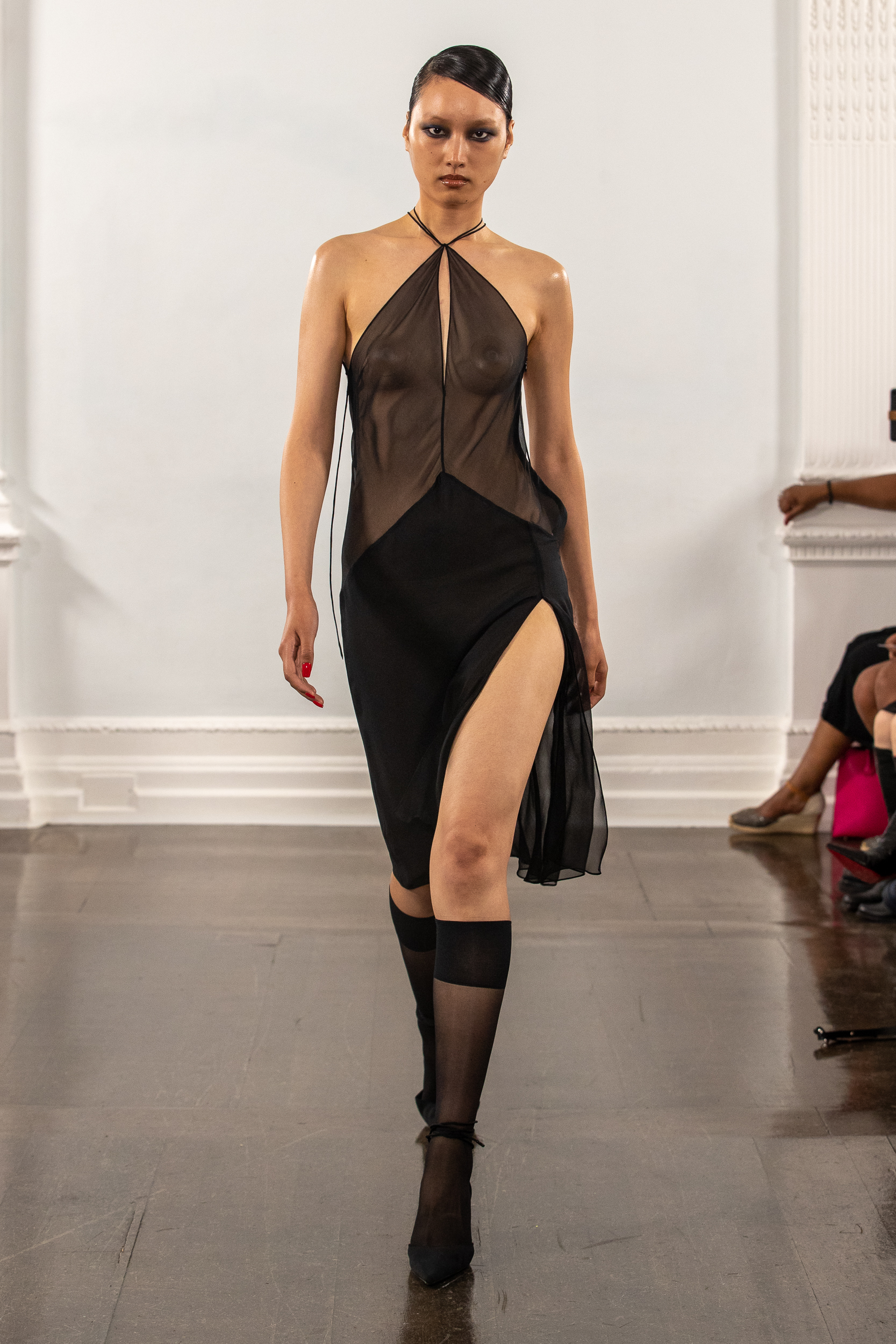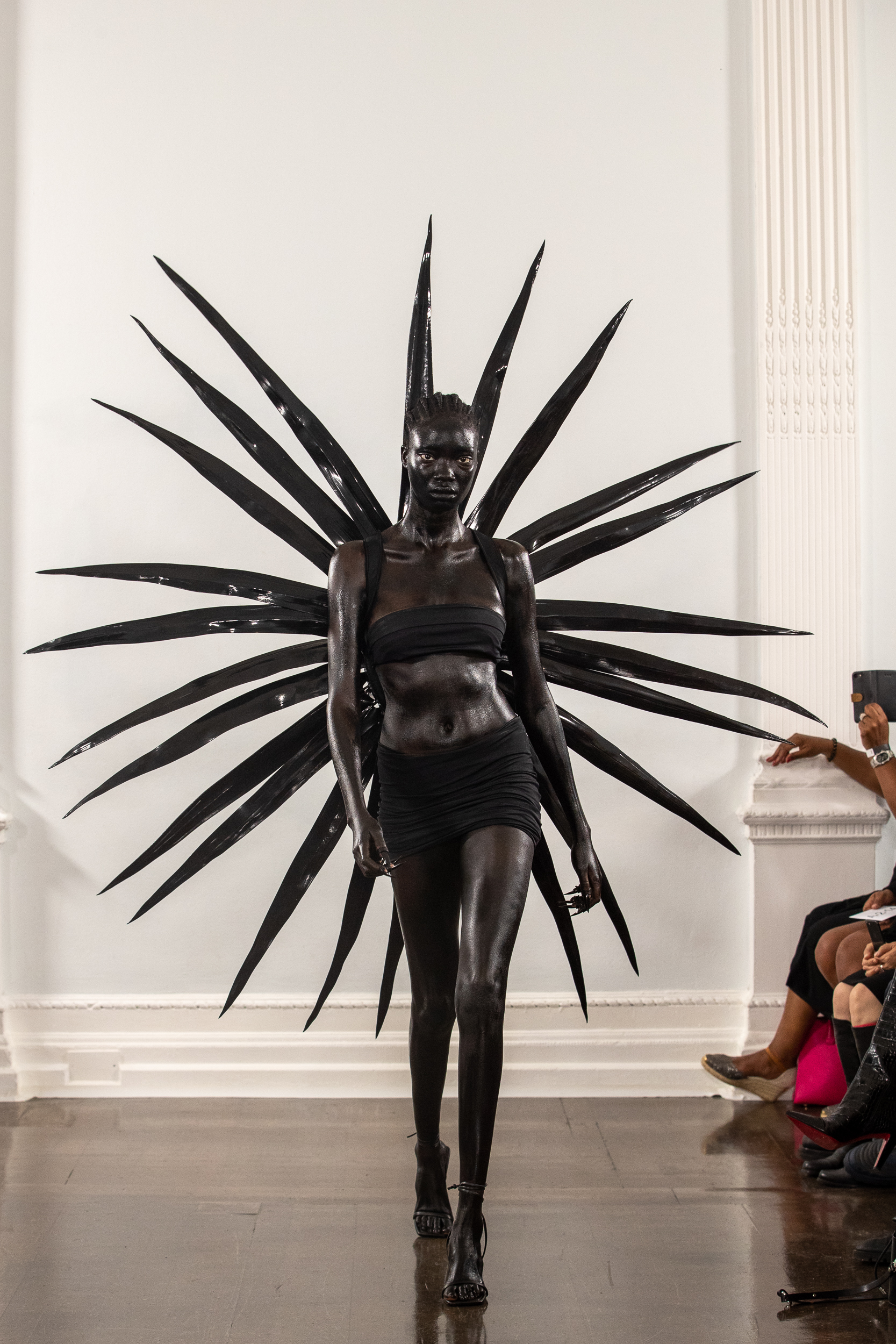 Stefan Cooke
This quite masterful show from Stefan Cooke was about something a little unfashionable. It was about Britishness, as something both subcultural and cool and also tacky and superficial and mainstream. A Union Jack sweater, towards the end of the show summed up its rival and conflicting and sympathetic layers; this symbol of the far right still has the ability to shock, to confuse meaning, but also drew parallels to Geri Halliwell, Cool Britannia, the tabloid-ifcation of fashion and culture. The heart of the show was a strange place where Topshop meets Buffalo, an idealised and sexualised and aspirational vision of 00s suburban mall fashion, but with a total absence of irony. Stefan is known for his trompe l'oeil trickery, his plays with the forms of fashion, repurposing and reimagining. Here that took the form of a chain-mail vest from cast iron bottle caps in one look, naughties-esque military regalia was faded into a skeletal ribcage on shirts, plays on the logomania of the era came in the form of dancing girls. The elasticated hems of knitwear stretched up the body into something approaching masculine corsets. But all of this was in service toward the idea, an exploration of British fashion not as a simply hollow innovation but a meshing together of various subversive and mainstream currents in British fashion history. FP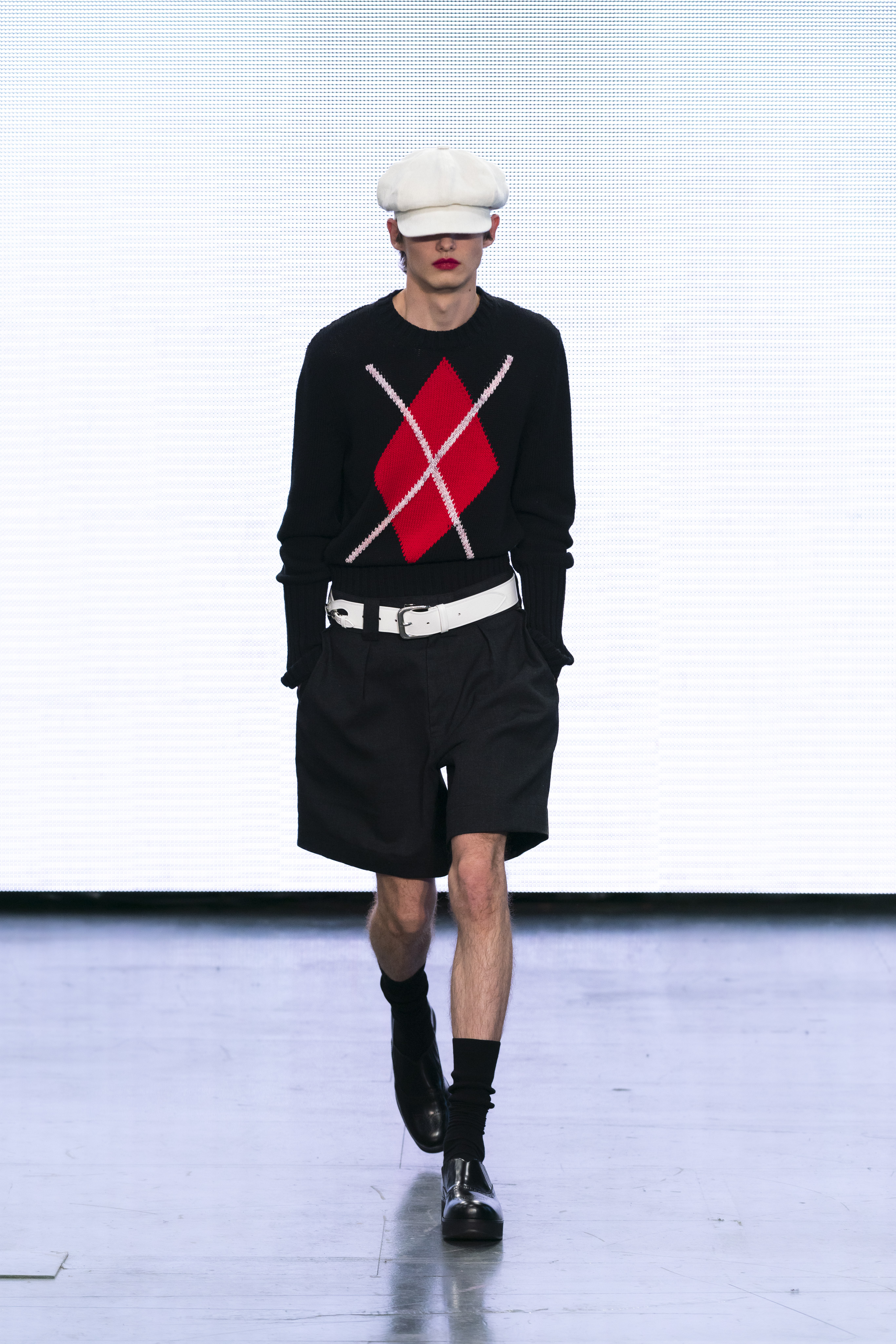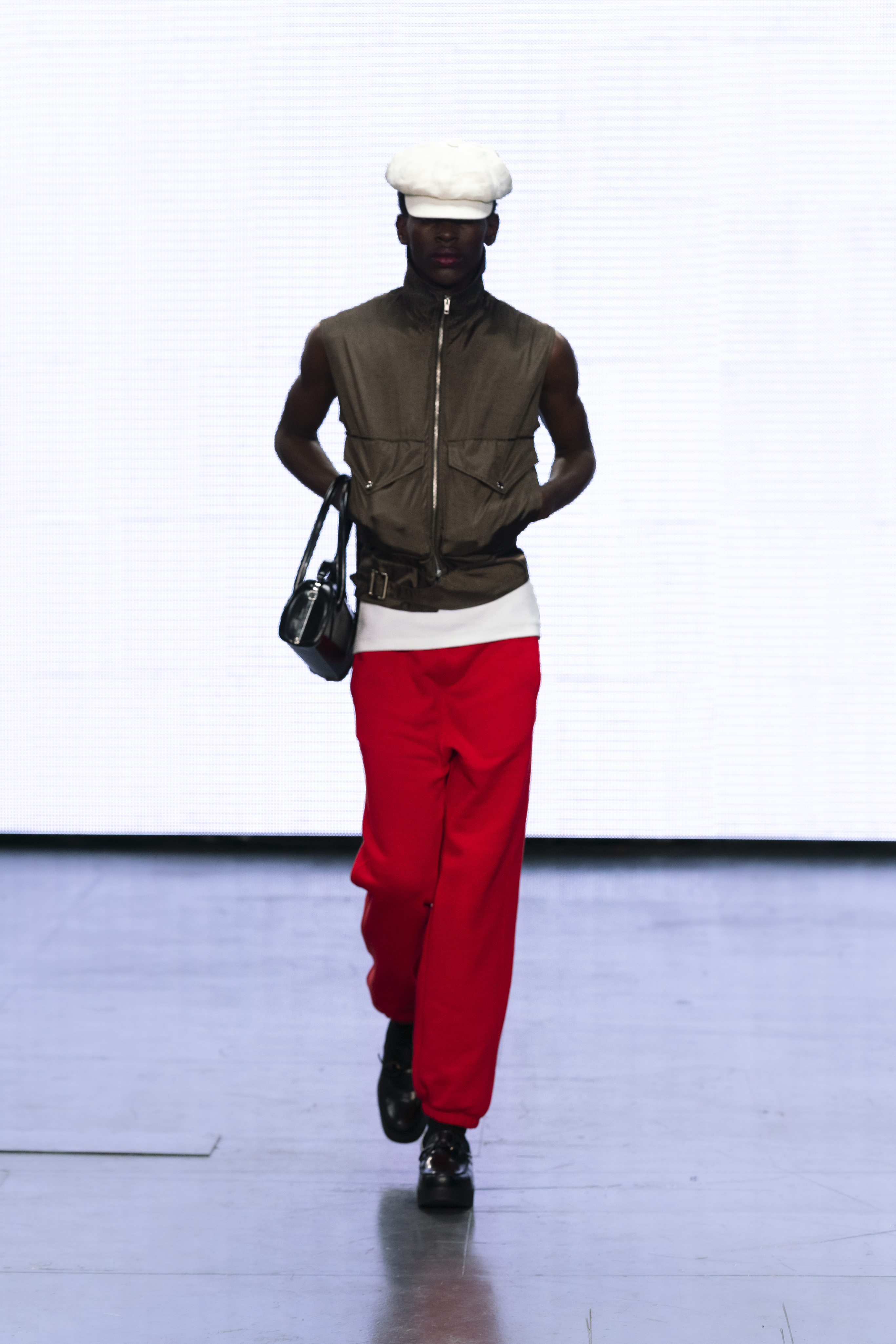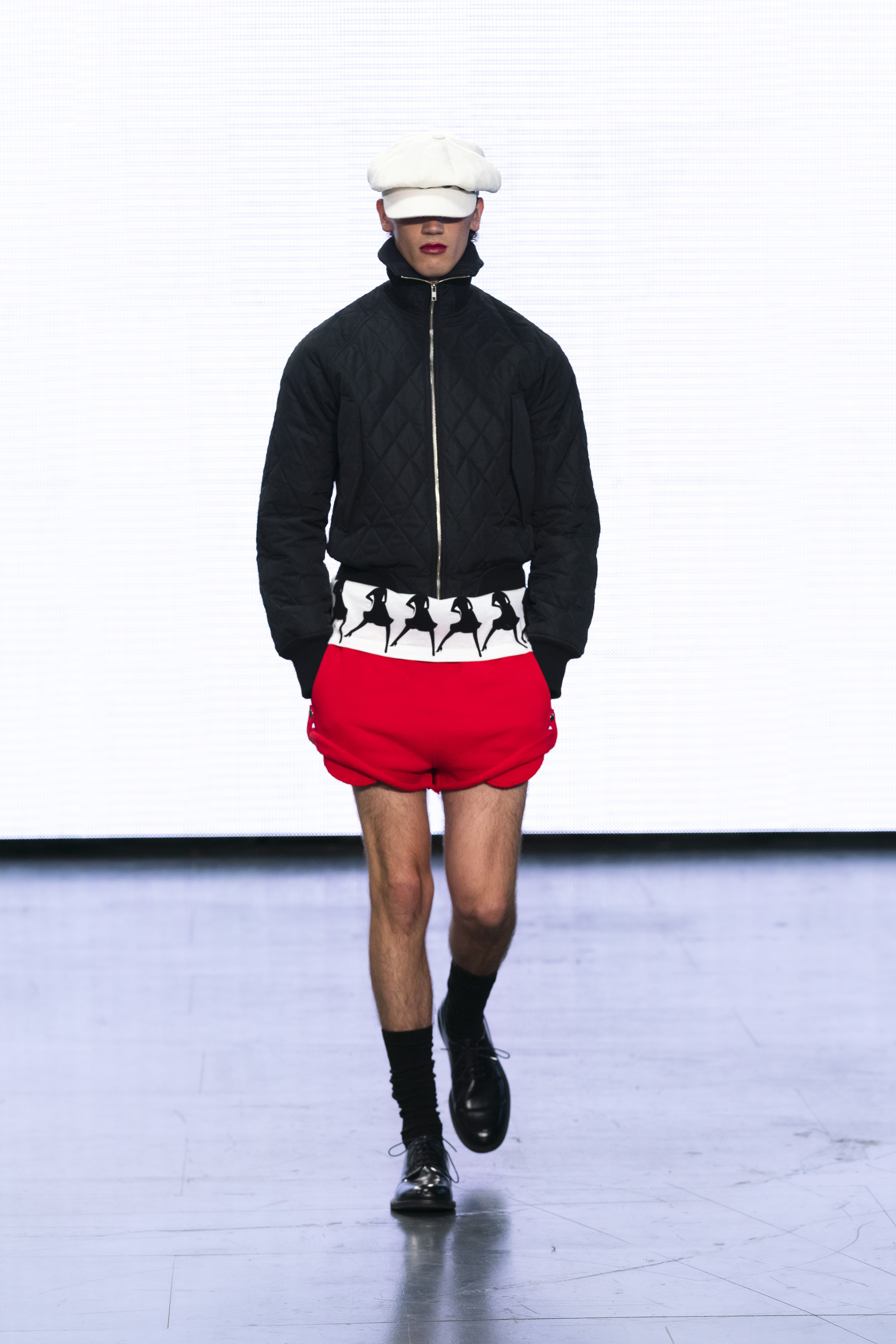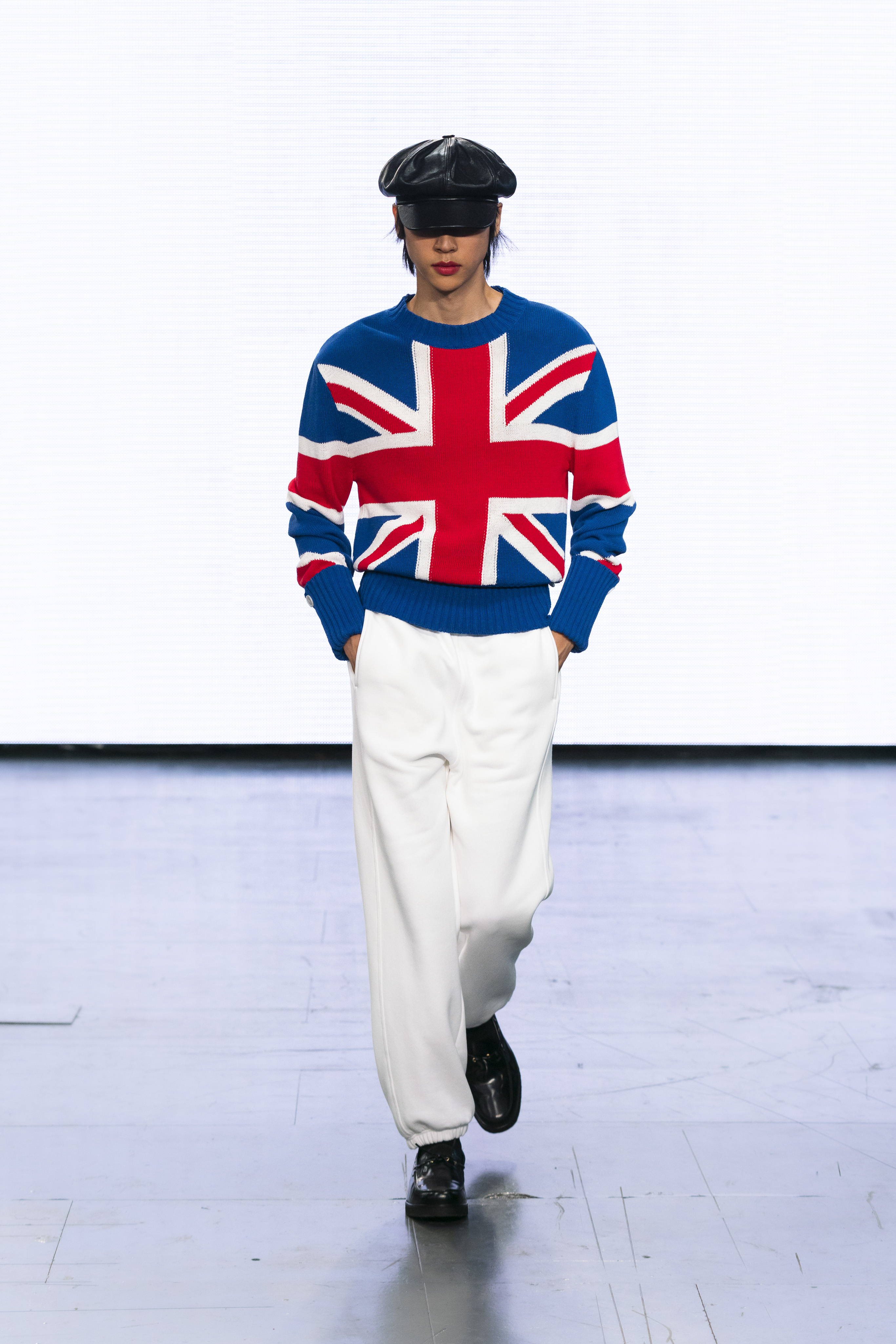 Supriya Lele
Over the summer, Supriya Lele got stranded in Ibiza. She had to design her new collection there and then, without access to her London studio and usual toiling process — very Yves Saint Laurent in Marrakech, if you ask me. The experience forced her to think about what she wanted to wear at that very moment, but also what her women — among them Rihanna and Dua Lipa — want from her. It's a no-brainer: sensual, strappy, sheer clothes that are as light as a feather and can be worn in myriad ways. Here were macramé dresses with glimmers of Indian-embroidered sequins, marabou-trimmed organza miniskirts, slinky stretch-chiffon dresses with cutaway keyholes, and ruched jersey bodices that could just as easily dive into a pool as they could walk into a bar. The collection perfectly captures the mood of the SS22 season, and has in part heralded from female designers in London such as Supriya — but also her peers KNWLS and Nensi Dojaka. They're all young women designing for women their own age, perhaps even the women they want to be. Interestingly they all want to proudly frame the female body, rather than cover it up. Why, you ask? You can find out more about it all in our exclusive video with the designer here! OA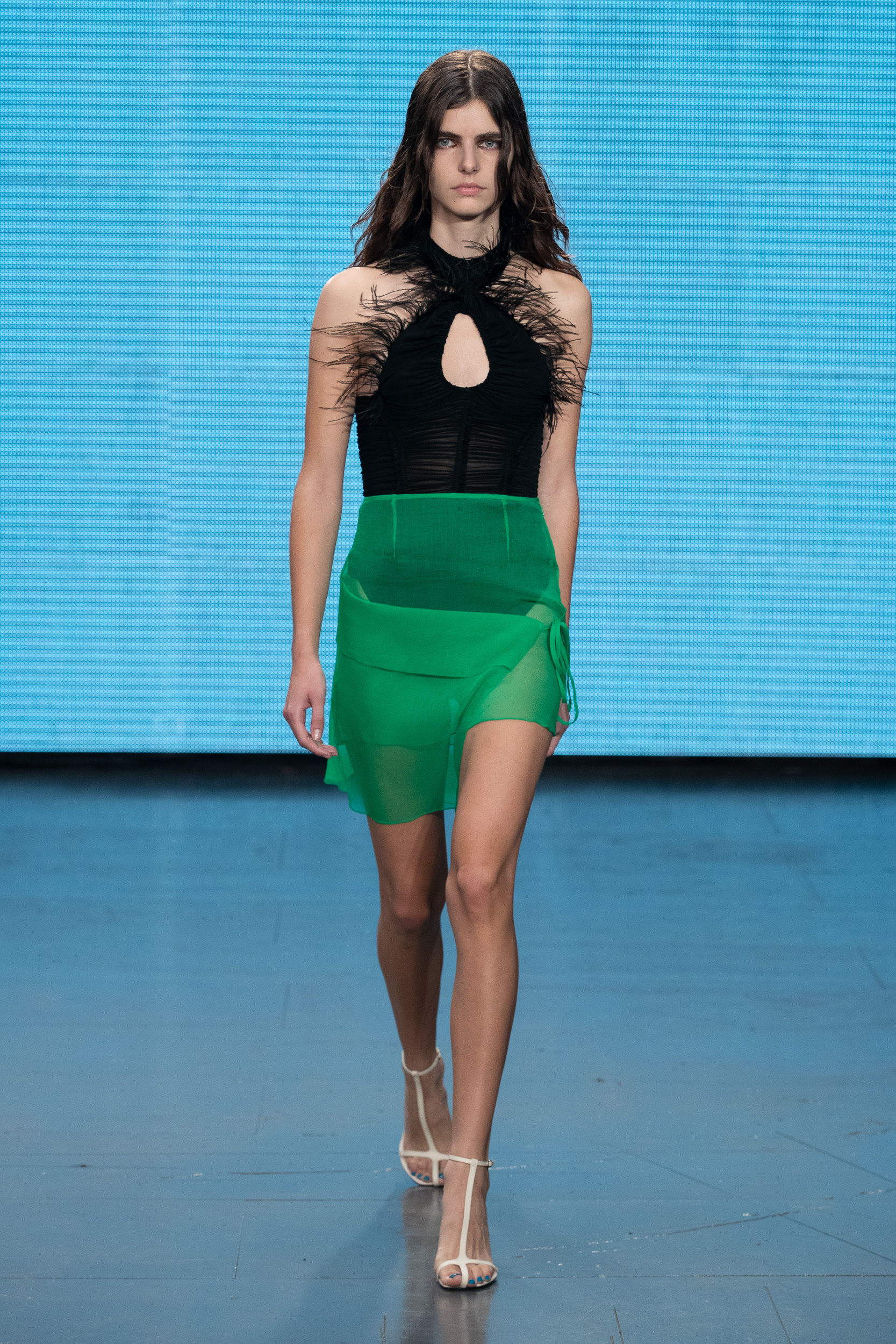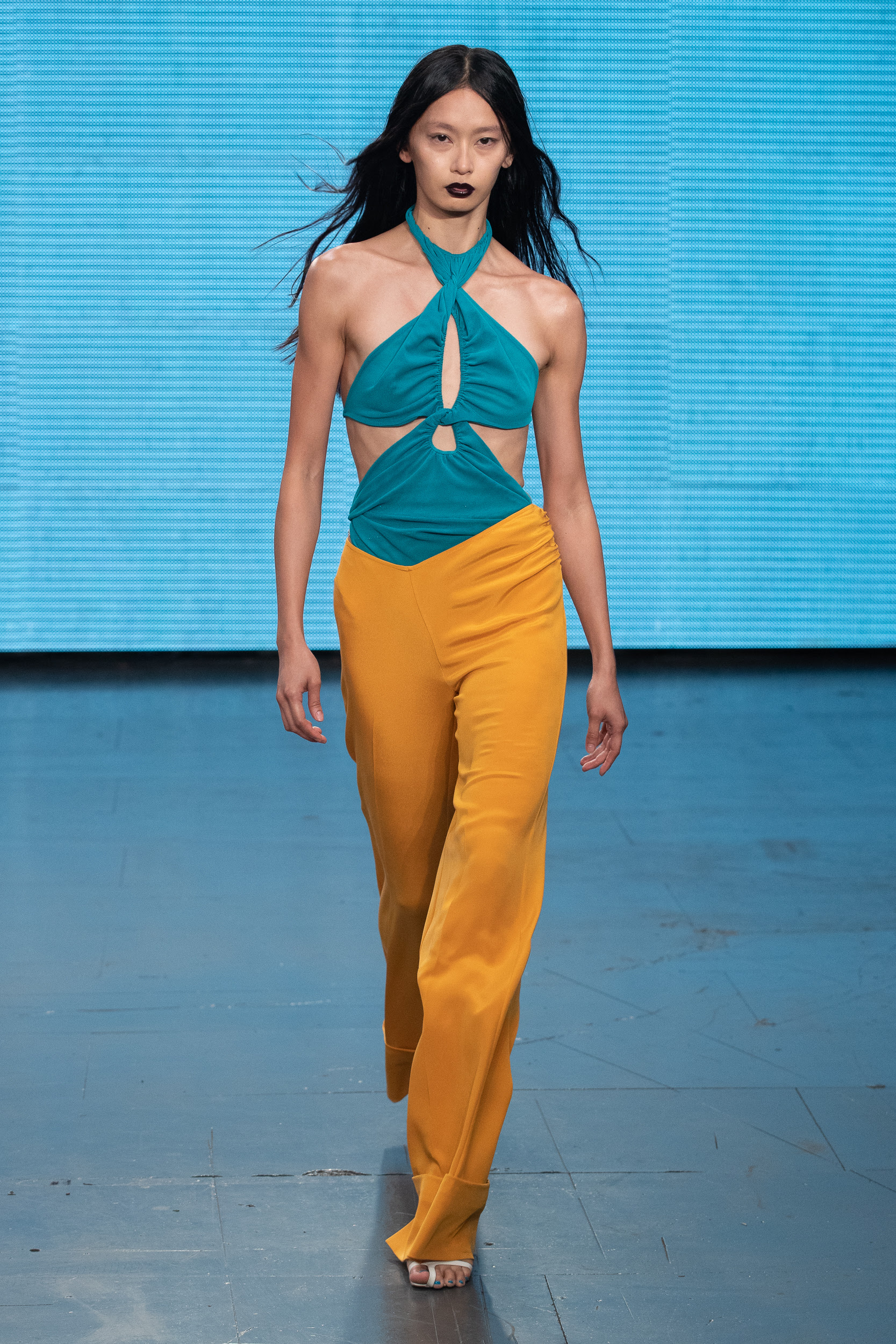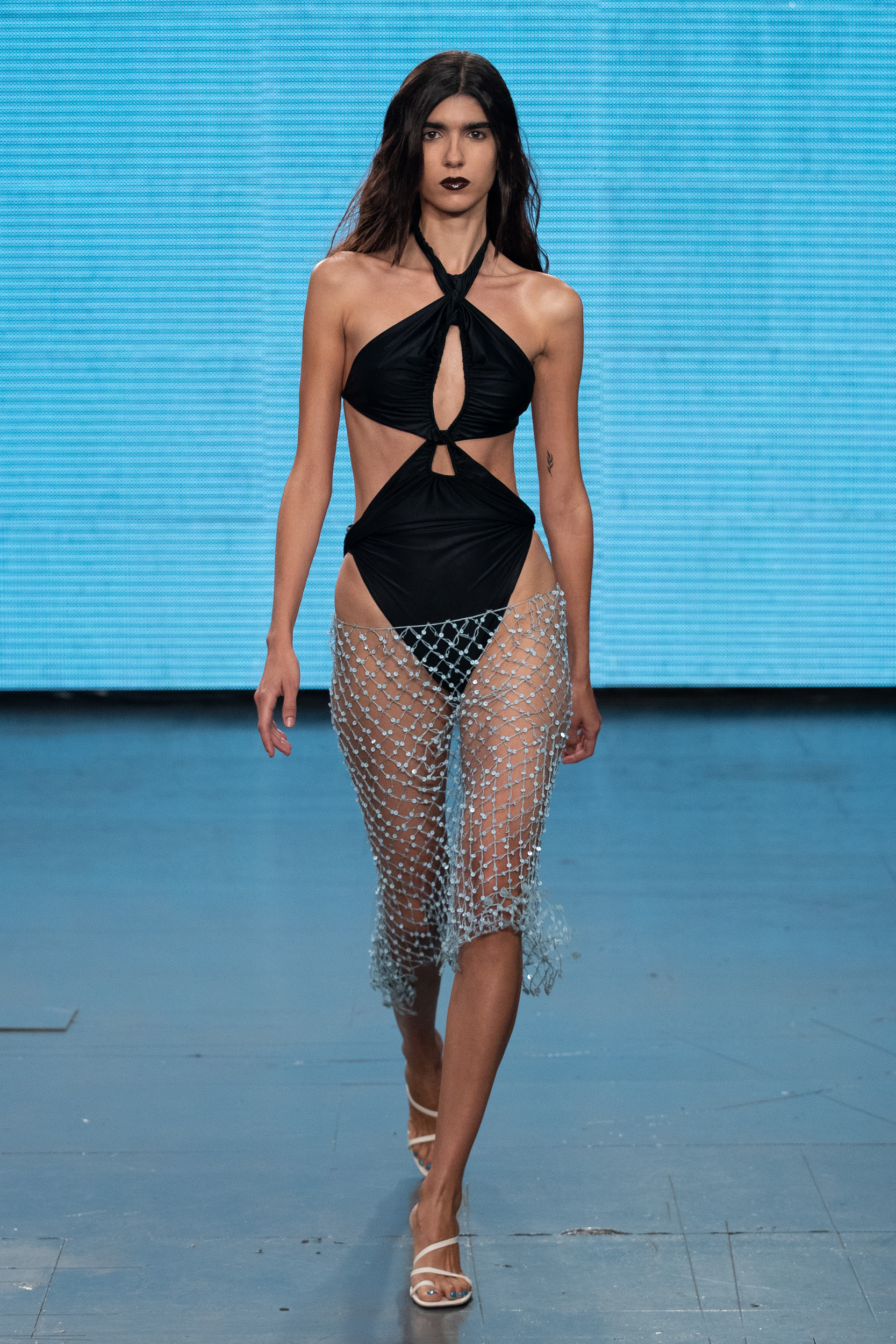 Lueder
Marie Lueder, founder of the London-based menswear label that takes her last name, has always been a contemplative designer, and her latest collection is no exception. Presented as a video, screened both as part of the BFC's online Discovery Lab and at a live installation in Holborn, 'gafa' explore "the office as memorial", exploring masculine archetypes through skillfully pattern-cut, upcycled clothes. Roaming the empty streets of The City, London's business district, a group of LUEDER guys wear garments that intelligently pick at the seams of almost-stereotypical menswear pieces. The shoulders of a tailored jacket are dramatically stepped, as is the hem of a sporty bomber assembled from bright bands of fabric. Label signatures return, too, in the form of the brand's warp-legged denim jeans and shirting that features a body-wrapping spiral motif. MS
S.S. Daley
If there's one thing we've missed about fashion shows, it's their inherent theatricality. A designer who seems to agree with us on that is London menswear's latest rising stars, Steven Stokey Daley. A recipient of the BFC's NEWGEN initiative and Matches Fashion's Innovator programme, and a firm favourite of Harry Styles and Josh O'Connor, the University of Westminster BA graduate, his runway debut was one of the hottest tipped moments of the week. Rather than present a traditional catwalk show, the Liverpudlian designer leaned full tilt into the theatricality of the presentational format, enlisting current members of the National Youth Theatre -- of which Steven himself was once a member -- to stage a fully-fledged play. The final part of a poignant trilogy of meditations on British public school culture, the performance's themes were echoed in the designer's trademark wide-legged pleated wool pants and boater hats, sporty singlets and rugby shorts, jacquard tailoring and frock coats upcycled from bands of inky black satin. Have you ever seen schoolyard style this chic? We don't think so! MS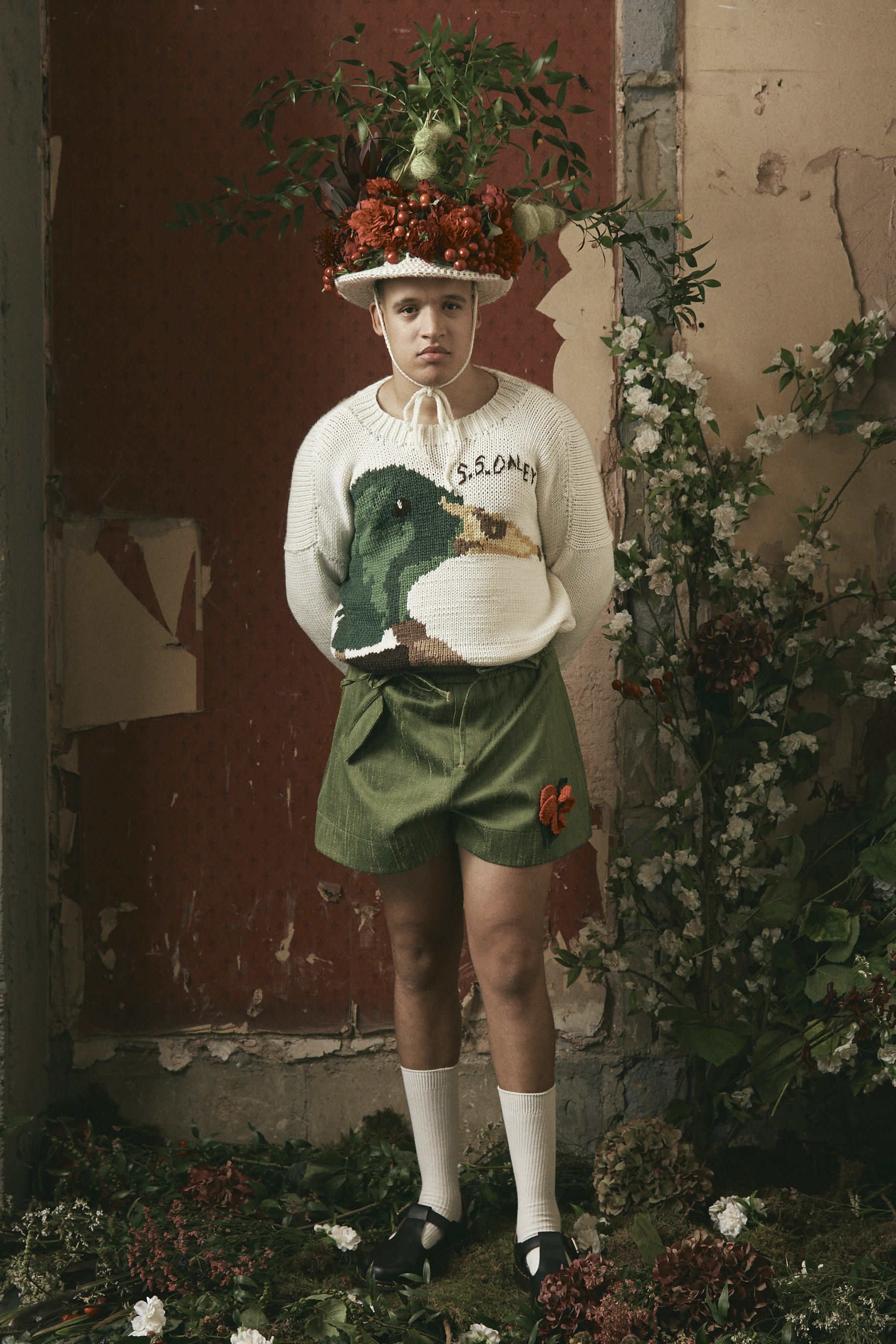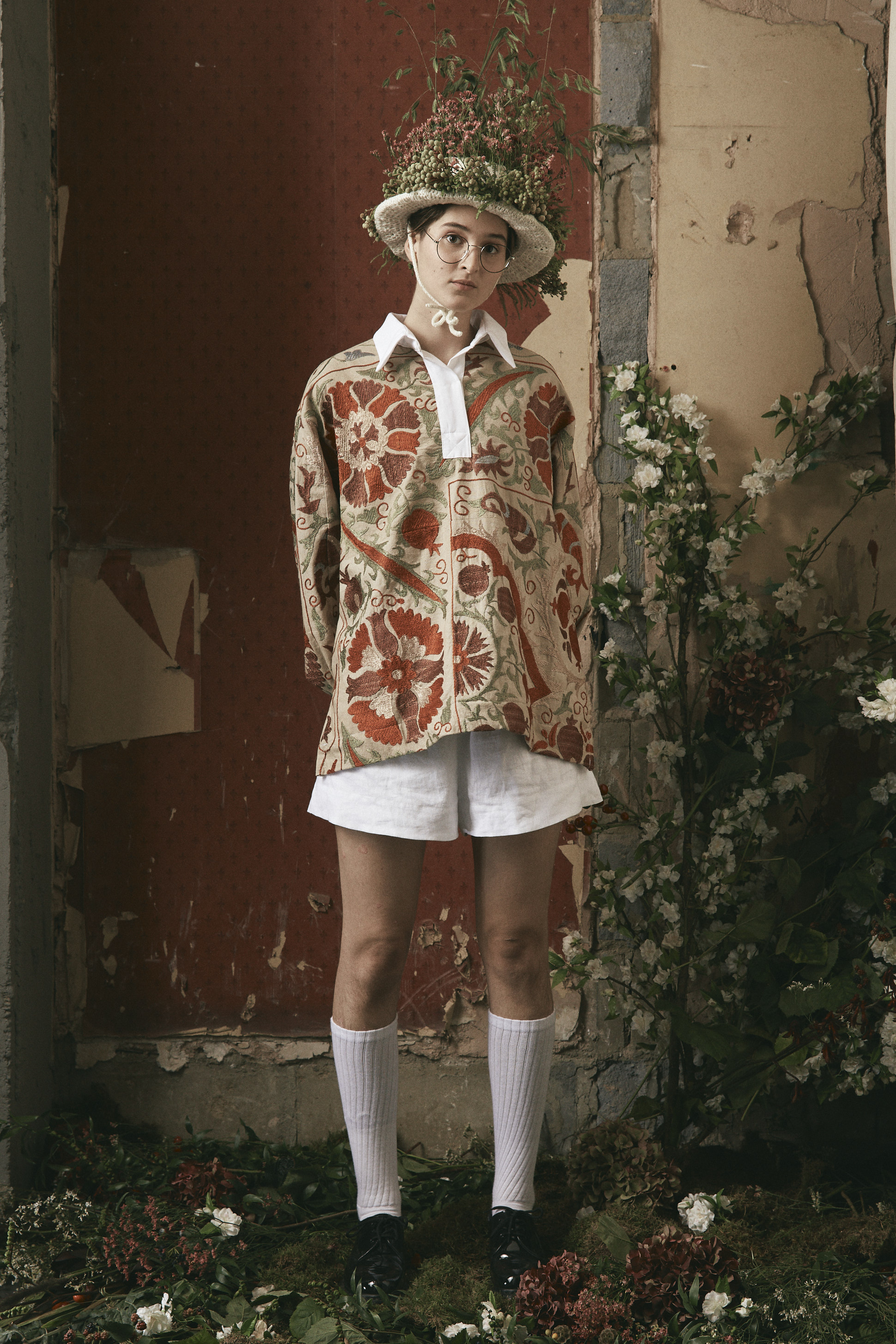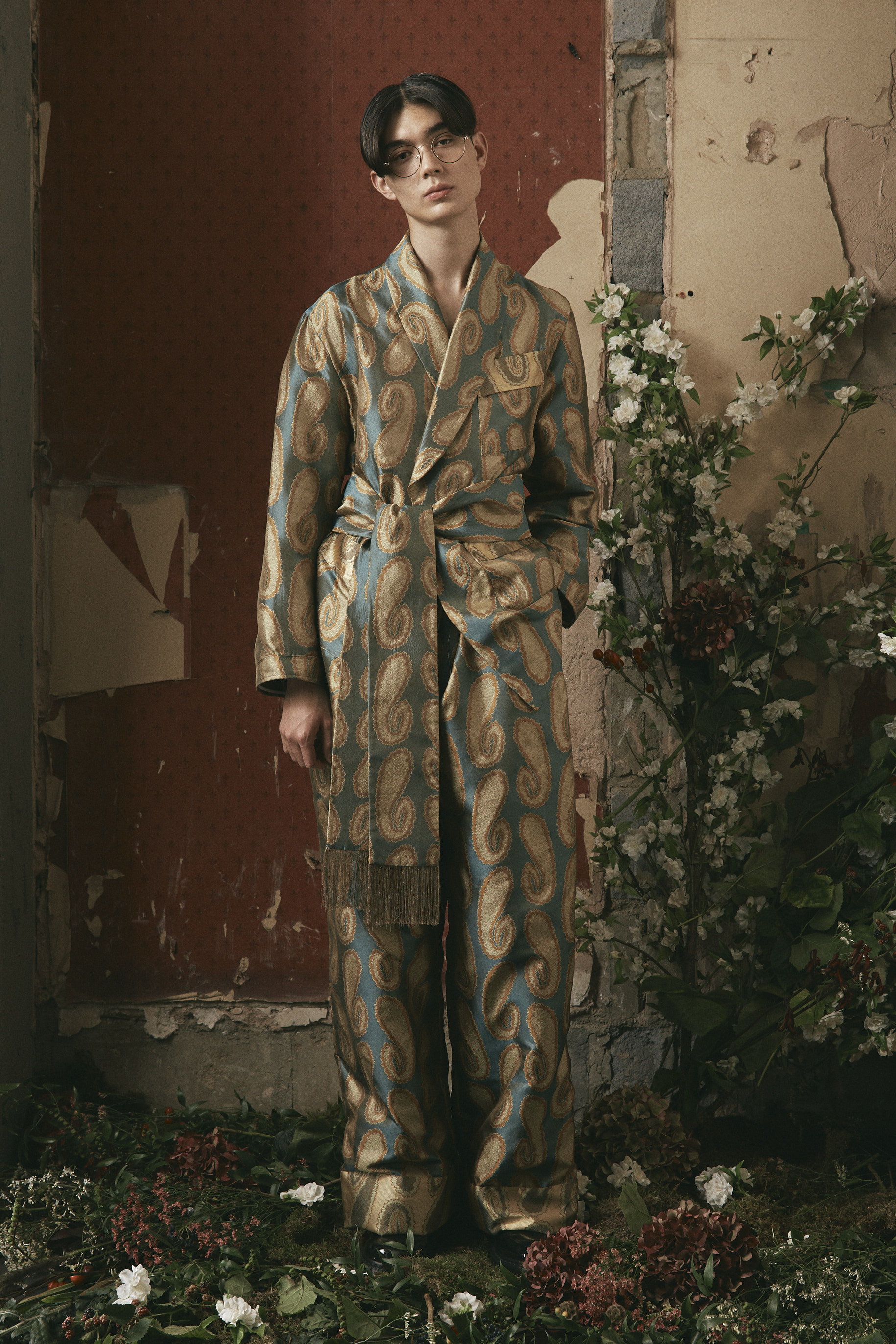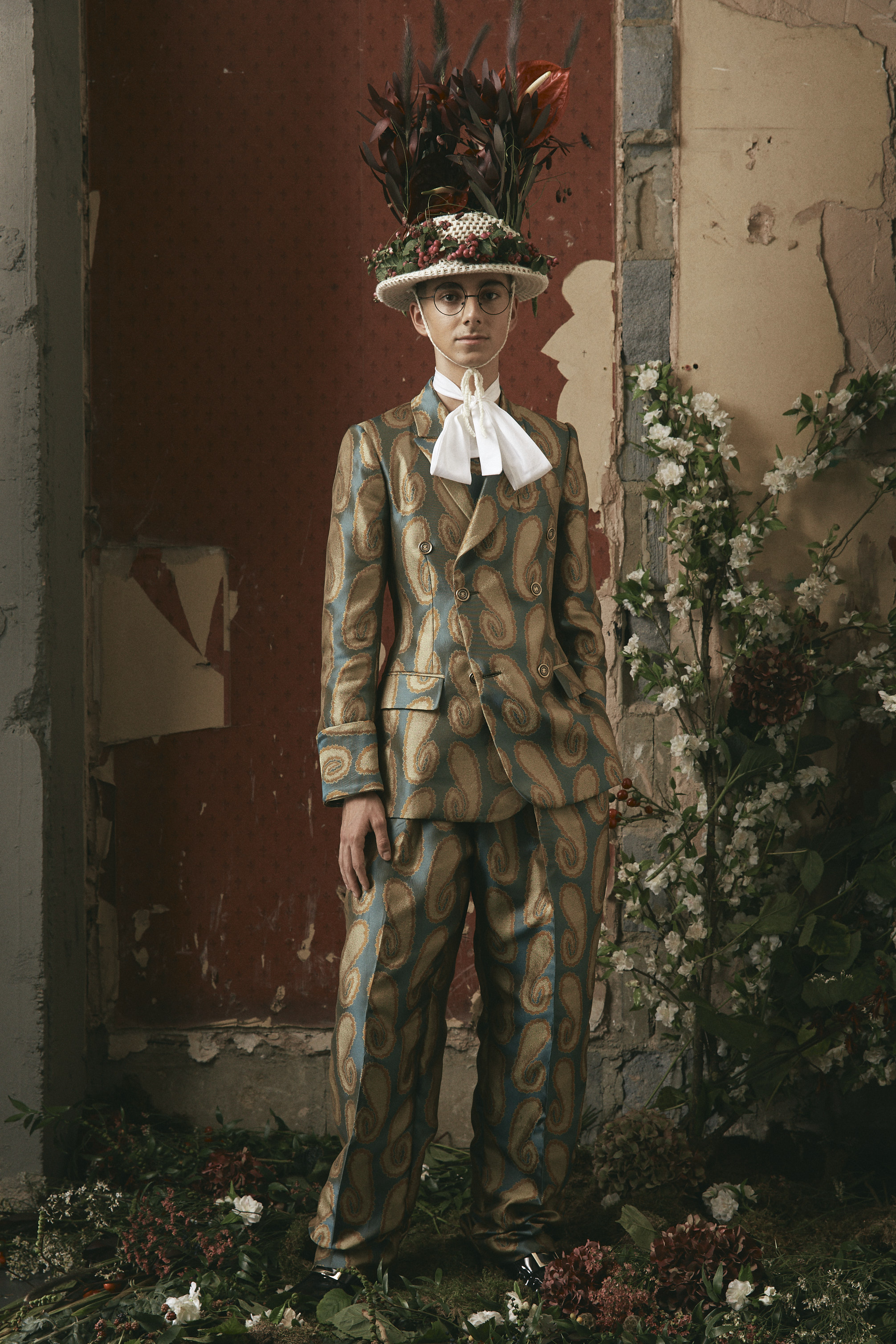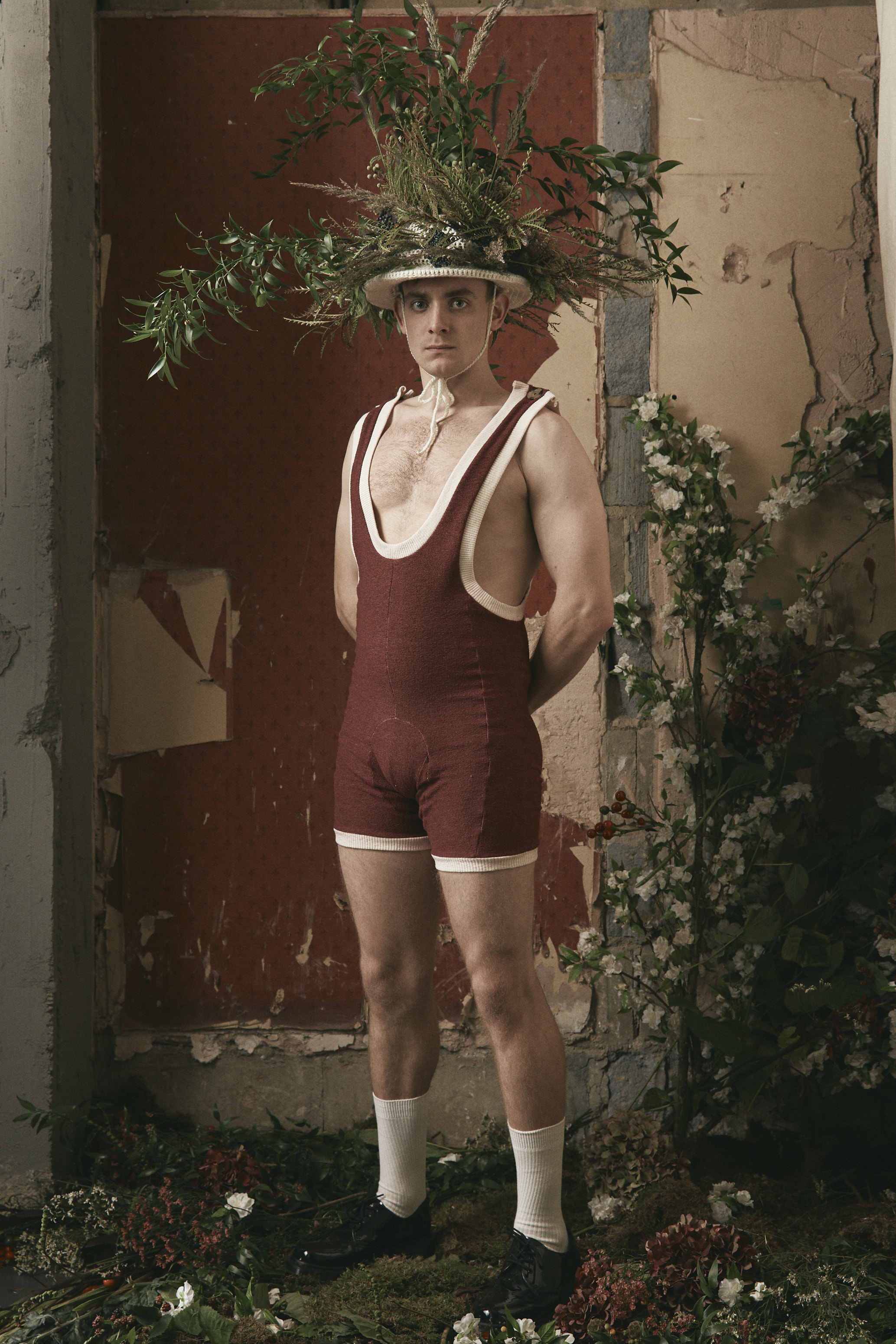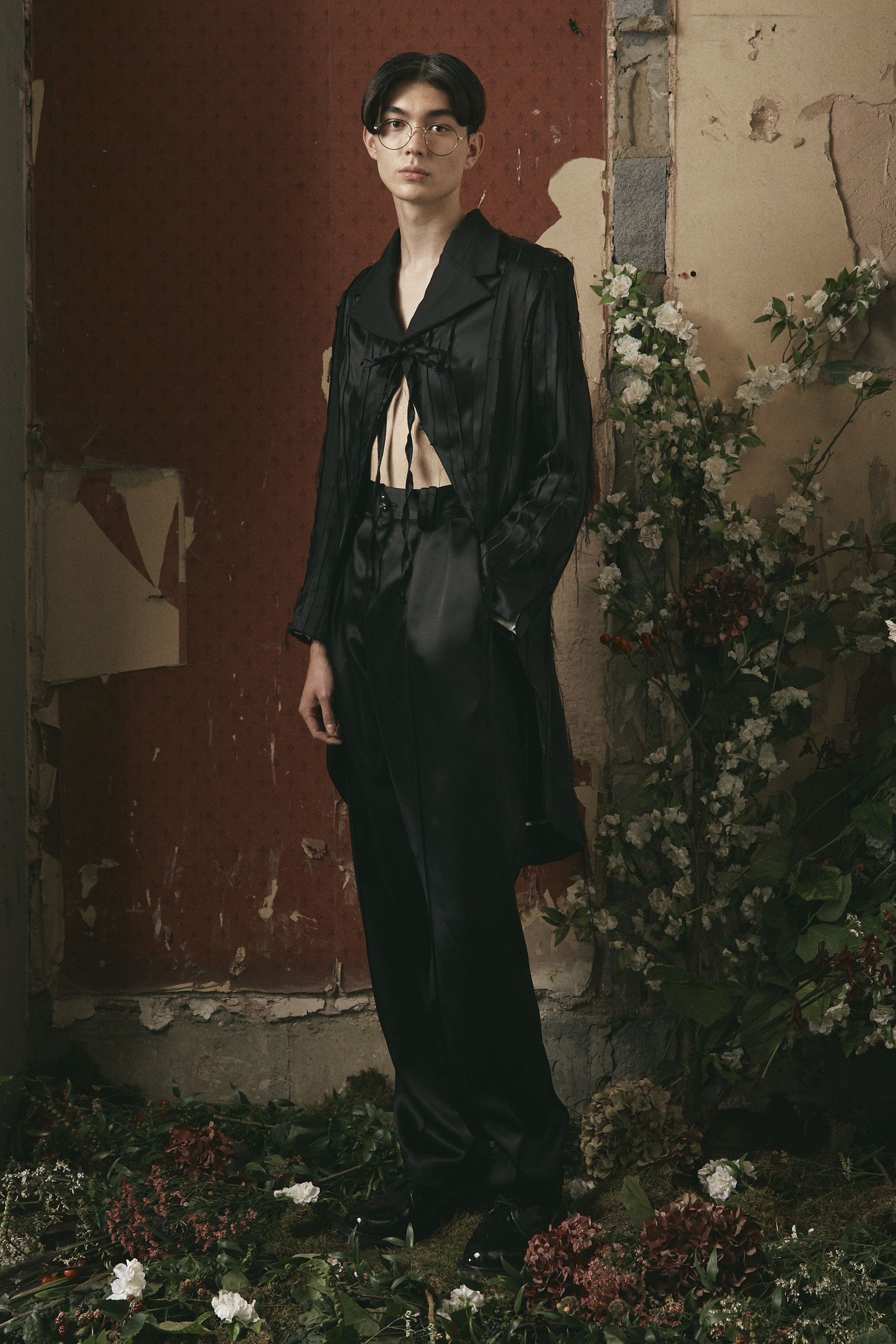 Erdem
Can you believe that Erdem has been on the London Fashion Week schedule for a decade-and-a-half? Last night, the designer staged a show in celebration of his 15th birthday in the colonnades at the British Museum. An ode to 20th century mavericks Edith Sitwell and Ottoline Morrell, the collection had a high note of eccentricity. Florals, yes (it's Erdem!) Wallflowers, absolutely not. Models had braids down to their knees, with watercolour-floral hats adding that touch of "Madame will take the matching gloves" look. With a moment for reflection, this was Erdem doing what he does best, which is making highly romantic clothes with a jaw-dropping level of details. "It's couture," whispered one guest. Embroideries were indeed museum-worthy, silhouettes cinched by trailing black grosgrain ribbons. And then, as if by magic (or perhaps the gods sending their approval from above) a rainbow beamed across the sunset sky just as the finale weaved through the majestic pillars. Happy birthday, Erdem! OA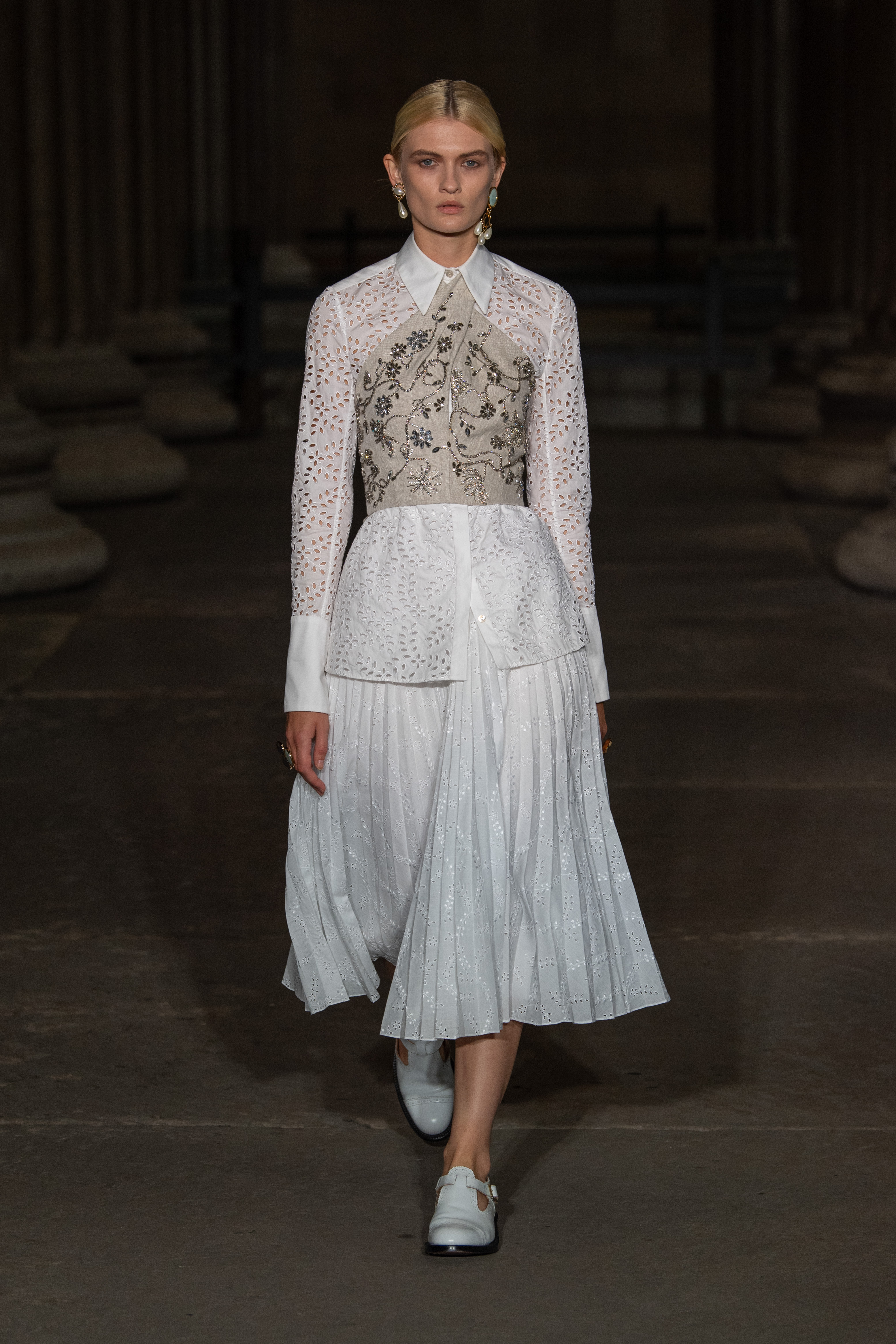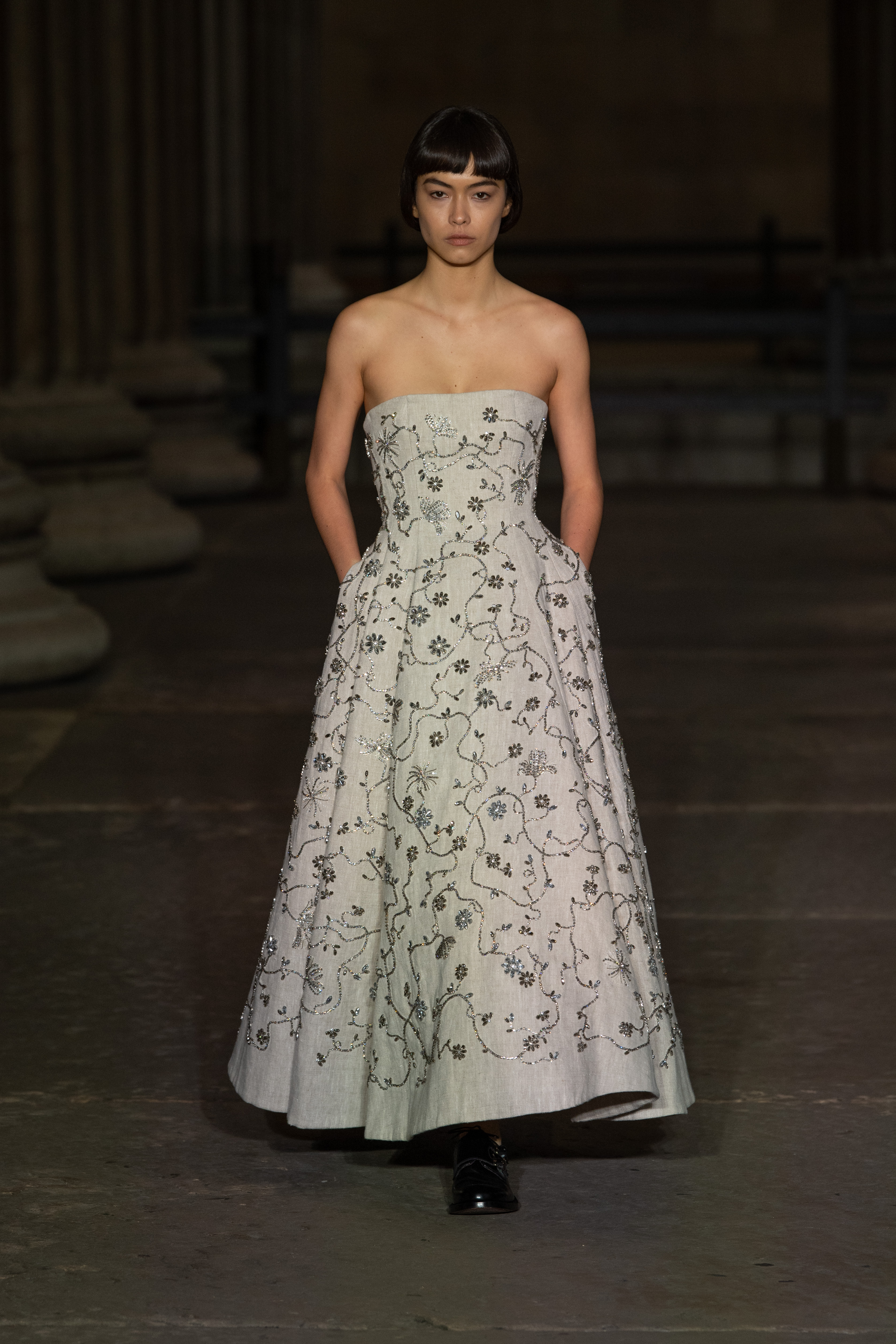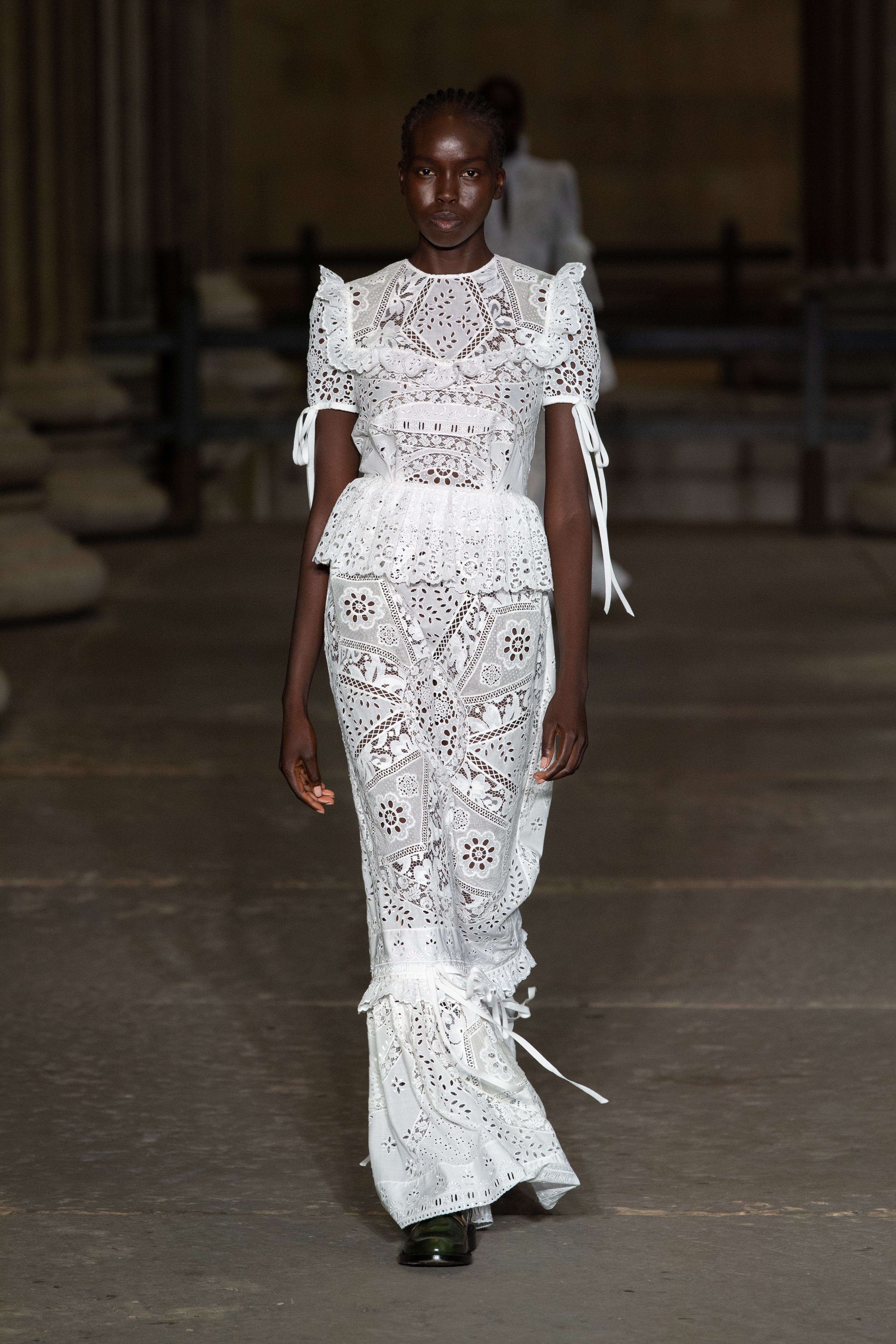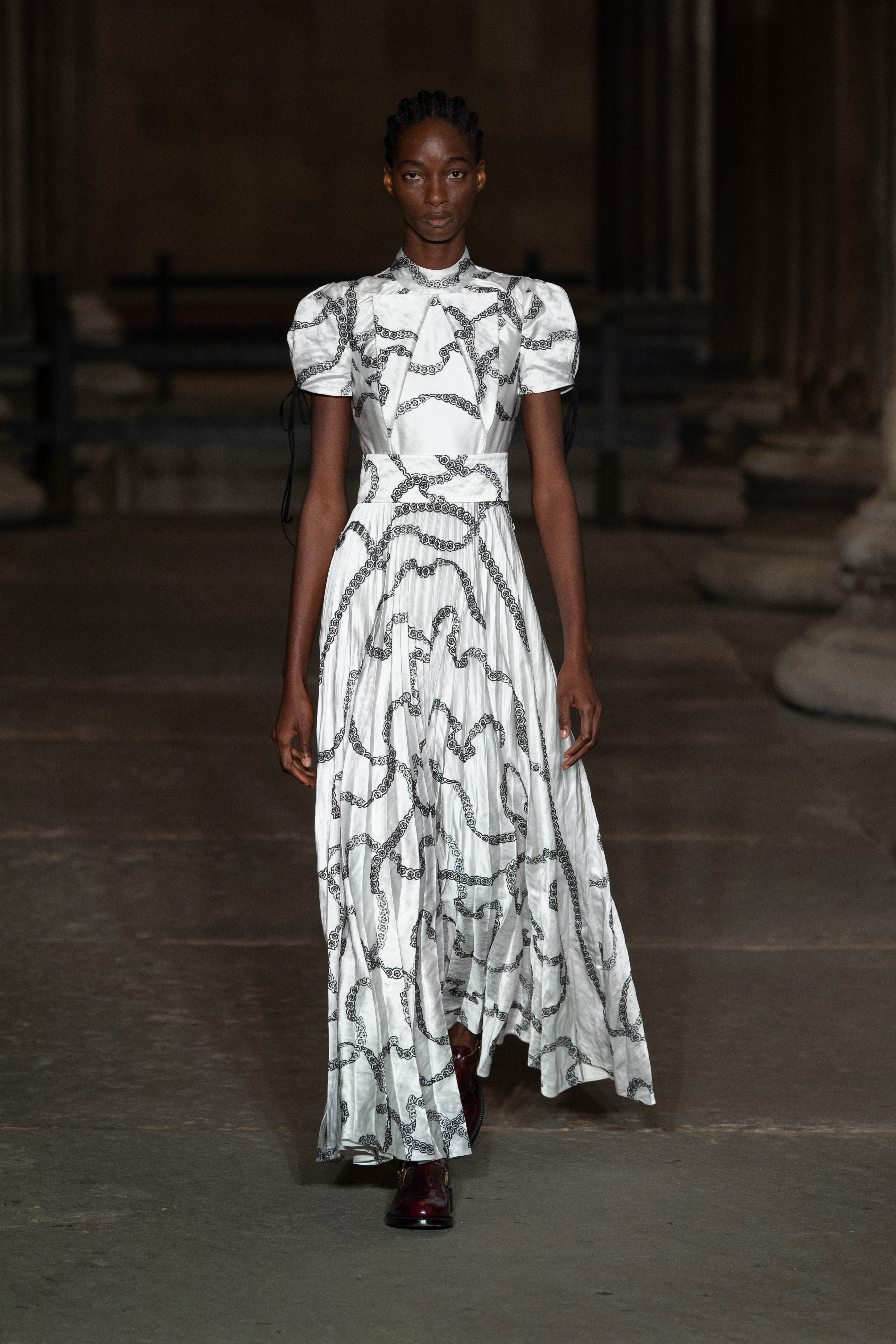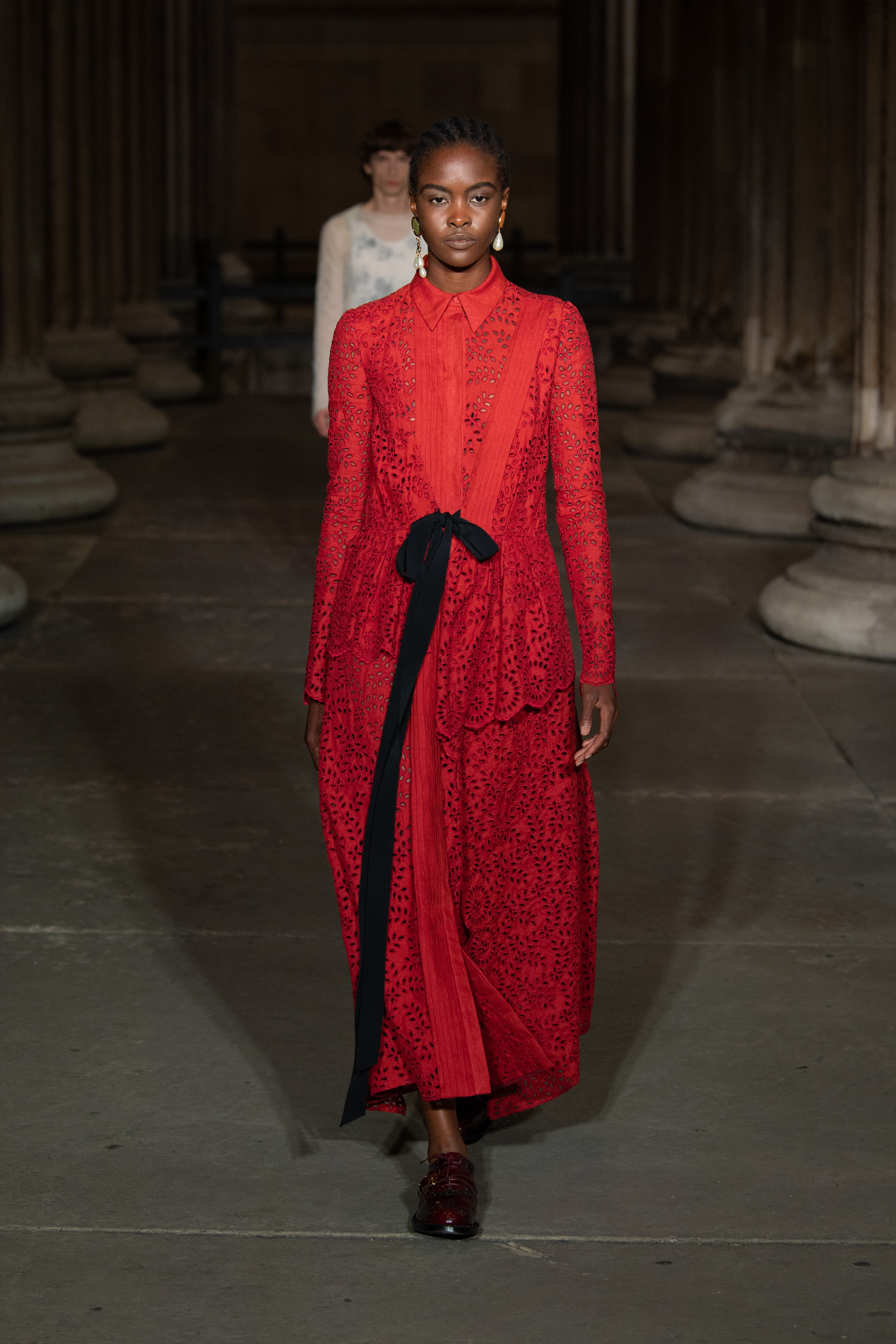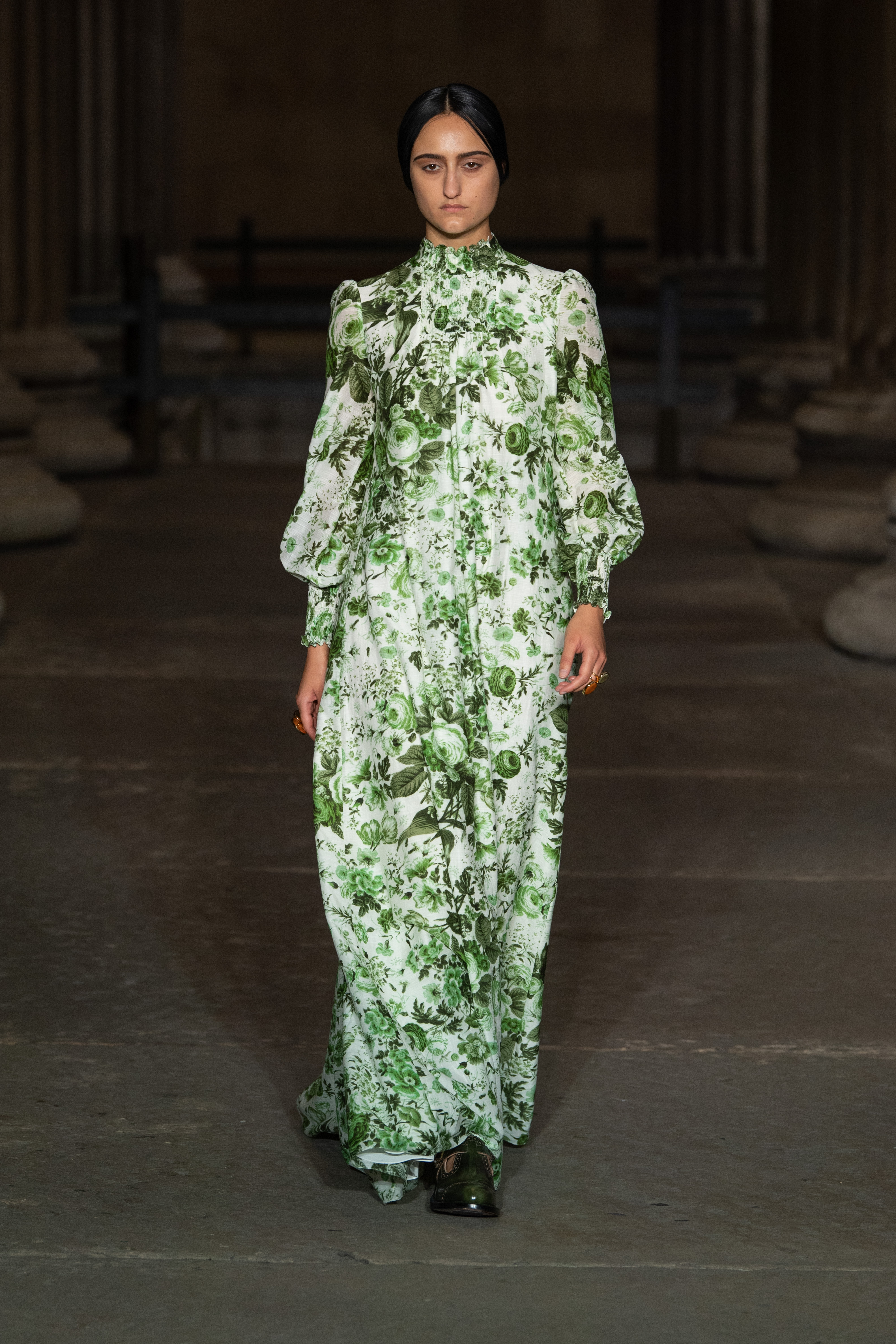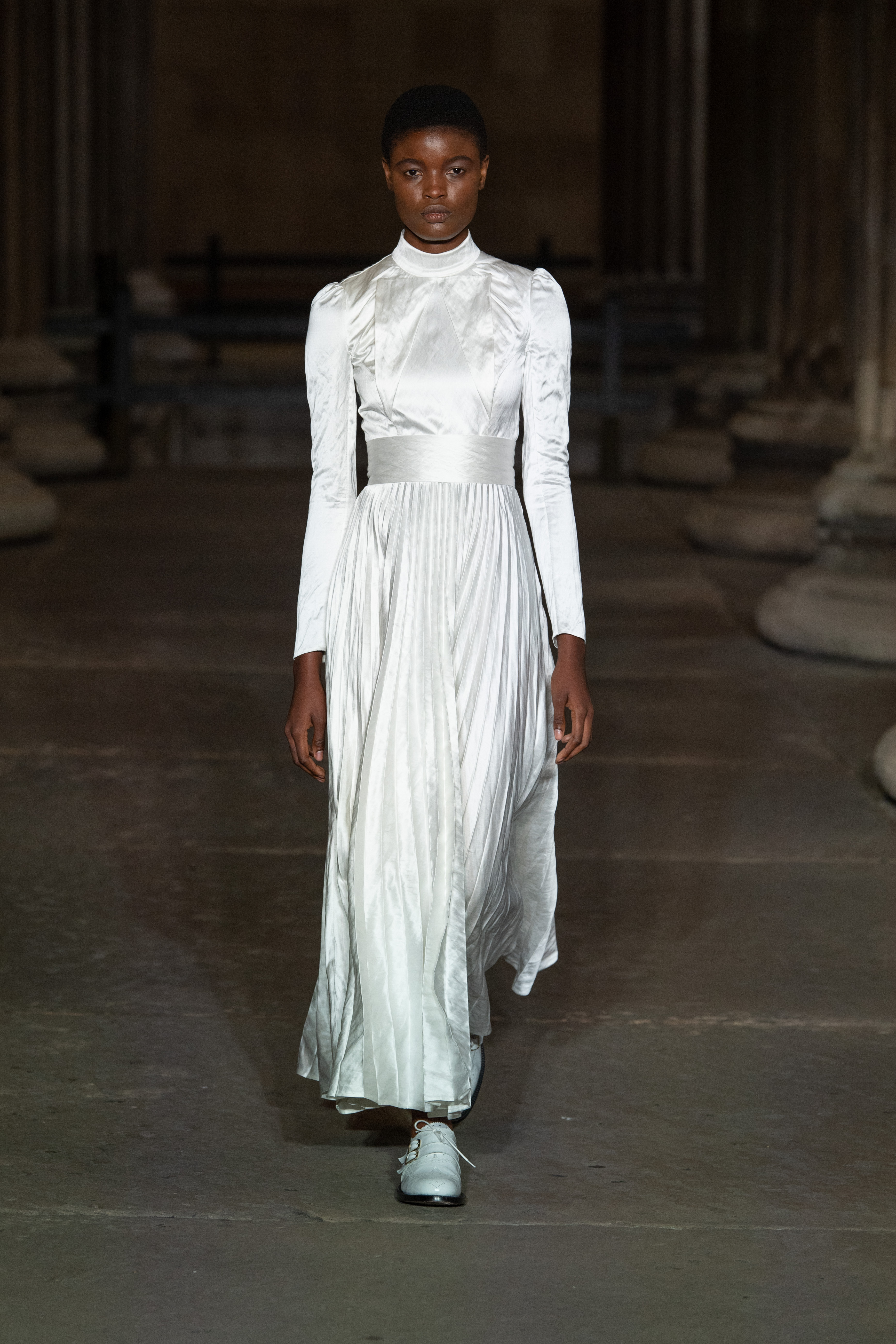 KNWLS
If you've ever wondered what the fashion equivalent to the rev of a Harley Davidson engine was, look no further than KNWLS. Fittingly titled 'Adrenaline', this season saw Charlotte Knowles and Alex Arsenault take a grittier, more rough-and-tumble approach than we've ever seen, presenting a collection rich with skid-scarred leathers, shredded, tendrilous drapes and brazen displays of flesh. The midwestern biker-chic feel of the collection was accented by the reptile-effect leather baguettes, pointed boots and belts, with dusty, oil-slicked jeans and low-rider leather trousers rounding things out with a deserty, cowgirl-y feel. Sounds fab, right? Go check out our exclusive BTS video with the designers here! MS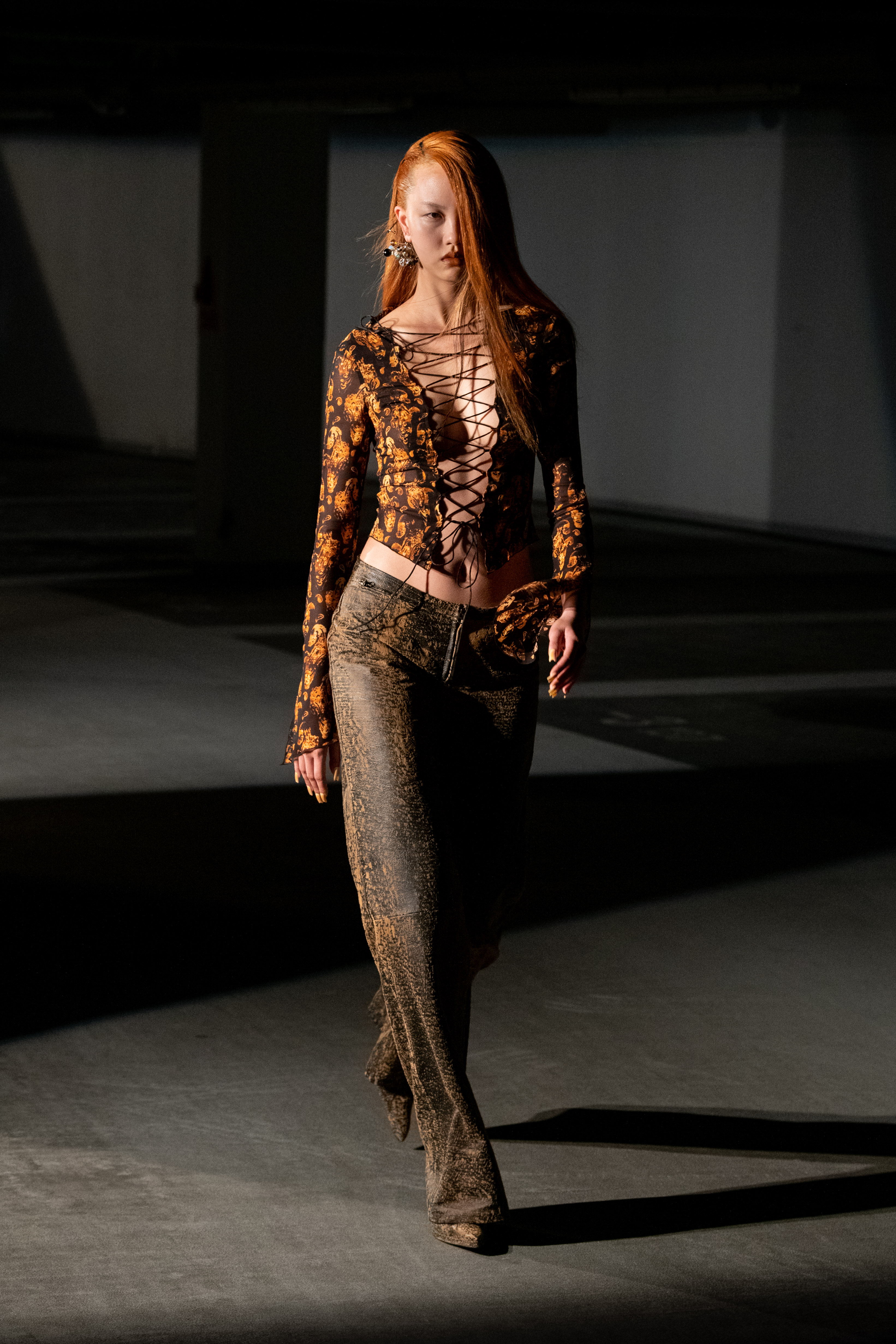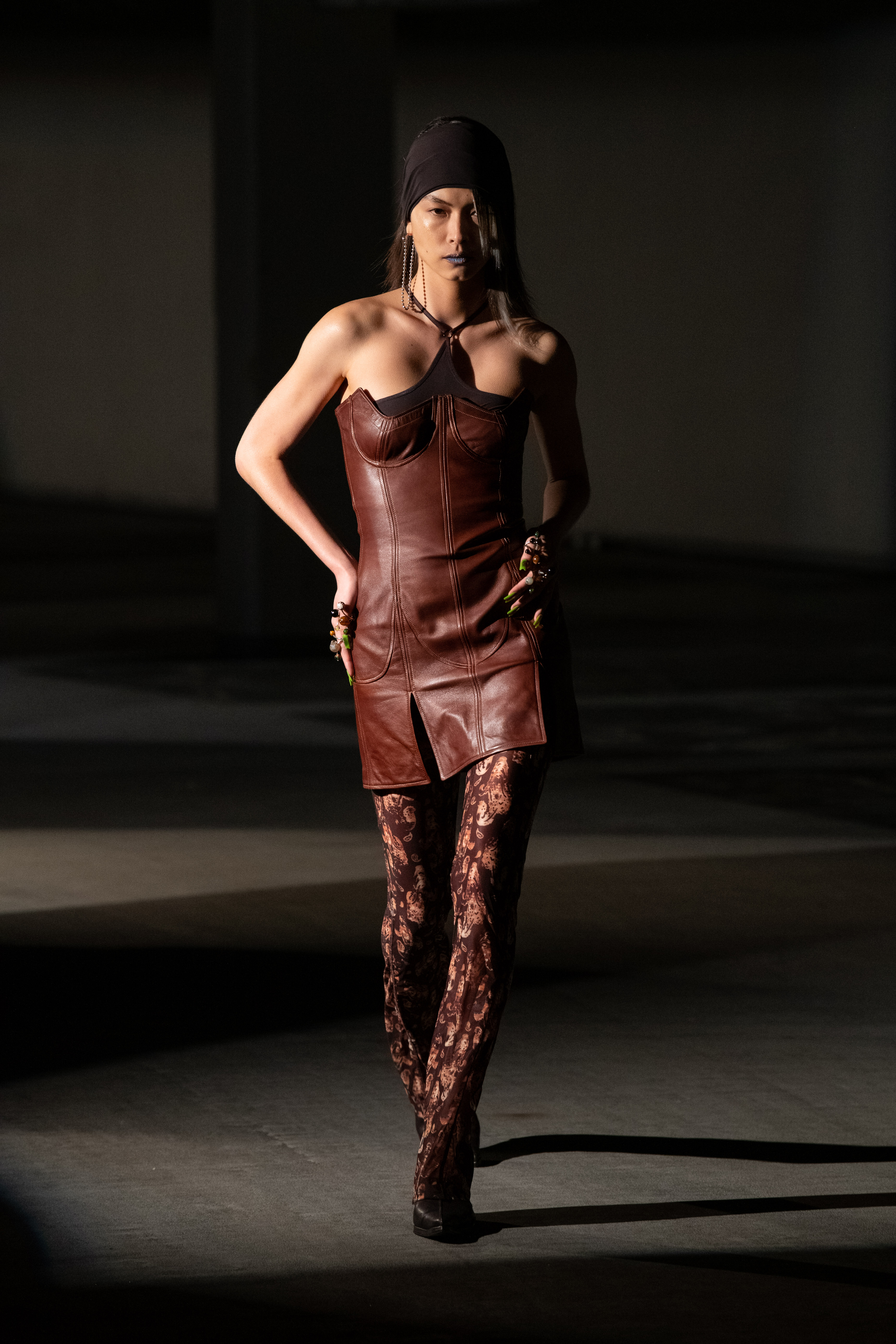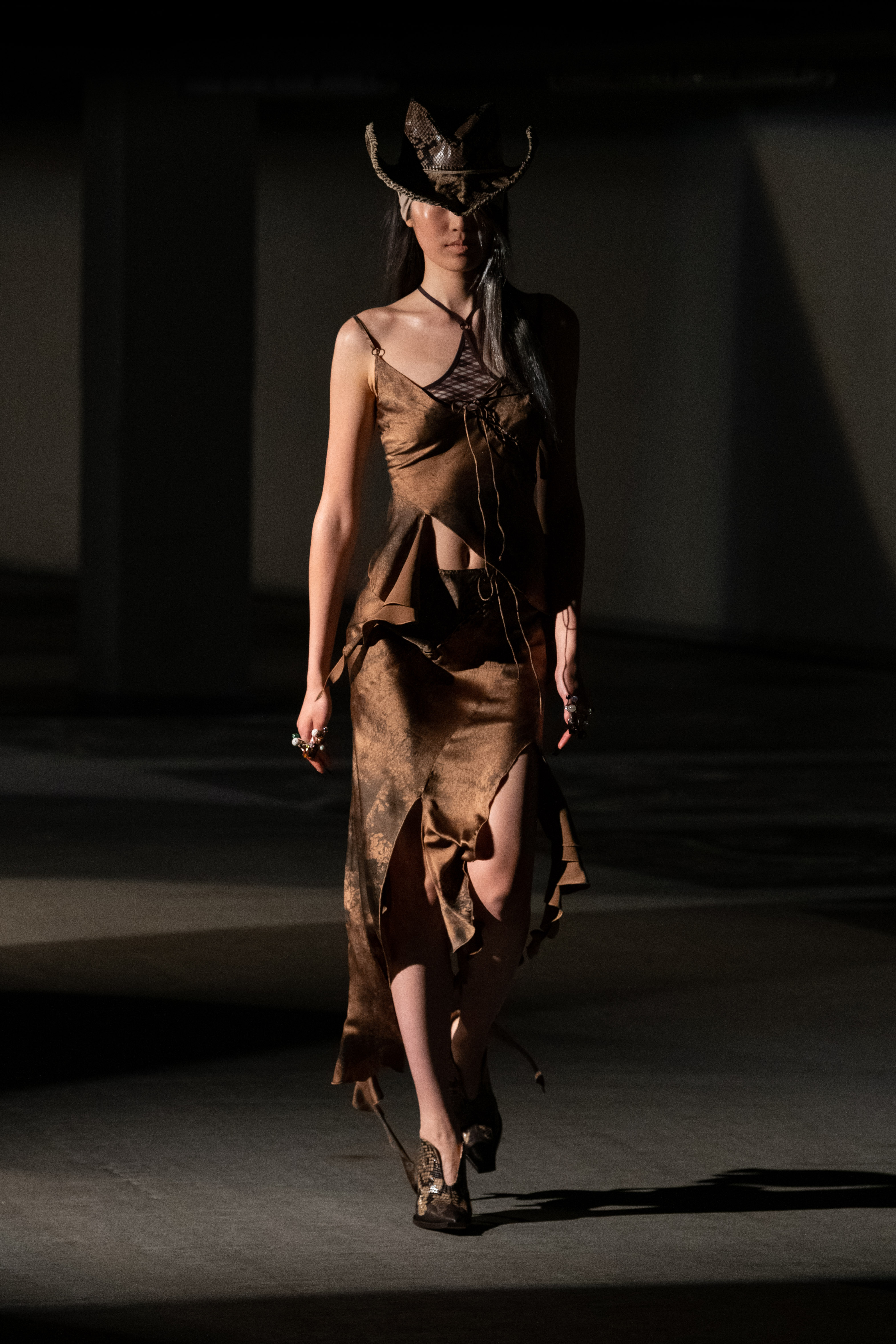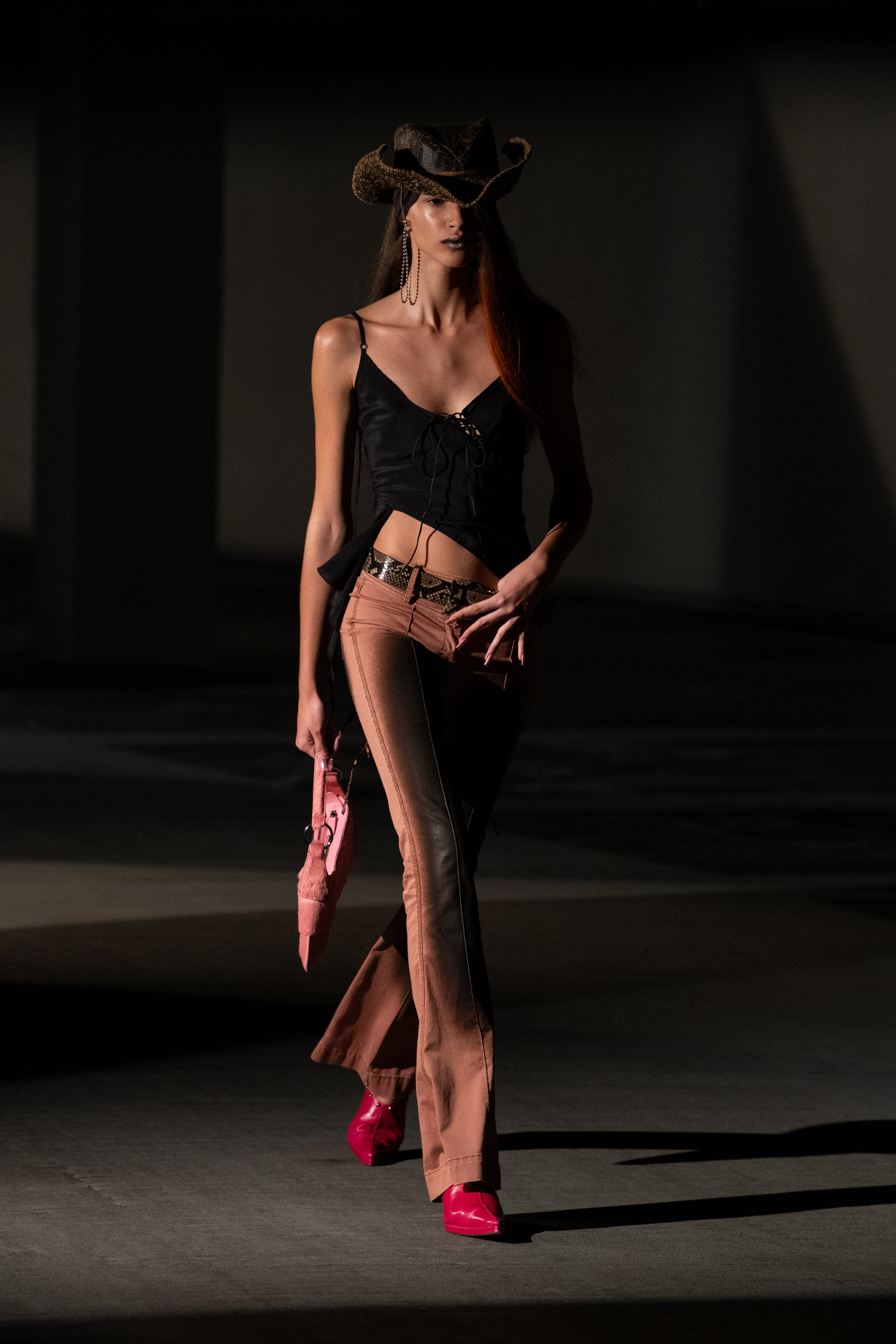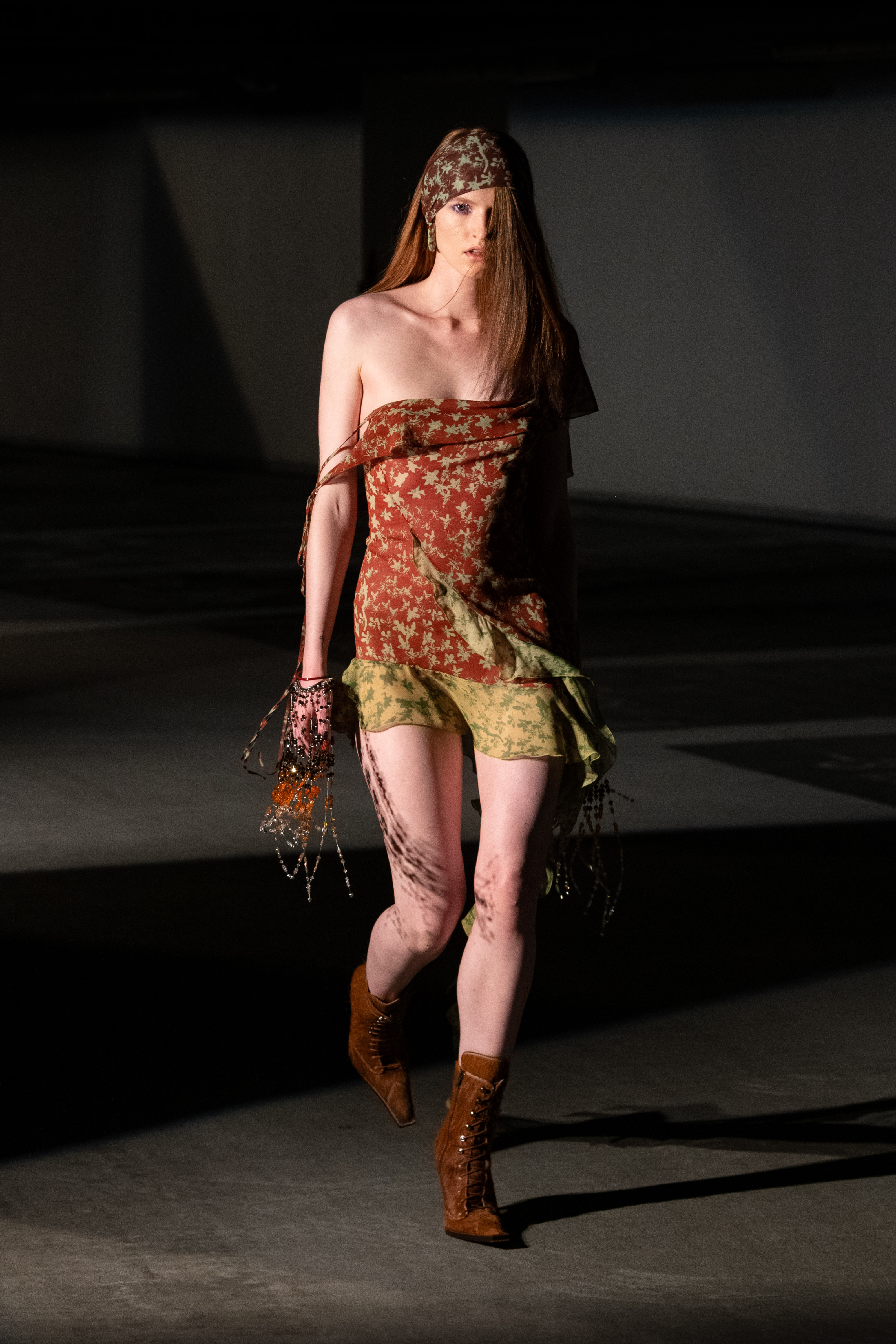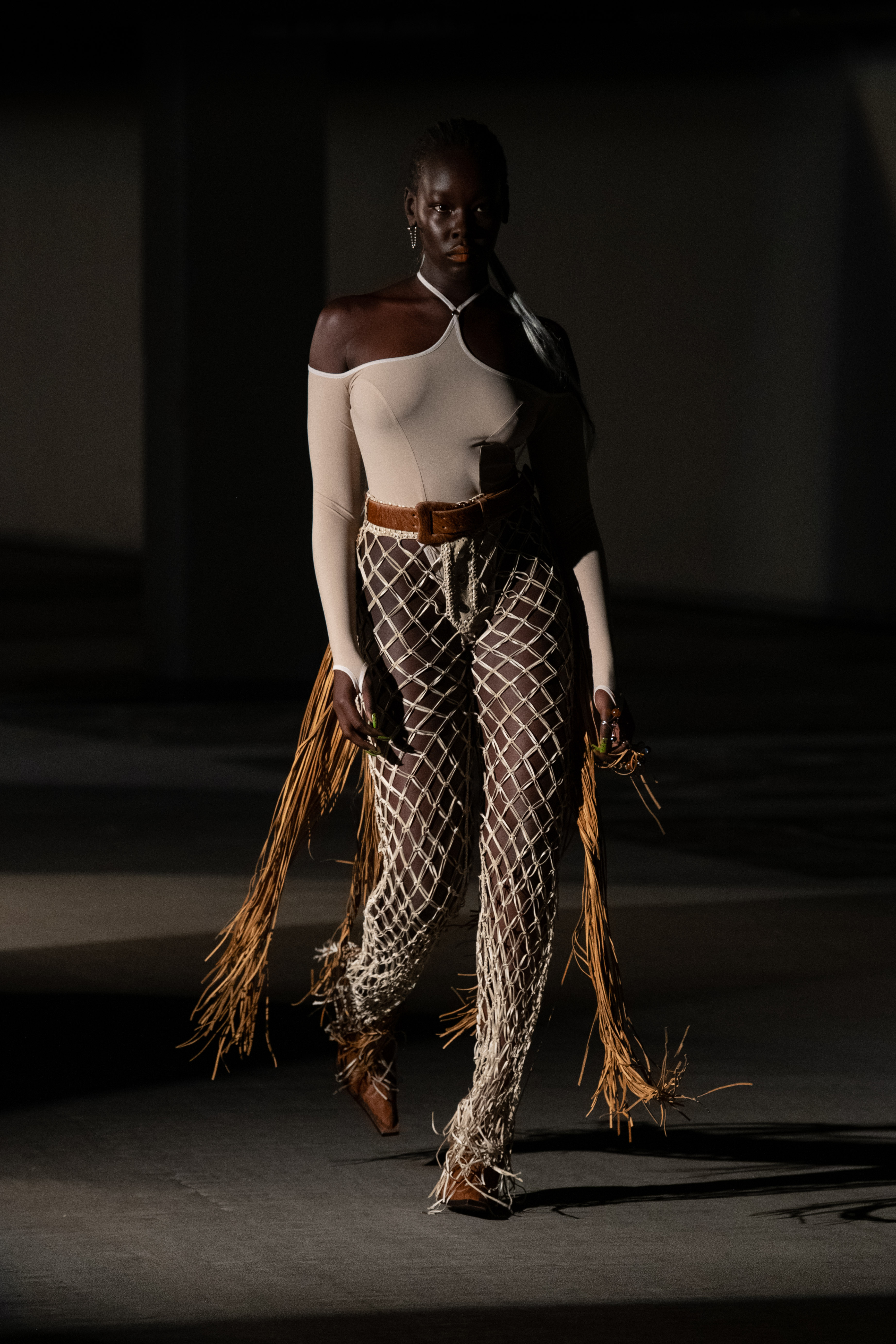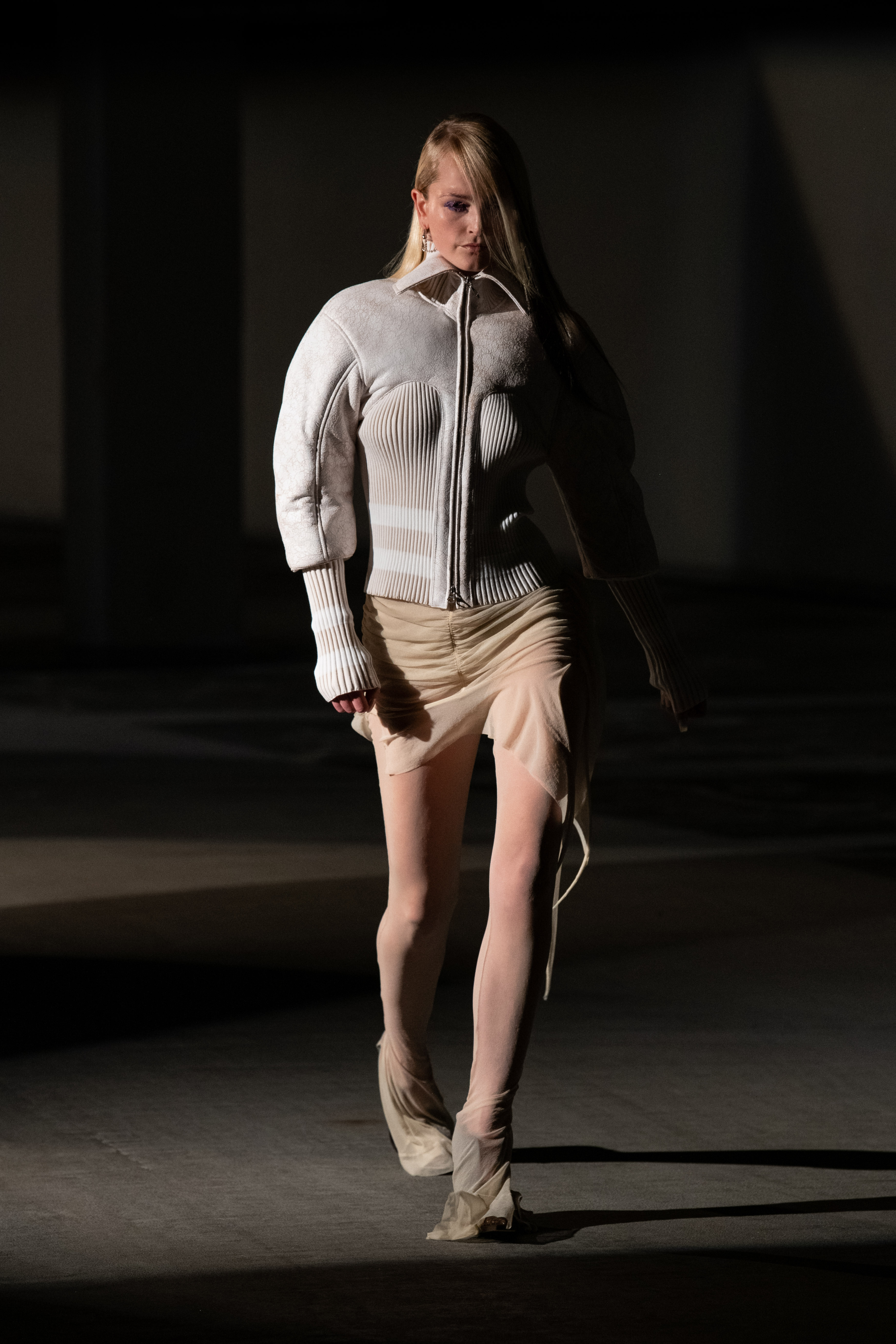 VeniceW
Having previously shown on the New York schedule, VeniceW, an indisputable queen of eccentric-yet-intelligently-made fashion, hopped over to the London calendar this season following her move to the city earlier this year. Following on from last season's exploration of the clothes that clothes might wear (you read that right!) to keep the safe from the cold, this season saw the Thai-American designer continue her exploration of the power of one of the most versatile, humble fabrics out there: linen. Wrapping rough-hewn band and joining burlap squares in bulbous silhouettes, the designer demonstrated a knack for transfiguring the mundane into the magical -- a facet only heightened by the esoterically quirky film she presented as part of the BFC's Discovery Lab -- think potato sack runs, century egg-and-spoon races, and more. MS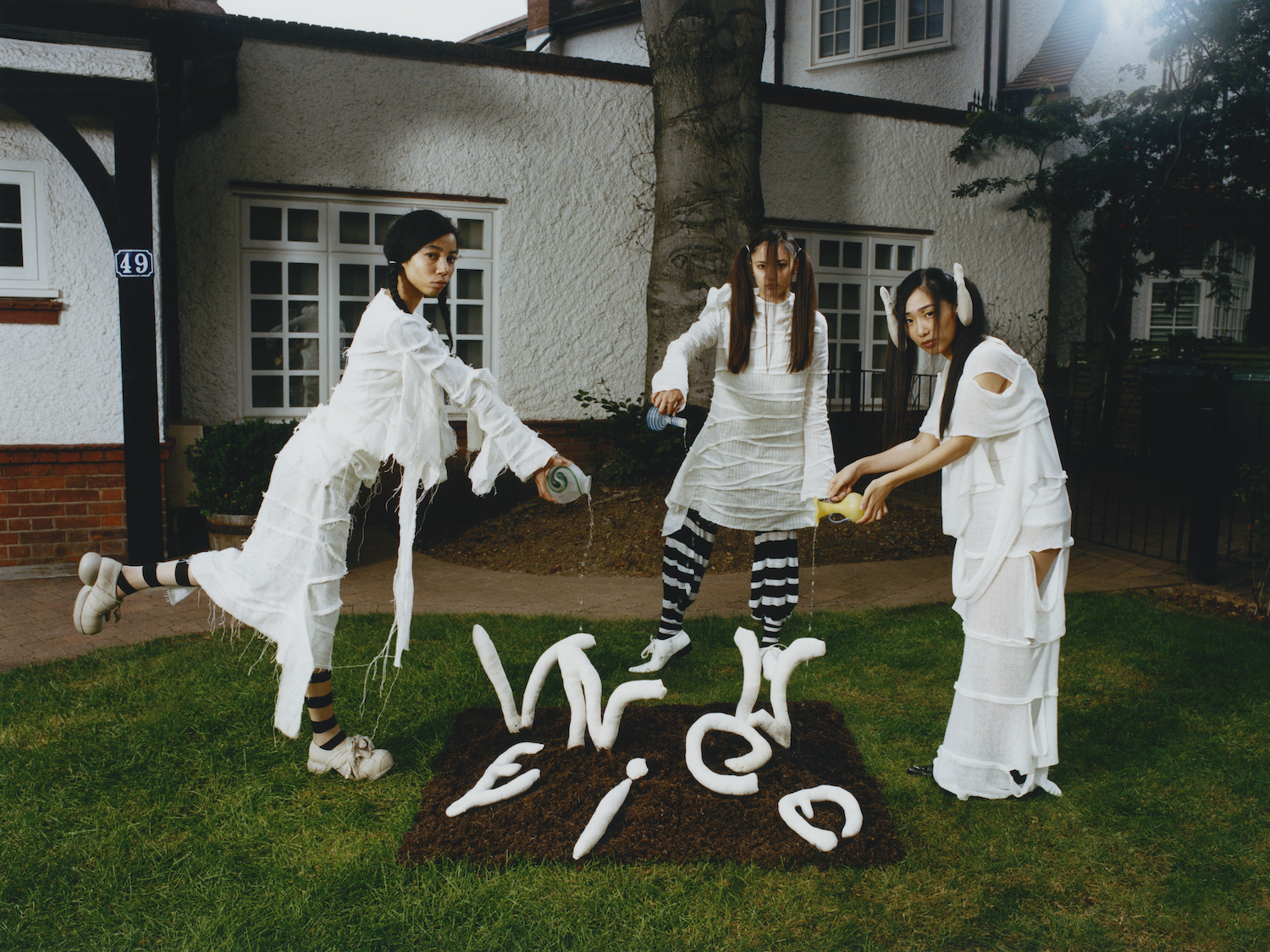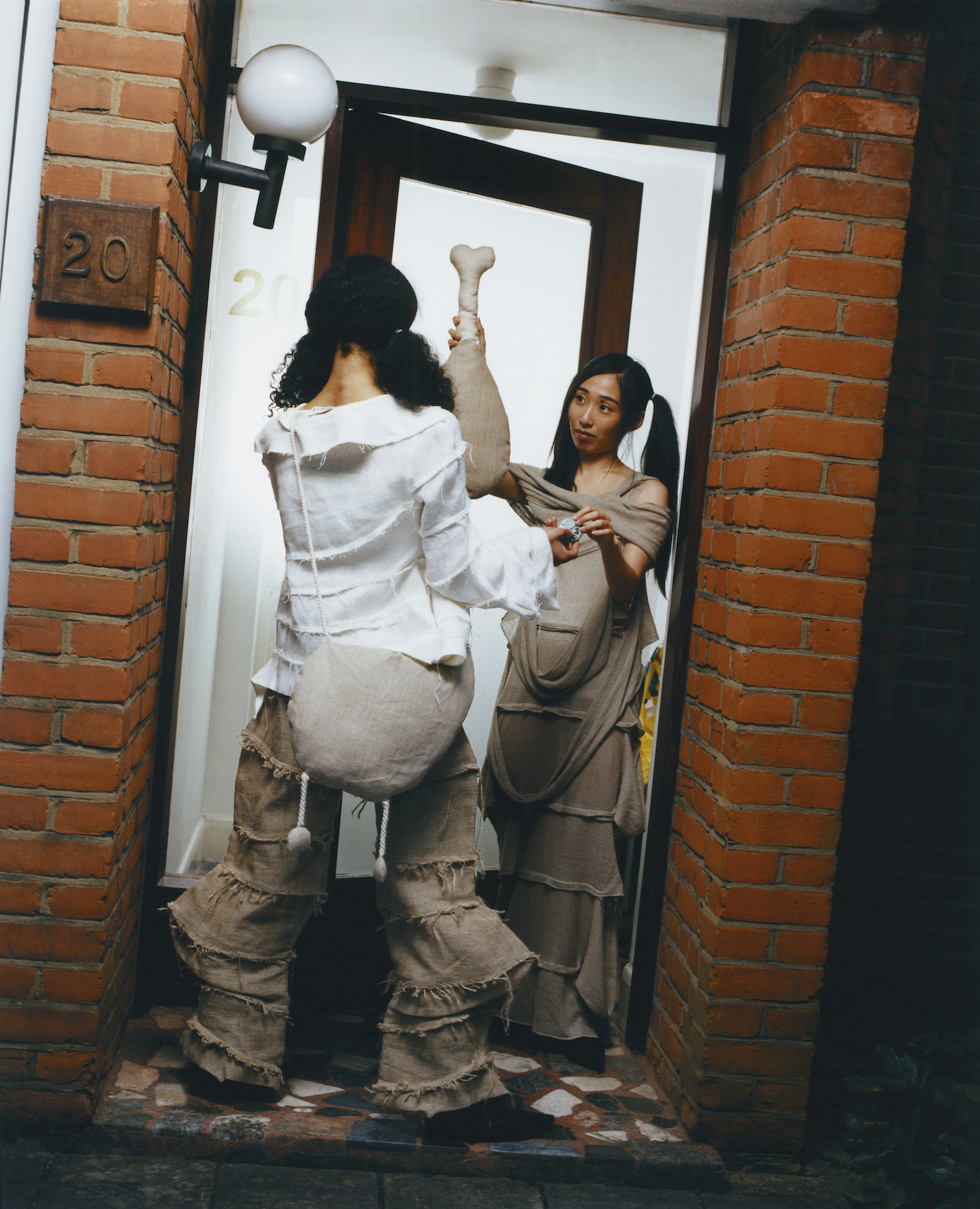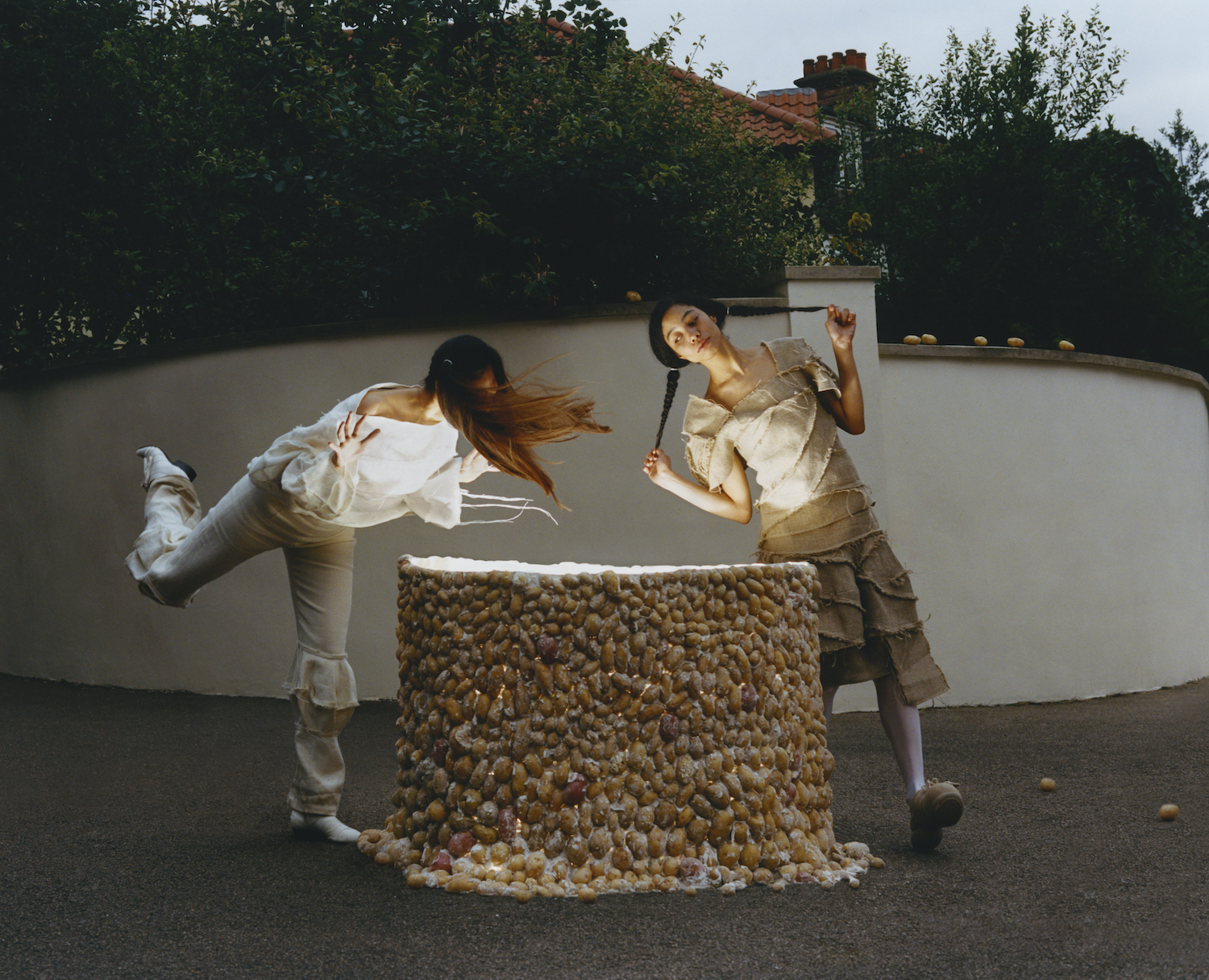 Molly Goddard
It was a season of unexpected standouts at Molly Goddard, who is currently on maternity leave, having recently had a baby. The press release heralded the blown up "baby dresses I wore as a child", recreating the pattern 10 or 20 times bigger, but the collection really revealed itself in its less showy pieces. There's always been a depth to Molly's designs away from the tulle party dresses — you see that when they're actually worn in real life, paired with a trainer or layered over a pair of jeans or layered. It's this sense of tangible reality that seemed to be at the heart of the collection this season. The opening look for example, paired a soft-but-electric peach smock with a pair of jeans, bringing together the elegance of tailoring with the baggy nihilism of teen skaters, all worn with a pair of green ballet shoes. Molly has also been introducing more and more menswear into her collections over the past few seasons, and here, it was clear that the designer has confidently found her voice in the category. The men wore lace-up ballet shoes too, short shorts, and roomy dresses styled over tailored pinstripe trousers. There was a harmony between the menswear and womenswear here, they both echoed and reflected and enhanced each other; they wore the same tracksuit bottoms and the same jeans, the same shoes and same dresses. Of course, "dresses for men" is hardly the radical fashion proposal it once was, but here, their power lay insouciance and comfort and believability with which that binary was blurred. FP
16 Arlington
As you've probably clocked, this season, London's designers are damn well ready to party! Adding their voice to the chorus of designers putting out hyper-sensual, unabashedly femme fashions with a night time flair -- others among them being KNWLS, Supriya Lele and Nensi Dojaka -- is 16Arlington. For their SS22 collection -- released today in a lookbook produced in collaboration with a stellar team that includes casting director Mischa Nottcutt, photographer Marili Andre, hair stylist Issac Poleon, and nail artist Sylvie Macmillan -- Marco Capaldo and Kikka Cavenati put out a body that oozes modern romanticism. Tiered ruffles, marabou feathers and embroidered florals abound, but any potential kitschiness is tempered by the severity of lean tailored silhouettes, gauzy fabrics and confident peeks of skin. Should we ever end up on a red carpet, we know what we'll be wearing! MS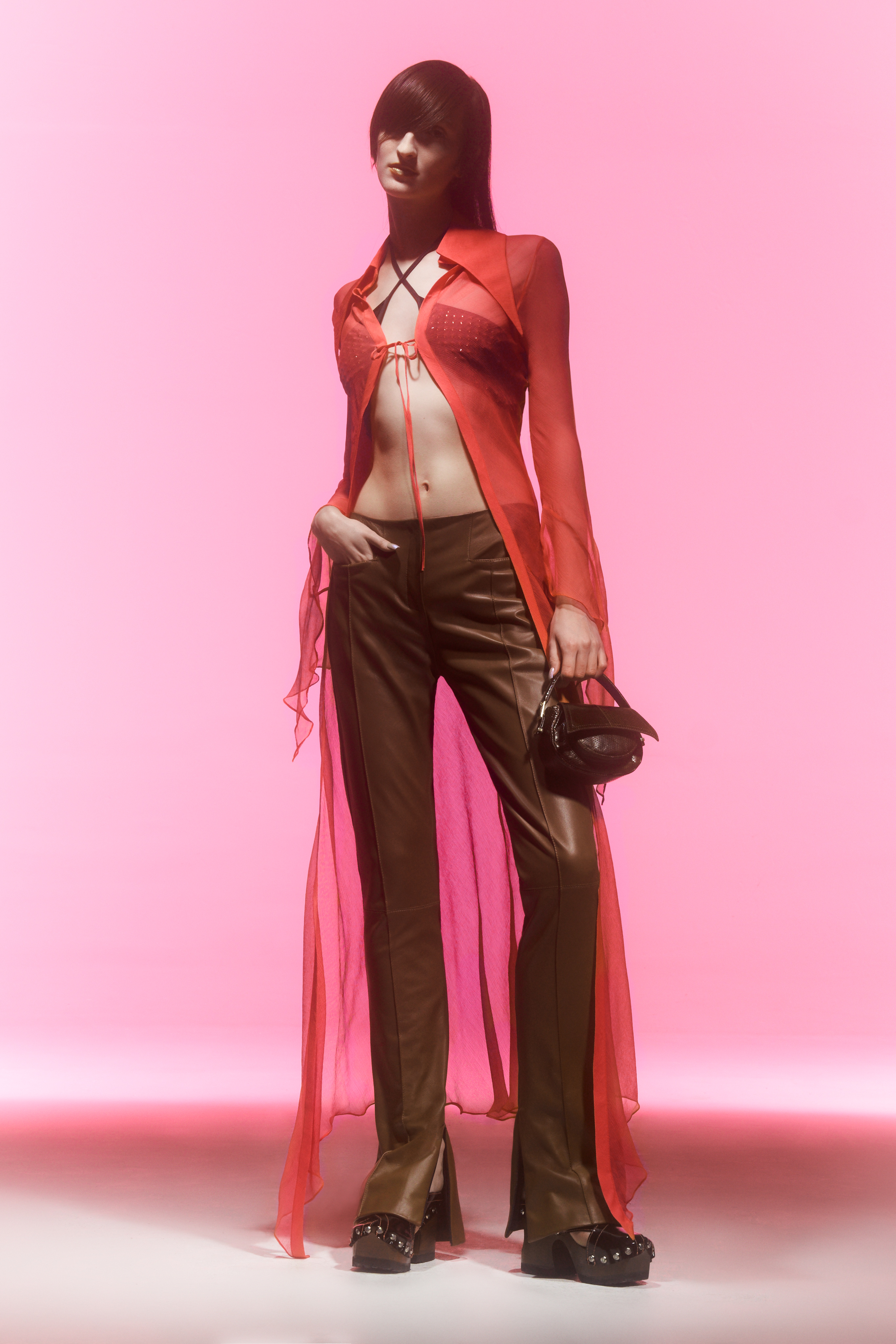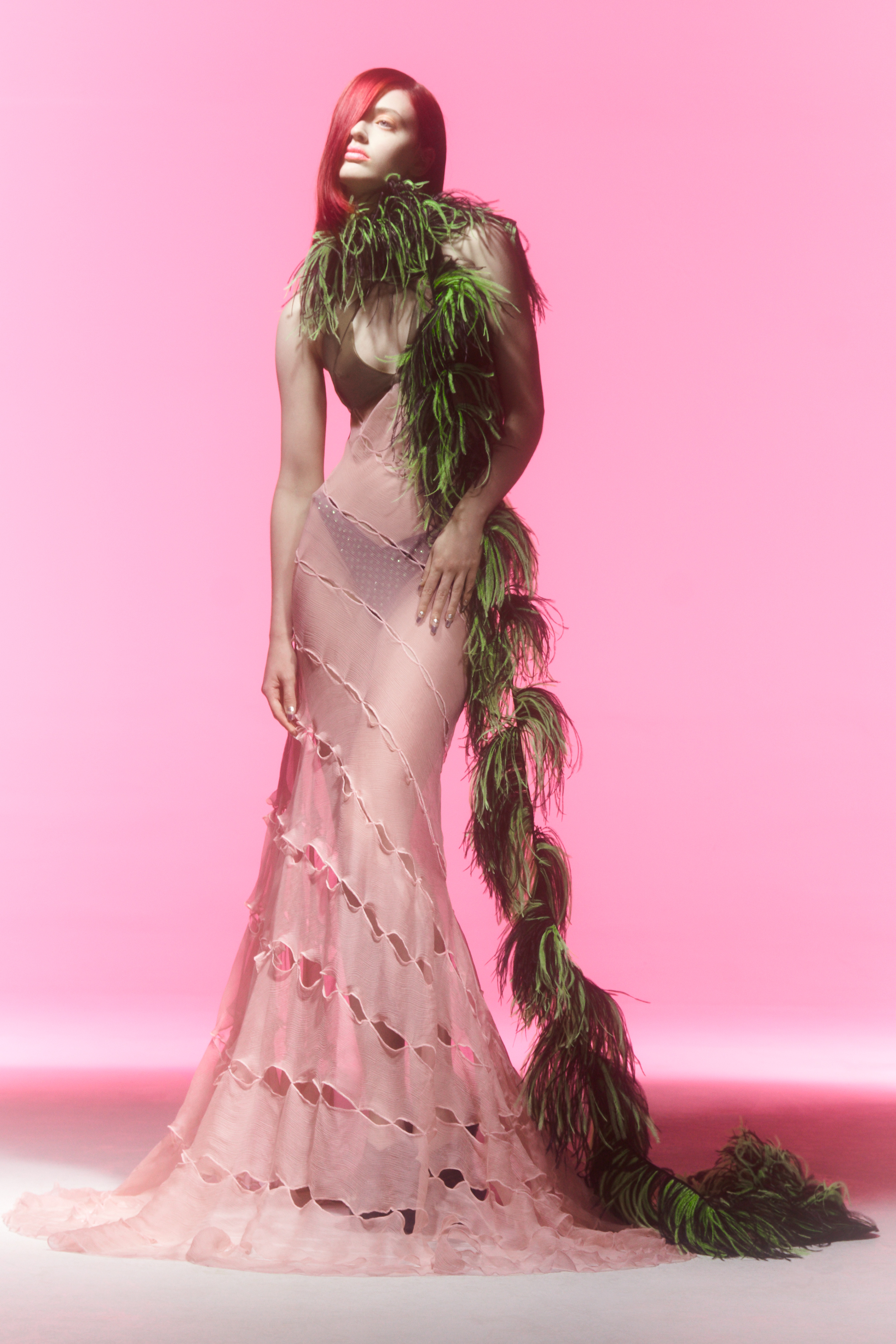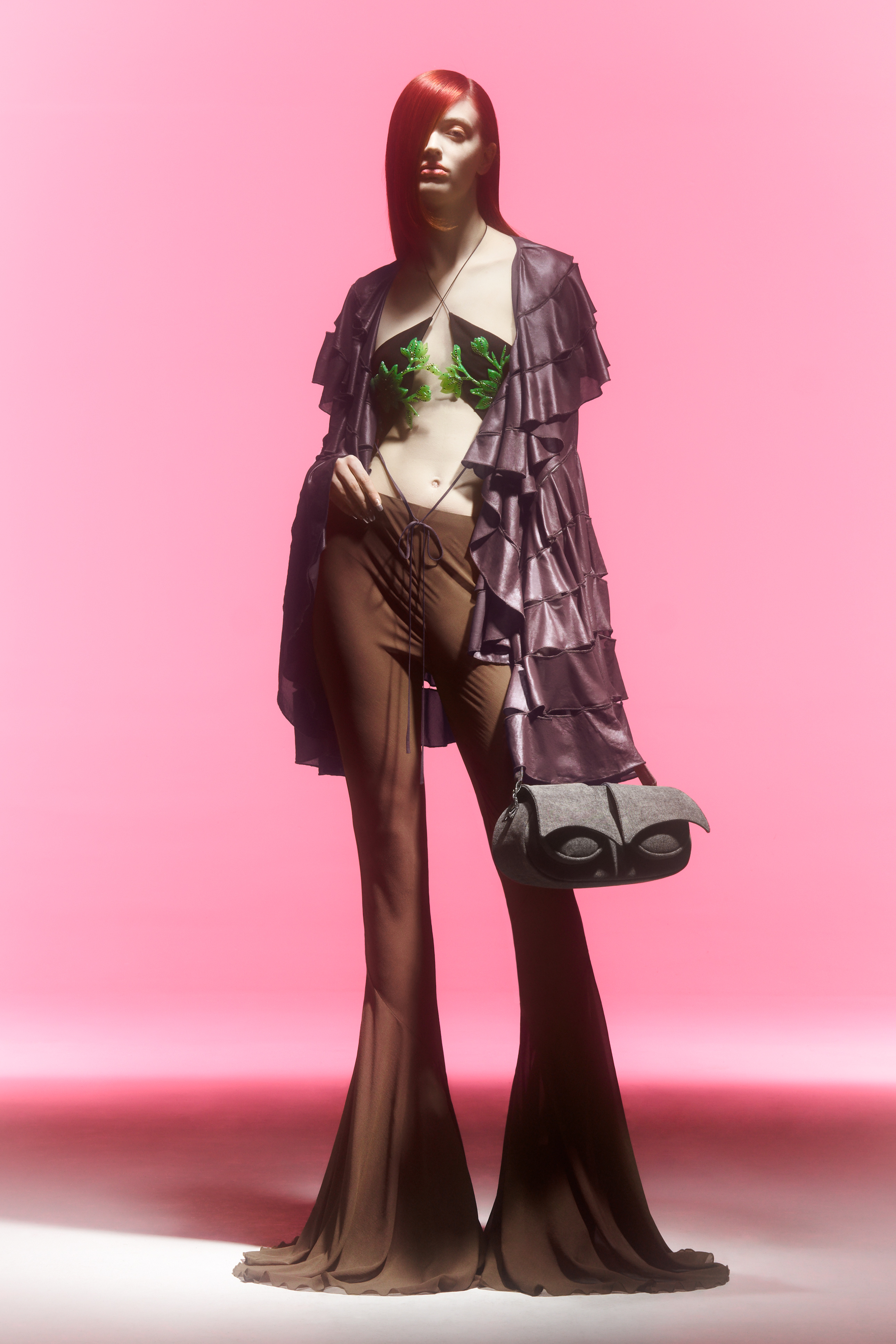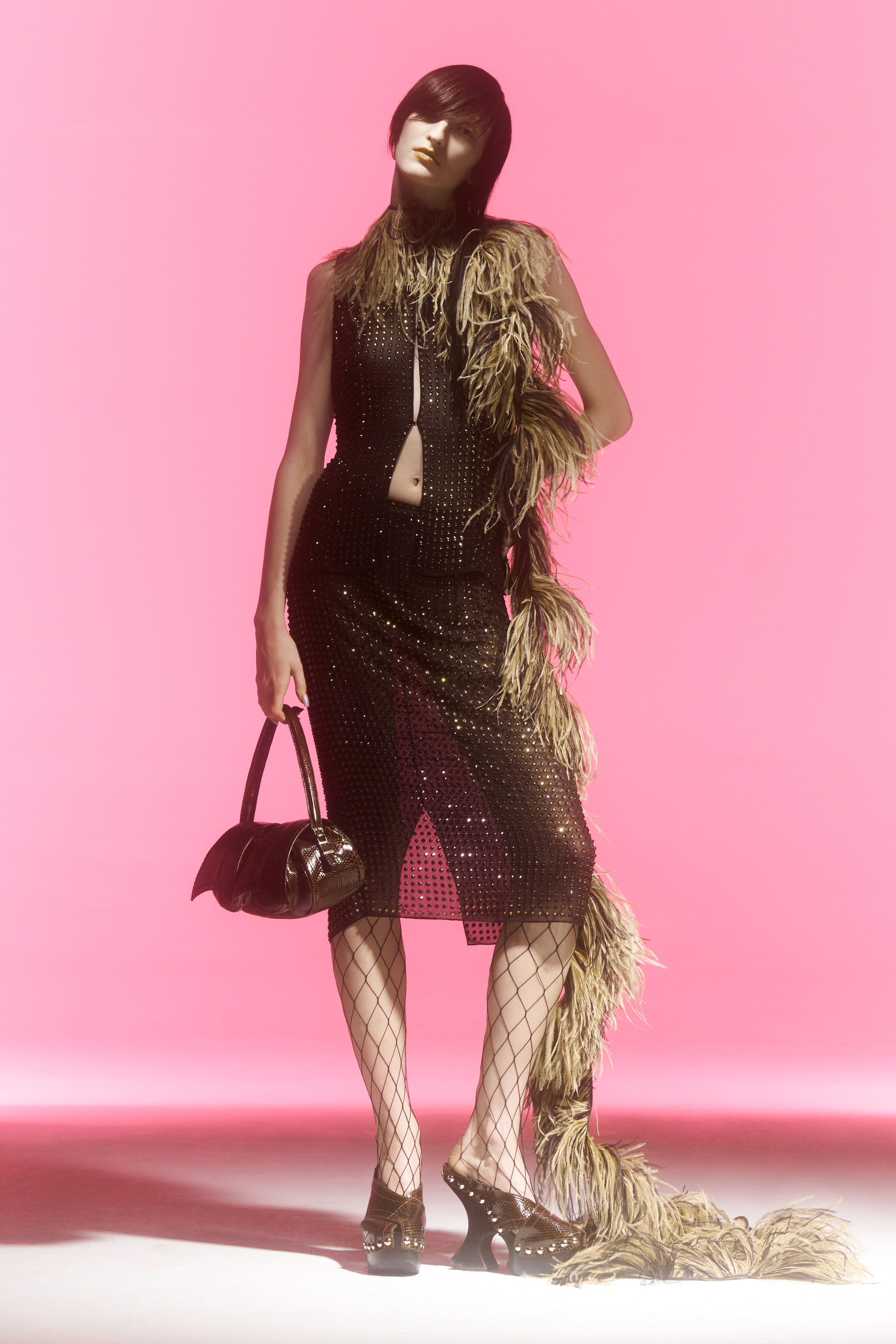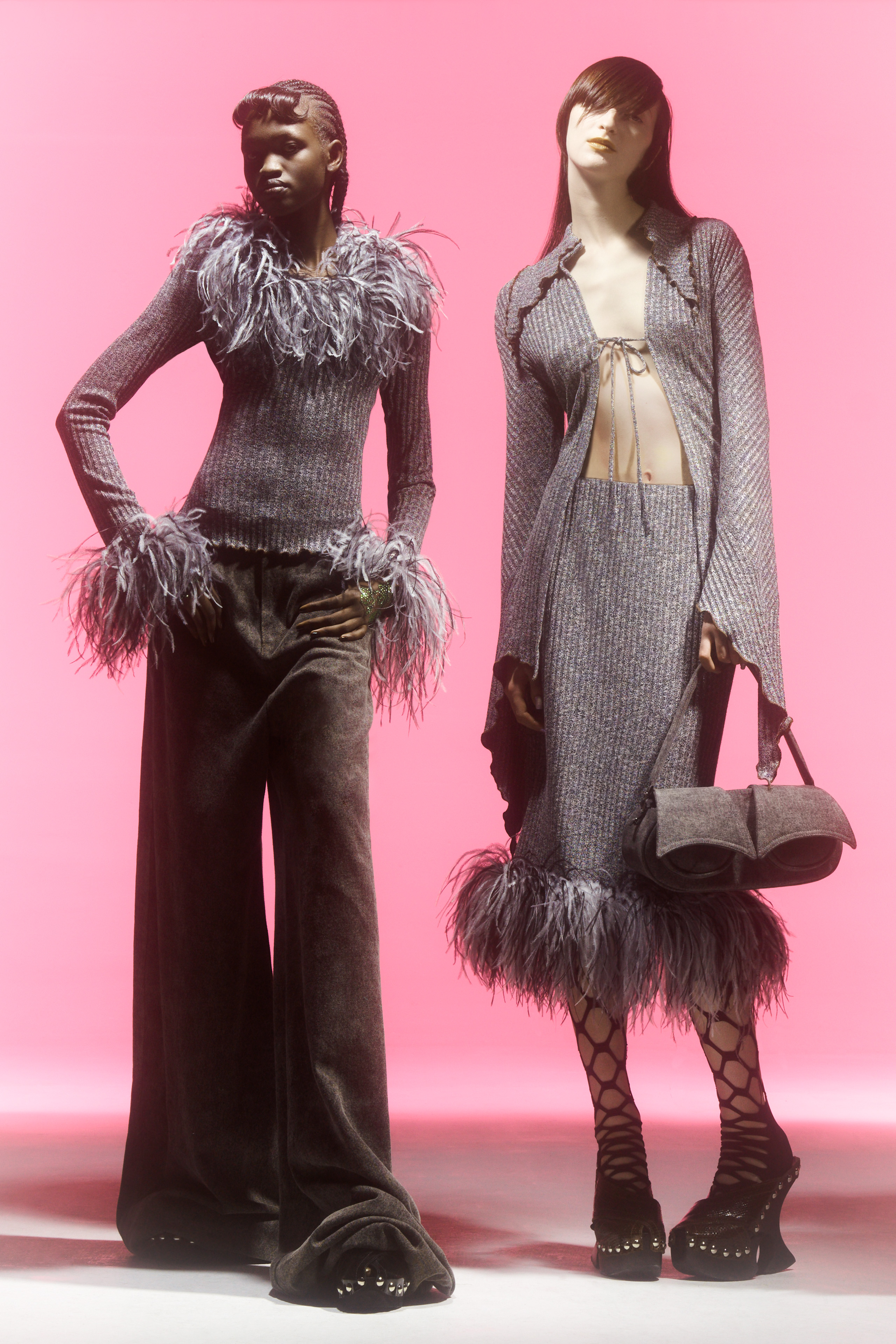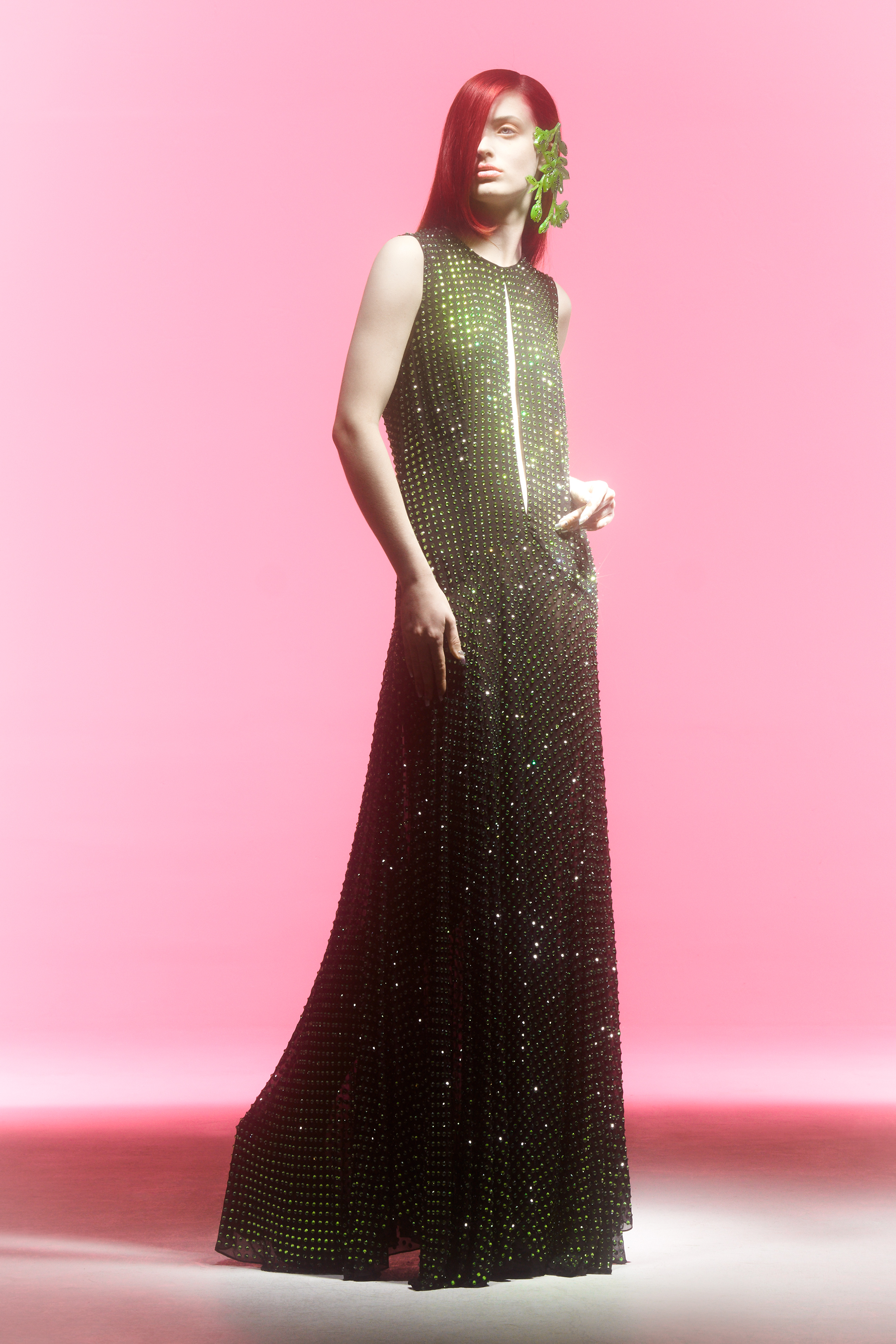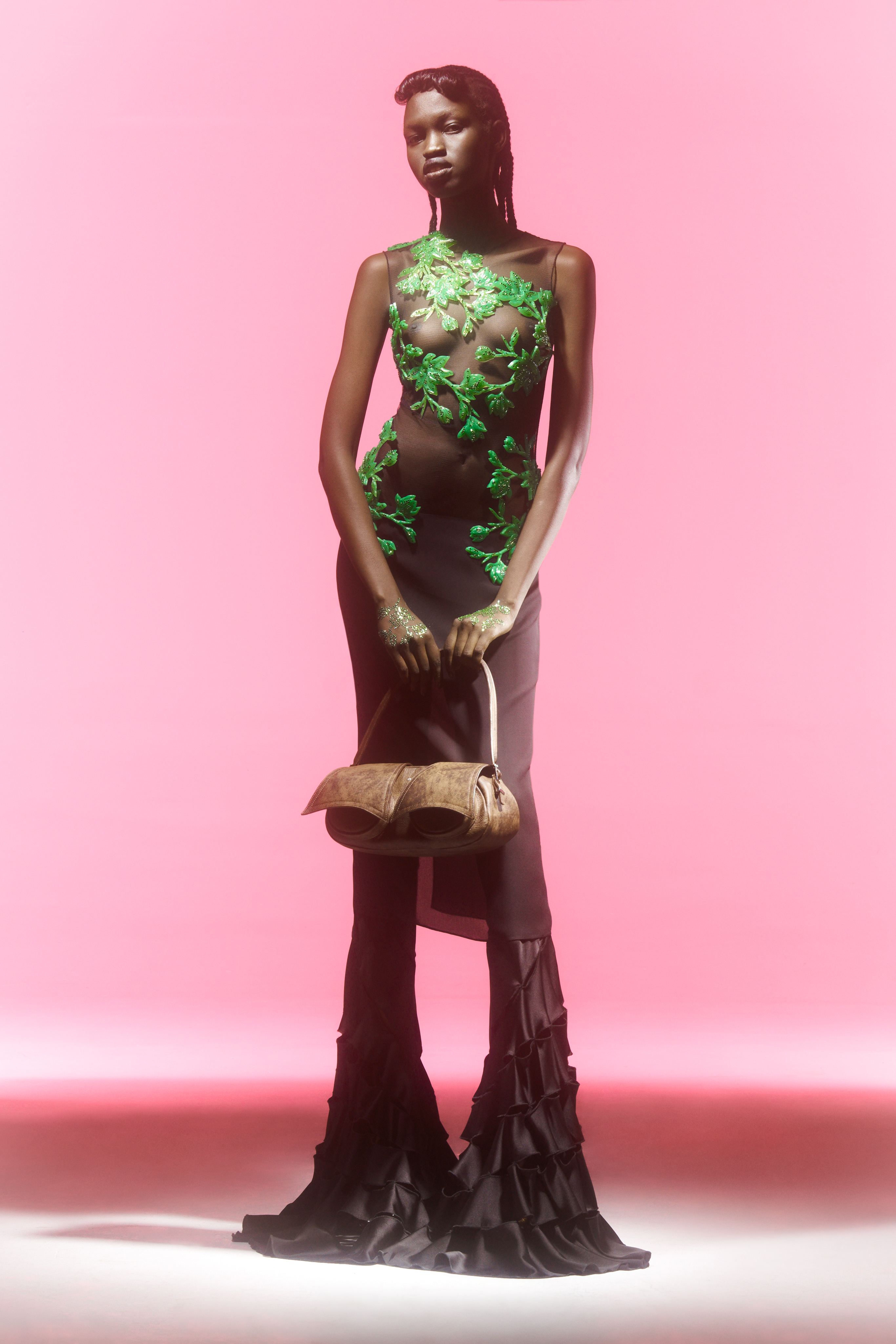 Feben
Over the past year and a half, have you pulled on your best party frock to go pick up a pint of milk? Or perhaps gotten a little too comfortable in trackies? For us, it's yes to both. The same, it seems, goes for Feben, the recent NEWGEN recipient who yesterday presented her first full collection since graduating from the CSM MA in 2020. Contemplating the chaotic emotional landscapes we've wandered over the past year, 'X-Pression' is perhaps best thought of as an elevated study of the ways in which our clothes have carried through some pretty damn turbulent times. Zingy satin shirting, shirred, black-tie-dinner appropriate tailoring, bare-all harnessed dress and the bobbled textures of the designer's signature 'twist' tops spoke to the collective yearning we all felt for getting all dressed up, even if there wasn't anywhere to go, while fused jersey slacks and easy-wearing sarong skirts echo the comfort-first approach to getting dressed many of us adopted when the world was placed on pause. More than an ode to pandemic-era dressing, though, this was proof that fashion is chicken soup for the soul. MS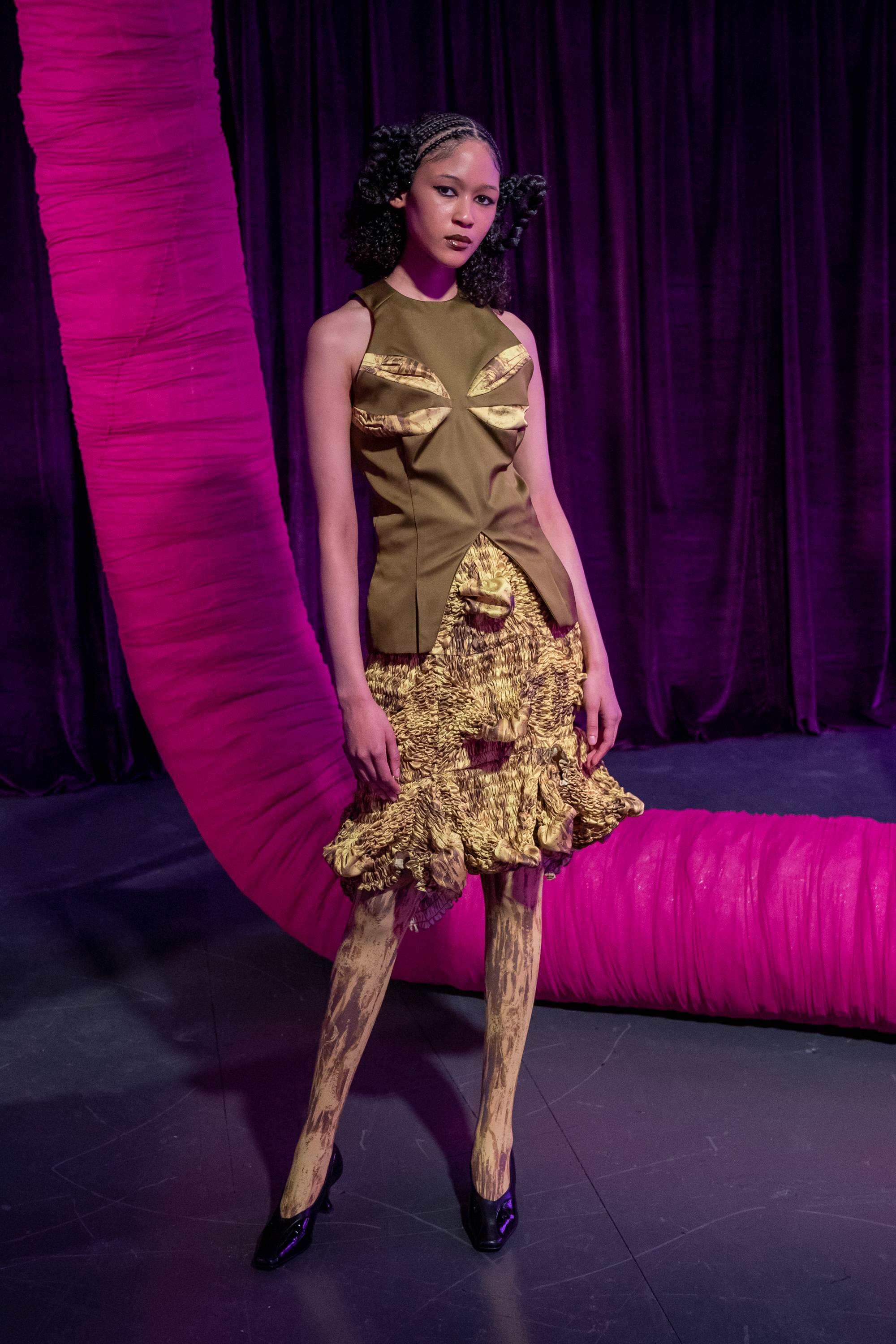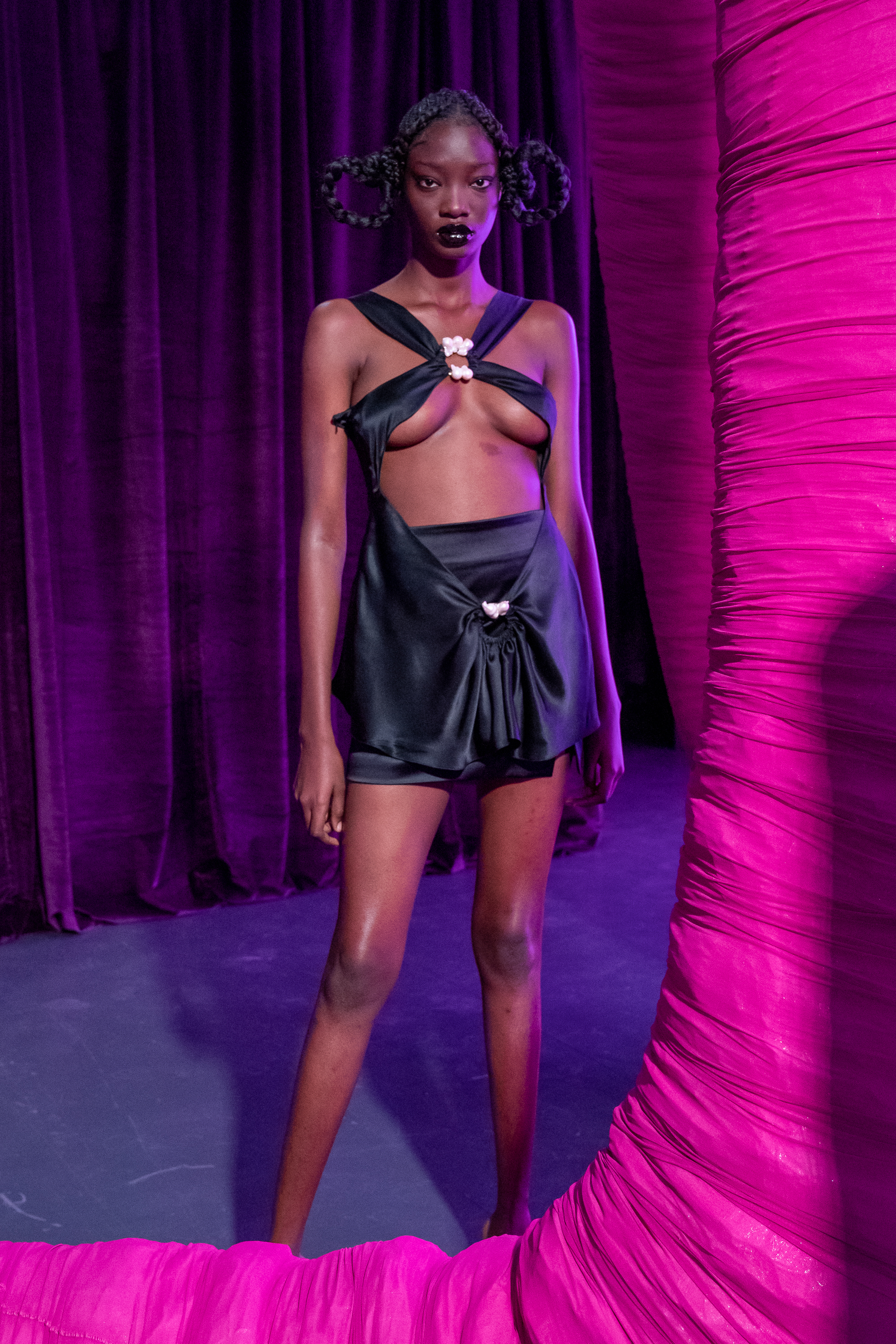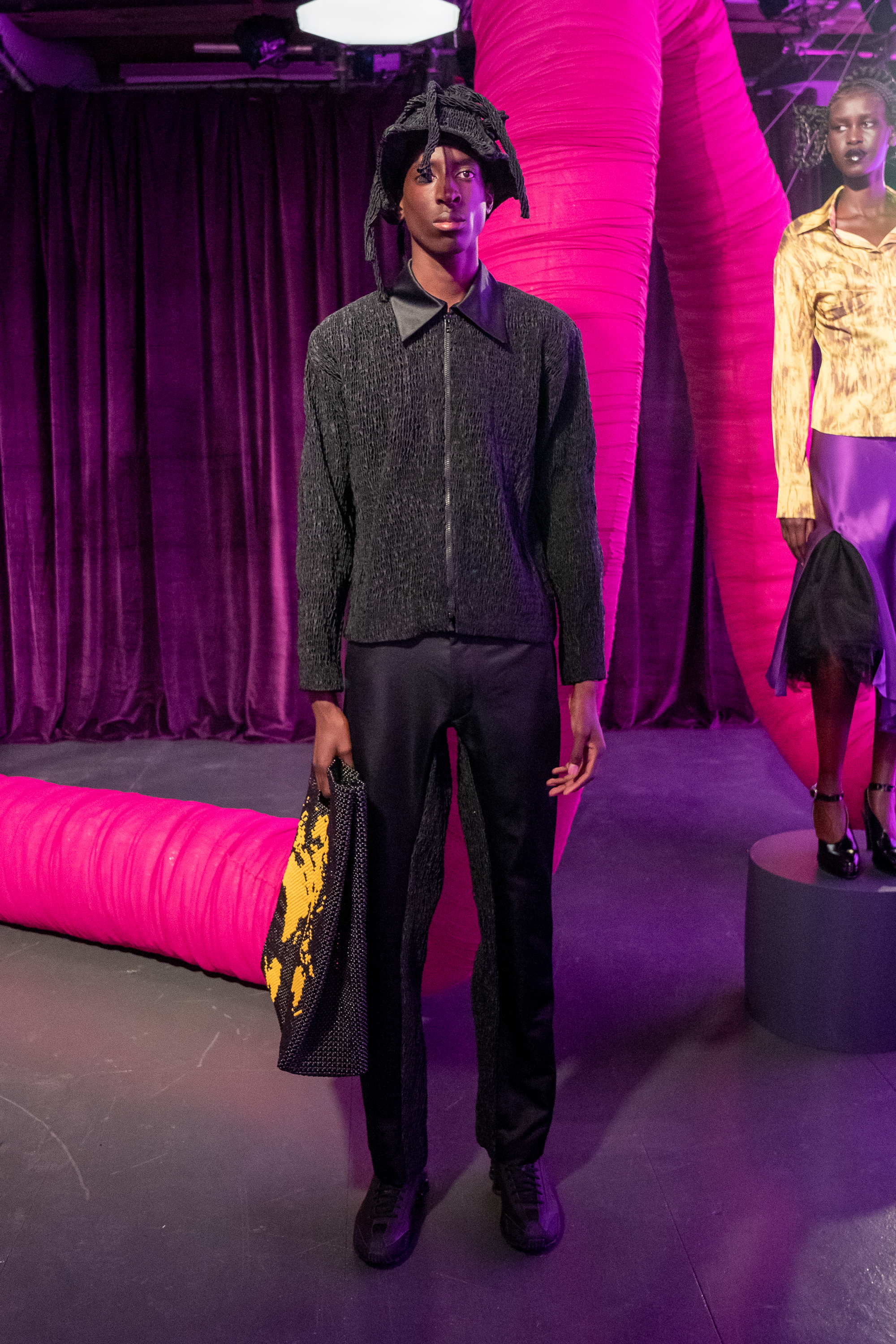 Margaret Howell
As a designer, Margaret Howell has always been more about evolution than revolution, understanding the role of clothing as something to be loved, worn and grown into, rather than to discarded amid the hype and spectacle of fashion week FROWs. This season, the designer chose to reveal the collection in the design workshop behind her store on Wigmore Street, which gave you the simple pleasures of being able to touch and appreciate the subtlety of what Margaret does, which reveals itself most in the three dimensions of life rather than the flatness of a catwalk image. The garments themselves were a play of contrasts: they were somewhere between earthiness and playfulness, practicality and frivolity. Across a palette of deep coastal blues, greys and greens, were splashed bright blues and multicolour dresses. There were experiments with proportion and clashes of texture; soft cotton vs tough Japanese denim, or staples given just enough of a twist. Rolled up or flared trousers and bright flashes of white socks dominated the silhouette. Practical outerwear was imbued with a hint of flamboyance, and it was, overall, a collection that felt younger and freer this season, revelling in an (almost) post-pandemic world, free from restrictions. FP
Nensi Dojaka
Nensi Dojaka is hot right now. The Albanian-born designer staged her first standalone show, fresh from winning the LVMH Prize last week. Considering that all eyes are on her, it couldn't be a better time for her to reassert what she's all about, which is intricate, lingerie-inspired dresses crafted from myriad fabrics and pieced together like wispy cobwebs. For SS22, she has reimagined them with a brighter sense of colour (her earlier collections were entirely black). Burnt-aubergine, terracottas and ochres take their cue from the hyper-masc artworks of Francis Bacon, interspersed with bubblegum-pink chiffons as pretty as a kitten's paw and heart-shaped necklines coquettishly framing the décolletage. In many ways, Nensi's work is about juxtapositions. Sure, her barely-there dresses look delicate and fragile, but there's also a softly-spoken strength (and a whole lotta sexuality) in the brazen way she showcases the female form. No longer does skimpy mean submissive. The layers of organza and tulle are outlined by graphic black spaghetti straps, while lingerie-inspired details take on an armour-like structure. She did, however, also introduce more covered-up silhouettes, like elongated cigarette trousers with waist-defining cummerbunds, longer pencil skirts, and razor-sharp blazers with exaggerated shoulders and whittled peplum waists. Be bold, they encourage. Go out, they insist. Feel sexy, they demand. Ultimately, it's a sartorial feminist manifesto: power dressing needn't be prudish. OA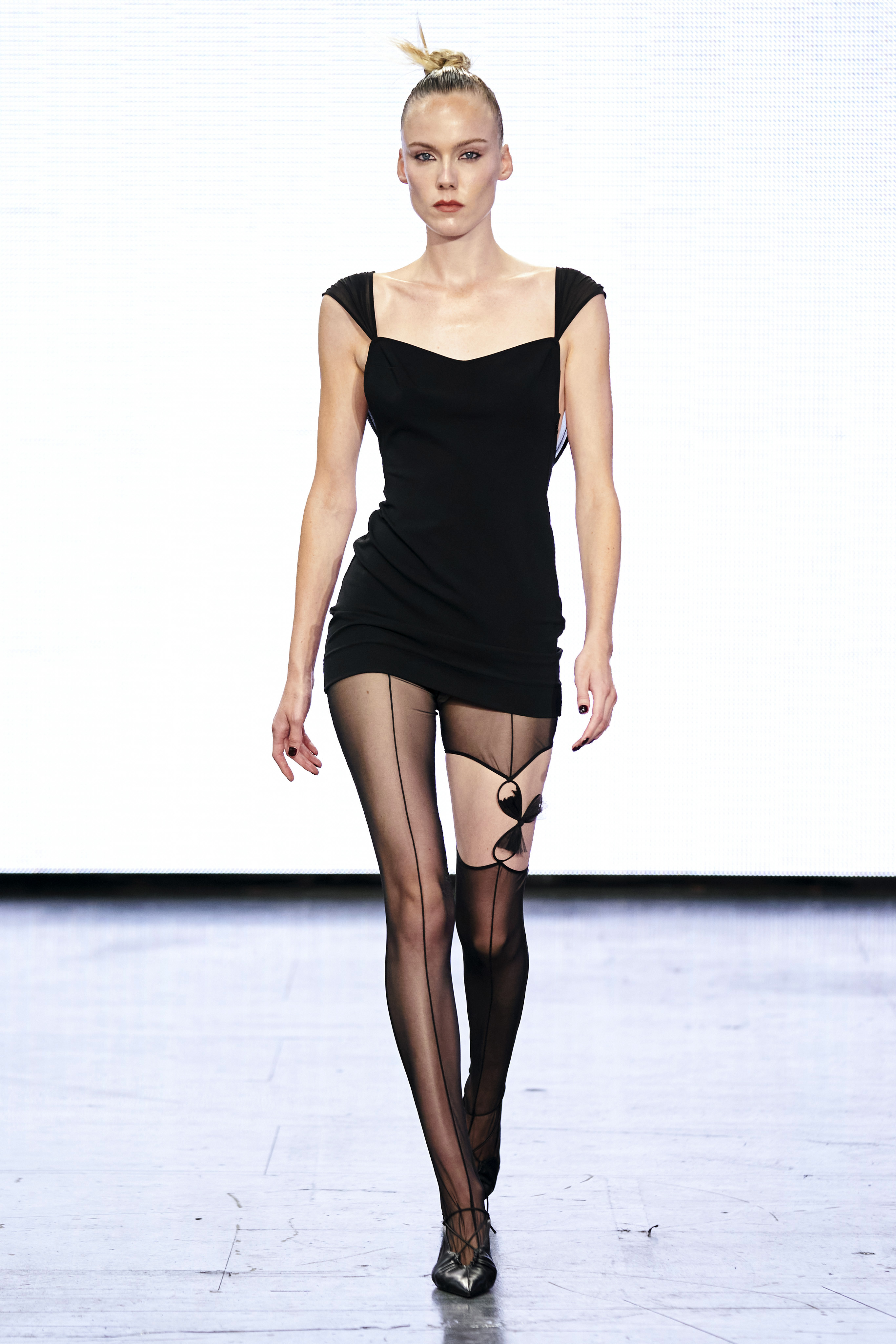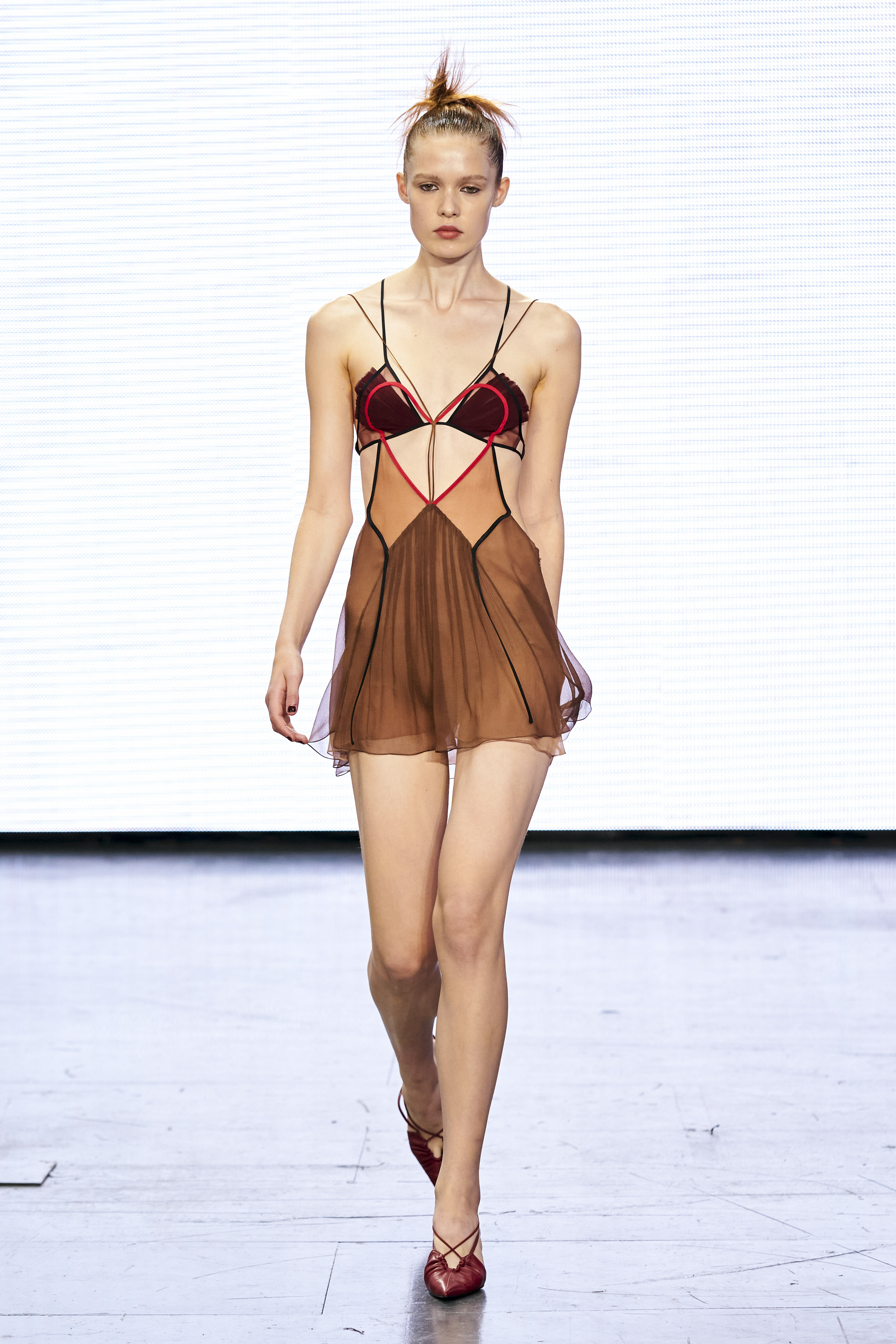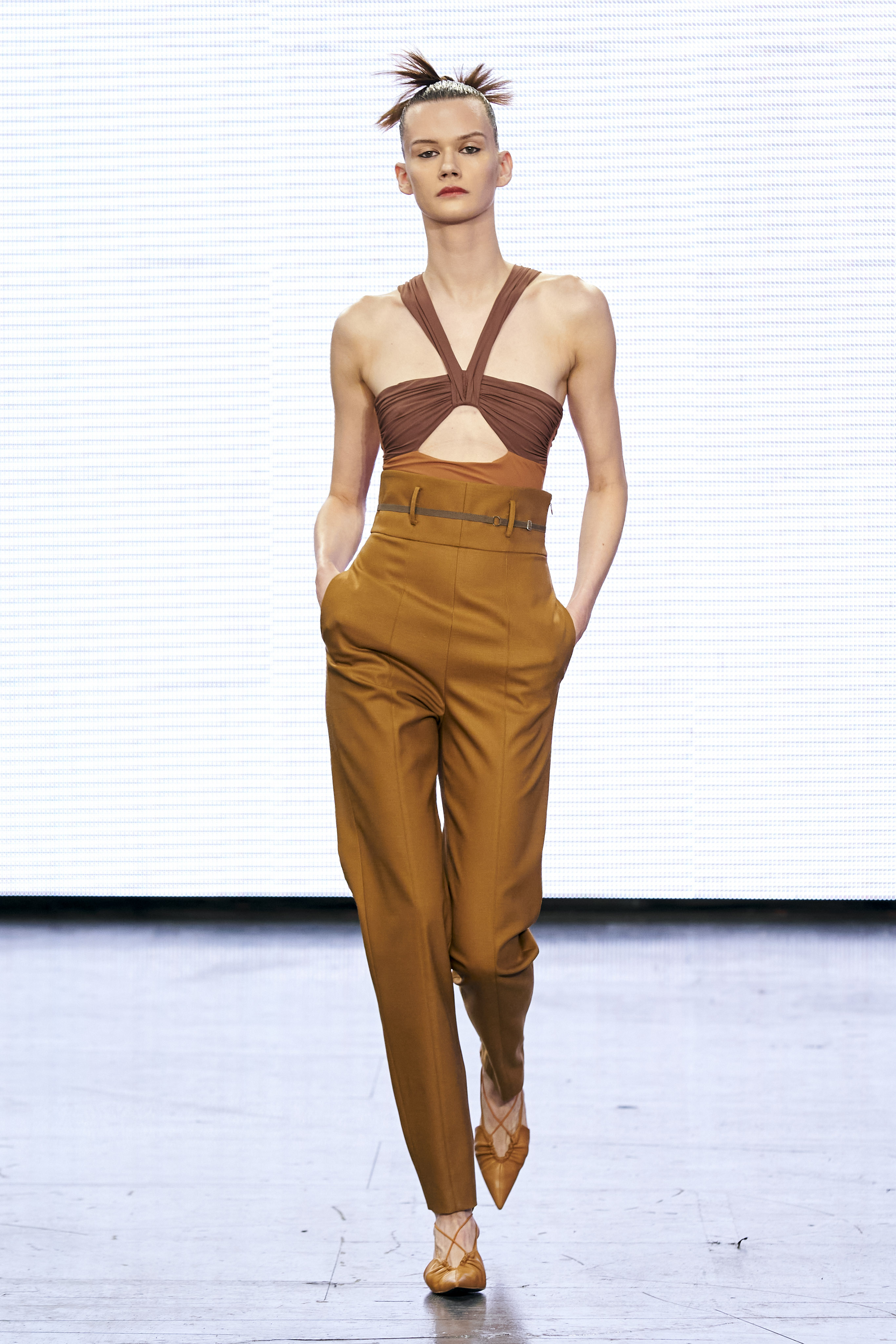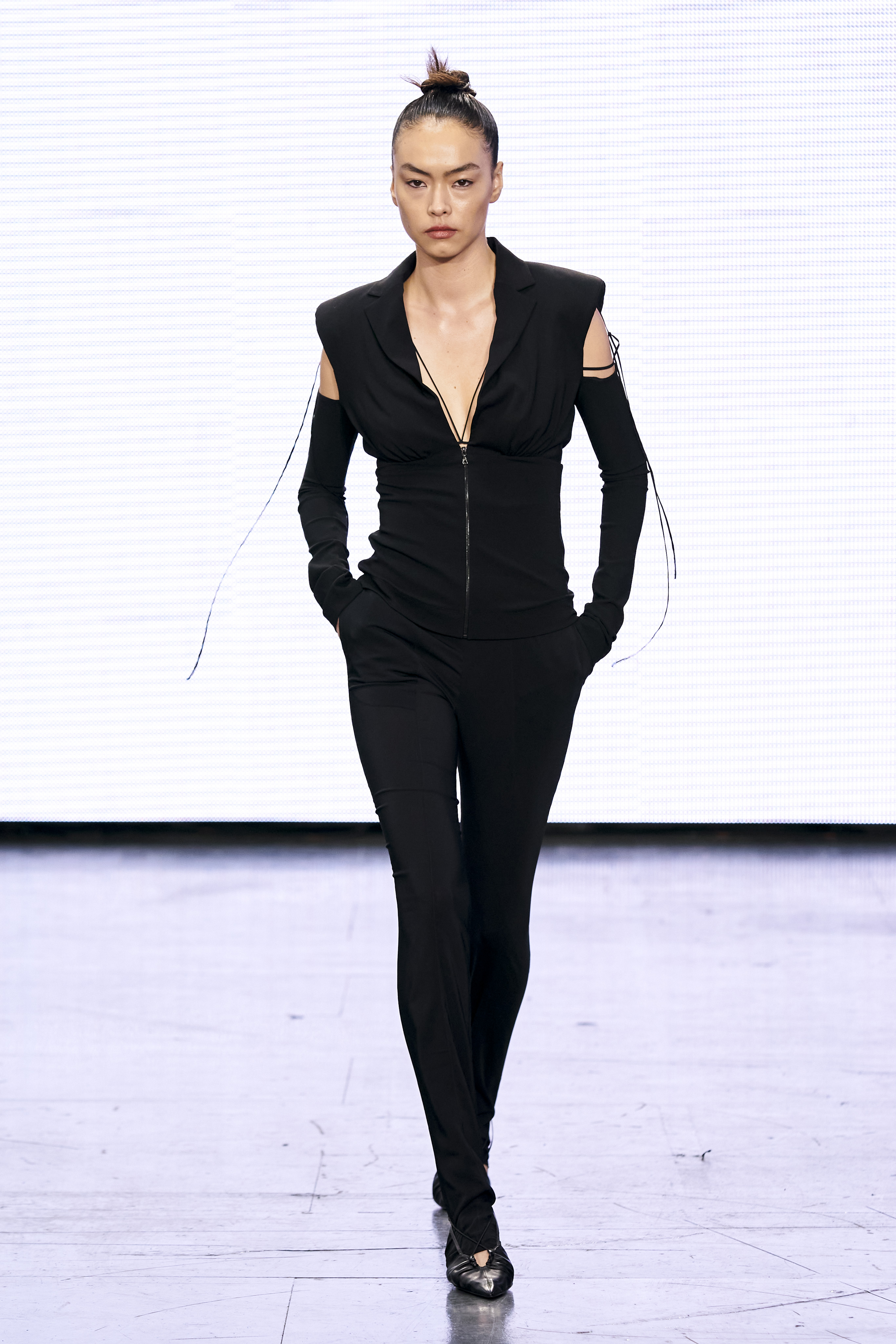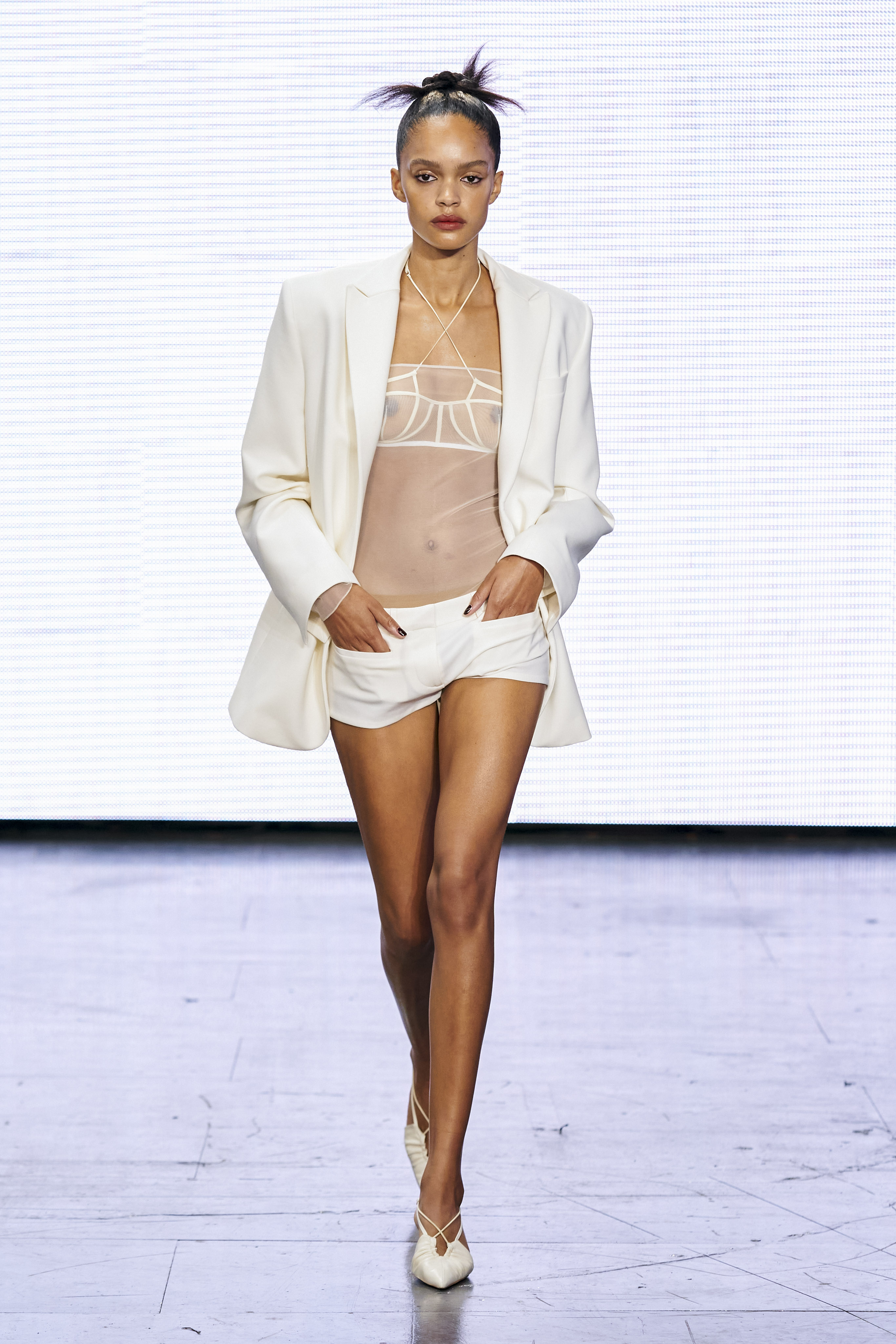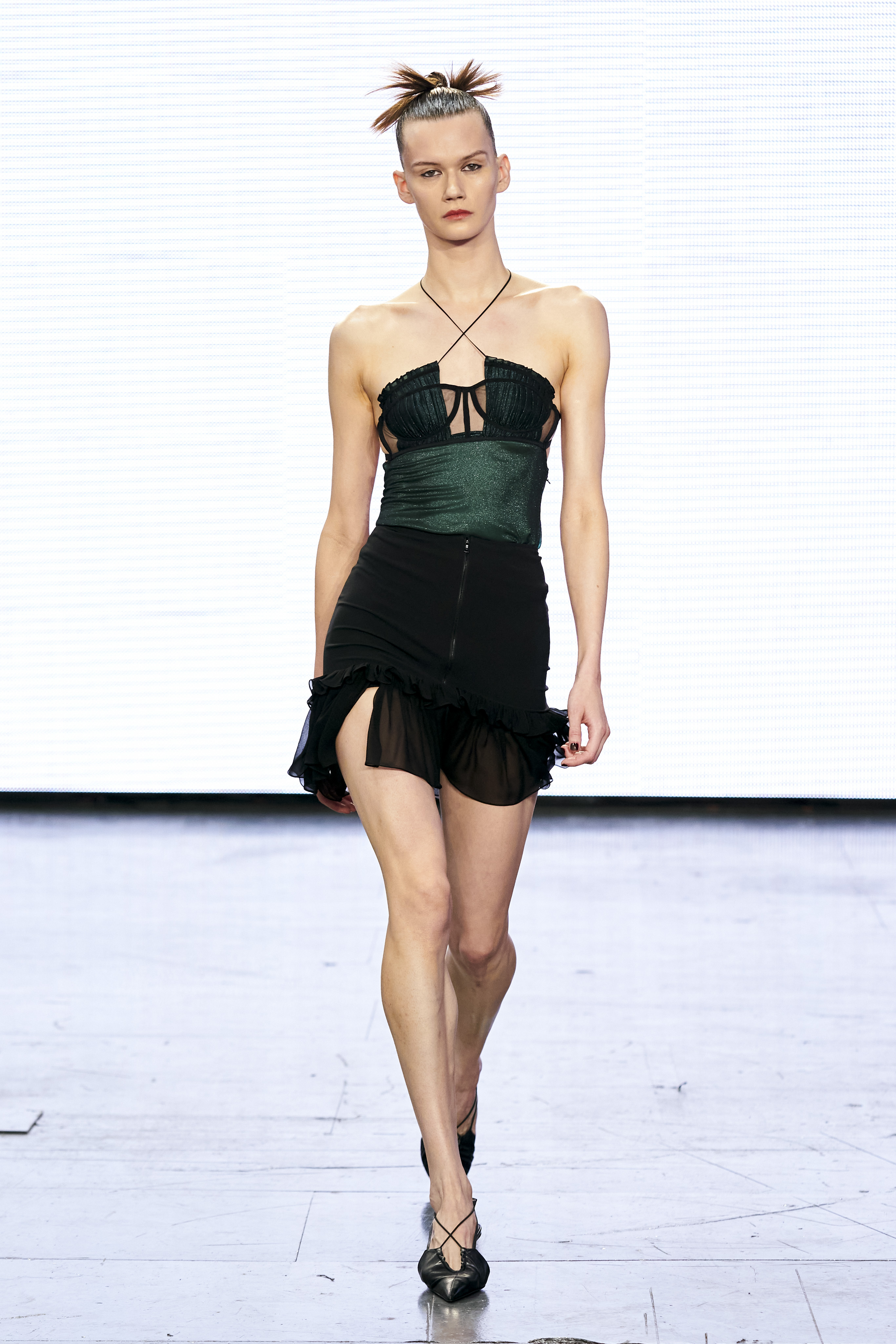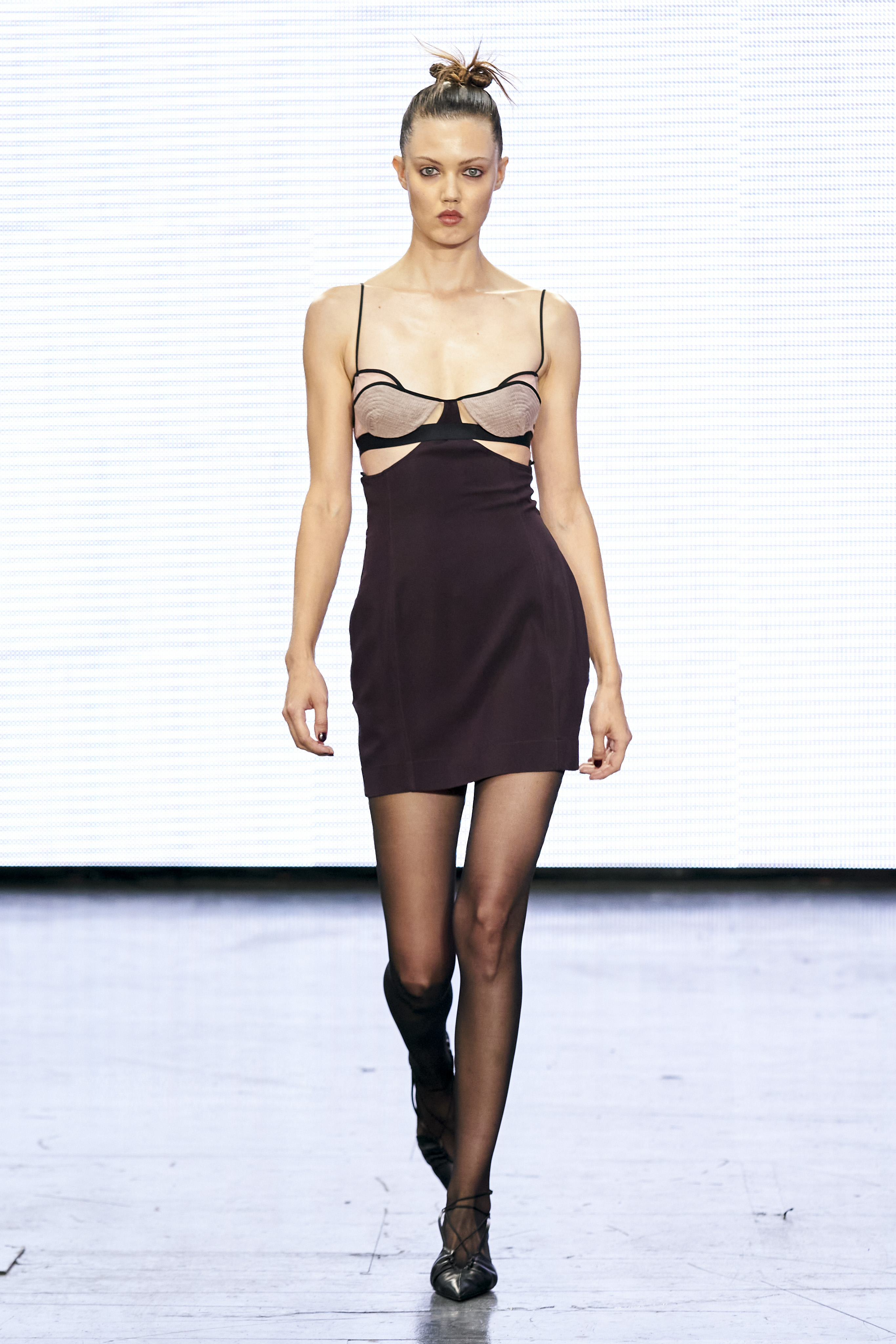 Nicholas Daley
Nicholas Daley has always been one for exploring, and even reviving, craft practices overlooked in the fashion mainstream. His SS22 collection, Blue Quilt, was no exception, amounting to a textural contemplation of the legacy of quilting in the Deep South. Taking the technique far beyond its twee associations, the designer collaborated with UK-based quilt artists, upcycling past seasons fabric into wide-leg trousers, roomy, kimono-sleeved pullovers and boxy vests. As ever with Nicholas, there's a strong musical undercurrent this season, with the easy silhouettes, dusky patterns and saturated tie-dyes nodding to the nonchalant swagger of folk artists like Richie Havens, Davey Graham, and Nigerian-Irish blues legend Caleb Kunle. Feeling blue never looked and felt so fab! MS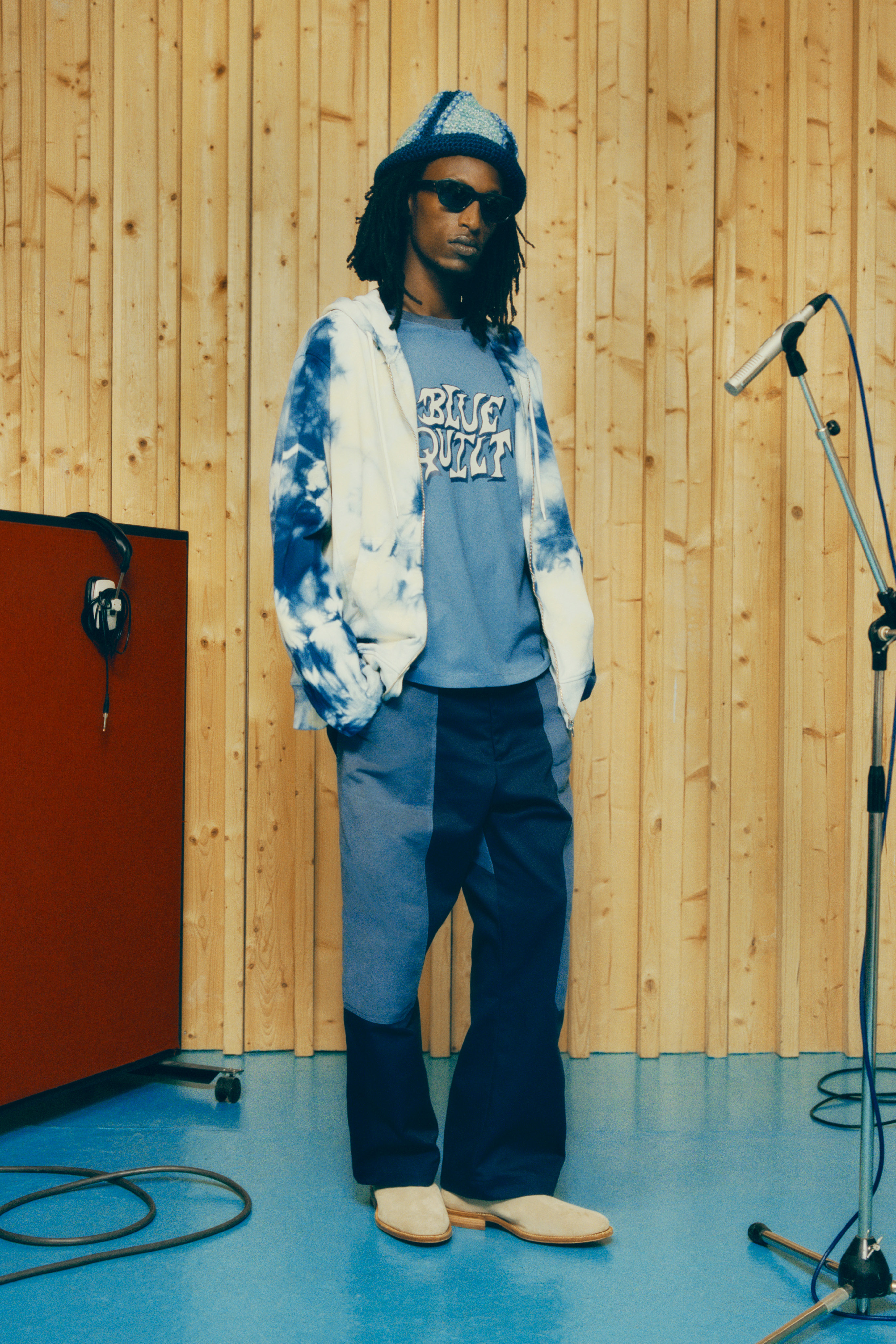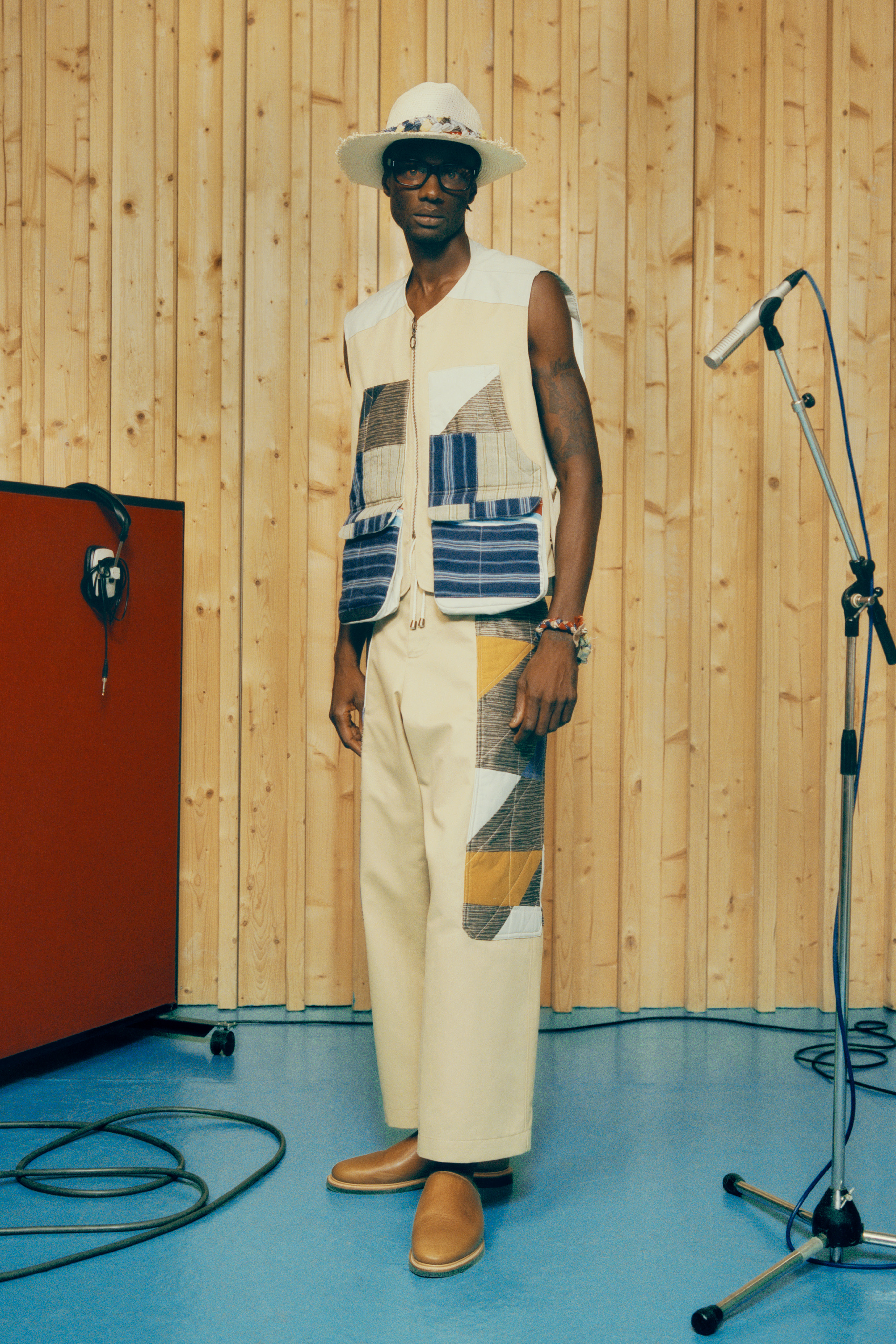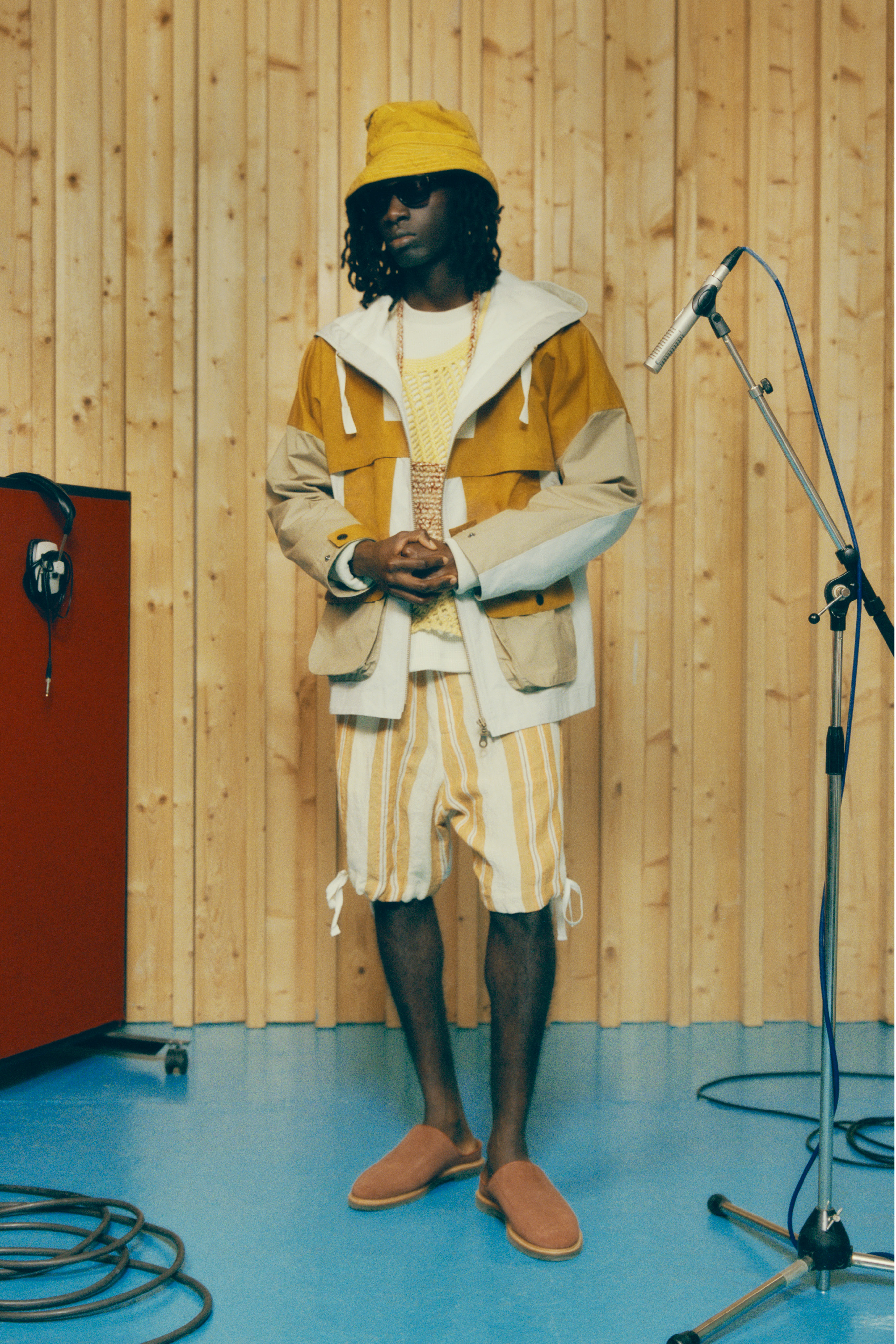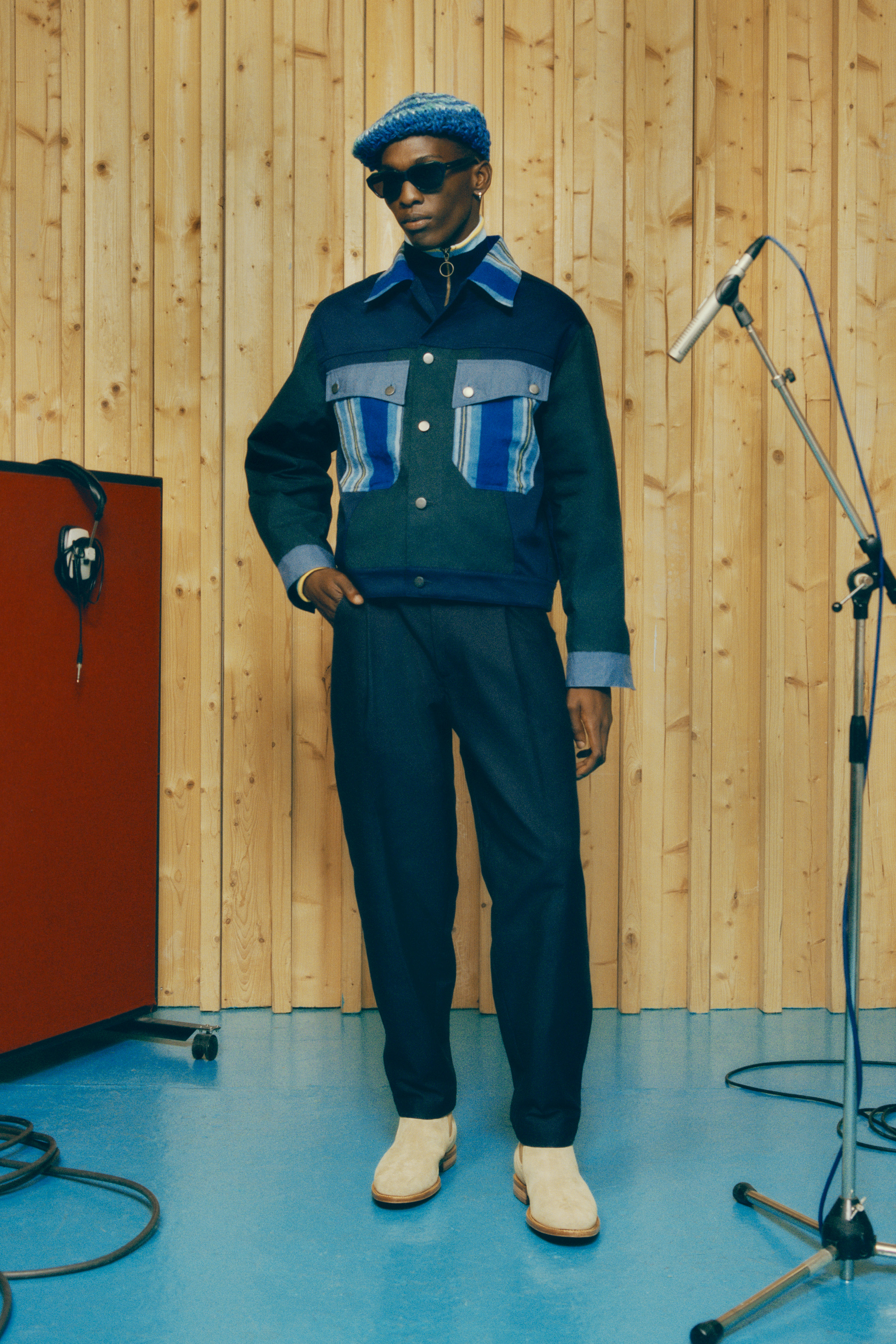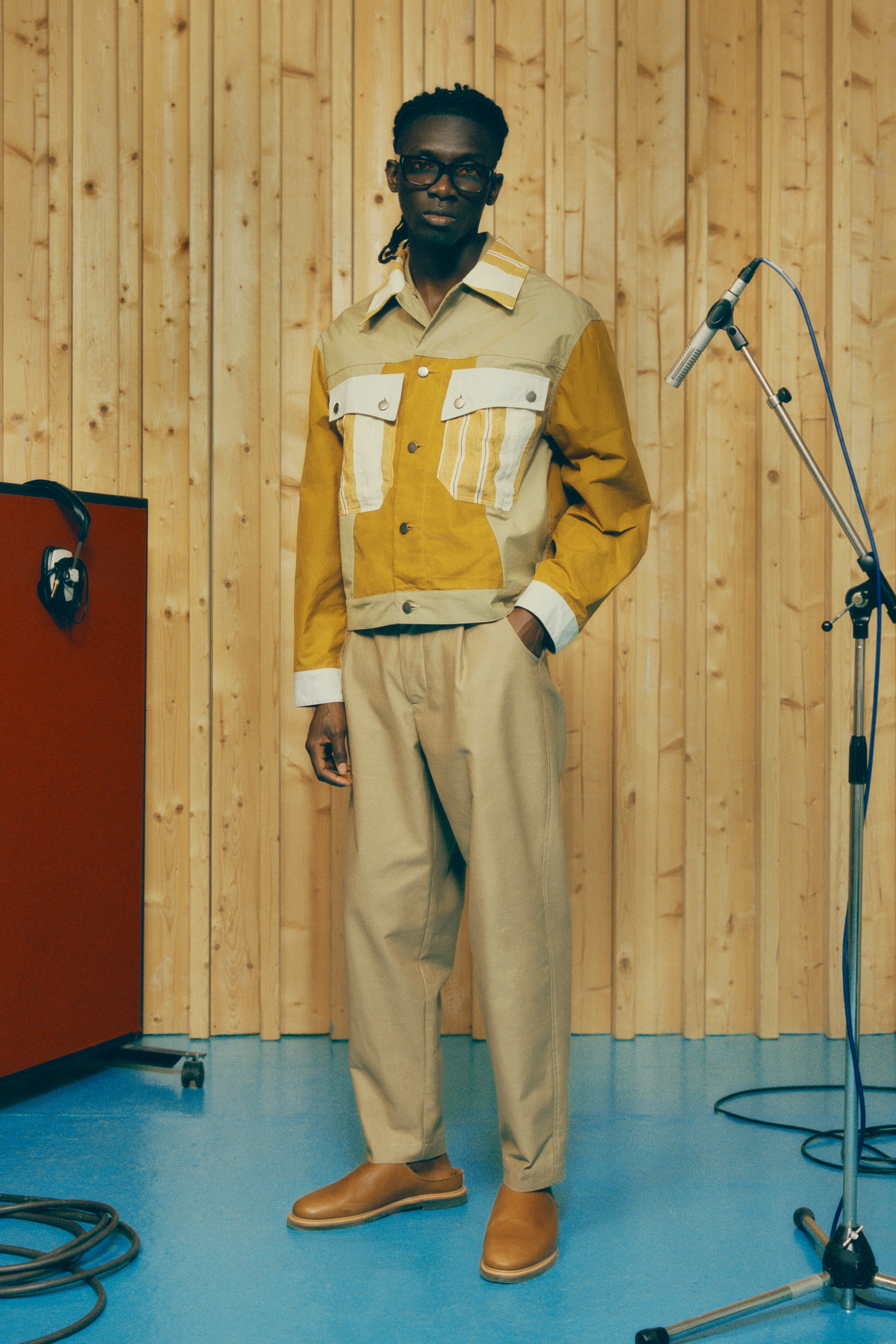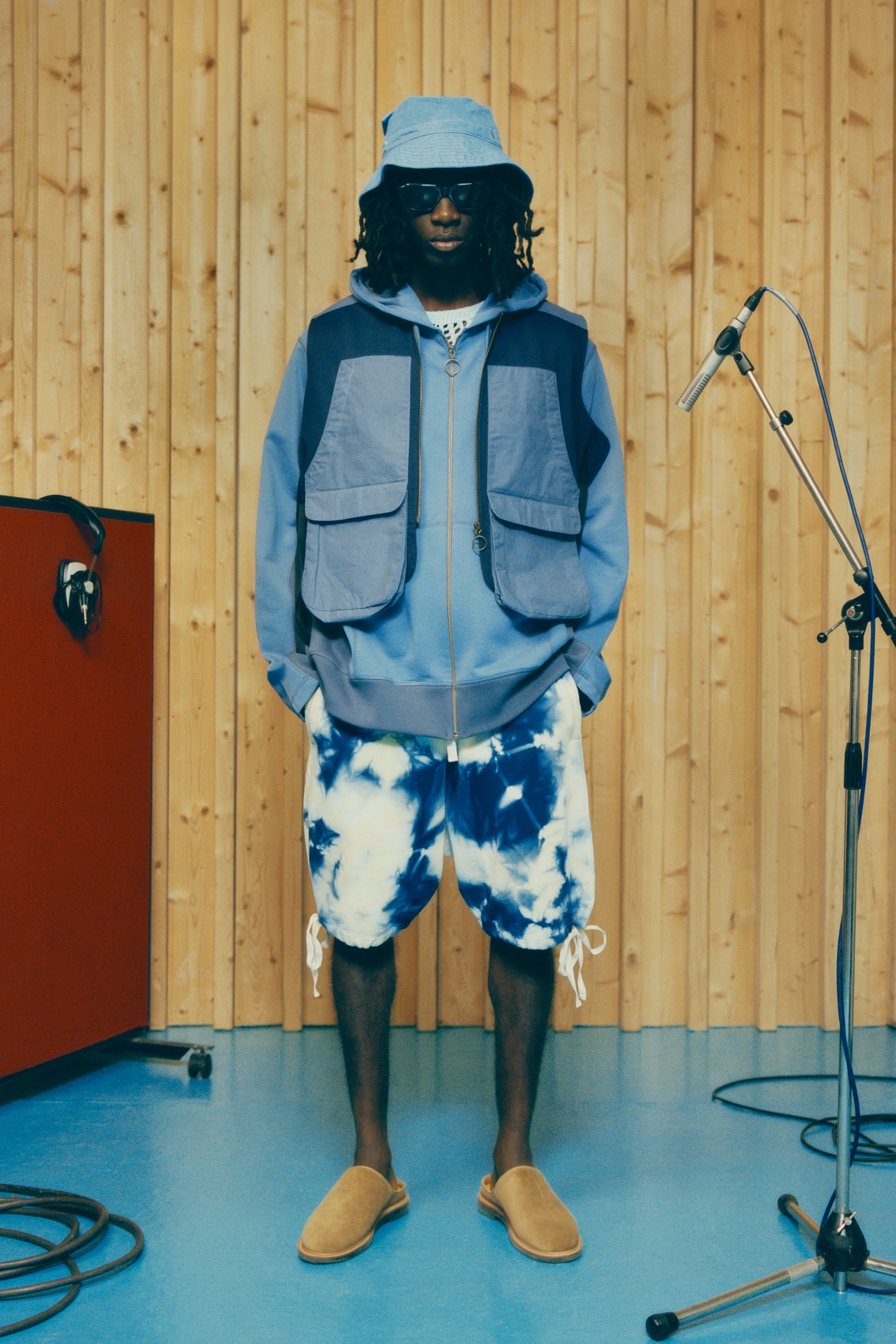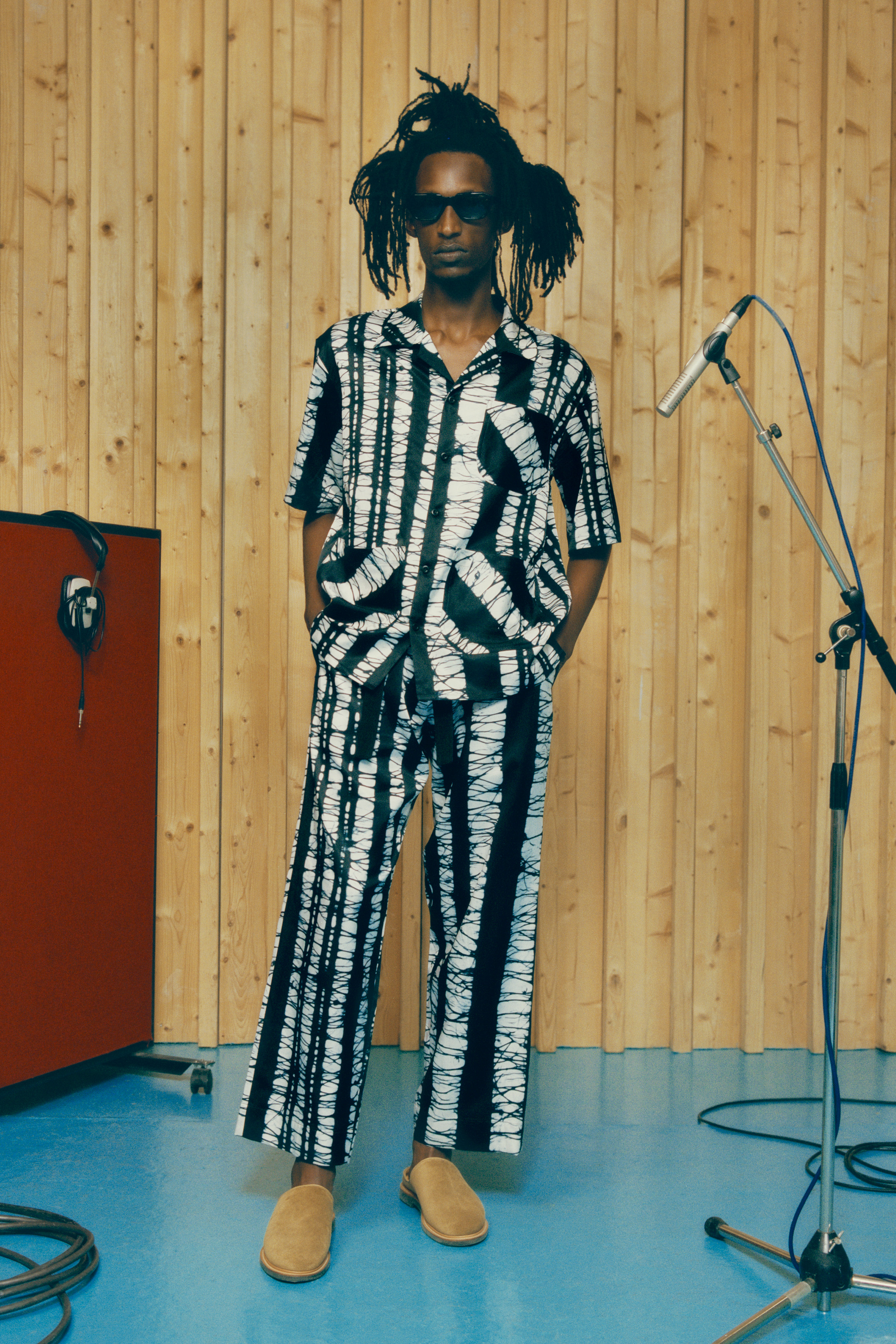 Matty Bovan
By now you know that Matty Bovan is one of fashion's craftiest designers. The York-based designer makes much of his work by hand, often upcycling local found objects and deadstock materials to create fantastical, almost psychedelically colourful clothes akin to sculpture. His new collection took it to the next level, aptly titled 'Hypercraft', which premiered today with a short film directed by Ruth Hogben. Whereas Matty's last collection was all about sartorial extremes and a sense of outdoorsy adventure, SS22 marks a more interior exploration of domesticity that we've all come to know so well over the past year: wallpaper, family photographs, televisions, dinnerware patterns, blankets, shaggy rugs and household ornaments. Welcome to the Matty Bovan dollhouse, perhaps his most personal collection to date (and his first since scoring a double-win at this year's International Woolmark Prize). "Hypercraft finds me pushing myself, culling my own knowledge, and skills of craft to an extreme," Matty said. "This ethos includes creating three large looks out of sewn paracord ropes, creating a completely new textile with its own uniquely sculptural body, and then hand-embellishing with beads and sequins to create a new luxe, with the organic silhouette threatening to overtake the human form." OA
Saul Nash
Nylon is to Saul Nash what jersey was to Halston; tweed to Chanel; fur to Fendi. The fabric is arguably the bedrock of his signature sportswear, and the tracksuits and Nike sneakers that he grew up on in Hackney. For SS22, his first standalone show since graduating from the Fashion East catwalk, he recreated the London bus stops of his teenage years and staged an ode to inner-city dressing. JD Sports, but on a hand-crafted level. The atmosphere of the show was of kids decompressing after school, customising their school uniforms with the ciphers of sportswear and now with Saul Nash-branded stickers. But these aren't just any tracksuits. Magnets allow them to be worn myriad ways, while jackets and trousers come with zip and mesh vents to allow for expressive movement (Saul is a trained choreographer, after all). Reversible nylon cagoules came printed with his teenage travelcard. Nylon, yes, but with a whole lot of narrative. OA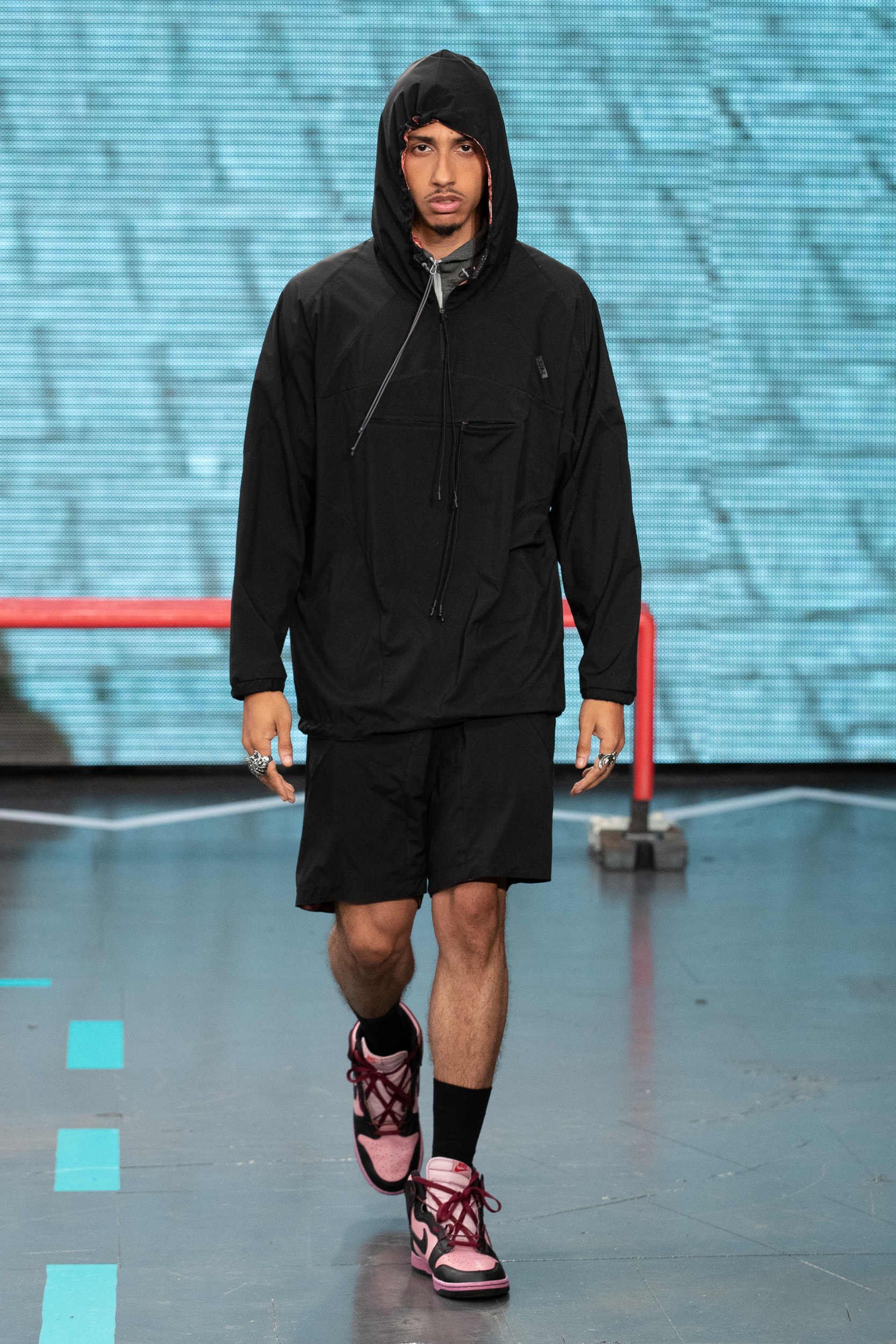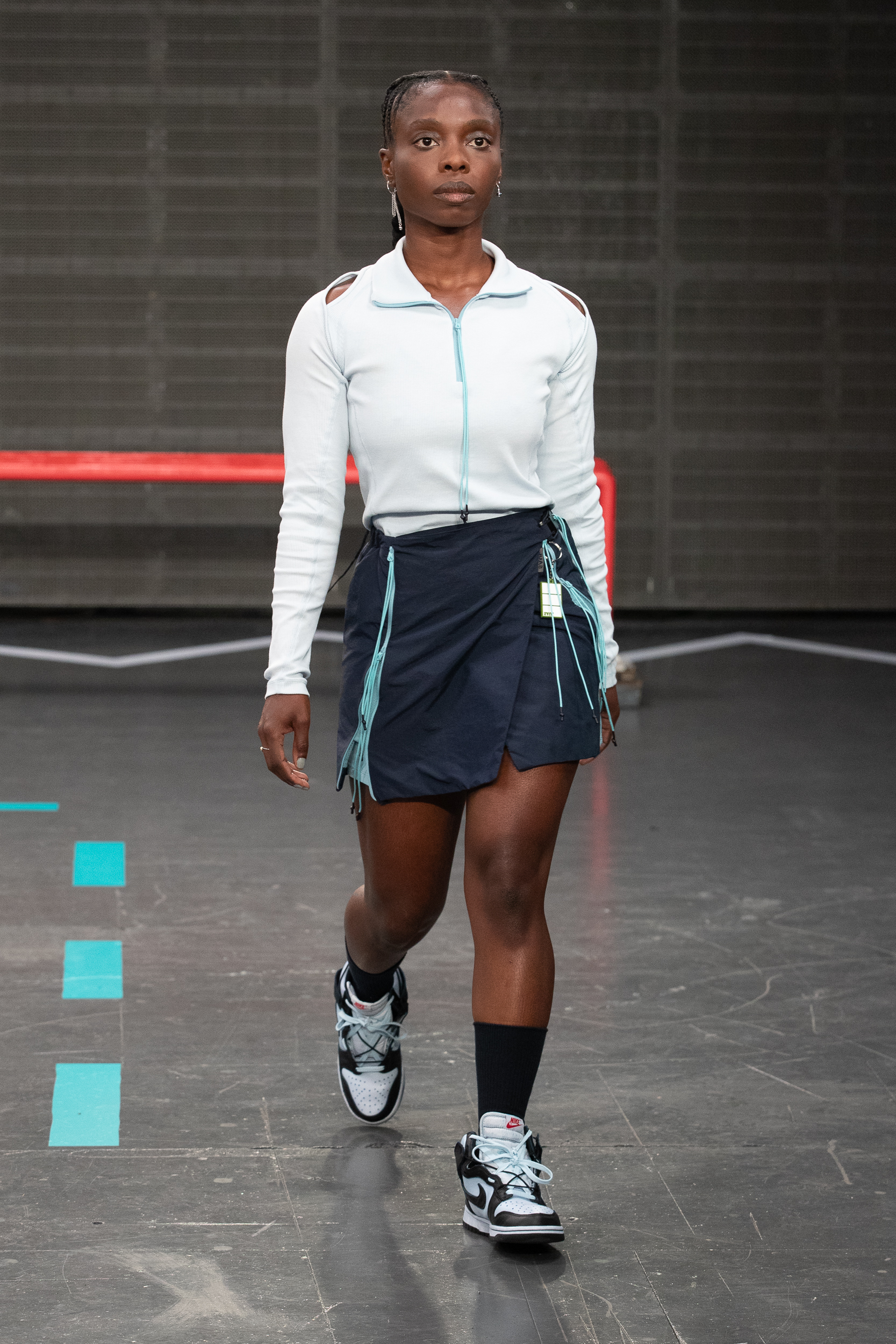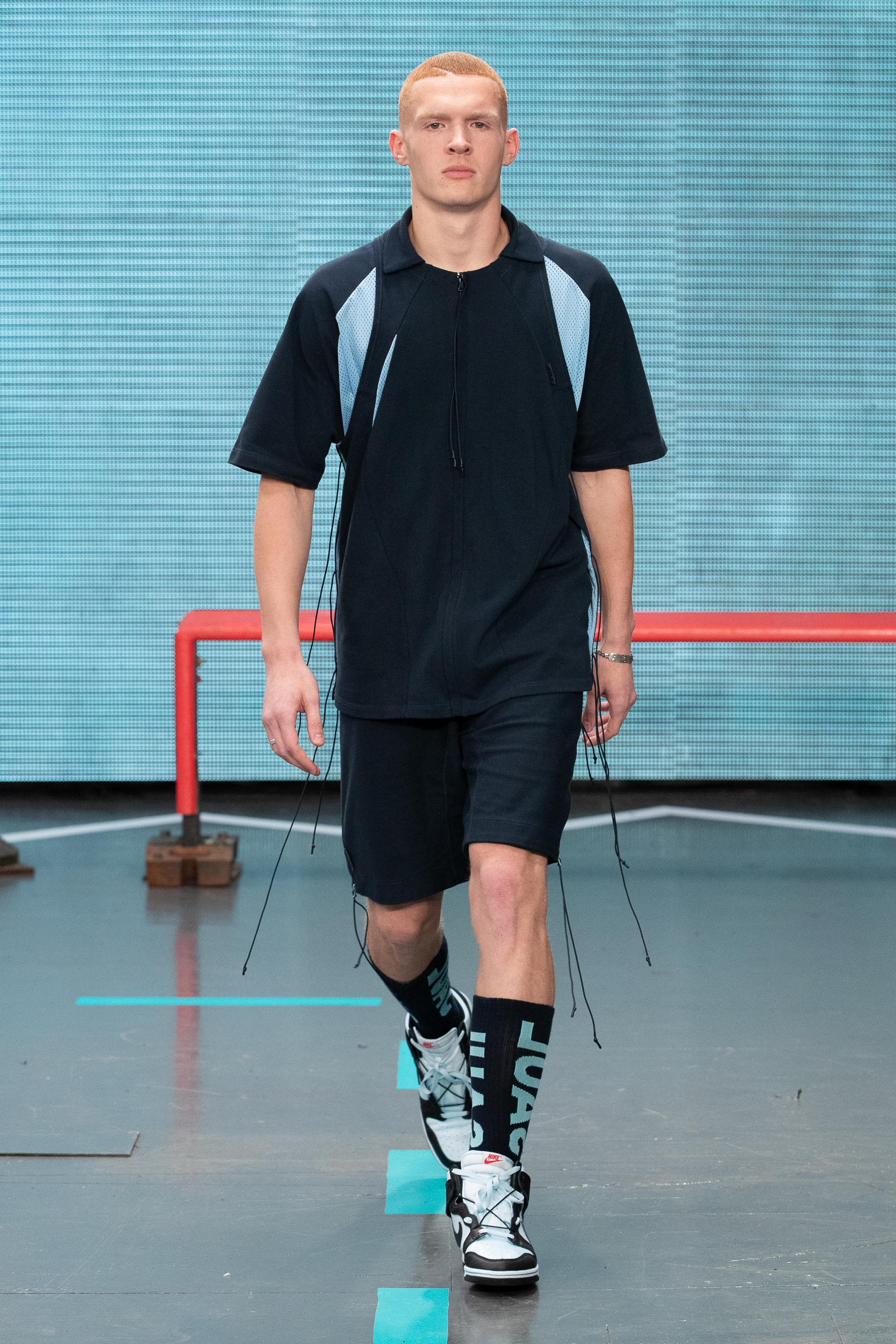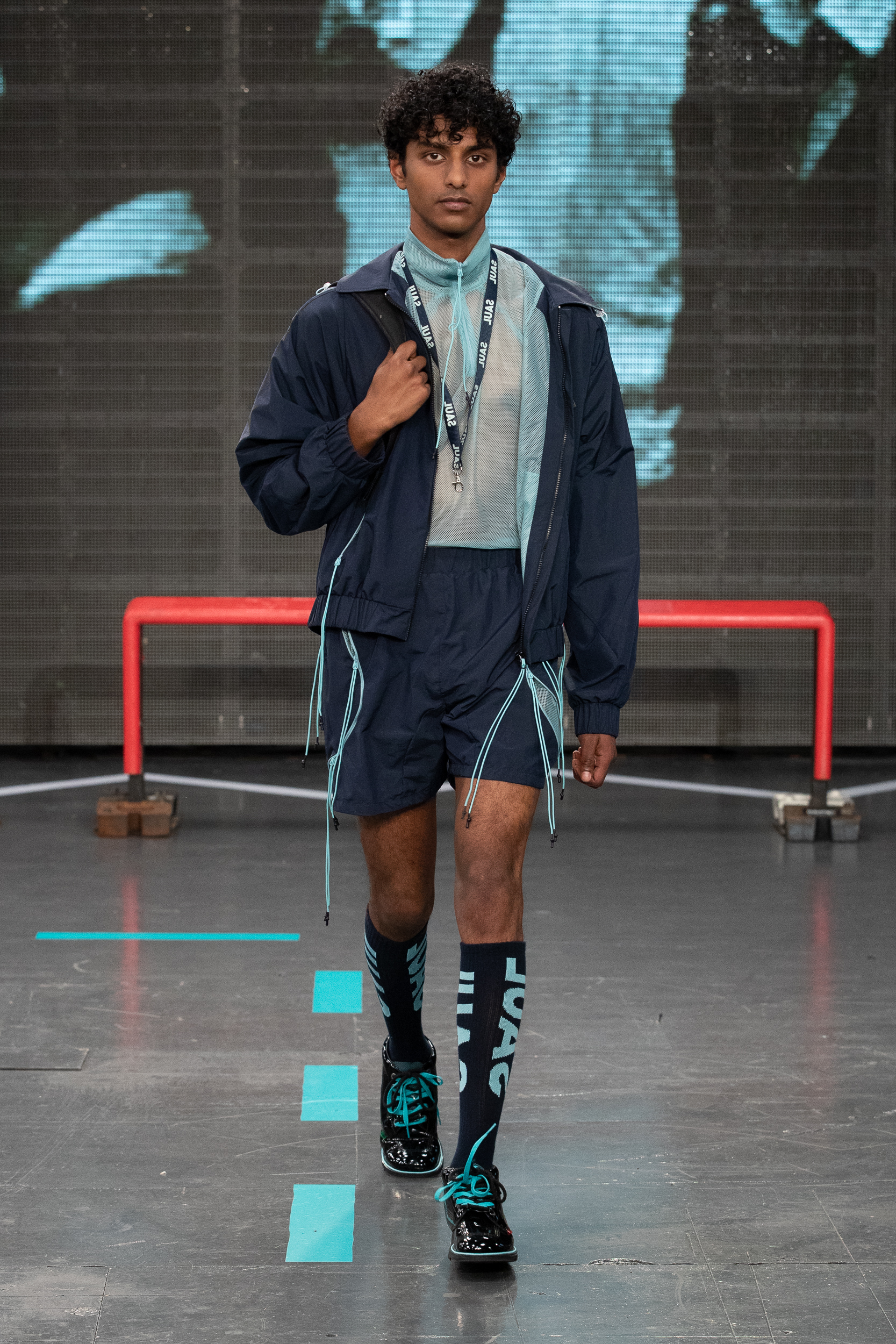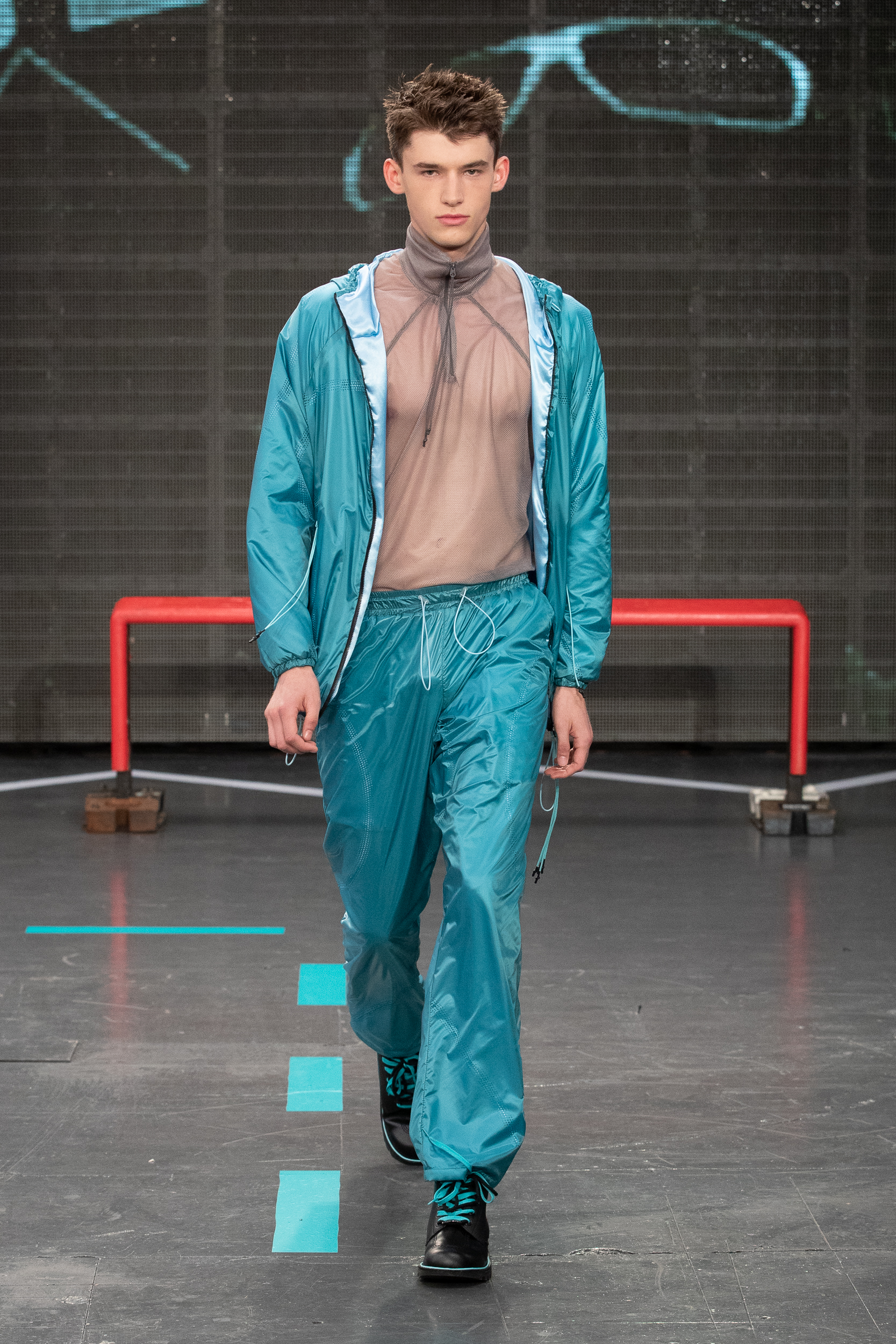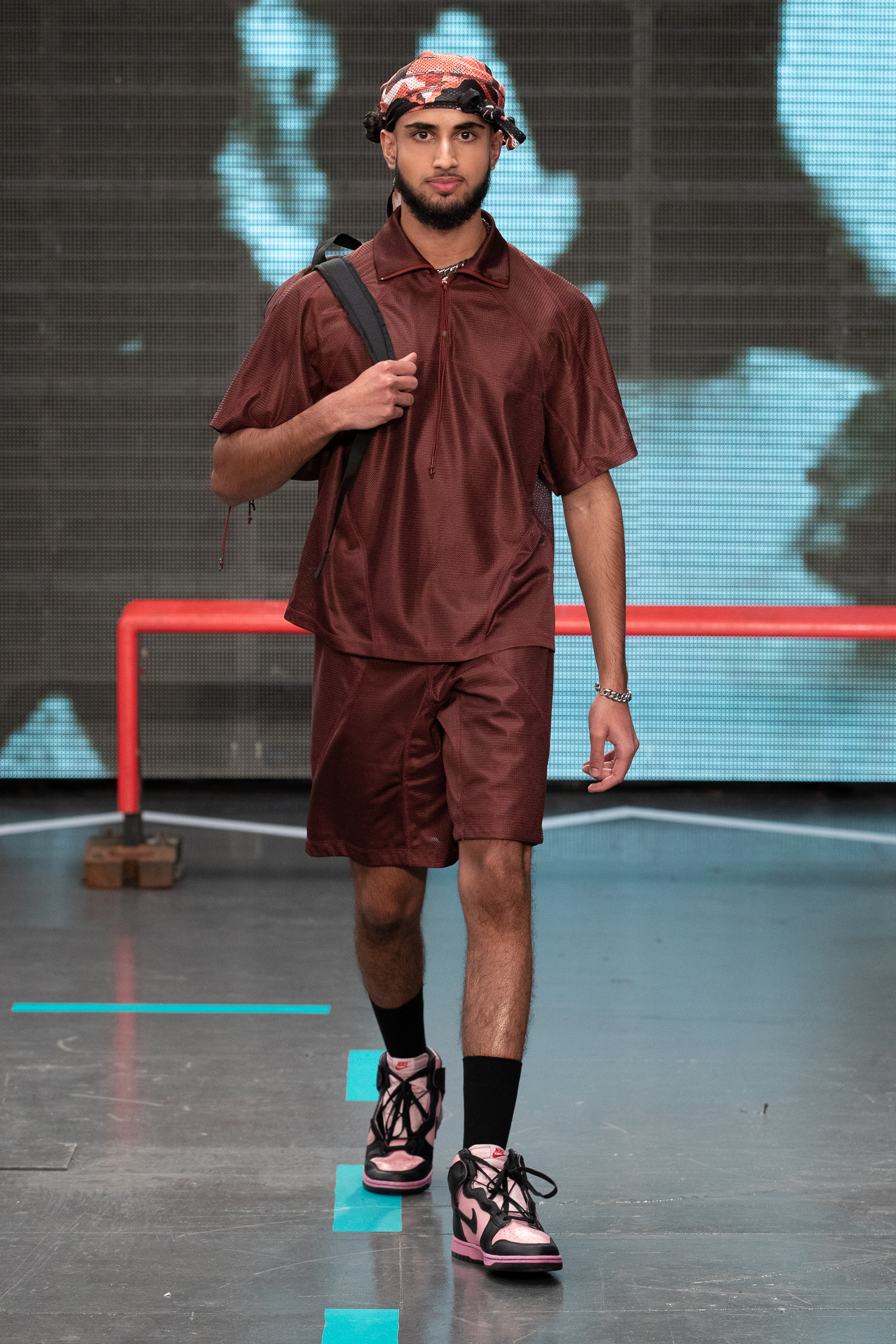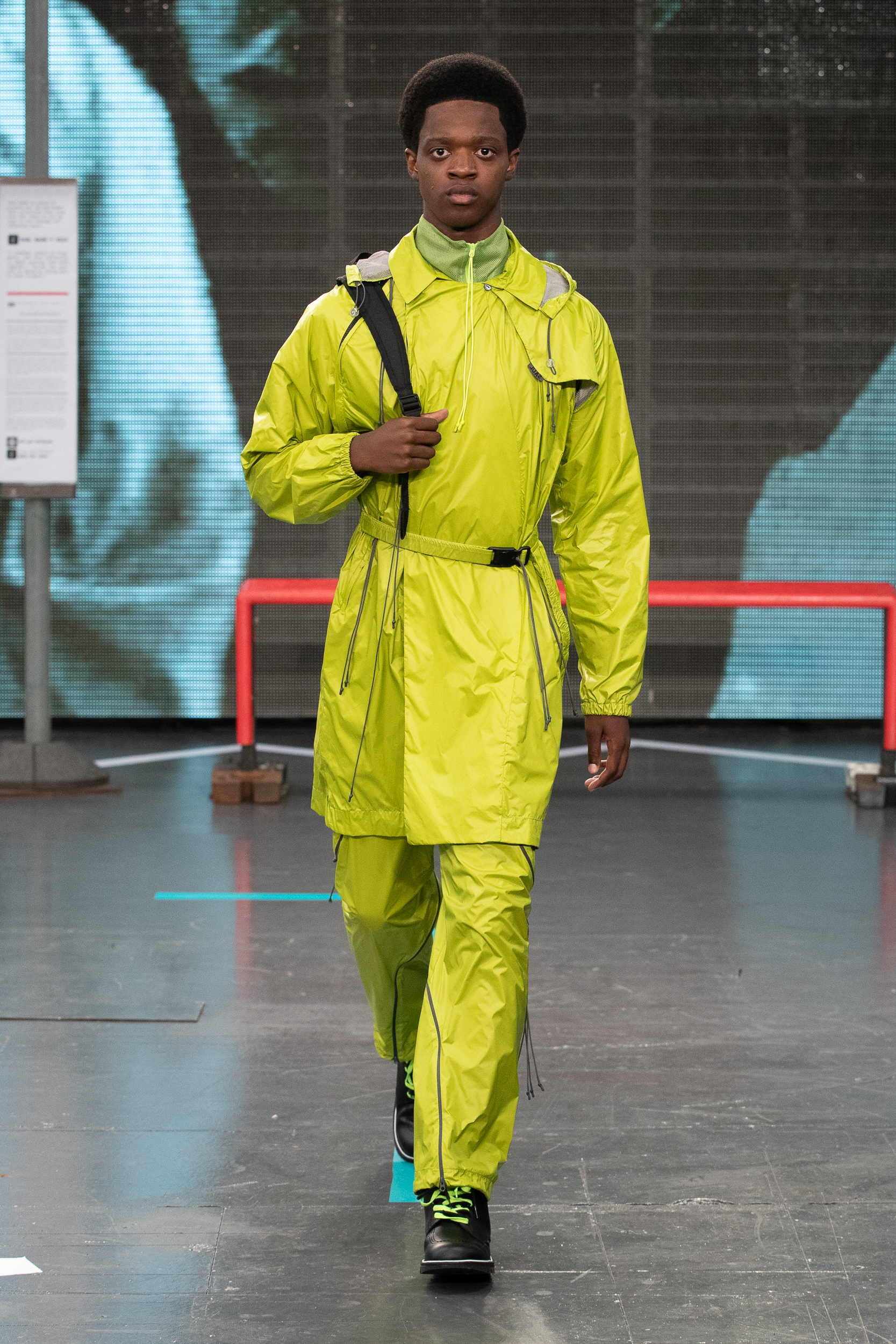 Kiko Kostadinov
Kicking off London Fashion Week before it's even officially kicked off, last night saw Laura and Deanna Fanning take to an intimate, floral-fringed office space in Shoreditch to present their SS22 womenswear collection for Kiko Kostadinov. Drawing on balmy memories of coastal holidays in their native Australia and the coming-of-age novels they read as teenagers, their collection was the twins' breeziest yet, rich in warped knits, jigsaw-puzzle pattern-cutting, askew riffs on archetypal beachwear, and a series of new summery colourways for Bella Hadid's fave new bag, the Trivia. Head here for a full lowdown — oh, and here for an exclusive, behind-the-scenes show-and-tell with the twins themselves! MS