This California town is freaking out over TikTok throwing a massive rager
Adrian's Kickback (who is Adrian? We have no idea) is having quite the reception in Huntington Beach, CA.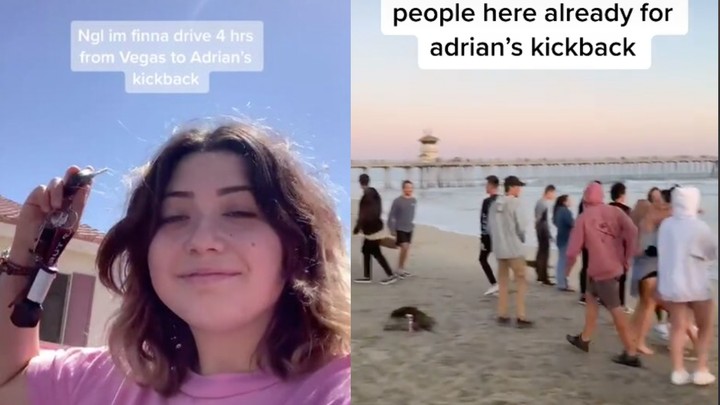 Images via TikTok
Residents of the sleepy beach-side town of Huntington Beach, California may accidentally be getting ready to host the party of the year tonight, after a party invite chain on the platform went viral.
Adrian's Kickback started life innocuously enough, as a callout for people to attend a birthday party on TikTok. Several million views later however, the get together is less a lowkey BYOB situation and more of a modern-day Woodstock in the making.
The trend seems to have originated with user @adrian.lopez517, whose first (and now deleted) post on the video-sharing app suggested people attend a party at Huntington Beach for his birthday.
There was going to be a fire pit. It was going to start at 7.30 PM sharp. It was a BYOE (bring your own everything) type of situation. All so cute and local so far, right? Wrong.
At least it was, until the tag #adrianskickback got viewed over 18 million times, the party invite got reposted ad infinitum and now Huntington Beach is actively preparing for an onslaught of partygoers to arrive in time for the big bash tonight.
The latest posts on TikTok include scenes of wannabe sesh heads turning up to Huntington Beach to get the party started. One user even posted that she was going to be driving four hours (!!) from Vegas to attend the event, which is definitely dedication.
Adrian's Kickback is no longer just a kickback, basically. Almost as if young people have been so starved of genuine, meaningful social interaction over the last year that the (probably false) promise of a party acted like a lightning rod over social media in need of one thing: a good time.
Of course, there is one thing getting in the way of everyone's good time and that is a massive global pandemic. With that in mind, the social chatter seems to have caught the eye of the Huntington Beach police department, who are now "actively monitoring" the situation and getting ready to shut that shit down.
"The safety and well-being of our residents, visitors, businesses & motorists is paramount," they tweeted out yesterday.
"[The] Huntington Beach Police Department is taking significant steps to prepare for the influx of visitors, including working closely with our regional public safety partners. Toward that end, the HBPD will also be strictly enforcing all applicable laws and ordinances throughout the weekend."
So to all those following Nicki Minaj's advice and going to the beach-each this weekend, stay safe, keep out of trouble and mask up. And whether or not the kickback actually happens or not, we hope Adrian has a good birthday, massive rager or no massive rager.
Tagged: